When you're planning your wedding, chances are the first big ticket item on the list for you to find is your venue. This is a hugely important choice to make, as it affects pretty much everything else about your day and the style your wedding will be.
A warehouse or industrial venue might not be top of your list of options, but as Manchester's only wedding planning and styling collaboration, specialising in urban weddings that just ooze cool, we'd urge you to consider them. Here are just a few reasons why a holding your wedding in a warehouse rocks.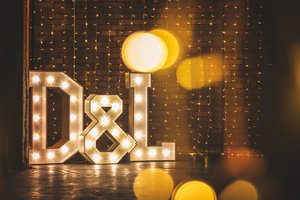 Size
Capacity woes begone! Warehouses are MASSIVE, and can cater for hundreds (and sometimes up to 1000) guests. If you're struggling with your guest list, and hate the idea of having to pick and choose between your loved ones for the sake of venue size, a warehouse space could be the perfect solution. If your wedding party is more along the small and select lines, then don't be put off. Many industrial warehouse-style spaces boast several rooms, meaning they're suitable for any wedding size, whether your guest-list comes in at 60 people or 600!
No Limits
When it comes to styling and design, the sky really is the limit with a warehouse. Their exposed walls, concrete floors and large, open floor-plan means the possibilities are endless. Warehouses work as fabulous urban blank canvases for you to put your stamp on. They're a brilliant backdrop for almost any theme, from simple urban elegance, to all out film star glamour and anything in between.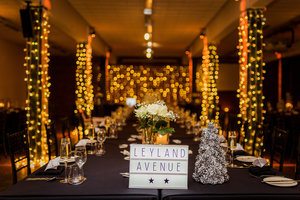 Let There be Light
Warehouse venues are many things, but flooded with natural light they aren't. This can work in your favour, as you have the chance to build some real atmosphere. Will you choose twinkling fairy-lights, evocative Edison bulbs, coloured up-lighters or something totally out of the box? We love this setup by Peter Lockwood lighting – fairy-light pillars and clusters of Edisons give one of our favourites – the Victoria Warehouse – some romantic flair.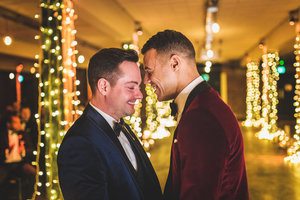 THings to consider
If you're thinking that a warehouse venue might be right for you and your wedding, then here are some helpful pointers to help you get started with your planning, and tracking down the perfect space.
Hit the search engines, and get researching for potential spaces in your area. Use search terms like 'warehouse wedding venue', 'old mill wedding venue' or 'industrial wedding venue' for starters.
A venue visit is a must – you can't get a true impression of any venue without visiting it in person, but this is particularly true of warehouses. Keep your eyes peeled for open days – these are the perfect chance to get a feel for the space and an idea of what's possible inside.
If you like what you see, book yourself a consultation with the venue to discuss the details of your wedding day and to make sure that it can work for you and your needs.
And then it's time to get planning! Start your Pinterest engines, and get creative to work out how to shape that simple, urban space so it reflects your personality.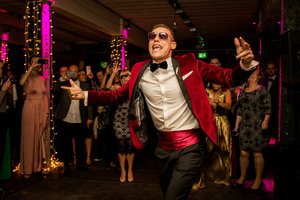 As you unleash your inner designer, just make sure to check in with your chosen venue about any restrictions they have in place. Pay particular attention to their rulings around candles and hanging installations.
Other things to think about include:
Accommodation: remember that most warehouses tend to be off the beaten track and out of the way. Is there adequate accommodation for you and your guests nearby?
Licensing: If you want to have your ceremony and your reception all in the same place, the venue will need to have a wedding licence.  If the warehouse you've set your heart on doesn't offer the option of a legal ceremony, remember that you can look into the possibility of having a celebrant perform a blessing for you. You will, however, need to have a separate legal ceremony beforehand.
I hope this has helped to show you how wonderful a warehouse venue can be. To keep up with the latest in urban wedding trends and to see what we've been up to, make sure you follow us over on Facebook and Instagram.
All images my Steve one of our recommended suppliers – http://www.stevegroganphotography.com/
​