Our first ever styled shoot!!
in July 2017 Zoey had an idea for an industrial warehouse styled shoot in Manchester. she wanted to do a shoot that gave a nod to Manchester, its wonderful industrial history and of course its amazing suppliers. So she put a mood board together and after some months of tweaking in November 2017 she finally decided it was right to start organising it.
I was happy for Zoey to take the lead on the design and style of the shoot, she has such a wonderful creative mind that I knew it would be gorgeous. I wasn't wrong when i saw the mood-board wow, colours, textures, style and concept were amazing and I could vision the shoot straight away! We knew the venue we wanted to do the shoot in as it was perfect for the style and its original purpose being a cotton shed married perfectly with our cotton element!
at the End of November we approached Victoria warehouse as we wanted to organise the shoot for end of February, this would give us enough time to contact and book all the suppliers. We couldn't believe the instant response was a YES!! We were super excited this is a venue we have wanted to work in for quite a while, then we took a breath as we read the date 8th January 2018!!!!!
We looked at each other and said 'sink or swim' and jumped straight on it, it turned out Victoria Warehouse had already been approached by a photographer who wanted to do a shoot at the same time and it just worked out perfect!! As some would say 'meant to be'.
Within a week we had secured the cake, florist, stationery, hair and makeup male and female models. Time was up against us and Christmas was almost here so we had to move quickly. The florist the photographer secured had to pull out just before Christmas and that sent us into panic mode. Zoey had secured a great wedding dress shop who had amazing dresses and we were very excited!
The week in-between Christmas and New Year we secured a florist….phew!! The suit company I secured no longer responded to messages, panic mode again!! So I just went to the local high street menswear shop and purchased a suit perfect for a groom and well under £100 BARGAIN!!!
The week before the styled shoot Zoey secured a lighting company as we were very specific about what we wanted, this wasn't going to be your standard lighting for an Aisle. final prep and it was all going great, we haD some small hiccups with chair hire and glassware but hey these things are sent to try us!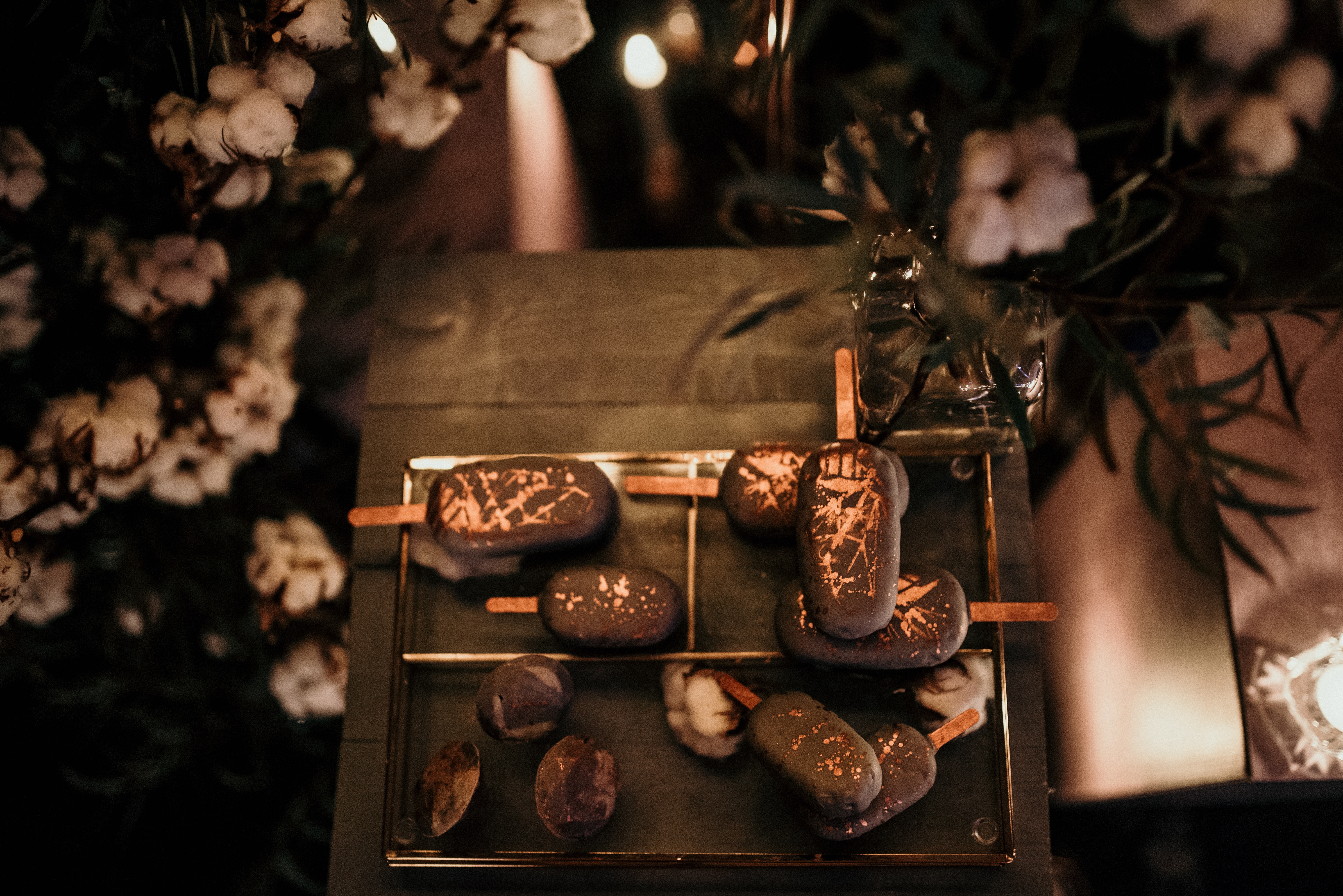 The day of shoot went perfect!!
Despite some things getting in our way like train strikes which our models were using and typical morning traffic we all made it on set!
Zoey's mood board was starting to come together the lighting looked amazing for the Aisle, we had gone for eddison lights hung at different length's to line the aisle and along the bottom we had vases of cotton plant, Perspex pillars with cotton plant in and some candles, the soft glow lighting looked amazing and romantic. We also had an eddison light back drop at the top of the Aisle and it absolutely had the WOW factor!!
The TablE was amazing, this really was Zoey's masterpiece it was dressed with a light grey cotton table cloth and draped in a darker grey velvet swag not only was it looking beautiful but it felt luxurious too! The place settings were set with SILVER CHARGER PLATES UNDERNEATH GOLD RIMMED glass charger plates and then a CONCRETE grey dinner set, this was complimented by copper cutlery and glassware with a gold rim. The table was also dressed in a variation of copper geometric candle holders and vases, CONCRETE CANDLE HOLDERS  AND SMALLER SILVER AND GOLD ELEMENTS. THIS WAS THENFINISHED with foliage and cotton plant. It couldn't get more romantic could it? Oh but what about the lighting display hung from the ceiling, this was really a huge compliment to the table it had an array of EDISON BULBS all hung at different heights and this was then topped with a huge foliage display now it really was the WOW factor!
Each place setting was set with the person's name card, which was made to look like a folded piece of concrete with the name written in copper, on the back of the card was a small copper Manchester bee. There was also a dinner menu placed on the plate this again had a look of concrete with the writing in a shiny copper which glowed beautifully in the light from above, again on the menu was a small Manchester Bee.
This really was a nod to Manchester and its amazing suppliers who helped us pull this shoot together, and to now have it featured on Rock My Wedding is just amazing!!
if you want to read their blog on it here is the link.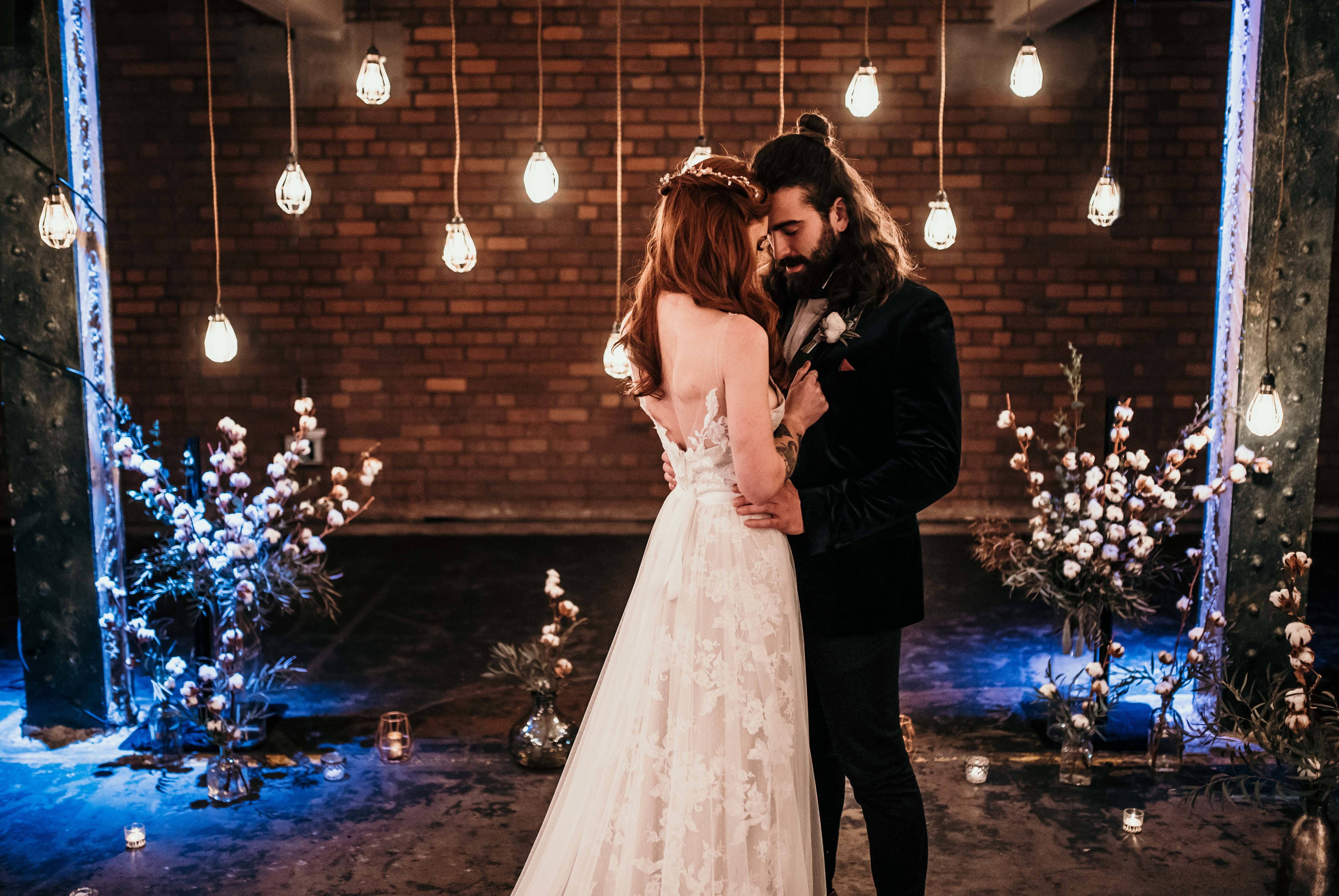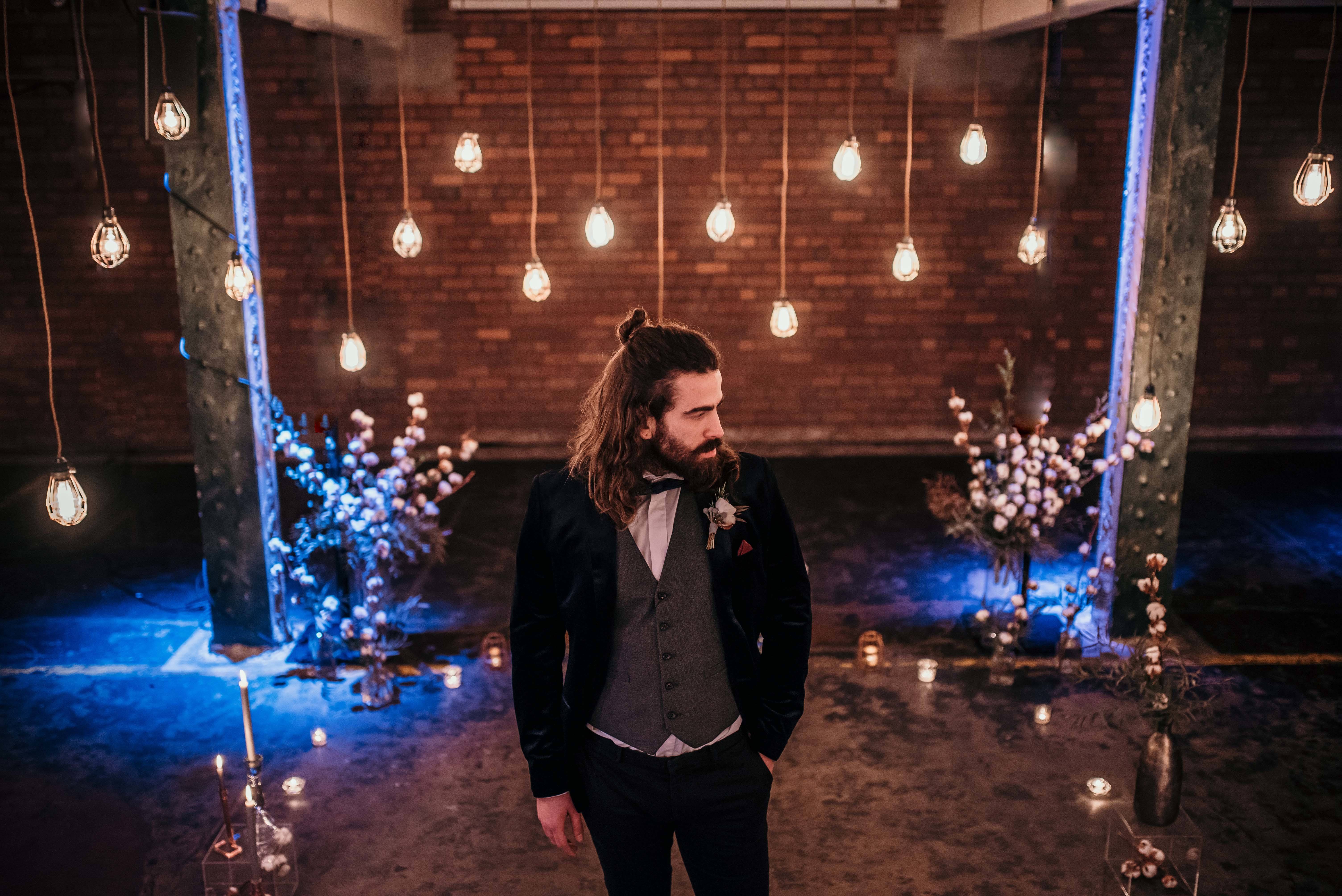 Huge Thank you to everyone involved:-
Photographer – Kerry, FLOWERS – SIAN, Cake – Kate, Dresses – Becca, HAir & Makeup – Row, lighting – Peter, CHairs – Chairman, Styling – zoey, PLANNING – MICHELLE, Models Jenny & Harrison, Venue – Victoria Warehouse.