SO, on the 25th March we ran our first portfolio builder at the amazing comedy store in Manchester city centre. This had been six months in the planning, so to say we were nervous and excited was an understatement! we're used to styled shoots, we've done a few of them now. we love doing them, but this was definitely going to be something very different.
mood boards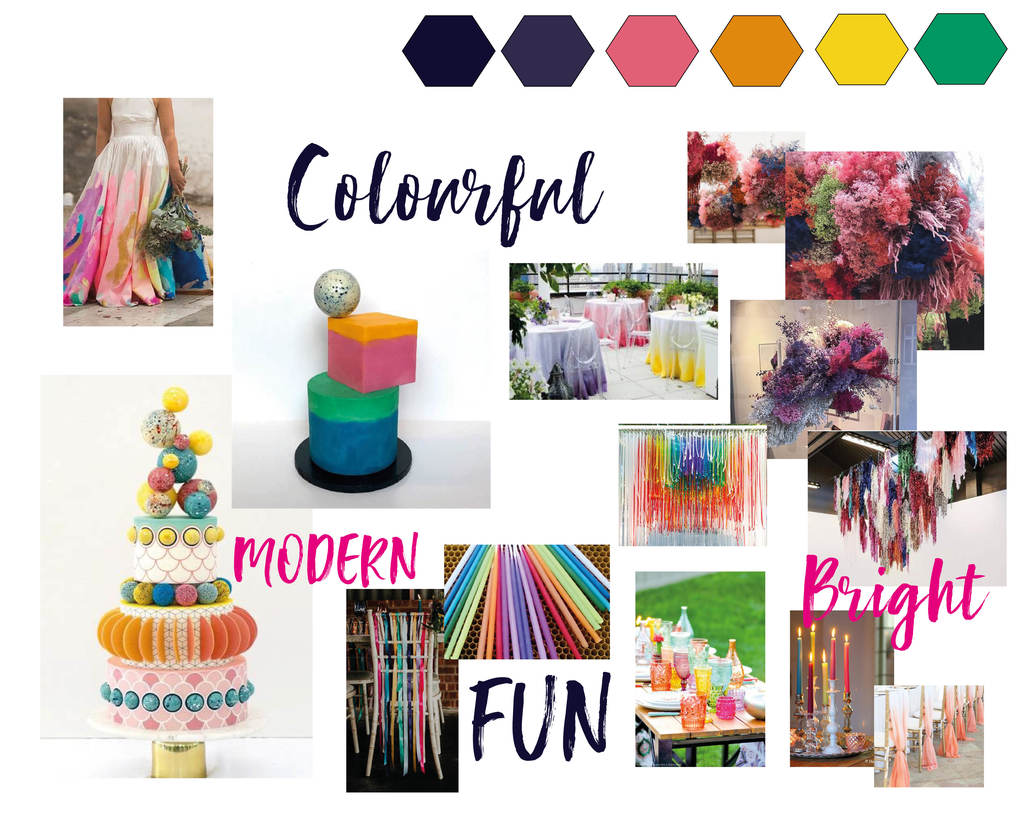 Its not often you see a colourful wedding, lots of couples only choose two or three colours so we grabbed the opportunity to get creative and use lots of colours that compliment each other.
We predict that colourful weddings will be huge this year and into next year.
It wouldn't be a portfolio builder from us without a moody set up. we decided to go with our signature colours adding a gold and duskey grey to compliment the moody blues.
Of course we have to be biased and say its our favourite, but in all honestly we loved both!
the day
we decided to set up the moody blue style in the auditorium and in the bar area utilising the natural light upstars and a dark auditorium with spot lights on the stage. We set the ceremony up on the stage and kate from Perfect bouquet full of flowers installed the most beautiful draping cloud it really looked amazing. zoey teamed this with one of the cakes supplied by urban cakehouse. The ceremony set up looked fantastic and will give lots of inspiration to anyone looking to get married here.
we set the wedding reception table up in the bar area, this is a huge area which is flooded with natural light. continuing with the moody blue theme the table was layered with cotton, velvet and chiffon in various shades of blue giving the table lots of style and  texture. it was styled with deep blue candles which were held in gold candle holders. it most definitely was a romantic set up.
The colour pop set up was done in the downstairs area of the venue, we split the area in two halves with the ceremony set up by the window allowing a lot of natural light. Again kate created a stunning hanging flower installation using lots of variations in flowers and colours. Zoey styled the table in the various colours with coloured candles and flower displays from kate. Zoey also had a ribbon hanging installation above the table which looked fantastic!
we booked 4 amazing models, charlotte who wore a stunning grey dip dyed dress designed by Lucy cant dance and supplied by Rock the frock cheshire, she really did look stunning. jenny wore the most sexy black lace bridal dress supplied by legend bridal and she looked amazing with the low back. marco and theo wore blue and grey tweed suits supplied by groom hire warrington, and we think they looked super handsome. All the models were great and worked really well at interacting with the camera and each other and ok were biased but we think they all looked amazing!
we had two group bookings, one in the morning and one in the afternoon, we then split the groups into smaller groups after listening to photographer pain points from other portfolio builders and from our own research we decided huge groups of 15 photographers or more trying to get the same one shot was not going to work for us.
we decided to swap the models around between the set ups and between each other, this proved to be a little more difficult than we anticipated. we know we didn't quite get this bit right, but it was new to us and we had to try to know if it would work or not.
To round the session off we surprised each group with the opportunity to photograph with a smoke bomb, the images are just amazing!
​we have loved all the images that have been sent to us from the photographers, and we're so excited for our up and coming wedding fayre at the comedy store on september 14th.
Huge thanks to all the suppliers involved in the portfolio builder you were all amazing!
Keep your eyes peeled for our next portfolio builder in october!
Images by Project Valentine & Livi Edwards
Suppliers
Stationery – Frain & Grain
Models – Jenny – Charlotte – Theo – Marco –
Dresses – Grey dip dyed  – rock the frock cheshire
Dresses – Black  – Legend Bridal
Suits – Groom Hire Warrington
Hair and makeup – HAir and Makeup by Saskia
Flowers – Perfect bouquet full of flowers
Cakes – Urban Cakehouse