Ok, so we are not based in London, but we Love london just as much as our home town of manchester, so imagine our delight when hushabye films send us this shoredicth shoot they did you feature!
This shoot was done in november 2018, "we didn't have a venue it was just shot in the gorgeous gritty backdrop of east london" said jade. Well there is nothing gritty about this shoot,its full of amazing colour and we love it!
I wanted a cool urban luxe vibe, with high-end details such as the dress, flowers and flower crown – a luxurious juxtaposition against the Shoreditch backdrop.
I wanted a hell of a lot of fun, colour and happiness to come through on the shoot. Well we think that they absolutely achieved this. We really struggled choosing images for this blog because we loved them all.
Luckily i used to work in TV in Shoredicth so i already knew all the secret nooks and crannies really well.   I knew I wanted to do a styled shoot there it was just a question of when!
I had also worked with Nicki the photographer over the summer and knew she would be great to shoot alongside as we both love the fun and joyous side of weddings.
Well we couldn't agree more, colourful fun shoots are just great, zoey is a huge fan of colour as well as our moody stuff we do, she has predicted that lots of colours will be used over the next year in weddings! So we shall see.
Well, its safe to say we are still so much in love with London and now we will be looking at doing our shoot down there!!
Thanks so much for letting us feature this shoot we absolutely love it!!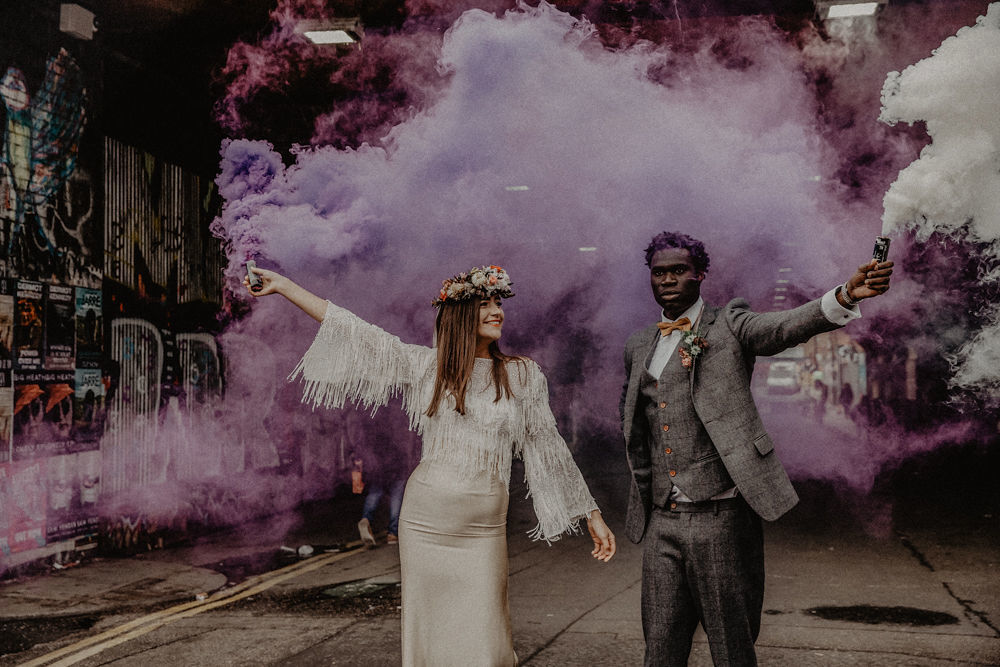 suppliers involved
Film Maker and Concept  – Hushabye Films
Photography – NICKI SHEA PHOTOGRAPHY
Bridal dress – poppy perspective
Groom suit – vintage suit hire
Floral – floral flowers and foliage
MUA – Emma Morris
Flowercrown – sophie and luna london
Veils – sash and veil
Models – Bride emma j fleming
Models – Groom festus ifiti jr