LONDON WEDDING COUPLE Laura & Andy are a very relaxed fun couple who absolutely thought outside the box and created a wedding day they wanted, we are super delighted to be showing you their day on our blog, filled with sunshine, canals, boats and dinosaurs!
They were married on the 1st September 2018, the wedding was in Camden and Kings cross london,  they wanted something personal with a 'fun' theme but this morphed into a mixture of Canals and dinosaurs as the planning progressed. Ryan is a huge dinosaur fan, so they themed the invitations, table names and centre decorations around that. Canals came from the wonderful museum, and the narrow boat ride between the ceremony and reception.
All captured by London Photograher Nicki Shea
The Wedding 
The ceremony took place in Arlington Centre, Camden which is a listed building as well as a homless shelter.
Laura the Bride – "We said our vows in their beautiful conference room. The ceremony was led by james who is a close friend of ours and acted as a celebrant. We chose it for its location close to Camden lock, so we didn't have to walk far to the narrow boats. We also liked the idea that our fee would do some good, as the Arlington centre re-invest profits into vital work supporting homeless people in the community to regain their independence and move on to stable futures."
as it was a such a personal ceremony to them, It was important to Laura for both her parents to walk her down the aisle, We also included a photo montage from our 7 years together (and managed to sneak in a photo of the legal quickie registry office ceremony, too).
The Wedding reception walk
After the Ceremony it was a short walk through Camden to board the boats. The couple created some "tour guide props" for the ushers to carry so no one got lost – inflatable dinosaurs on garden canes. – HAHA we love this idea and it must have been great walking a wedding party through camden.
Ryan the groom – "We paused for photo's around camden and on camden lock bridge and for confetti. There's a large pub garden just on the lock, and one of the most unexpected parts of the day was when the entire garden of drinking strangers cheered and applauded us as we walked by!"
"The boat ride was really relaxing, and we saw some new bits of London along the way! We love finding hidden corners in our city, so it was fab to unexpectedly do that on our wedding day. We disembarked at the Canal Museum's own dock and went into the reception proper. This is where we did some group shots with family, friends and the wedding party
The Wedding reception venue 
THIS TOOK PLACE IN THE LONDON CANAL MUSEUM IN KINGS CROSS.
THIS BUILDING IS A VICTORIAN ICE WAREHOUSE ON REGENT'S CANAL. LAURA AND RYAN LOVE QUIRKY MUSEUMS, SO THIS PLACE FELT PERFECT AS SOON AS THEY WALKED IN.  ONCE LAURA FOUND OUT THEY COULD ARRIVE BY CANAL BOAT, THAT SEALED THE DEAL FOR THEM AND IT JUST ALL FELL INTO PLACE.
Ryan & Laura didn't want the speeches to loom over dinner, so did them during the drinks reception, we love this idea, such a relaxed way to do them. The wedding breakfast followed on from them and guests were treated to a 2 course buffet style meal with lots of dishes and desserts!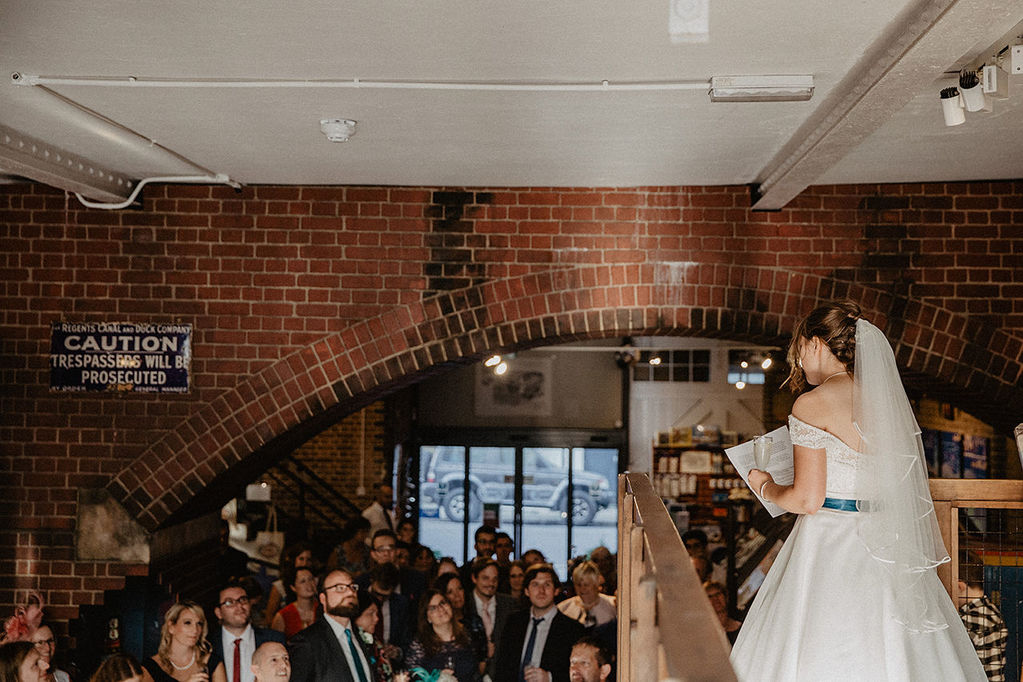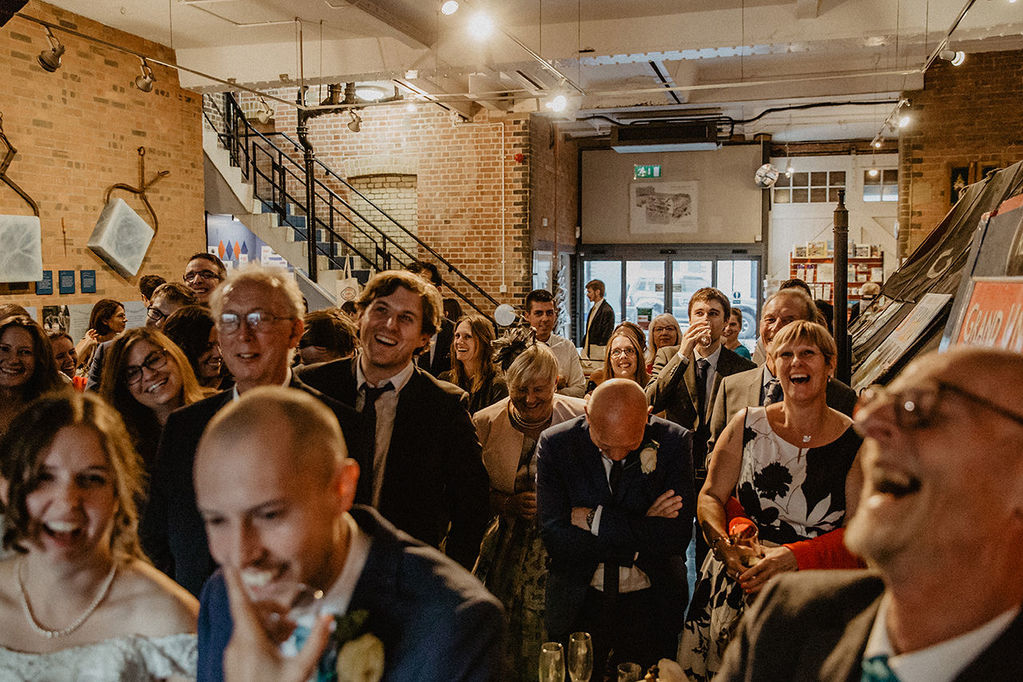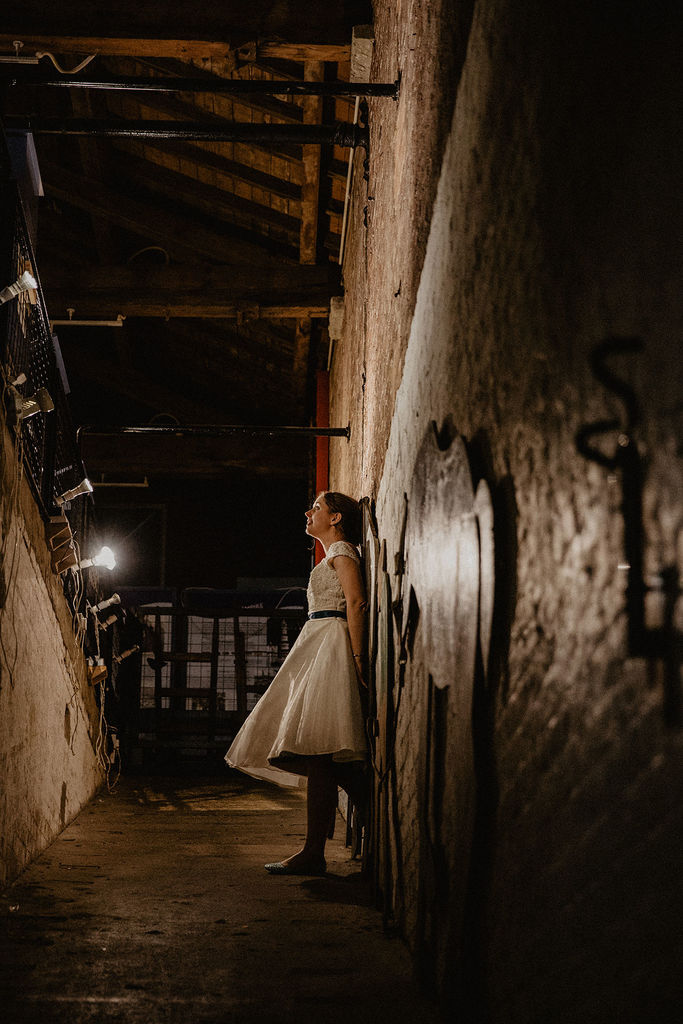 The Dress
Laura wore A Serenity dress from Brides of Southampton.
Laura Says "My dress was very much transformed by my talented bridesmaid and seamstress, Lucy. Originally floor length and a few sizes too big, Lucy helped me realise my tea-length with a touch of green vision. I loved it!"
We love it too!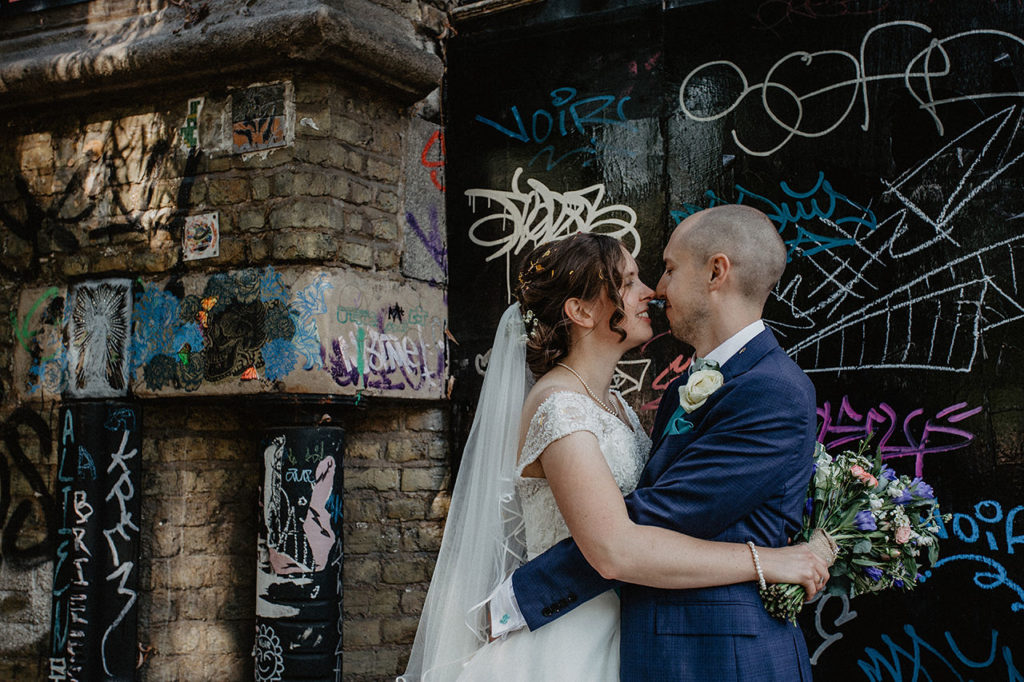 The Suits – The suits were all 3 piece DKNY suits from Moss Bros, we love them and think the men looks really stylish!
The Bridesmaids –  Laura was very relaxed about what her ladies wore, she specified the colour (and the budget) and then they each chose their own dress, 2 came from Coast and one from Jolie Moi. We are seeing more and more of this and we give this a huge thumbs up!
Olive her flower girl wore a dress she already owned, perfect!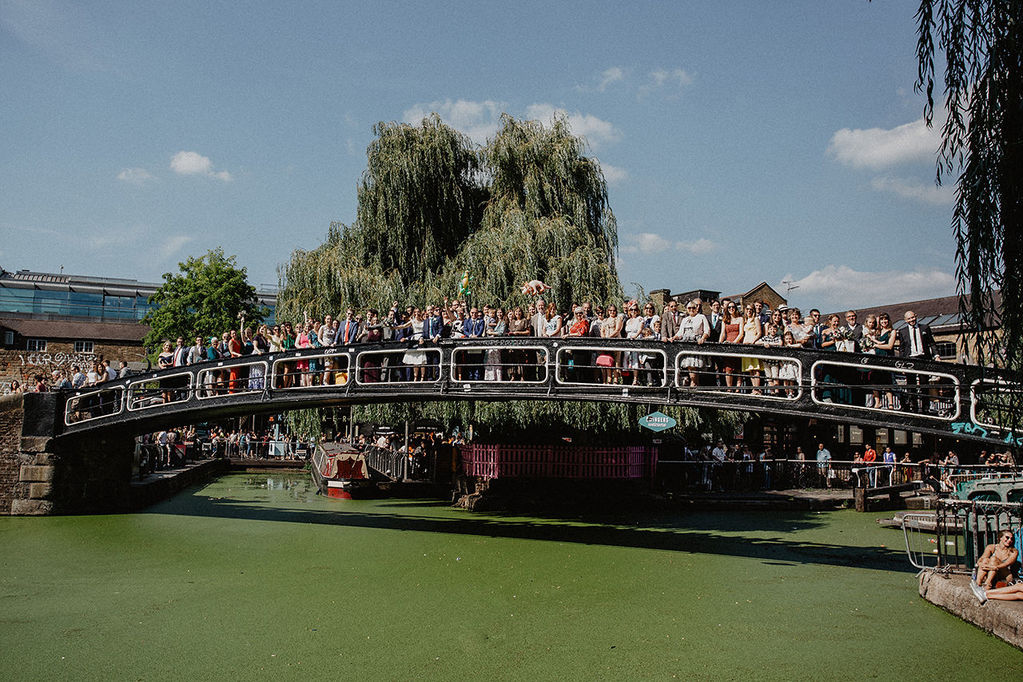 We loved hearing about this wedding, it looks lovely and one that was filled with lots of personality and thats a big win for us!
All images by Nicki Shea Photography
IF YOU WANT YOUR WEDDING FEATURED CONTACT US HERE