on our city wedding blog this week we have an interview with Helen from Rock the frock Cheshire, who is based in a gorgeous boutique in Stockport.
First impressions are just WOW the shop is super cool and welcoming, of course I was greeted with Helens big friendly smile, she has such a lovely friendly manner we can see why brides and their tribes are flocking to her shop to try on these amazing dresses, I'll be honest I wanted to try them all!
After a look around this gorgeous boutique we sat on the sofa in front of the coolist neon sign with a brew (not for me I don't drink them) and had a chat, if I hadn't of been limited to the 2 hour parking in front of the shop I can tell you I would have been there hours talking to Helen.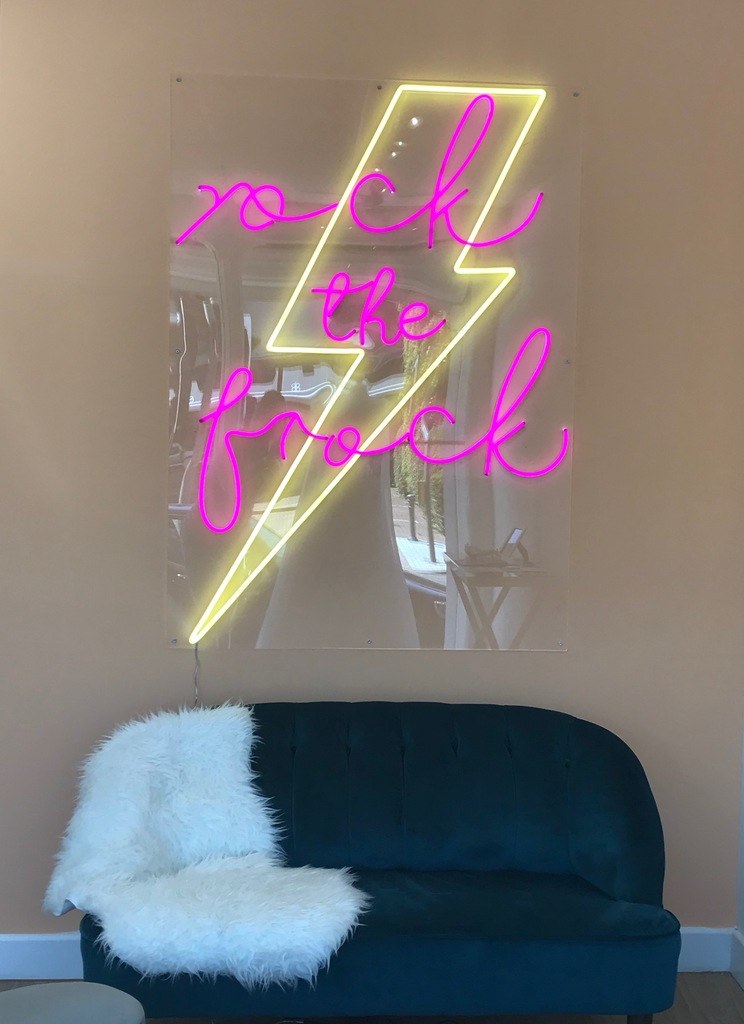 Helen set up Rock the Frock Cheshire in September 2018, which is a franchise from Rock the Frock, she just loved their ethos and what they stood for and when the opportunity came up it was just meant to be for her to start up the shop. Stocking independent wedding dress suppliers like, Lucy Can't Dance, Leanne Marshall, Otaduy, and Mila Mira. For the bridesmaids she stocks Rewritten which we just love. What I loved about Helen's shop is she stocks dresses in sizes 12 to 14 and lots can be tried on by ladies who are 16-18 too as the dresses are so versatile, Helen is looking to stock some bigger sizes soon too!
Although the collection is not huge we like that, you will not be overwhelmed when you go into the shop not knowing what to try on or where to look, but believe me when I say you will want to try them all on as they are all so beautiful. Stocking these great independent designers means that there is less chance of you finding a bride in the same dress as these dresses are not mass produced.
We asked Helen what makes you unique?
​'Because we stock unique independent suppliers you can't get anywhere else I have brides travelling from all over the UK to come and try them here'. I feel I always give my brides and their team exceptional care and attention from that very first point of contact with me, whether it's on the phone or email. When they book in for an appointment they get my undivided attention and the whole shop to themselves so there are no distractions and I treat all of them like VIP's'
I couldn't agree more Helen treated me so nicely, when you book in with Helen you can book a 1 hour slot for your first appointment, or if you want a bit more time you can book in for a 2 hour slot which includes refreshments and treats, both bookings come with a deposit payable which is then redeemed against any purchase of a dress, we think it's well worth it and you know you are going to get that VIP treatment from the moment you step through the doors.
The last couple of things we asked Helen were for some tips on what brides should wear to their appointment and when should they book in to try on dresses?
Helen suggests booking in around 10-12 months before your wedding date to try on dresses, the lead time for dresses to come in is around 6 months then your alterations are around 8 weeks, its worth noting she has a seamstress she recommends too. With regards to what to wear or bring to your appointment Helen says wear nude seamless underwear, try not to wear black as it will show through the dresses and that's all you end up noticing. If you have accessories you've got and shoes bring those too so you can put everything together, but don't worry if you don't as the shop has a lovely collection of accessories too!
Thanks for asking us to the shop, we absolutely love it and could have stayed all day playing dress up! We're lucky enough to have worked with Helen on our portfolio builder in March this year when she supplied a dress for the shoot, so we know you ladies will love the collection in the shop!
Click here if you want to get in touch with Helen and book you and your tribe in for that VIP experience!
Images from Danielle Boxall Photography & Adam Tranter
If you want to feature on our guest blog, then email us now urbanblogsubmission@gmail.com