ARE YOU PLANNING A CITY CENTRE WEDDING? THEN YOU ARE IN THE RIGHT PLACE! WE ARE NOT ONLY BRINGING YOU THE MOST STYLISH CITY CENTRE WEDDINGS TO FEAST YOUR EYES ON! WE ARE BRINGING YOU GUEST EXPERTS, CITY VENUE REVIEWS, CITY WEDDING FASHION, CITY CENTRE HENS & STAGS AND DIY TIPS FOR ADDING THAT PERSONAL TOUCH TO YOUR CITY WEDDING!
THIS BLOG IS FOR ALL YOU COUPLES LOOKING FOR HINTS AND TIPS TO MAKE YOUR CITY WEDDING PERFECT SO GET IN TOUCH AND LET US KNOW WHAT YOU WANT TO SEE UP ON THE BLOG, WHAT YOU ARE LOVING OR WHY NOT SUBMIT YOUR CITY WEDDING????
amongst the wreckage
We have a gorgeous shoot on this weeks blog brought together by Victoria Walker boutique. set in an old cloth warehouse called sunny bank mills in farsley, North yorkshire. amongst its lovely gallery, shop and tea room is a very industrial, untouched venue which is still in its original 'warehouse' state. With its creaking floorboards and its peeling paint, it really does hold its character and proved to be a picture-perfect backdrop for this styled shootcollaboration.
VICTORIA WALKER OF VICTORIA WALKER BOUTIQUE WAS THE HOST OF THIS SHOOT. SHE PULLED US ALTOGETHER TO SHOWCASE SOME OF HER NEW BRIDAL HAIR JEWELS AND JEWELLERY PIECES. I HAVE NEVER SEEN SUCH PURE TALENT AS WHEN I WITNESSED HER MAKING THE HAIR VINE THE MORNING OF OUR SHOOT TO FIT TO THE HAIRSTYLE WE CHOSE. USING SWAROVSKI CRYSTALS, PEARLS AND OTHER SPARKLY BITS AND BOBS, VICTORIA CREATED SOME INCREDIBLE JEWELS TO SHOWCASE WITHIN THE IMAGERY.
Dani from Deluxe Blooms, created a gorgeous ceremony Tipi design. It really stood out amongst the industrial backdrop of the mill as it was such a contrast.
"The shoot was carried out to showcase some local suppliers and their talents.We have all formed great friendships within the industry, so decided to cometogether to create this urban magic."
Confetti & Lace very kindly donated multiple dresses for our photo shoot, Kayleigh our model was around 12 weeks pregnant (I KNOW!!) at the time of the shoot. for one of the chosen dresses We opted for a dress with pockets, It's something a bit different and something more brides should have. I mean, who doesn't love a dress with pockets?!
Another dress we opted for was a form fitting fish tail dress, with backless detailing. We chose this as a contrast to the fuller dress with the pockets. This very lacy, detailed dress was a real stand out dress amongst the green wooden doors. Finally, we opted for an A-Line number when we got the smoke bombs involved. This dress had great movement.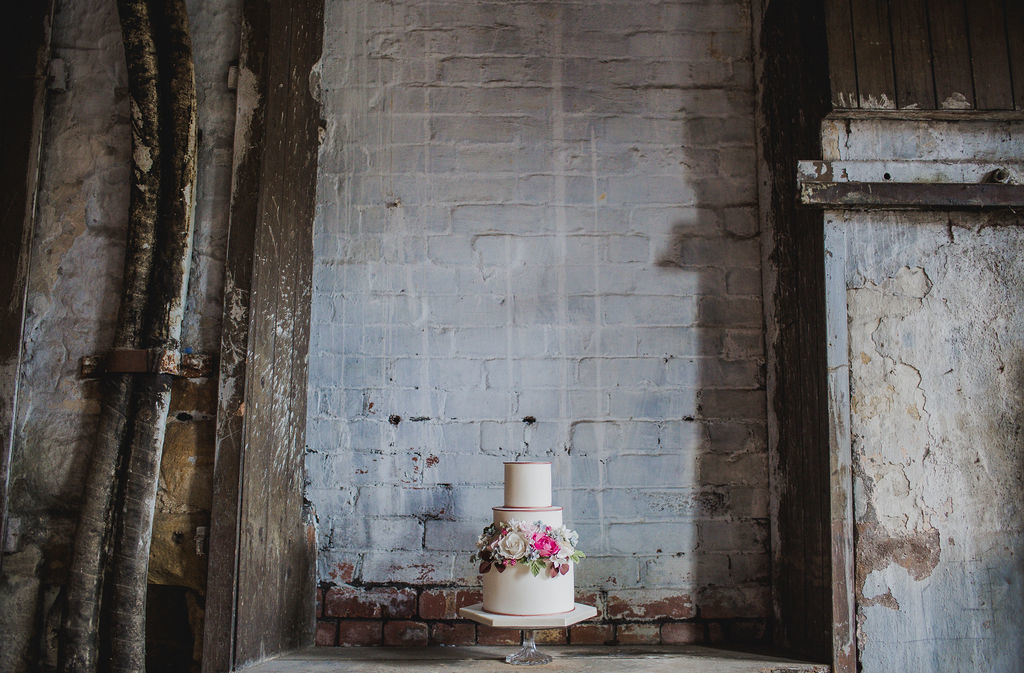 The Cake was donated by the very talented, Laura at Rose and Jam. Her copper edging and the intricate hand made flowers (made purely of icing) decorated her exquisite creation. Victoria even made a cake fork which shedetailed with the words, EAT ME….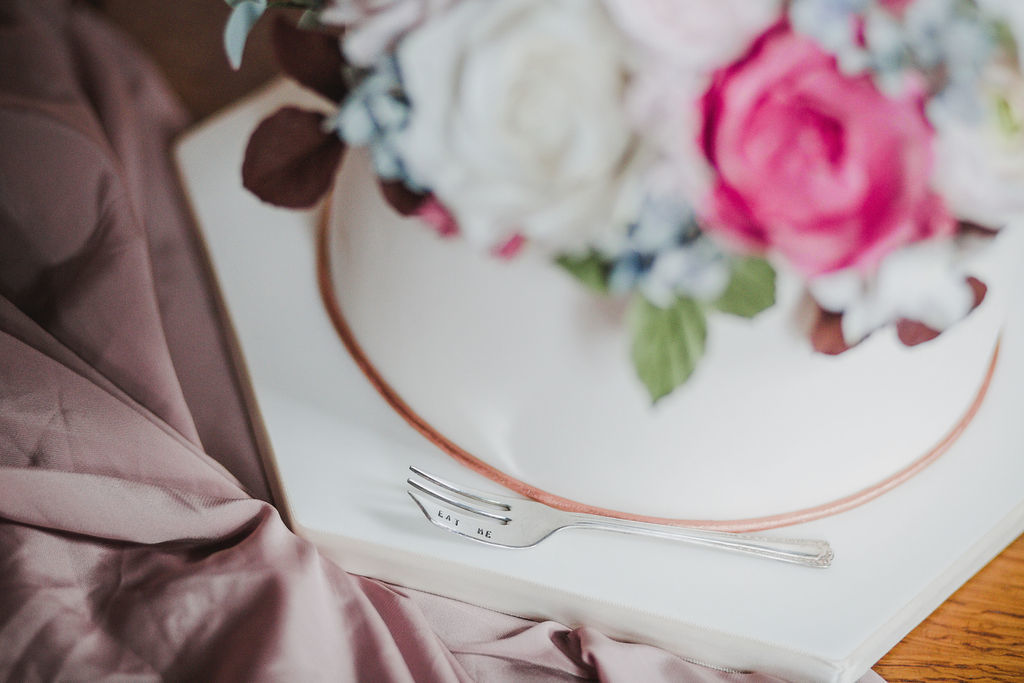 This shoot was a real photographersdream to capture, and working with such talent made the day all the moreeasy. I used this shoot as an excuse to get creative, using the smoke bombs tocreate a colourful dimension within the imagery and be able to spend timefinding the most perfect light.
Kimberley the hair & MUA is the perfect addition to any wedding morning being able to provide both services. Her flawless make-up and creative hair style made photographing Kayleigh even more of a delight, and her hair style was the perfect canvas for the hair vines created by Victoria walker.
Myself, Emily Green Photography. I am a Wedding and baby photographer based in Horsforth, Leeds. I have been photographing weddings for 7 years now, starting at the mere age of 18!! This shoot was a real photographers dream to capture. I used it as an excuse to get creative, using the smoke bombs to create a colourful dimension within the imagery and be able to spend time finding the most perfect light.
Photographer – Emily GreenHair Vines and Jewellery Creator (leader of shoot) – Victoria WalkerFlowers – Danielle BolserCake – Laura Andrews of Rose & JamMake-up & Hair – Kimberley CloughModel – Kayleigh AudsleyDresses – Confetti & laceVenue – Sunnybank Mills
email us now to have your shoot featured here urbanblogsubmission@gmail.com