ARE YOU PLANNING A CITY CENTRE WEDDING? THEN YOU ARE IN THE RIGHT PLACE! WE ARE NOT ONLY BRINGING YOU THE MOST STYLISH CITY CENTRE WEDDINGS with industrial vibes TO FEAST YOUR EYES ON! WE ARE BRINGING YOU GUEST EXPERTS, CITY VENUE REVIEWS, CITY WEDDING FASHION, CITY CENTRE HENS & STAGS AND DIY TIPS FOR ADDING THAT PERSONAL TOUCH TO YOUR CITY WEDDING!
THIS BLOG IS FOR ALL YOU COUPLES LOOKING FOR HINTS AND TIPS TO MAKE YOUR CITY WEDDING PERFECT SO GET IN TOUCH AND LET US KNOW WHAT YOU WANT TO SEE UP ON THE BLOG, WHAT YOU ARE LOVING OR WHY NOT SUBMIT YOUR CITY WEDDING TO US.
We don't know about you guys, but we have absolutely no idea what dat of the week it is. This lock-down has us all out of sync. Luckily we still have lots of wedding inspiration.
THIS WEEK, WE HAVE some GORGEOUS INSPIRATION for you FROM A STYLED SHOOT SET IN HUDSON NEW YORK. Helsinki hudson IS A RESTORED INDUSTRIAL COMPLEX WITH A SOUTHERN-INFLUENCED AMERICAN EATERY & SPACE FOR ALT-ROCK ACTS, YAY!! The shoot was submitted to us by Bad Boss Bride we have featured Rachael's wedding in a previous shoot on our city blog before.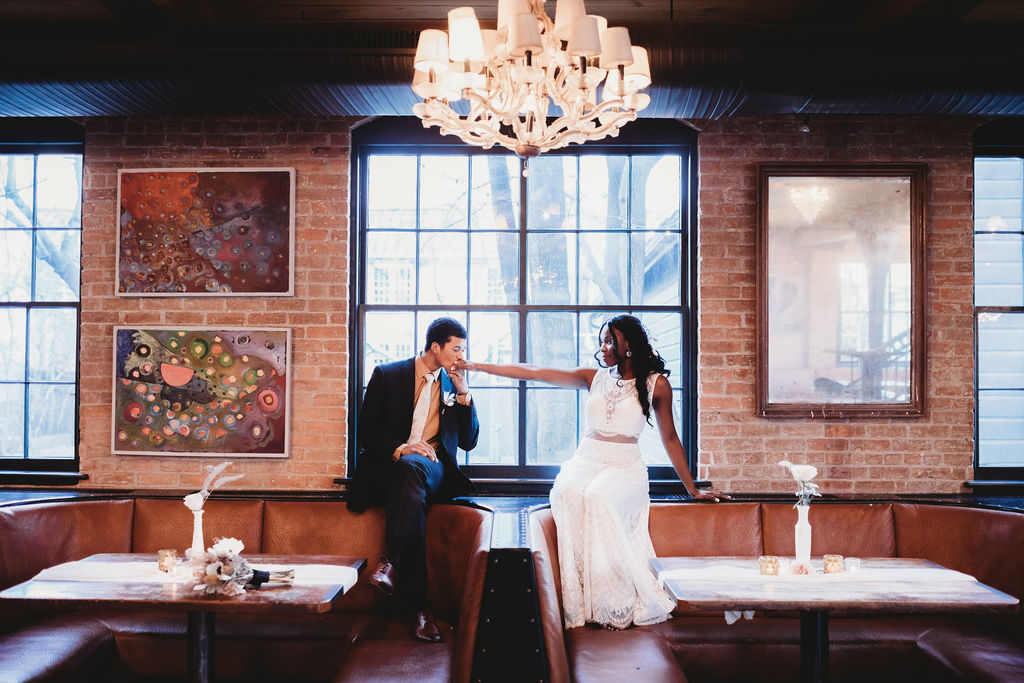 industrial New York boho vibes
The overall vibe for this event was inspired by the concept of a boho warm weddingenvironment. This is seen in the brassy elements of the venue, echoed in the jewelryselection, vases for florals and elements of the tablescape.
The ceremony space is highlighted with a vintage rug and surrounded by locally foraged dried flowers and plants with pops of fresh blush florals. The florals were highlighted again in the models' hair, the groom's boutonniere and as accents on the tablescape.
"THIS SHOOT WAS A LABOUR OF LOVE FROM A GROUP OF HUDSON VALLEY NEW YORK BASED ARTISTS"
WHAT WAS YOUR INSPIRATION BEHIND the shoot?
THE SHOOT WAS INSPIRED BY THE VINTAGE INDUSTRIAL SETTING, WARM EARTH TONES, TEXTURES AND AN EMPHASIS ON LOCALLY FORAGED MATERIALS. THE EVENT FOCUSES ON BLENDING ELEMENTS FROM EACH VENDOR TO WORK TOGETHER HARMONIOUSLY.
Well, we are loving this industrial New York styled shoot, all the elements have come together perfectly.
"ALL THE SUPPLIERS CAME TOGETHER TO CREATE A UNIQUELY EDGY AND WARM EVENT."
Supplier credits
DESIGNER/PLANNER BAD BOSS BRIDE, MAKEUP ARTIST CAITBOZZONE, HAIR STYLIST WHITNEY WALKER BEAUTY, HAIR STYLIST DOMINIQUE ROCHELLE BEAUTY, Bridal GOWNS JULIE ALLEN BRIDALS, JEWELRY J BLISS STUDIOS, HAIR ACCESSORIES PEACHES AND LOVE, FLORAL DESIGNER HUDSON VALLEY FLORAL, CALLIGRAPHER KATRINA JORDAN,PHOTOGRAPHER DORI FITZPATRICK PHOTOGRAPHY, PHOTOGRAPHER NICOLE WREN PHOTOGRAPHY, PHOTOGRAPHER BELLE LA VIE IMAGES, PHOTOGRAPHER NICOLE ADRIANNA PHOTOGRAPHY,  VIDEOGRAPHER TURNQUIST PHOTOGRAPHY, VENUE HELSINKI HUDSON
if you want to be featured get your wedding or shoot submitted to urbanblogsubmission@gmail.com