ARE YOU PLANNING A CITY CENTRE WEDDING? THEN YOU ARE IN THE RIGHT PLACE! the urban WEDDING BLOG IS NOT ONLY BRINGING YOU THE MOST STYLISH CITY CENTRE WEDDINGS TO FEAST YOUR EYES ON. WE ARE ALSO BRINGING YOU GUEST EXPERTS, CITY VENUE REVIEWS, CITY WEDDING FASHION, CITY CENTRE HENS & STAGS AND DIY TIPS FOR ADDING THAT PERSONAL TOUCH TO YOUR CITY WEDDING!
THIS BLOG IS FOR ALL YOU COUPLES LOOKING FOR HINTS AND TIPS TO MAKE YOUR CITY WEDDING PERFECT. or for couples wanting to add and indutrial twist to their day. SO GET IN TOUCH AND LET US KNOW WHAT YOU WANT TO SEE UP ON THE BLOG, WHAT YOU ARE LOVING OR WHY NOT GET FEATURED AND SUBMIT YOUR CITY WEDDING TO US!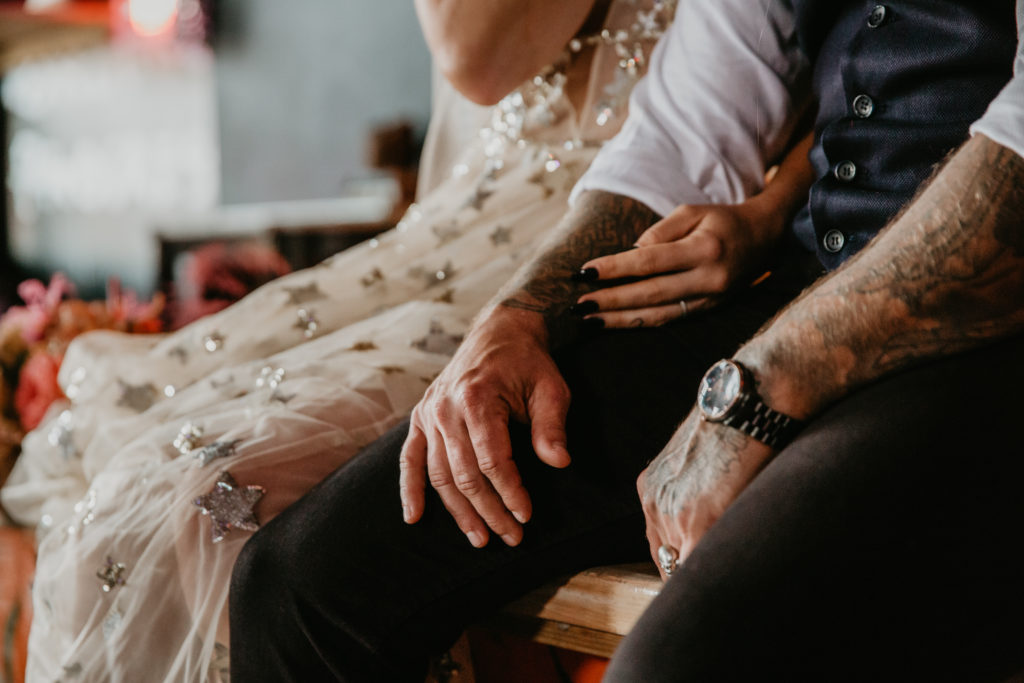 Ah we love a workshop, they are such a great way for a team of creatives to come together learn and teach each other tips and techniques. they are huge collaborations and we are hugely fond of them as our ethos is collaboration not competition!
This week on the blog we have a fab Killer filler shoreditch workshop sent to us by jade of hushabye films. We have featured jade and Nicki before check out their other blog here
What made you decide to do the killer filler workshop?
the KILLER FILLER WORKSHOP WAS THE FIRST WORKSHOP FOR VIDEOGRAPHERS AND PHOTOGRAPHERS ALIKE TO SHOOT SHIT HOT FOOTAGE PURELY FOR THEIR PORTFOLIOS AND SOCIAL MEDIA.  WE NOW HAVE ONE PLANNED IN OCTOBER 2020 IN PORTUGAL AND LAS VEGAS 2021.
SHOREDITCH WAS THE OBVIOUS LONDON LOCATION CHOICE FOR A SUPER COOL URBAN BACKDROP.  WE WANTED TO GATHER ALL OUR AMAZING SUPPLIER FRIENDS TOGETHER AND CREATE SOMETHING TRULY UNIQUE.
What was your inspiration behind it the killer filler workshop?
THE INSPIRATION WAS OFF THE BACK OF THE STREET ART AROUND SHOREDITCH.  WE WANTED A VENUE THAT MATCHED AND FLORIPA WAS PERFECT WITH ITS COLOURFUL,  ECLECTIC DÉCOR.  WE WANTED COLOUR AND ORIGINALITY AND PARTY VIBES A PLENTY.  MYSELF (JADE @ HUSHABYE FILMS AND NICKI SHEA PHOTOGRAPHY) ARE REBELLIOUS AND WANTED A SHOOT THAT MATCHED!  WE ARE SO PLEASED WITH THE RESULTS.
WE WORKED THE SHOOT AROUND 2 X LOCATIONS.  THE CRAZY COLOURFUL BAR, WITH AMAZING STYLING BY FLEAUR DE LACE, NEON SIGNS, A TOTALLY UNIQUE CAKE BY ARD BAKERY AND PROPS A PLENTY FOR THE MODELS.  WE THEN HIT THE STREETS AND PLAYED WITH ALL THE AMAZING BACKDROPS ON OUR DOORSTEP, COMPLETE WITH CONFETTI CANONS AND SMOKE GRENADES.
Our tHoughts
We at the urban wedding company absolutely love the work Jade & Nicki do. they create amazing shoots and workshops, this is so colourful and creative, and the couple are gorgeous! using shoreditch which is a great place in the city of london, is a fab back drop for anyone who is looking for an urban vibe, thats why its perfect for us to feature on our city wedding blog.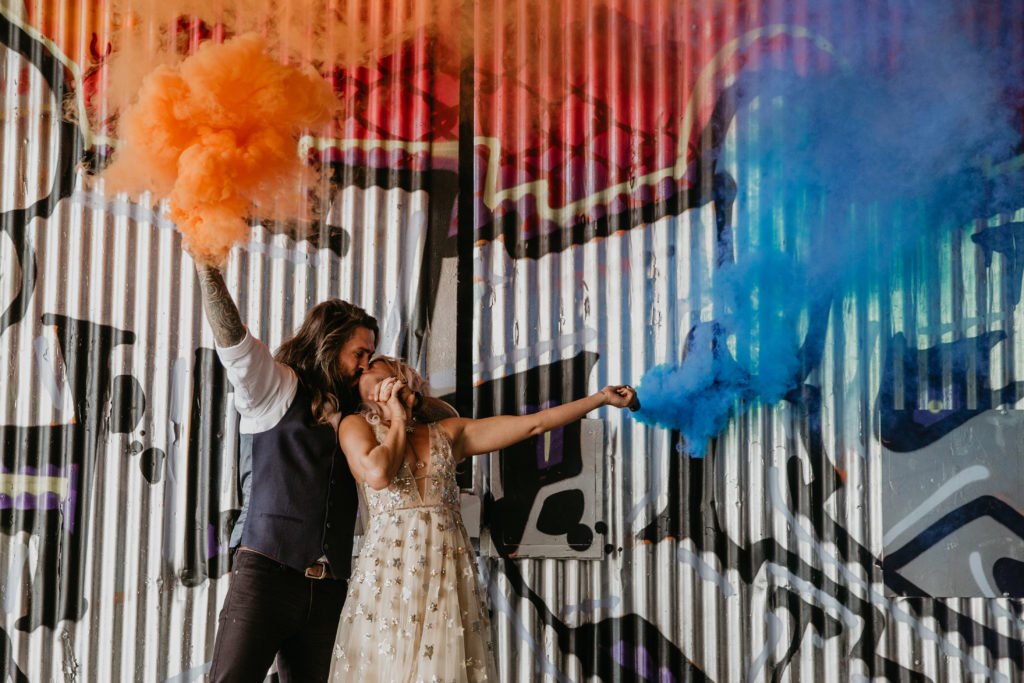 credits
Film & workshop creator – hushabye films, photography & workshop creator – Nicki Sea Photography, Stylist – Fleur De lace UK, MUA – Flash Kate, FLorals – Wild Renta Flowers ,  dresses – Bud and Boe bridal, Hats – Jewel Britannia hats, headband – love from becky, cake – ard bakery, veils – sash & veil, neons – pink lamp weddings,  jewellery – victoria louise jewellery, stationery – you me oui stationery, models – the protheros, workshop – killer filler workshop
If you want your wedding, shoot or a guest feature on our city wedding blog then get in touch urbanblogsubmission@gmail.com