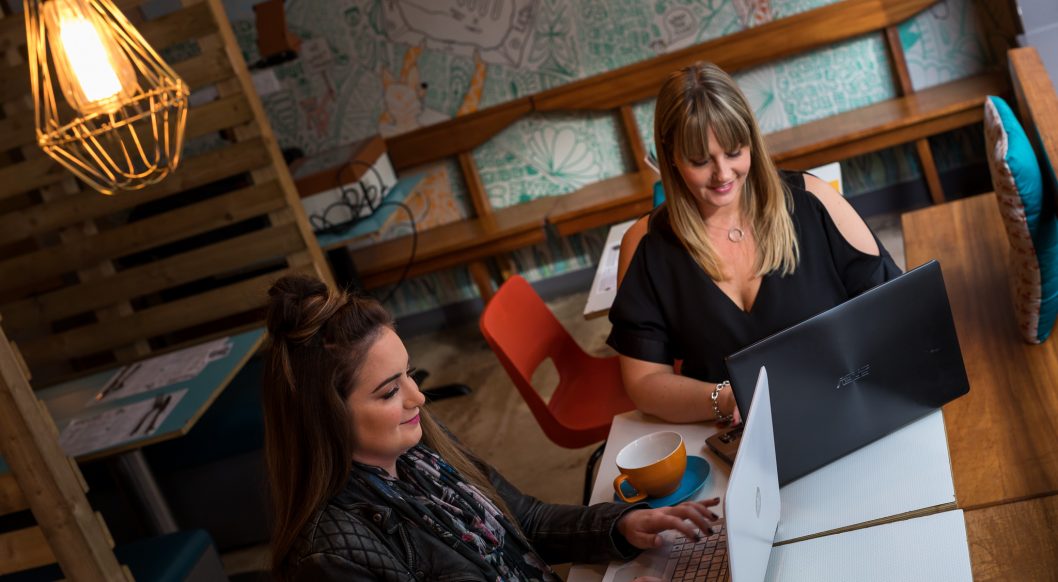 THE URBAN WEDDING COMPANY: WHO THE HECK ARE THEY?
It's time to meet the talented duo behind Manchester's ultimate urban wedding service. Zoey O'Brien and Michelle Healey both have their own successful wedding businesses, but they have formed a dream team in their hometown of Manchester to offer a complete styling and planning service for seriously cool couples with a love of urban luxury.
Hi! I'm the styling and design-focused half of The Urban Wedding Company. Having run my event styling business for several years, I'm experienced in working with couples to bring their vision to life, and help them design a beautiful, unique wedding that's full of their personalities. While I appreciate modern, urban styling, I'm not trend-led, and prefer to make each wedding I work on tell the love story of the couple at its heart. True love and true style is timeless, after all.
I'll be with you every step of the way as you think about the visual elements of your big day – from nailing the vision and look of your wedding, to selecting the perfect team of suppliers from stationers to cake makers and beyond, and bringing everything together with seamless style on the day itself.
A little about me: I'm a Manchester girl, born and bred, and I love this city. I'm a total foodie (sometimes a bit of a greedy one!) and love discovering new eateries in Manchester's vibrant restaurant scene.
Food is a big player in my other great love – travelling. I'm totally addicted to exploring new places, learning about their cultures and trying local delicacies. I try and go off the tourist trail when I'm travelling, and while I love the luxury of a nice hotel, I love getting back to nature too.
My weekends are spent exploring some of the gorgeous countryside around this area, going on long walks with my family and friends, who mean the world to me.
SIX FAST FACTS:
- Good god I hate peas
- I need caffeine to function
- I've done a skydive
- I've seen more stars than I ever thought possible while camping in the Australian bush
- My favourite animal is a polar bear, and I got up close with one on my travels in Lapland.
- I've been lucky enough to see one of the rarest animals in the world – the platypus – in its natural habitat.
Hi there, my name is Michelle Healey and I'm responsible for the planning side of the business. I've had my own wedding planning business for almost five years, and I truly love my job. No, it's not all roses and prosecco and pink fluff, yes, it's damn hard work sometimes, but I can't imagine ever doing anything else. Playing a part in the happiest day of a person's life is just such a privilege, and I love it.
Weddings have been part of my career for over a decade now. I first started in wedding stationery and bridal makeup, and loved being able to flex my creative muscles. I often found that after I'd done a bride's makeup, I'd help out with the organisation, making sure that things ran smoothly. It was this experience that sparked something in me, it felt amazing to be able to be there for a bride on her wedding day, and I decided to become a wedding planner.
After a few years gaining experience, I launched my business, and the rest is history. I'm the logistics and organisational expert of The Urban Wedding Company, and it's my job to make sure that every goes perfectly smoothly on the day, leaving you free to relax and enjoy your wedding.
I'll work with you right from the start, keeping everything on track during the run up to your wedding, then working with you on the day as your wedding co-ordinator and contact point for all your suppliers.
A little about me: Although I was born in Canada, I've lived in Manchester for most of my life, and I just love it. I could list dozens of reasons why it's my favourite city in the world, but for now I'll just lead with…its cocktail bars! Some of the bars here offer really incredible cocktails, and I love trying new ones with my husband. I've been married for 12 years, but it sometimes feels like only yesterday I was walking down the aisle on my wedding day.
I'm not as well-travelled as Zoey–the-jetsetter, but I do love visiting new places. Well… I like arriving there, the travel itself terrifies me as I hate flying and I get seasick, haha. It's not enough to put me off though, and I can't wait to get out there and see more of the world.
SIX FAST FACTS:
- If a Cosmopolitan is on the menu, I'm a happy lady!
- I love bats! People don't always get it but I think they're so cute.
- Sweetcorn is one of the most revolting things on the planet, as far as I'm concerned.
- You'll never find me horseriding – horses scare me!
- I have been on several TV gameshows
- I've lived in 3 different countries