ARE YOU PLANNING A CITY CENTRE WEDDING? THEN YOU ARE IN THE RIGHT PLACE! THE URBAN WEDDING BLOG IS NOT ONLY BRINGING YOU THE MOST STYLISH CITY CENTRE WEDDINGS TO FEAST YOUR EYES ON. WE ARE ALSO BRINGING YOU GUEST EXPERTS, CITY VENUE REVIEWS, CITY WEDDING FASHION, CITY CENTRE HENS & STAGS AND DIY TIPS FOR ADDING THAT PERSONAL TOUCH TO YOUR CITY WEDDING!
THIS BLOG IS FOR ALL YOU COUPLES LOOKING FOR HINTS AND TIPS TO MAKE YOUR CITY WEDDING PERFECT. OR FOR COUPLES WANTING TO ADD AND INDUTRIAL TWIST TO THEIR DAY. SO GET IN TOUCH AND LET US KNOW WHAT YOU WANT TO SEE UP ON THE BLOG, WHAT YOU ARE LOVING OR WHY NOT GET FEATURED AND SUBMIT YOUR CITY WEDDING TO US!
We're going to choose city wedding over country every time, don't get us wrong we love the country and go for many walks within it, but for us city weddings just have that edge to them.
This week we have a guest blog from rebecca of rebecca marie weddings, although based in the beautiful country side Rebecca has a love for city weddings, and gives us her guide on City V's Country weddings.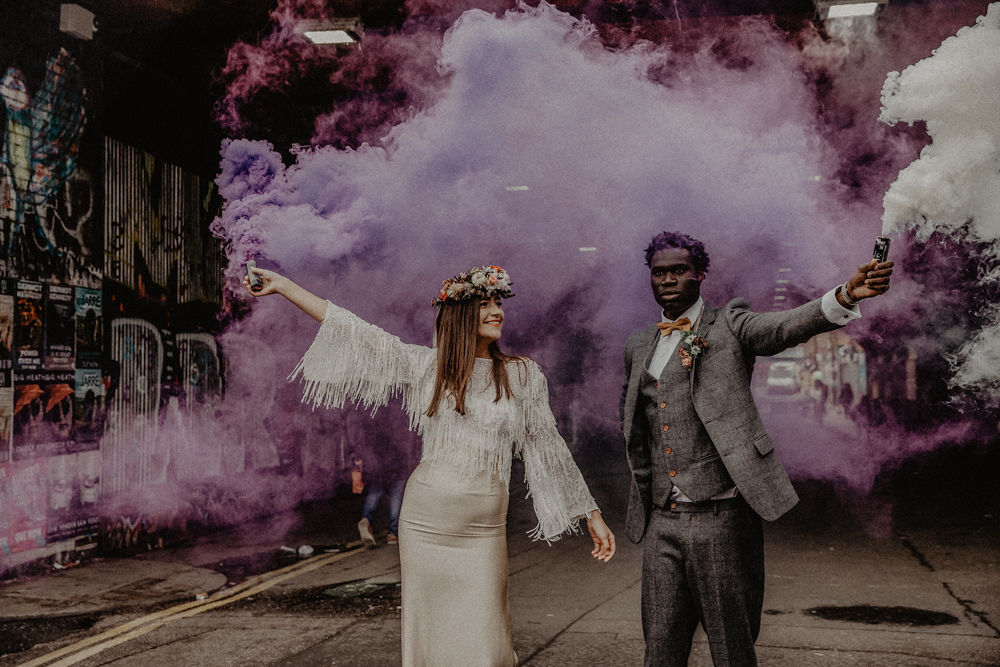 nICKI sHEA pHOTOGRAPHY
Planning a wedding is a full on decision making process, and Finding a venue is up there as one of the biggest decisions you have ahead of you, but before this, comes the choice of the setting.
As an experienced Wedding Planner I have helped countless couples plan their special day, whether this be in a secluded country Manor House or slap-bang in the middle of a bustling city, and what makes each and every choice of venue a special one is that it is personal to each and every couple – There should be no rules!
so, I'm going to outline some of the reasons why you should consider an urban backdrop over that rustic country fairy-tale, and believe me, there are plenty!
VIBE
LET'S START BY DISCUSSING SOMETHING YOU ABSOLUTELY WILL NOT FIND IN THE COUNTRYSIDE. THE ENERGY IN THE CITY IS LIKE NO OTHER, CHOOSE A CITY WEDDING AND YOU WILL SEE THE FACES OF STRANGERS LIGHTING UP AS THEY SEE YOU IN YOUR WEDDING GET-UP, CARS AND BUSES WILL TOOT IN CONGRATULATIONS AND YOU CAN SUCK IT ALL UP BY WALKING THE STREETS BETWEEN YOUR CEREMONY AND RECEPTION VENUE. THERE IS A BUZZ IN A CITY THAT YOU CAN NOT POSSIBLY REPLICATE IN A RURAL SETTING, IF YOU ARE CITY-DWELLING SWEETHEARTS YOU WILL ALREADY KNOW THIS VIBE!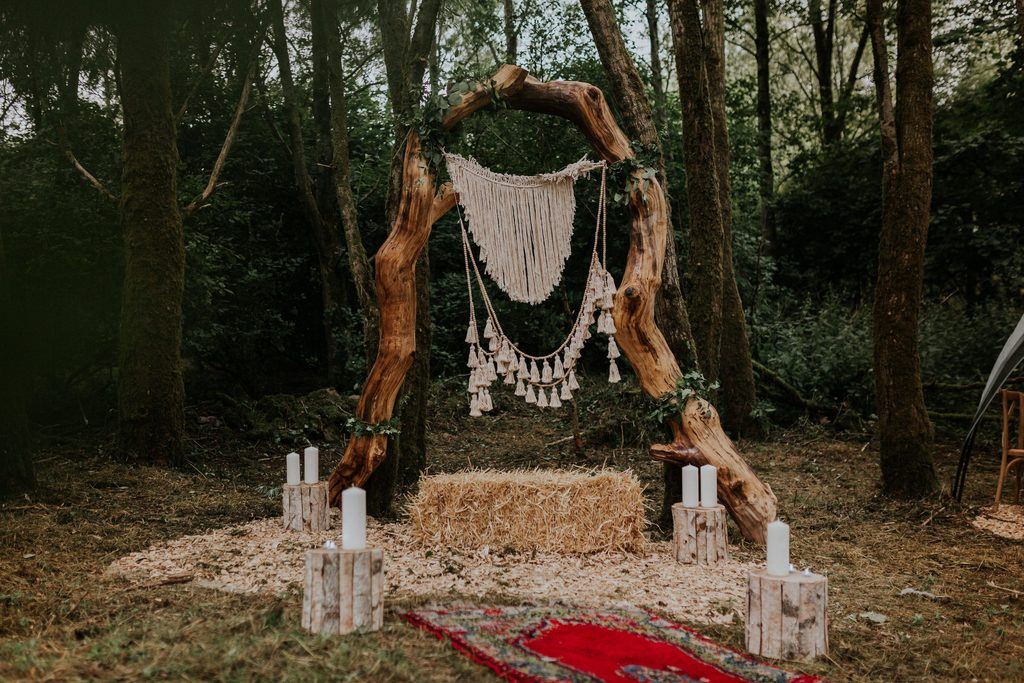 kATE gRAY 'pHOTOGRAPHY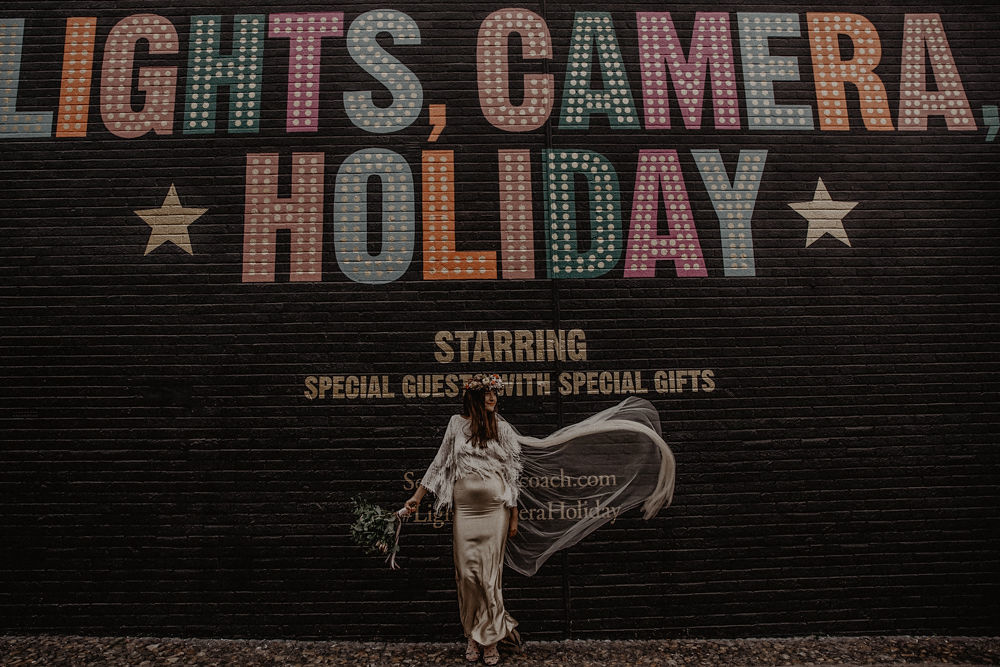 nICKI sHEA pHOTOGRAPHY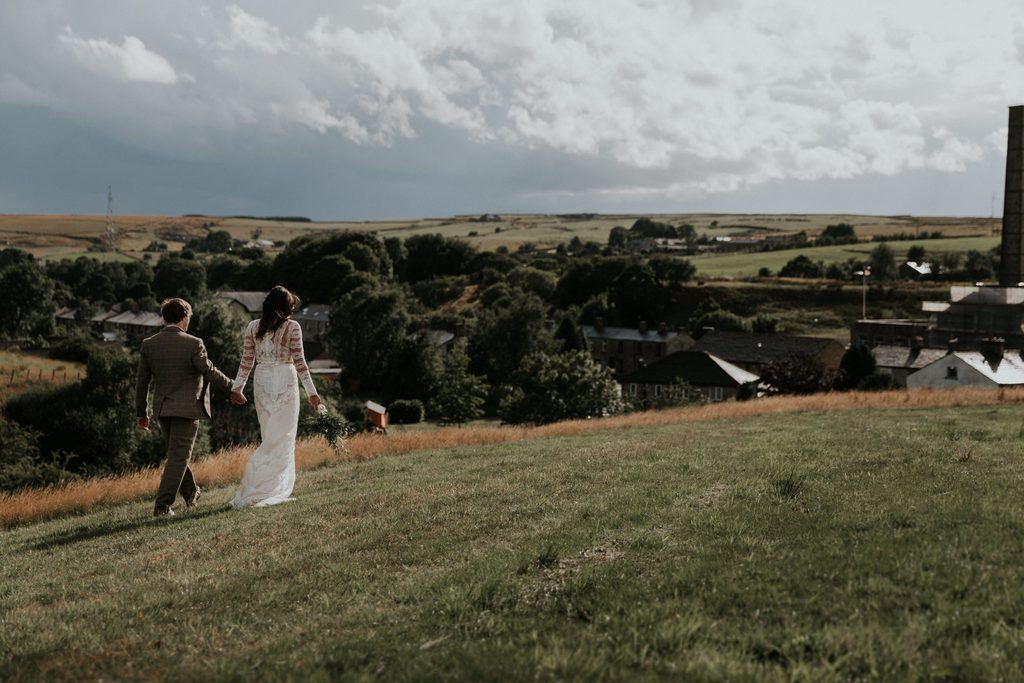 kATE gRAY pHOTOGRAPHY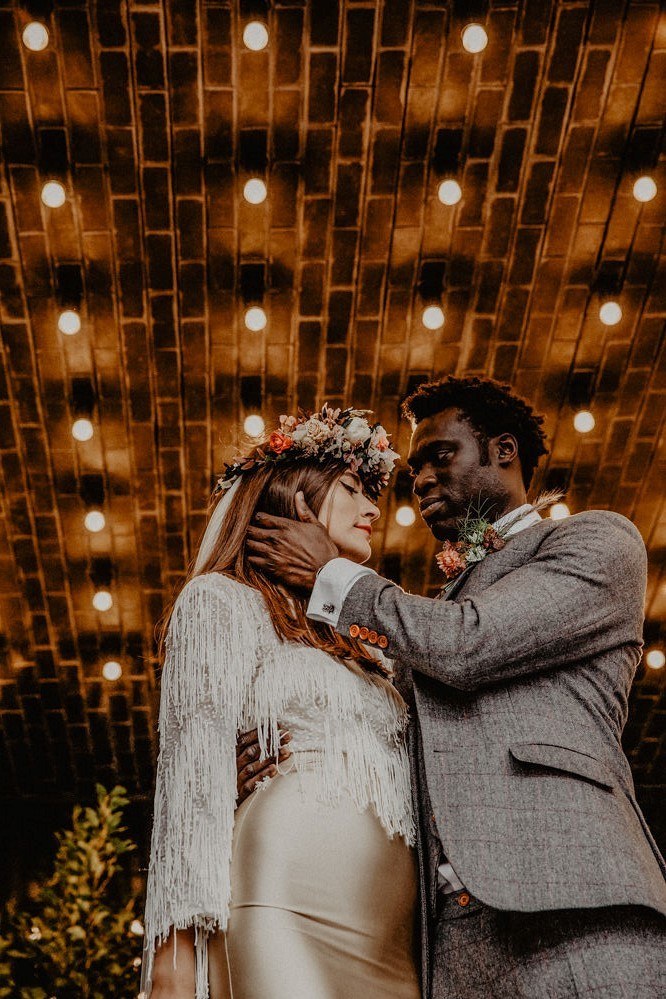 NICKI SHEA PHOTOGRAPHY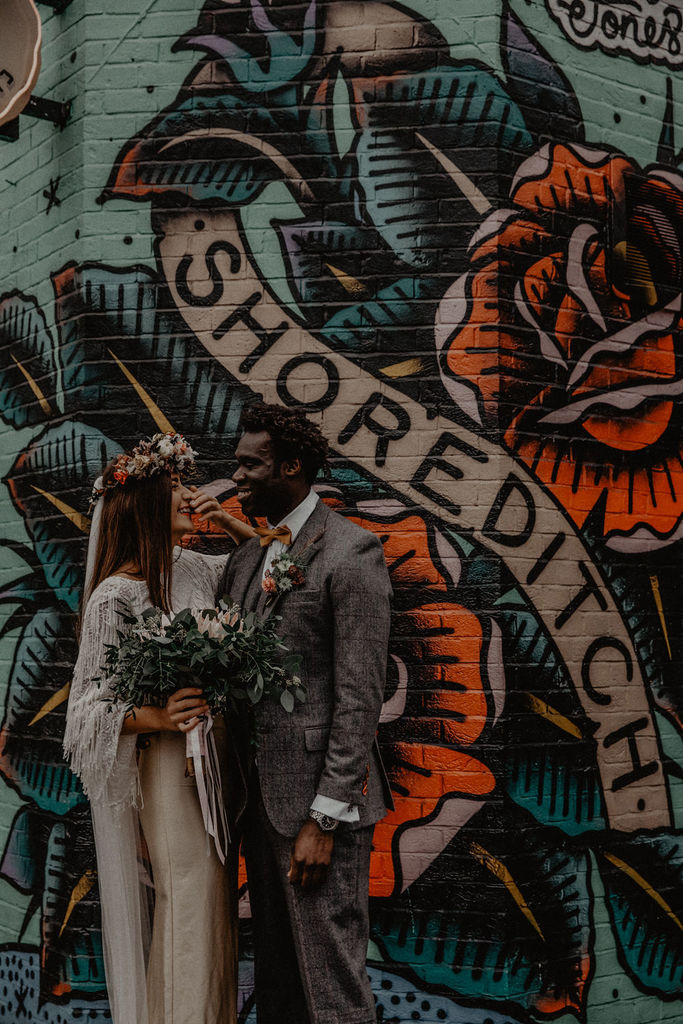 NICKI SHEA PHOTOGRAPHY
country v's city – VENUE
YOU WILL BE SPOILT FOR CHOICE IN THE CITY WITH A WEALTH OF OPTIONS REGARDLESS OF WHAT TYPE OF VENUE YOU ARE LOOKING FOR. IF YOU'RE AFTER A RELIGIOUS CEREMONY YOU WILL NO DOUBT HAVE A VARIETY OF POSSIBILITIES AVAILABLE TO YOU, THIS IS MOST DEFINITELY NOT THE CASE IN A RURAL SPOT.
NOT ONLY DO CITIES HAVE HOTELS AND MANOR HOUSES LIKE THE COUNTRYSIDE, THEY ARE ALSOPERFECT IF YOU ARE LOOKING FOR SOMEWHERE A LITTLE OUT OF THE ORDINARY TO EXCHANGE YOUR VOWS. THE CITY IS FULL OF ONE OF A KIND HANG-OUTS – FROM RESTORED BUILDINGS STEEPED IN HISTORY TO INDUSTRIAL LOFTS WITH VIEWS OF THE ENTIRE CITY. CHOOSING the CITY WILL GIVE YOU A WIDER, MORE VARIED SELECTION OF POTENTIAL VENUES WITH THE ADDED ADVANTAGE OF a GUARANTEED WOW FACTOR FOR YOUR GUESTS!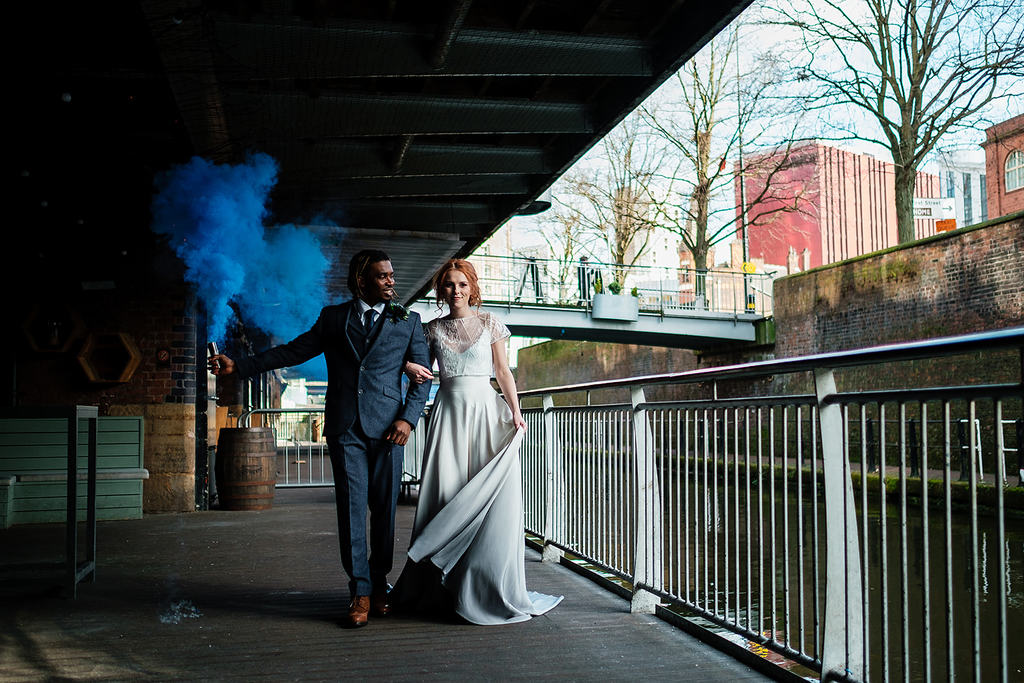 country v's City – TRANSPORTATION & accomodation
A LARGE COST ASSOCIATED WITH MANY RURAL WEDDINGS IS TRANSPORTATION, eSPECIALLY FROM CEREMONY TO RECEPTION IF YOUR COUNTRYSIDE RETREAT IS A DRIVE AWAY FROM THE ONLY CHURCH IN THE AREA! THIS IS ANOTHER BONUS OF A CITY WEDDING, WITH CONVENIENCE BEING KEY AND SEVERAL OPTIONS BEING AVAILABLE IF YOUR VENUES ARE NOT ONLY A SHORT WALK AWAY, PUBLIC TRANSPORT OR RIDE SHARING SERVICES ARE SURE TO MAKE THINGS EASY FOR YOUR GUESTS.
The same goes for ACCOMMODATION, MANY COUNTRYSIDE VENUES DO HAVE THE OPTION OF ON-SITE ACCOMMODATION AND THIS IS GREAT, HOWEVER IT MAY ONLY BE AVAILABLE OR SUITABLE FOR A SMALL NUMBER OF YOUR GUESTS, MEANING OTHERS WILL NEED TO  SOURCE ACCOMMODATION locally or  IN A NEIGHBOURING TOWN, OFTEN NOT A DISTANCE YOU CAN SAFELY WALK AND WITH NO TAXI SERVICE AVAILABLE AFTER 10PM IN SOME RURAL TOWNS AND VILLAGES, WHO WILL BE THE DESIGNATED DRIVER?
CHOOSING A CITY LOCATION ELIMINATES THIS ISSUE WITH ROOM DEALS FOR YOUR GUESTS IFYOU CHOOSE TO HOLD THE RECEPTION AT ONE OF THE MANY HOTELS AND A VARIETY OF CHOICES AND OPTIONS TO SUIT ANY BUDGET AROUND THE CORNER FROM ANY VENUE YOU DECIDE ON.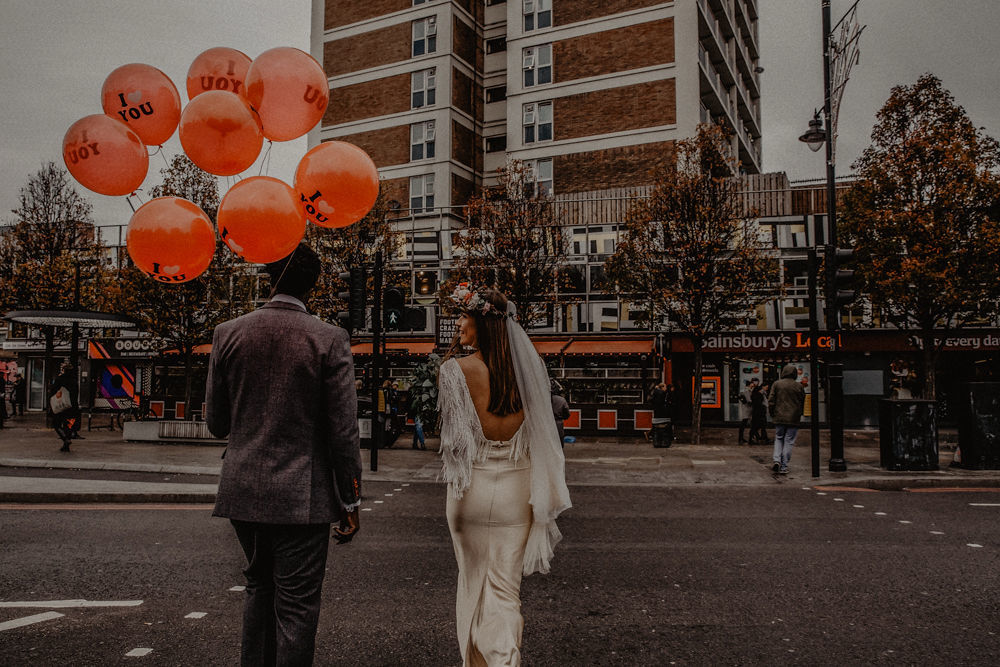 NICKI SHEA PHOTOGRAPHY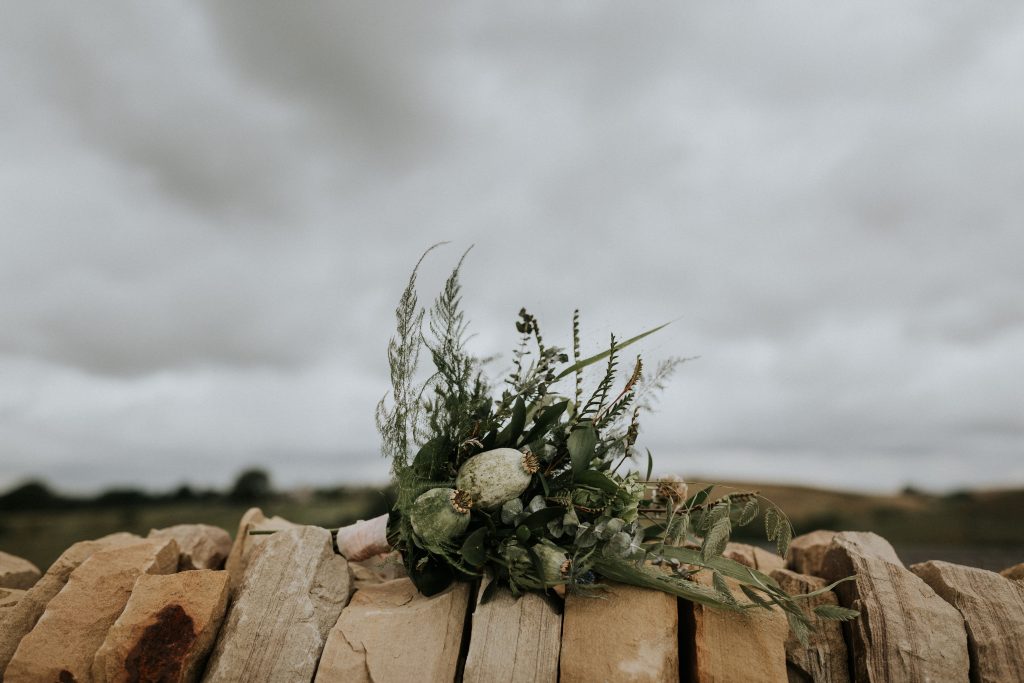 KATE GRAY PHOTOGRAPHY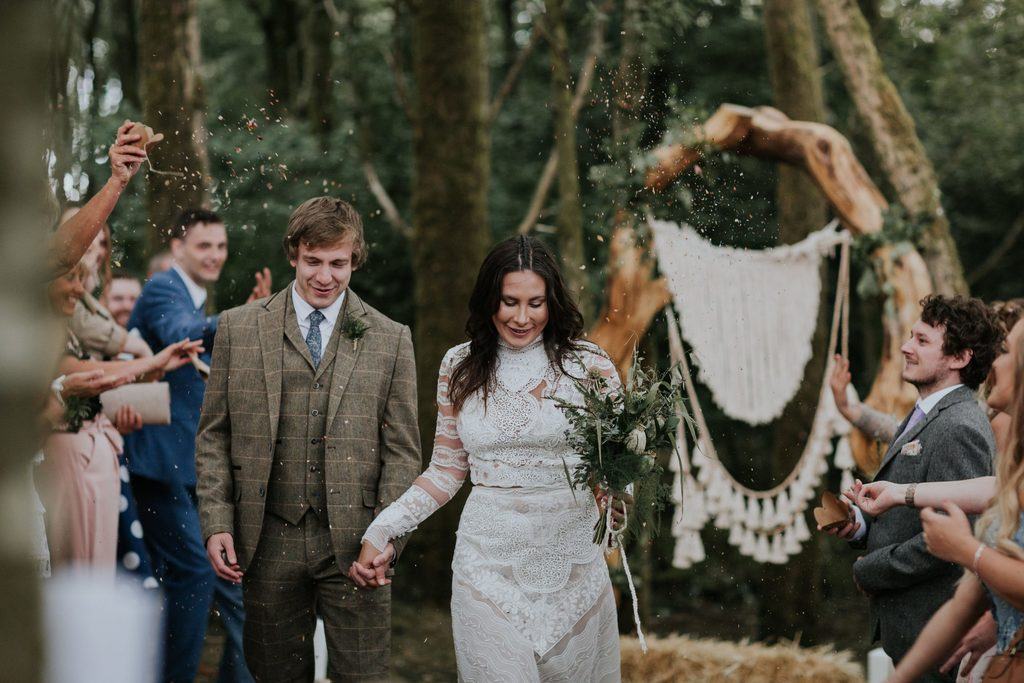 KATE GRAY PHOTOGRAPHY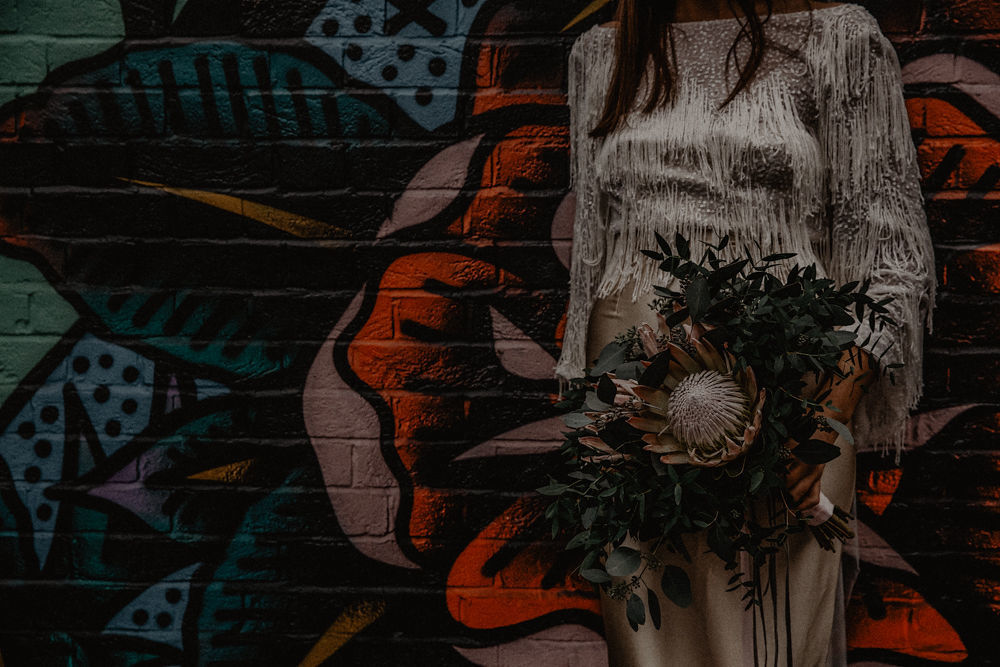 NICKI SHEA PHOTOGRAPHY
country v's city – PHOTOS
THIS IS WHERE THINGS GET EXCITING, THE CITY SETTING PROVIDES YOU WITH A WEALTH OF OPTIONS AND UNIQUE SPACES LIKE NOWHERE ELSE. BACKDROPS FOR YOUR BIG DAY CAN INCLUDE GRAFFITI SPRAYED WALLS TO ICONIC SKYLINES AND EVEN GREEN PARKS SO THAT YOU CAN MIX IT UP COMPLETELY AND MAKE THE MOST OF YOUR SURROUNDINGS, GUARANTEED TO BE DIFFERENT EVERY TIME. I WOULD RECOMMEND LOOKING FOR A PHOTOGRAPHER WHO IS FAMILIAR WITH SHOOTING IN AN URBAN ENVIRONMENT, THIS WILL ENSURE NO OPPORTUNITY IS MISSED.
intimate weddings.
Planning a wedding against the backdrop of a big city can seem intimidating at first but believe me, the potential is never-ending, easy to see why it is an attractive option for many newly engaged couples.
Perhaps consider investing in a Wedding Planner to help you navigate the sheer number or options a city provides; they can help to hunt down those jaw-dropping secret spots and recommend suppliers you will not want to marry without!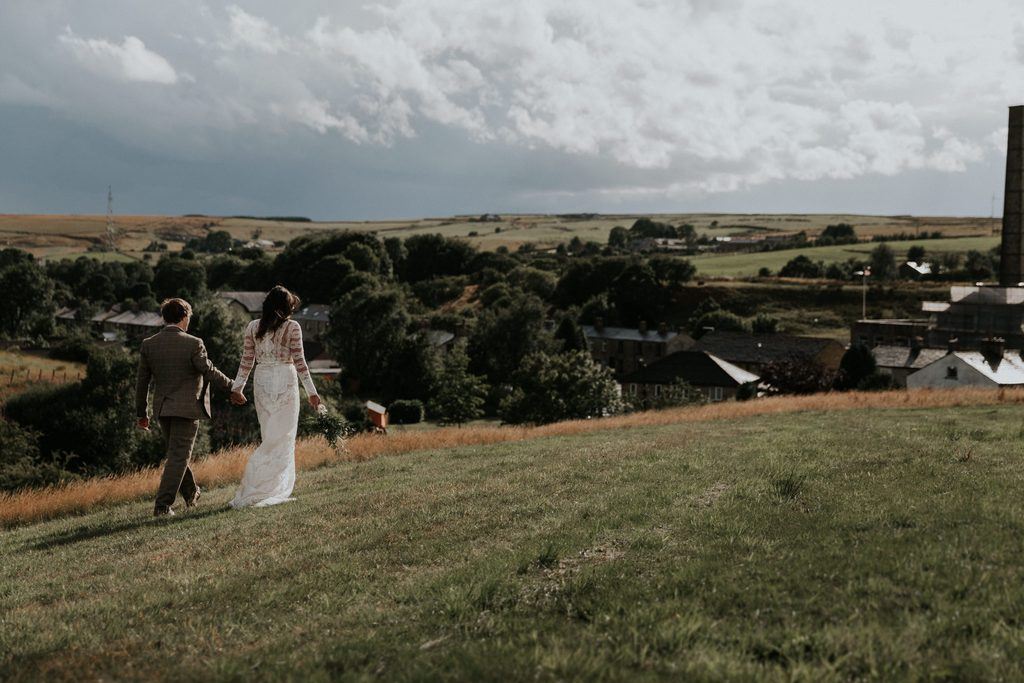 KATE GRAY PHOTOGRAPHY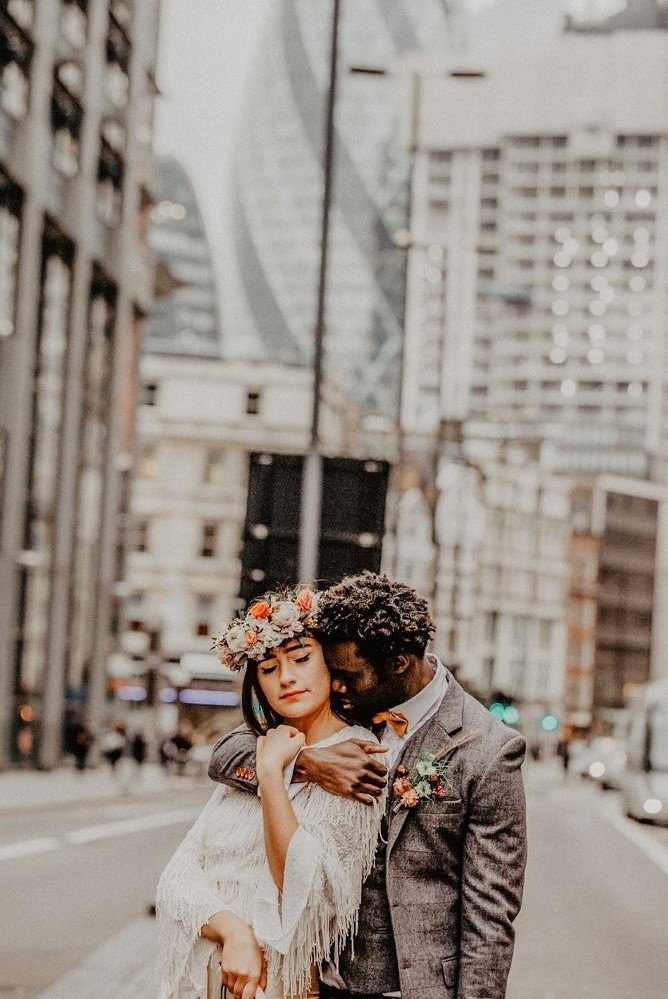 NICKI SHEA PHOTOGRAPHY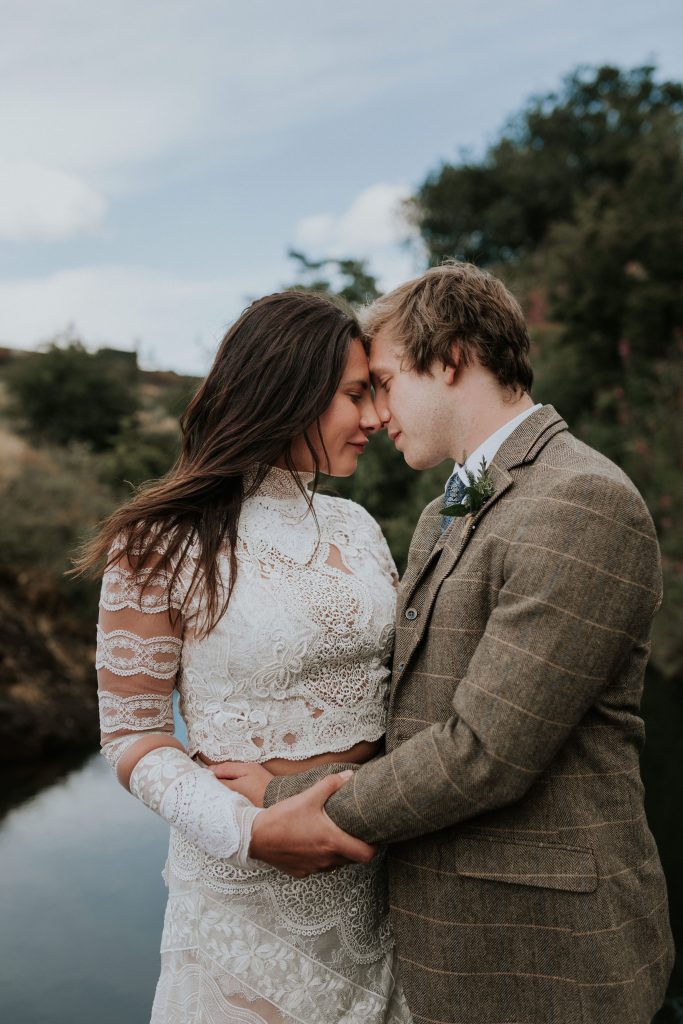 KATE GRAY PHOTOGRAPHY
Lastly, MAKE THE MOST OF IT
NOT ONLY CAN ATTENDING GUESTS TREAT YOUR WEDDING AS AN EXCUSE FOR A CITY BREAK AND A CHANCE FOR A MINI HOLIDAY, BUT YOU CAN ALSO BE FAR MORE FLEXIBLE WITH PRE AND POST WEDDING EVENTS AS WELL AS USING MULTIPLE VENUES FOR THE WEDDING DAY ITSELF.
PERHAPS YOU THROW A WELCOME PARTY AT YOUR FAVOURITE RESTAURANT, SAY YOUR VOWS IN AN INDUSTRIAL LOFT, FOLLOWED BY YOUR WEDDING BREAKFAST AND RECEPTION IN AN OLD LIBRARY AND DECIDE TO MEET EVERYONE THE MORNING AFTER THE WEDDING, TO SHARE STORIES, AT A TRENDY BRUNCH SPOT? THE POSSIBILITIES ARE ENDLESS AND CAN BE EASILY APPLIED TO BOTH LARGE AND MORE. PLEASE REMEMBER, THERE IS NO RIGHT OR WRONG OPTION WHEN IT COMES TO CHOOSING YOUR WEDDING VENUE AND WHETHER YOU CHOOSE TO GO TRADITIONAL OR INNOVATIVE, I HAVE NO DOUBTS IT WILL BE A DAY YOU WILL REMEMBER FOREVER.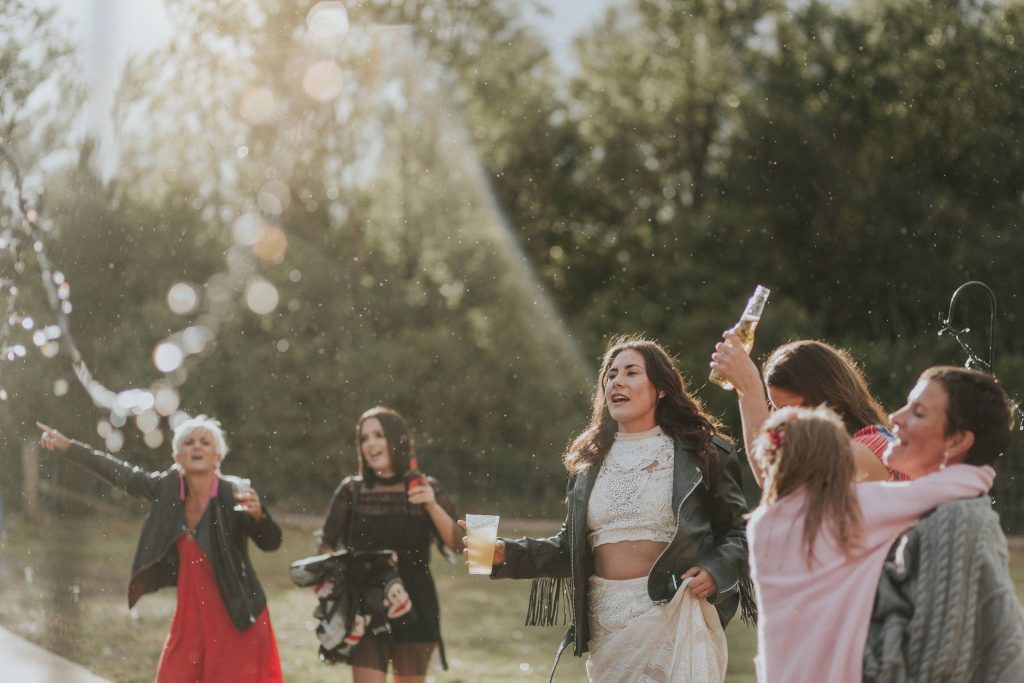 KATE GRAY PHOTOGRAPHY
credits
BLOG CONTRIBUTOR – REBECCA MARIE WEDDINGS, IMAGES – KATE GRAY PHOTOGRAPHY, IMAGES – nICKI sHEA pHOTOGRAPHY,
IF YOU WANT TO BE FEATURED ON OUR BLOG, GET AN EMAIL TO URBANBLOGSUBMISSION@GMAIL.COM