Planning a City Wedding?
ARE YOU PLANNING A CITY CENTRE WEDDING? THEN YOU ARE IN THE RIGHT PLACE! THE URBAN WEDDING BLOG IS NOT ONLY BRINGING YOU THE MOST STYLISH CITY CENTRE WEDDINGS TO FEAST YOUR EYES ON. WE ARE ALSO BRINGING YOU GUEST EXPERTS, CITY VENUE REVIEWS, CITY WEDDING FASHION, CITY CENTRE HENS & STAGS AND DIY TIPS FOR ADDING THAT PERSONAL TOUCH TO YOUR CITY WEDDING!
THIS BLOG IS FOR ALL YOU COUPLES LOOKING FOR HINTS AND TIPS TO MAKE YOUR CITY WEDDING PERFECT. OR FOR COUPLES WANTING TO ADD AND INDUTRIAL TWIST TO THEIR DAY. SO GET IN TOUCH AND LET US KNOW WHAT YOU WANT TO SEE UP ON THE BLOG, WHAT YOU ARE LOVING OR WHY NOT GET FEATURED AND SUBMIT YOUR CITY WEDDING TO US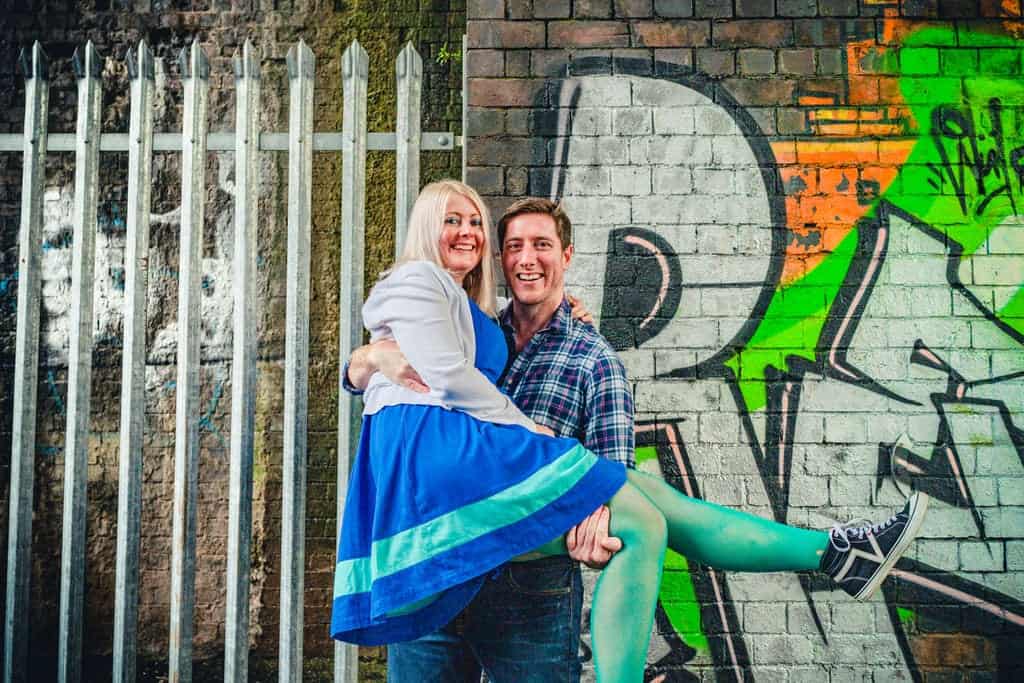 WE HAVE A FUN IN THE CITY ENGAGEMENT SHOOT ON THE BLOG TODAY, HEATHER AND JOHN LOOK LIKE A COUPLE WHO KNOW HOW TO HAVE A GREAT TIME AND LOVE A POP OF COLOUR JUDGING BY THEIR ENGAGEMENT SHOOT PICTURES. 
HEATHER SAYS – "WE CHOSE DIGBETH IN BIRMINGHAM FOR THE ENGAGEMENT SHOOT BECAUSE WE WANTED OUR PHOTOS TO BE DIFFERENT TO ONES WE'RE GOING TO HAVE ON OUR WEDDING DAY.  
I ALSO LOVE STREET ART AND BRIGHT COLOURS. AS TWO NON-PHOTOGENIC PEOPLE PHIL COMPLETELY PUT US AT EASE AND CAME UP WITH SOME PRETTY CREATIVE SHOTS. WE WERE SUPER HAPPY WITH HOW THEY CAME OUT, AND HAD NO WORRIES ABOUT BEING SNAPPED ON OUR WEDDING DAY. ON BOTH THE ENGAGEMENT AND WEDDING DAY WE HAD SUCH AN AMAZING AND FUN TIME WITH THE DIGNUM BOYS AND THE EXTRA BONUS IS THAT THEY ARE SUPER GOOD AT WHAT THEY DO. WE HAVE SOME AWESOME PHOTOS TO TREASURE FOREVER".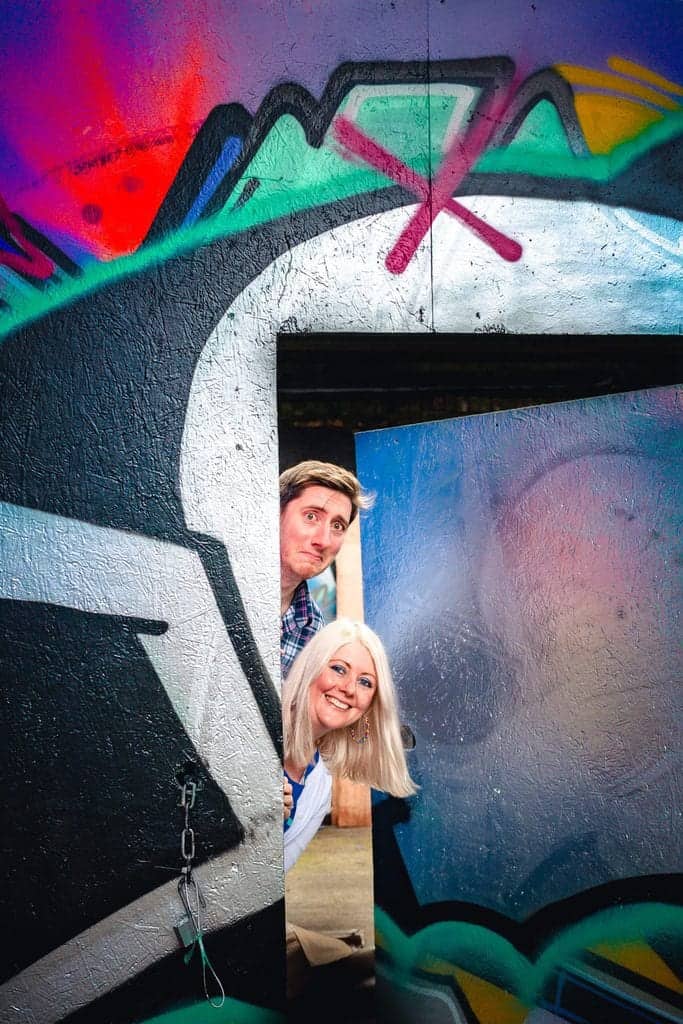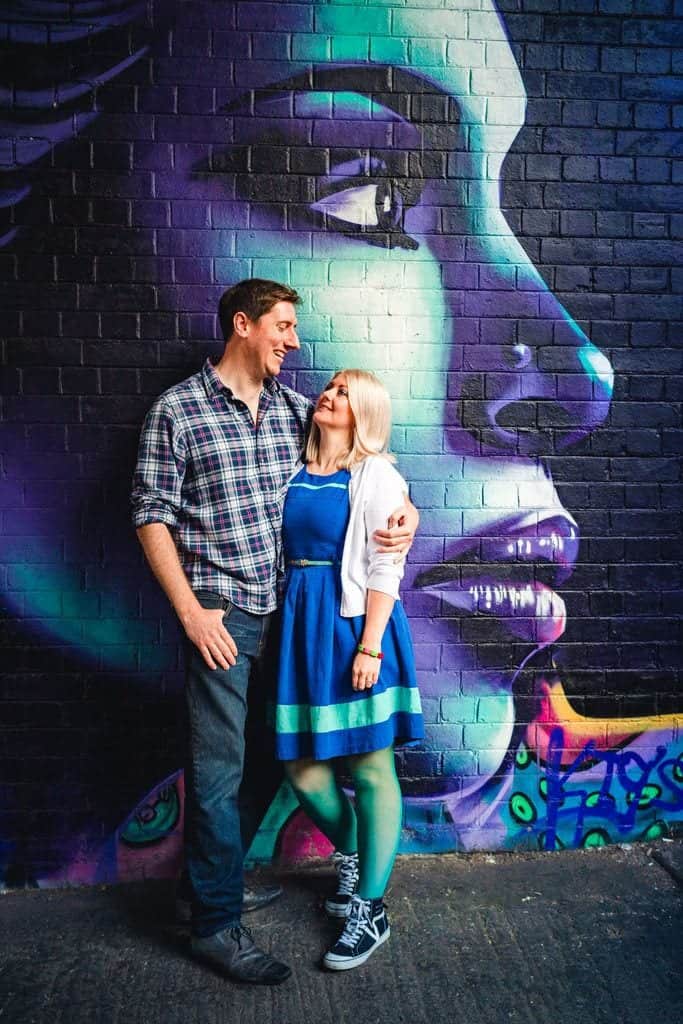 WELL, WE HAVE TO AGREE WITH HEATHER AND JOHN ABOUT USING A DIFFERENT AREA FOR THE ENGAGEMENT SHOOT TO THAT OF THE WEDDING VENUE. YOU CAN BE SUPER CREATIVE AND GET A FEEL FOR THE STYLE OF IMAGES YOU WANT, ESPECIALLY IF YOU ARE NERVOUS IN-FRONT OF A CAMERA AND NOT USED TO HAVING YOUR PHOTO'S TAKEN, IT ALSO ALLOWS YOU TO GET TO KNOW YOUR PHOTOGRAPHER AND HOW THEY WORK TOO SO YOU KNOW ON THE DAY YOU WILL BE COMFORTABLE WITH THEM TAKING YOUR PICTURE ALL DAY.
OF COURSE WE WANT TO KNOW THE PROPOSAL DETAILS, SO WHO ASKED WHO?
"JOHN PROPOSED IN BATH ON A BRIDGE OVERLOOKING A LAKE IN A NATIONAL TRUST PARK. IT WAS REALLY PRETTY, AND HE WAS BEING ROMANTIC. I SLIGHTLY RUINED IT BY GETTING EXCITED ABOUT THE HALLOWEEN TRAIL THEY HAD IN PLACE FOR KIDS. I WAS DELIGHTED WHEN FINDING THE LAST MASSIVE SPIDER, AND I TRIED TO RUN AWAY WITHOUT REALISING WHAT WAS GOING ON 
"
"JOHN DID GET DOWN ON ONE KNEE WHICH WAS QUITE SOME DISTANCE FOR HIM CONSIDERING HIS HEIGHT"
AWWW HOW CUTE IS THAT, WE DID HAVE A LAUGH AT THIS ONE AS ZOEY AND I BOTH HAVE FUNNY PROPOSAL STORIES, BUT THEY'RE FOR ANOTHER TIME!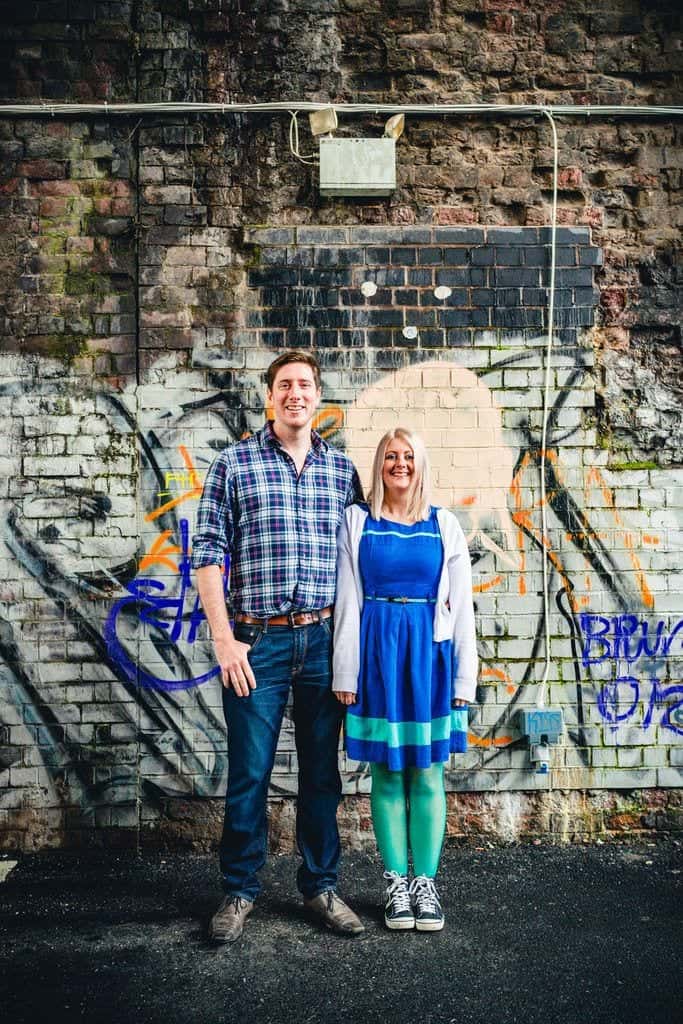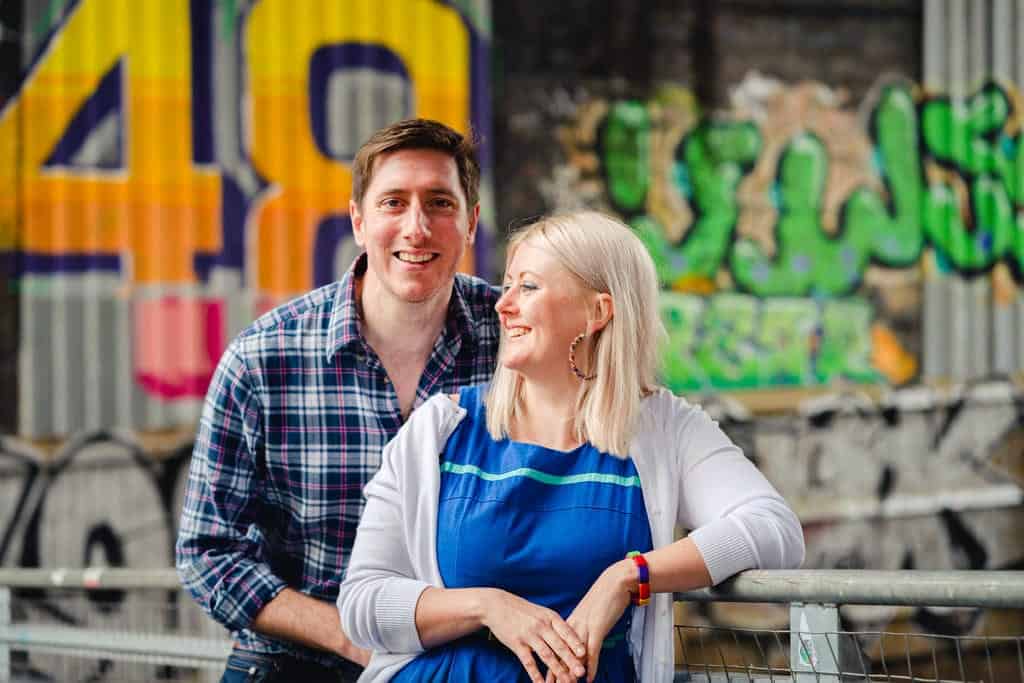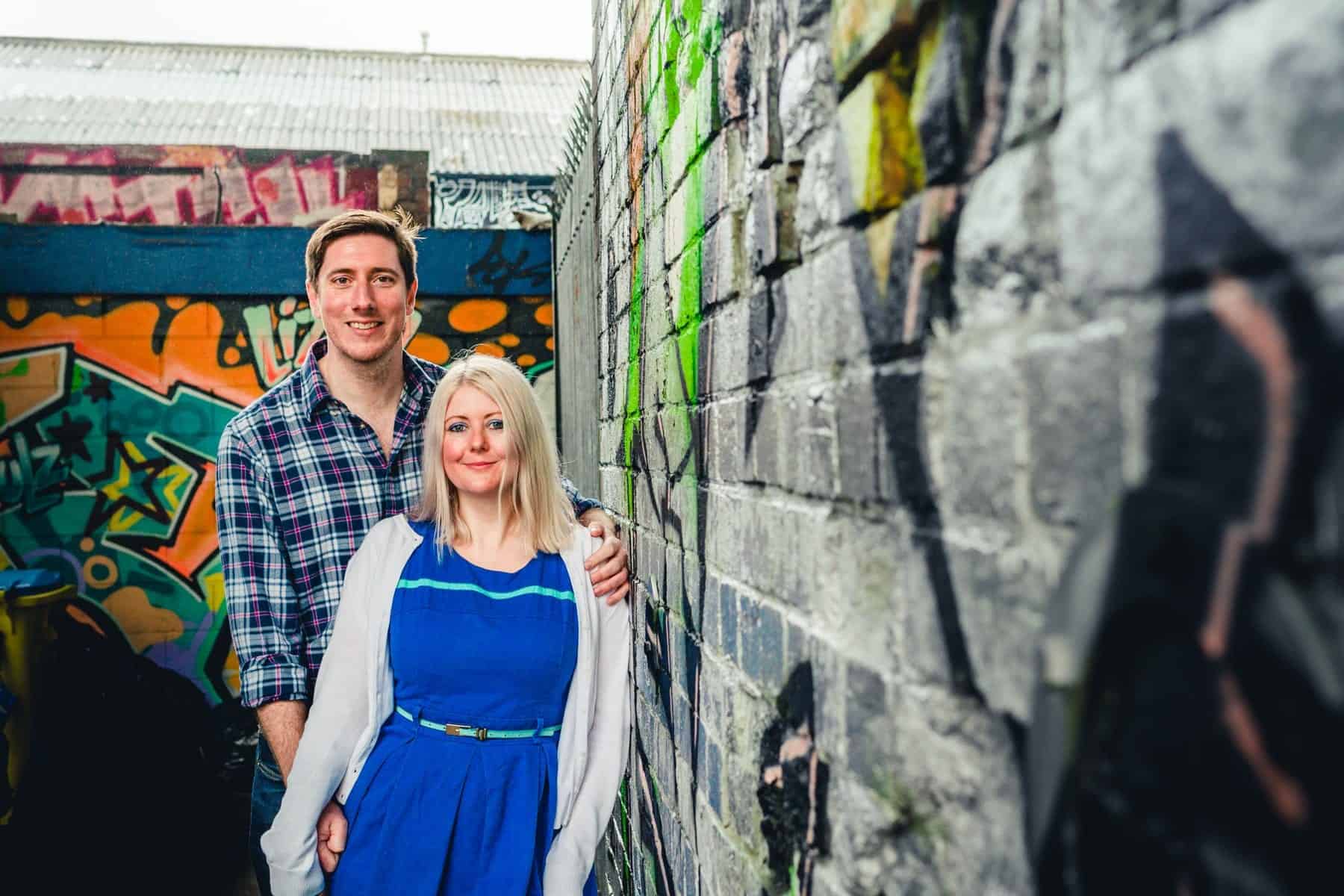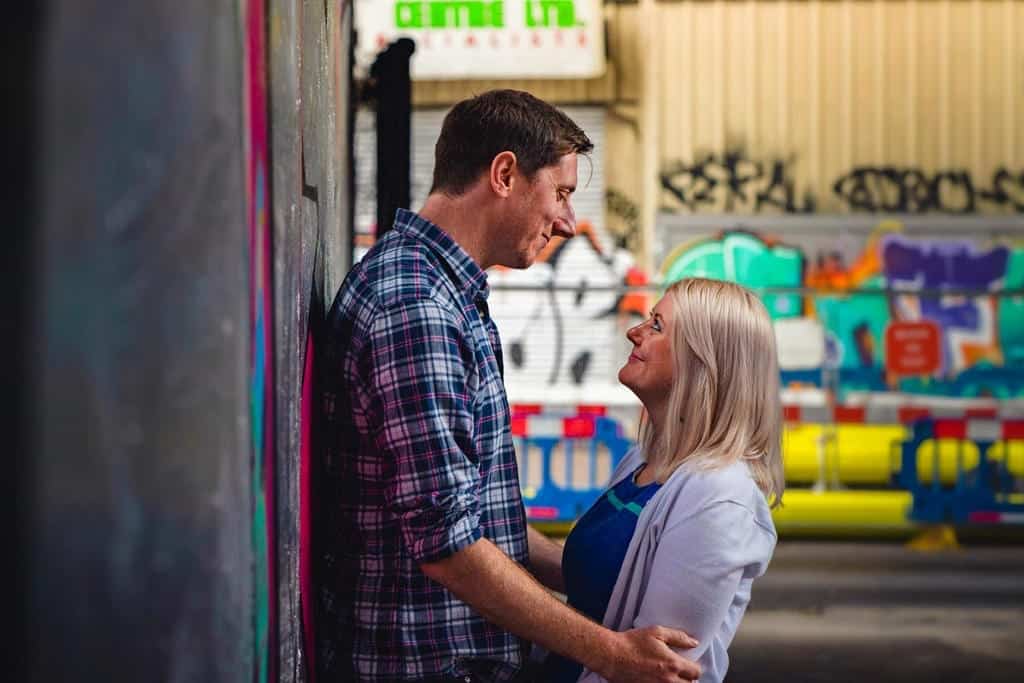 SO WHEN WAS THE WEDDING?
"THE WEDDING WAS ON 29TH JULY 2018, WE GOT MARRIED AT THE MILL BARNS IN ALVELEY, SHROPSHIRE. IT WAS A BIT OF A GAMBLE WHEN WE BOOKED THE VENUE AS IT WAS STILL A BUILDING SITE, BUT THE GROUNDS WERE LOVELY AND WE COULD TELL BY THE STRUCTURE OF THE OAK BARN THAT IT WAS GOING TO LOOK STUNNING WHEN IT WAS FINISHED. THE STAFF ALL SEEMED SO LOVELY AND COMMITTED TO GIVING US A STRESS FREE DAY, WE THOUGHT IT WAS A NO BRAINER! TURNS OUT IT WAS PERFECT THE CHOICE FOR US!"
WOW, THAT WAS ONE RISK TO TAKE, BUT WE'RE SO HAPPY TO HEAR IT ALL PAID OFF AND YOU GUYS HAD THE BEST WEDDING DAY! WE WISH YOU BOTH A LONG AND HAPPY MARRIAGE FILLED WITH LAUGHTER AND COLOURS AS BRIGHT AS THESE IMAGES! 
IMAGES BY THE DIGNUMS