ARE YOU PLANNING A CITY CENTRE WEDDING? THEN YOU ARE IN THE RIGHT PLACE! WE ARE NOT ONLY BRINGING YOU THE MOST STYLISH CITY CENTRE WEDDINGS TO FEAST YOUR EYES ON! WE ARE BRINGING YOU GUEST EXPERTS, CITY VENUE REVIEWS, CITY WEDDING FASHION, CITY CENTRE HENS & STAGS AND DIY TIPS FOR ADDING THAT PERSONAL TOUCH TO YOUR CITY WEDDING!
THIS BLOG IS FOR ALL YOU COUPLES LOOKING FOR HINTS AND TIPS TO MAKE YOUR CITY WEDDING PERFECT SO GET IN TOUCH AND LET US KNOW WHAT YOU WANT TO SEE UP ON THE BLOG, WHAT YOU ARE LOVING OR WHY NOT SUBMIT YOUR CITY WEDDING???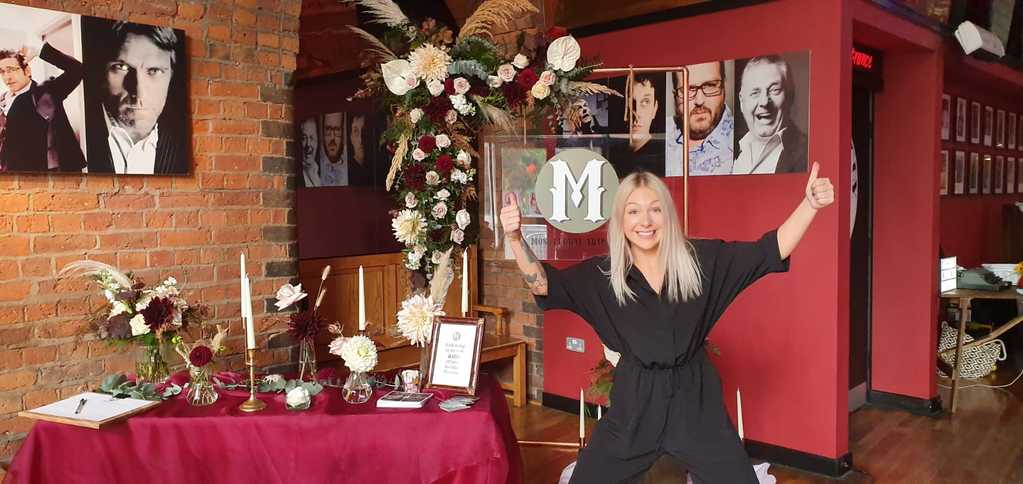 We have the absolutely gorgeous Hollie owner of moss floral artistry on this weeks blog, hollie has shown at two of our fayres this year and she is so brand new in her business and we predict big things to come for hollie!
How did you get into Floristry?
I'm Hollie, a 24 year old crazy flower lady (kind of) from a little town just outside Manchester. I create bespoke blooms with love, passion and rustic flare, using only the freshest high quality flowers. Although I cover all aspects of floristry, I specialise in wedding and event florals. All the magic happens in my studio workshop based within Greater Manchester. After a life long love of flowers, I decided to quit my job as a Police Officer (crazy right?) and focus solely on becoming a florist. I felt I needed to push myself to gain new skills, and engage in something that would allow my creative side to blossom (quite literally). After completing my floristry courses and time away at flower school, I decided there was no better time to start my business… and so Moss Floral Artistry was born.
whats your preferred style?
My preferred style of floristry is a little on the wild side as I love anything rustic, wild and bohemian. Although I am able to tailor my work to suit any style requested by couples.
It's so exciting sitting down with new couples for our first consultation, learning exactly what it is they are hoping to achieve on their special day, sharing style ideas and helping to bring their visions to life.
When it comes to Wedding Florals, I feel it's really important for a bride to find a florist that feels right for her. Take some time to figure out what style you like, and then do some research to find a company that you feel will best suit yourselves.
Although it sounds strange, not all florists are the same. Allowing your venue to influence your florals is also key, this helps keep your day cohesive and allows couples personalities to shine through, after all it is YOUR big day. Lastly, be honest about your budget! In your first consultation put the amount you would like to spend out on the table. This then enables us to work with you to develop your ideas and to turn your dreams into a reality.
Huge thank you to Hollie for chatting to us and we can't wait to see what the future holds for Moss floral artistry!
Credits
Images Olivia Whittaker Photography
If you want to be featured on our guest blog then email urbanblogsubmission@gmail.com