This week on our city wedding blog we have a review of one of Manchester's amazing hotels Hotel Gotham. Our Chelle booked in here for a wedding anniversary treat so decided to check out the entire hotel and rate it for us.
This 5 star hotel is popular with wedding couples, not only as a wedding reception but also as a stop off for photo's on their beautiful terraces. you can also have your wedding breakfast here in the Honey restaurant.
We had a warm and welcoming greeting by the concierge at the entrance, we told them we had a booking at the hotel, after a few clicks on the computer we were told our room was ready and to take the lift to reception on the  6th floor and that they would have our luggage in our room waiting for us.
As you step out of the lift into the Reception area, it is small but lovely, full of so much character. Check in was very quick, we had booked a dinner bed & breakfast offer that they had. Upon making the booking they asked if it was a special occasion so I told them it was our 14 year wedding anniversary on the day of check out, I was excited as to what they may do for us since they asked. The receptionist checked us in quickly, and handed us a key card and told us we were on the 3rd floor, no mention of a room upgrade, I was a little disappointed but thought that's ok the Club rooms looked amazing anyway.
I opened the door to our room and I wasn't wrong, for their basic room it was lovely, and a good size, you can clearly see that attention to detail is paid and I loved the quirkiness of the whole room, from the money bag on the back of the door, which is your 'do not disturb sign,' to the wardrobe which looks like a huge drinks cabinet. I found this cute swag bag, and upon reading the 'Gotham Bugle' it's for any items you wish to purchase from the room, from glasses in the drinks cabinet to the bathrobes in the bathroom (note they are complimentary to use, you just have to pay if you want to keep them).
They had left a slate plate in our room with two macarons on and wrote on it was Happy Anniversary, which was a lovely gesture, and of course we devoured immediately!
As we were getting ready to go out we noticed one of the bedside lamps CONTINUALLY flickered, which was super annoying! As we were going to the hotel bar for a drink we thought we'd mention it at reception, which we did and was told someone would go and have a look.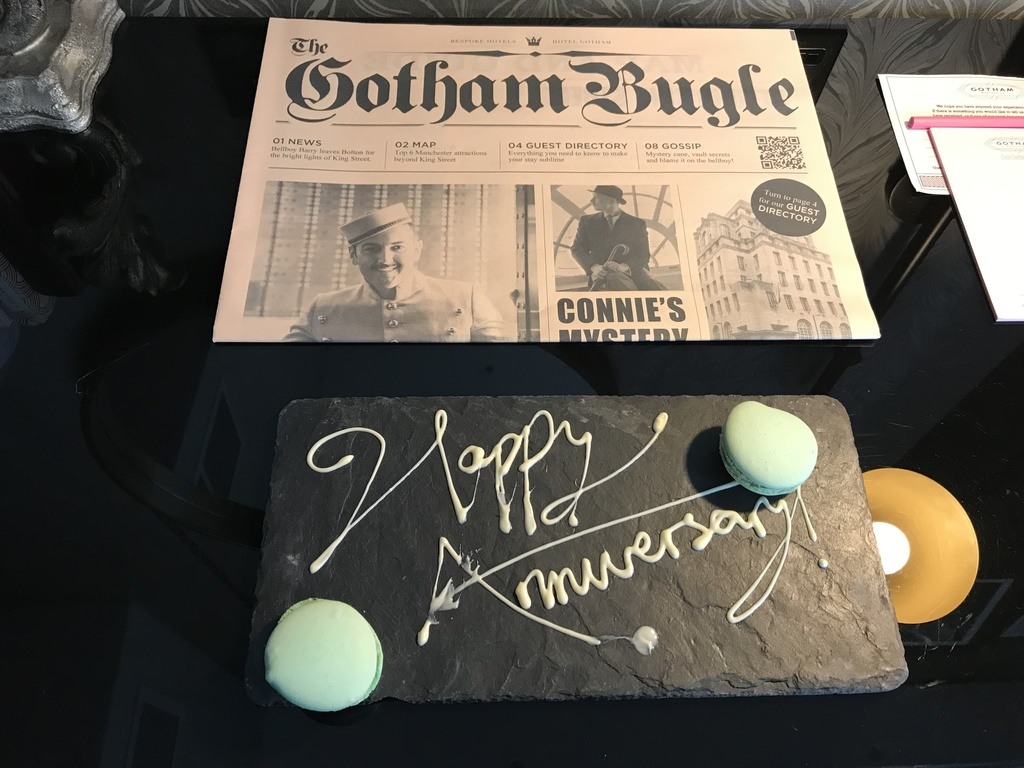 We headed to Club Brass which is the hotels members only bar, it costs as little as £750 a year to be  a member, HAHA I say as little with sarcasm of course, are members only bars still a thing? The bar has 3 terraces to choose from to sit outside, each quite small and intimate but lovely, the bar itself has a lot of seating and continues the theme from the hotel. We had a warm welcome and was told to sit anywhere and the waiter would come and take our drinks order.
We chose one of the terraces as the weather was warm, our drinks order was taken and arrived promptly, I had my usual Vodka lemonade and my husband a beer, my biggest gripe happened, why do bars serve a single spirit and mixer in a huge glass and fill it up?? If I am paying £12 for a vodka I want to be able to taste it!!! aside from then drinks the bar tender brought out complimentary nibbles too which were pretty nice and we asked for more! I wanted to see the other terraces so we moved to the japanese garden terrace, It was so lovely and the views of the city were fab, we just relaxed and enjoyed our drinks. We were looking forward to returning later for more drinks after our dinner in the Honey restaurant.
This is not where our review ends, look out on friday for the 2nd half! where we include a review of the restaurant!