ARE YOU PLANNING A CITY CENTRE WEDDING? ARE YOU LOOKING FOR URBAN WEDDING IDEAS? THEN YOU ARE IN THE RIGHT PLACE! CITY WEDDING BLOG IS NOT ONLY BRINGING YOU THE MOST STYLISH CITY CENTRE WEDDINGS WITH INDUSTRIAL VIBES TO FEAST YOUR EYES ON. WE ARE ALSO BRINGING YOU GUEST EXPERTS, CITY VENUE REVIEWS, CITY WEDDING FASHION, CITY CENTRE HENS & STAGS AND DIY TIPS FOR ADDING THAT PERSONAL TOUCH TO YOUR CITY WEDDING!
THIS BLOG IS FOR ALL YOU COUPLES LOOKING FOR HINTS AND TIPS TO MAKE YOUR CITY WEDDING PERFECT. SO GET IN TOUCH AND LET US KNOW WHAT YOU WANT TO SEE UP ON THE BLOG, WHAT YOU ARE LOVING OR WHY NOT GET FEATURED AND SUBMIT YOUR CITY WEDDING TO US!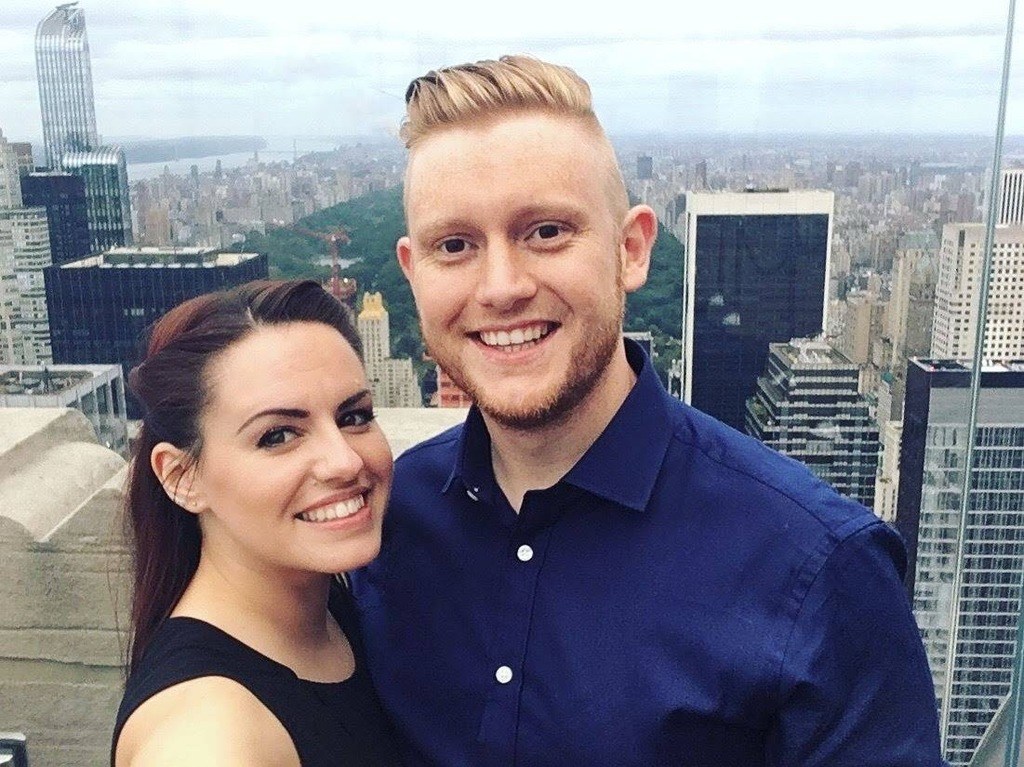 This lock-down has dampened so many people's wedding plans all over the world, we did a blog a couple of weeks ago on some lock-down wedding date tips, one couple from Manchester defo took it to another level and we love it!
HEather and ned ordered a meal from six by nico, (which by the way if you've never been you need to, the food is amazing we've been a few times now) took it home and had a lock down wedding day date, we bloody love it!
We need to know, how did Ned propose?
I love telling this story!! So, Ned and I met 8 years ago and did long distance for 3 years (me in Manchester and him in Copenhagen/Cotswolds) before finally moving in together and (long story short) buying our house in Salford 2 years ago..
I was taking him to New York for his 30th birthday about 6 months before we eventually moved in to our new house. It was supposed to be a surprise but my best mates ganged up and told him, hinting that he should really surprise ME with a proposal!
Because it was my treat for him, I literally had NO idea it was coming, even when he took me for a 'thank you' drink at the Top of the Rock the night we arrived. Apparently, Ned was going to propose to me on the day we got the keys to our first house, but the house was delayed when it was being built so he ended up having to do it slightly differently.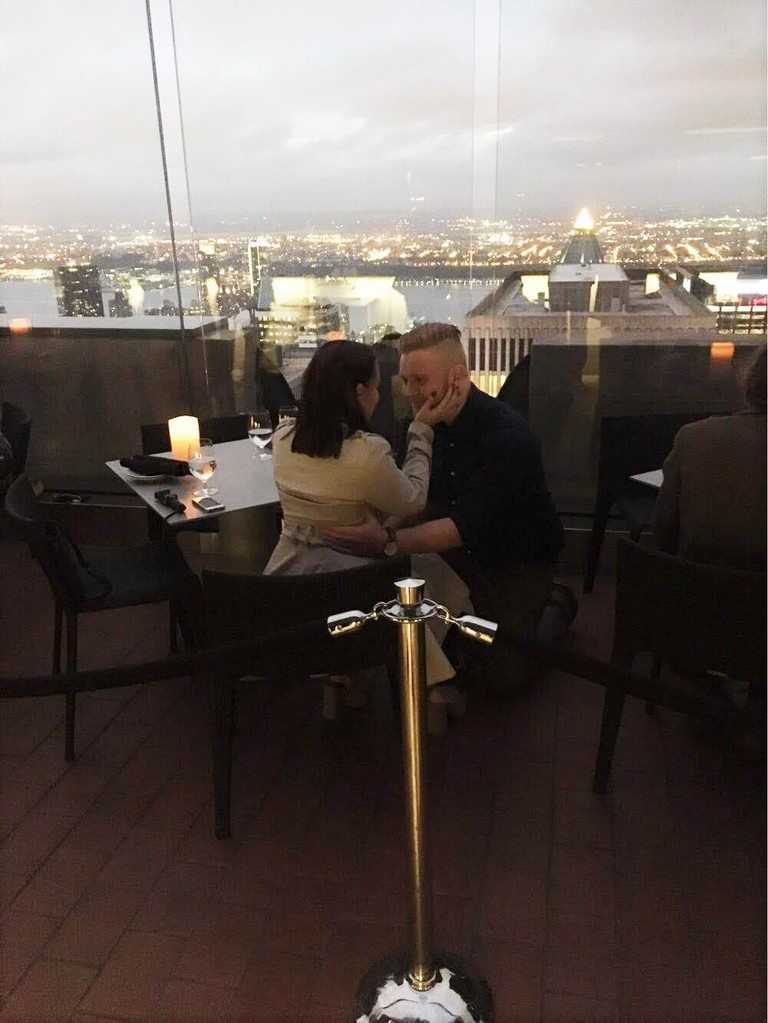 We had seats on the outdoor balcony bit, and there was a minimum spend of something stupid like $200 for the table, which we had to spend on cocktails, we were hammered and I still hadn't twigged!
He proposed to me just as the sun was going down and all the lights in NYC were coming on and all twinkly. I still feel like I said yes straight away but he's convinced I said "are you f****ng kidding me?!" (I think I thought I'd said that in my head!)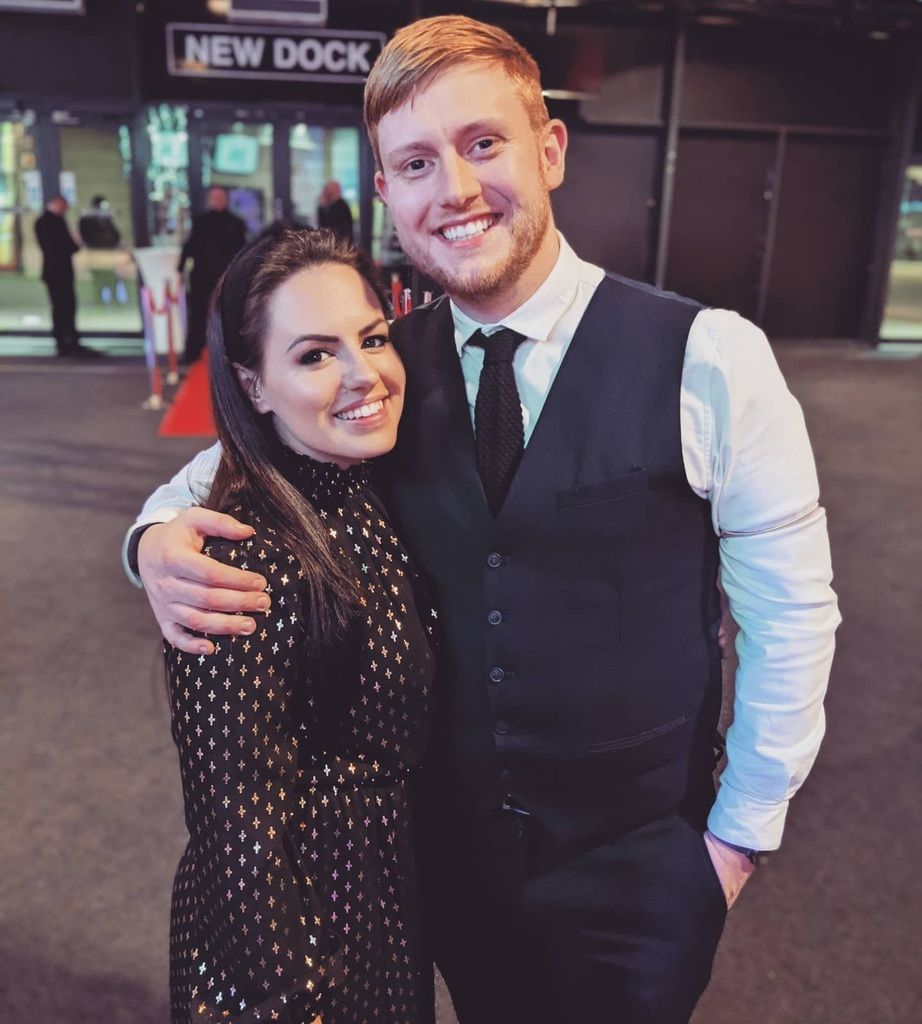 How did the planning go?
Not long after we got engaged, a few friends tagged me in a post on Facebook, Gok Wan and Say Yes to the Dress were looking for Northern brides! I had zero idea what I wanted dress-wise so I decided to apply and ended up appearing on the first series (Episode 7, if you wanted to have a gander!) where Gok helped me choose my amazing dream dress.
Roll on 2.5 years later, we'd booked our venue – The West Mill, in Derby. We got the photographer sorted, DJ, cake, all the other bits and bobs. I'd been for my penultimate dress fitting and all of a sudden Corona virus hit.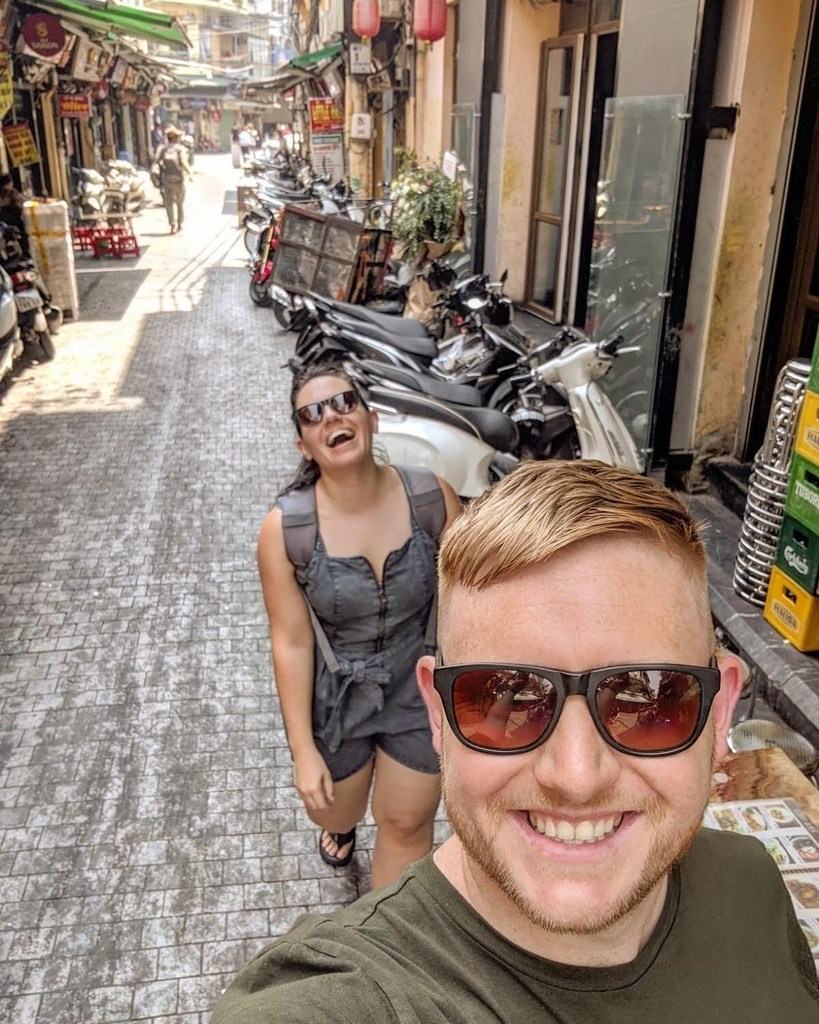 How have you dealt with your lock down wedding date?
What we DID have control over was how we approached what would have been our wedding day. We wanted to celebrate it in some way, but not with everyone, just the two of us. I bought a super cheap dress off ebay. We agreed that I'd get ready and do my hair and make up, then we'd just spend the day arsing around, drinking, playing board games and building Star Wars Lego.
For dinner, we'd organised a Home by Nico Indian experience, we'd told them in advance it was going to be our wedding day and we wanted to have some yummy tea to cheer us up, and luckily we got a slot!
because we'd both had so much to drink throughout the day we had to walk (we live over the road from the Manchester Arena) to collect it, rather than drive up. Ned asked me if I was going to get out of the dress……. Nope! There was something a bit cheeky about walking through town in a wedding a dress, A guilty pleasure maybe?!
We had such a giggle walking in taking silly pictures and grinning at everyone we were walking past. A lot of people shouted congratulations at us!
our thoughts
What a fab way to spend your lock down wedding day, heather & ned clearly know how to have fun and make the most of really crap situation we're all in right now.
we wish them a wonderful wedding day in december, and hope to see some wedding pics!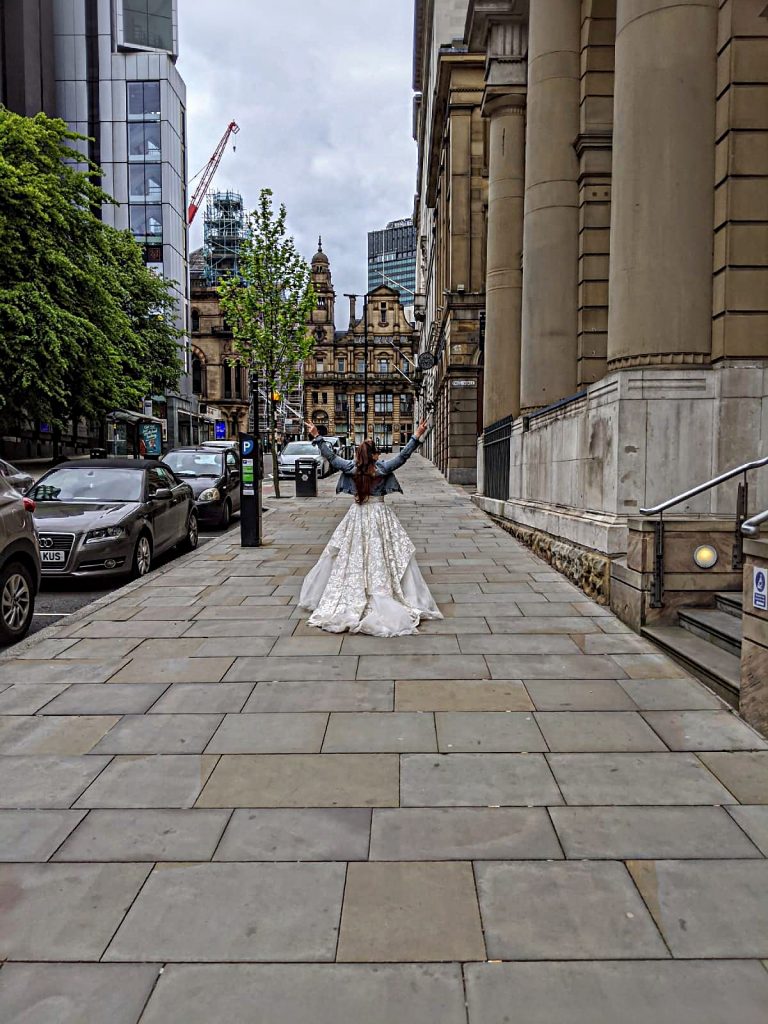 if you need some tips for a lock down wedding date read our blog here.
if you have a kick ass wedding or shoot to submit, get it to urbanblogsubmission@gmail.com