ARE YOU PLANNING A CITY CENTRE WEDDING? ARE YOU LOOKING FOR URBAN WEDDING IDEAS? THEN YOU ARE IN THE RIGHT PLACE. CITY WEDDING BLOG IS NOT ONLY BRINGING YOU THE MOST STYLISH CITY CENTRE WEDDINGS WITH INDUSTRIAL VIBES TO FEAST YOUR EYES ON. WE ARE ALSO BRINGING YOU GUEST EXPERTS, CITY VENUE REVIEWS, CITY WEDDING FASHION, CITY CENTRE HENS & STAGS AND DIY TIPS FOR ADDING THAT PERSONAL TOUCH TO YOUR CITY WEDDING.
THIS BLOG IS FOR ALL YOU COUPLES LOOKING FOR HINTS AND TIPS TO MAKE YOUR CITY WEDDING PERFECT. SO GET IN TOUCH AND LET US KNOW WHAT YOU WANT TO SEE UP ON THE BLOG, WHAT YOU ARE LOVING OR WHY NOT GET FEATURED AND SUBMIT YOUR CITY WEDDING TO US!
tHE WEDDING INDUSTRY HAS TAKEN A HUGE HIT DURING THE CORONA VIRUS SITUATION; WEDDINGS BEING CANCELLED AND OR POSTPONED FOR THE LAST COUPLE OF MONTHS AND beyond. bUT WE ARE LOVING the NEW WAYS SUPPLIERS ARE FINDING TO SERVe THEIR COUPLES.
hELEN FROM ROCK THE FROCK CHESHIRE IS NO DIFFERENT, SHE HAS COME UP WITH A FANTASTIC WAY FOR styling city brides during this lock down. brides to be can STILL GET AHEAD IN THE WEDDING PLANNING PROCESS AND SEE DRESSES THEY LOVE.
We love that you have a new way for STYLING city brides DURING THIS LOCKDOWN, how does this work?
Due to the exceptional circumstances we are in, keeping safe is the most important consideration. However, women are still getting married so it is important to offer brides the opportunity to visit the boutique via video.
Virtual Appointments work as follows;
A couple of days before the appointment I will be in touch to see if there are any dresses which you are interested in, and to let you know that I will video call you at your appointment time on whatsapp.
At the time of the appointment we will chat about their wedding plans (my favourite bit); what they want from their wedding dress, budget and total wedding vision.
I will then do a tour of the boutique and go through the racks to show the bride to be all our dresses, and GIVE MY recommendATIONS BASED ON their wedding vision.
I will then ask if there are any accessories or anything extra which the bride would want to see.
Following the appointment, I would then video myself doing a small walk and turn (size 10/12) or my sister (who is by chance living with me during lockdown and size 16/18) to show the dresses on a body shape closer to your true size; also seeing the dressES move is really important. I will then email the videos and photos to the bride to be, following up with any questions.
Here is a video of an example for what I would send to a bride if she was interested in Bridal Separates, with a fitted skirt. Here I show 6 looks with the same skirt and different tops including the product names and prices.
Why did you decide to do this?
Any excuse to hang out with brides to be and speak all about weddings and wedding dresses. I have been going into the boutique once a week so it makes the day super fun to be able to have some normality when I am there, rather than painting and cleaning – I have a new work station at home set up for admin.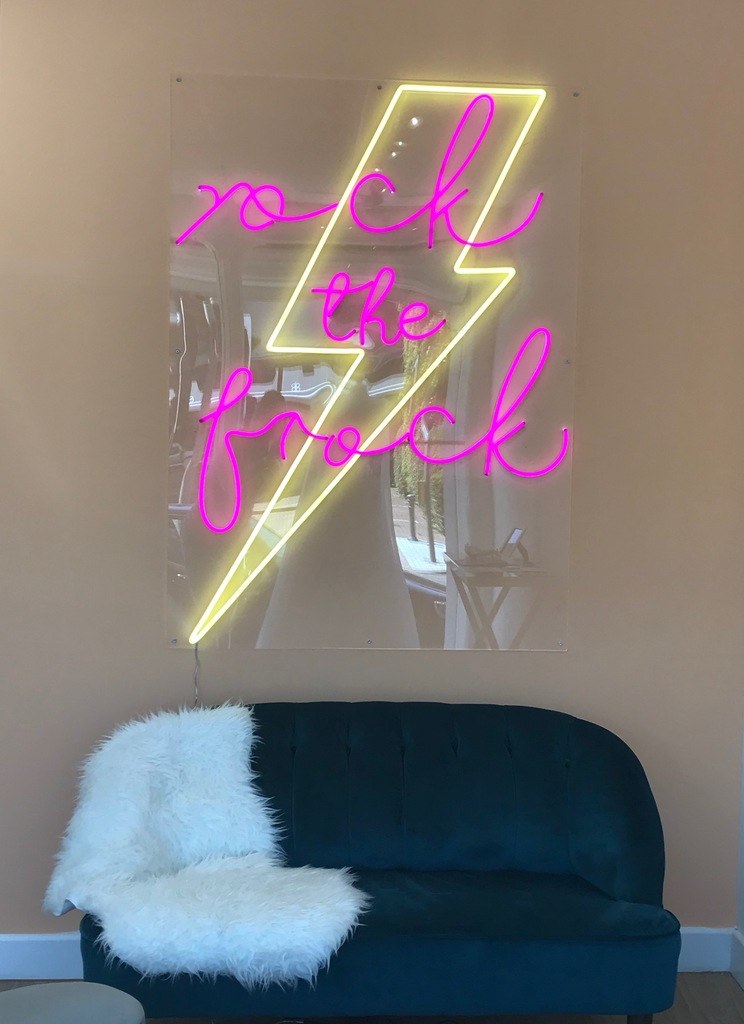 which designers can people view?
You can see all of the dresses which I stock; I also have a new designer 'Studio Levana' which is coming in July so it is nice to tell brides about these pieces if they have mentioned similar styles – as I cannot model these pieces, I have been sending the designers images of the dresses.
what are your 3 favourite dresses for a city bride?
From the dresses which I stock;
Cool Bridal Separates with Otaduy – Cers Top and Cirus Skirt – modelled by my fabulous mother, in the boutique, showing that this look looks amazing on all ages.
Classic and Chic with Studio Levana – Francis Dress
Sexy and Alternative with Leanne Marshall – Raincloud – modelled by Jennifer, my sister, in the boutique.
3 top tips for finding a dress in lockdown?
I think this is a really exciting time to do some research on designers and what you want from your dress.
Use social media to find inspiration – Pinterest/ Instagram
Find stockists of the designer or bridal boutiques which have the same vibes as your wedding vision.
Get in touch with the boutique and see what they can offer and, if not, get an appointment booked for when lockdown is over.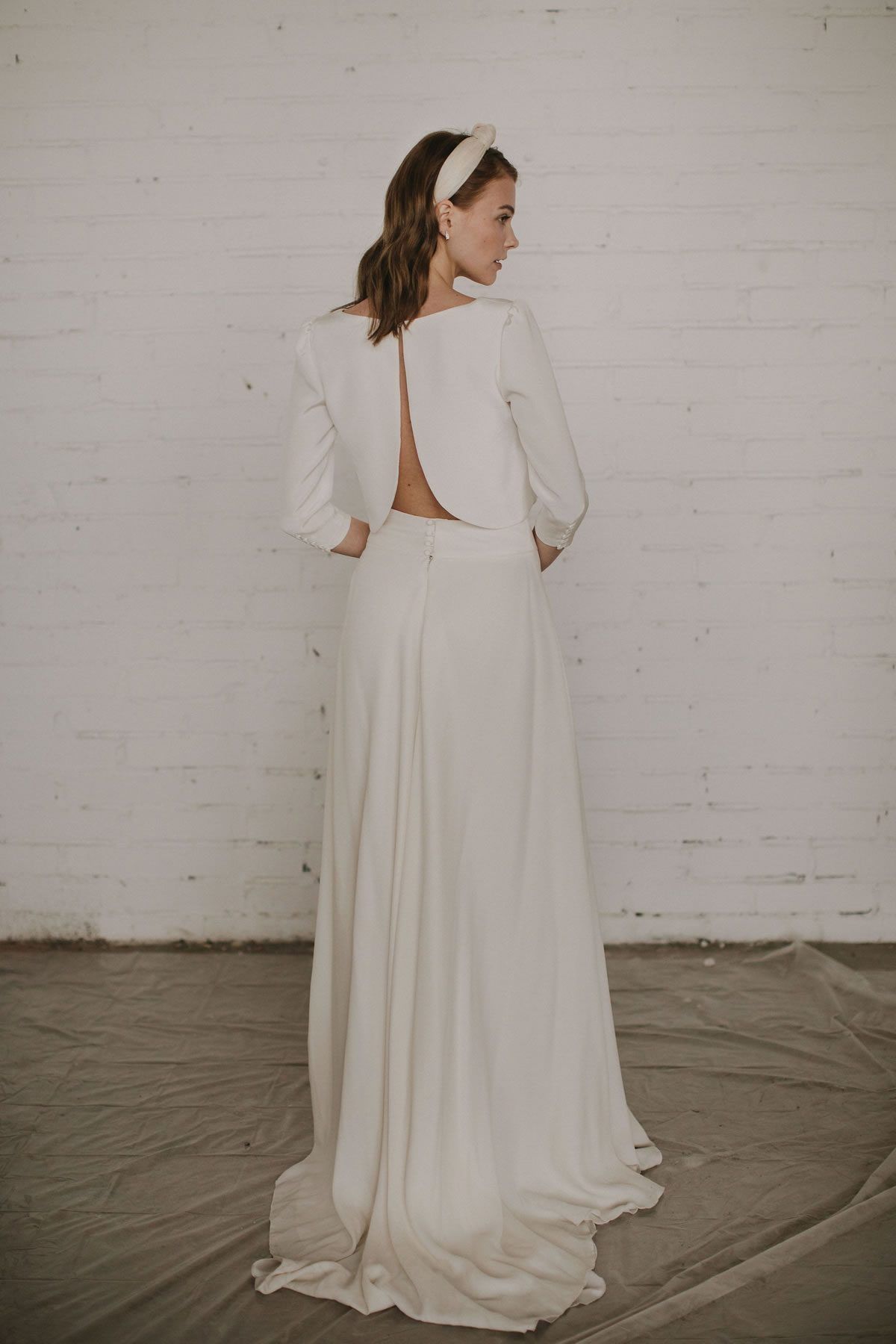 lastly what if a bride sees a dress she loves, can she still buy? And are you running any special offers?
Luckily all of my designers are still working and taking on new orders which is great. I have been in close contact with my suppliers, as I have brides' dresses being made and delivered; as such, my supply chain has not been affected by covid-19.
I am offering free appointments, once we are out of lockdown; if brides use a code, ON US, when booking in to visit the boutique. in addition to this, we're offering free virtual appointments every Thursday.
If any brides to be have any wedding dress related questions please do not hesitate to contact me; i am more than happy to help! If you are looking for wedding dress inspiration my Instagram is rockthefrockcheshire.
Sending love, health and happiness to you both Chelle and Zoey; see you guys on the other side!
Big Love helen xx
our thoughts.
Well, we at the urban wedding company love this! helen has come up with a great idea to keep STYLING  all you city brides AND KEEP YOU in the wedding planning process. we've had the pleasure of seeing helen at the shop in the past and we can tell you ladies, you're in for a treat when you can get to your appointments. the dresses on offer are amazing!
if you want to know more about helen, check out her other blog on our site here
If you want to be featured on our blog, then get an email to us urbanblogsubmission@gmail.com