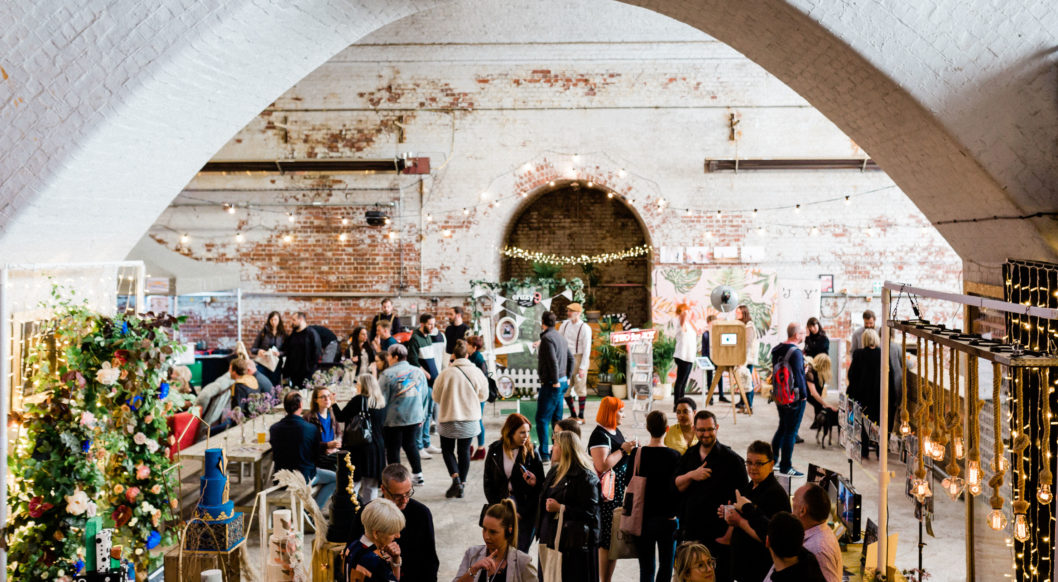 Urban Wedding fayre:- Fairfield Social Club
We're still on a huge high from last weekends Urban Wedding FAyre at Fairfield Social club, and we still have huge smiles on our faces! We loved running last weekend's wedding fayre it was our biggest one to date and the first one to be held at Fairfield Social club.
As soon as we saw this venue last year we knew we had to host a wedding fayre there, no its not pretty and no its not everyone's cup of tea, but we fell in love with it and knew you guys would too!
We had so many ideas for how we would set it up and the areas we would have, we knew the Urban VIP Lounge would be perfect under the stairs, and live music was an absolute must. we also added the Urban Spa this year which is accessible to everyone and would house accessories, a groom's area, dresses etc…..
we couldn't wait to bring you the best independent suppliers the Northwest and beyond has. Yep that's right we had suppliers from as far south as Coventry this time, word is getting around that our fayres are super cool!!
Of course with any event planning it comes with its challenges and 6 weeks to the date boy did we have one! We found out the Manchester run had also been scheduled on our date closing lots of roads in the city for the day and two main ones where our venue was. This was going to be a challenge, but one we both took on and decided it wasn't going to ruin our fayre, so we got super organised and found out all road closures and turned out there was so many ways into the venue and for our couples public transport was still running as normal so panic over and we carried on with the last few weeks of preparations, we also gave all the suppliers the information and a couple of route options to help them out if needed.
We had a lot of set up the morning of the fayre, as the space is quite big and we wanted to utilise all areas, so we made a comfy seating area in front of the stage where we would have live acts on throughout the fayre, they would include a dj, two separate singers and an amazing illusionist you were going to need to sit down for him!! it also gave the couples easy access to the bar the food trucks we had serving a variety of delicious foods.
for the URban VIP lounge We had ZAZ events styling this area the stairs, it already has some great miss matched sofa's which we love so Zayna did a great job of adding to this with her boho moroccan feel and made it look all warm and cozy. the lounge also had its own bar for the VIP guests and a food platter we supplied and Zoey with her creativity made it look so appetising it was devoured in a short space of time by all the guests!
Our aim for this fayre was to have a relaxed inclusive vibe, we know how boring and very bride focused they can be. They can also be quiet and uncomfortable for both the couples and the suppliers as they feel they can't really have a conversation without everyone hearing it. So we decided to change it up and have live music on all though the fayre. of course we had to make sure the grooms are catered for and feel included this really changed the vibe and people were all walking round comfortably and chatting away to the suppliers. It worked so well and we did take a few minutes and take it all in, oh and the added bonus of being dog friendly was a bonus we had so many furry cuddles!
The feedback from this fayre has been absolutely amazing, not only on the day from suppliers and couples but in the week after it, we've been tagged in so many images on social media and the day after we were inundated with emails saying how great it was and how much they enjoyed it, we know it must have been good as we noticed a far few couples who came early stayed all day and we had to boot them out at 4pm when it finished! To us that's the best feeling ever, thanks to every supplier who booked on and to every couple who bought tickets and came we thank you and hope you enjoyed the day!
Want to be at our next fayre as a supplier, its on the 14th September at the comedy store, if you're interested in a stall please email urbanweddingcompany@gmail.com
fancy tickets to our next fayre?
all suppliers involved in the fairfield social club fayre were.....
Marni V Photography, Kerry Lu Photography, alex horrocks photography, urban caksehouse, perfect bouquet full of flowers, frain & grain, rtp films, onyx weddings & events, two for joy photography, zaz events, bake o rama, paperseed floristry, peter lockwood events, vintage fiat 500, bettys bakes and booth, lee gordon music, jester styles, chiit chaat, cheek & tongue, glitter art, crazy 9 golf, wedding jam, peacock and pearl, the groomsmen services, chrisholm hunter,