Today on the blog we have THIS INDUSTRIAL EDGY WEDDING STYLED SHOOT, and it IS GORGEOUS! You all know how much WE LOVE SHOOTS AND WEDDINGS THAT ARE FULL OF INDUSTRIAL VIBES. Throw in some ALTERNATIVE STYLING, AND TRADITIONS that have EITHER BEEN MIXED UP OR THROWN OUT THE WINDOW, and you have us hooked!
THIS COOL SHOOT ALL THE WAY FROM GERMANY. WE'RE NOT GENERALLY ONE FOR A LIGHTER LOOK AS YOU KNOW WE PREFER A MOODY VIBE. BUT WE LOVE THE DARK ELEMENTS TO THIS SHOOT AND THE EDGEY BRIDAL LOOK. IT WAS SET IN VILLA GLANZSTOFF, HEINSBERY, GERMANY WHICH IS NEAR DÜSSELDORF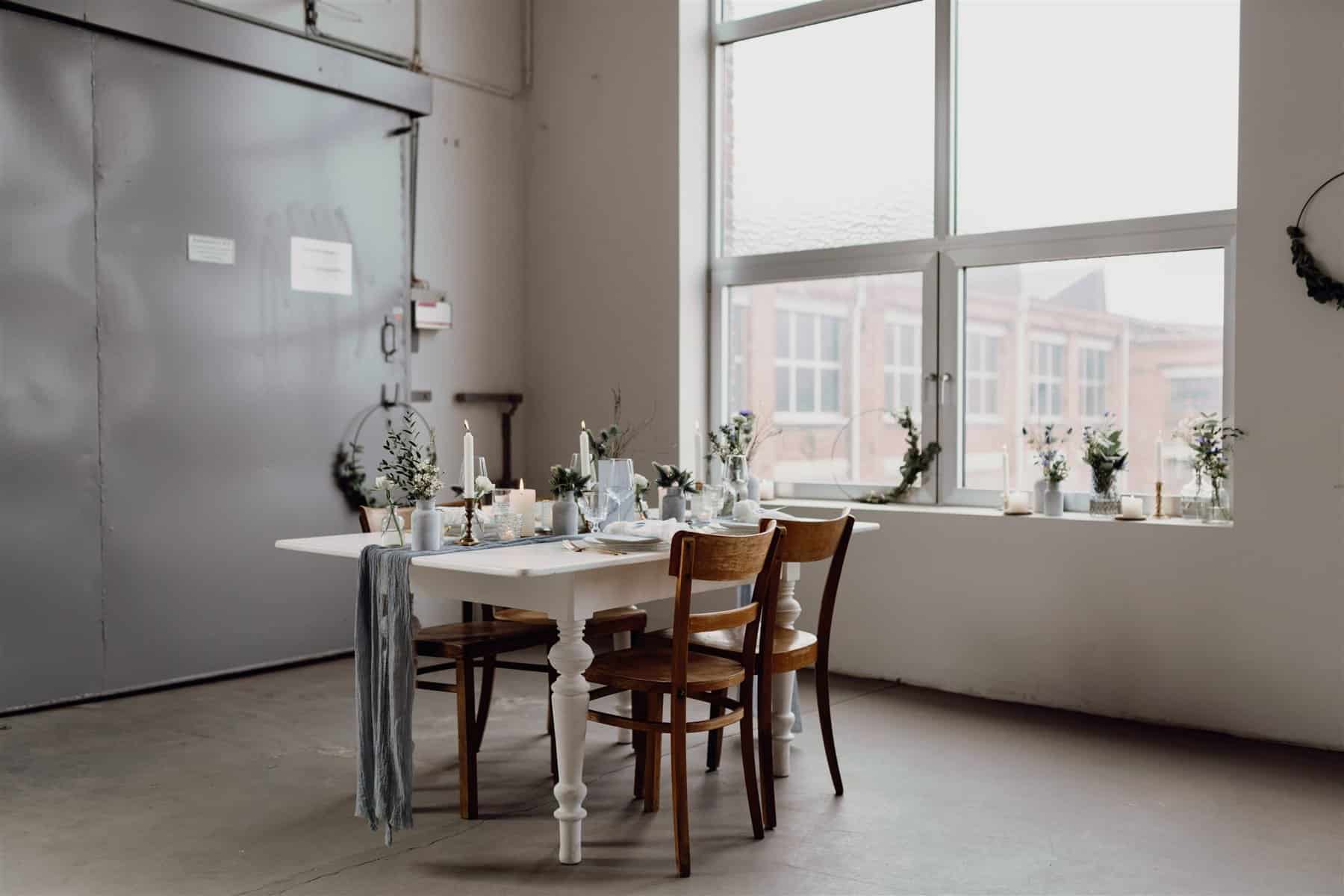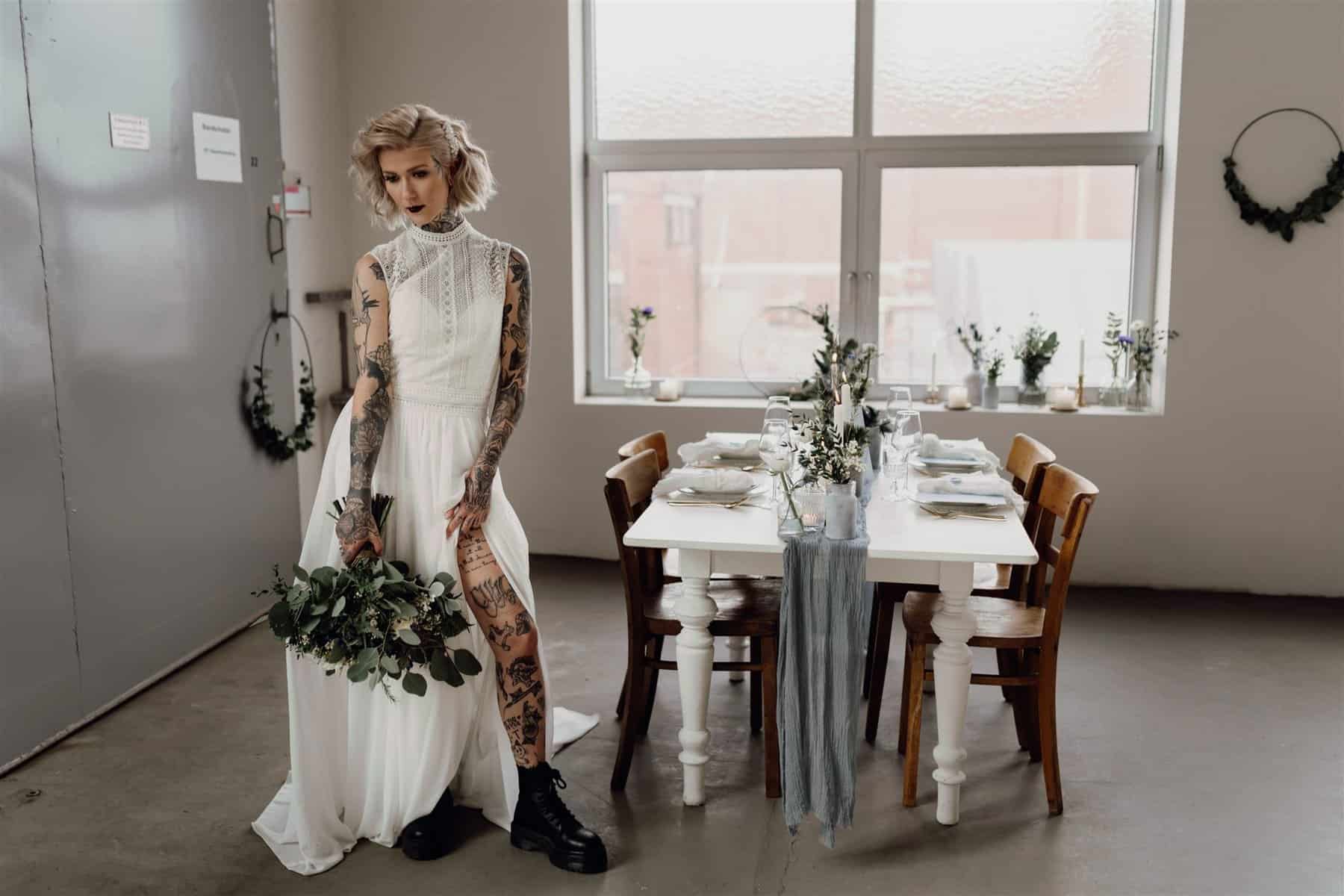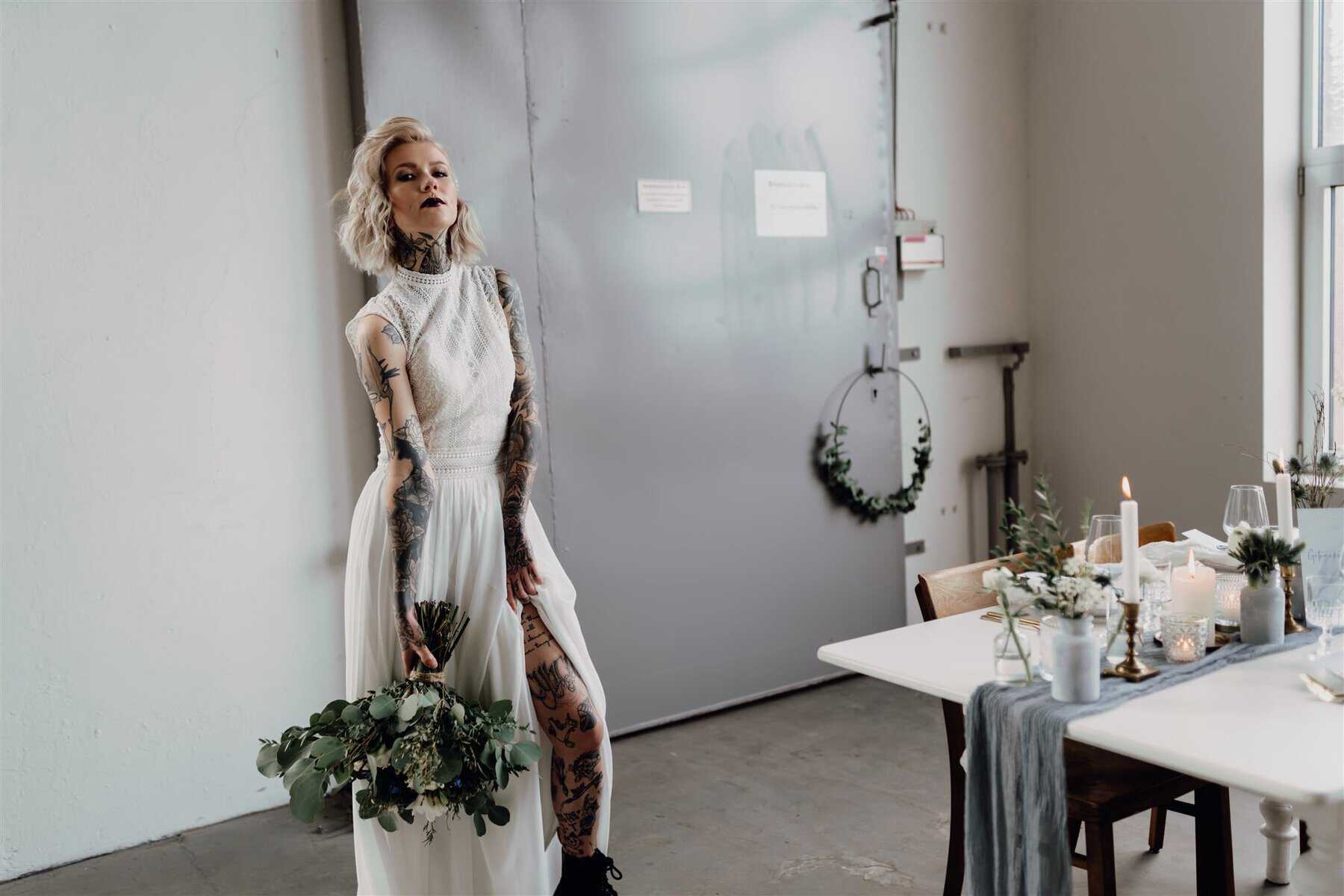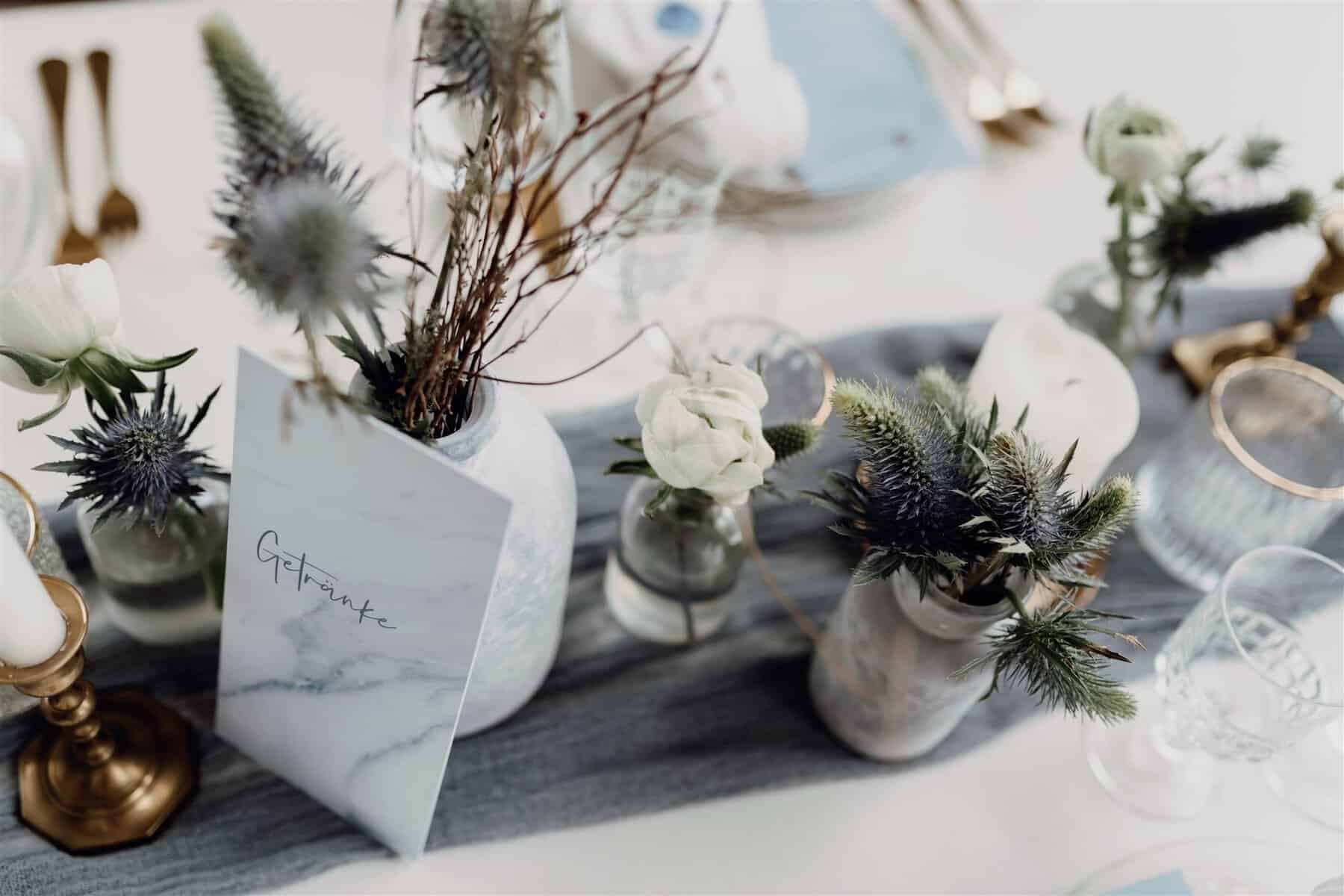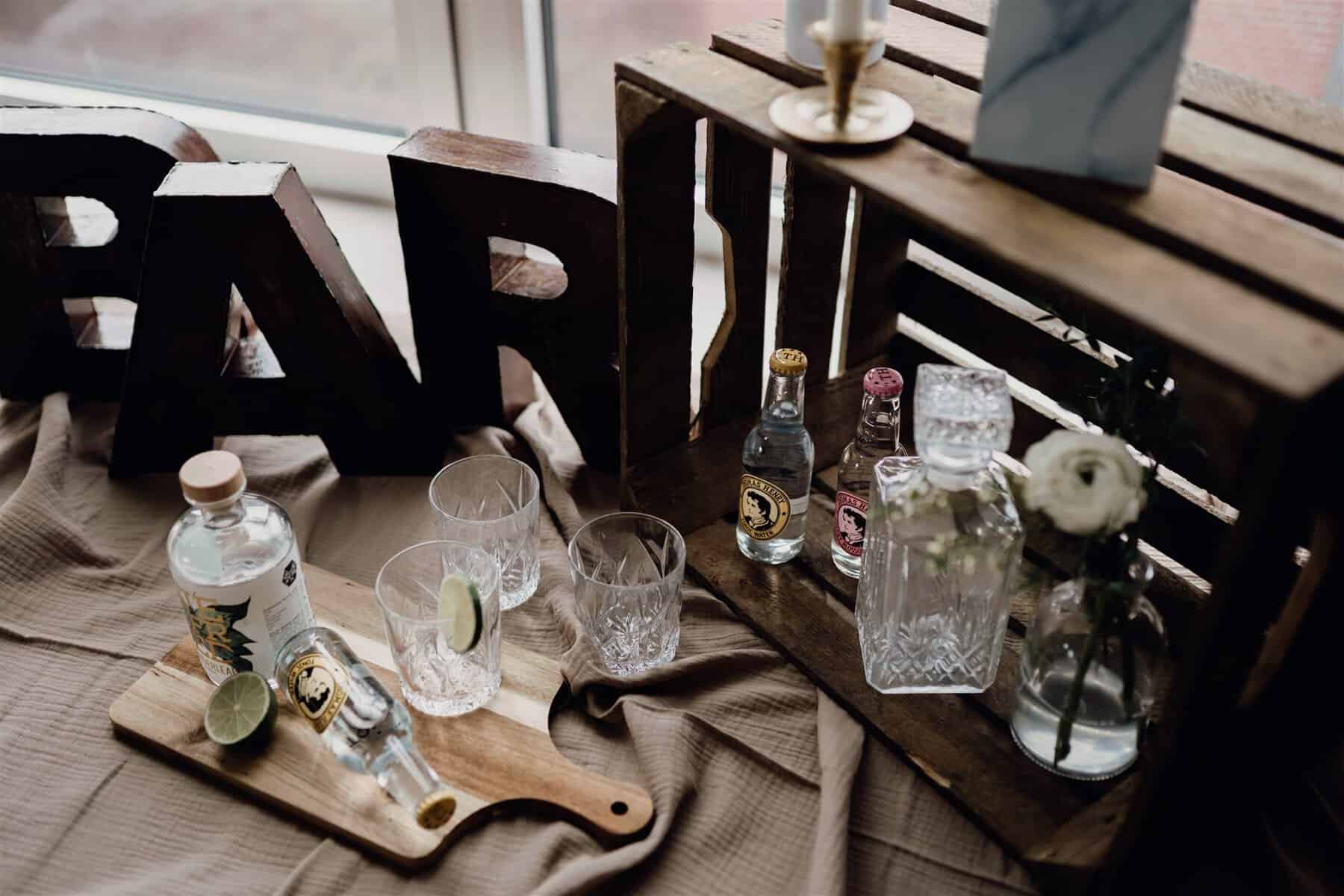 WHICH VENUE WAS THIS INDUSTRIAL EDGY STYLED SHOOT IN?
THE VILLA GLANZSTOFF IN HEINSBERG IS AN OLD HOUSE, WHICH WAS RENOVATED A FEW YEARS AGO. IT'S AN IDEAL VENUE WHERE SMALL WEDDINGS CAN BE CELEBRATED. THE LOCATION ALSO INCLUDES A GREAT LARGE GARDEN, WHICH OFFERS MANY OPTIONS.
THIS SHOOT TOOK PLACE IN THE ADJACENT INDUSTRIAL HALL. UNFORTUNATELY, THIS IS NOT OFFICIALLY RENTED FOR WEDDINGS, BUT WE WERE ALLOWED TO HAVE OUR SHOOT THERE. IT'S A SHAME YOU CANT USE IT FOR A WEDDING AS IT HAS ALL THE INDUSTRIAL EDGEY VIBES YOU COULD EVER WANT.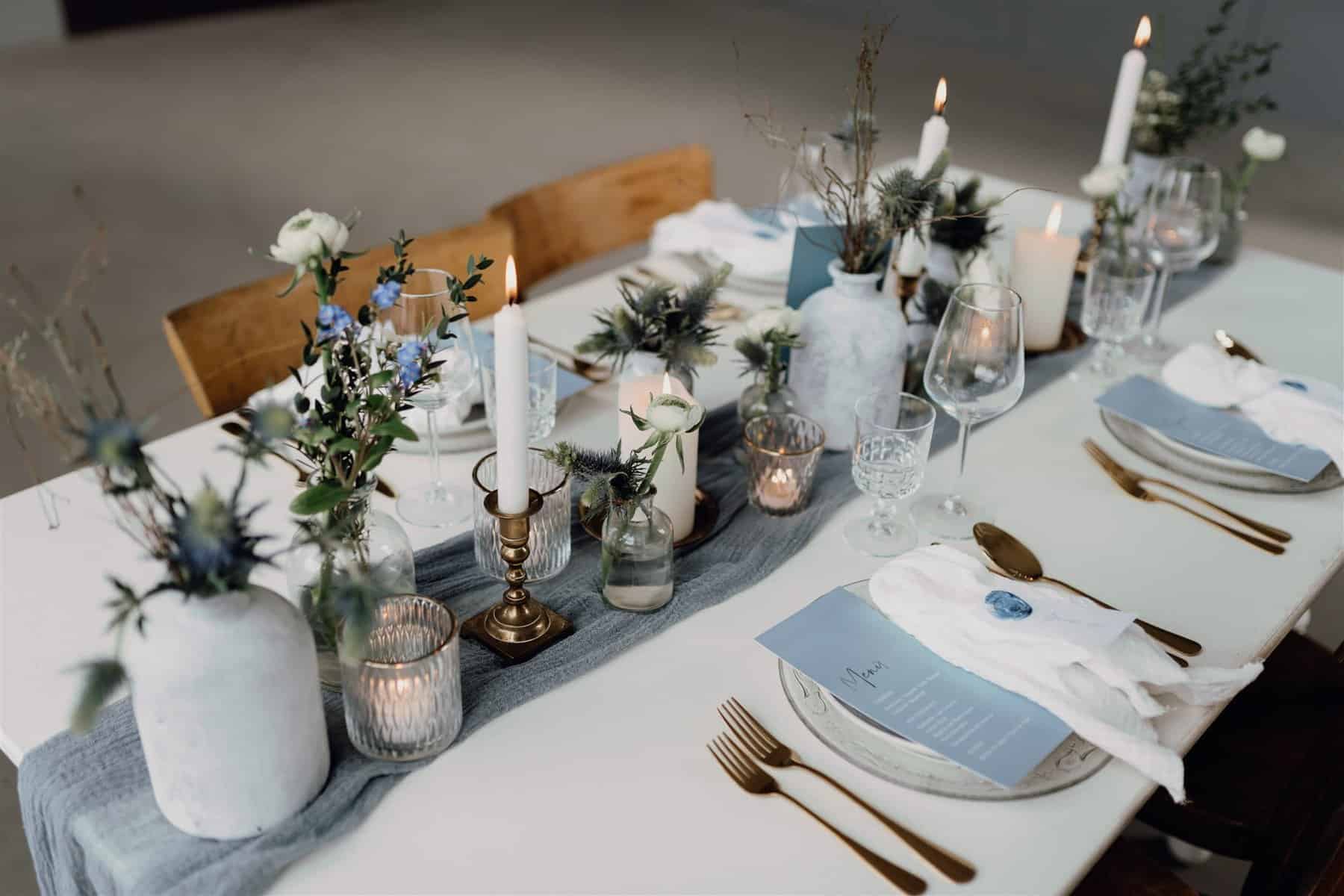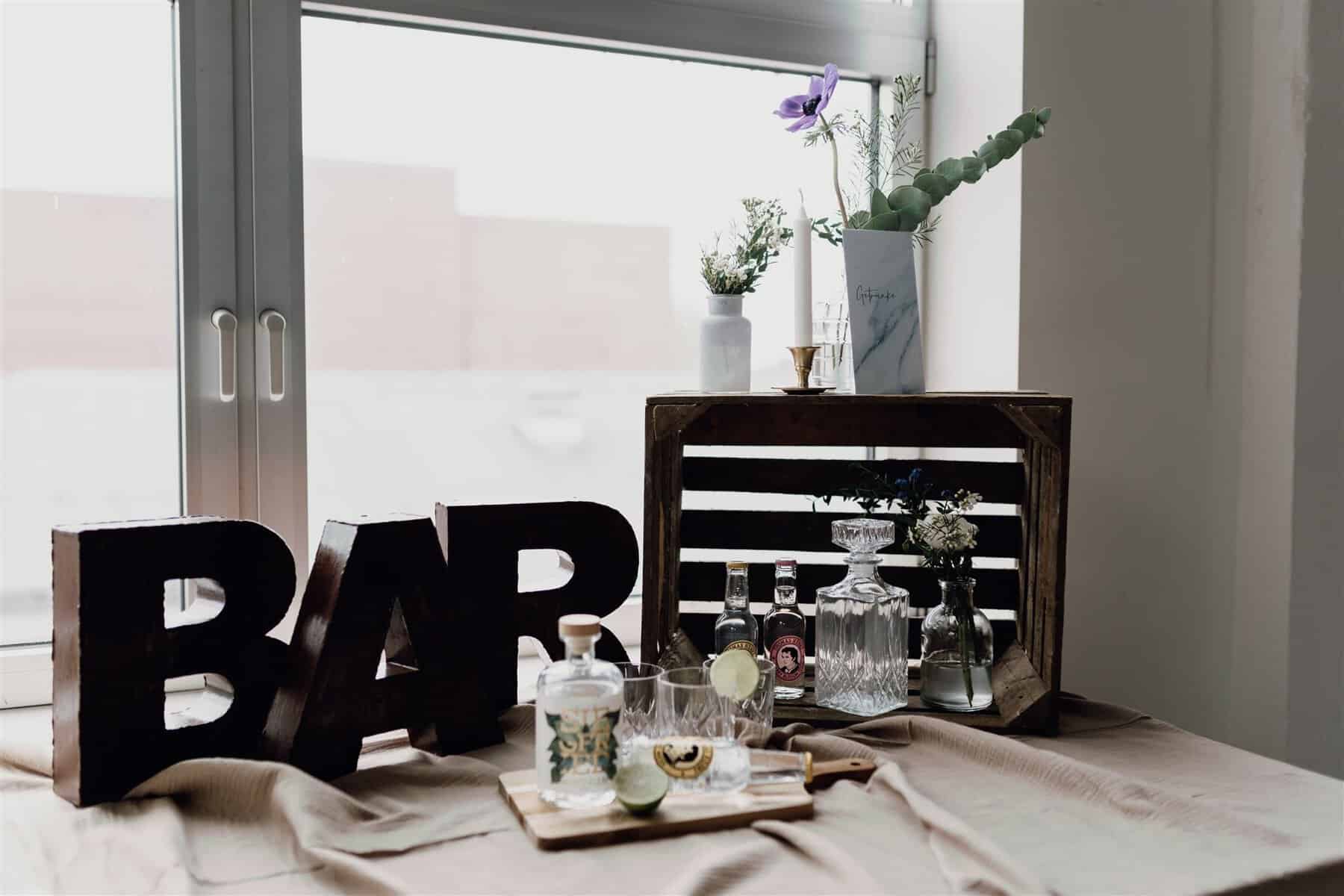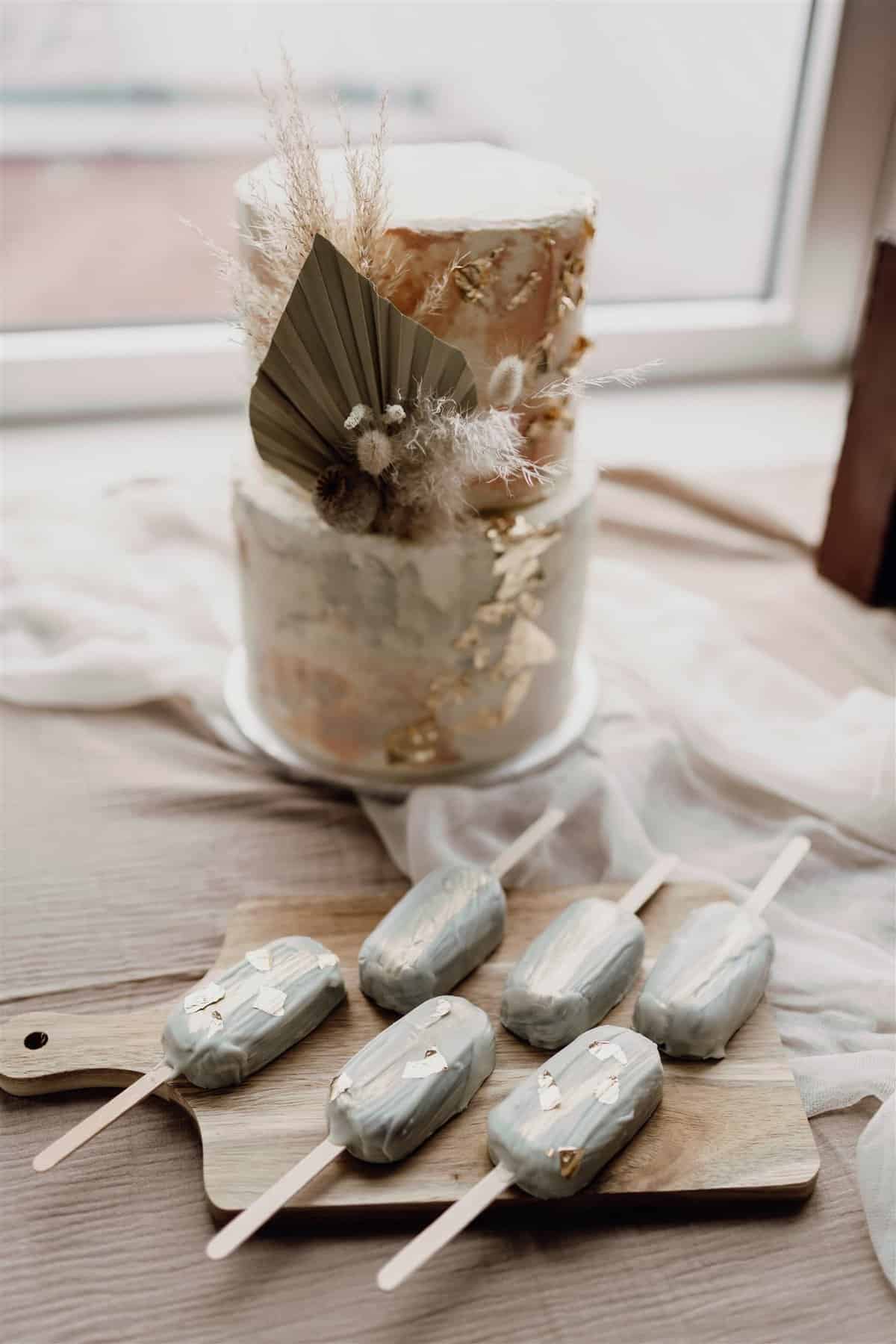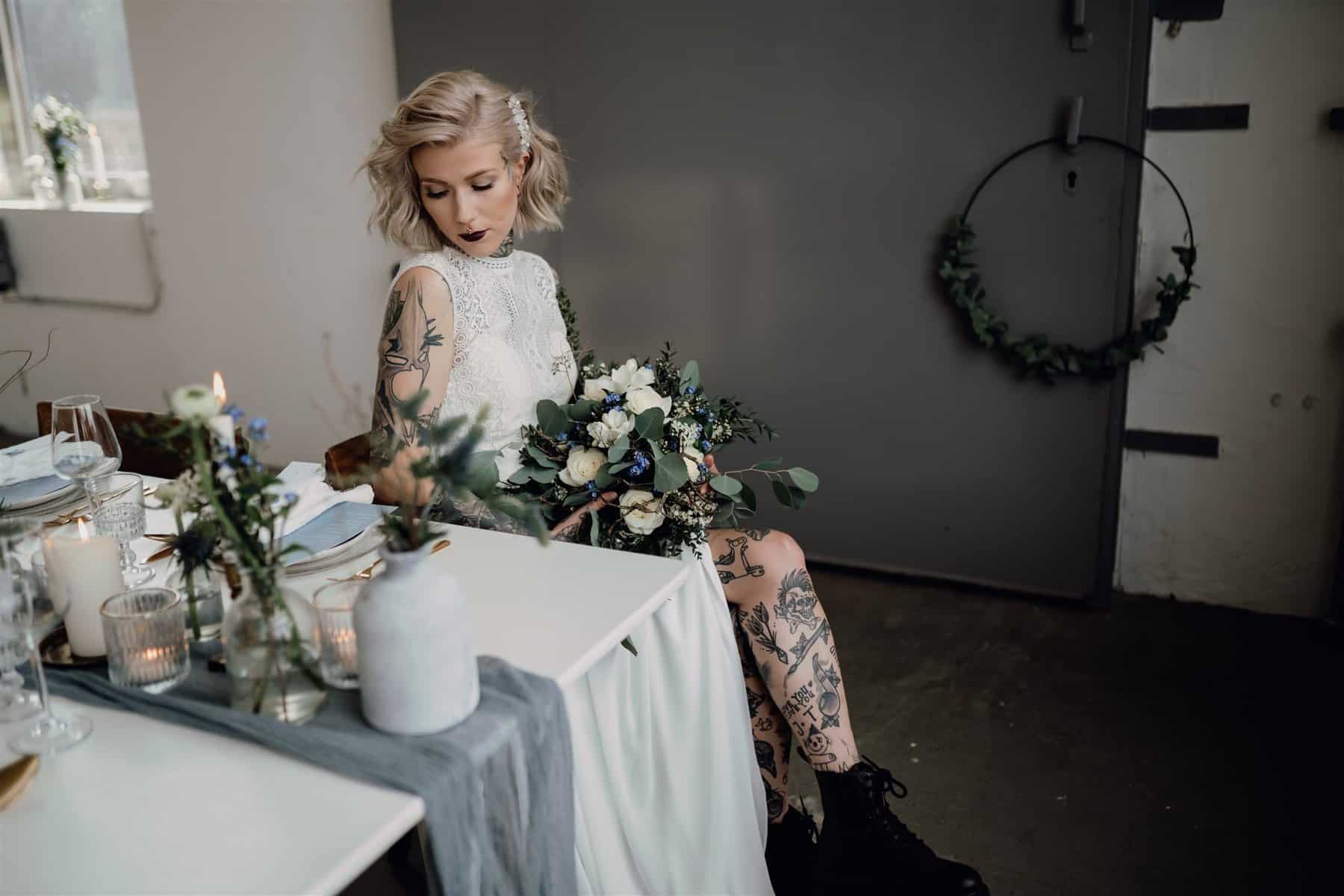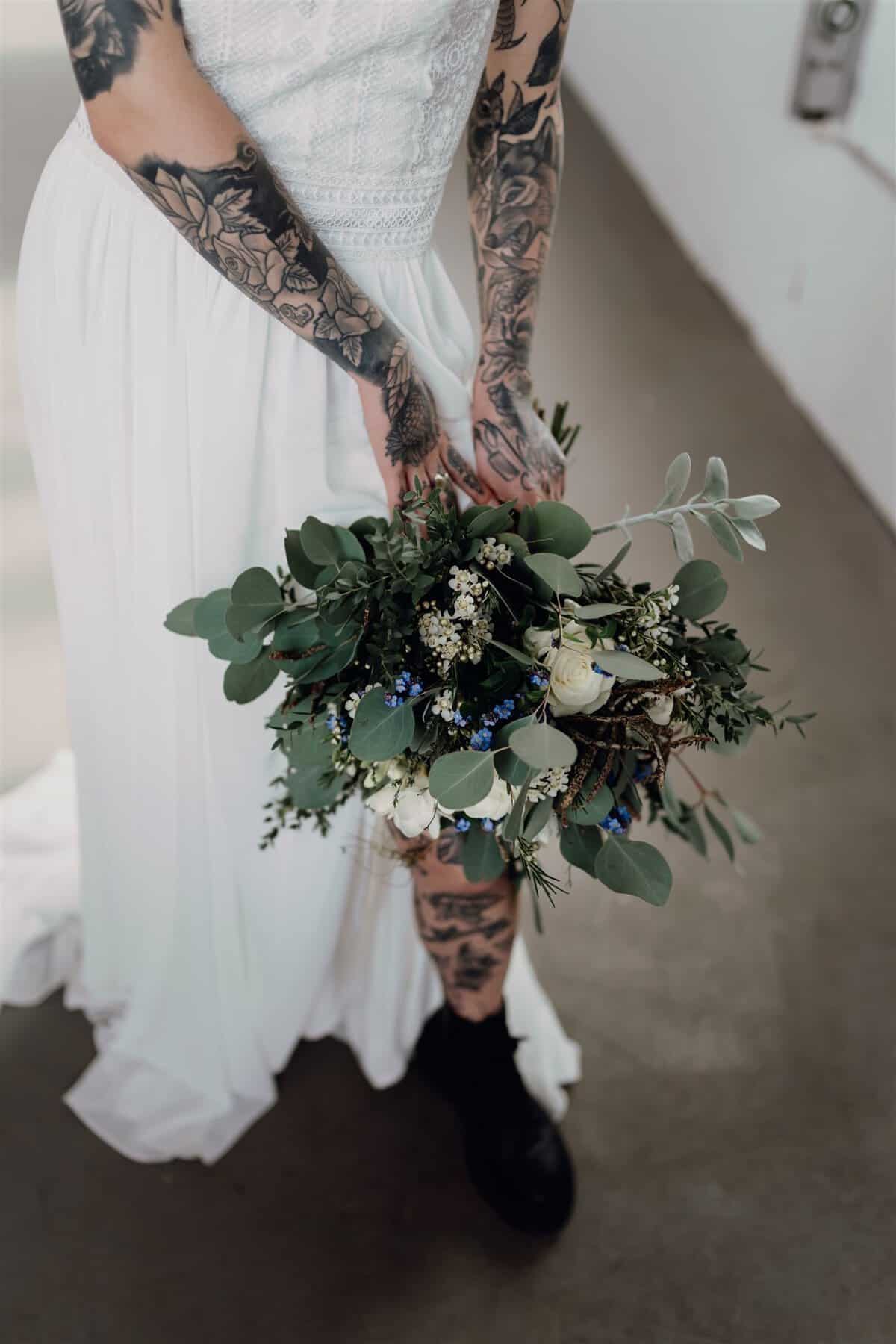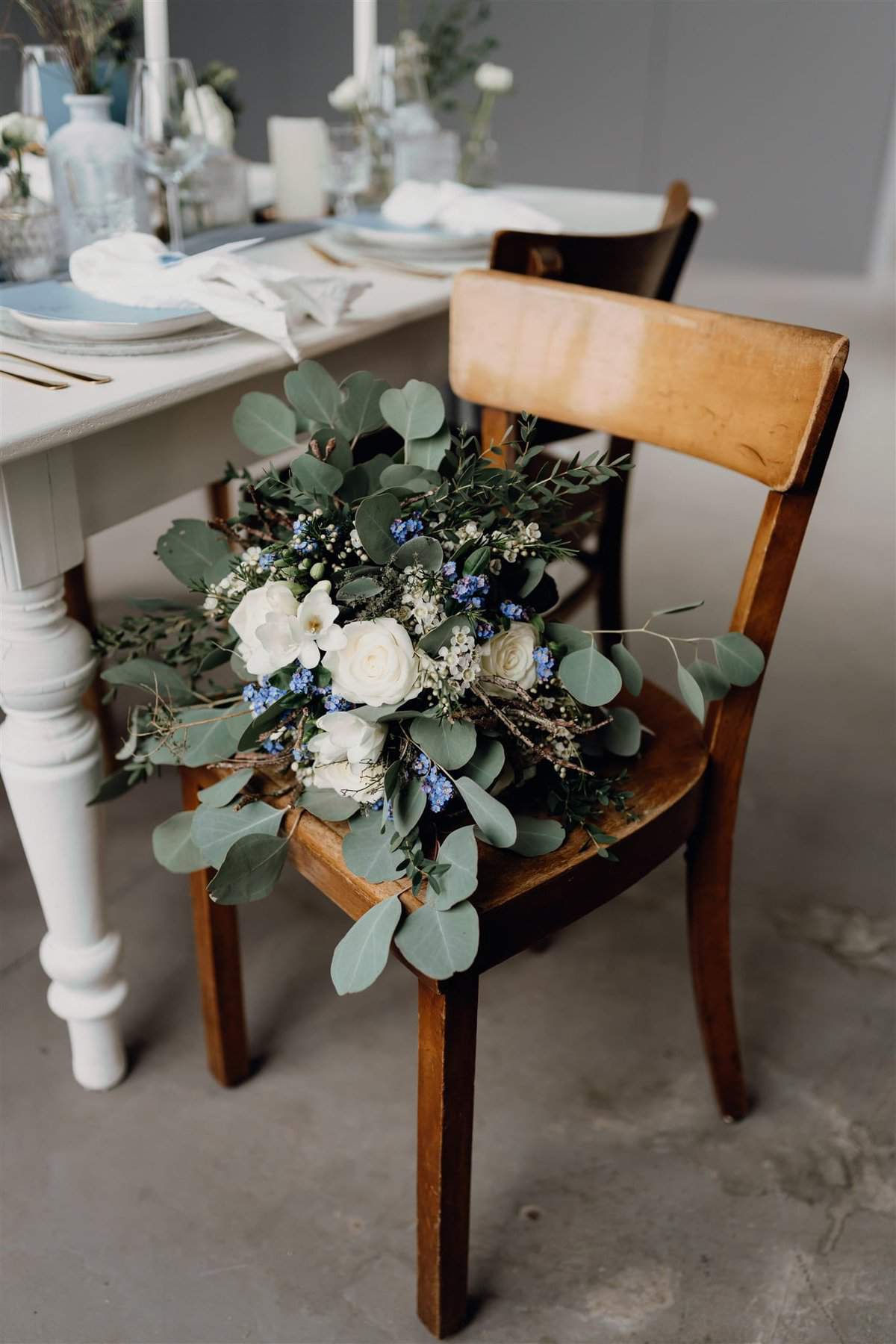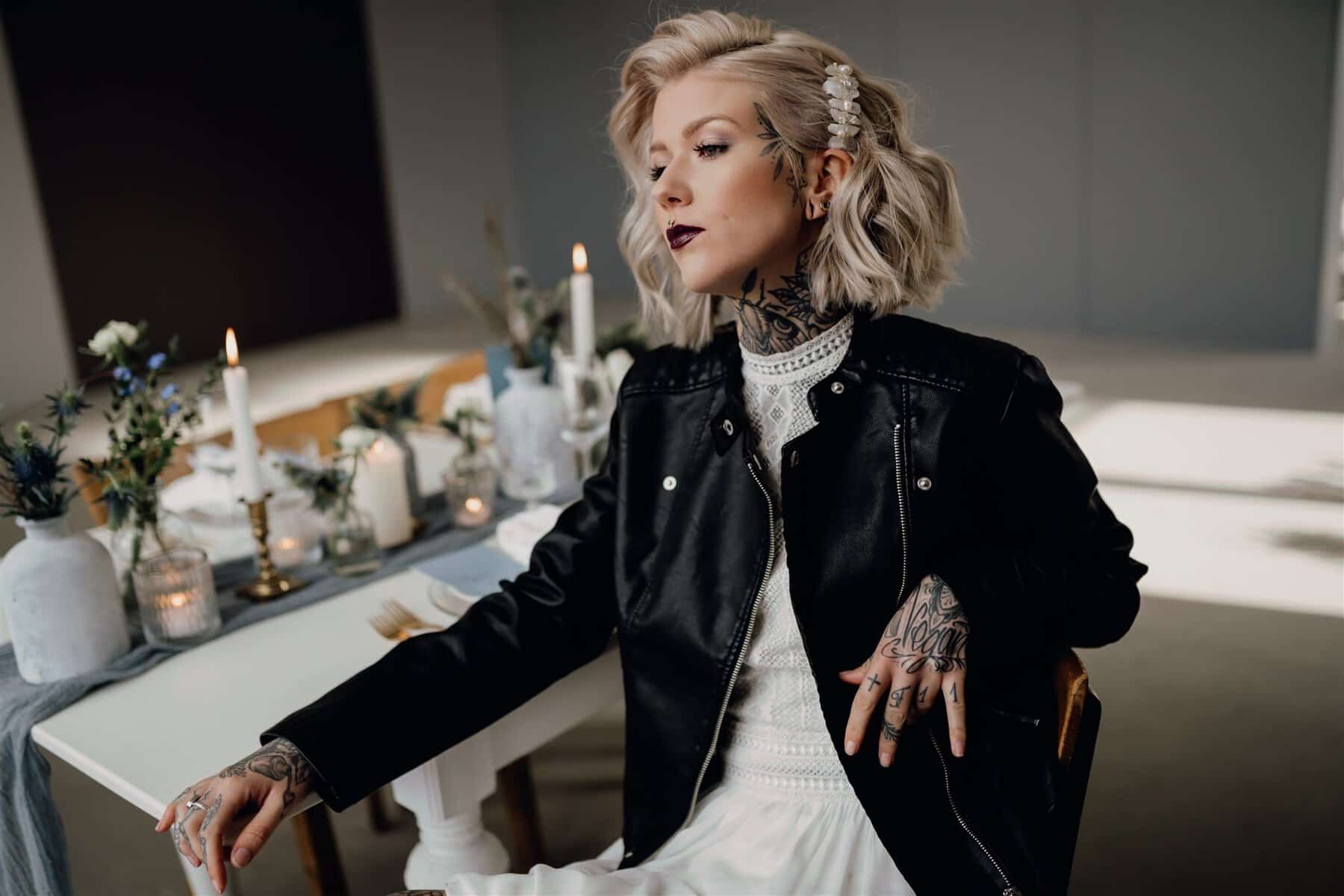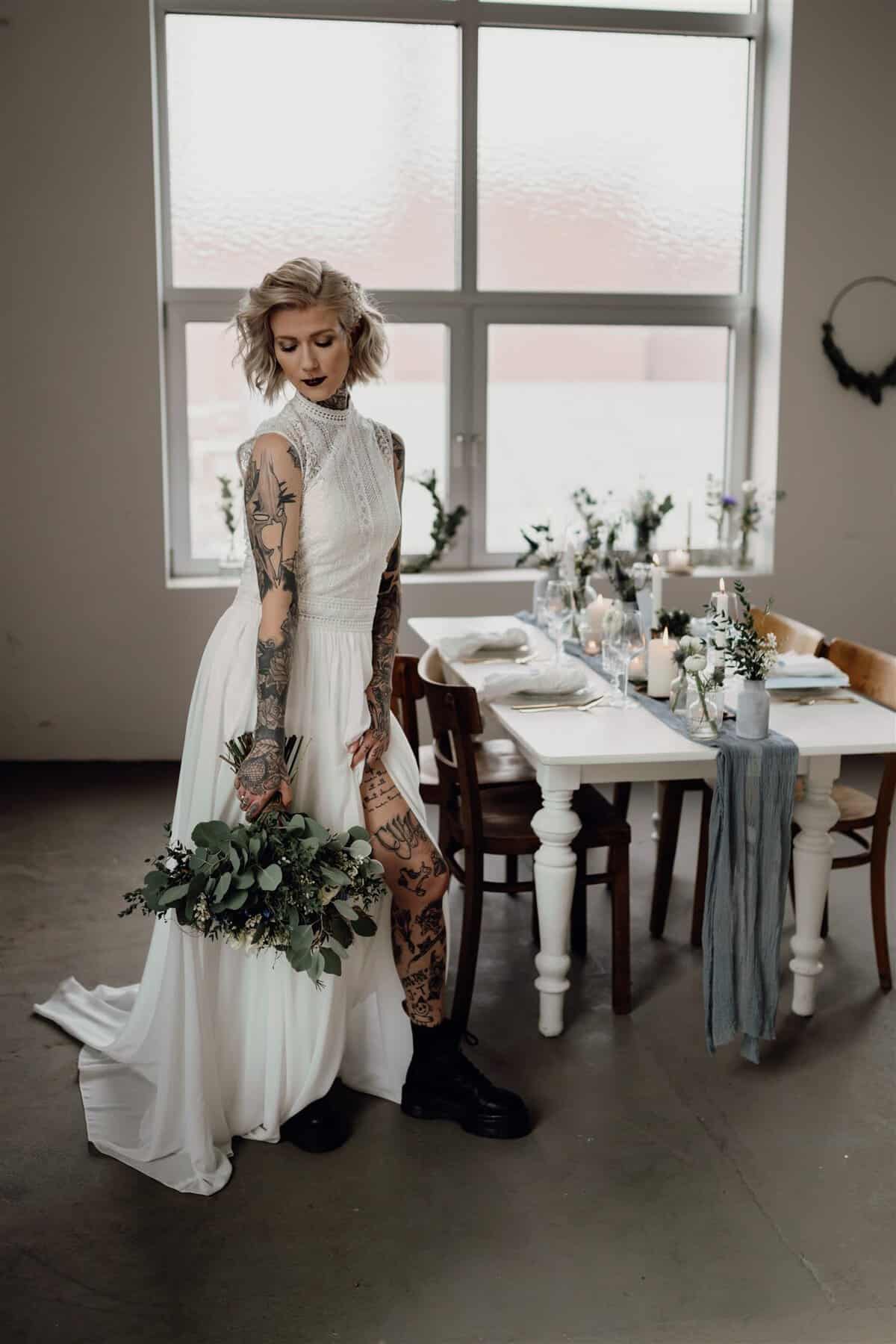 WHAT WAS THE INSPIRATION BEHIND THE INDUSTRIAL EDGEY SHOOT?
WE WANTED TO SHOW A DIFFERENT CONCEPT THAN THE CURRENTLY POPULAR BOHO TREND. OF COURSE, THIS IS ALSO WONDERFUL. BUT WE WANTED TO SHOW WITH THIS CONCEPT THAT THERE ARE OTHER GREAT IDEAS TO STYLE A WEDDING.
WE THINK THAT THE COOL TONES OF THE CONCRETE VASES FIT PERFECTLY INTO THE INDUSTRIAL LOCATION. BUT WOULD ALSO LOOK GREAT IN A DIFFERENT LOCATION STYLE. WE HAVE COMBINED THE GREY COLOUR WITH NATURAL ELEMENTS SUCH AS THE PLACE MATS AND THE BRIGHT COTTON NAPKINS. THE BRIGHT TONE OF THE NAPKINS HARMONISES PERFECTLY WITH THE COOL GREY AND GOLD ELEMENTS.
IN GENERAL, THE CONCEPT IS A VERY CLEAN AND COOL. WHICH NEVERTHELESS EMBODIES A FEEL-GOOD ATMOSPHERE.
THE STATIONERY IS IN THE SAME COLOURS TO LET THE RED THREAD RUN THROUGH. THE PLACE CARDS MADE OF TRANSPARENT PAPER WITH A WAX SEAL ARE ANOTHER SPECIAL HIGHLIGHT.
THIS CONCEPT FITS PERFECTLY TO AN ELEGANT, MODERN INDUSTRIAL LOCATION.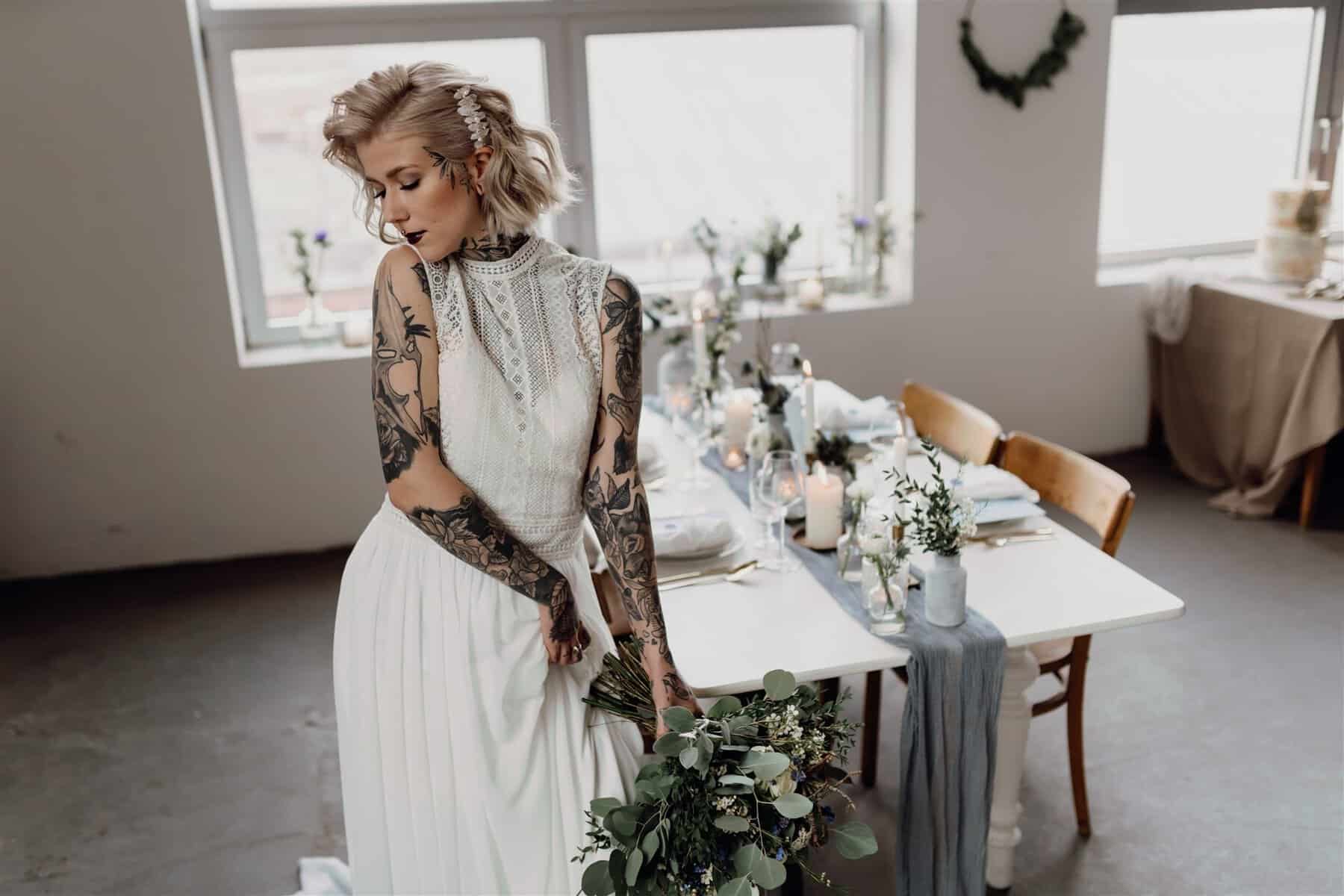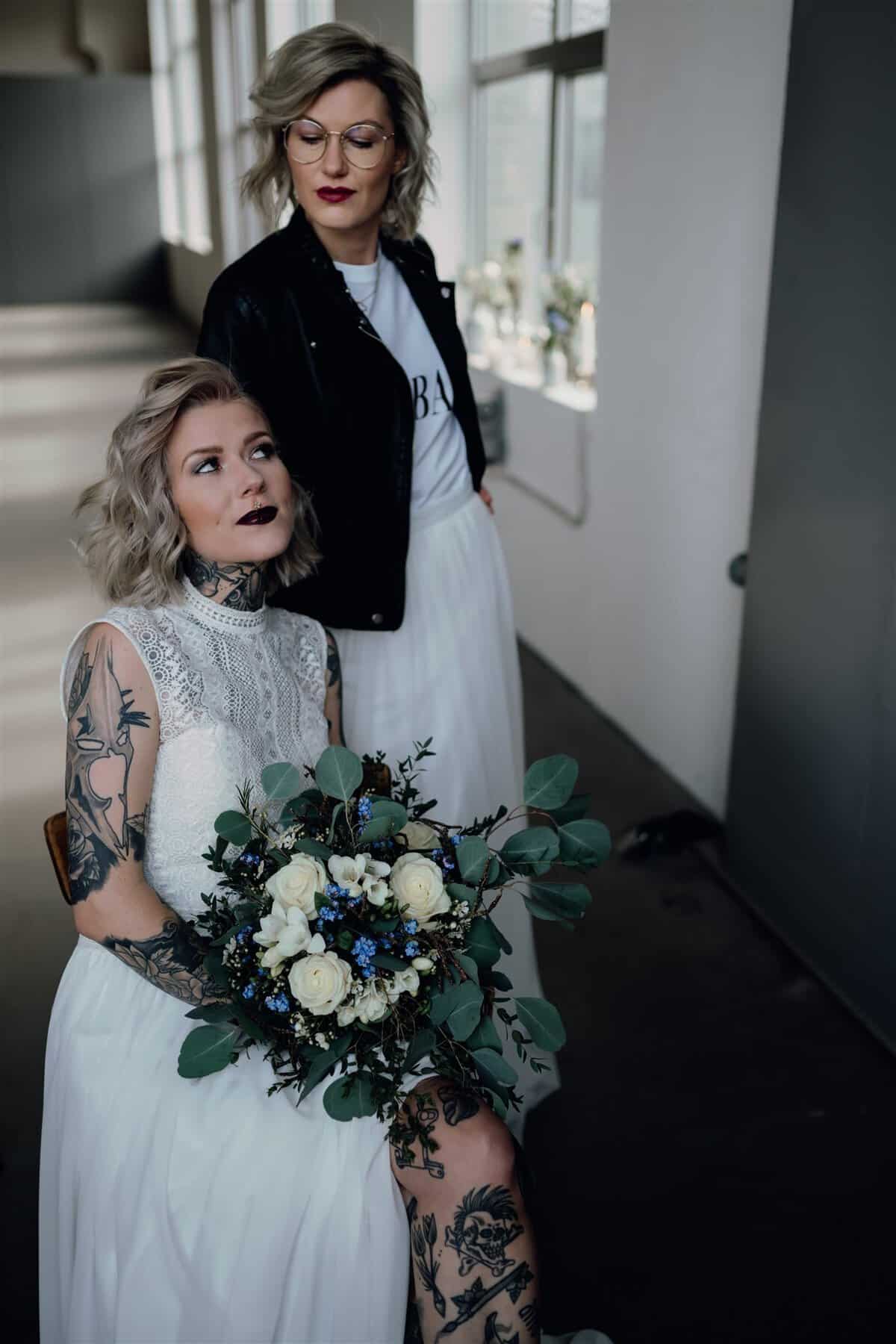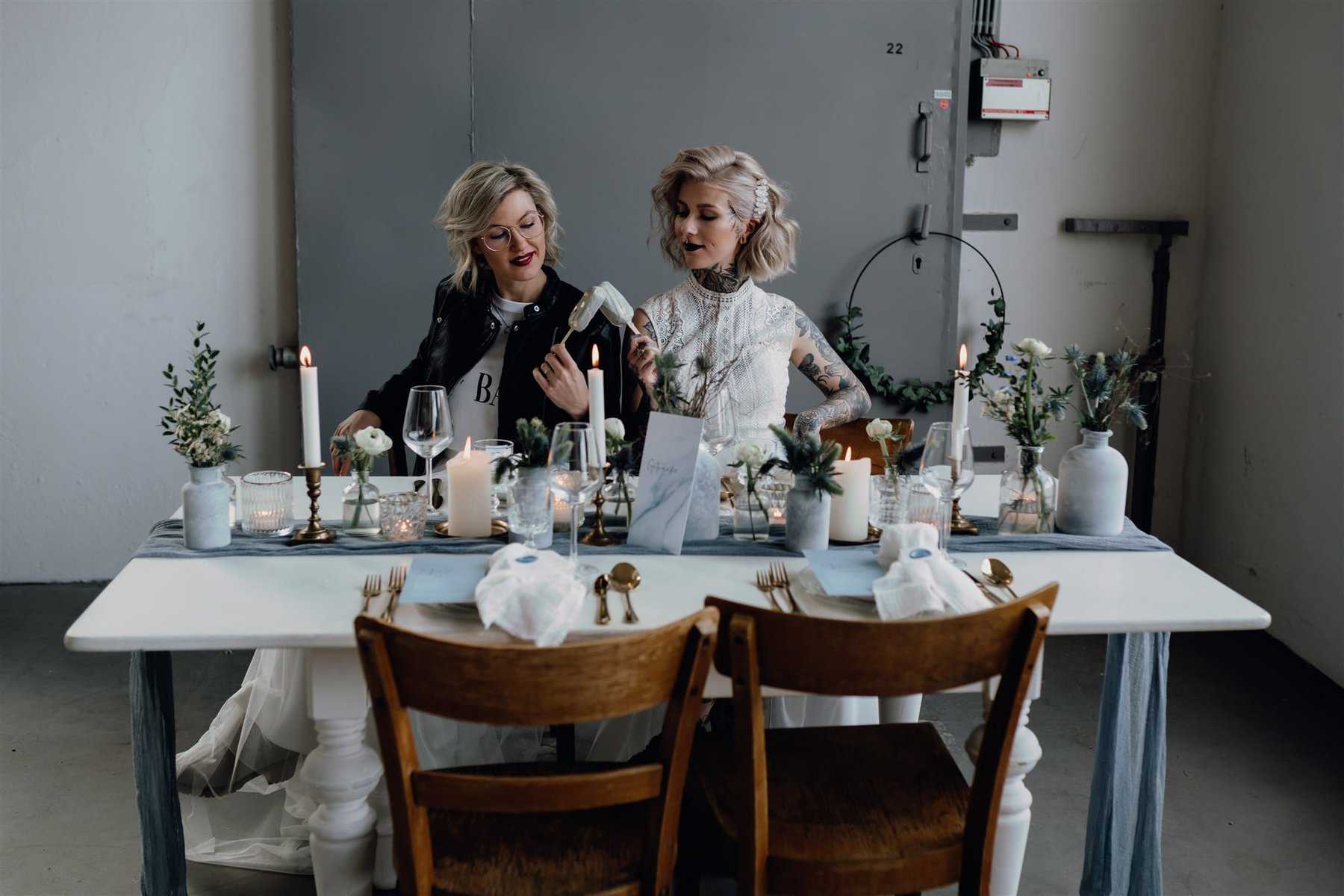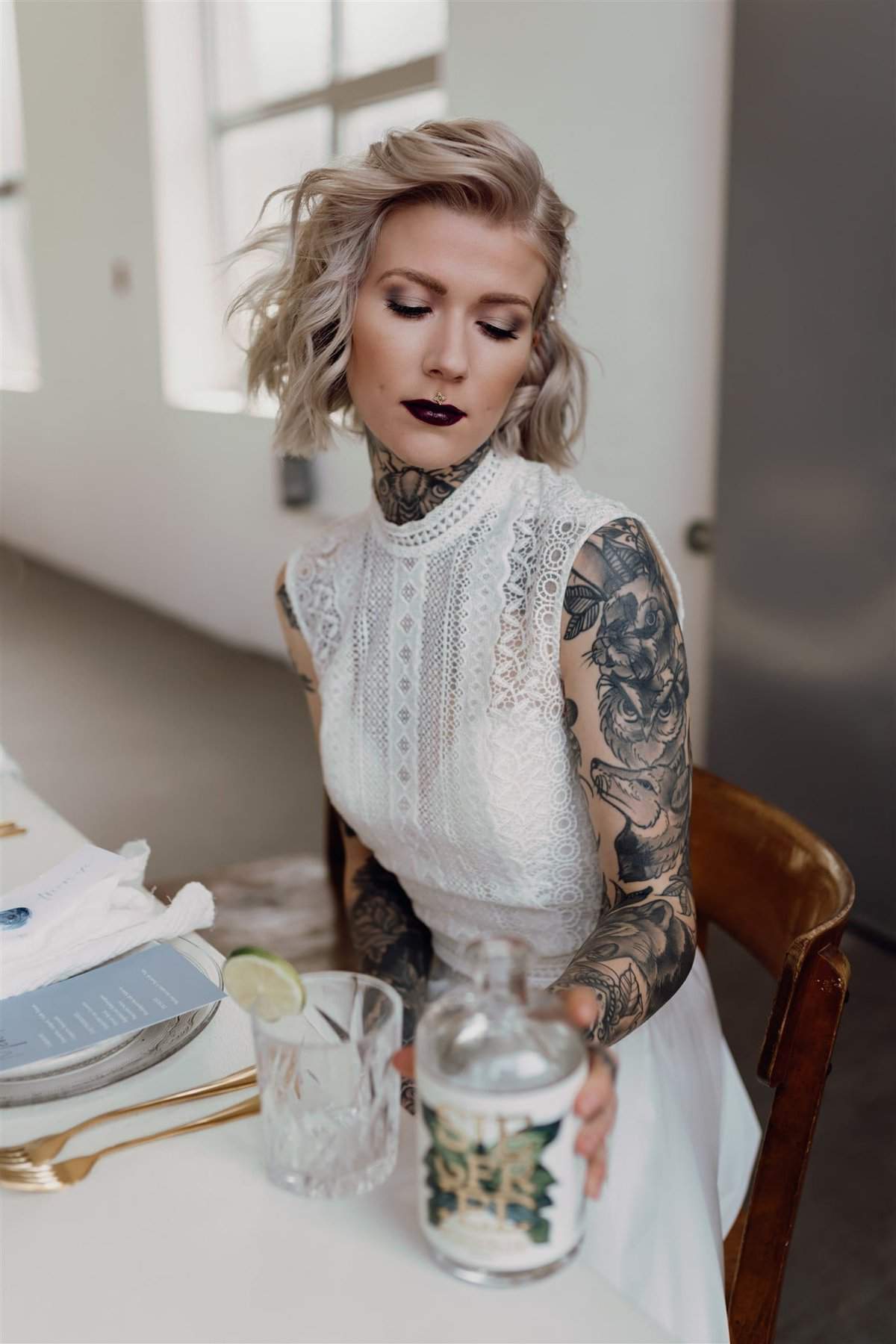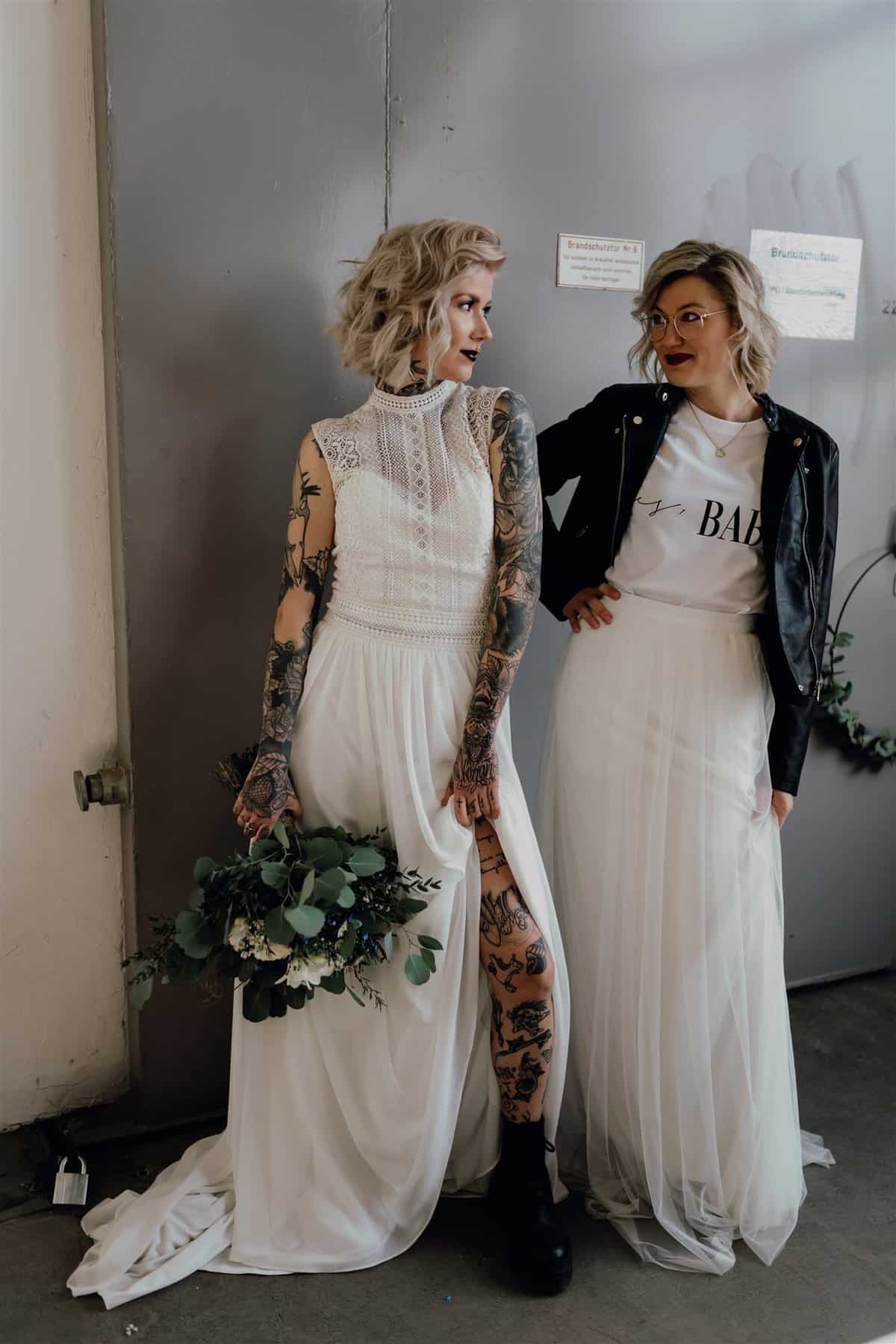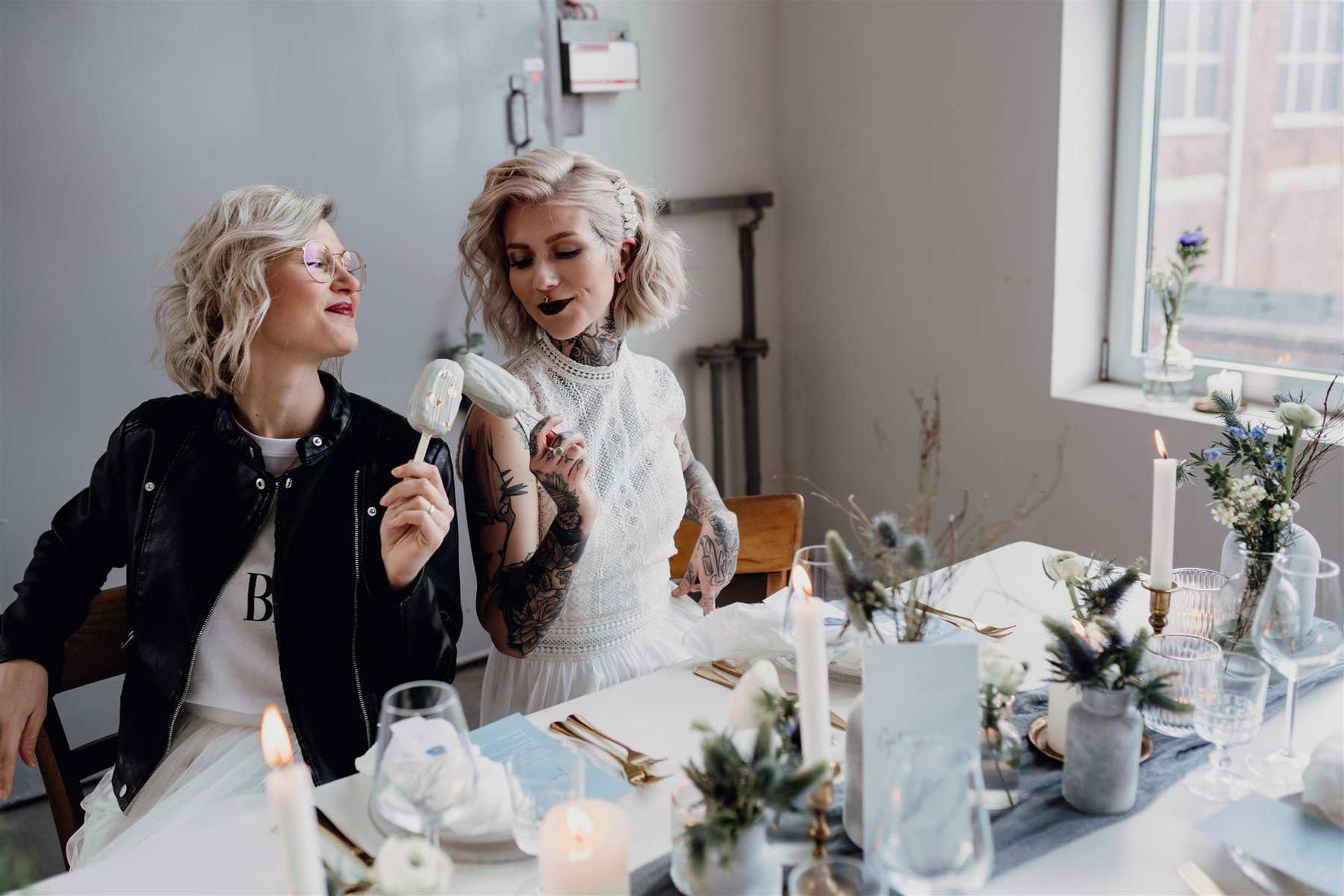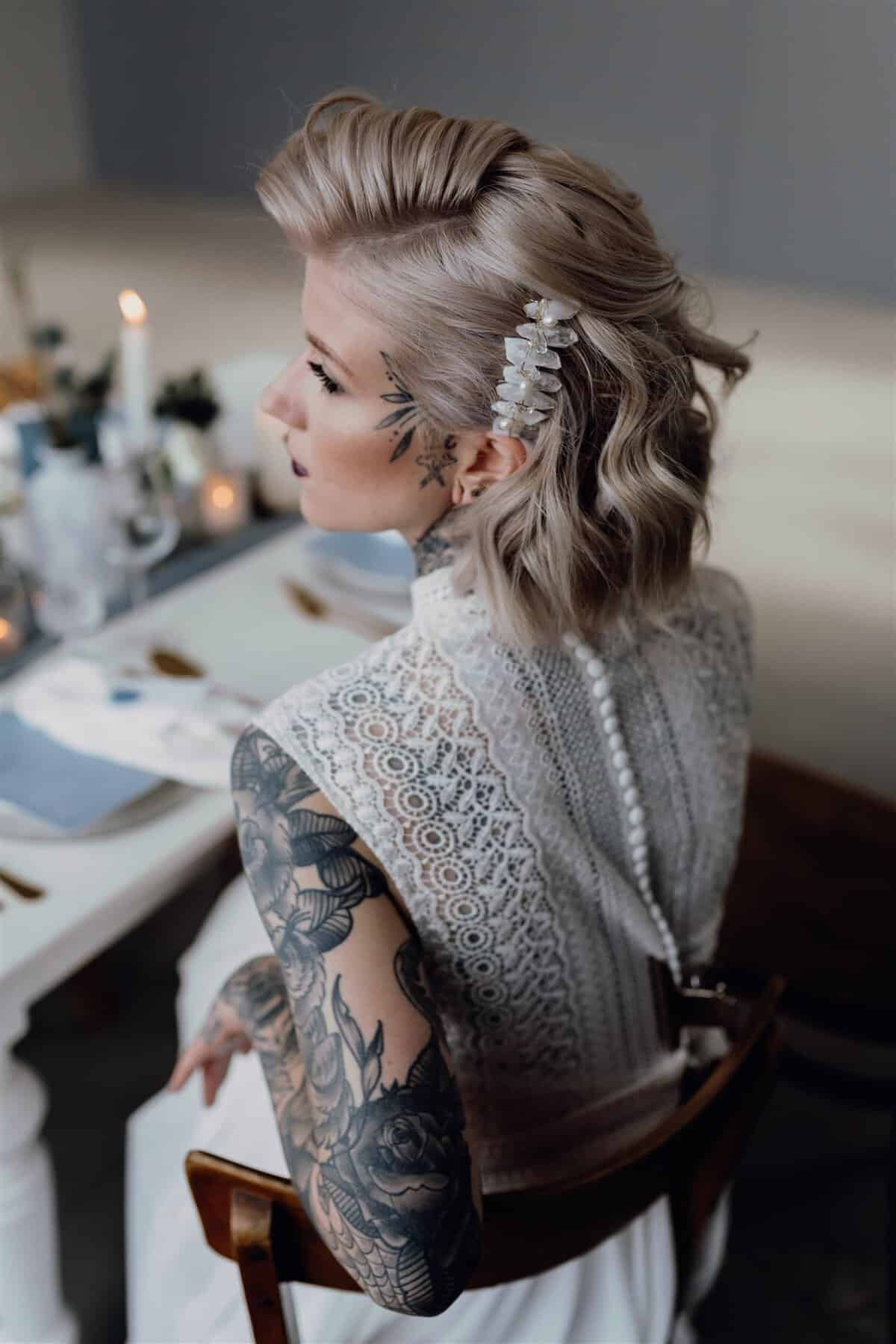 OUR THOUGHTS
WE AT THE URBAN WEDDING COMPANY LOVE THIS INDUSTRIAL EDGY WEDDING SHOOT. IT HAS A REALLY COOL VIBE TO IT, AND WHATS NOT TO LOVE ABOUT A TATTOOED BRIDE! WE LOVE HOW IT HAS REALLY DARK FEEL TO EVEN THOUGH ITS SETTING IS QUITE LIGHT.
IT SHOWS A LOT OF VERSATILITY AND WE ARE LOVING THE SUPER HUGE GREY INDUSTRIAL DOOR!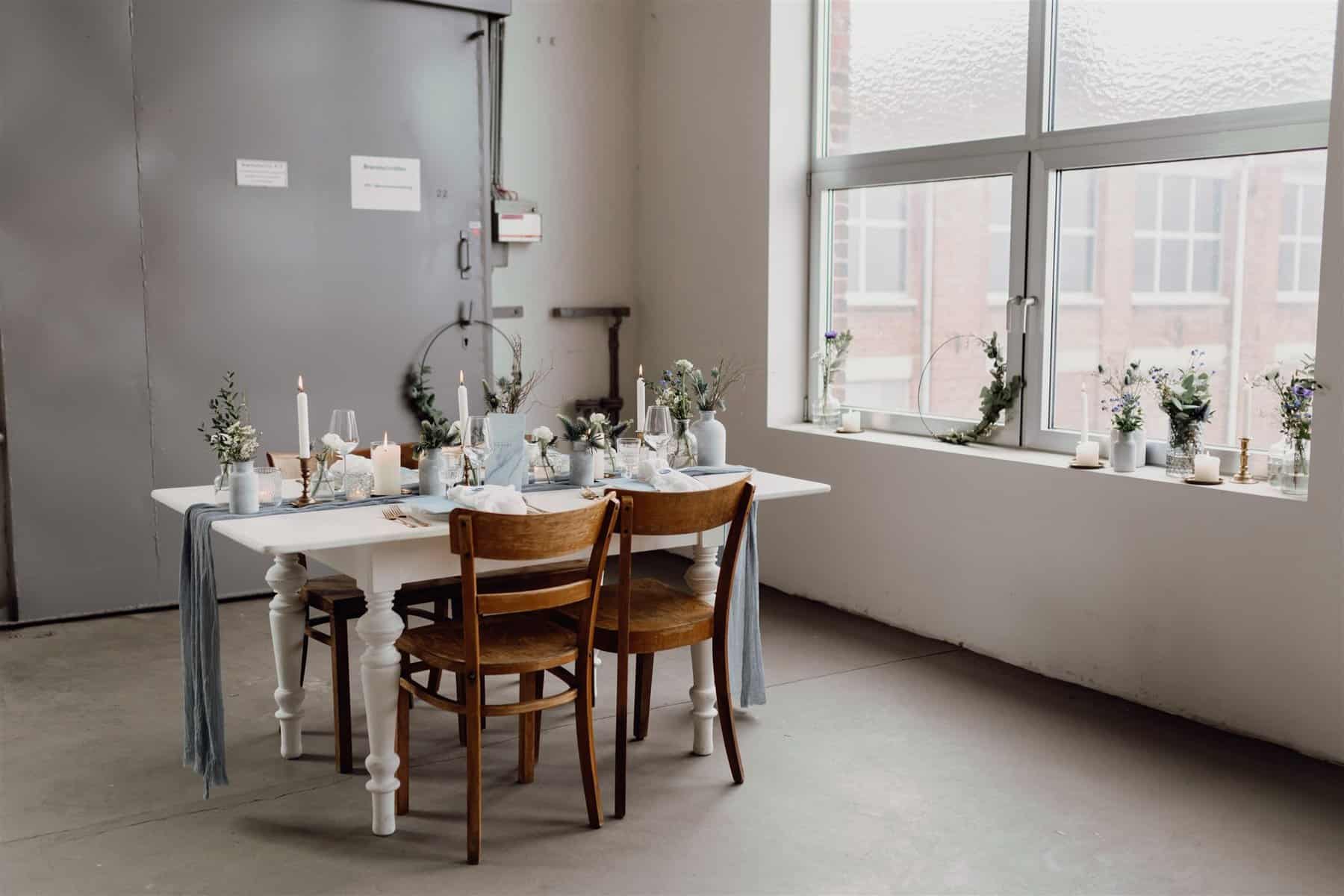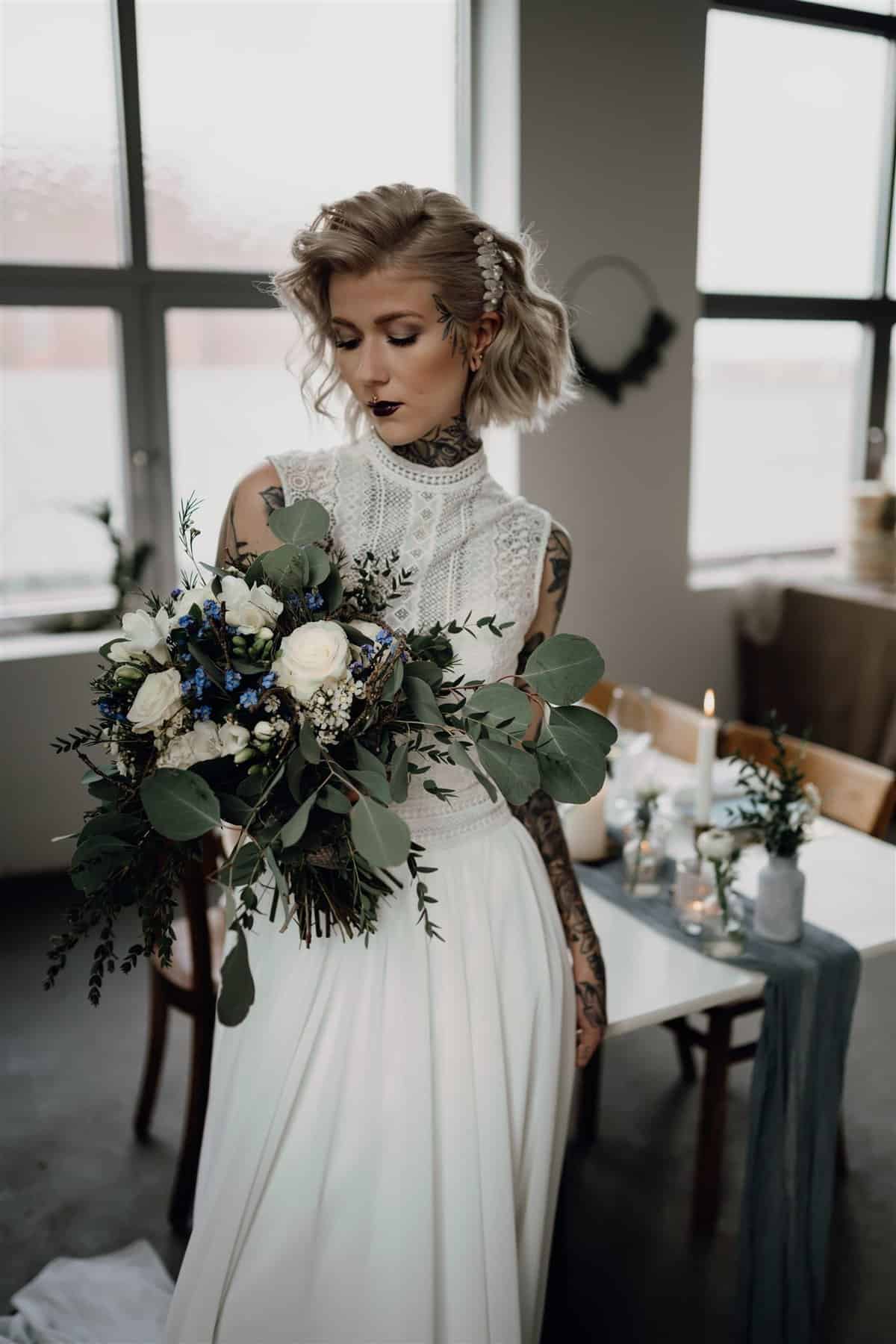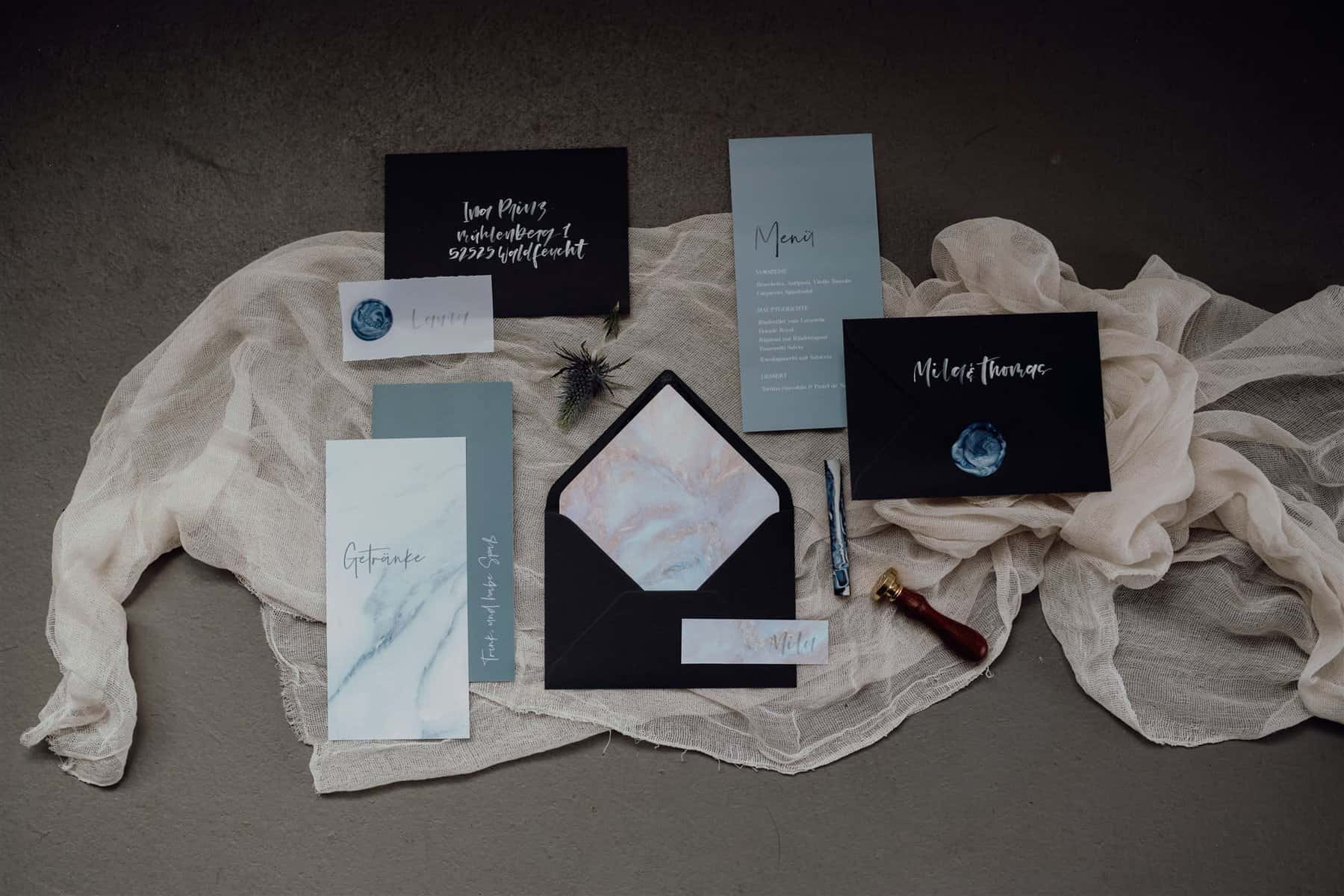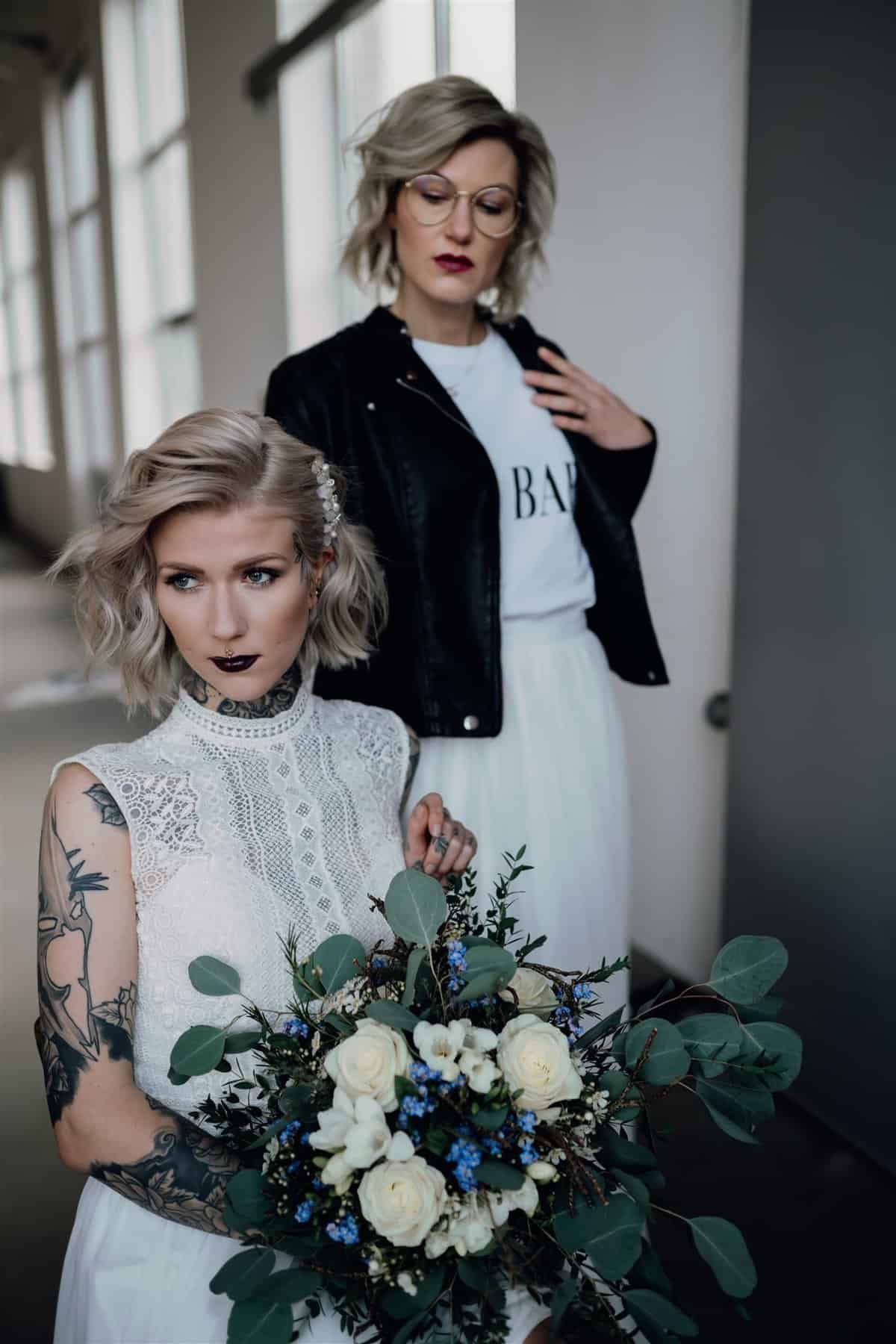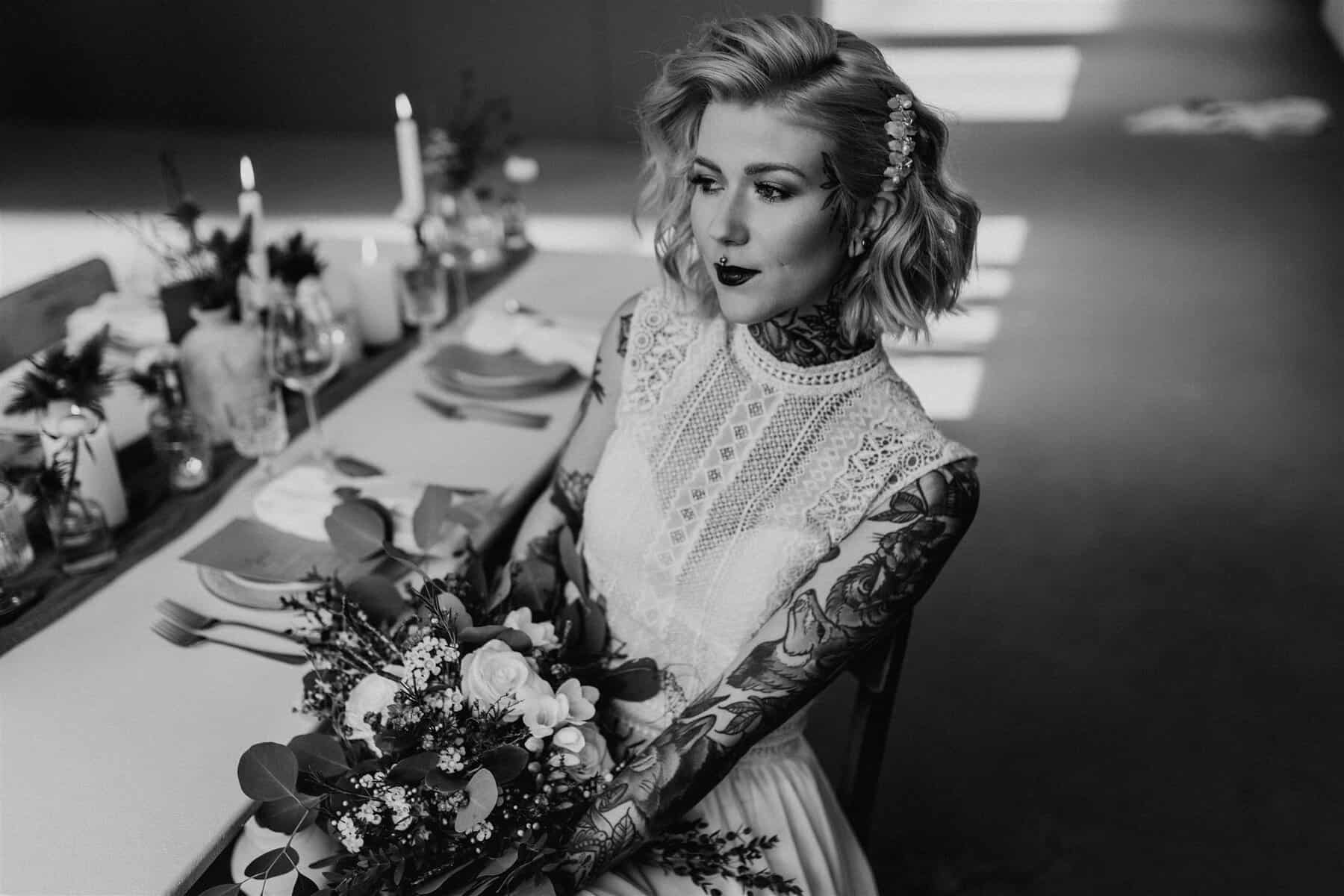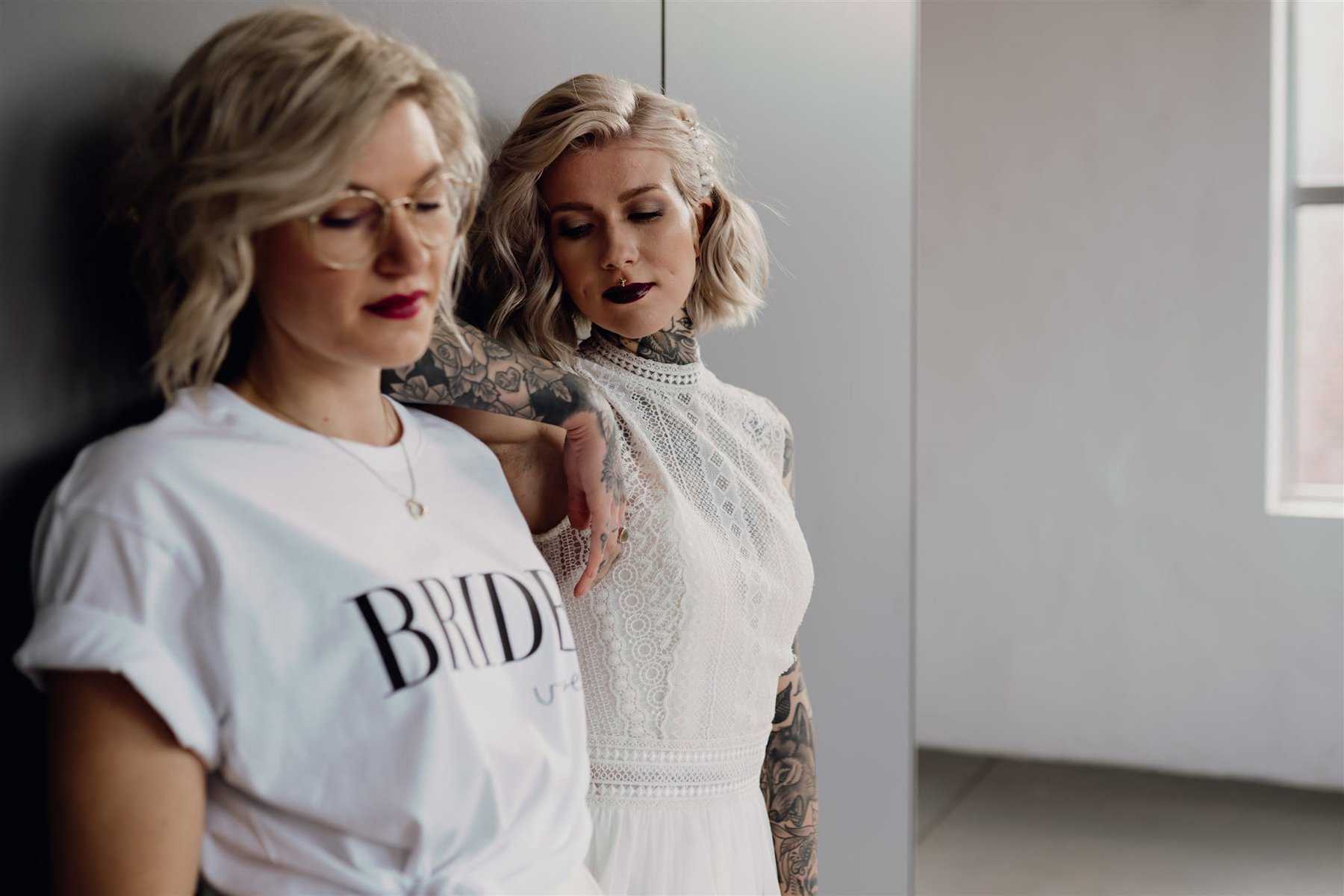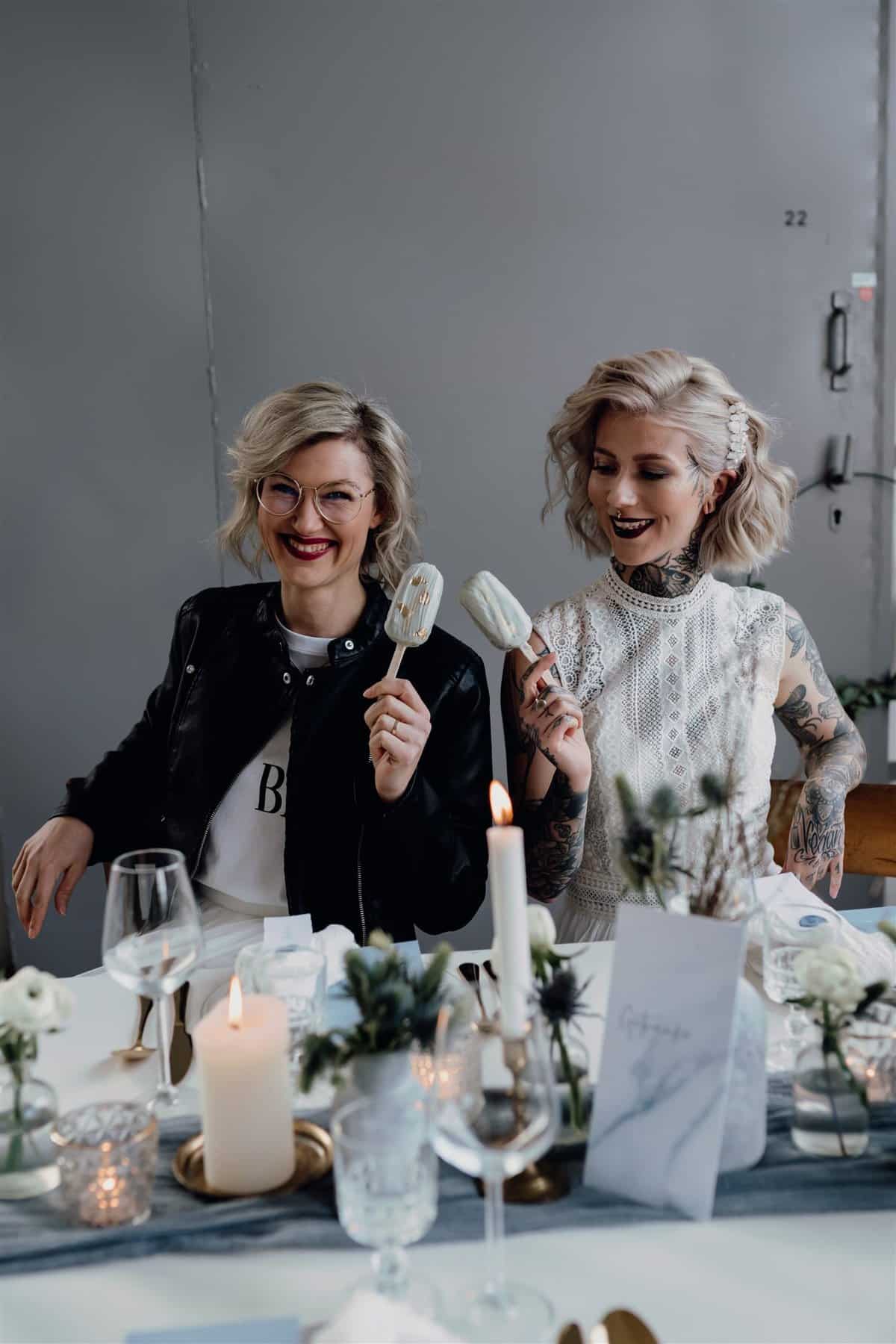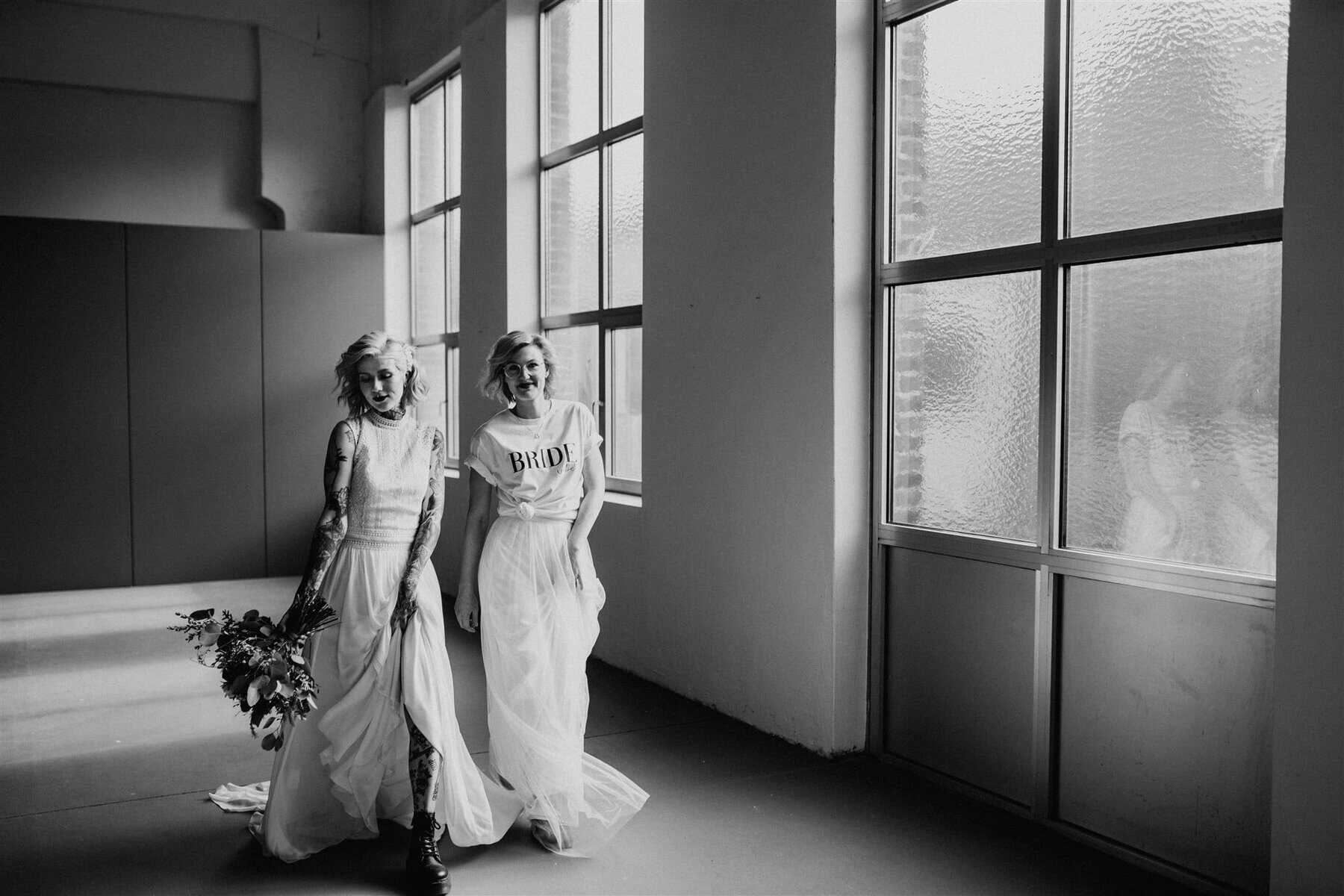 SUBMIT TO THE BLOG