THIS WEEK ON THE BLOG WE HAVE THE REAL WEDDING OF EMILY & TOM, THEY HAD A FAB WEDDING IN AN 19TH CENTURY LIBRARY in Manchester city centre THEN ONTO A BREWERY on the outskirts of the city FOR FOOD, DRINKS AND DANCING!
IT RAINED ON THEIR DAY, BUT THESE TWO TOOK IT IN THEIR STRIDE AND JUST HAD A FAB DAY, LUCKILY FOR THEM THEY HAD THE FAB PHOTOGRAPHER MADDIE FARRIS CAPTURING THE WHOLE DAY.
Read until the end as you wont believe what happened on their wedding day!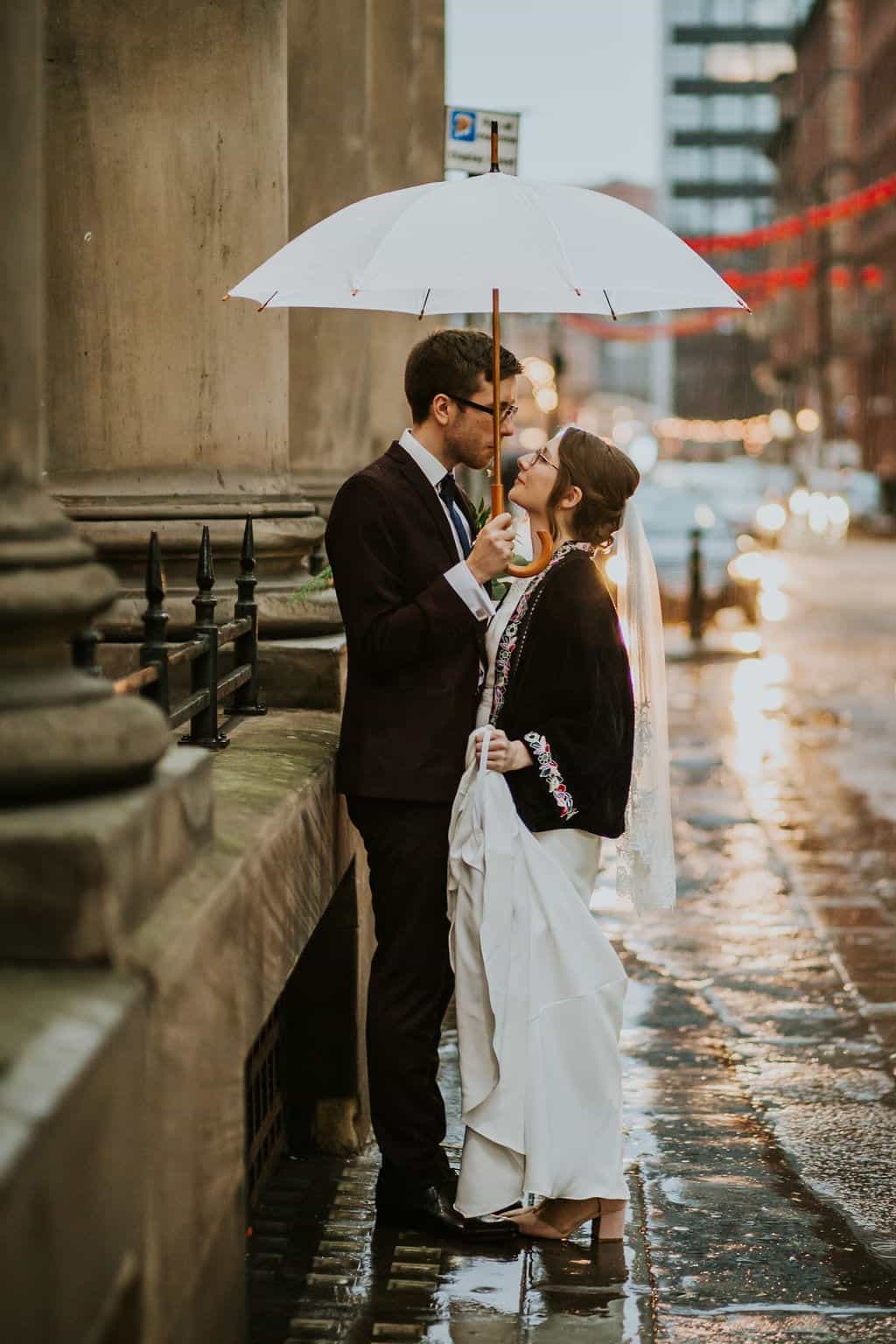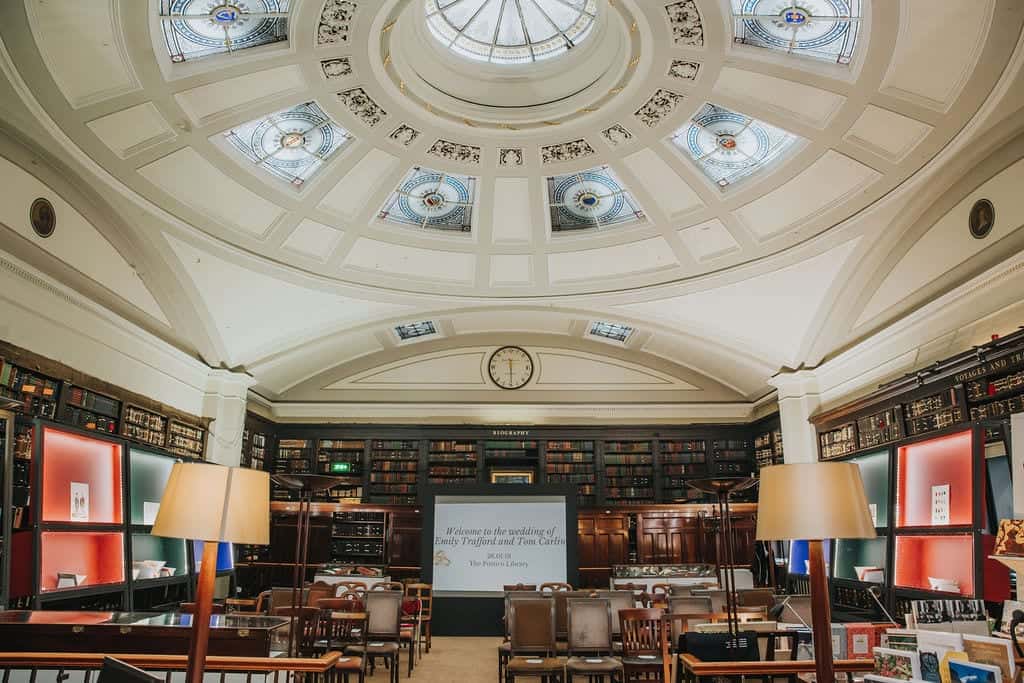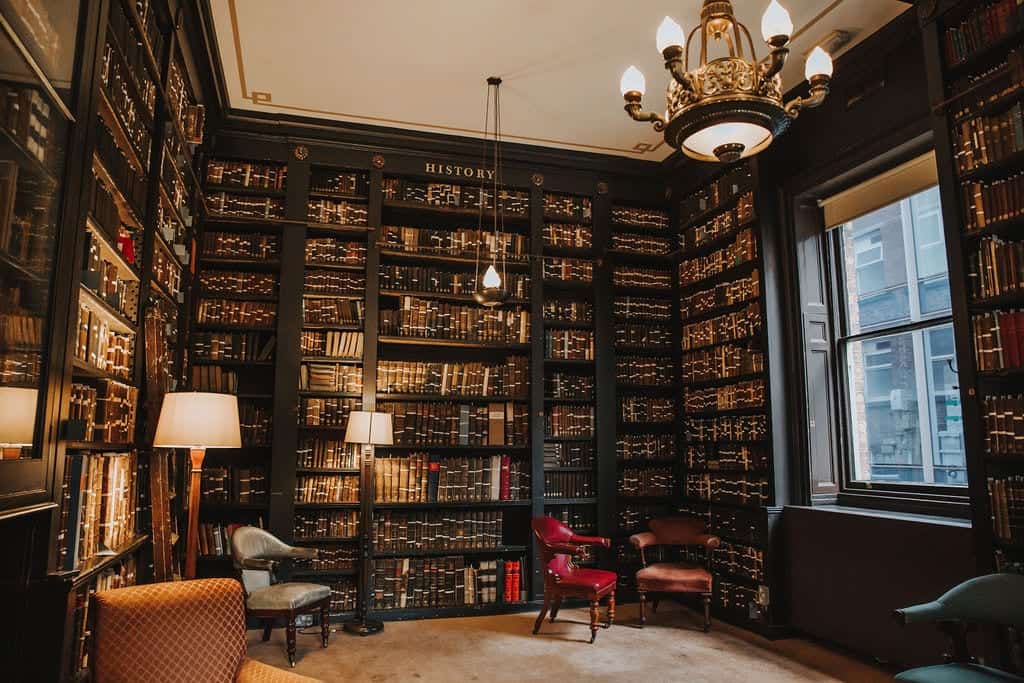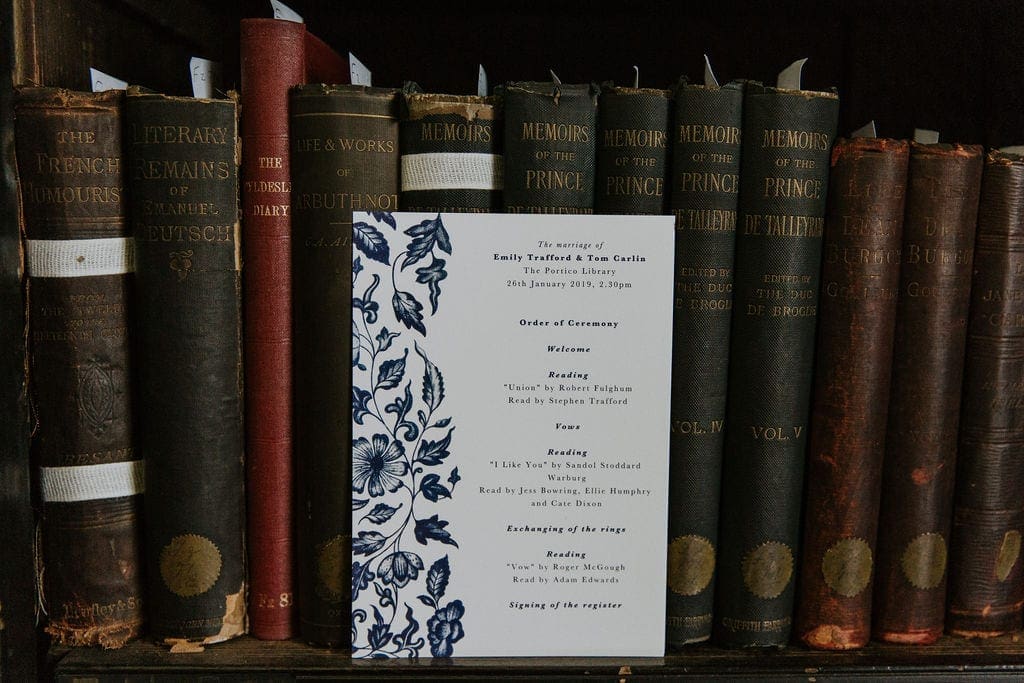 What made you choose Portico Library?
We're both avid readers so getting married surrounded by books under a beautiful glass dome was perfect for us. We really wanted a more informal vibe for our reception, so we could dance and drink the night away with friends and family.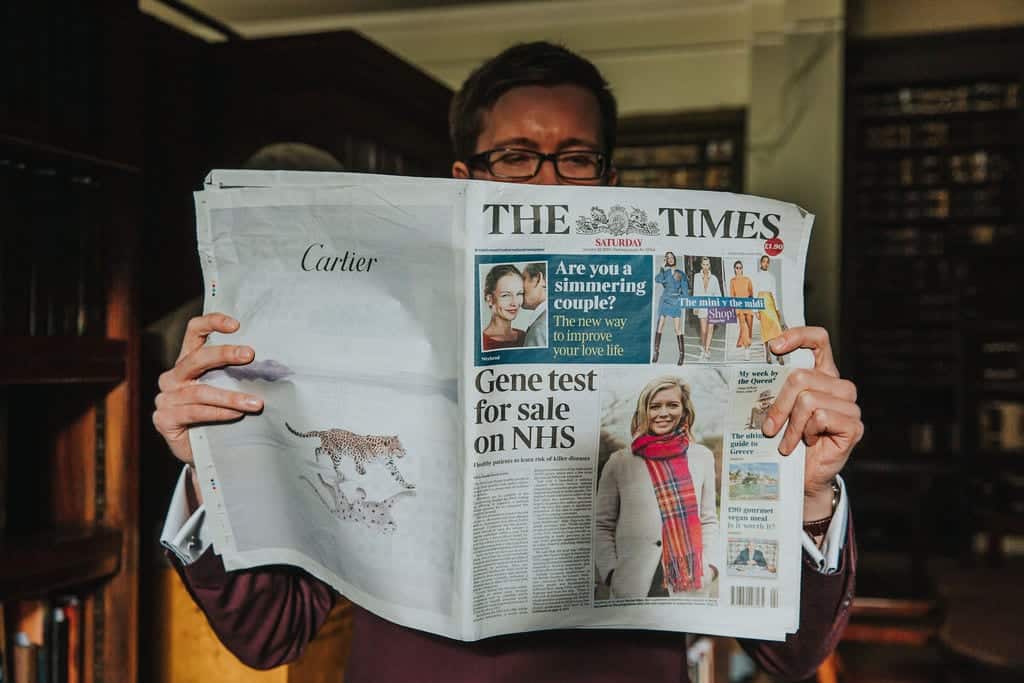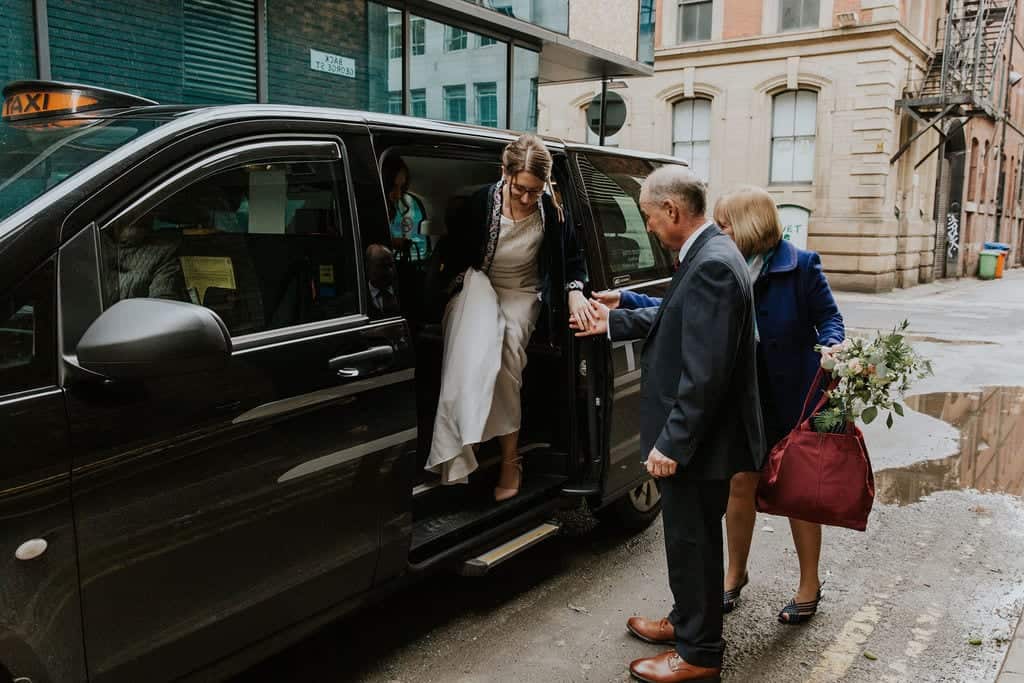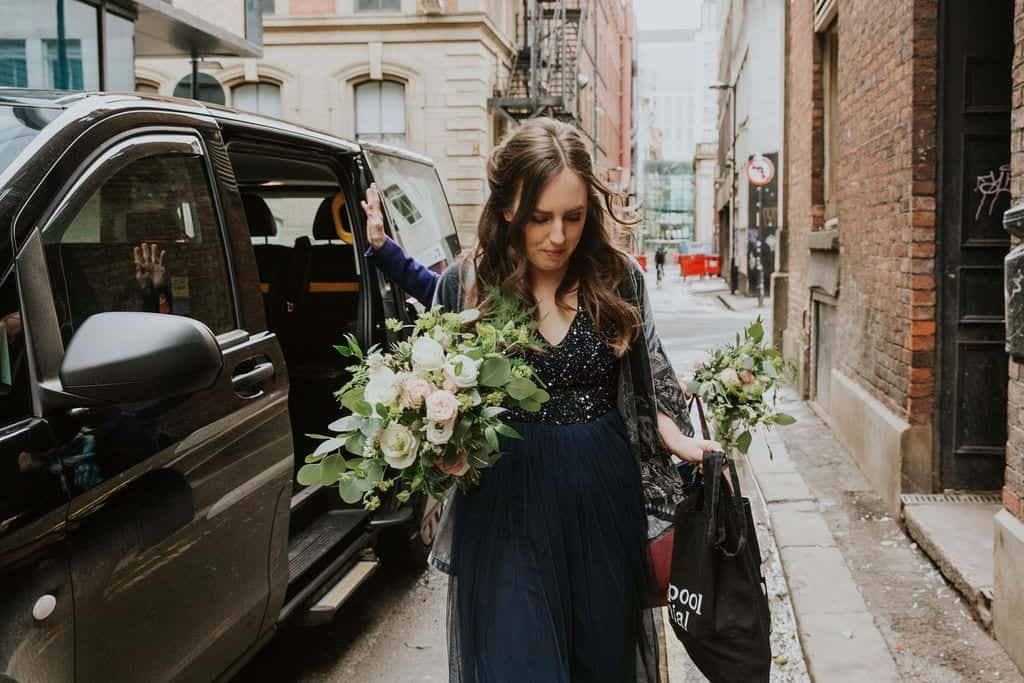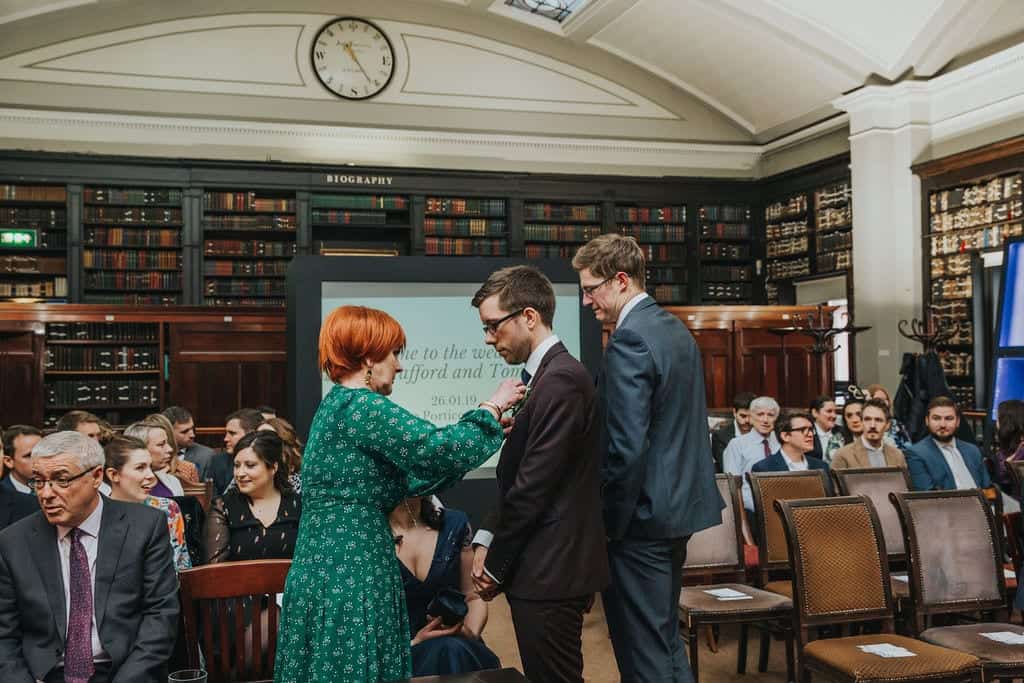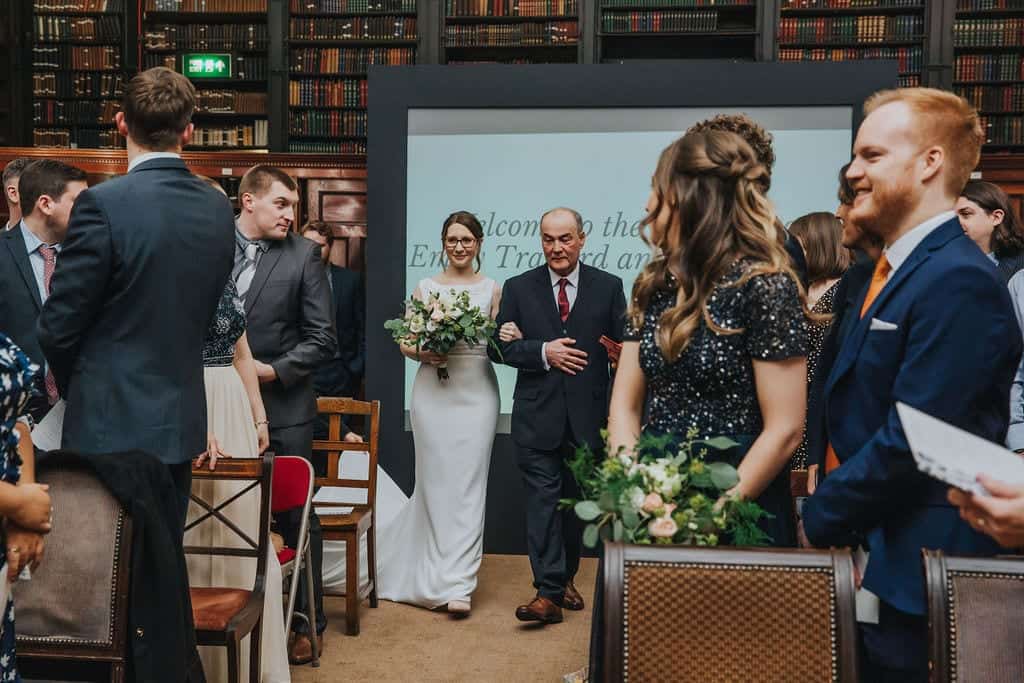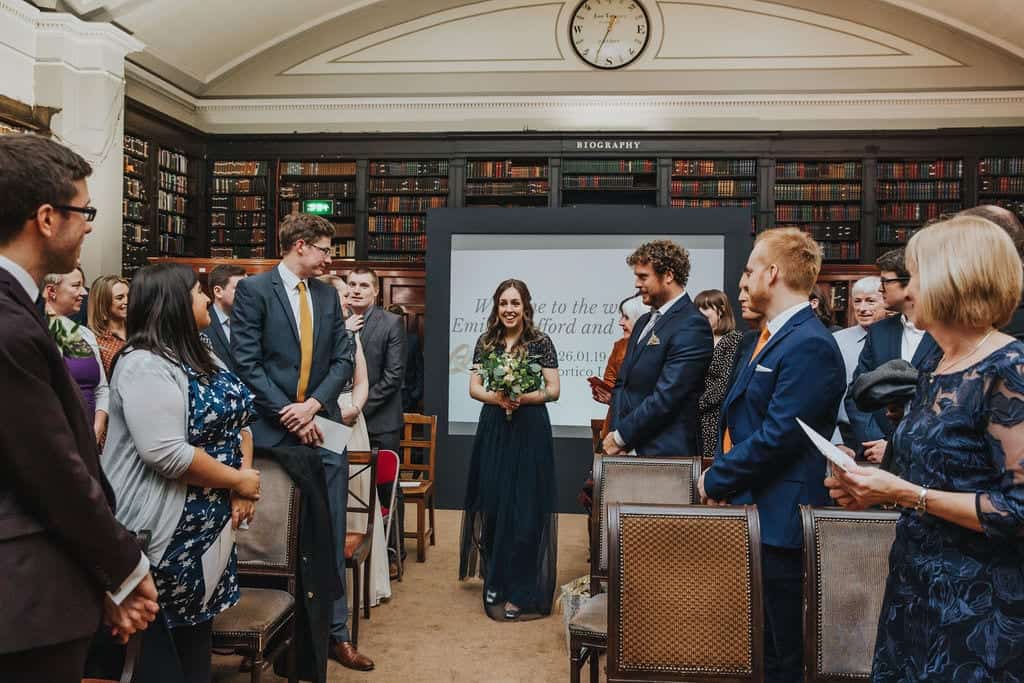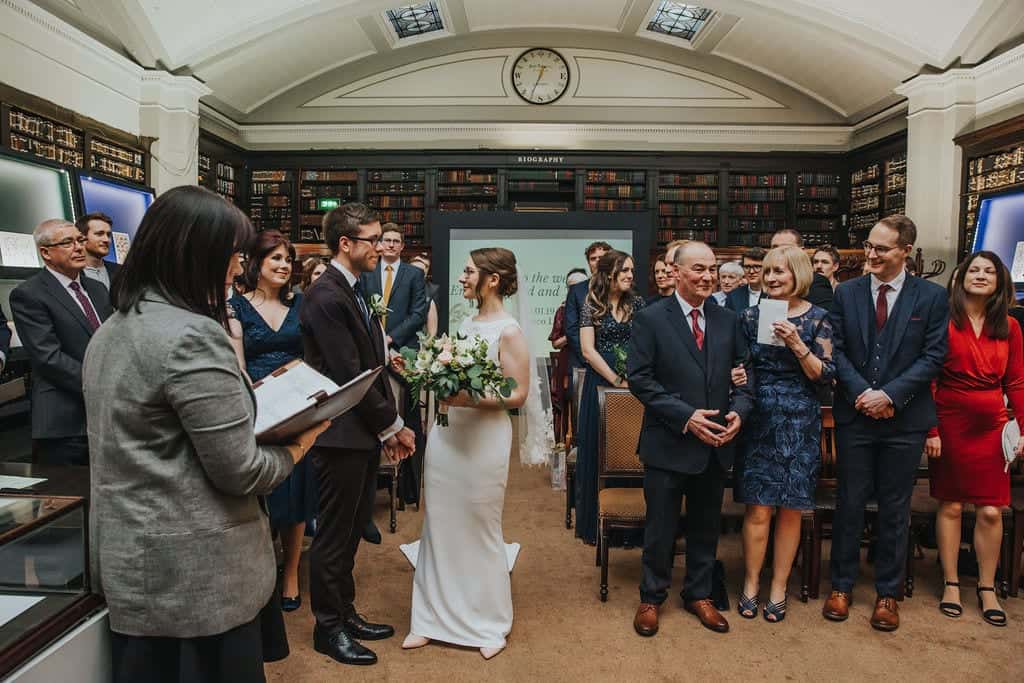 Good Old Manchester Weather!
Emily walked down the aisle to Paul McCartney's 'Maybe I'm Amazed' under the Portico's beautiful glass domed ceiling.After we were married our guests enjoyed a champagne reception in the library as we had photos taken in the library's reading room.
It was a typically Mancunian rainy day – while this resulted in a fast dash from our guests to the coach that would take them to the reception, it also meant we could get some really wonderful photos on Mosely Street and Cross Street. Our photographer Maddie got some amazing shots – and also provided the all important umbrella that kept us dry!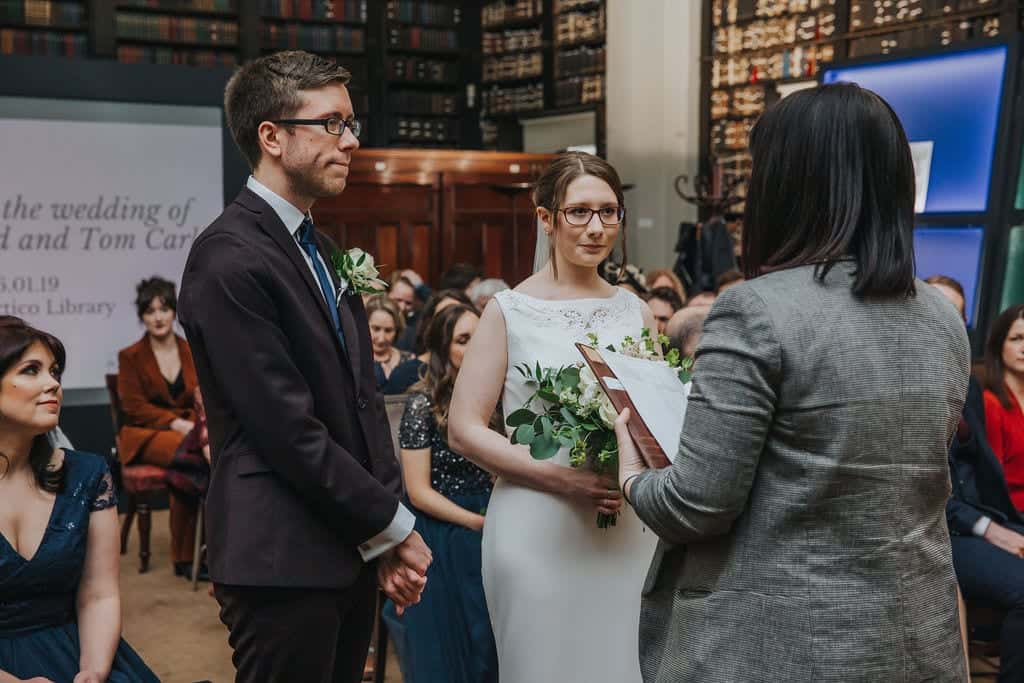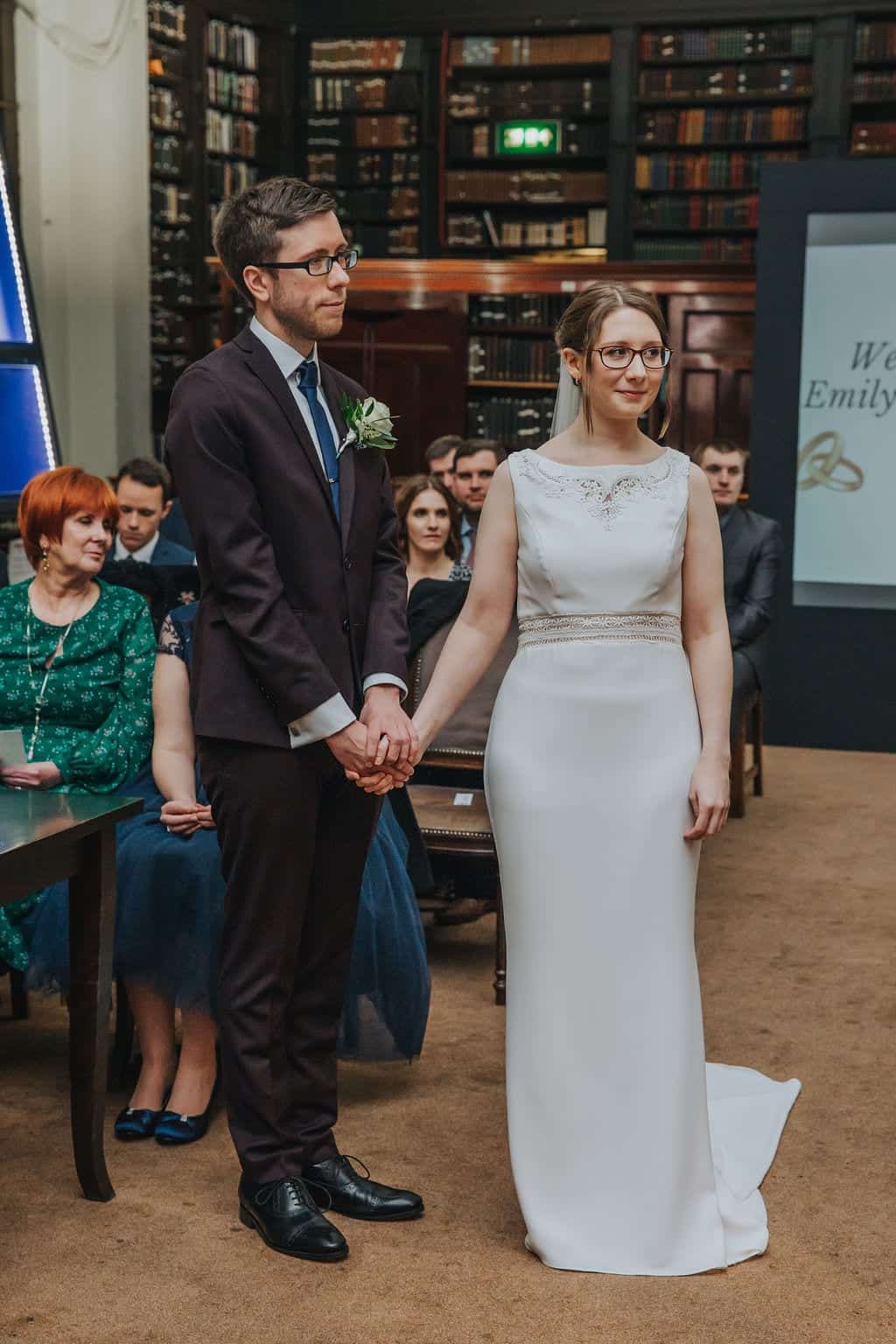 We met in August 2015. We were set up by Emilys best woman and had our first date at the Deaf Institute and Gorilla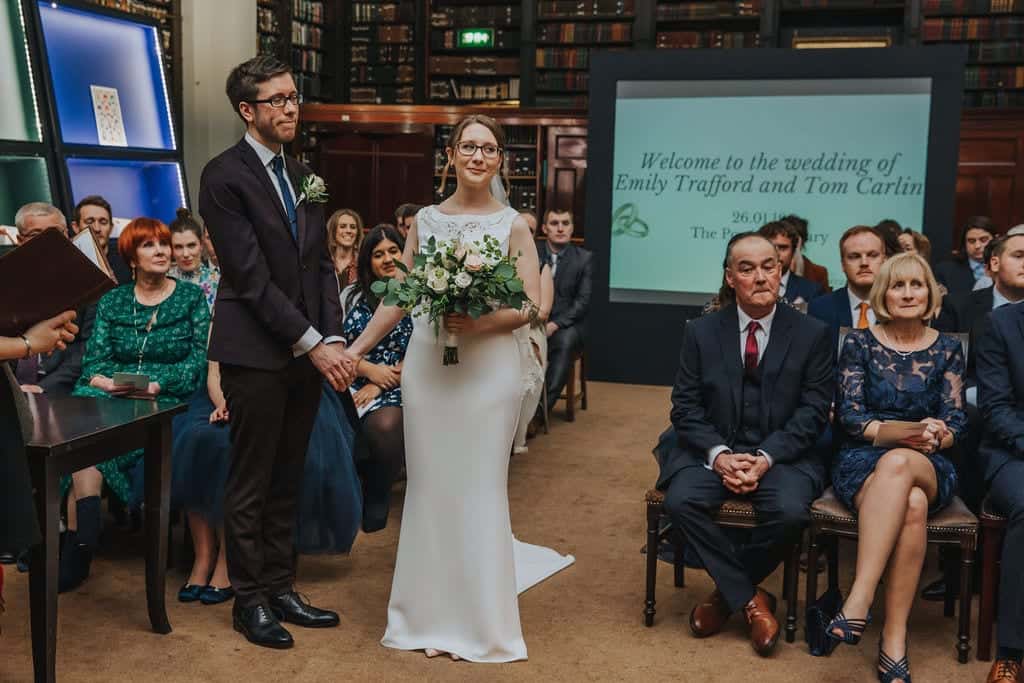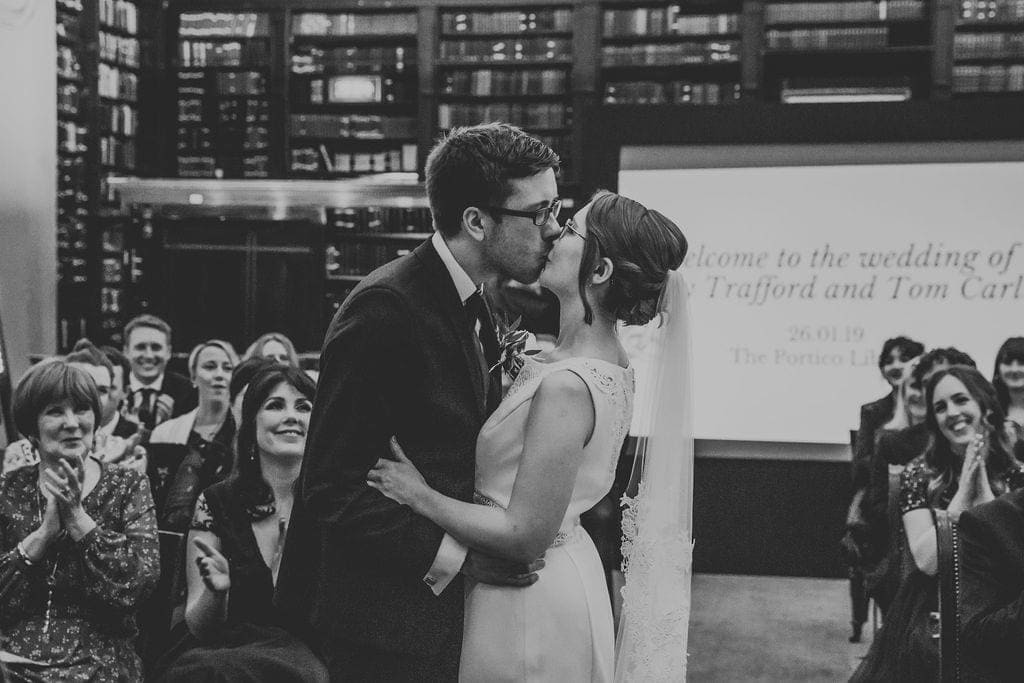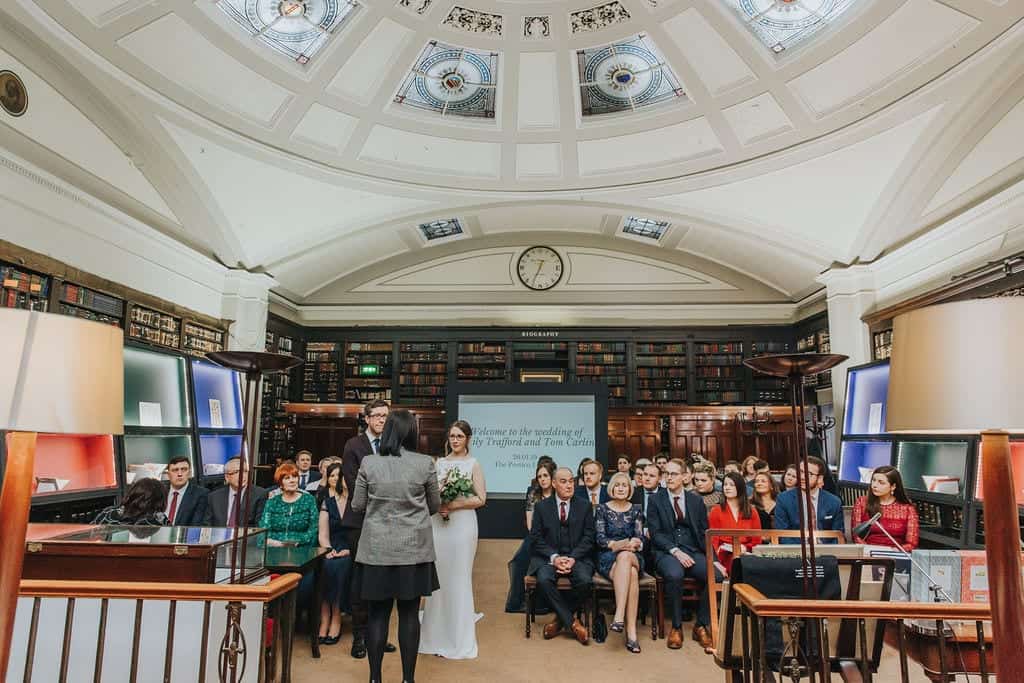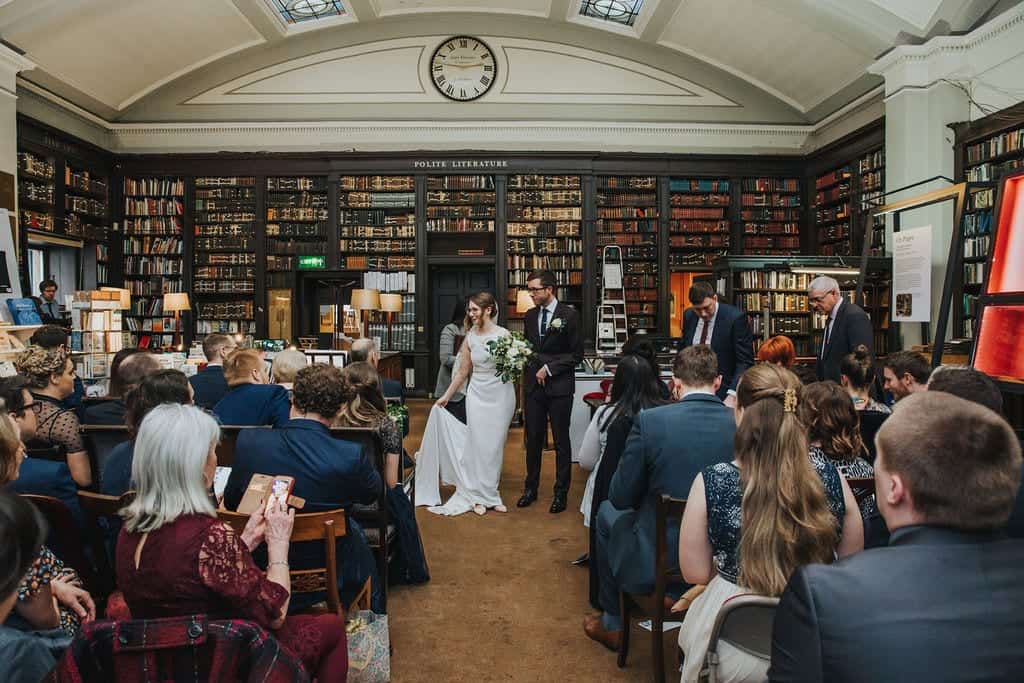 When the wedding reception is shut down! 
We'd worked with Seven Brothers to develop a meal that would cater to all our guests and had decided to go with a series of sharing platters, with a selection of desserts including Manchester tarts.
Once the speeches were over, everyone was directed downstairs where two kegs of Seven Brothers beer had been set up for guests to help themselves – little encouragement was needed! Once the speeches were over, everyone was directed downstairs where two kegs of Seven Brothers beer had been set up for guests to help themselves – little encouragement was needed!
As the night went on our guests did us proud on the dancefloor – with Le Tigre's Deceptacon, Ain't No Mountain High Enough and Born to Run inspiring bold dance moves and deafening singalongs.
Unfortunately – and understandably – those singalongs caused some disturbances to local residents, which culminated in a visit from the noise complaints team at Manchester City Council. The unfortunate council employee only realised upon seeing Emily in her white dress what sort of event he had to shut down. However, at this point our wonderful day was already coming to its natural conclusion – and we were immediately aware that having our wedding shut down by the council would be a brilliant story.
We were allowed one more song – Talking Heads' 'Psycho Killer' – and our remaining guests polished off the cheese. It was the best day of our lives at two brilliant Manchester establishments and we wouldn't change a thing about it – even the visit from the council.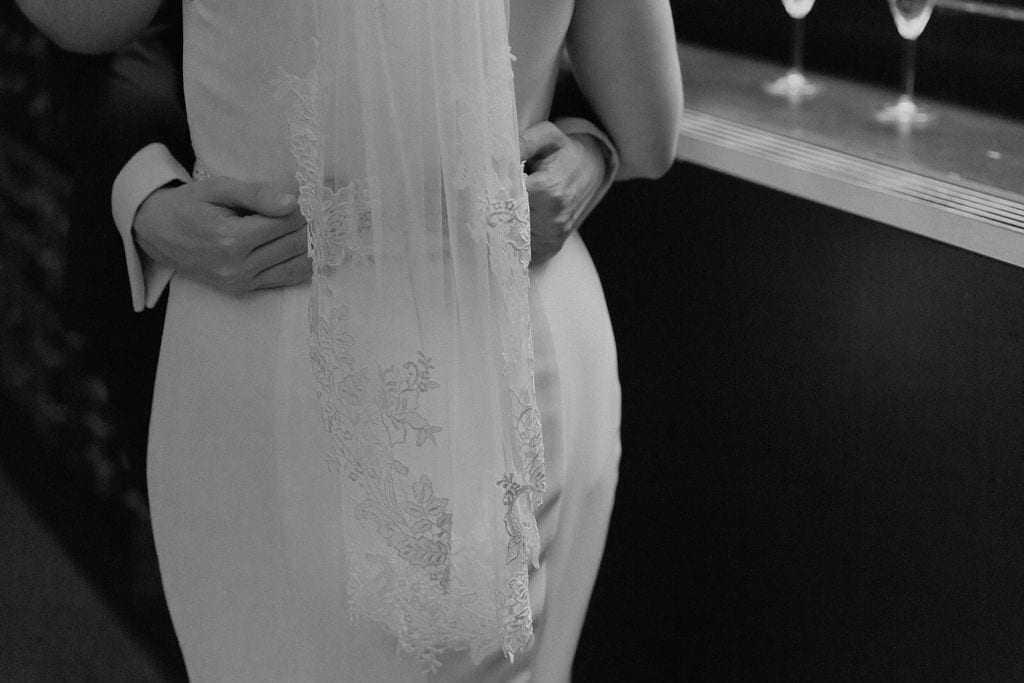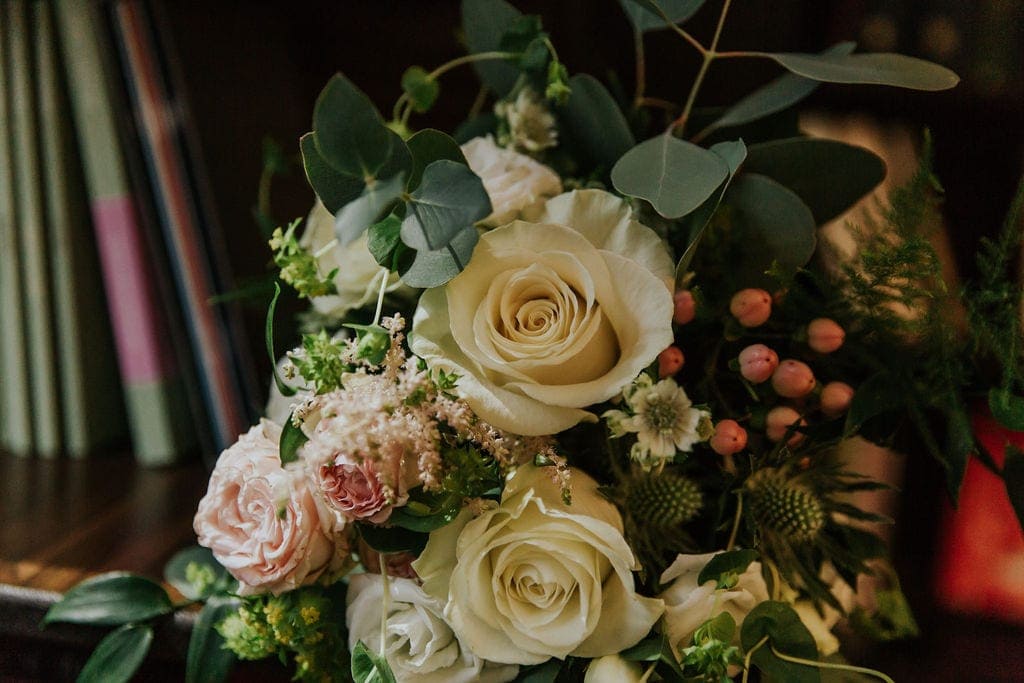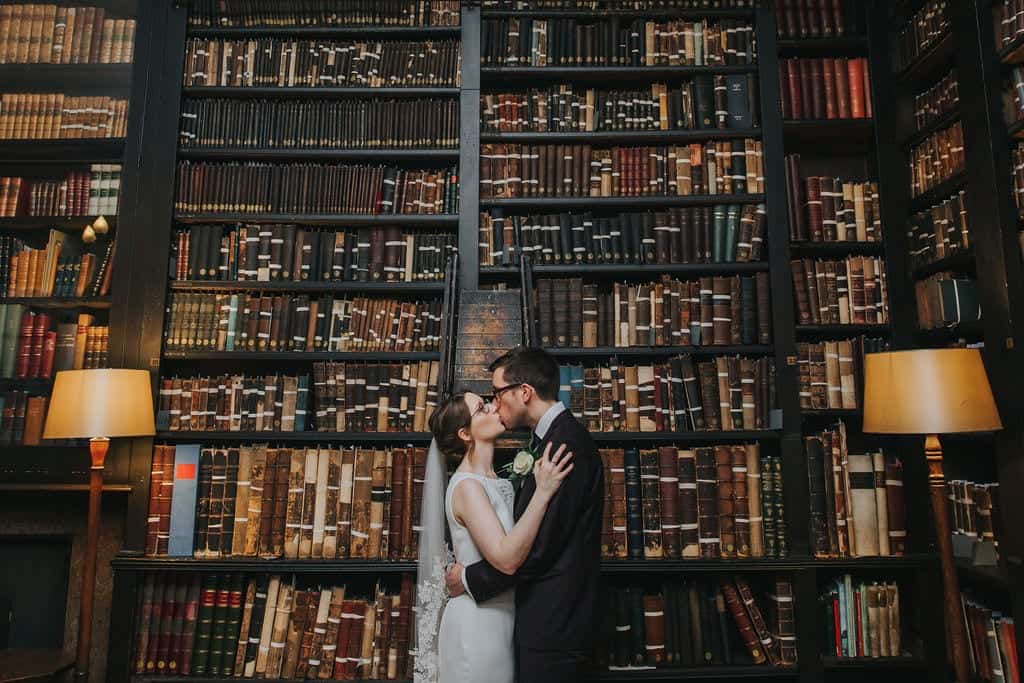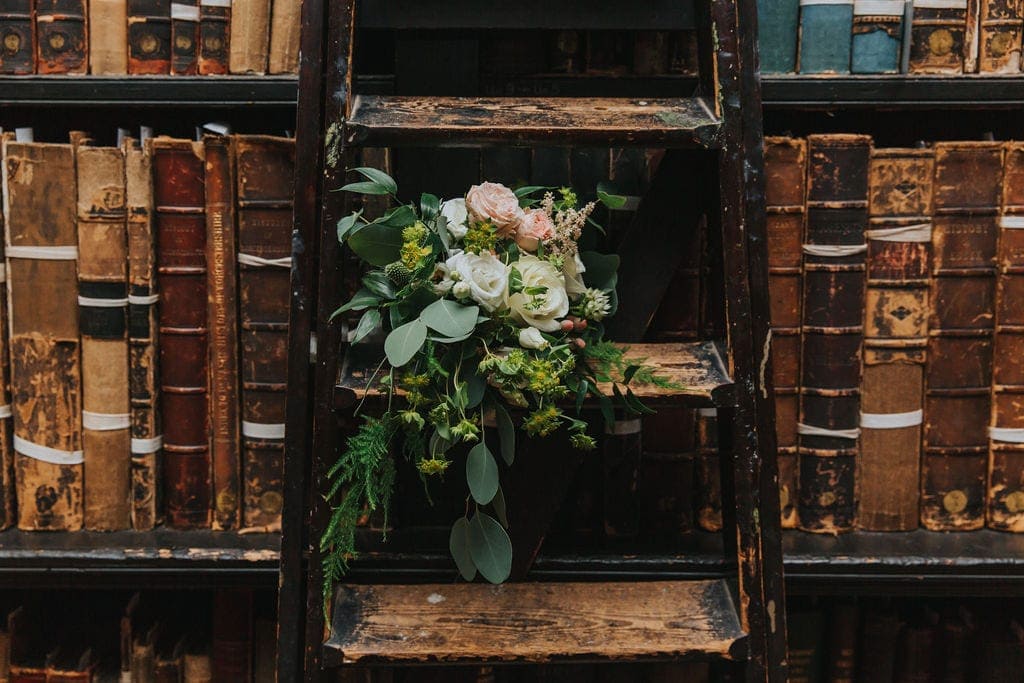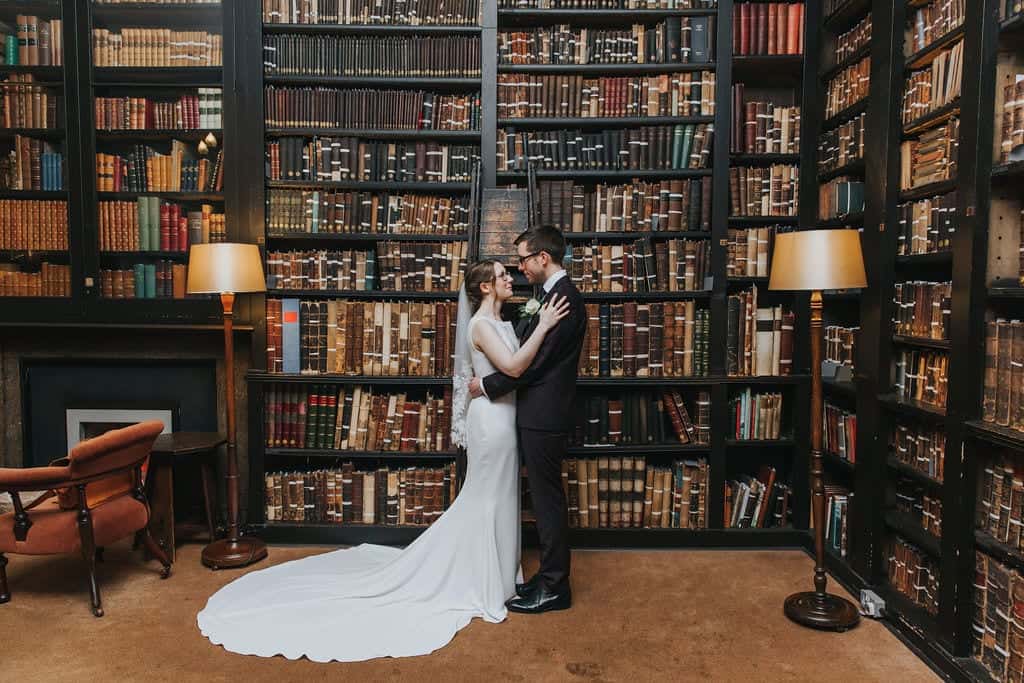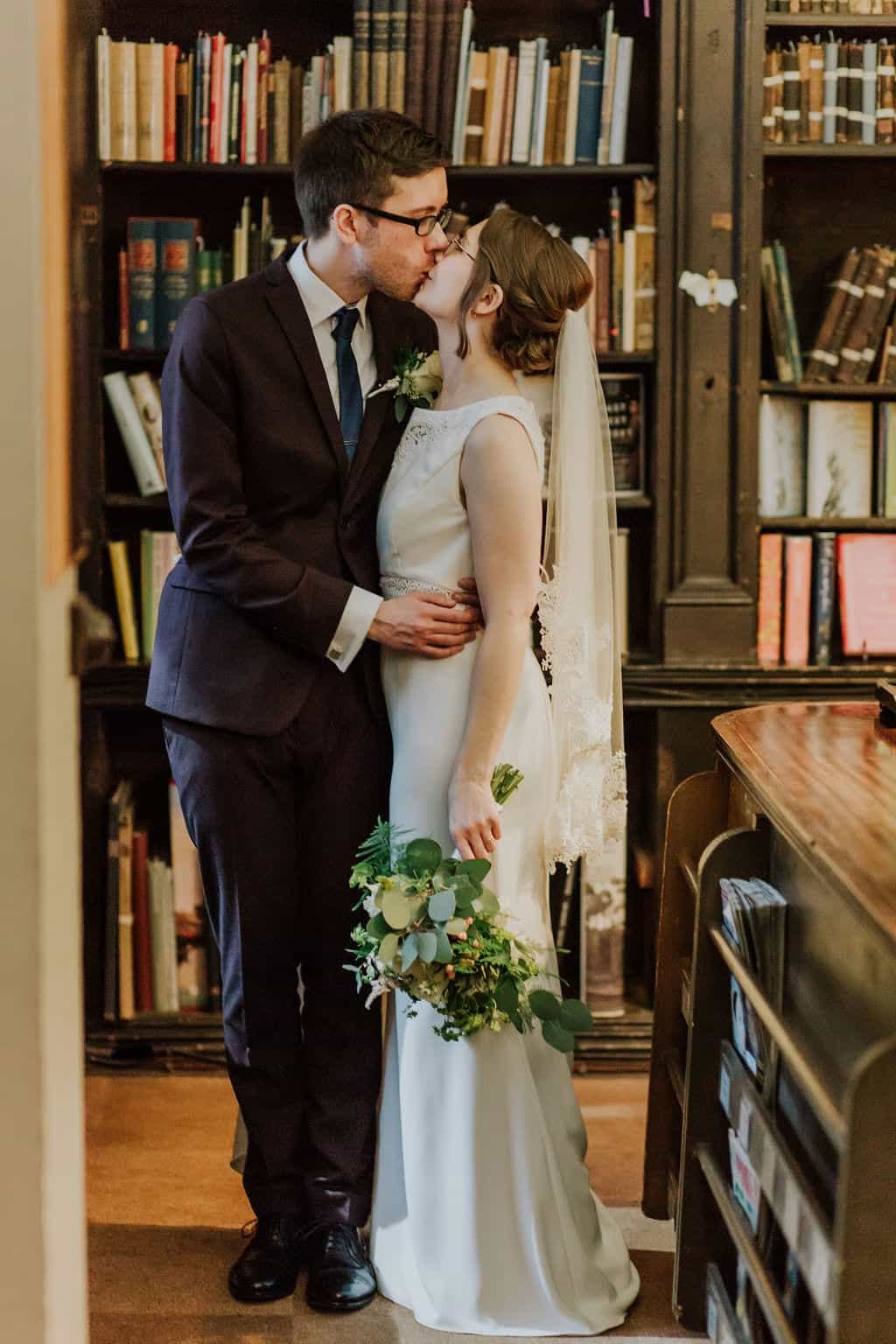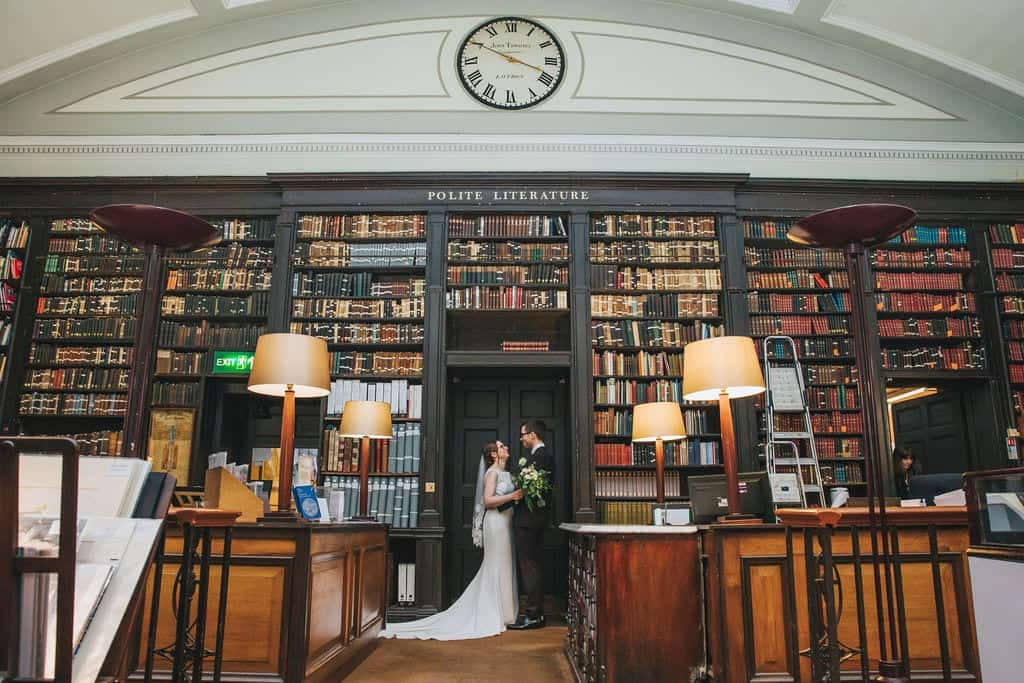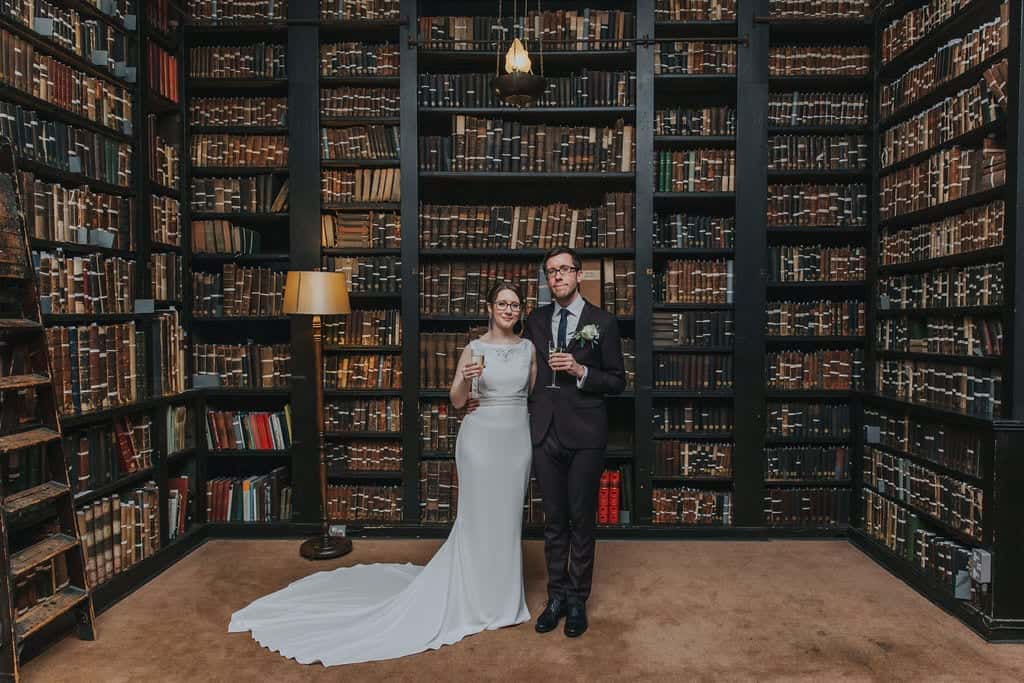 Dress and veil from Jdezire Bridal Boutique in Lincoln where Emily's from – weirdly the shop was on a farm and Emily grew up on a farm, that's Lincolnshire for you!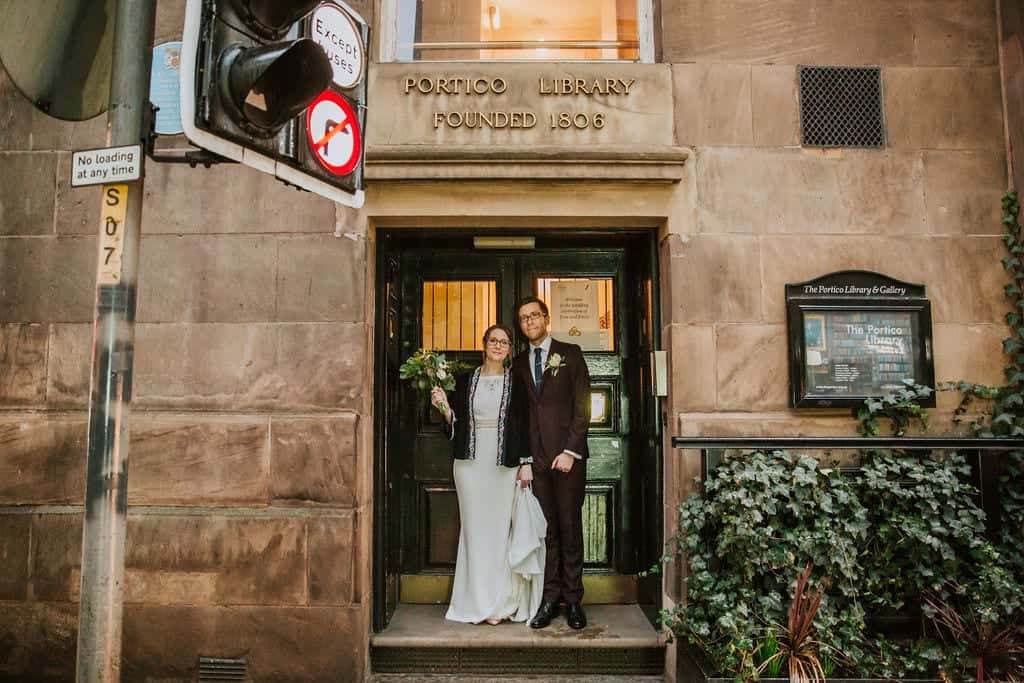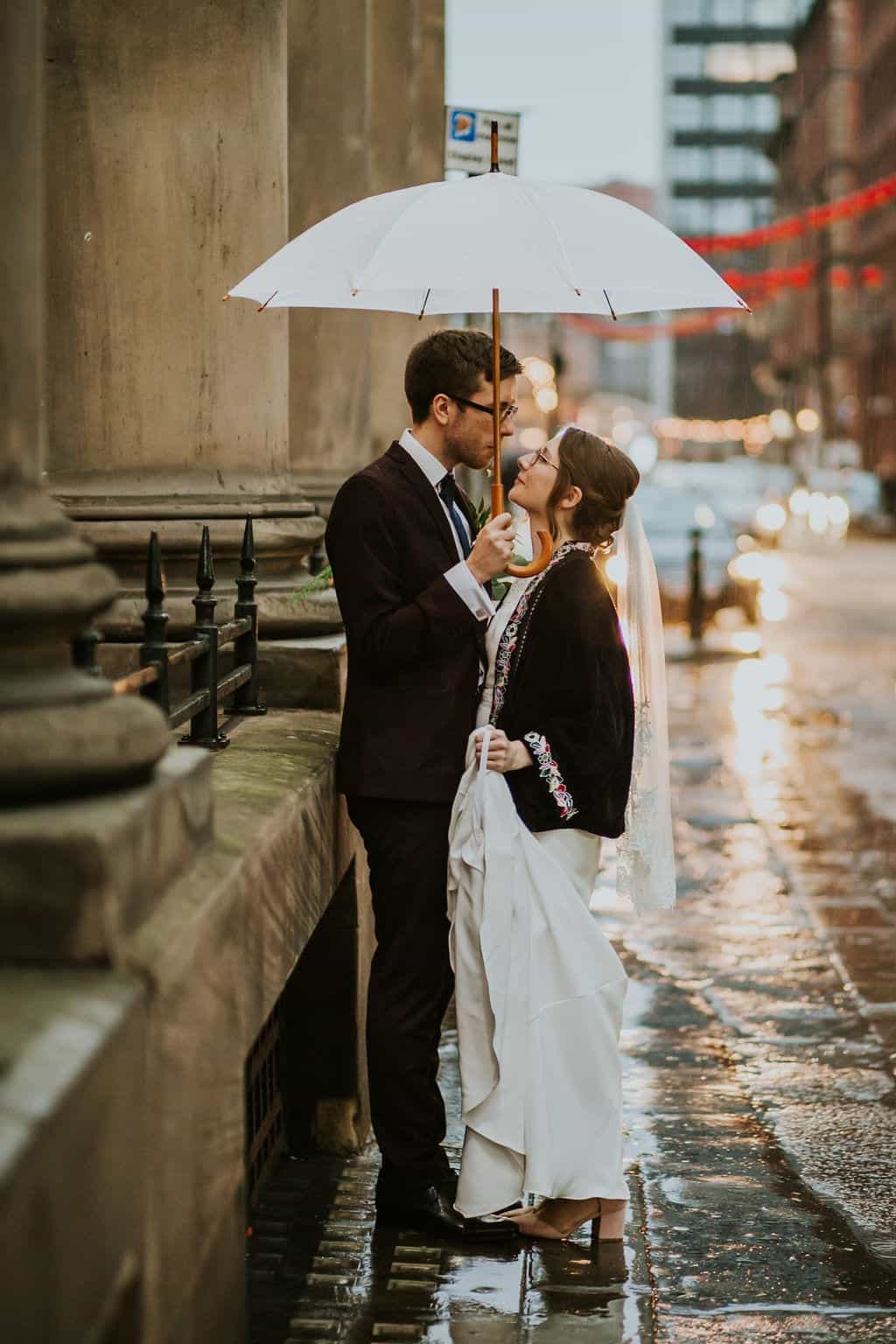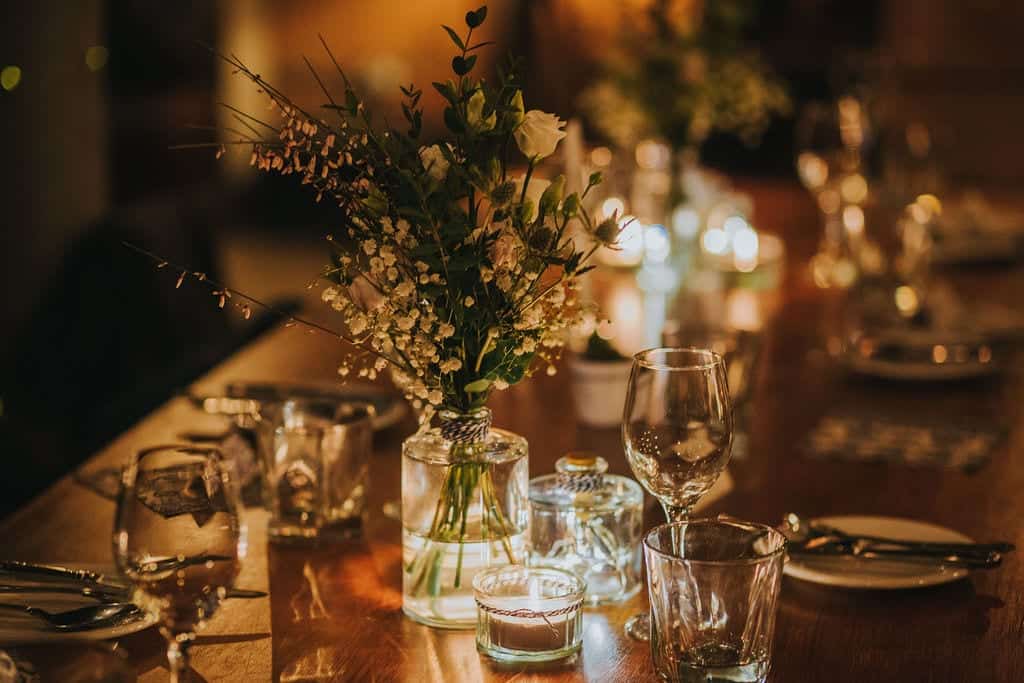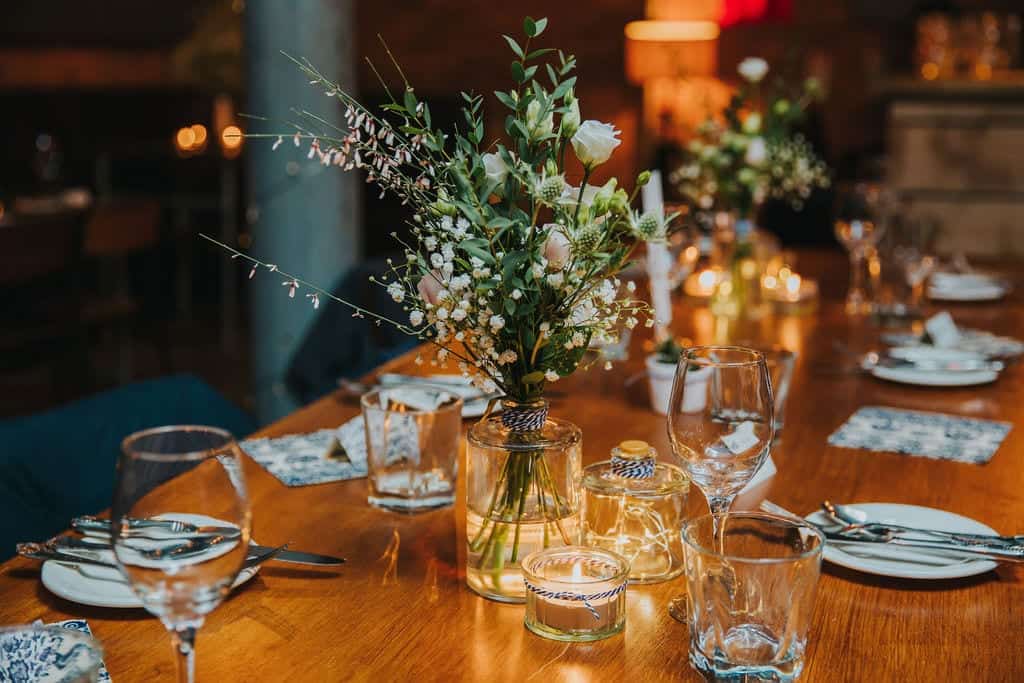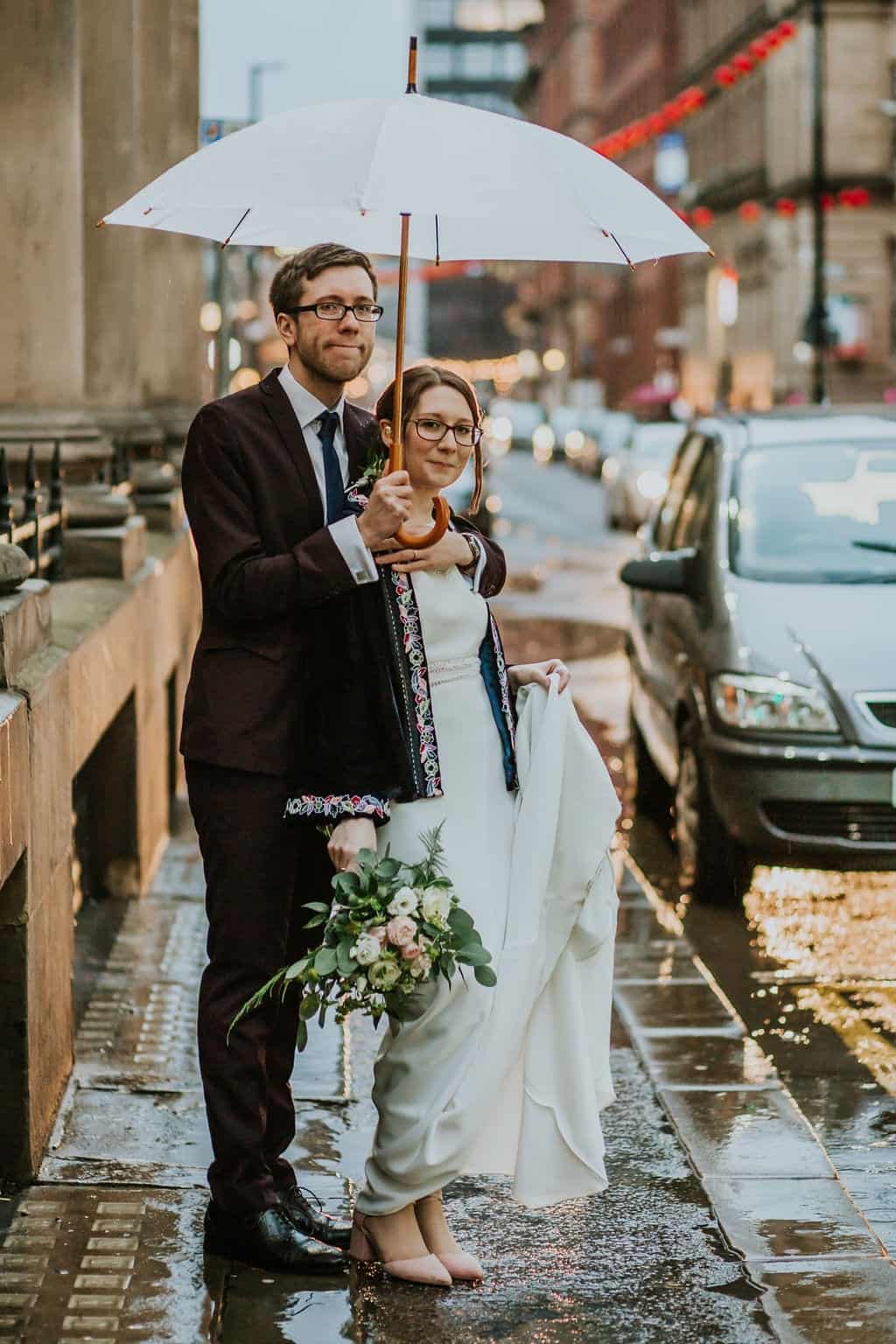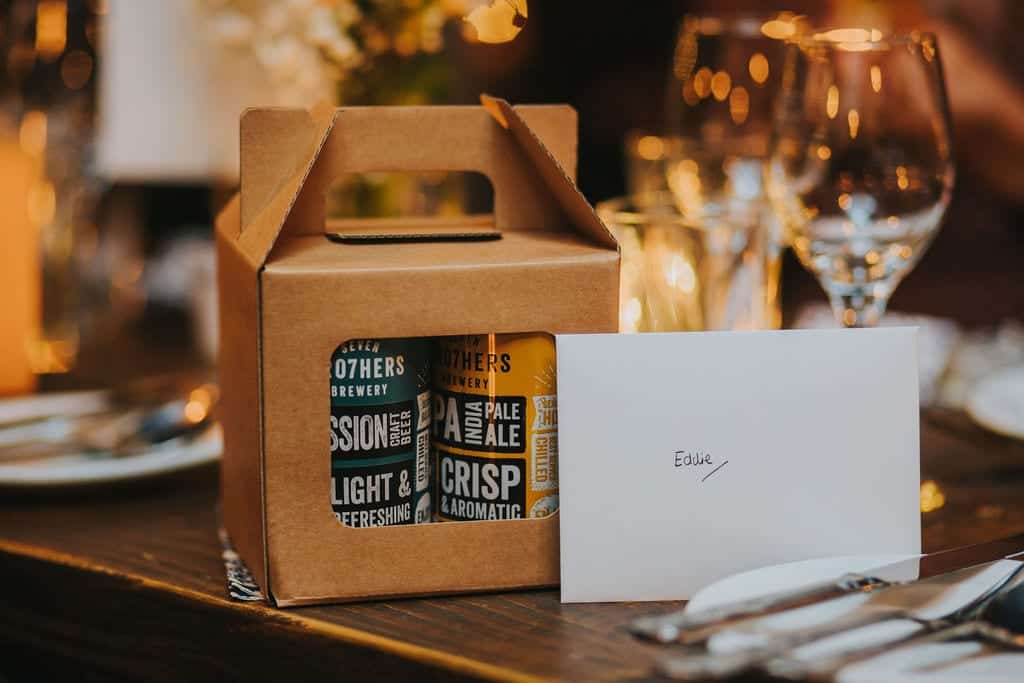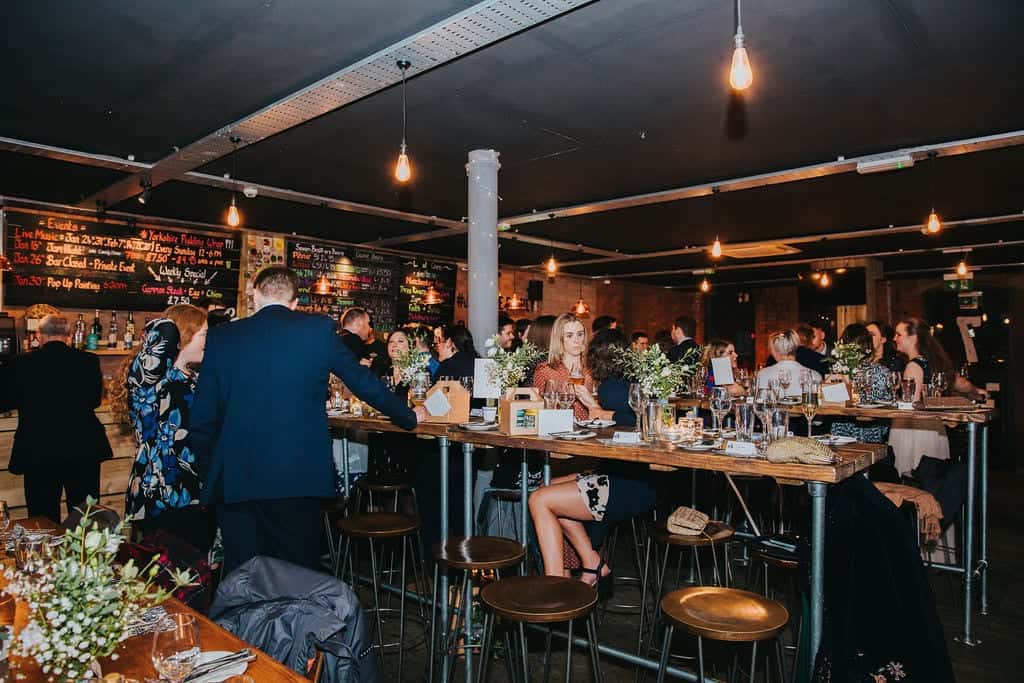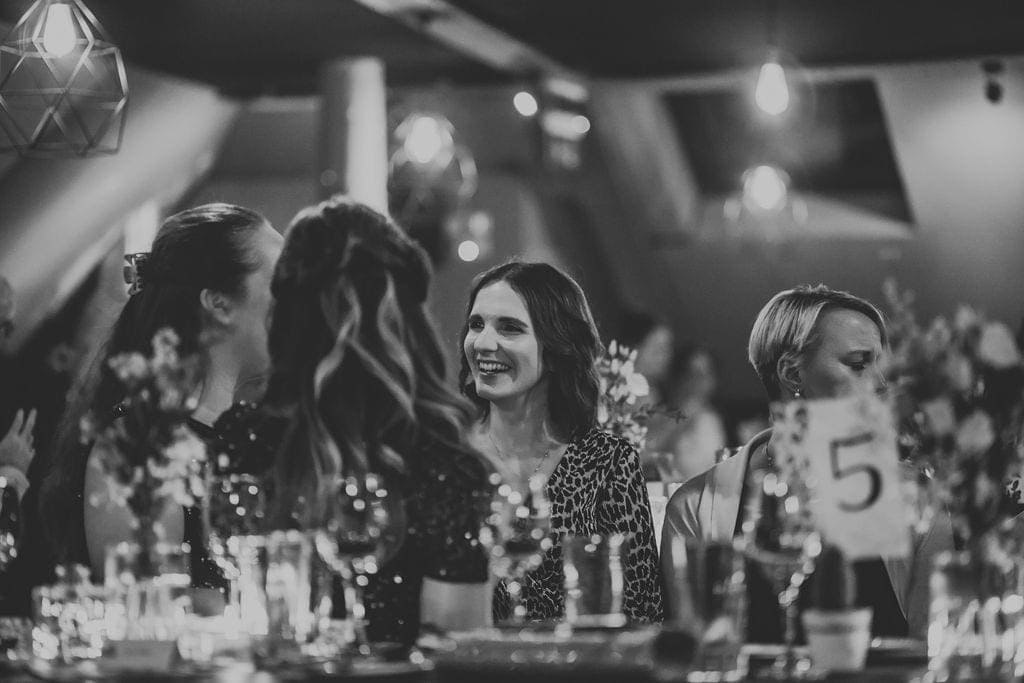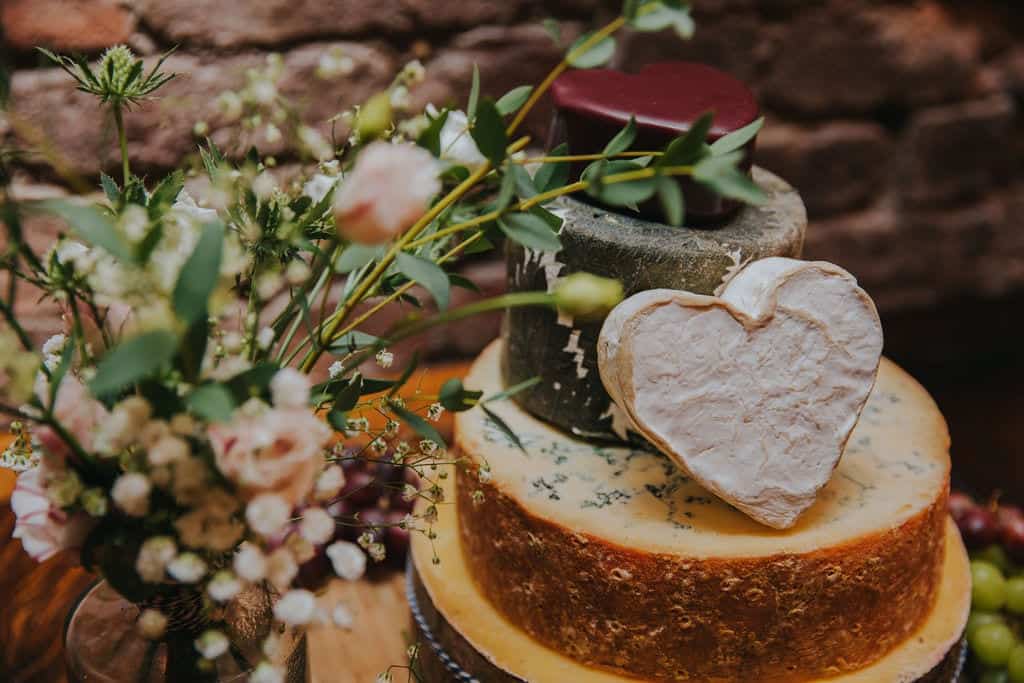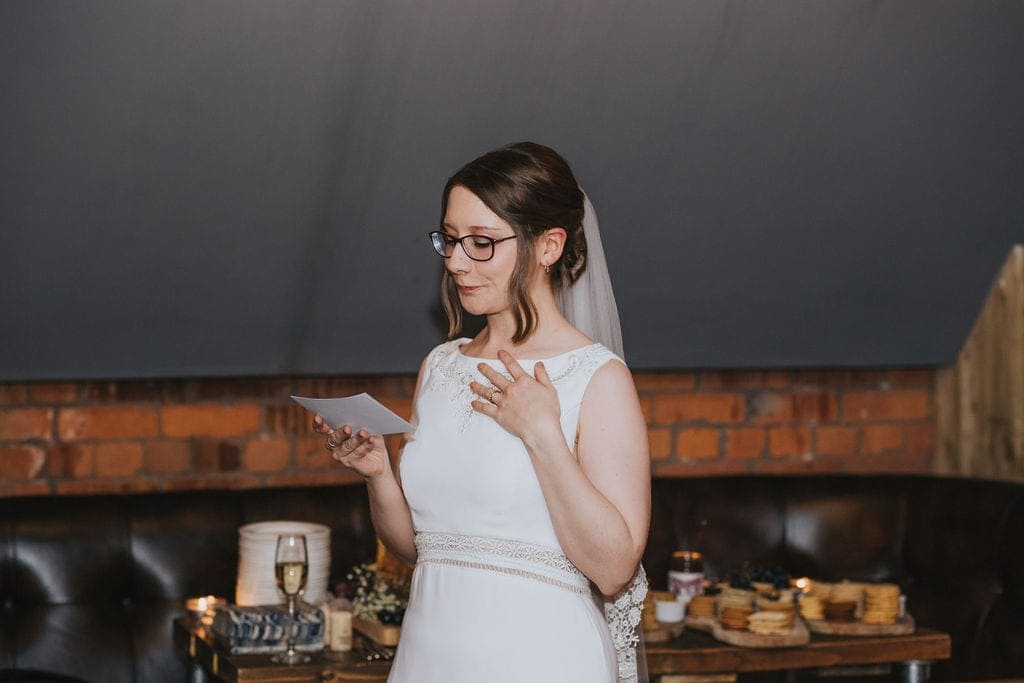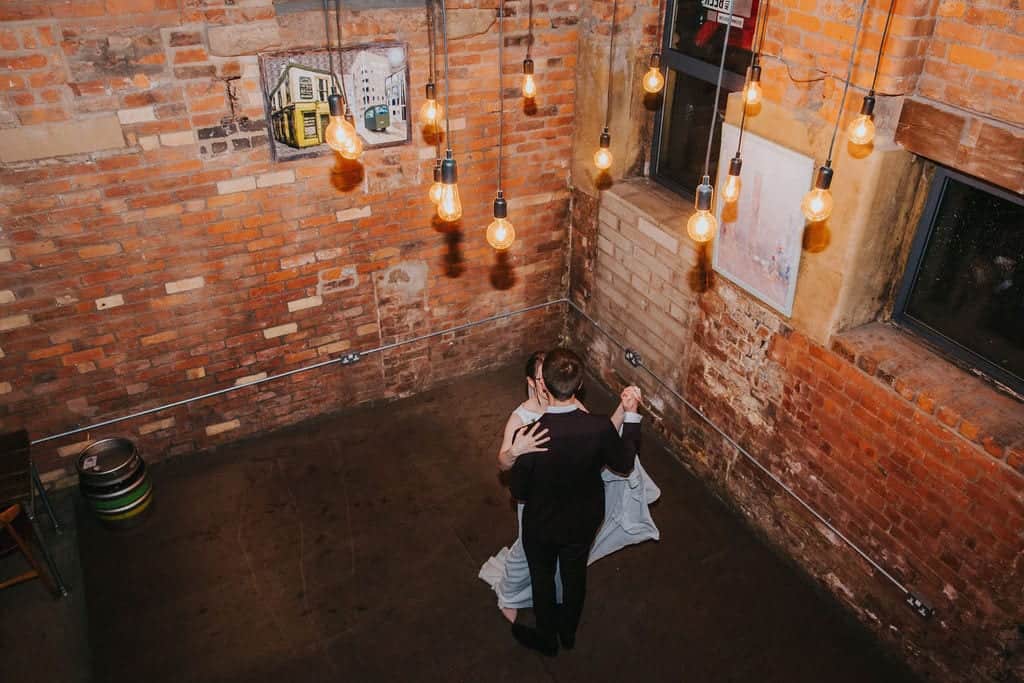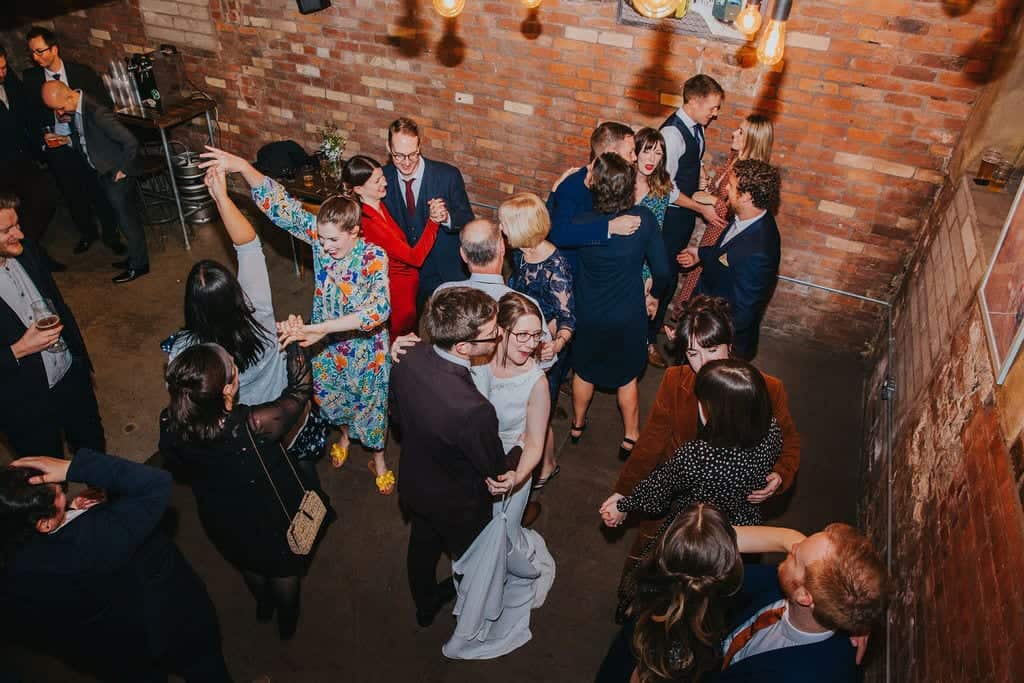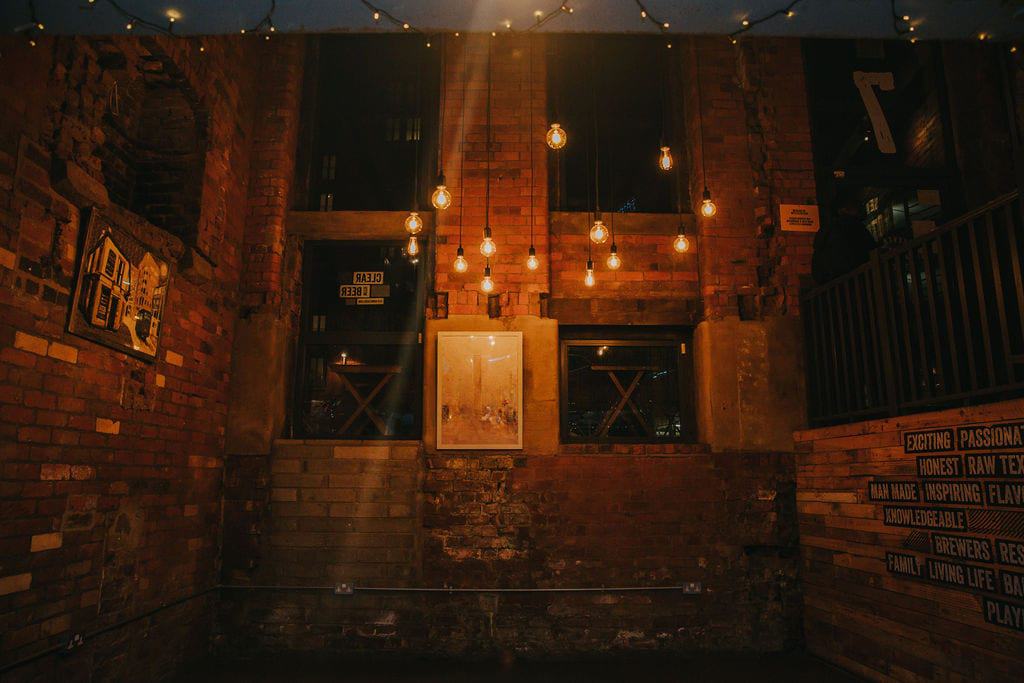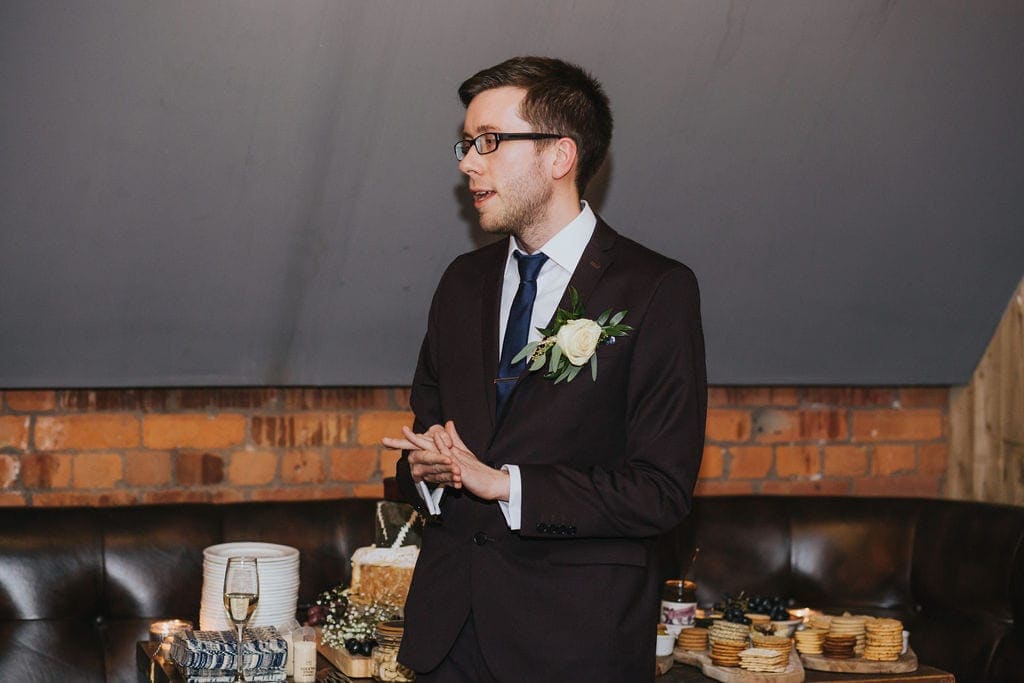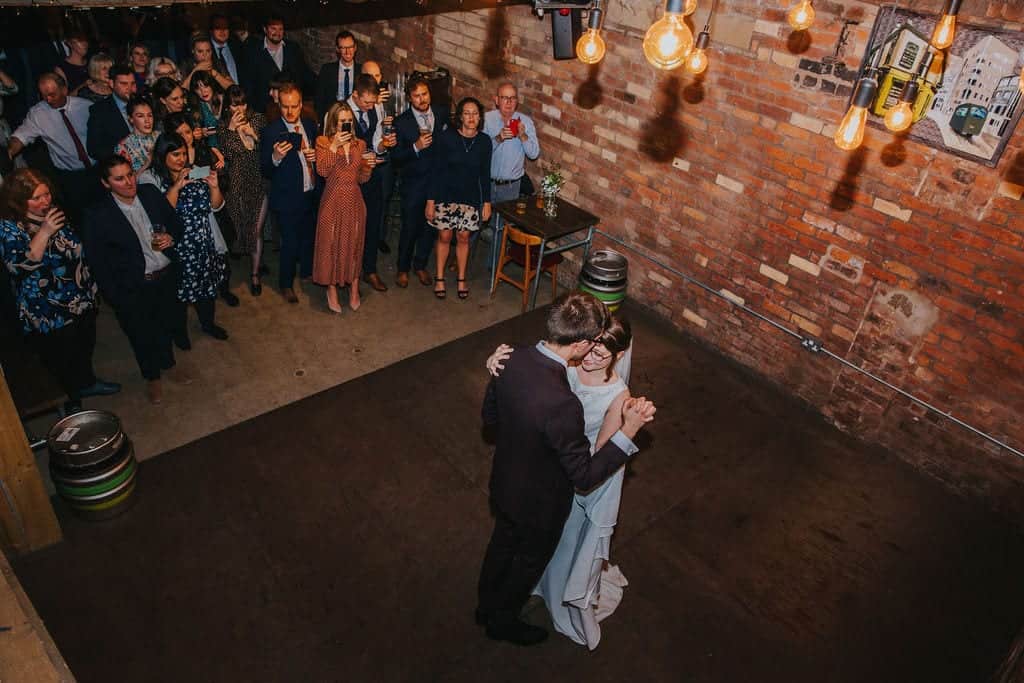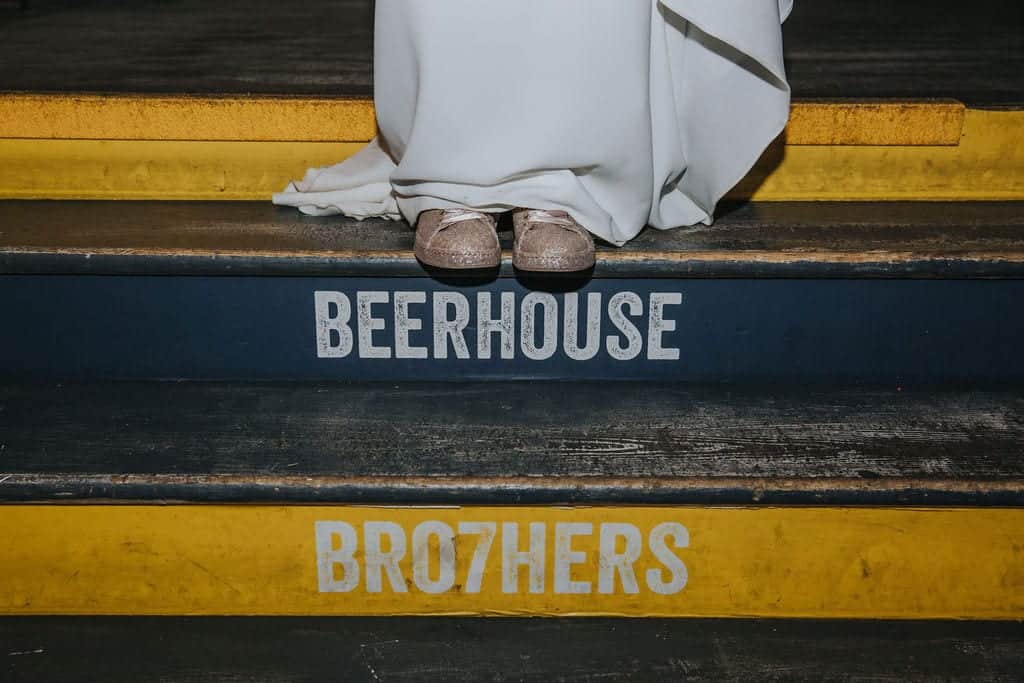 Planning a City Wedding?
ARE YOU PLANNING A CITY CENTRE WEDDING? THEN YOU ARE IN THE RIGHT PLACE! THE URBAN WEDDING BLOG IS NOT ONLY BRINGING YOU THE MOST STYLISH CITY CENTRE WEDDINGS TO FEAST YOUR EYES ON. WE ARE ALSO BRINGING YOU GUEST EXPERTS, CITY VENUE REVIEWS, CITY WEDDING FASHION, CITY CENTRE HENS & STAGS AND DIY TIPS FOR ADDING THAT PERSONAL TOUCH TO YOUR CITY WEDDING!
THIS BLOG IS FOR ALL YOU COUPLES LOOKING FOR HINTS AND TIPS TO MAKE YOUR CITY WEDDING PERFECT. OR FOR COUPLES WANTING TO ADD AND INDUSTRIAL TWIST TO THEIR DAY. SO GET IN TOUCH AND LET US KNOW WHAT YOU WANT TO SEE UP ON THE BLOG, WHAT YOU ARE LOVING OR WHY NOT GET FEATURED AND SUBMIT YOUR CITY WEDDING TO US.