Summer Wedding Cake Tips
The summer is the perfect season to get married, the sun is shining, the flowers are in full bloom and everyone is feeling footloose and carefree.
However, the heat of the summer sun (even in the UK) can be a killer for your wedding cake!
We asked Lisa from Urban Cakehouse to give us her top tips to avoid a wedding cake disaster in the heat of the summer, so over to her.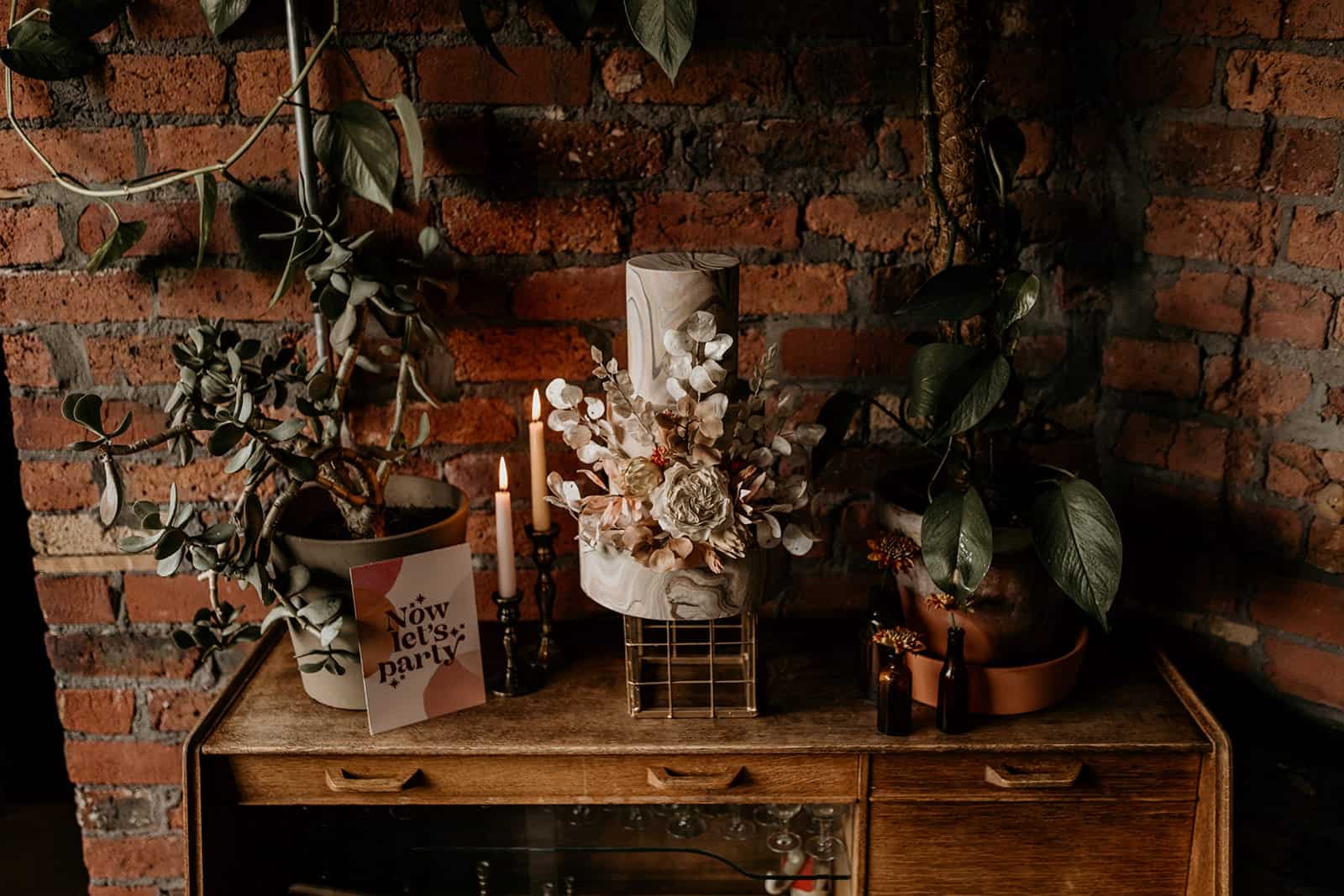 1. Book early
My first tip, if you are looking for a summer wedding cake, is to book early! This avoids disappointment. Your favourite cake designer, that you've probably had your eye on via Instagram for the last year or so, is most likely to be booked up for the current summer season and maybe the following year too. When popular cake designers have free dates they are snapped up pretty quickly.
2. Research your cake designer
Don't go for a baker whose style is not in sync with what you want on your wedding day.  For example, if you want a dark moody textured cake then don't book someone who only makes semi-naked cakes and vice versa. If you would like sugar flowers don't choose a baker who only uses fresh flowers.
3. Think about the weather
If you are getting married in the height of the summer it could be a scorching hot day. Will a chocolate creation or buttercream covered cake stand up to the heat? The last thing you want is a melting cake. If you go for a cake with a buttercream finish, ask if your venue has a cool room or space in a walk-in fridge to keep the cake cool and in the best condition until you need it. These can be particularly vulnerable in hot weather. Also, make sure that the venue staff are happy to move the cake too. Most cake designers will want to set up the cake themselves and make sure it looks perfect before they leave the venue, however on a hot day it may not be possible to have the cake out in a warm room all day.
4. Scope out the venue
Does the room have air conditioning or a cool spot to position the cake? If it's a sunny day don't style the cake in front of a window, this can cause the cake to become unstable and maybe even bulge. Ask your cake designer for advice on coverings and filling. On a sunny day, chocolate ganache is more stable than buttercream and fondant holds up best of all on a hot day.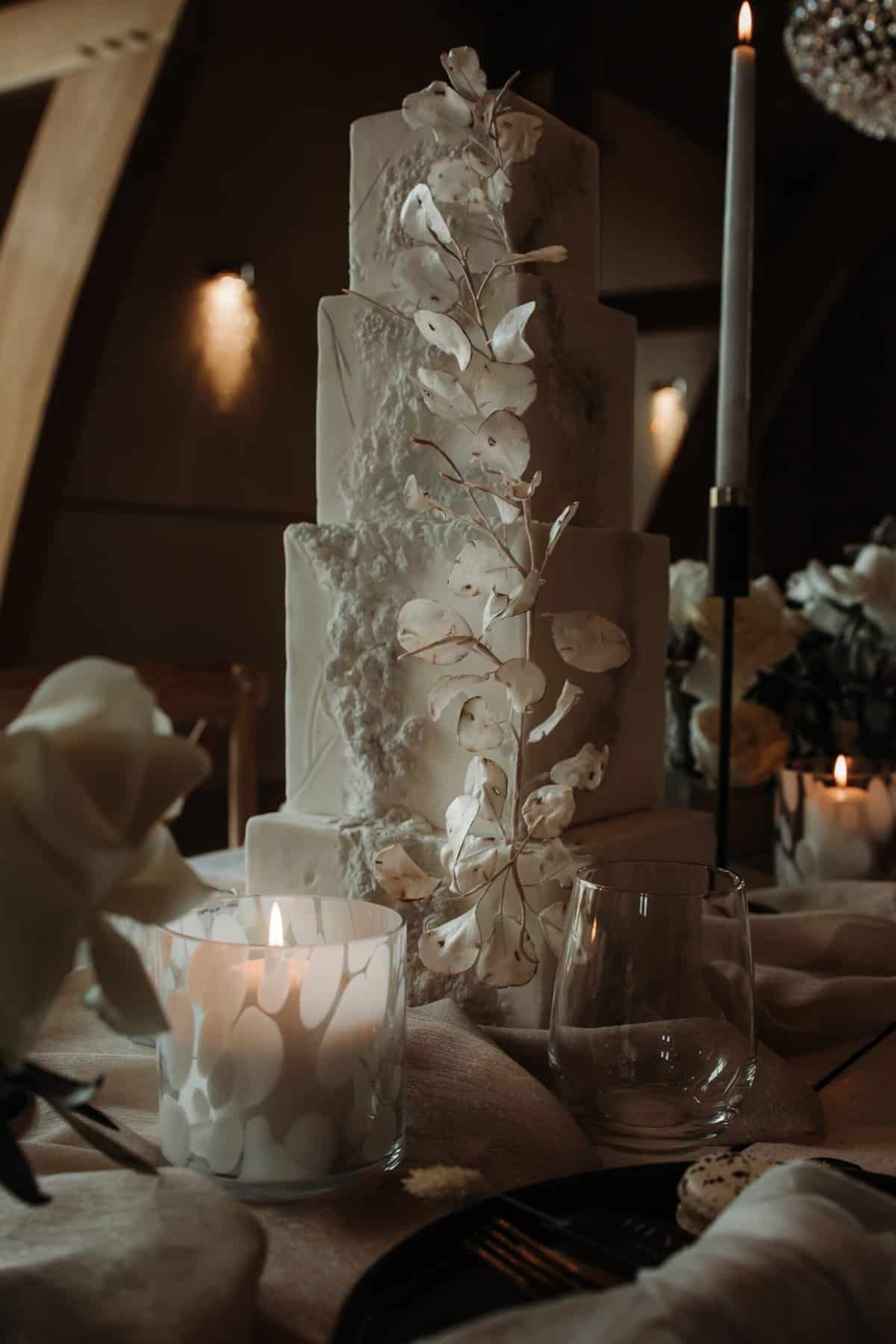 5. Think differently
Consider having a deconstructed cake. Have three (or as many as you need) separate tiers instead of a stacked cake. They look fantastic and there is no worry about slippage of collapsing tiers in the heat.
6. Don't be a dummy
If you are hosting your wedding in a hot climate or even in the UK but have a tipi or a glasshouse or a venue with very little shade think about having a dummy cake as your wedding cake. These cakes look exactly like a real cake, you may even be able to hire one from your cake designer. You can then have cutting cakes in the kitchen for when you are ready to serve the cake. One tier could be real cake if you really want to capture that "cutting the cake" shot.
7. Flower power
If you have your heart set on fresh flowers then make sure they are in season are non-toxic and make sure your cake designer sources them from an organic flower farmer. Even better if the flowers are edible and Food Standards Agency approved. Most flowers from a florist (or supermarket) have been treated with pesticides and have been standing around in buckets of water which are an ideal breeding ground for bacteria. Make sure your cake designer knows how to make the flowers food safe before attaching them to your cake. Remember fresh flowers places on a cake will wilt as the day goes on. By the evening when you may choose to cut the cake they may look a little sad and jaded. If you want your flowers to look amazing all day then opt for fabulous sugar flowers which you can keep forever if handled carefully or alternatively choose good quality silk flowers or paper flowers.
8. Transport
Do not agree to transport the cake yourself or ask any relatives to transport it to the venue for you. If anything happens to the cake on the journey you or your guests would most likely not be able to repair it. Leave the transporting and set up to your cake designer. It may cost you a little bit more but it is money well spent. It is stressful transporting a wedding cake like a professional, particularly in the height of summer, you and your guests do not need that extra stress on your wedding day. Always ask your cake designer to include in your quote.
9. Style it out
My final tip is not just for summer weddings, this one is a must for any wedding cake. Think about how you will style your cake table. There is nothing more heart-breaking than seeing a beautiful wedding cake plonked on a tiny table with a white tablecloth in a corner! Make it a centrepiece. It is probably the most expensive cake you will ever buy so show it off. Style the table with candlesticks and gorgeous complimentary coloured candles for a soft romantic feel, dress the table with foliage or décor to match the styling on your tables, think of the lighting, add a backdrop if the background isn't great for photos, hire a statement cake stand. Often venues have a cake stand as part of their wedding package, but if it doesn't complement the rest of your décor hire your own or ask your cake designer if they have something suitable you can hire from them.
10. Eat the cake
Don't forget to ask the venue to save you some cake. Often you will be too busy chatting to guests or just partying to try your own cake. Keep some to take home with you and enjoy it while you reflect on your fabulous day.
Most of all have fun and I hope the sun shines on you all day x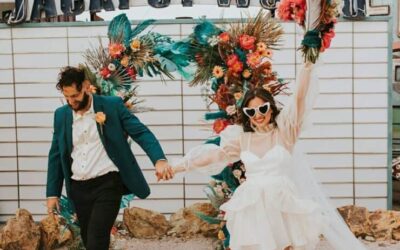 Summer lovin! Everyone always seems to want a hot summer wedding. The thing with a hot sunny day...