Wedding hashtag generators, how to create an epic wedding hashtag!
More creative ways to personalize your wedding day? Yes, please! We at the Urban Wedding Company will always prioritize finding the coolest and most unique props for your celebration. Today, we are bringing you the wedding hashtags. Even if social media isn't quite your cup of tea, your guests most certainly use it. After all, as long as you are personalizing other details, why not leave your mark on the social media platforms?

Wedding hashtags aren't exactly a new introduction to the wedding world, but the need to make them more fun, stylish and personalized has become a trend among modern couples. Not going to lie, we are loving them and actually have seen quite a few who make an impressive statement! But how do you get such a hashtag? From writing them yourself to using a wedding hashtag generator, we are here to clear the fog and answer all of your questions!
What is a wedding hashtag?
We like to think of it as an online memory collector. Your wedding photographer will be doing an impressive job capturing most of the epic moments, but still, they won't be able to cover all the bits and pieces of your celebration. Instead of calling your friends and relatives to send you a few of their snaps, they will upload them on Instagram and mark them with your unique hashtag. When you open that hashtag, we guarantee you will have so much fun scrolling through all those happy faces that had the best time at your wedding! Besides, you get to collect more memories and have many more amazing keepsakes. Of course, you will love your professionally done wedding photos, but there is a certain charm in the candid quirky moments happening behind all the feels. We know we have stirred your interest so we will continue this article with the best wedding hashtag ideas & tips!
How do you make a catchy wedding hashtag?
Not sure where to start? Simply, it is all in the details. In your names or the fun nicknames, you give to each other. Basically, you can take your pick – it can be anything that defines you two as a couple! Usually including your last name or joint first names will be easier for the guests to remember but that doesn't mean you need to leave it boring and completely mundane. Wedding hashtags that have pun intention are also really fun and easy to remember! Any witty word that goes with your names or last name can score high on your guest's memory scale. If you feel like the hashtag matches another already existing one, there are always numbers like your wedding date that can make it stand out. Lastly, you can also capitalize every word to be more understandable and visually clear. We would also always recommend checking whether what you have come up with isn't already used. If yes, like previously mentioned – alter it with numbers or characters to match your quirky personalities.

There are countless wedding hashtag ideas you can use but if you wish to find a shortcut, follow the next step!
How do I find a good wedding hashtag?
We have three words for you: wedding hashtag generator. If you don't like to brainstorm a lot, that is perfectly okay! There are a lot of free wedding hashtag generators you can use. The good news is that most of them include some extra options for including your own personal nicknames and other assets. Here is a list of top 5 generators you can use immediately:
Creative wedding hashtag ideas
There are many ways you can get around making your own personalized hashtags, but we will give you some creative ideas with several last names that can work well. To spice things up, think about a favourite song and try to include your last name in a certain verse. Or, simply think of favourite puns and include the last name where it can be rhymed. Some examples:
#PartyWithThePowells
#WilliamsSquad
#SmittenWithJohnsons
#StevensStateOfMind
#DreamsComeTruman
#MatchMadeInEvans
#PerfectlyTaylored
#OnceUponAThompson
#NewlyWEdwards
#ChooseHughes
Is a wedding hashtag necessary?
Absolutely not, but you got to admit that it is a pretty handy way to have all the snaps from your wedding day under one single roof. You will be naturally curious and will want to know whether your guests had a blast at your party. Naturally, you cannot possibly see everything because you will be busy enjoying your celebration, so these photos will be wonderful "fill in the blank". Even if you didn't consider having a hashtag previously, we are sure you are already typing in your info on some of the wedding hashtag generators. Therefore, follow the next ideas and tips!
How can you display your wedding hashtag?
The first path to introducing your personalized hashtag is by placing it on your save the date cards. Of course, many might forget where they put the cards and forget the hashtag on the wedding day itself, that is why you need to have a backup plan. Here are a few creative ideas: on the welcome sign, at the bar (refills and hashtags!), on various parts of your stationery like the menu, wedding programs, table cards; also as photo booth props, favours, welcome boxes or bags, etc.
You can even include the wedding hashtags in your decor, being framed, on the wall, or make a creative and cool photo backdrop! We are seeing more hashtags being used on the wedding transport like awesome retro vans or retro cars, inscribed or used as a licence plate! Whichever you choose, keep in mind that the hashtag needs to be displayed clearly for your guests to write and memorize.
Wedding Hashtag ideas and hashtag generators
We've come to the end and we sure hope you feel inspired and are already using a wedding hashtag generator to give you more ideas! Honestly, we would love to see what you come up with so share your unique and personalized wedding hashtag ideas with us. Need more tips and inspiration? Browse through our other articles to get the cool juices flowing!
Check out our latest Planning blogs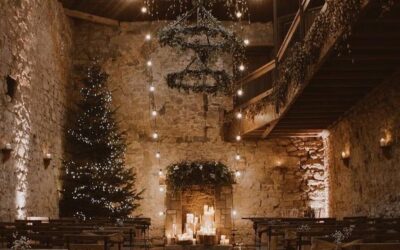 Winter weddings are romantic and cosy, and offer a unique opportunity to create a memorable...