Summer wedding flowers.
The suns out, the bubbly is pouring and the Great British summer wedding season is fully underway.
Although most florists are busy throughout the year these days, summer is still one of the most popular times to get married. Couples will risk the British sun in the hope it shines on their day for the ultimate wedding celebration!
We have asked two of our favourite florists to share their top tips for choosing your summer weddings flowers.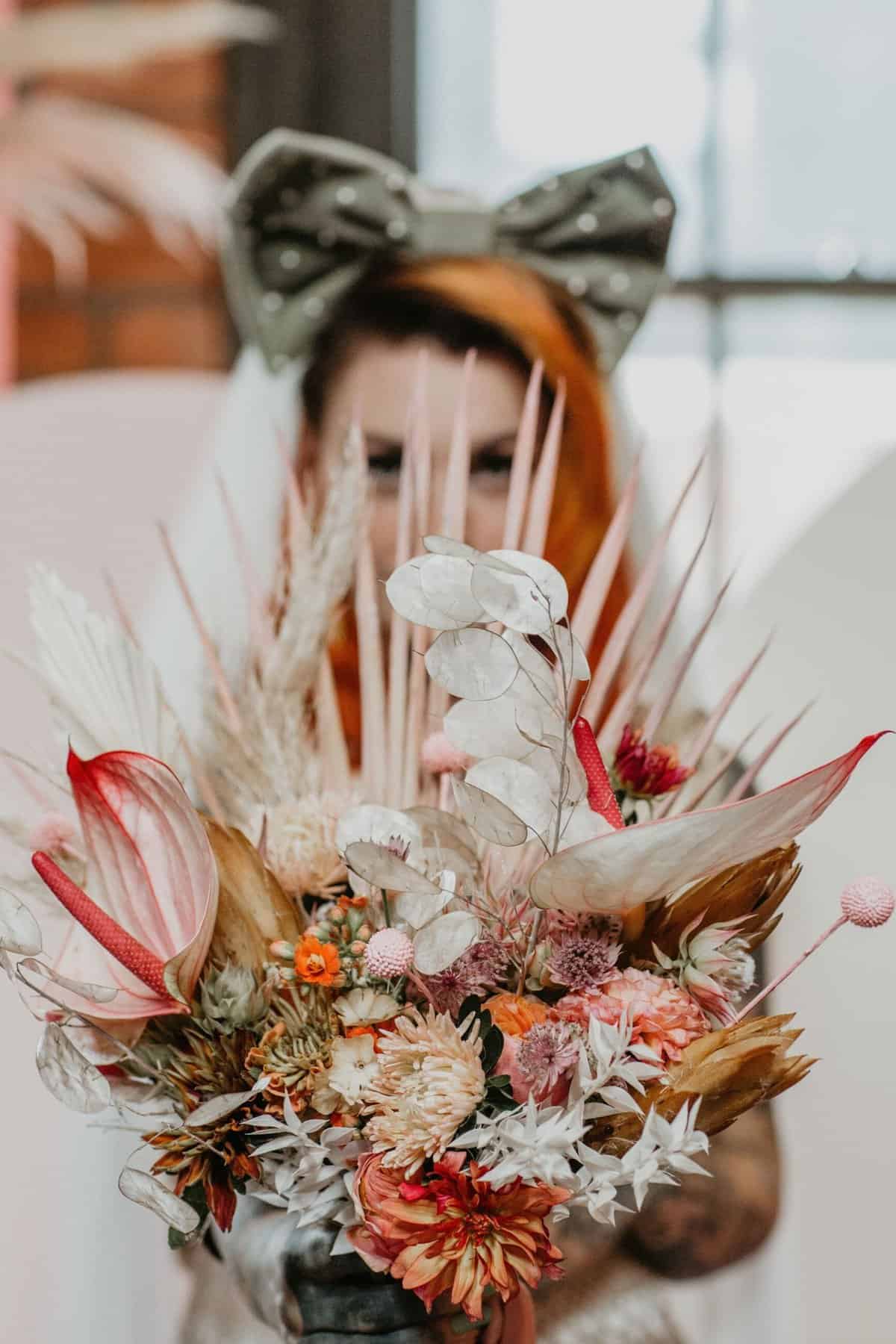 Summer wedding flower tips
So first up we have Sam from award-winning florist Fantail Designer Florist who says "be picky with your florist." You must do your research! view their image galleries on social media and websites to make sure their style is what you are looking for. You need to feel excited and inspired by what they have to offer.
Eco frinedly summer flowers
There is an abundance of blooms in Summer and couples looking to get married during this time of the year are truly spoilt for choice. More and more couples are becoming eco-conscious. if this is you, then you might want to choose a florist who is helping to reduce carbon emission.
"having spent the past year trying to perfect our growing techniques we are starting to supply our couples with flowers from our own cut garden in Sheffield. something that is really exciting for us to be able to offer our couples".  – sam
If you'd like to locate your local flower farm, micro grower or cut garden; head over to 'Flowers from the Farm' where you can find all florists and growers that specifically concentrate on UK grown flowers.
Dealing with the summer heat
One of Sam's top tips for summer weddings is to make sure you have a vase of fresh water ready on the top table for you to slip your bouquet into. This is something we recommend throughout the year but an absolute must throughout the summer months.
Always keep your posies in the water right up to the last minute before walking down the aisle too. These should be placed in a cool area of the venue unless your room is cool enough to keep them in there. however, your florist will no doubt be on hand to advise you what is best for your particular blooms.
Summer Flower choices
If you are stuck on what to choose for your bouquet a few flower varieties that are common for Summer weddings are Peony (early summer), Hydrangea, Stocks, Daisy, Sunflowers, Roses, Sweet Peas, Scabiosa, Lilac, Ammi, Geranium (yes this we use, especially the leaves), Delphinium, Lupins and Foxglove. these are just a starting point. Also look to herbs like Mint, Lavender, Sage and Rosemary. Thyme looks great in buttonholes and corsages and smells divine.
And one final word from Sam "don't forget the sunscreen and sunglasses!"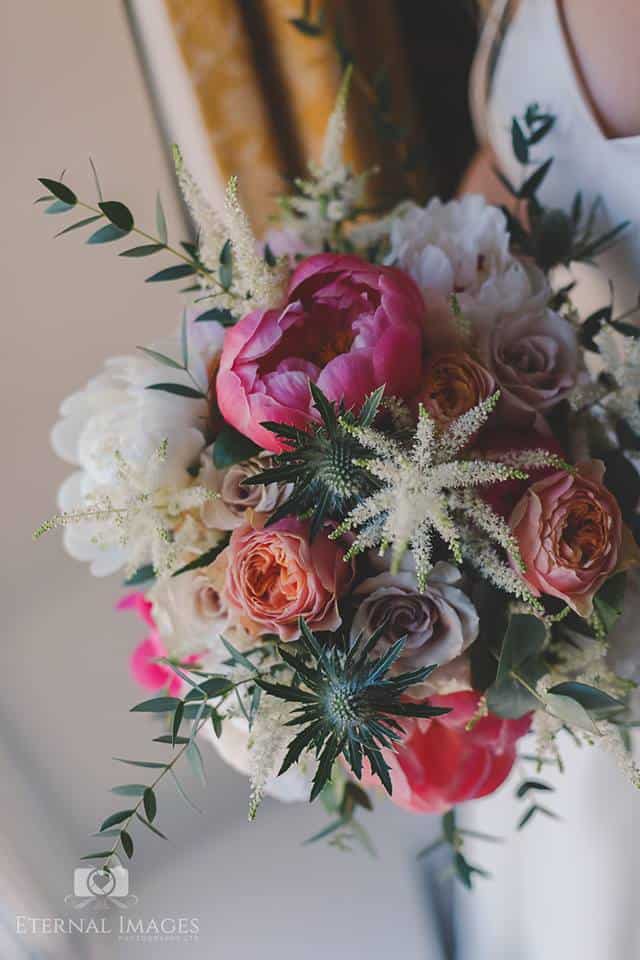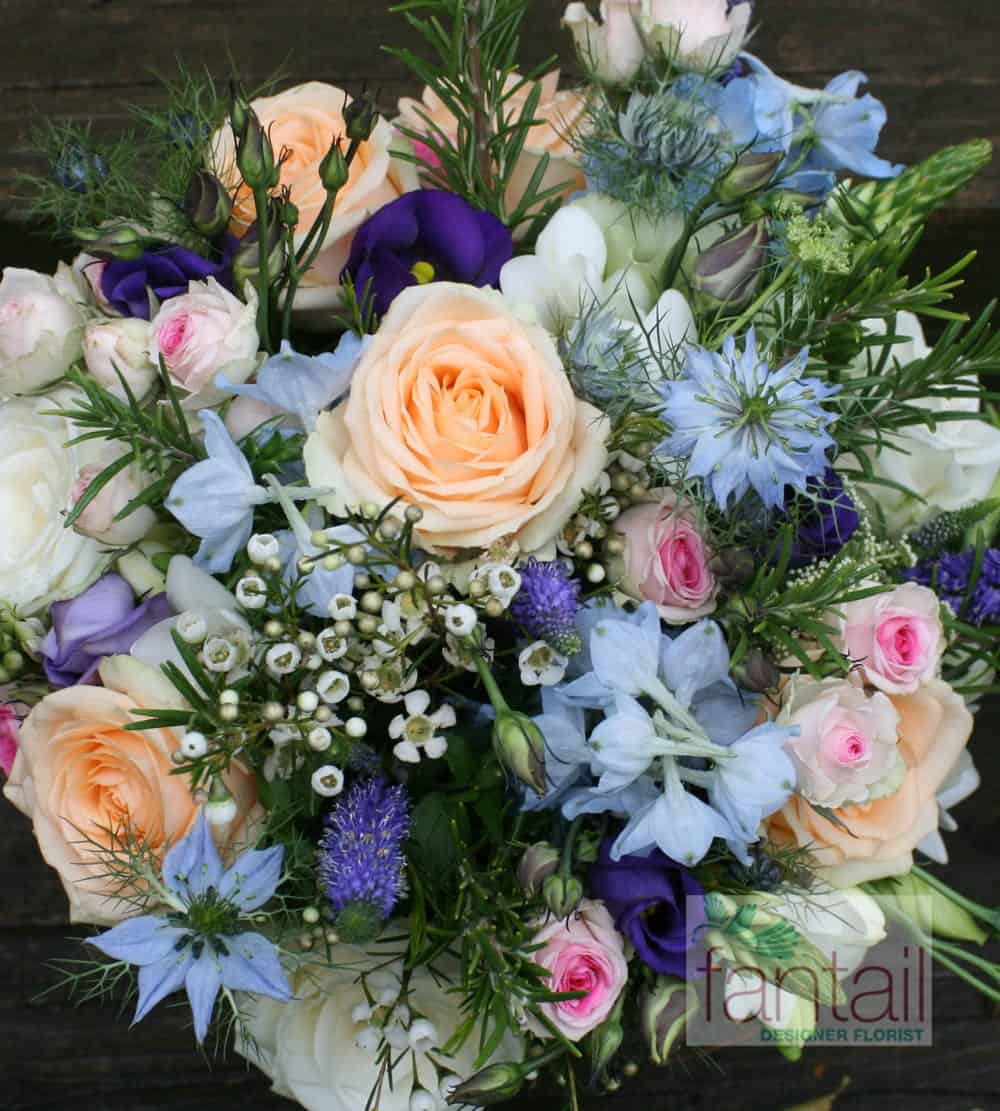 Summer wedding flower tips
We also asked another award-winning florist Karon from Meadows and Mulberry for her top summer wedding tips and in particular how to choose your wedding flowers.
"I feel couples should be able to do it just as they want. I believe there are no rules… and flowers, dress, cake, the venue can work just as you want it, whatever the season".
Why choose a florist?
So, why choose a florist, instead of just ordering the flowers yourself?
Karon says that a florist will have the creativity to turn your ideas into a reality. A great florist can source, arrange, and deliver the flowers to the wedding venue for you, helping to keep your day stress free. Your florist will know how to make last-minute changes if flowers are not suddenly available.
They will also be expert at timing and will know when to put together an arrangement to make sure it looks as fresh as possible. this is so important for summer weddings. the last thing you want is a droopy arrangement.
So how do you choose the flowers for your summer wedding?
Well, these days the choices are wide and varied and a florist can access almost anything. However, please bear in mind that if the flowers are out of season in Europe and are available in the Southern Hemisphere then you should expect to pay a premium for them.
Karon believes that there doesn't need to be rules and is inspired by some amazing international florists. who are showcasing how to be creative and to explore different flowers and do arrangements your own way.
Mixing flowers from the Northern and Southern Hemispheres can really add the "wow factor" to your wedding florals.
If you prefer something a little closer to home then you can work with locally grown seasonal flowers. which add fragrances, delicacy and vibrancy. Look at the flowers that are in season in the British summertime. or ask your florist for guidance with this.
Another favourite of ours is to mix fresh and dried flowers which creates some wonderful textures. This can also take your wedding flowers to another level.
 "I love that there are so many options and hope that couples are bold with their choices. Flowers are incredible and the end results can be fabulous". – Karon
Summer colour choices are endless so we asked how to choose your flower colours?
"If you want to be bold go for it". You can play with tones and shades within your colour scheme and this always looks striking. Also, think about using complementary colours too. A fun and striking way with colour is to colour-block your flowers, putting the same colours together which will create an impact.
"There is no right or wrong colour combination – not in my book anyway".
Think about what you are wearing on your wedding day and make sure your flowers look great with your outfit. For example, if you are wearing a dress and the detail is in the bodice then the bouquet wouldn't want to be too upright and cover it.
You may choose to go for a style that flows out to the sides or tumbles forwards… so the vision of your dress is still appreciated. "I would encourage you to hold your bouquet low if you decided the more upright bouquet was for you".
work with your venue 
Finally, think about your venue. Often you fall in love with the venue first and everything else drops into place or just fits your vision.
Remember, whatever the season flowers are always going to enhance a venue. Whatever you choose. Your budget will obviously be a factor in the decor you choose, and you may decide to have a couple of larger pieces that have an impact rather than lots of smaller ones.
Your florist will be able to show you how to make the most of your budget. For example, recycling your ceremony flowers and using them as part of your reception decor is a great way to get the most out of your flower budget.
We hope these tips will help you choose some gorgeous florals for your summer wedding. We'd love to see what you choose. Enjoy the process and remember to have fun x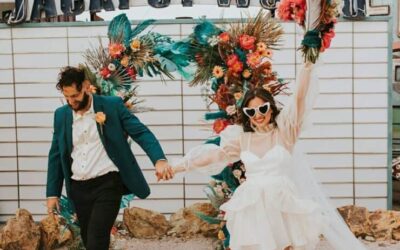 Summer lovin! Everyone always seems to want a hot summer wedding. The thing with a hot sunny day...