Autumn weddings are the time to have some fun and play around with richer colour palettes and lots of texture.
The same goes for autumn wedding cakes. Have some fun, think outside the box and play around with flavours and design.
Speak with your cake designer and give them full creative licence and I am sure they will wow you with some unique ideas.
Planning an autumn wedding? Head to our autumn wedding ideas blog post!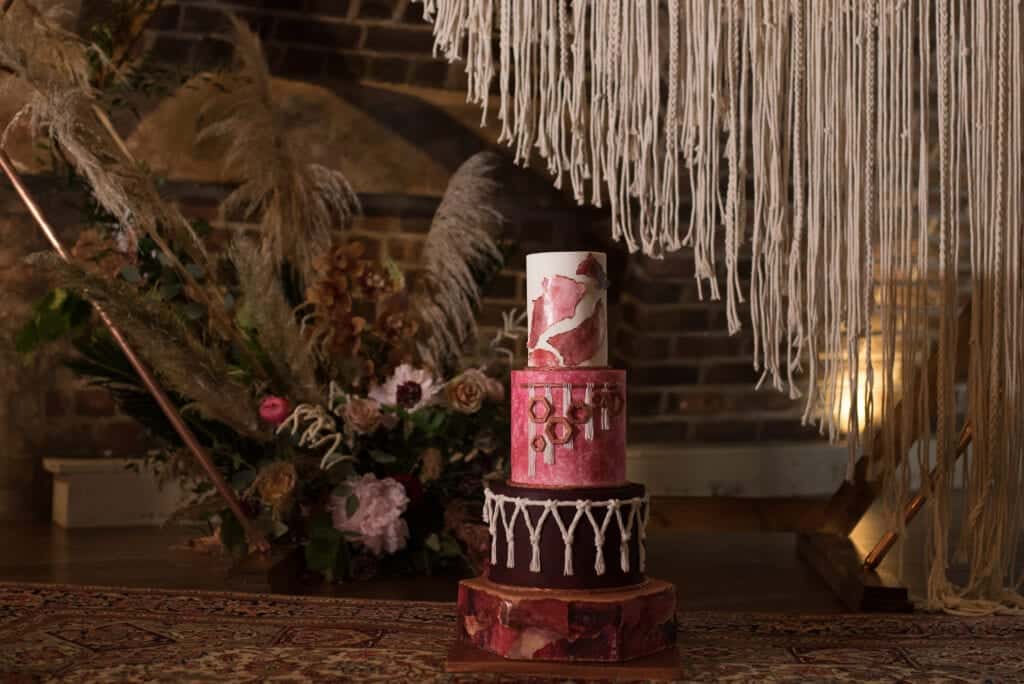 MEET THE EXPERT
Lisa is the owner of Urban Cakehouse, a wedding cake business for bold nontraditional couples. Lisa has 8 years of experience designing wedding cakes.
Unique Autumn Wedding Cake Ideas
Naked or Semi-Naked Cake with autumn Foliage
A naked or semi-naked cake with layers of moist cake and delicious fillings is a popular choice for autumn weddings.
Decorate it with edible autumn foliage like sugar-dusted leaves or fondant cutouts of autumn shapes, such as acorns, pumpkins, or leaves.
Rustic Woodland Cake
Create a rustic woodland-inspired cake with textured buttercream or fondant resembling tree bark.
Add autumn elements like edible mushrooms, berries, or flowers to enhance the woodland theme.
You can also incorporate natural elements like twigs or pinecones as cake toppers or accents.
Pumpkin Spice Cake
Embrace the flavours of autumn with a pumpkin spice cake. This warmly spiced cake pairs well with cream cheese frosting or cinnamon buttercream.
Consider incorporating pumpkin-shaped decorations or pumpkin spice macarons as cake toppers.
Apple Cider Cake
Infuse the taste of apple cider into your cake layers.
A moist apple cider cake with layers of apple compote or caramel filling can be a delicious and seasonal choice.
Decorate the cake with caramel drizzle, fresh apples, or cinnamon sticks.
Autumn Fruit Cake
Design a cake inspired by the bountiful harvest of autumn. Incorporate elements like fresh fruits, berries, figs, or grapes as decorations.
You can also add edible flowers in warm autumn hues to complement the theme.
Metallic Accents Cake
Create an elegant and glamorous cake with metallic accents that evoke the richness of autumn.
Choose gold, copper, or bronze edible leaf decorations, or consider incorporating metallic drip effects or brushed metallic details on the cake.
Maple Flavored Cake
Highlight the sweetness of autumn with a maple-flavoured cake. Use maple syrup in the cake layers or frosting to infuse a rich and distinct flavour.
You can also drizzle maple syrup on top as a glaze and decorate the cake with caramelized nuts or maple leaves.
Warm Color Palette Cake
Opt for a cake that showcases the warm and inviting colours of autumn.
Consider a buttercream or fondant cake with ombré shades of red, orange, and yellow, reminiscent of the changing leaves.
Add fondant or sugar flowers in autumn hues for an extra touch of beauty.
Autumn Wedding Cake inspiration from real autumn weddings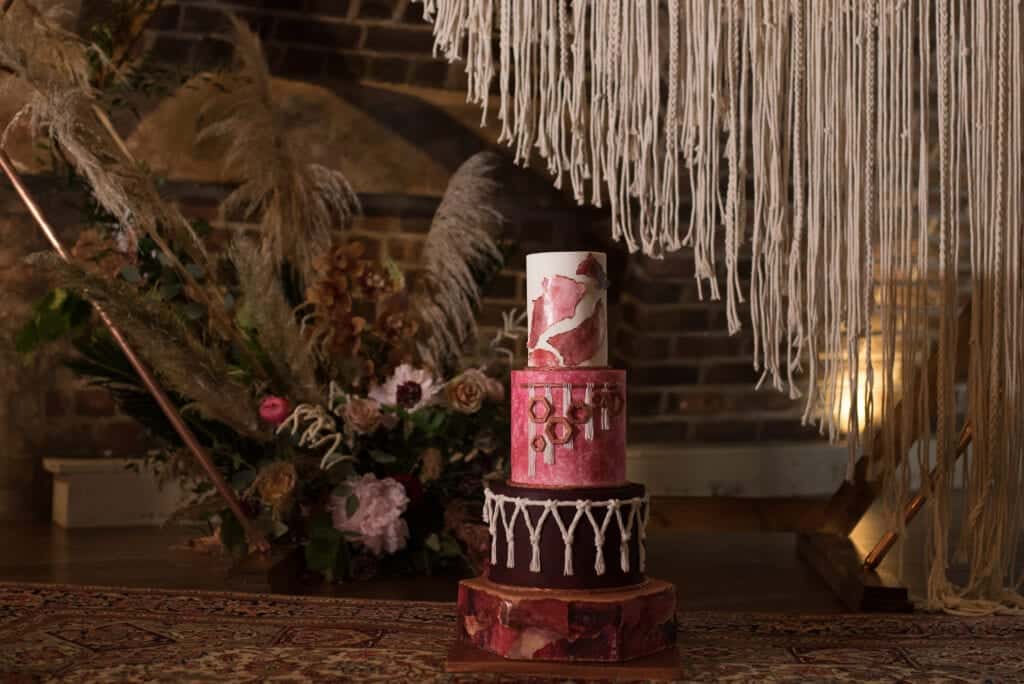 More blogs you will love!