Here in the UK everyone seems to want a summer or spring wedding! I love an autumn wedding though! No, not because my birthday is in autumn.
I love the richer, warmer colours coming through. The chance to use all the fairy lights! With darker nights also it just such a romantic feel.
In this post we are sharing some traditional ideas but also some unique ideas you will certainly fall for.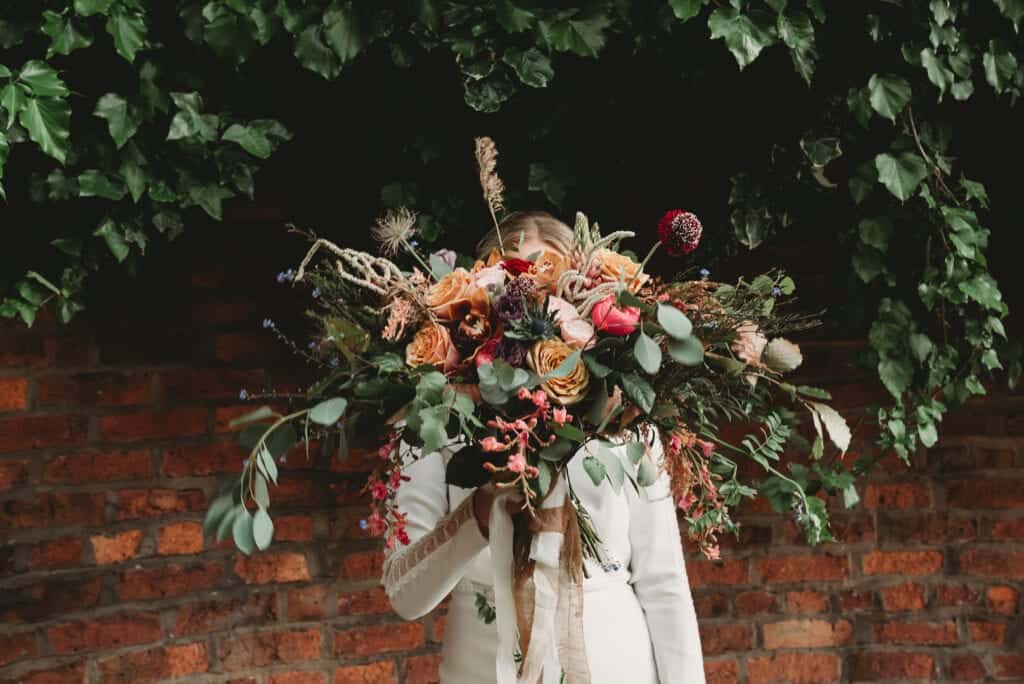 Unique Autumn wedding ideas
1. use rich earthy tones
Autumn is the perfect time to use rich, moody and earthy colours. Some of our favourites here at Urban are:
Burnt Orange
Emerald Green
Browns mixed with neutrals
Burgundy or other deep, dark reds
Plum or other deep dark purples
mustard yellow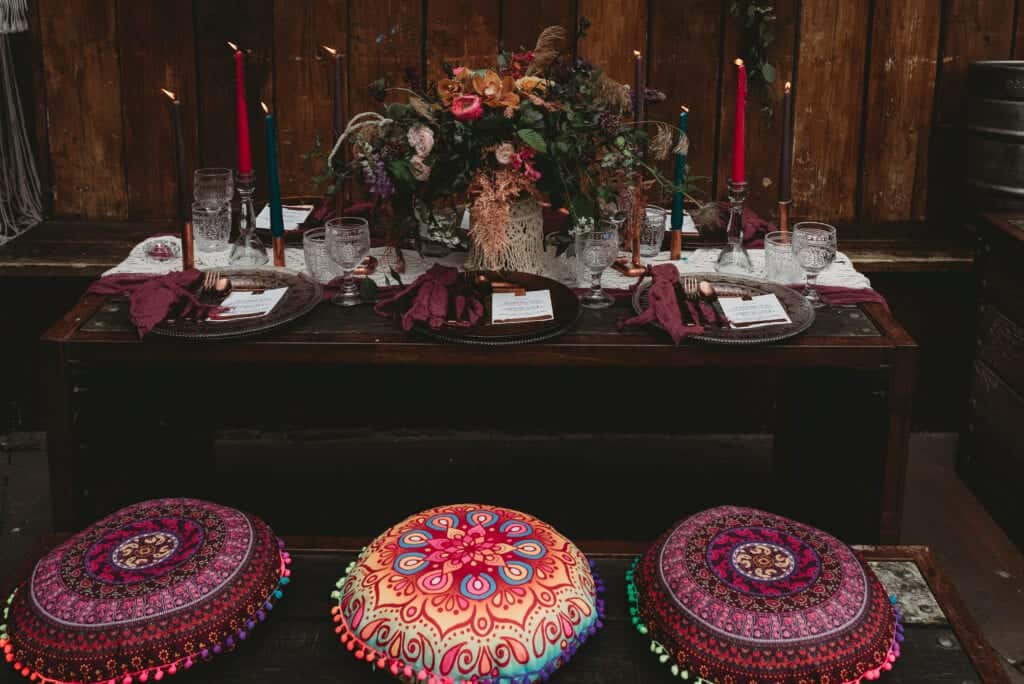 2. Have a rustic or boho theme
Themes that lend themselves to using natural elements and earthy tones are perfect for autumn weddings.
Rustic themes are full of wood, natural elements, and lots of greenery.
Boho themes are similar but have a Scandi vide, lots of pampas and dried grasses.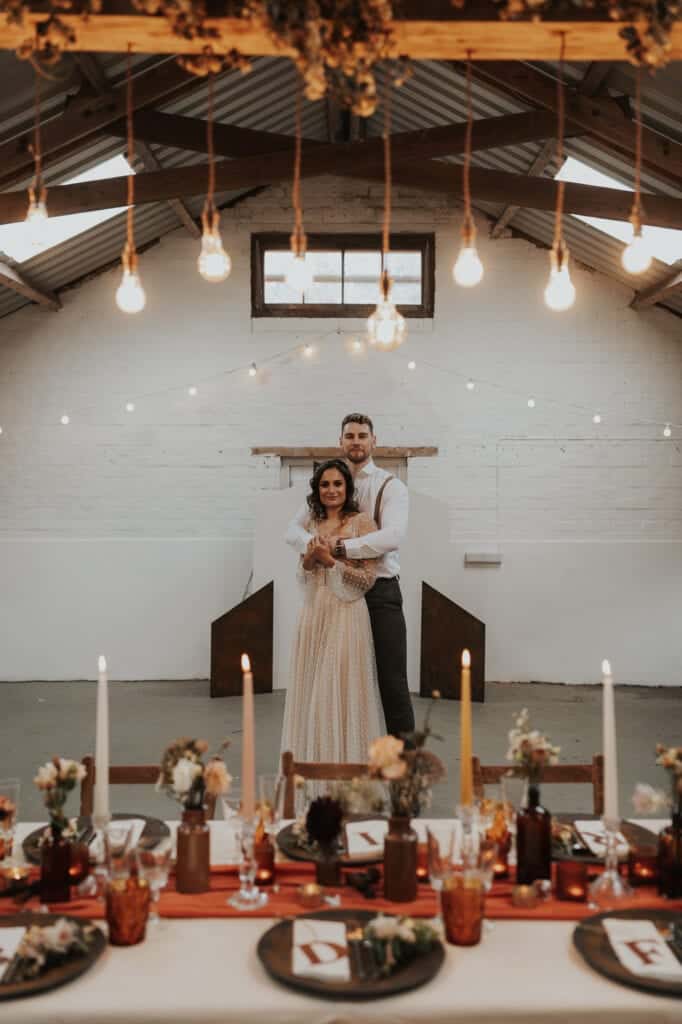 3. Go for an industrial barn venue
You will know we love an industrial venue here at Urban. Barns lend themselves so well to an autumn wedding. There are so many modern, industrial style barns for more of an urban take on the traditional barn venue.
Think big metal glass windows and metal elements throughout. Cool unique features for an urban twist.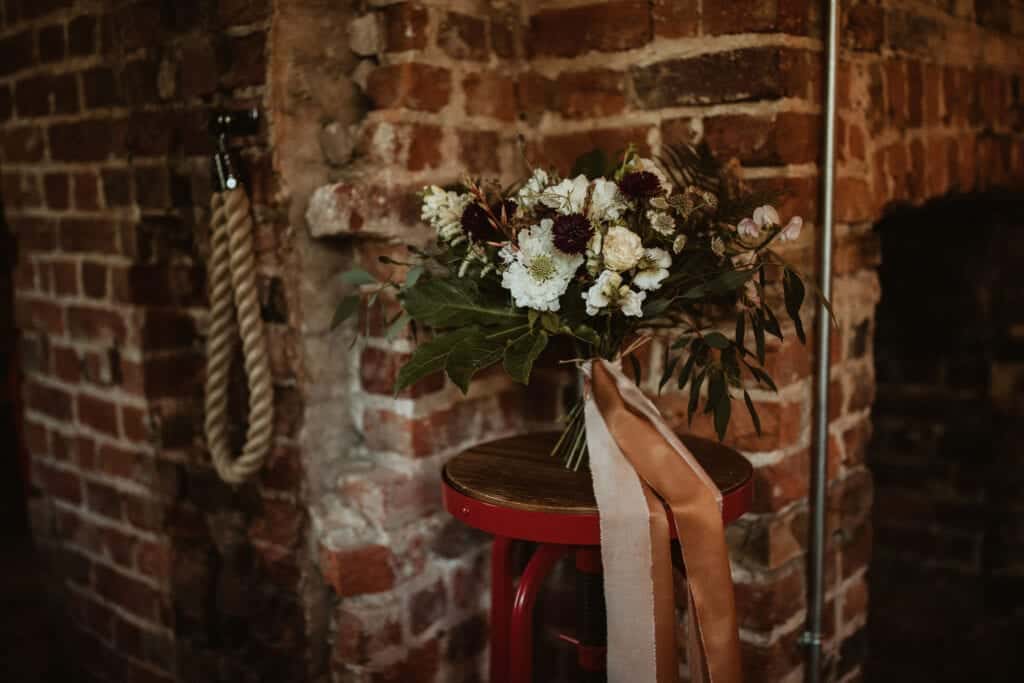 4. use seasonal flowers
A must for any season! We really advocate using local and seasonal flowers when possible. Flowers can have a big eco footprint so being conscious of your flower choice can really make a difference.
It also helps with styling and fitting in with the natural landscape around. Especially with big windows or outdoor spaces.
5. send autumnal invites
Get people in the mood and set the tone with autumn inspired invites. Invites are the perfect time to give guests a feel of what's to come. Sending autumn vibe, and cosy invites prepare for a warm romantic wedding.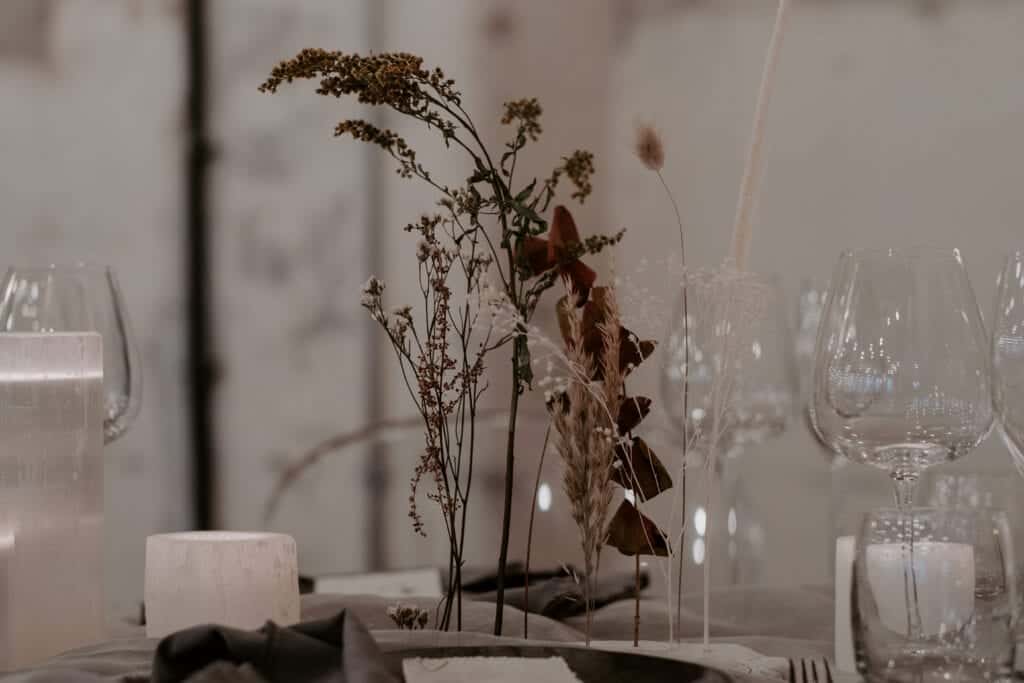 6. Nature-inspired décor
Embrace the beauty of autumn by incorporating natural elements into your wedding décor. Use fallen leaves, pinecones, pumpkins, and seasonal flowers like dahlias, sunflowers, and mums to create a warm and rustic ambience.
7. use pumpkins!
Carrying on with the autumn decor but pumpkins need their own mention. I love the use of pumpkins for a stunning autumn themed wedding.
Perfect for centrepieces, down the aisle, favours and so much more!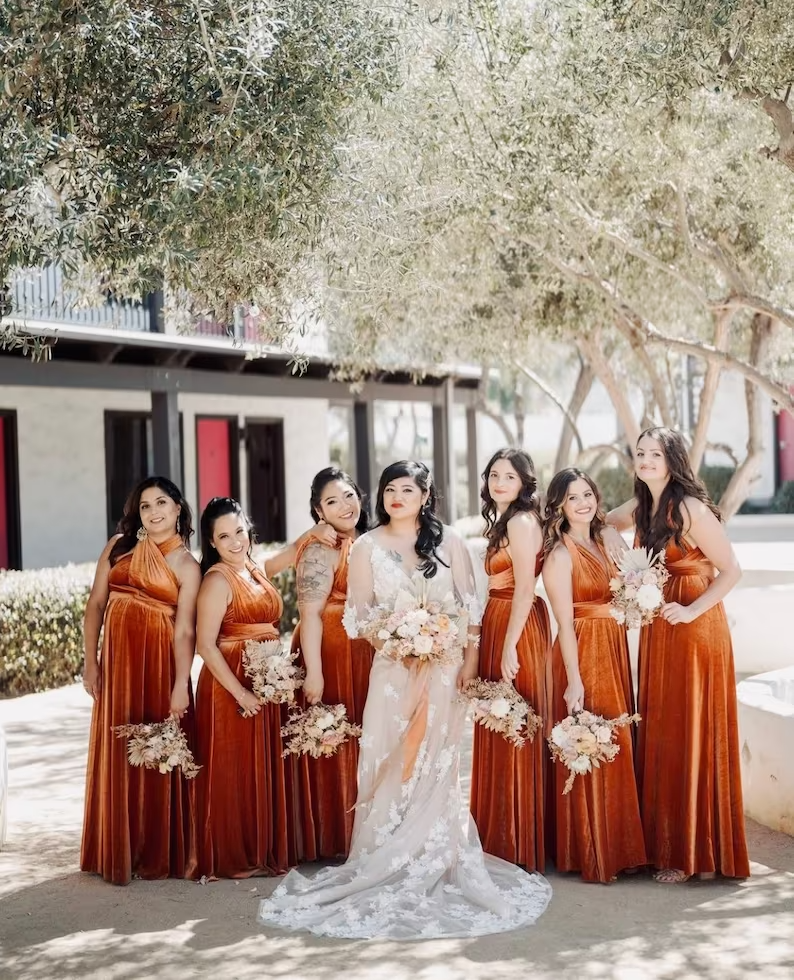 8. burnt orange bridesmaid dresses
Any rich colour will do but we are loving burnt orange bridesmaid dresses here at Urban. It is set to be a huge trending colour this autumn!
Head to our Autumn bridesmaid dresses post for even more ideas and colours.
9. give mini pumpkin favours
Possibly my favourite wedding favour! I love these mini pumpkin place names and favours. It means you have a two in one idea to save money and how cute are they?
10. use dark tablecloths
I love a coloured tablecloth. Autumn is the perfect time to go bold and have a dark tablecloth. Navy, emerald, and forest green all work well. Even better if a velvet tablecloth!
11. lots of fairy lights
You can never have too many fairy lights! Make sure they are the warm coloured lights though. No one wants their wedding to look like a Christmas party!
12. Harvest-themed menu
Design a menu that celebrates the flavours of autumn. Serve dishes made with seasonal ingredients like butternut squash soup, roasted root vegetables, apple cider cocktails, and pumpkin flavoured desserts.
13. Cosy blankets and fire pits
As the weather starts to get cooler, provide cosy blankets or shawls for your guests to keep warm during the outdoor ceremony or reception. Set up fire pits or outdoor heaters to create a comfortable and inviting atmosphere.
14. Fall foliage photo booth
Create a photo booth area with a backdrop of colourful autumn leaves. Include props like hats, scarves, and oversized umbrellas to add a touch of fun and capture memorable moments.
15. Hayrides or carriage rides
Offer hayrides or carriage rides for your guests to enjoy the picturesque autumn scenery. It can be a unique and enjoyable experience that adds a touch of nostalgia to your wedding day.
16. Caramel apple station
Set up a DIY caramel apple station where guests can dip apples into warm caramel and then choose from various toppings like chopped nuts, sprinkles, or chocolate drizzle. It's a delicious and interactive treat that everyone will enjoy.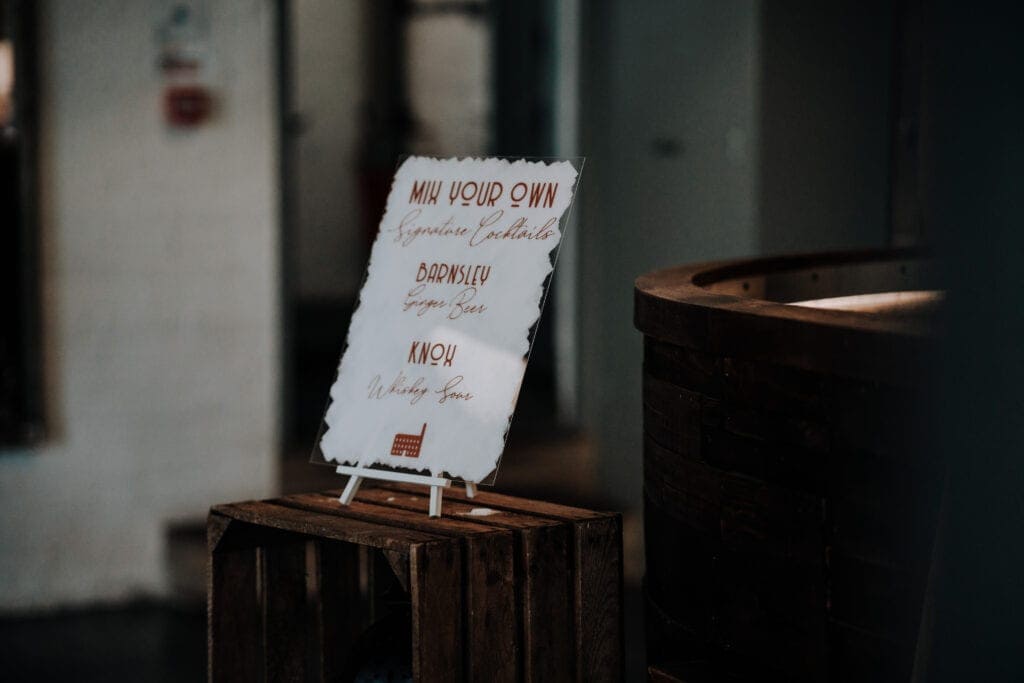 17. Fall-themed signature cocktails
Create signature cocktails inspired by the flavours of autumn. Consider beverages like apple cider mimosas, pumpkin spice martinis, or mulled wine to add a seasonal twist to your wedding bar.
18. Leaf confetti or petal toss
Instead of traditional rice or bubbles, provide guests with colourful leaf-shaped confetti or dried flower petals for a unique and eco-friendly toss during the recessional.
19. Autumn-inspired wedding favours
Give your guests thoughtful and seasonally themed wedding favors. Ideas include mini pumpkin or apple-scented candles, personalized maple syrup bottles, or homemade jam with autumn flavours.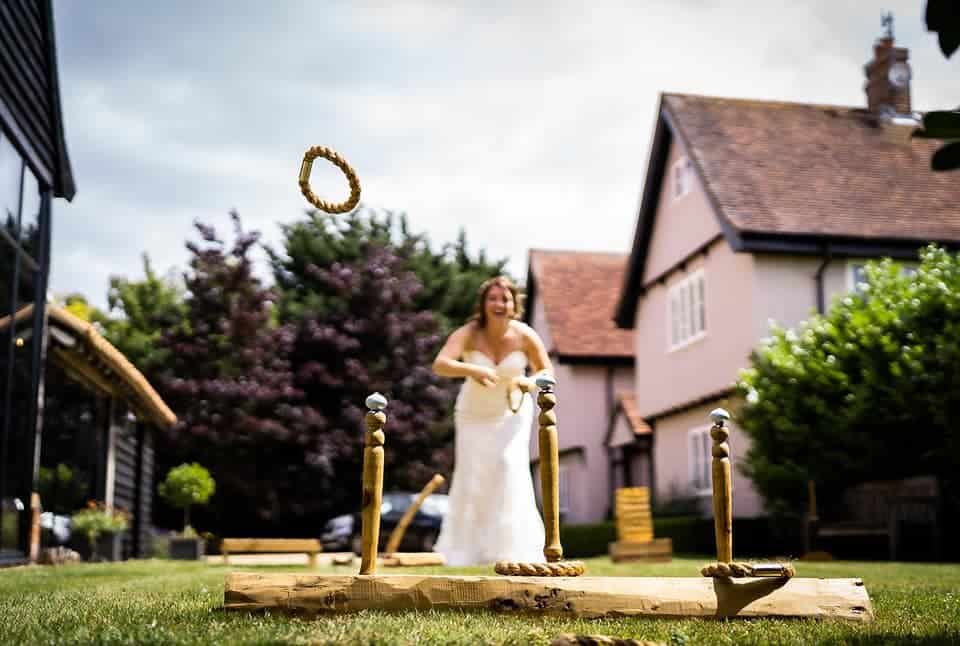 20. Games and activities
Arrange lawn games like pumpkin bowling, cornhole, or a hay bale maze for guests to enjoy during cocktail hour or the reception. It adds a fun and interactive element to the celebration.
More blogs you will love!