Okay, I am going to say it! Autumn might just be my favourite wedding season!
Especially when it comes to autumn bridesmaid dress options. From warm and cosy fabrics to rich, earthy tones, there are so many options to choose from.
In this blog post, we'll take you through the ultimate guide to autumn bridesmaid dresses, covering everything from the best colours to the most flattering styles. And as always, the hottest trends for the season.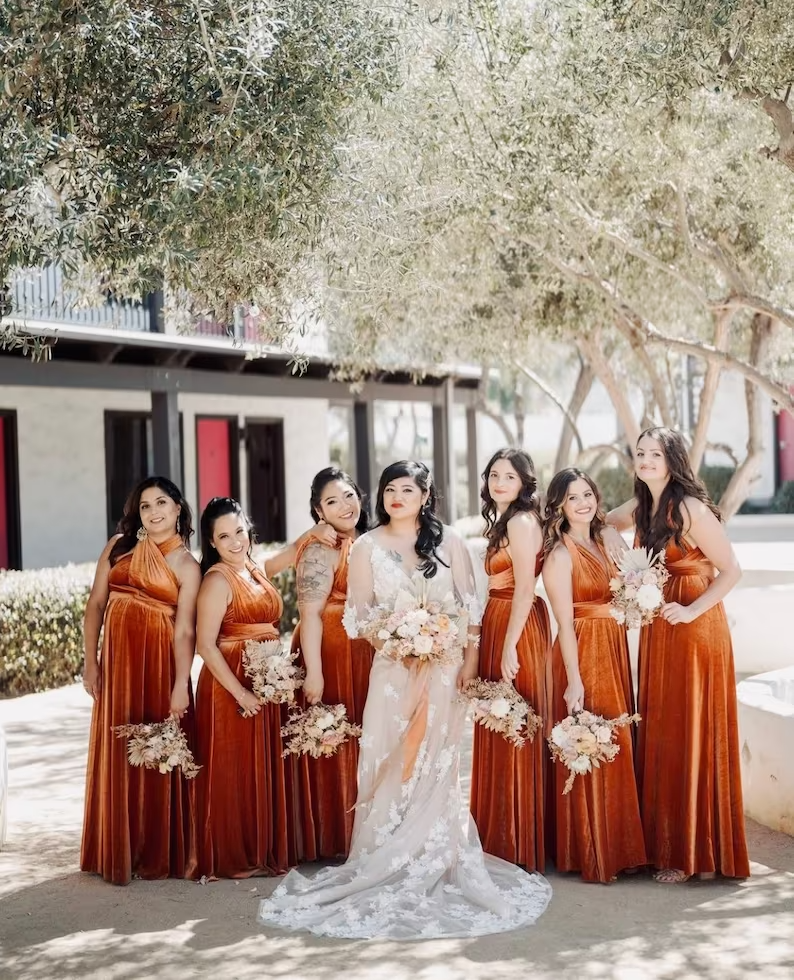 Best places to buy autumn bridesmaid dresses
Related blog post: Autumn Wedding Ideas
Autumn bridesmaid colours
Who doesn't love the warm rich tones of autumn? I love that in autumn you can go any way you wish with colours.
Deep, dark, rich and moody. Or keep it light and fresh with soft blue or greens and neutrals. You can even go bold and bright with a jewel-tone rainbow theme. Here are some colours that we love for autumn.
Deep jewel tones: like emerald green, ruby red, sapphire blue, and amethyst purple are perfect for autumn weddings. You can go dark or bright, mix 1 or 2 or a full rainbow.
Warm neutrals: Shades of beige, taupe, and caramel are great for autumn bridesmaid dresses. These colours have a cosy and comforting feel, making them perfect for cooler weather.
Earthy tones: Colors like deep brown, burnt orange, and mustard yellow are perfect for a fall wedding. They bring warmth and depth and complement the natural beauty of the season.
Darker shades: Rich, dark colours like navy blue, burgundy, and black are also great choices for autumn bridesmaid dresses. They add sophistication and drama to the bridal party and pair well with the cooler weather.
Metallic colours: Like Copper, bronze and gold. All metallics will work but darker golds and coppers suit the season best.
The best autumn bridesmaid outfits for 2023 weddings
We are committed to providing unbiased, credible reviews so you can choose with confidence. We may earn commissions on purchases made from visiting our partner stores. Please see our policy here.
Autumn accessories for bridesmaids
Yet another thing I love about autumn weddings is the accessories. You can have fun and layer your bridal party outfits in autumn. Add some leather jackets, and cosy jumpers or go all out with capes!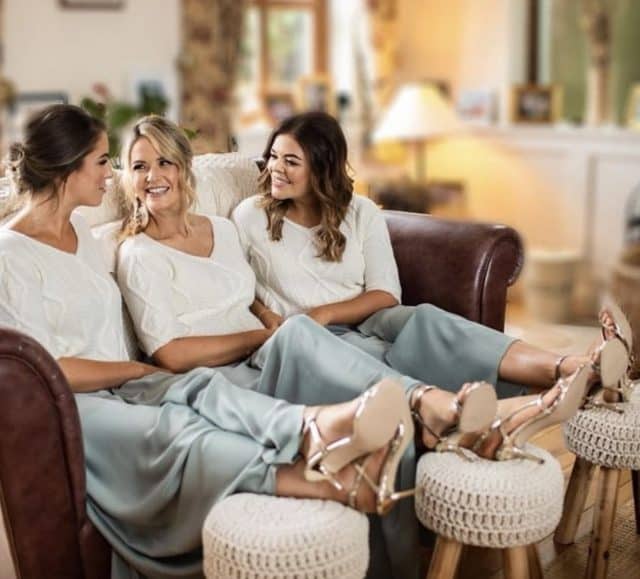 More blogs you will love!