Planning a wedding can be an overwhelming task, especially when it comes to figuring out who pays for what.
One of the most common questions that come up is who should pay for bridesmaids' dresses and all the other details.
Understanding who pays for these items is important in order to ensure everyone involved feels happy and respected as they take part in this special day.
In this blog post, we will explore the various options available so you can decide what works best for your wedding party.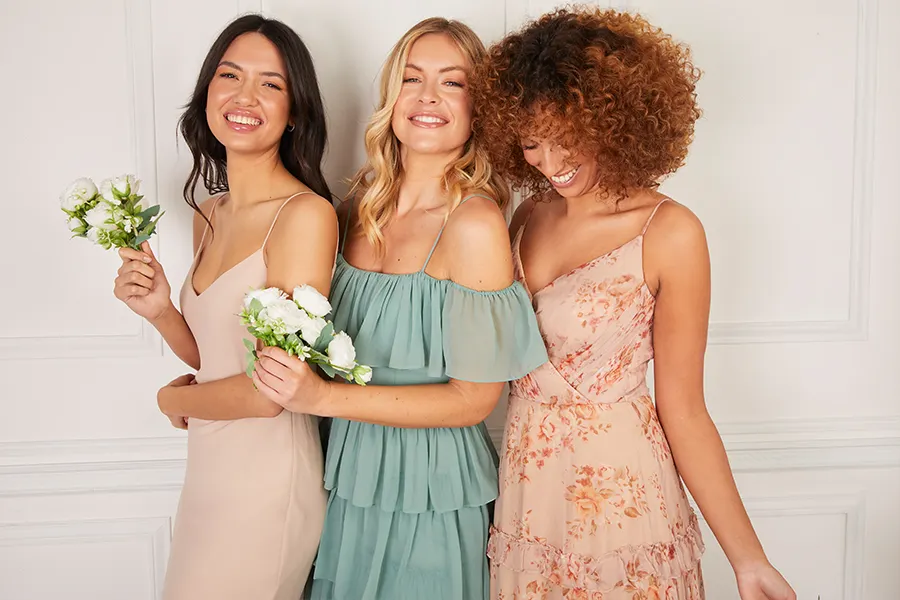 Who pays for the bridesmaid dresses?
In the UK it is traditional for the couple to pay for the bridesmaid dresses.
However, around 25% of couples do ask for the bridesmaids to cover their own dress costs. So if you feel you don't have the costs in your budget don't feel bad about asking.
Do be mindful of their costs and financial situation. Also, you may have to be more lenient on style or dress choices if you are not paying for them.
In the USA it is tradition for bridesmaids to pay for their own dresses. Again, this isn't always the case.
If the couple has it in their budget and wishes to cover the costs this is usually the case.
Giving choices in different price ranges can be a great way to make sure all of the bridal party can afford the outfit.
Saving money on bridesmaid dresses
Whoever is paying for bridesmaid dresses there are ways to save some cash.
Plan to buy dresses in the sales
Rent a dress rather than buy
Sell the dress after the big day
Head to our bridesmaid cost blog for money-saving tips.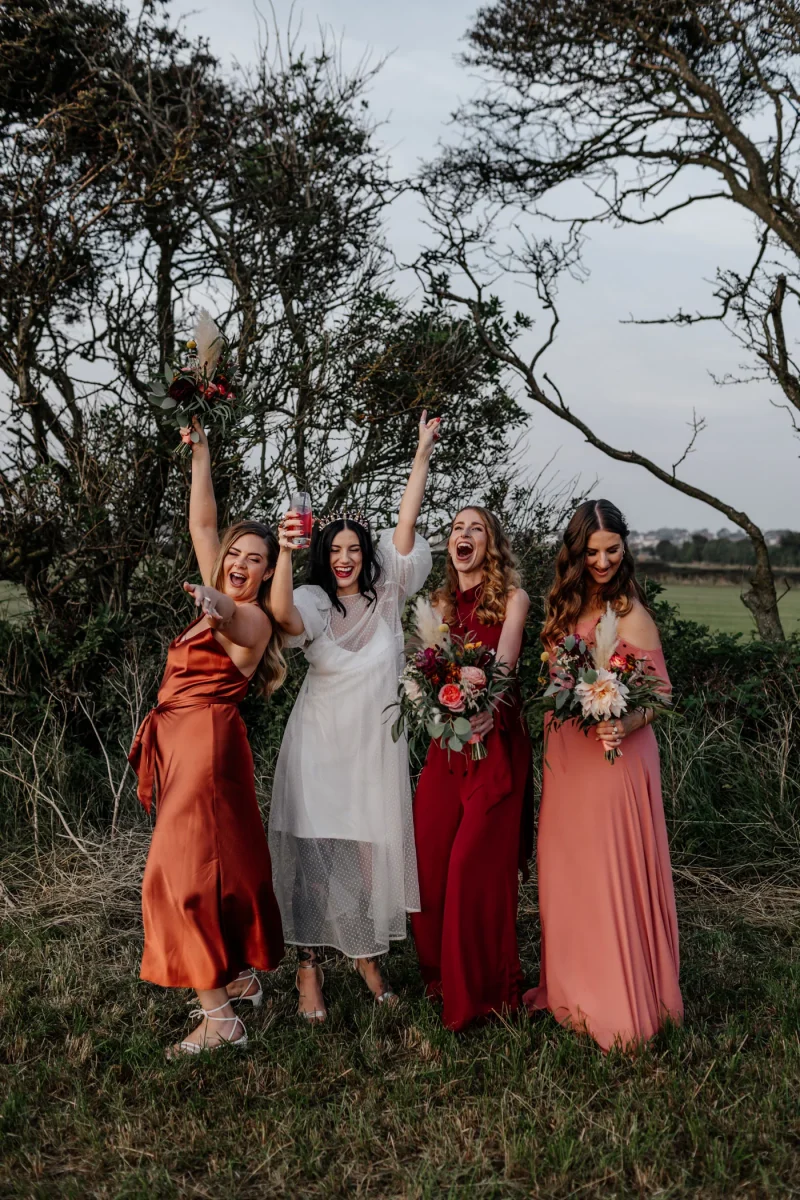 Who pays for bridesmaids' hair and make-up?
This one varies a little and but traditionally the bridesmaid covers this. Especially if the couple is covering the cost of outfits.
If you want your bridesmaids to have a certain look and hairstyle that requires a professional I do think it is fair you offer to cover the costs.
Otherwise, if you are happy to allow them to do their own or give them the choice to book in with the stylists then it is more than reasonable to ask them to pay.
Let them know the price beforehand and then give them a deadline to decide.
Who pays for bridesmaid accessories and bouquets?
The couple should cover the cost of any bouquets or flowers you wish them to hold down the aisle.
As for accessories, if you want them to have something matching then really the couple should pay. This can be given as a gift to the bridesmaids to keep. Think about hair accessories, matching belts, shawls, or jackets.
If you are happy for them to add their own accessories then this should be covered by the bridesmaid if they wish to add some. Be clear on the style of the day if you don't want anything too crazy!
Bridesmaid shoes, who pays?
This one is less thought about, sometimes forgotten! Again, if the couple is covering the outfit costs it isn't unreasonable to ask the bridesmaid to cover their shoe costs.
If you are happy with any shoes, maybe just a certain colour, they may have them already. They can get shoes they know will be comfy all day for them.
If you have a certain shoe you want them to wear and within your budget, I would consider paying for them.
Bridesmaid Jewellery
Traditionally the couple would buy this as a thank-you gift for the bridesmaids. If you would like them to wear matching jewellery it is a nice touch and a way to say thanks.
If you don't want them wearing jewellery or are happy for them to wear their own, then, of course, it is not needed.
More blogs you will love!