Bridesmaid Jumpsuits
Putting your bridesmaids in a jumpsuit is a huge yes from us!
They are a great modern option that are also super stylish.
They are comfortable and with so many shapes and styles available, there will be a jumpsuit to suit everyone in your bridal party.
They are the perfect alternative to traditional bridesmaid dresses.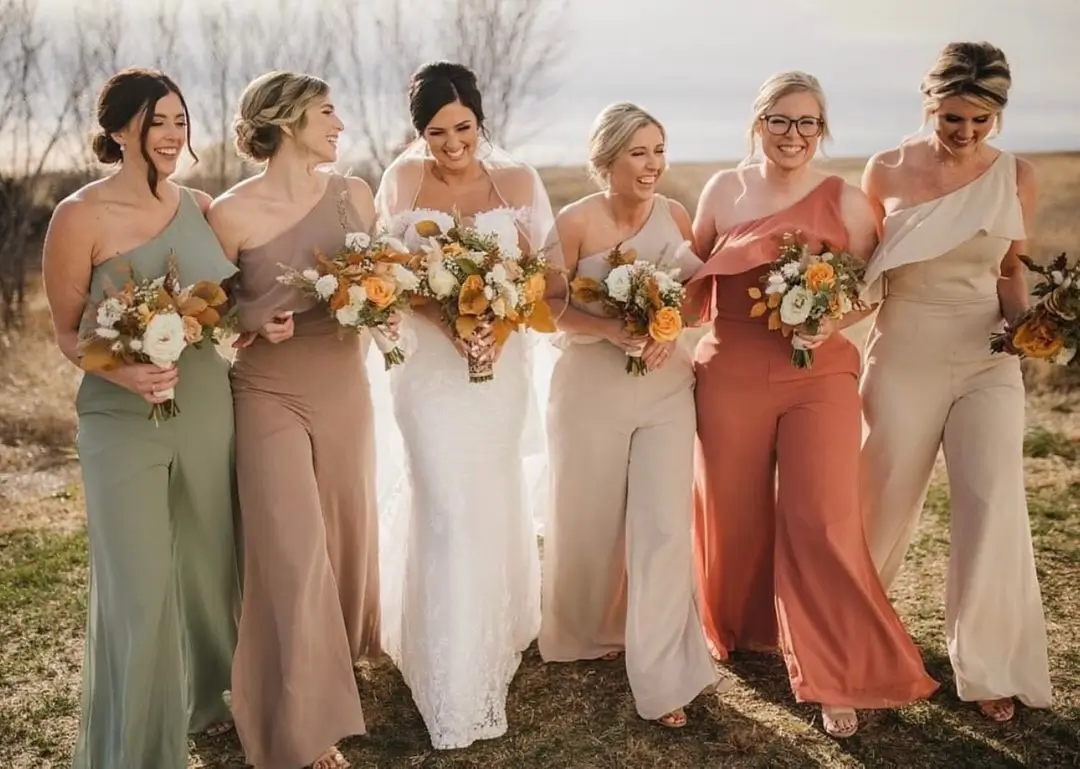 We are committed to providing unbiased, credible reviews so you can choose with confidence. We may earn commissions on purchases made from visiting our partner stores. Please see our policy here.
THE BEST BRIDESMAID JUMPSUITS FOR 2022 AND BEYOND!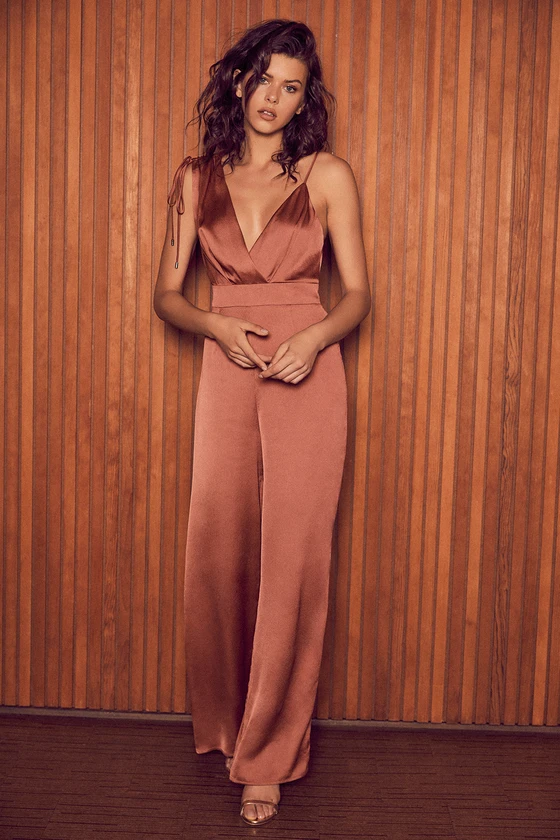 1. RUST SILK BRIDESMAID JUMPSUIT
I just love this colour! It is perfect for an autumn wedding but with the right colour matching it could work in any season.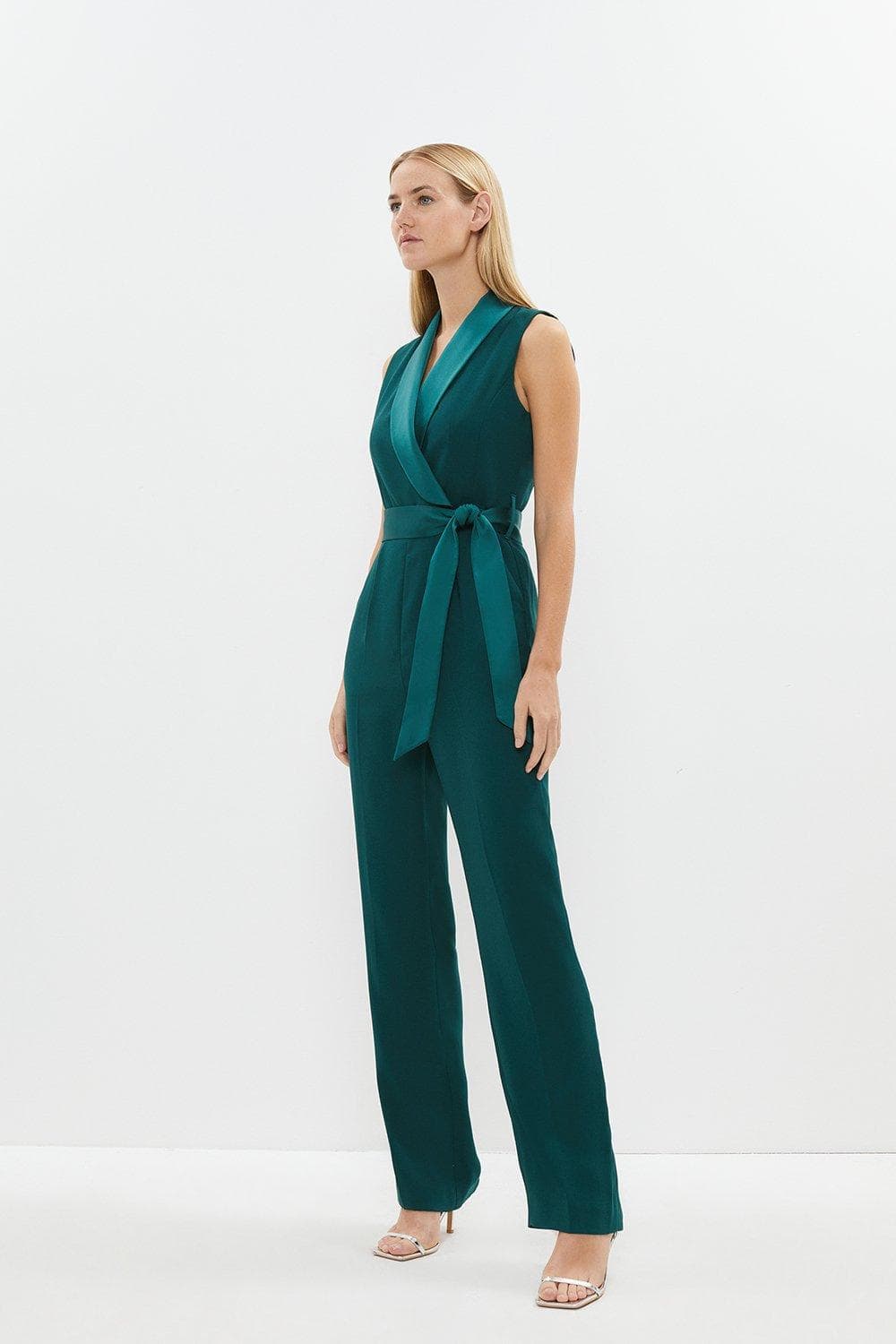 2. BEST FOR A FORMAL WEDDING – COAST
This jumpsuit is perfect if you are wanting a formal feel while still something unique. It comes in 8 colours so you can mix and match.
Size: 8 – 18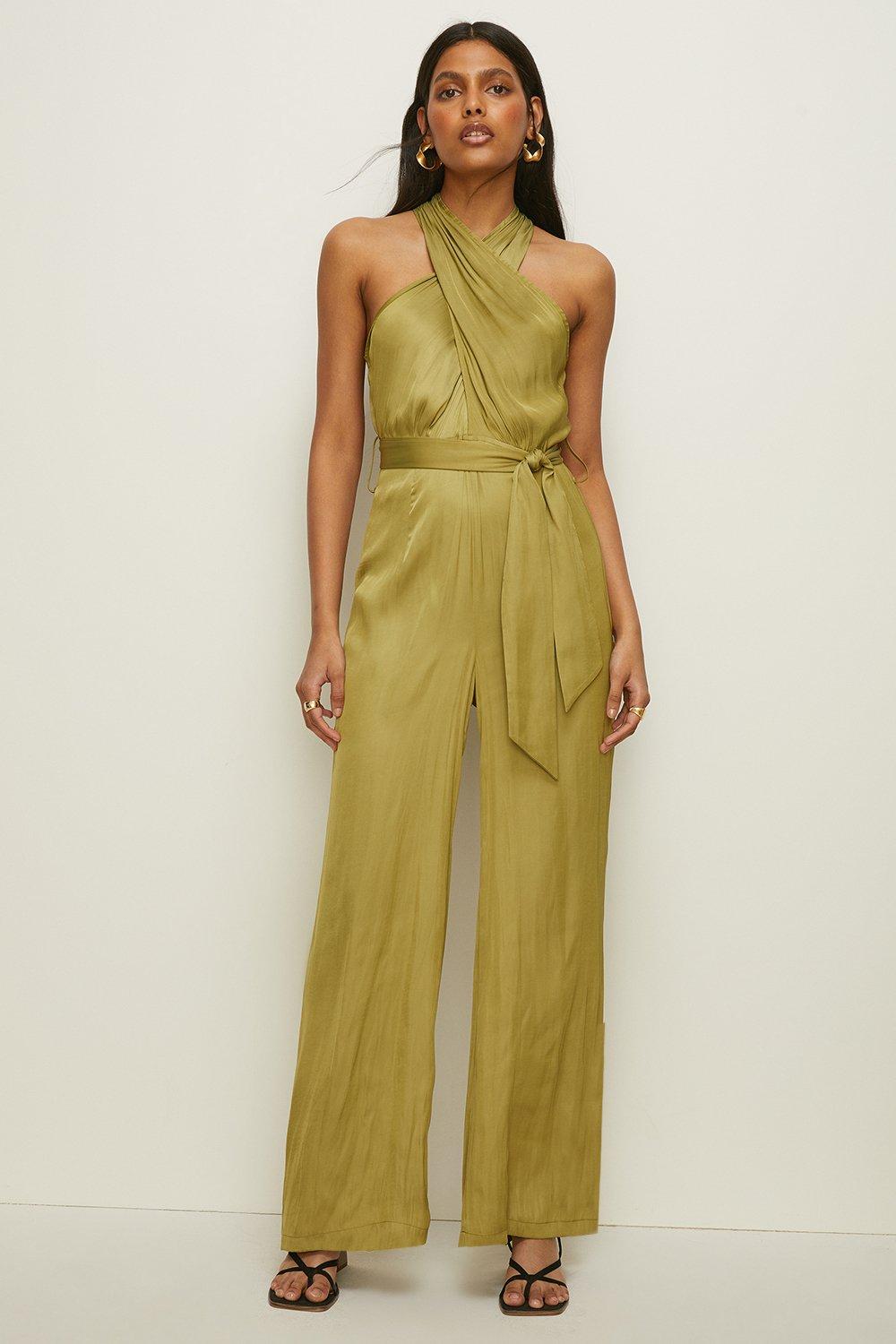 3. BEST HALTER NECK JUMPSUIT – OASIS
I love this olive green colour for bridesmaids. This jumpsuit comes in 6 colours if green is not your thing. The halter neckline is modern and flattering.
Sizes: 6 – 18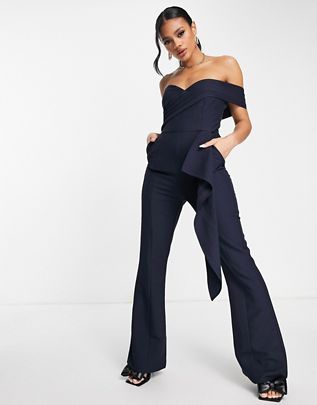 4. BEST NAVY JUMPSUIT – LAVISH ALICE
I love navy for bridesmaids, they get the benefit of wearing a darker colour while not being black.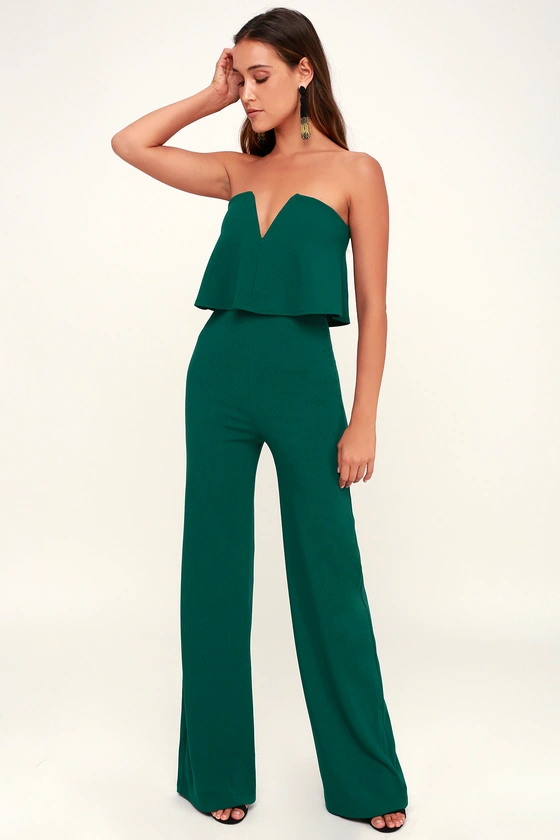 5. BEST GREEN BRIDESMAID JUMPSUIT
Simple, modern and stylish.
This clean cut jumpsuit is the perfect winter or autumn green bridesmaid jumpsuit.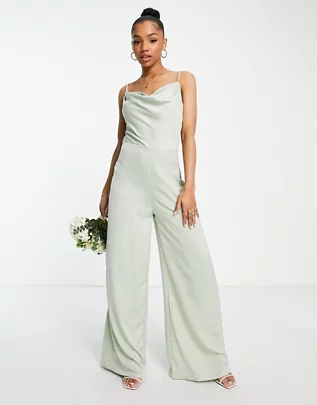 6. BEST SAGE JUMPSUIT – LITTLE MISTRESS
Sage green is everywhere in the wedding world right now.
Going for a jumpsuit is a modern way to add the trend to your big day.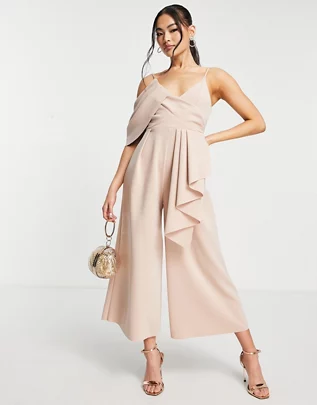 7. BEST FOR A FORMAL WEDDING
This jumpsuit is formal with some unique design elements.
Perfect for a formal summer or spring wedding.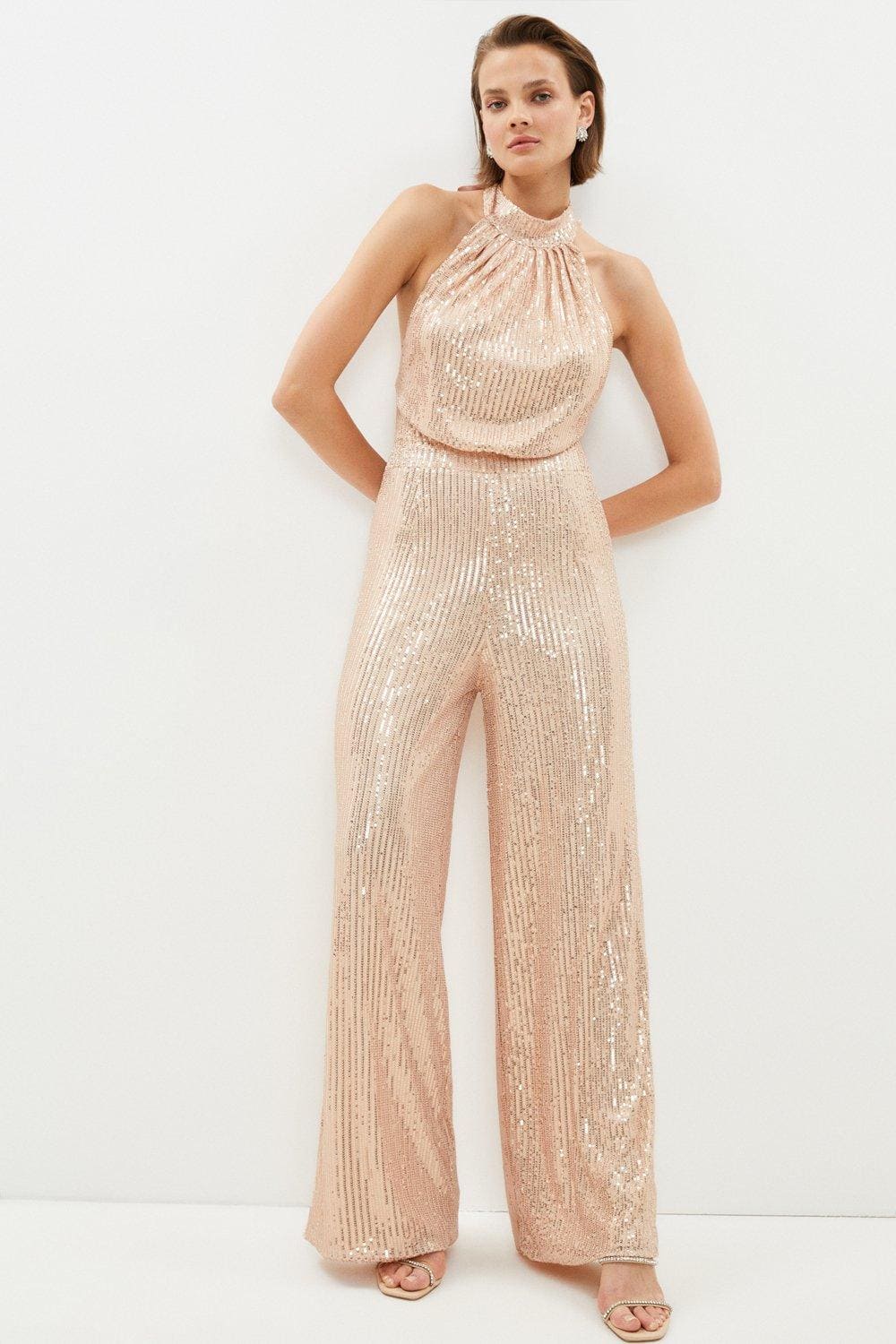 8. BEST CHAMPAGNE COLOURED JUMPSUIT – COAST
Why do champagne bridesmaid outfits always look better in sequins?
I love this jumpsuit, the sequins are just enough sparkle.
Sizes: 8 – 18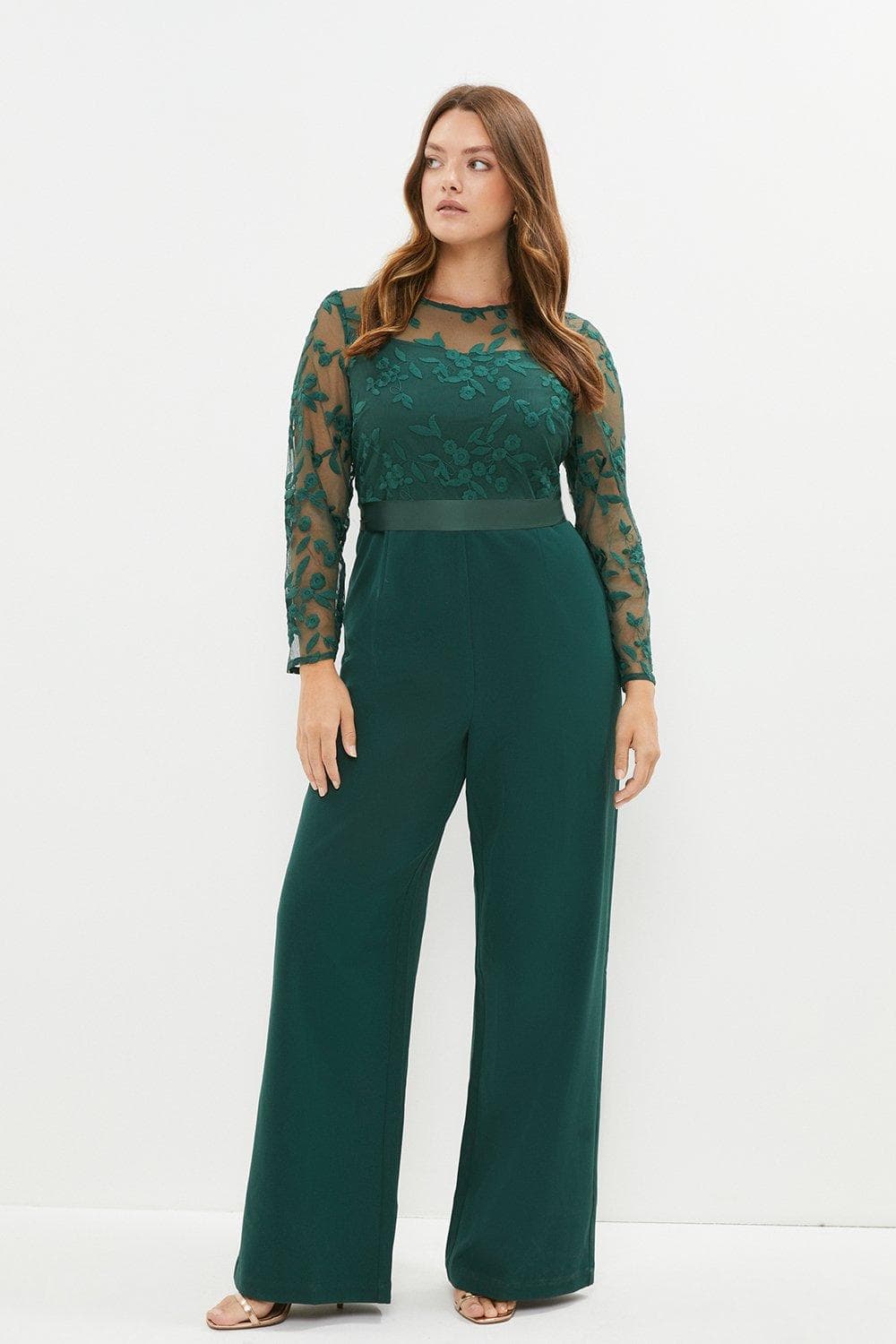 9. BEST FOR THE CURVY BRIDESMAIDS – COAST
This jumpsuit comes in a great size range. It also has lots of colour choices.
I think most of all I like that it really does suit any body shape or size. Perfect for a mixed bridal party to cater for. 
sizes 8 – 26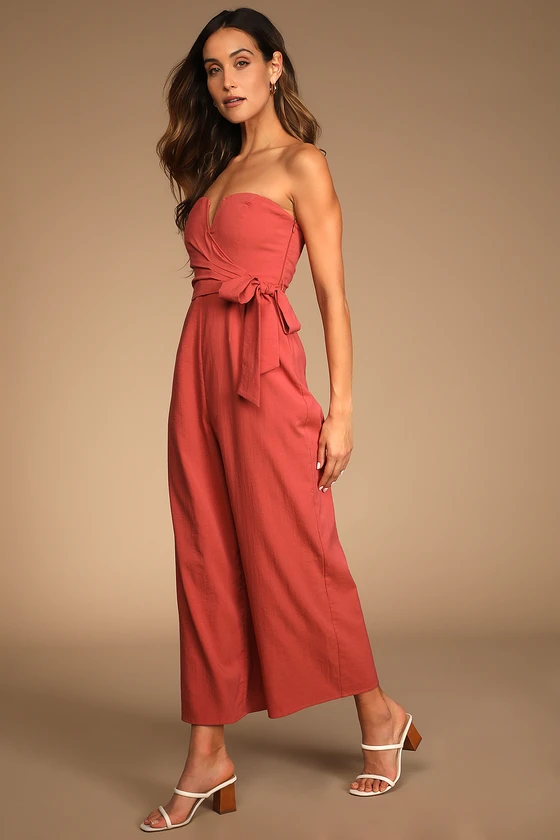 10. BEST CULOTTE BRIDESMAID JUMPSUIT
A culotte jumpsuit is the most flatter silhouette you will find. It is easy to wear but looks super stylish.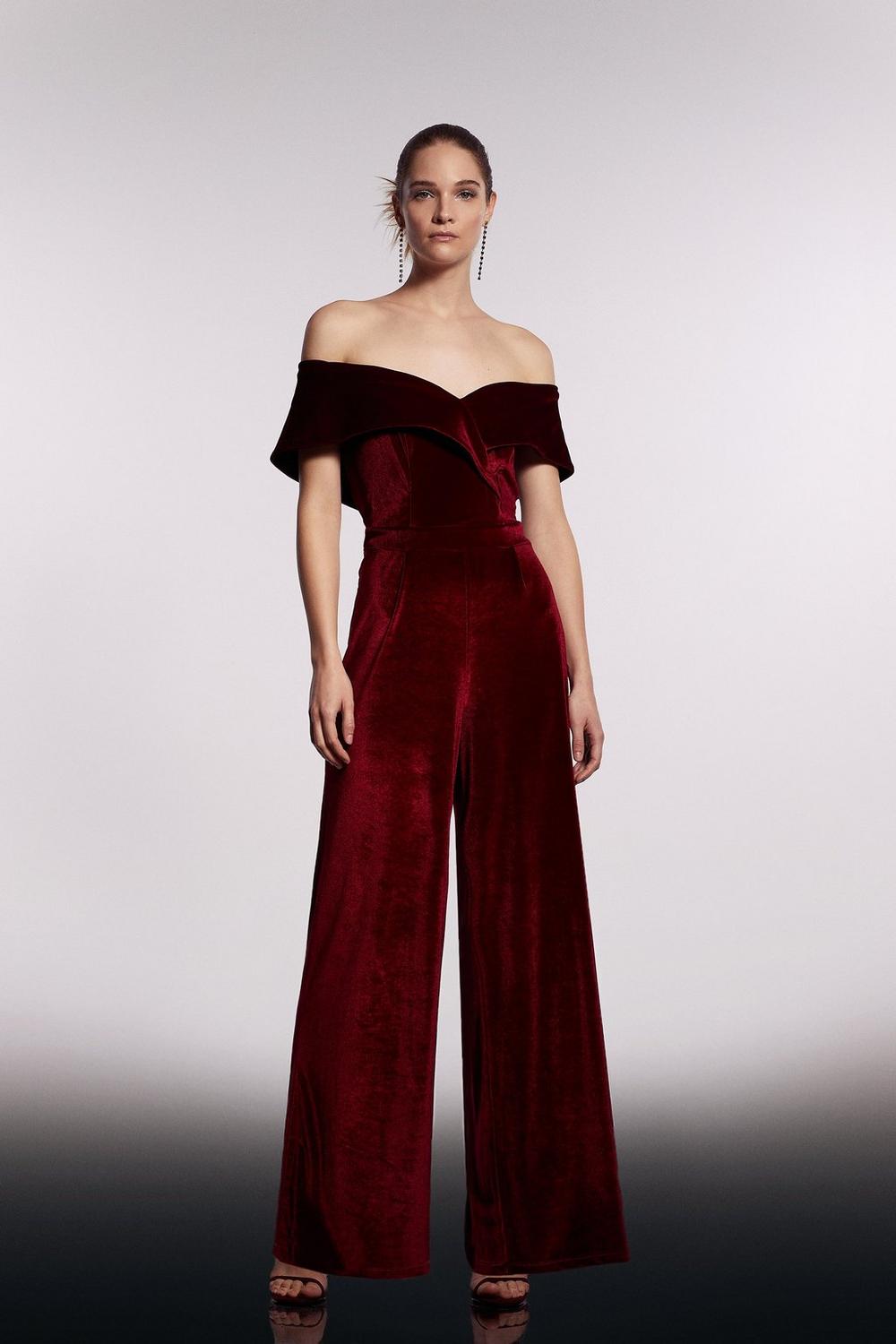 11. FOR A WINTER WEDDING 
Velvet and winter are just a match made in heaven.
This jumpsuit is perfect for a colder wedding day, warm and stylish. 
sizes: 8 – 18
Styling bridesmaids in jumpsuits
There are lots of different ways to go about styling your bridal party with jumpsuits.
You can do them all in the same style and colour for a uniform look.
Another great option for your bridal party is to go full mismatched jumpsuits. You can pick a few different colours or styles and then let each person choose their favourite. This is also a great option if you have a large bridal party, as it can be difficult to find enough of the same style in one colour.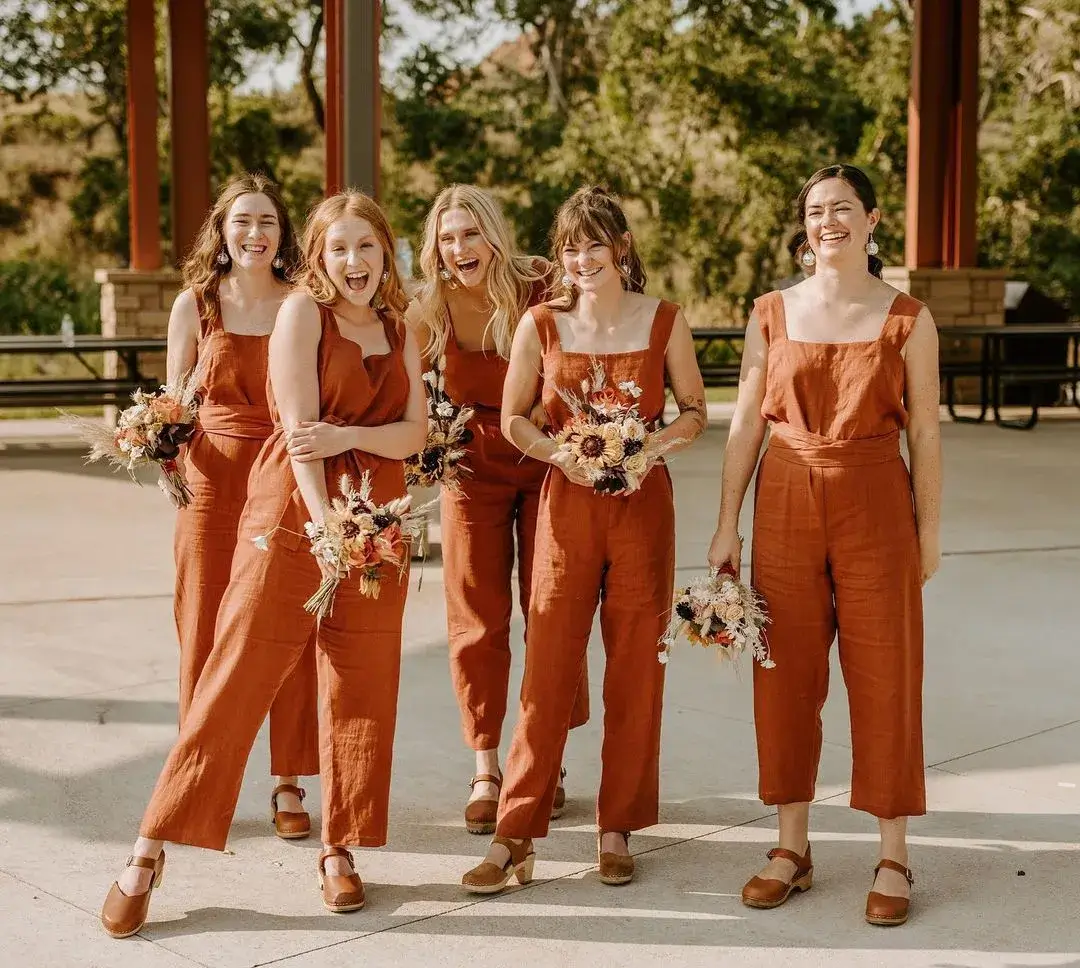 FAQS
CAN MY BRIDAL PARTY WEAR JUMPSUITS?
Yes! Jumpsuits are a great option for your bridal party. They are comfortable and with so many shapes and styles available, there will be a jumpsuit to suit everyone in your bridal party.
WHO PAYS FOR THE BRIDAL JUMPSUITS?
It is traditional for the bride to pay for her bridesmaids' outfits. However, you can discuss this with your bridal party and come to an agreement that works for everyone.
WHAT COLORS ARE POPULAR FOR BRIDAL JUMPSUITS?
There are no set rules when it comes to choosing the colours for your bridal party's jumpsuits. You can choose to have all your bridesmaids in the same colour, or you can mix and match different colours. Some popular colour options for bridal jumpsuits include white, pastels, blush, and black.
More blogs you will love!