This is probably one of the most asked questions in our DMs! Along with where to buy bridesmaid dresses online.
Luckily bridesmaid dress choices have advanced a lot over the years, no more ruffled ugly things! Well actually not ugly but ruffled is definitely back in fashion!
The thing is there is no one right answer to this question! The perfect place to buy bridesmaid dresses or outfits depends on what you are looking for and what you value.
Looking for something unique, modern, traditional, a particular colour, or budget-friendly?
Each one will mean that a different dress designer or supplier will work best for you and your bridal party.
We have researched this one hard! We are not just listing anywhere and everywhere you can buy bridesmaid dresses. We have looked at the choices, delivery returns policy, and much more. To bring you the best places to buy bridesmaid dresses in the UK.
Now if you are not from the UK or are happy to wait a little longer and deal with international expenses there are more options on our best online bridesmaid outfit blog.
Where to buy bridesmaid dresses in the UK
If you are looking for cool, modern bridesmaid outfits that won't break the bank rewritten is for you!
They are not budget but I think they are at a reasonable price point, especially for the quality and style.
Most other modern, fashion-forward bridesmaid dress brands start at £300 and rewritten starts from £150.
They have a good colour selection and modern and fresh colours. with a mix of mutated soft tones and more rich colours.
They go from a size UK 8 up to a size UK 26. I did notice bigger sizes do seem to be more limited with styles, possibly just what is available though when I've looked.
They are always my first thought when asked about the best UK bridesmaid dresses and definitely deserve our editors' choice badge!
You can order online or they have a flagship store in London.
They are also stocked in some bridal boutiques if you are looking for the shop experience.
They have a small selection available at John Lewis.
2. Best colours – TH&TH
To have and to hold is another boutique bridesmaid designer that I just love.
If you are looking for modern velvet options for your bridesmaids this is the place to shop!
I use to tell couples they will struggle or have to order from the USA for good velvet bridesmaid dresses but TH & TH now have all autumn and winter couples covered.
They have 16 colour options, when I checked, which is not a huge amount but a good range. What I love though is their unique colour choices, they are modern, stylish colours you will love!
Their cheapest dresses are £180 and most around the £220 mark.
So not budget-friendly, but you are paying for quality. I was really impressed with their sizing options, UK 6 to 28 and that seems to be all styles.
You can shop online but they have a lot of stockists around the UK for that shop experience and try-on.
3. Best budget – Asos
ASOS has its own bridesmaid range which is really budget-friendly.
They also stock other brands so offer a good range of bridesmaid dress options.
Personally, I do find their colour choices limited at certain times of the year. They are pretty standard popular colours but not many modern unique options.
I think if shopping online and looking for budget-friendly options you really can't go wrong with ASOS.
They have a wide range and reasonable prices. Their returns policy is great so again you can order a few and see which you like.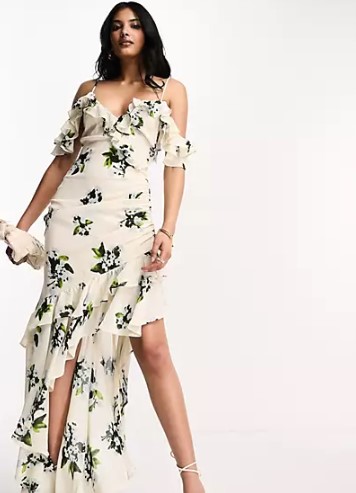 4. Best boutique experience – sisterhood
Wanting to treat your bridesmaids to the bridal dress experience?
Sisterhood is definitely the one!
They have 5 shops across the UK, they spread from Scotland to London so their such be one not too far for most.
They have a good selection and colour range, and you will definitely find something that suits each bridesmaid.
If you are going for a mismatched bridesmaid look then heading to a boutique is a great way to pick which colours or styles match.
Their prices start from £150, which I think is good as you get the boutique experience.
Their sizes are UK 6 – 22, but alterations are available at an extra cost.
We haven't yet but we are going to head to our closet store, Liverpool, this year to have a look and give you a full review!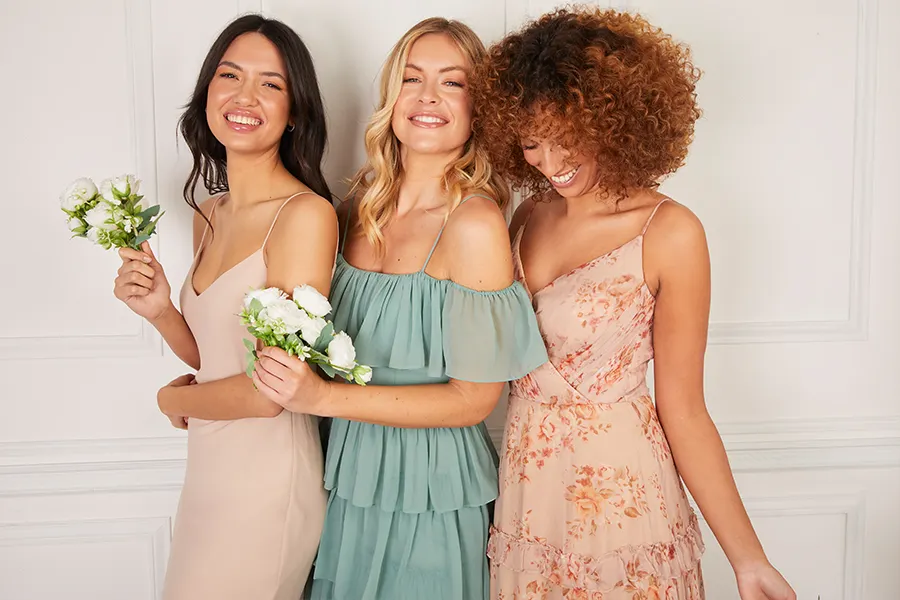 5. monsoon BRIDESMAID COLLECTION
Romance, is always what comes to mind when I think of monsoon dresses.
Their bridesmaid range is so pretty and delicate and perfect for a whimsical wedding look.
Their choices are more limited, especially with colour choices. This is made up for though with their unique choices.
They have a great recycled range if you are looking for a more eco-friendly choice.
Monsoon has stores across the UK. Lots of stores are smaller so stocked bridesmaid dresses may be limited.
You can order online and the returns policy is good so order all the ones you like and have a try-on at your home.
We have an in-depth monsoon bridesmaid dress review here and share all our favourite picks!
If you want lots of choices then heading to Selfridges is a great option.
They are one of only a few stockists of Jenny Yoo bridesmaid dresses in the UK.
You can get a mix of prices as they do stock different designers. They are a high-end alternative to Asos.
The convenience of having different designers all in one place to mix and match for the perfect bridal party look.
Also, they have the added bonus of shops. Especially with the occasionwear you can go in and try on and make a nice morning or afternoon out to find the perfect outfits.
7. oasis Fashion Bridesmaid dresses
Oasis has some lovely modern bridesmaid dresses.
They have a good mix of styles but not a huge colour choice, a good range though.
They have a great plus-size range that I was impressed with.
Their prices are reasonable with some as low as £65 but most around the £100 mark, going up to £200.
Unfortunately, oasis has closed all stores now. Their return policy is good though.
So like others mentioned you can order a mix of styles, colours, and sizes and have a try-on at someone's house.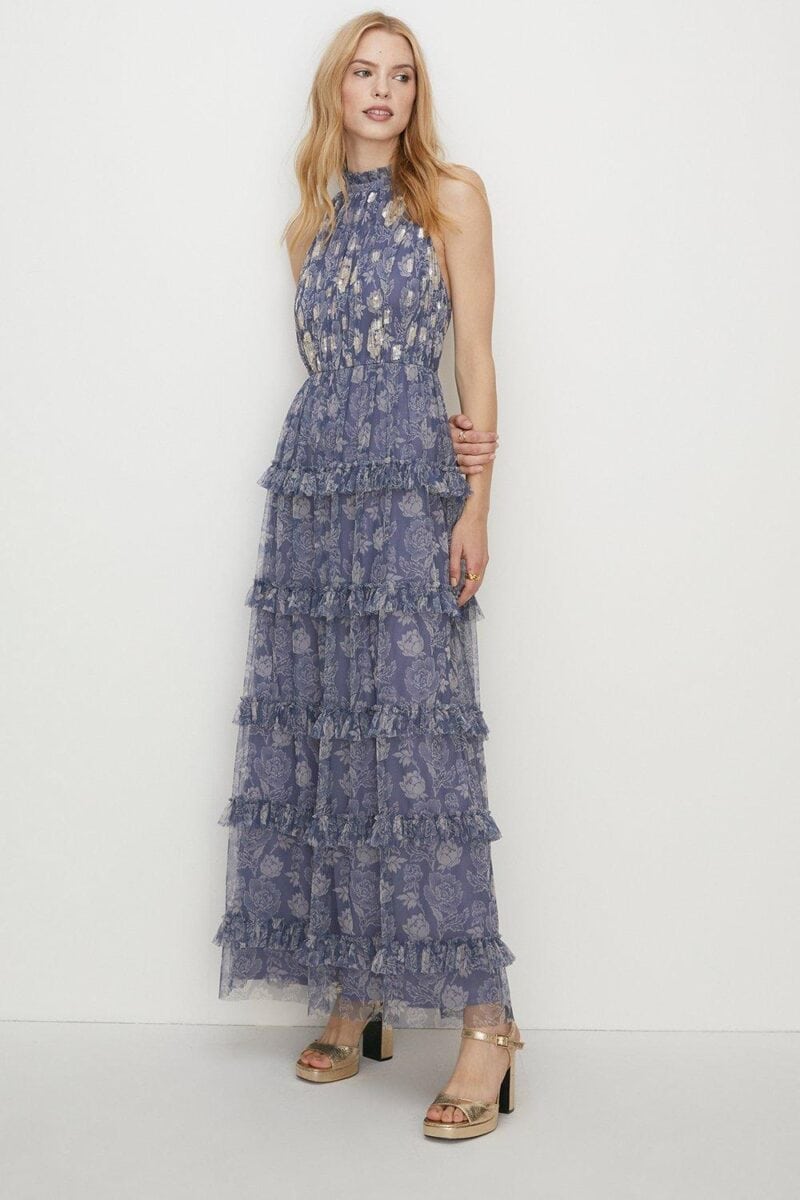 Chi Chi London has really upped its wedding range in the last few years.
They have a great bridesmaid range.
I haven't worn a bridesmaid dress of theirs but I use to always buy a Chi Chi dress when a wedding guest. The quality was always great and I always got so many compliments on my outfit.
They have a wide range of styles and an okay range of colour choices.
They have one of the best size ranges I have seen from size UK 4 to 26.
The thing I think they stand out the most for though is their matching child range.
They are one of the few that have child dresses that match their adult options.
I also don't mean the same dress but smaller, which can look so bad! They have child dresses, that coordinate with the adult range.
9. for the minimalist couple – coast
Coast really did surprise me with their bridesmaid range. I thought it would be more formal and traditional but they have some stylish modern pieces I just love.
They have a few minimal dresses that are so stunning.
They have jumpsuits, ruffles and modern cut designs. They really are worth a look if you haven't already!
Their sizes are good with most outfits UK 4 to 26.
They have an okay colour range but are a little limited.
Unfortunately, like with most stores, they are online only now.
They have good returns so you can order lots of options and have a try-on day at home.
10. For fashion-forward bridesmaids – ghost
Ghost has some of the most fashionable bridesmaid dress options I've seen.
I am in love with their grace satin dress. I am not sure how a dress can look so vintage and modern in equal parts, but this one does.
Their sizes are limited, with no plus-size options.
You could say their colours are also limited but I feel they make up for this with their modern unique colour options.
If you are looking for modern, fashion-forward bridesmaid dresses, then Ghosts could be for you!
Their prices start at £159 and up to £225. They do often have sales though with up to 50% plus off!
They have a few London stores but are stocked by John Lewis so you may be able to see them in-store and try them on.
There is also a Ghost outlet in Kent, I haven't been but if close by could be worth a look for a bargain!
I just love Needle & Thread, especially for a wedding. Their dresses are just so romantic and pretty.
They are in the higher price range, with dresses starting at £220 and some around £400!
I think though if you are looking for dresses in this price range you can't go wrong.
Your bridesmaids will love the dresses and be able to wear them again and again.
They are stocked in Selfridges and when I've been to try on one of their dresses here it is a nice experience. They had a small changing room and a nice waiting area, it is very similar to a boutique feel. You could make it a nice day out for sure.
12. Best for floral or patterned – reformation
Reformation is USA based but I have included them as they offer free UK shipping and returns!
So keep in mind it will take a little longer, 8/10 days at the longest but definitely worth a look if you have time.
Floral and patterned bridesmaid dresses were gaining a following in 2023 and I predict will be huge in 2024 and beyond!
Reformation is the place to head for modern patterned bridesmaid dresses.
Their sizing is limited with minimal plus sizes, UK 4 to 16 for most dresses.
They are a little pricey, starting at £300. But they are eco-friendly while still offering modern fashion-forward options.
Self Portrait is my go-to for those really special events when you want to look your best.
I think most people who even have a little love of fashion know the iconic 'azaelea dress'. Most will have seen it or a copy at least.
Honestly, if I was a bridesmaid and I was told we were wearing Self Portrait, I would just love the couple forever!
If you want your bridal party to feel amazing then they will do just this!
They are sold in Selfridges, Harrods, and a few other places if you want to try them on. Of course, you can order online also.
They don't have a bridesmaid range but stock the Azaelea dress in many colours and this would make a perfect choice.
Their sizing is limited with no plus sizes, UK6 to 16.
14. For the modern bridesmaids – grace loves lace
If you are looking for slip bridesmaid dresses then Grace Loves Lace really can't be beaten!
They are eco-friendly dresses, 95% recycled satin.
I love the colour choices, they don't have a huge range of colours but they definitely have some of the most stunning colours I've seen.
Their sizes range from xs – xxxl.
They are reasonably priced with most dresses £100.
They do have a UK showroom but I must admit I am not sure if you can go for just bridesmaid dresses. We have enquired and will update you once we have a reply.
15. best for a traditional style – maids to measure
Maids to Measure have a good selection of stylish bridesmaid dresses. I love their Daphne dress!
I feel their colour choice is limited, I did expect more with being a bridesmaid dress retailer. They do offer swatches though which is always a big bonus!
Their sizes range from UK 8 to 24.
They do have a store in Chelsea, which if not far means you can have a nice boutique try-on experience with your bridal party.
They are reasonably priced, £130 to £200. I did see a few sale dresses for as little as £45 though, bargain!
16. H&M bridesmaid dresses
I nearly didn't add H&M. They don't really fit the criteria I set for choice, they have 3 bridesmaid dresses.
Having said that, I just love their halter neck dress. It is perfect for a beach wedding so added it and hoping they add more in the future!
They do also have some great choices that can definitely be worn as bridesmaid outfits also.
17. for a bespoke look – etsy
We recommend Etsy a lot here on the urban wedding blog for bridal options.
There are also some great designers of bridesmaid dresses on there too.
Head to our bridesmaid favourites page for lots of options.
You can narrow down your search to just the UK, but there are some amazing European designers if you have the time for delivery.
Keep in mind you will also find china stores so be careful if you are limited on time and also read reviews for quality.
The beauty of Etsy is you can get made-to-measure, bespoke pieces for a lot less.
They are the perfect option for something unique or if you want particular colour choices you are struggling to find.
More blogs you will love!