Coral is back baby! Burnt orange has been a huge trend but is a little more suited to the colder months.
If you want to include orange in your spring or summer wedding then coral is the perfect choice.
I love coral bridesmaid dresses as part of a mismatched look. It mixes well with pastel tones.
As a mix of ink and orange, you can pull out both colours for a fun pink and orange palette. It also works well with neutral tones for a more minimal look.
For a modern look, you want to go for a muted, matt coral colour.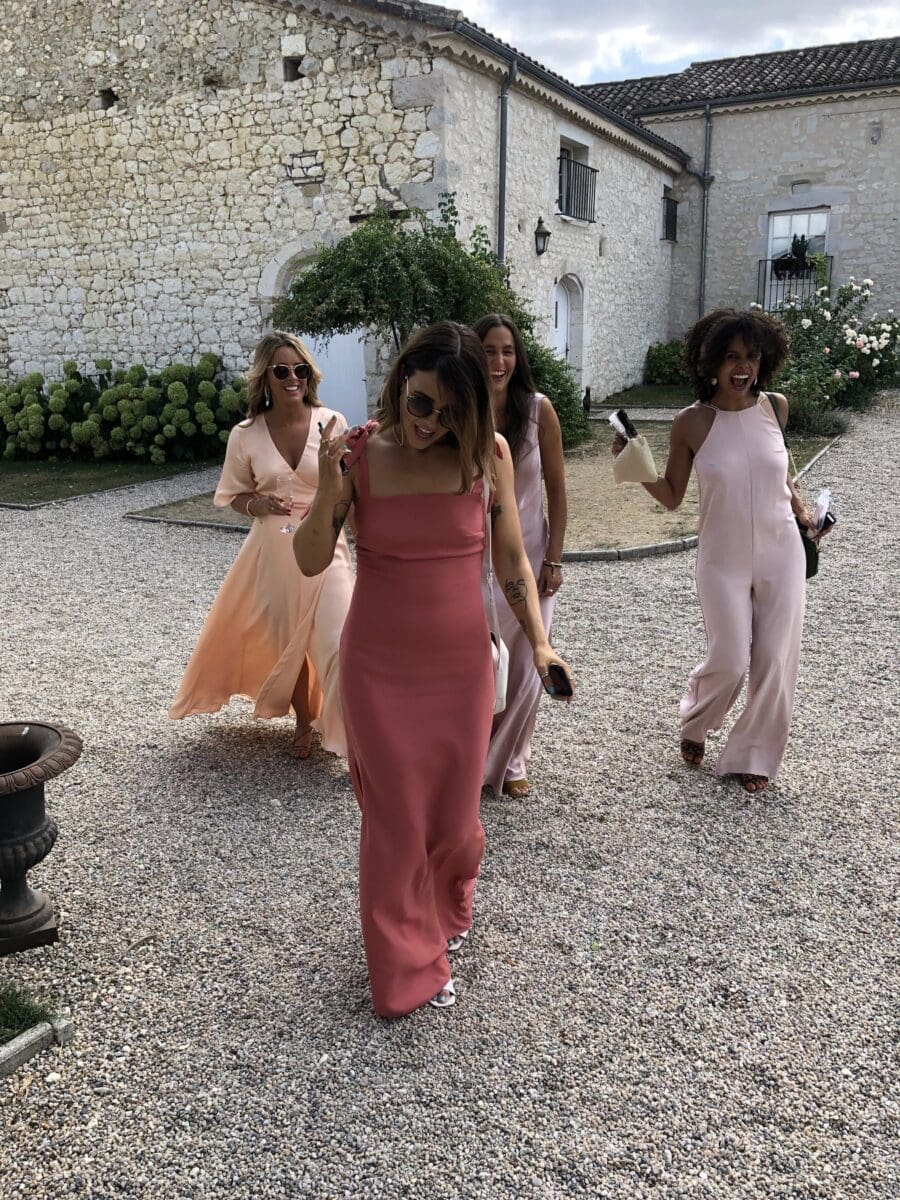 Where to buy coral bridesmaid dresses?
| Shop | Olive colour names | Price Range | UK Sizes |
| --- | --- | --- | --- |
| Coast | Coral | £100 – £300 | 4 – 26 |
| Etsy | Coral, Blushed Coral | £100 – £500 | 4 – 28 |
| Asos | Coral, Coral Pink | £30 – £200 | 2 – 30 |
| Rewritten | Coral, Coral PInk | £70 – £500 | 6 – 26 |
The best coral bridesmaid dresses
We are committed to providing unbiased, credible reviews so you can choose with confidence. We may earn commissions on purchases made from visiting our partner stores. Please see our policy here.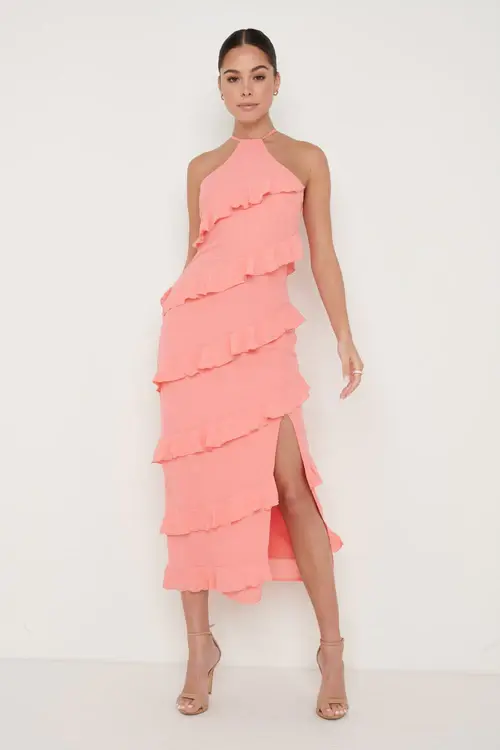 1. For the modern bridesmaid – Pretty Lavish
If you are looking for a modern look for your bridesmaids then this is the dress for you.
It feels great on and the ruffles are great discretion for hiding the tummy area.
They have this dress in pattern and other colours, it would make the perfect mismatch style.
Sizes: 6 – 16 | Fabric: Chiffon| Colour: Coral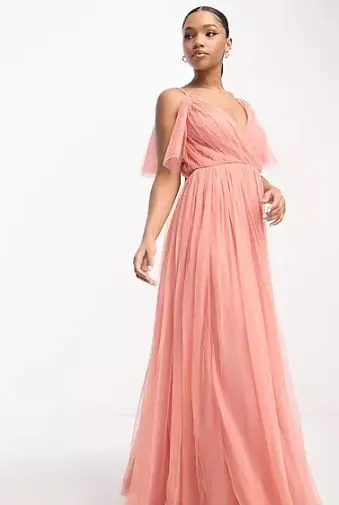 2. Most romantic coral bridesmaid dress
How pretty and romantic is this dress?
Honestly, once you have it on all you want to do is twirl.
Sizes: 6 – 16 | Fabric: Tulle | Colour: Coral Pink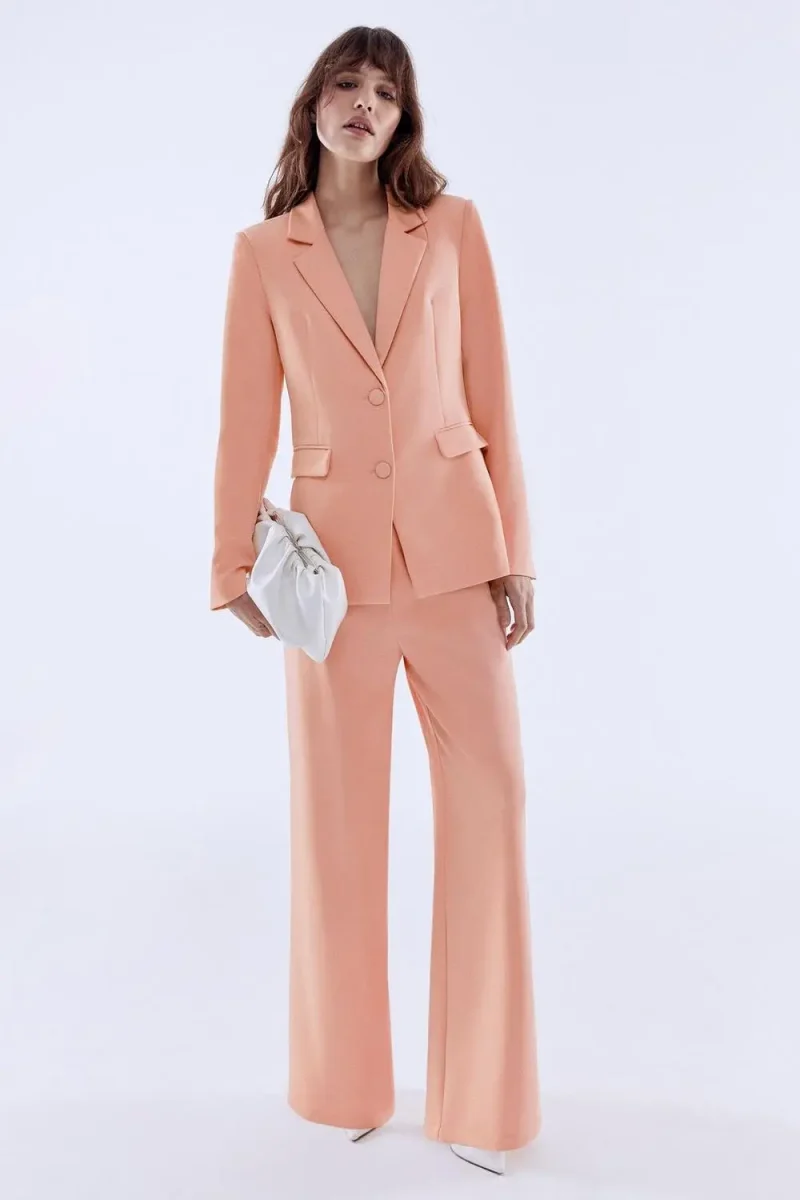 3. Best coral bridesmaid pantsuit – Coast
I am all there for bridesmaids in pantsuits!
Image them all in this suit or the same suit in a mix of colours. Most stylish bridal party ever!
Sizes: 8 – 18 | Fabric: Polyester | Colour: Coral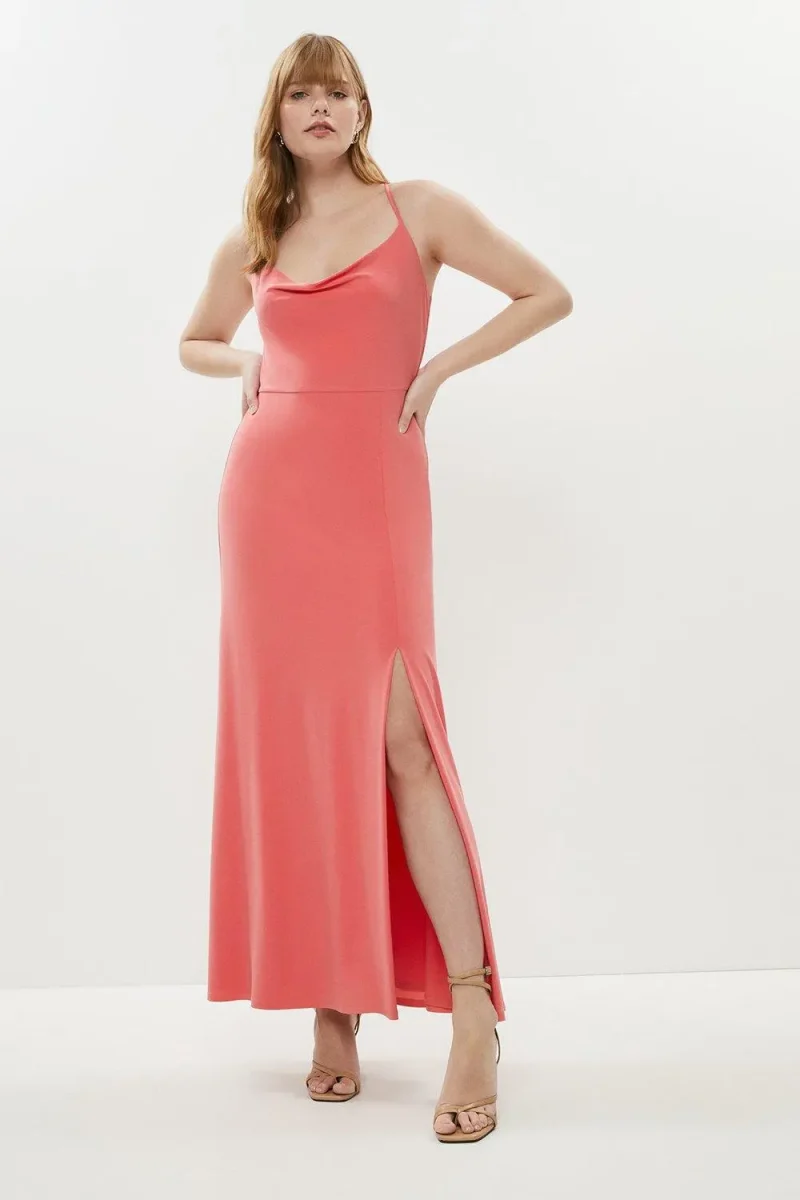 4. Simple coral bridesmaid dress – Coral
I always say simple is the best way to go for bridesmaids. This dress looks and feels great on and can easily be worn again.
Top tip: Wear shapewear under this dress. it gives a clean smooth look.
Sizes: 8 – 18 | Fabric: Stretch| Colour: Coral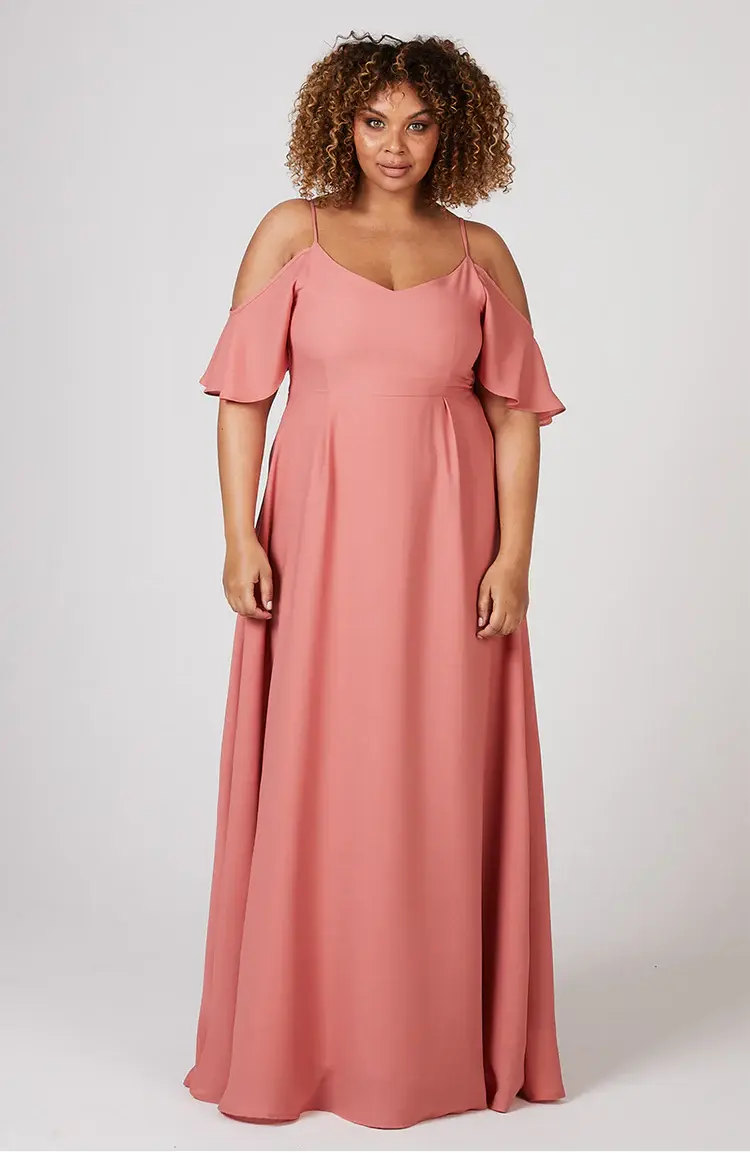 5. Best size range – Rewritten
Rewritten always have a great inclusive range. I hate the tops of my arms so the sleeves on this dress are perfect.
Sizes: xSmall – 26 | Fabric: | Colour: Coral Pink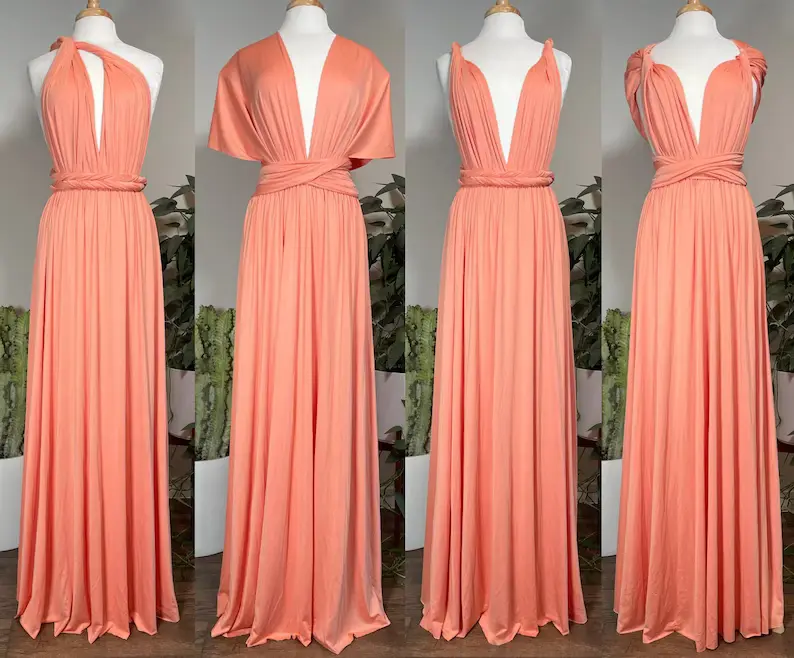 6. Best to cater for lots of body shapes
Multiway are so popular for good reason. They are perfect if you want the same dress but your bridesmaids are all different sizes.
Each bridesmaid can wear the sleeves in a way they feel comfortable.
Sizes: 0 – 26 | Fabric: Stretch | Colour: Blushing Coral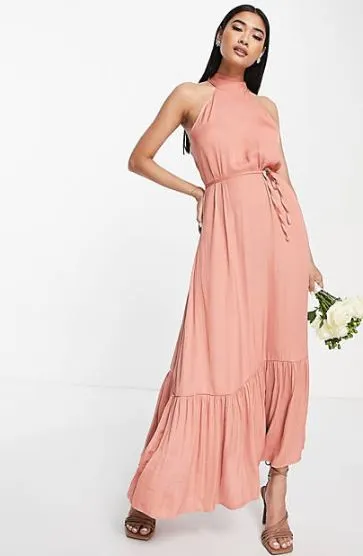 7. Best halter neck coral bridesmaid
A halter neck just makes any simple dress look modern and stylish.
This coral bridesmaid dress would be perfect for an outdoor or festival wedding.
Sizes: 6 – 16 | Fabric: Satin| Colour: Coral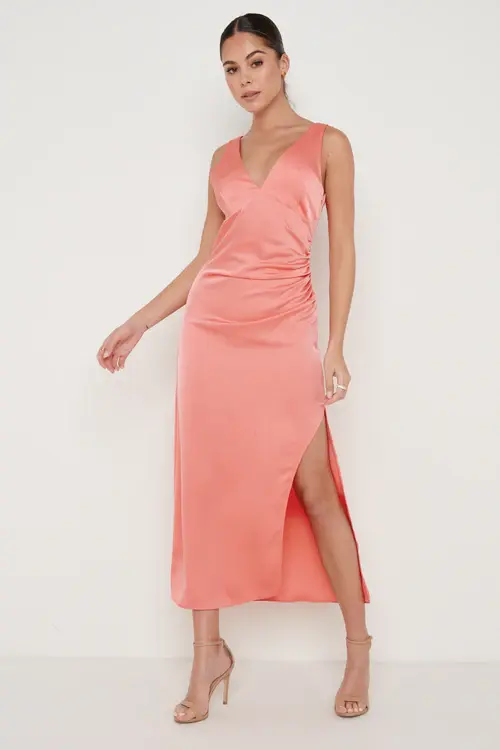 8. For a sexy feel – Pretty Lavish
If your bridesmaids want to feel a little sexy rather than frumpy on your big day, this dress is perfect.
Sizes: 6 – 16 | Fabric: Recycled Satin| Colour: Coral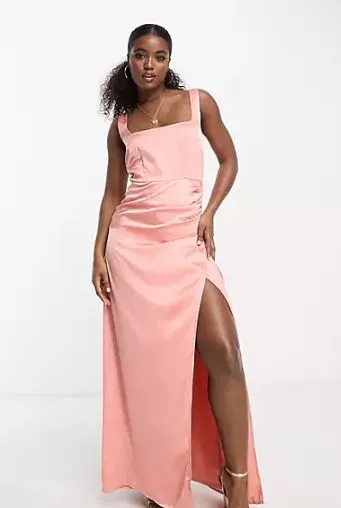 9. Best square neckline – Asos
Anyone else obsessed with square necklines?
I think it makes any dress look more expensive.
Sizes: 6 – 16 | Fabric: Satin | Colour: Coral Pink
Bridesmaid dress FAQs
WHO PAYS FOR BRIDESMAID DRESSES?
This is different depending on the country and also culture. In the UK is more common that the couple pays for the bridesmaid dresses. Usually, then the bridesmaid may be expected to pay for their makeup and accessories. A lot of the time the couple covers all expenses. I always say to my couples to offer what they can afford and be honest upfront when asking bridesmaids. Head here for all the details.
HOW MUCH DO BRIDESMAID DRESSES COST?
Again this depends, if you are budget minded or looking for the best quality you will find dresses for all price ranges. You can look at china or sale options for around £50, I would say the average cost is around £150 and if you are looking for high quality then around £300. Head here for some saving tips.
WHEN TO ORDER BRIDESMAID DRESSES?
If ordering from a boutique or made-to-measure you do need to give more time, 3 to 4 months. If ordering ready-to-wear dresses online I would still do it as early as possible. Do keep in mind if you have a pregnant bridesmaid you may need to order sooner or later for them.

More blogs you will love!