You have your alternative wedding dress, but what about your bridal party?
Well, not to worry if you are wanting something alternative, unique or nontraditional for your bridesmaids we have you covered. We have done the hard work for you and found the best alternatives to traditional bridesmaid dresses.
Why have alternative bridesmaid dresses?
If you are planning an alternative wedding then this may just be the obvious option. If however you are just looking for unique ideas or you have an alternative bridal party then it may be harder to envision the final look.
Not going the traditional dress route definitely adds some uniqueness to your day. It is also a great option if you have a mixed wedding party, whether it is mixed genders or just lots of different personal styles.
Working with your party and what suit them and your wedding can be the best way to not just create a modern look, it allows everyone to feel comfortable and special on your big day.
The best alternative bridesmaid dress ideas
1. jumpsuits
We all love jumpsuits here at Urban! For me, it has to be the best alternative to a bridesmaid dress. It still gives that dressed-up, even formal feel while being modern and unique.
head to our bridesmaid jumpsuit blog for the hottest trends! Here are some of my fave options.
2. pantsuits
The bridal pantsuit is becoming so popular and is a great bridesmaid dress alternative.
Less popular, but I think such a fun unique idea to have bridesmaids in pantsuits.
This is great for a mixed-gender bridal party also.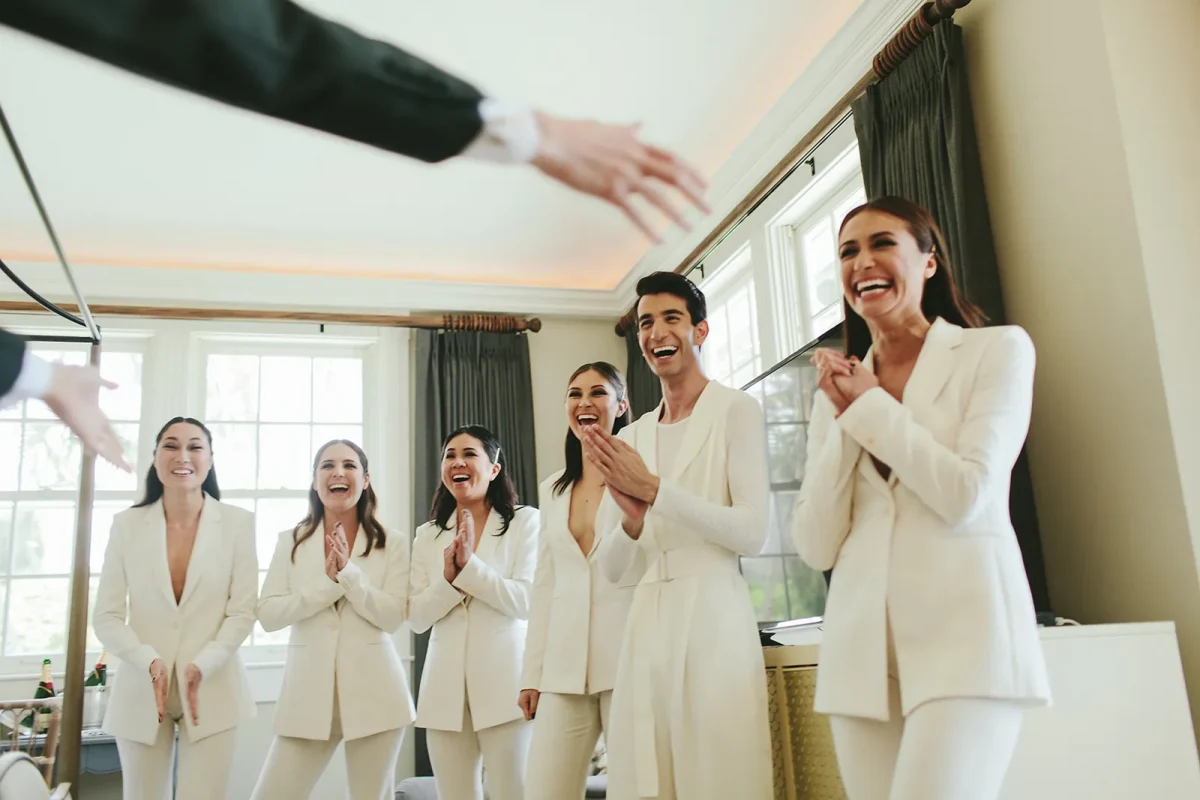 3. Short bridesmaid dresses
When done right short bridesmaid dresses can look so stylish! I would say make sure you ask your party first as some may not feel comfortable in a short dress.
You can go super short with a midi dress, or longer with a mini. Head to our short bridesmaid dress for lots of ideas and to see all the different length options.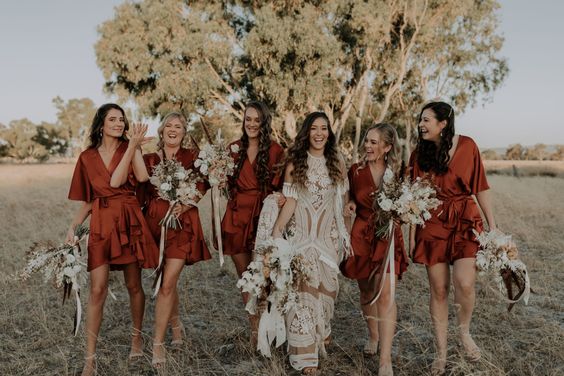 4. slip dress
The IT dress right now! I just love the satin slip dresses that are everywhere right now.
They make the perfect modern bridesmaid option. They have a 90s vibe and are very on-trend.
This might not be everyone's style though so check with your bridesmaids.
5. Go for a bold colour choice
One of our favourite bridesmaid colour dresses is our burnt orange. This is a bold colour choice for weddings, I just love it! It is the perfect autumn wedding colour choice.
Going for a bold bridesmaid dress is a great way to make sure they stand out. Coral is another hot colour right now and is great for summer. Emerald green works are great in winter. Coral bridesmaid dresses for spring or summer.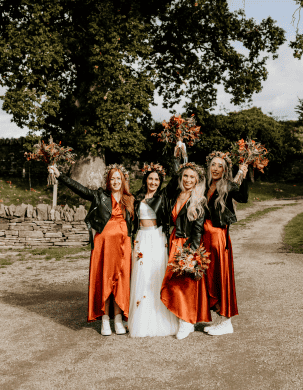 6. patterned dresses
I am love, love loving this trend right now! I definitely see 80s style coming back around in the wedding industry.
We have puff detachable sleeves, ruffles, and floral prints. all very 80s!
A blue and white print is an all year round stunning option. The most popular and easy to find is floral print bridesmaid dresses.
7. mismatched dresses
Another popular trend right now is to mismatch bridesmaid dress styles or colours.
I actually love when both styles and colours are mixed. It is definitely harder to pull off but done right, stunning!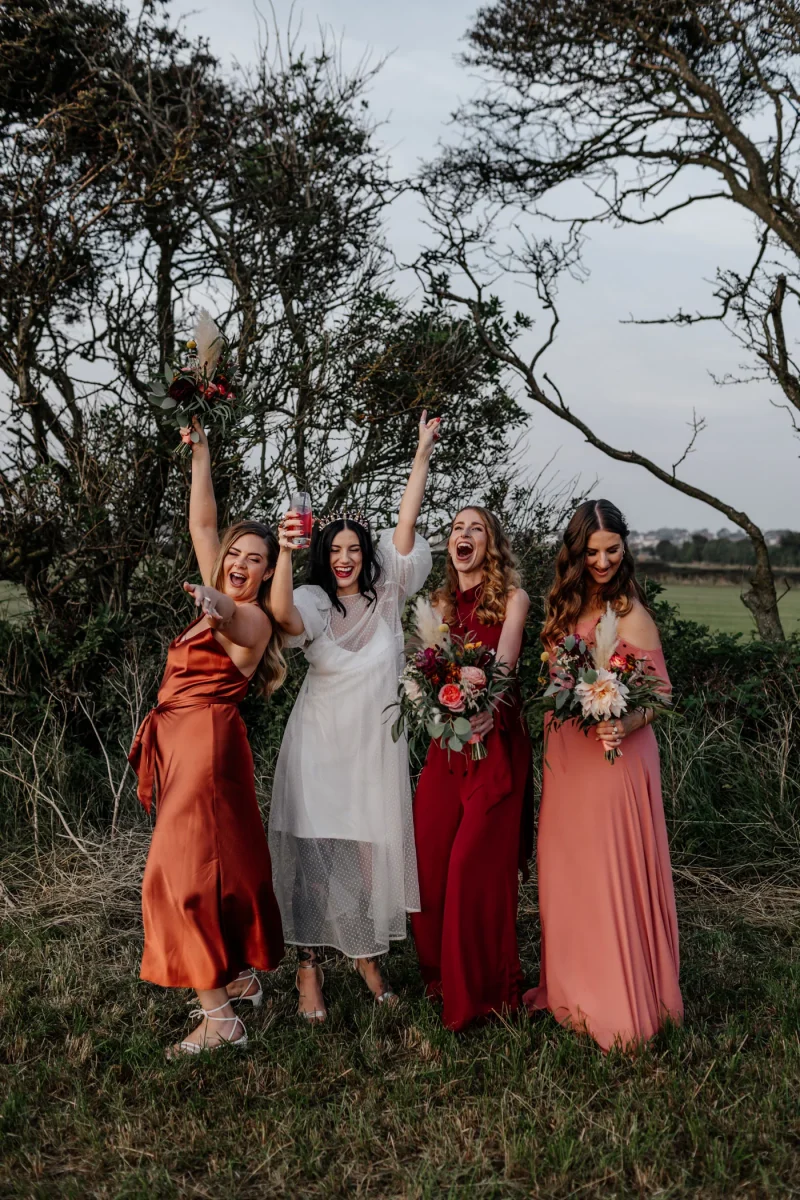 8. two pieces
This is the perfect choice for when you have bridesmaids of different sizes and shapes.
I love a two-piece so I can get a bigger top or bottom depending on sizing.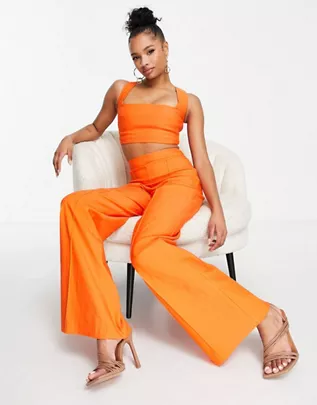 9. all in white
I think this is a super stylish look! It works for any season and style of wedding.
I think to let your bridesmaid pick a style that suits them for a mismatched look but all white.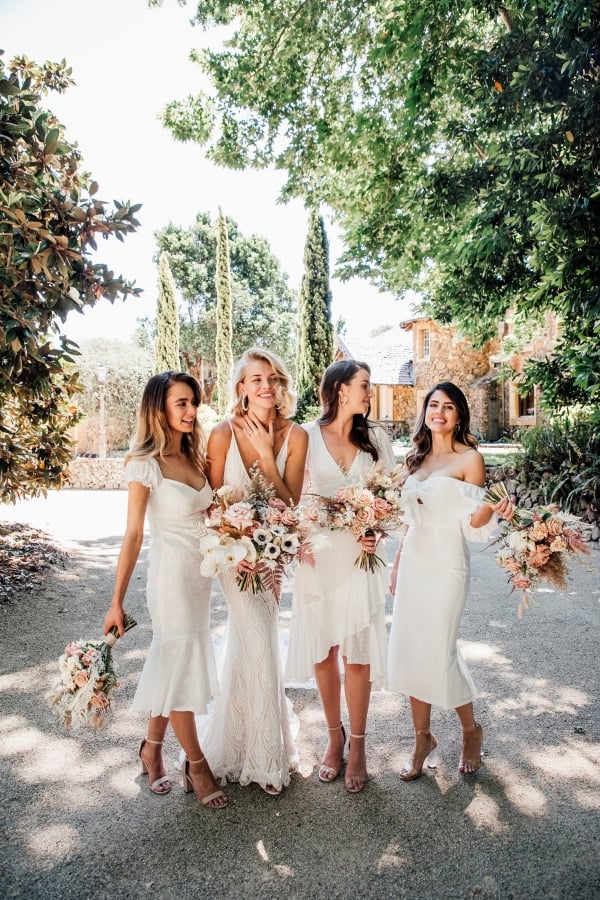 10. all in black
We just love black bridesmaid dresses here at the urban wedding company.
It is a super stylish choice for sure! Head to our black bridal party looks blog for more inspiration.
11. all in wedding dress
So this one is definitely a little out there! But why not?
If you want to really show your party off and make them feel special, this is the way!
I have been to a gay wedding and the two grooms had their bridal party in wedding dresses, it was amazing!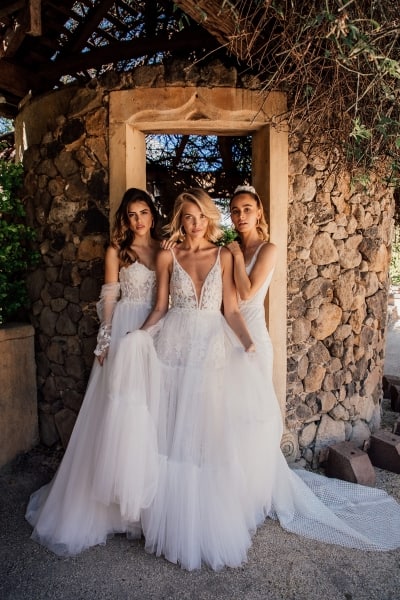 More blogs you will love!