Wedding favours! Okay, we hear you! Do you really need them? No, of course not.
Guest will not miss them and in all honesty, we think if you are not putting the money and effort into them to really wow your guests then they will get left so not worth doing.
Now if you do want to gift your guests a little thank you treat that is unique or quirky and they will absolutely love then we have you sorted! We have done the research and found the best unique nontraditional wedding favours.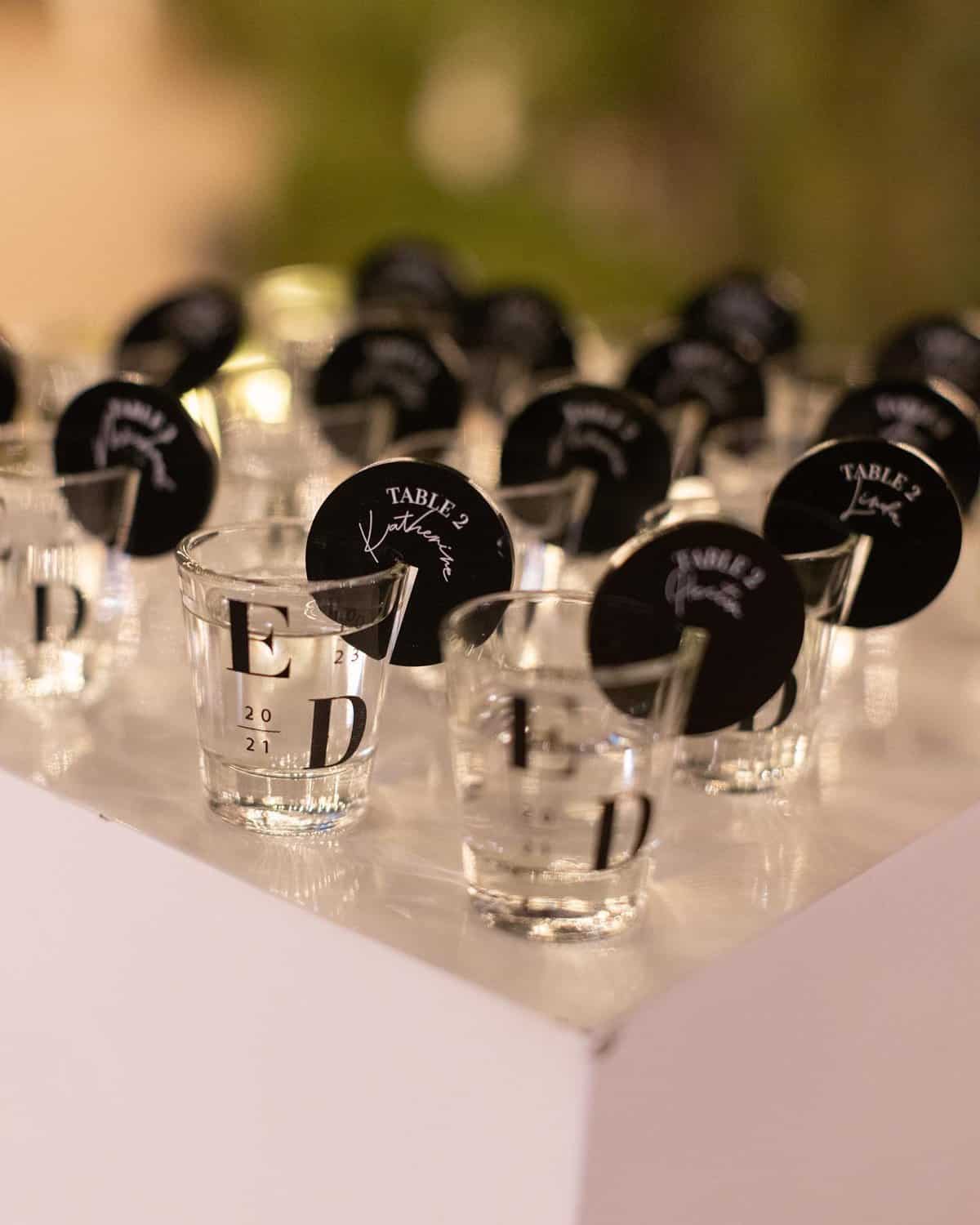 We are committed to providing unbiased, credible reviews so you can choose with confidence. We may earn commissions on purchases made from visiting our partner stores. Please see our policy here.
THE BEST ALTERNATIVE WEDDING FAVORS FOR THE NONTRADITIONAL COUPLE.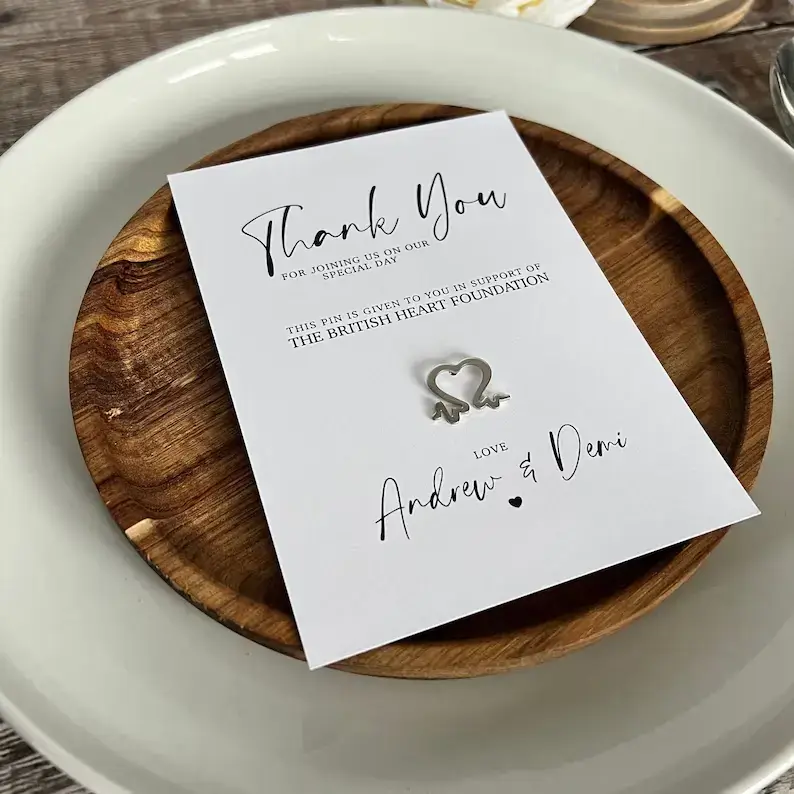 1. CHARITY DONATION
This is one of our favourite alternative wedding favours. You can print out cards to tell the guests or get pins or tokens from the charity. It is a great way to put possibly wasted money to good use.
Head to our charity wedding favour post for a full how to guide.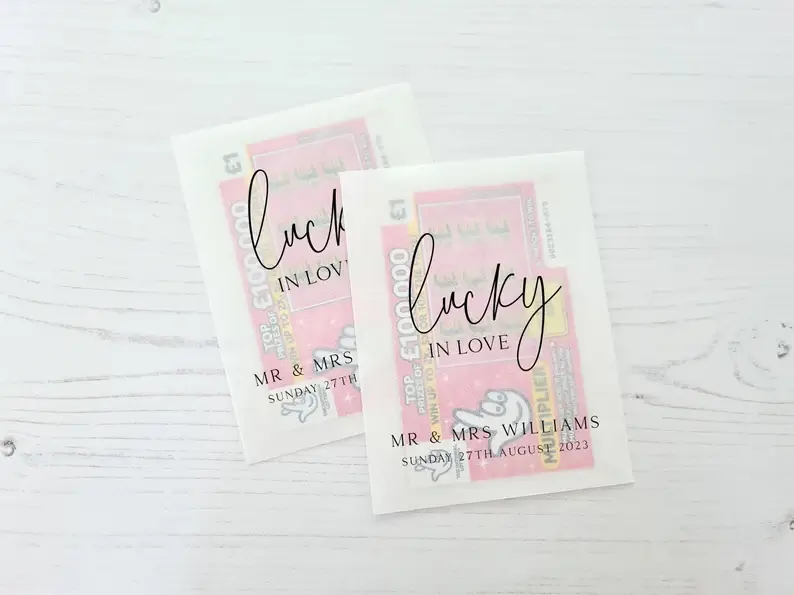 2. SCRATCH CARD
A scratch card as a wedding favour is quirky, and fun, and is very much the rage right now. It is a great way to add some excitement to the day and you never know there might be a big win!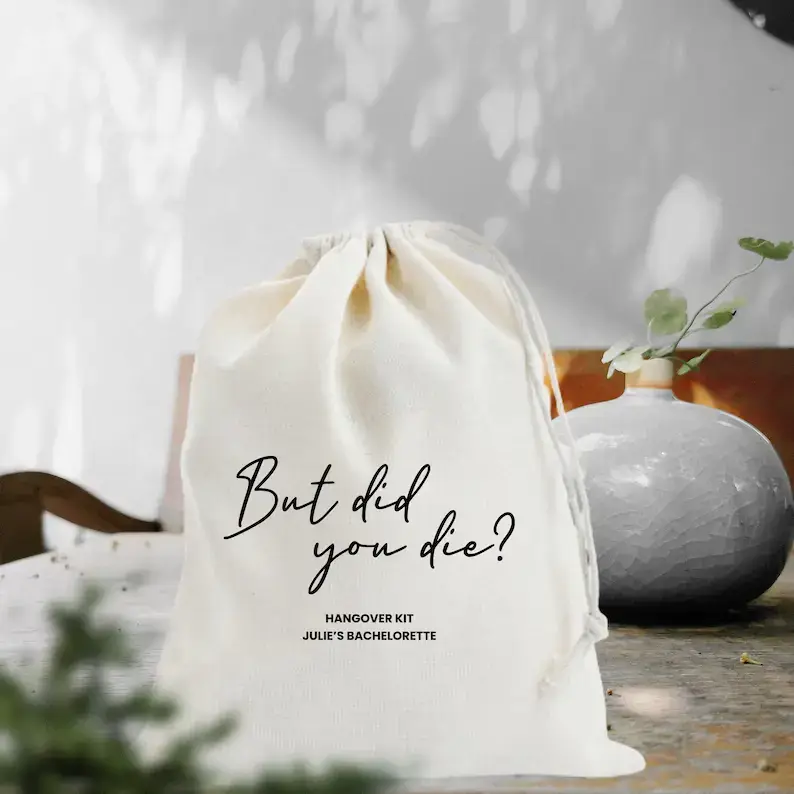 3. HANGOVER CURE BAG
This is one for party lovers! This quirky hangover cure bag will be great for all guests to wake up fresh and join you for breakfast.
4. TATTOO YOUR GUESTS
It is a unique and fun idea. It is perfect for showing your quirky side and a great way to entertain your guests on the day. Order personalized ones for guests to put on themselves or you can even hire a tattoo bar, yes you heard us right!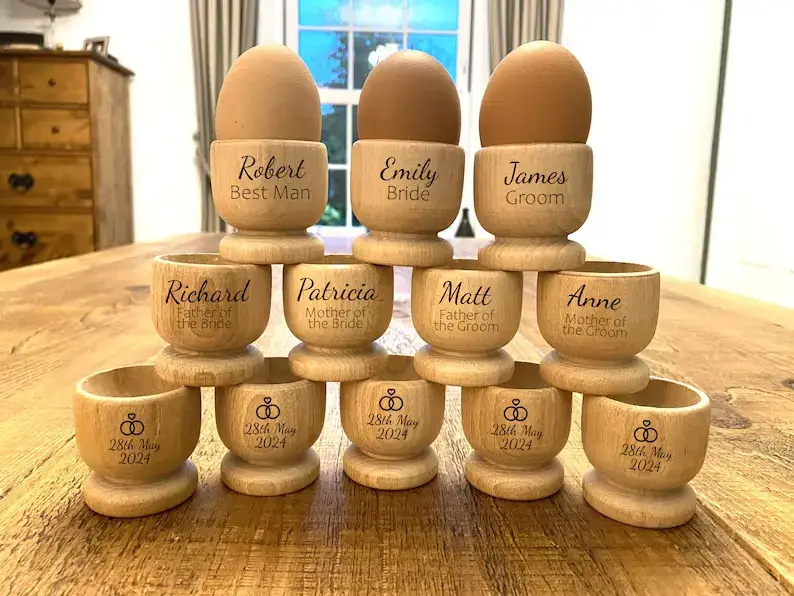 5. An egg cup
Not for everyone and definitely an alternative wedding favour! But what a cute idea, I kinda love it! Would be great for an easter time wedding but honestly works anytime!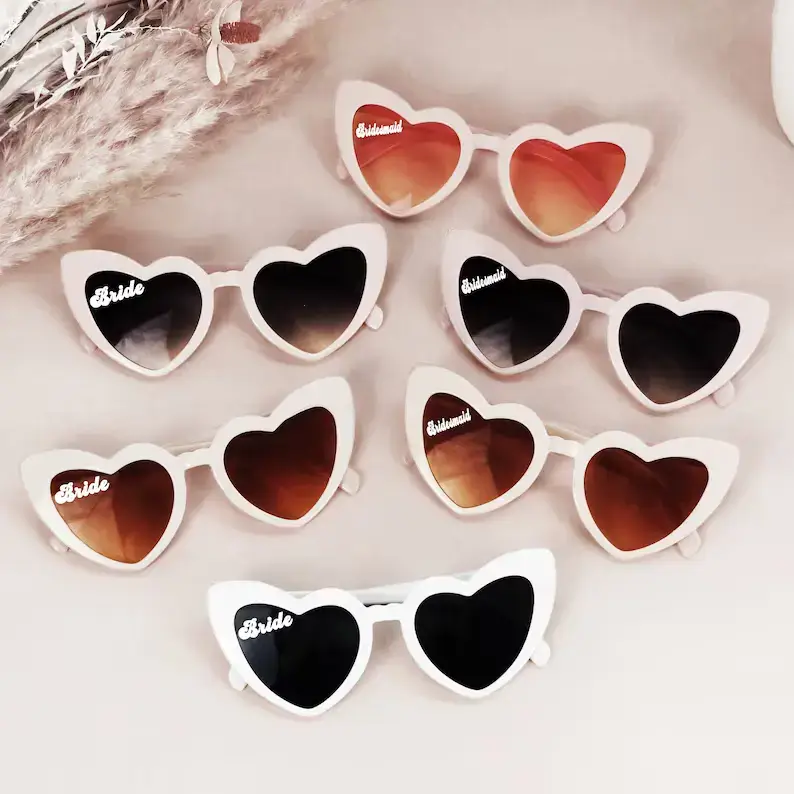 6. Heart shaped sunglasses
These are everywhere right now! You can do them personalised or not. They are a great photo op for the guests and they look so fun. They work well for a summer or destination wedding but you can do them in any season.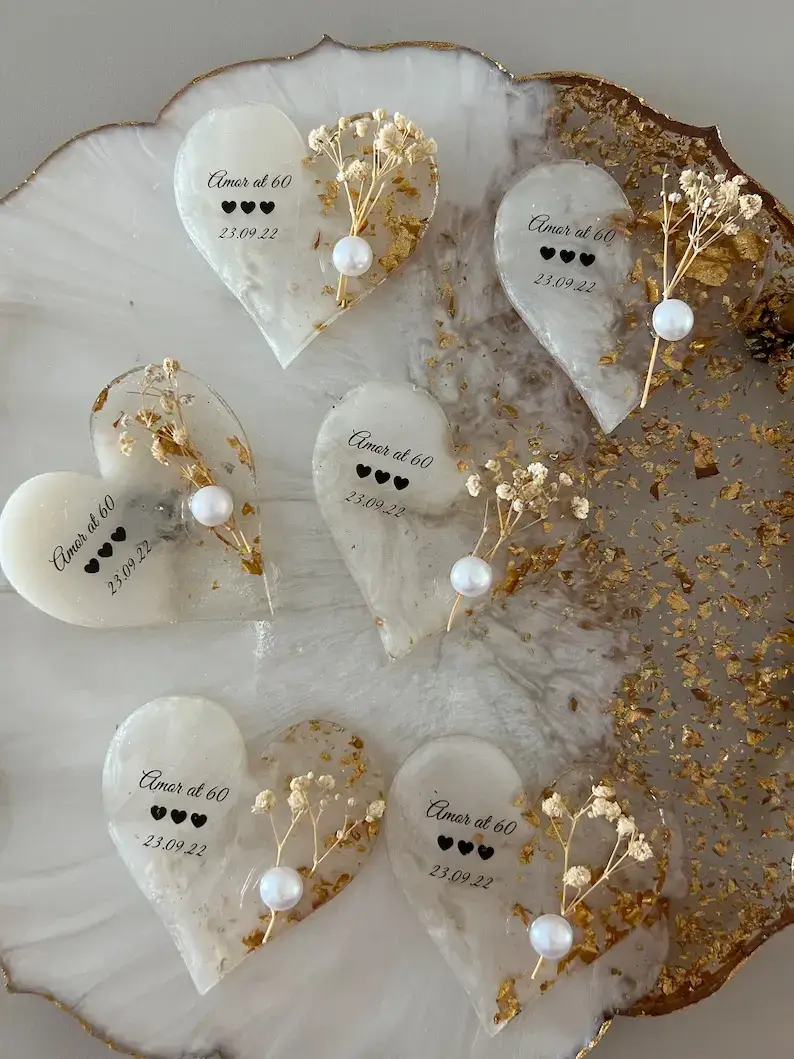 7. Fridge Magnet
This one is a little traditional in a sense. If it is something you normally get people on holiday and stuff it can be a nice personal wedding favour.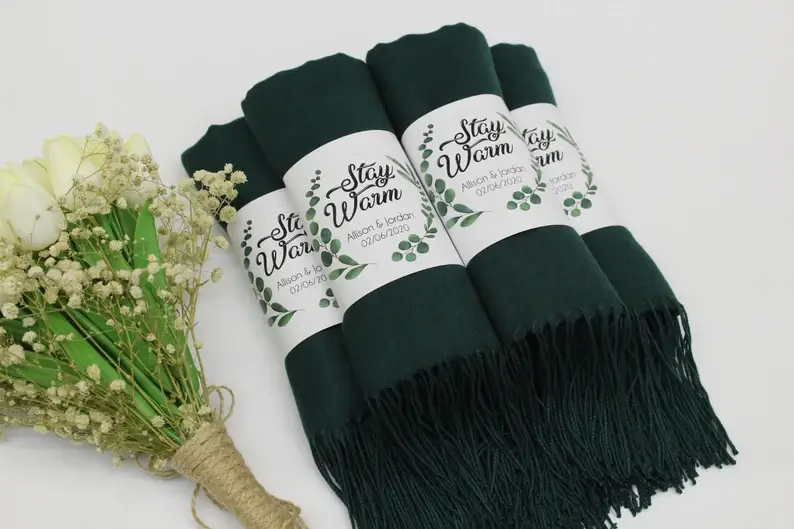 8. wedding blankets or Shawls
These are perfect for autumn and winter weddings. You can leave them outside for people to use to keep warm under the stars.
You can have a little note to tell them to take it home after. You can get them for around £3 and you wouldn't need one for each guest.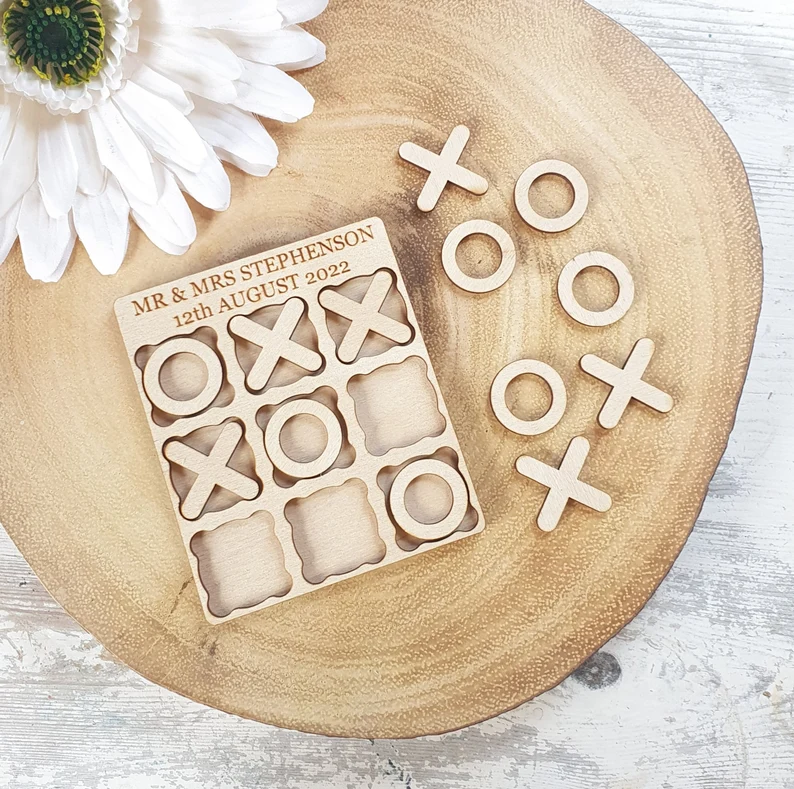 9. Mini wood games
These are super cute! They can keep your guests entertained and they can take them home to play at home or road trips on a plane for years to come.
EDIBLE FAVORS
We all go to the wedding for the food right? Just us!?! Edible favours are a perfect wedding favour and usually, always get eaten or taken home so no waste!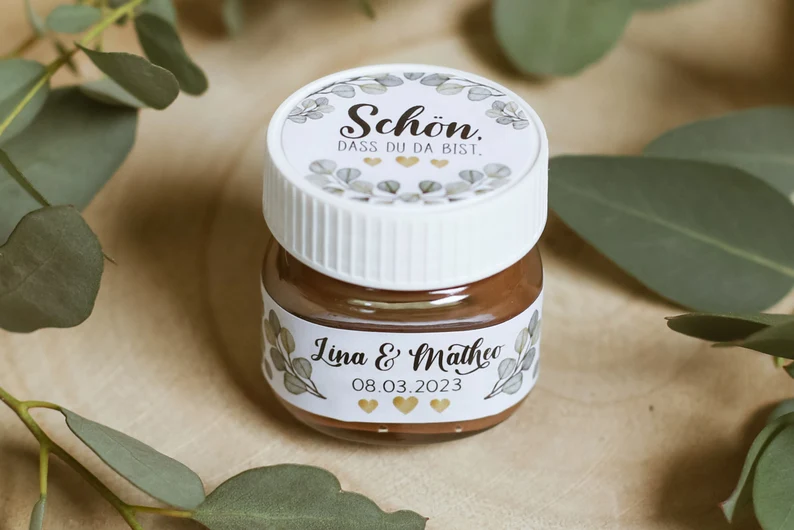 10. Mini Nutella jar
If you are a Nutella fan, who isn't right? These are great edible wedding favour. They can be personalised and are small and easy to scoop up and take home. They are good one to DIY also.
11. Macaron wedding favours
These are great luxury options for edible wedding favours. They look great and taste amazing too. As they take a special skill to make well they can be a little more than most edible favours but well worth it.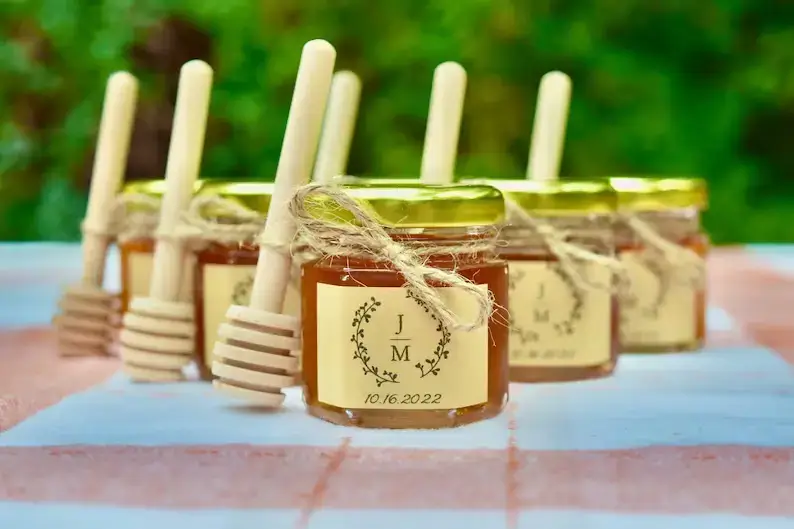 12. Honey pots
Were always meant to bee? Honey pots make a love favour, especially for a spring or summer garden wedding theme.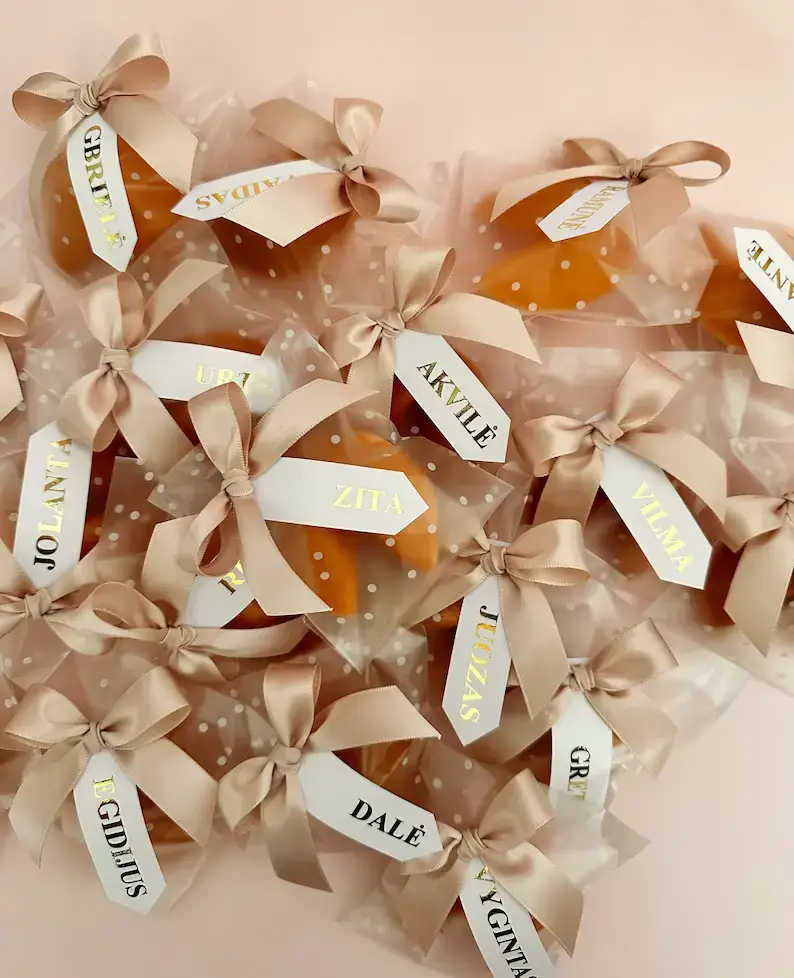 13. FORTUNE COOKIES
These are great nontraditional favour ideas. You can even get them personalized with the name of your guests on them and have special personalized messages put inside.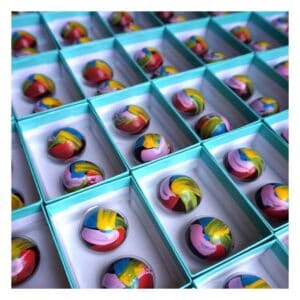 14. PAINTED CHOCOLATE FAVORS
Everybody loves chocolate so it is a win-win! These cool modern painted chocolates are fun and unique and your guests will be clearing the table to take these treats!
15. LOLLY FAVORS
Okay, hear us out. We know this may sound a little like kids' treat but come on everyone loves a lollypop if they are honest!
There are some modern, stylish options out there we are just in love with and we know your guests will be too.
16. BISCUITS
Biscuits are more traditional wedding favors but if you get a cool wedding cake designer and let them get creative they can help you come up with something unusual.
DRINKS WEDDING FAVORS
Drinks are a great option and can be done in different ways to double up as place names or work into your drink budget.
Check with your venue though as some do not allow outside drinks, even as favours.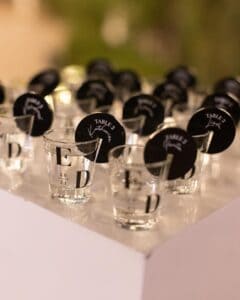 17. SHOT GLASS FAVORS
If personalized they make great place names or an escort card display. Filled with a shot makes them a great fun first drink to get the party started!
18. HOMEMADE SLOE GIN
One for the creative couple, we received this one at a wedding and is still one of our favourite wedding favour to date. Add a tag to double up as a place name.
Do check with your venue though as some do not allow alcohol favors. Also, give yourself enough time as it takes months to make.
19. COFFEE GROUNDS
If you are a coffee lover like us then you will know this is a winner gift. DIY and make your own or bag up some of your favourite blends, either way, the coffee drinkers will be scooping up this favour.
20. DRINK TOKEN
If you want to offer some free drinks but do not have an open bar this is a great option. The token gets each guest one drink of choice or you can choose what they can have.
They can be personalized and double up as place names or add a tag with the name.
21. COUPLE'S COCKTAILS
Having 2 signature cocktails for your guest is a great unique and personal favour idea. Hire an unusual pop-up bar to serve them, entertainment and favour in one.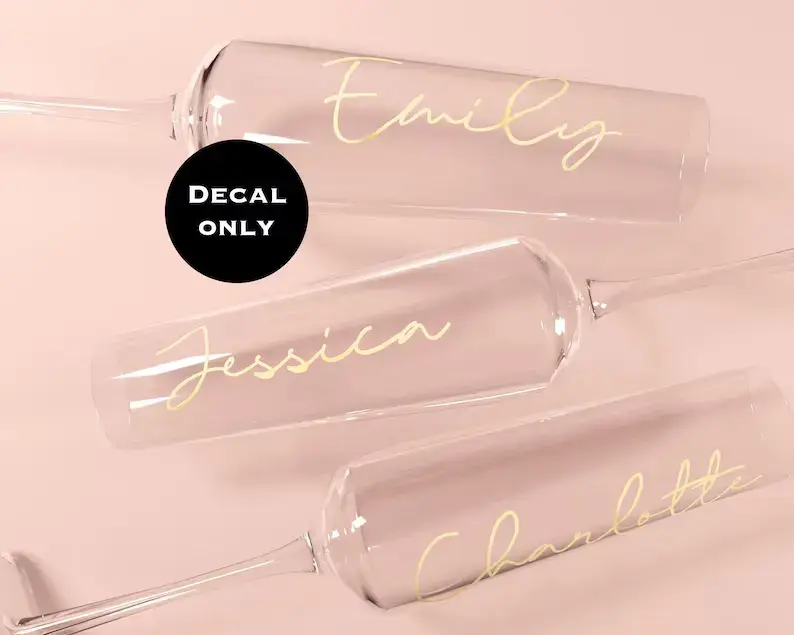 22. Personalised Champagne flute
This works well for welcome drinks and toast drinks. You can set them up like an escort card table with their name on the glass and then a piece of card or tag with their table number.
Doubles as a place name and a lovely keepsake and they can use throughout the day.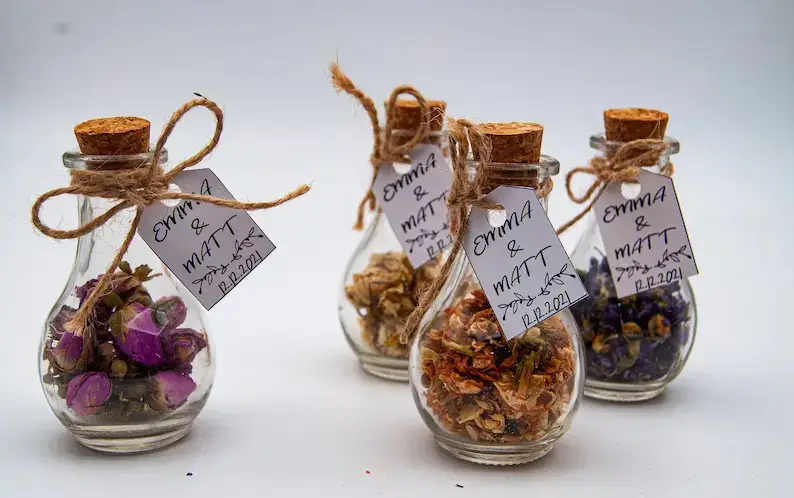 23. Flavoured tea
If tea is your drink of choice then a lovely flavoured loose tea leaves in a jar is the perfect wedding favour for your guests. Get your guest hooked on your favourite drink!
PERSONALIZED FAVOR IDEAS
Personalizing your favours means that they can double as a place name or escort cards also.
24. ACRYLIC PLACE NAME
modern, stylish, and adds to the design. They are pretty cheap or get creative and make your own.
25. RESIN COASTERS
This one also fits into the practice range and with a name or initials added it is the perfect personalized wedding favour your guests will use for years. Pretty paper name Paying a little extra for your place names to make them that extra special your guests will want to keep is a great way to turn them into a wedding favour.
ECO-FRIENDLY IDEAS
Sustainability in weddings and events is a huge topic. Finding ways to make more eco-friendly choices with your wedding day can play a small part in lowering the footprint.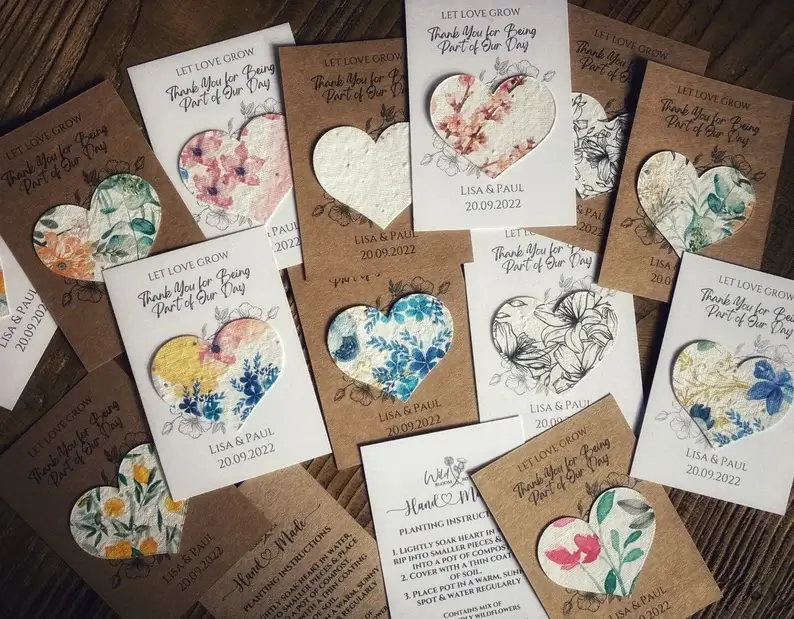 26. SEEDED PAPER
Using seeded plantable paper for place names and menus with a note to your guests to take them home and watch them grow is a great eco-friendly choice that also makes your stationery a very unique wedding favour.
These are also a good budget option, you can do these for less than £1.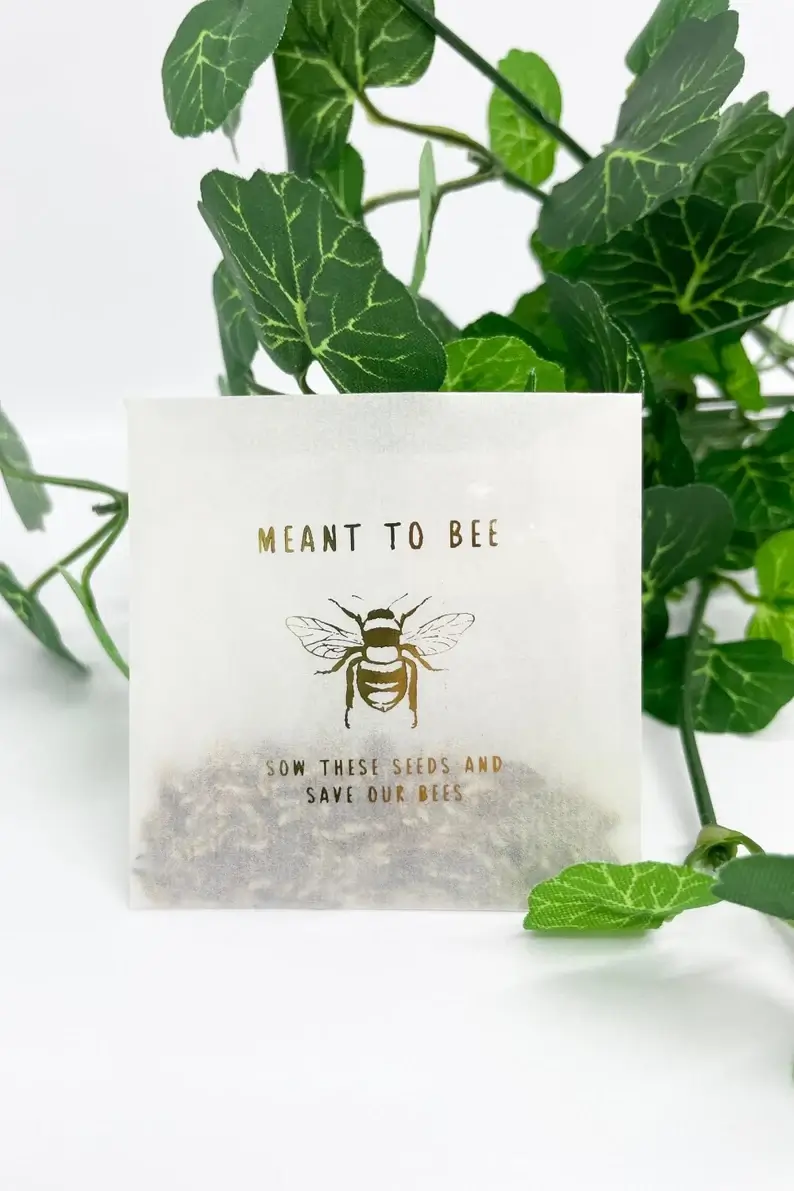 27. SEEDS
Giving seeds as a favour is eco-friendly and a lovely way for your guest to always have a memory from your wedding around the house for years to come.
28. PLANTS
Everyone loves a plant, right? Giving a mini plant, succulents work well, is thoughtful for your guests and the environment. Win-win!
PRACTICAL WEDDING FAVORS
If you want your wedding favours to be taken home and used then making them practical is the best way to guarantee this.
29. PENS
The most practical gift ever, right? Everyone needs and loves a pretty practical pen.
30. SOAP
Handmade soap is the perfect gift that is pretty, thoughtful, and practical. Your guests will be smelling fresh and clean for months after your day.
31. CANDLES
Last but never least. Candles are another favourite of ours. A scented candle is a perfect gift. Practical as it is a great home decor item and your guest can enjoy and reminisce your day over a romantic candle-lit night in.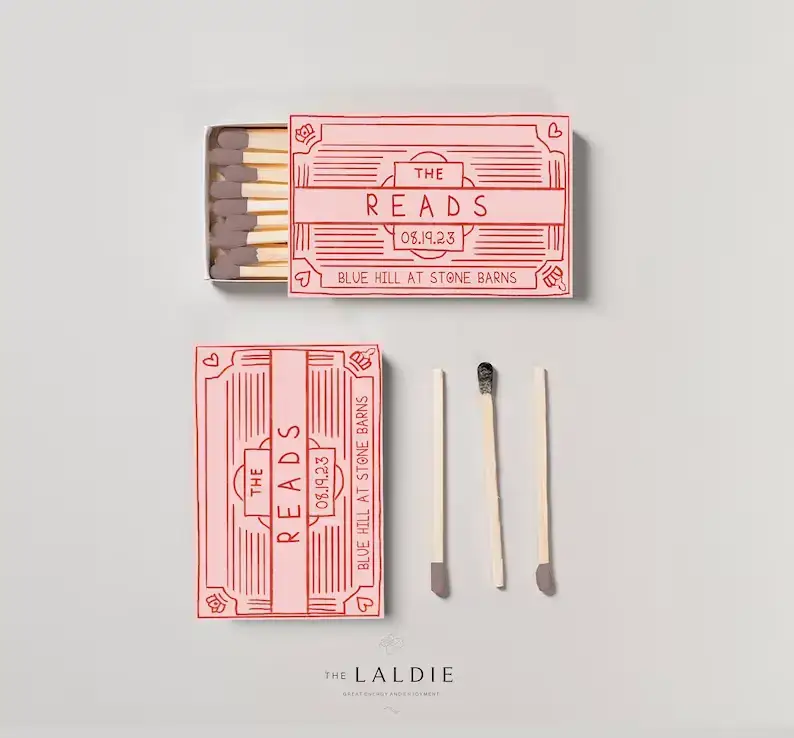 32. A box of matches
These can go alongside the candle or do them alone. Everyone at one point has needed a lighter or matches and just didn't have any! They work well with a cute perfect match saying or similar. They are useful and easy to throw in a bag o pocket.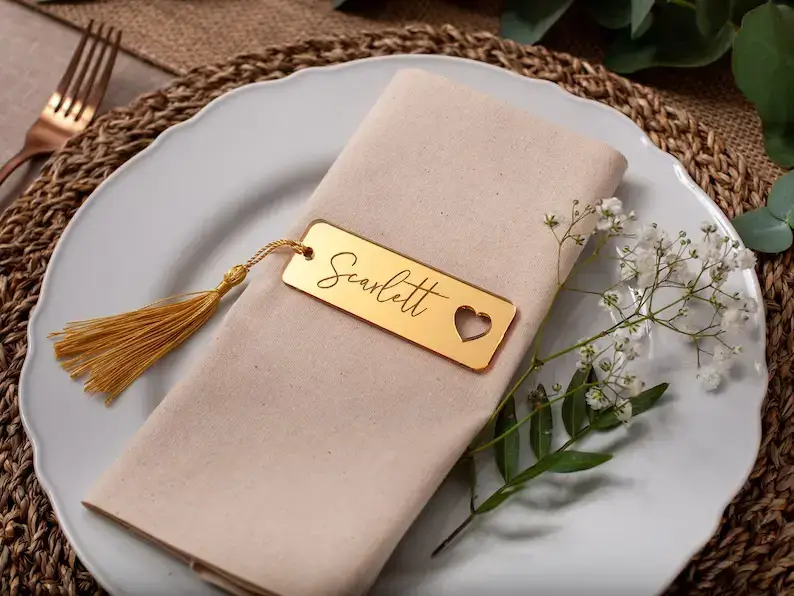 33. A bookmark
Everyone should read. So giving a bookmark is a practical and pretty wedding favour. It can double as a place name also so saves on costs. If they don't read it can be used for recipe books or just to look pretty on a shelf.
34. Bottle opener
Super practical! Bottle openers are a great practical wedding favour. I have seen some lovely fridge magnets ones that are personalised or even wood engraved ones. Head to our Etsy favour favourites to see.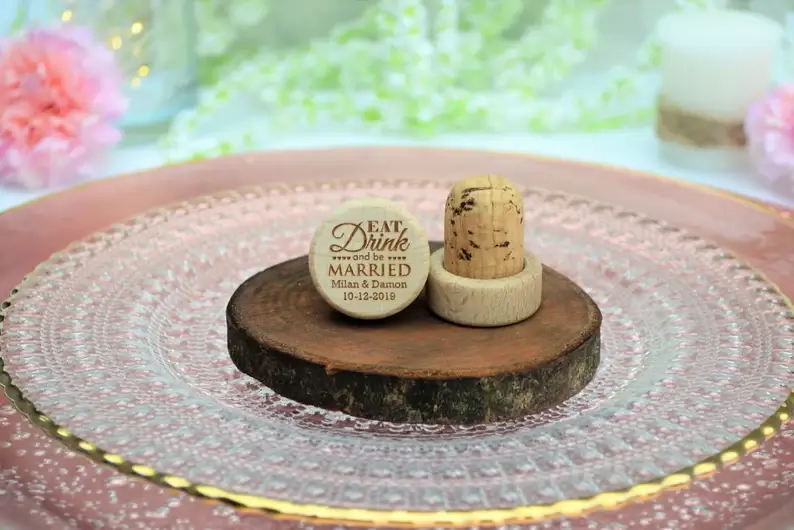 35. Wine cork
These are super cute, small enough to be easily taken home and useful. These are reusable bottle corks so are the perfect personal but practical wedding favour.
Wedding Favour FAQs
WHAT IS A WEDDING FAVOR?
Simply put a wedding favour is a thank you gift to your guests for attending your wedding celebrations. Traditionally this was a sugar cube, moving on to a sugar-coated almond.
Now there are so many options for favours but edible favours are still a popular choice.
WHY DO WE GIVE WEDDING FAVORS?
Traditionally wedding favours, boutonnieres, were given to spread the good luck associated with weddings to the guests. They were also used by the rich to show their wealth.
Now a wedding favour is a way to thank your guests for sharing in your special day as well as adding a little quirky element. So they are no longer just sugar cubes!
They are a great way to show your personality, have fun and gift your guests a small part of your day to take away.
HOW SHOULD YOU CHOOSE YOUR WEDDING FAVORS?
We think that quirky, unique, and non-traditional favours are the best options. These will show your guests that you have put in the effort, time, and thought into this aspect of your wedding.
The best way to choose your favour is to work out your budget. Then think about things you love, that tell a little about you as a couple and how you can make them a favour in some way within your budget.
More blogs you will love!