Charity wedding favours are a great wedding favour alternative.
The debate as old as weddings! Do you really need to have wedding favours?
I have always told my couples the same thing no you don't.
If you have it in your budget to do unique wedding favours, something memorable then definitely go for it. It is a nice way to say thank you to guests on the day.
Charity wedding favours are a thoughtful way to give back. Couples make a donation to a chosen charity on behalf of their guests. They often provide a small card or token explaining the donation in lieu of a physical favour.
In this post, we are going to talk about how this works, some great options to pick from and then some fun unique ideas to inform your guests.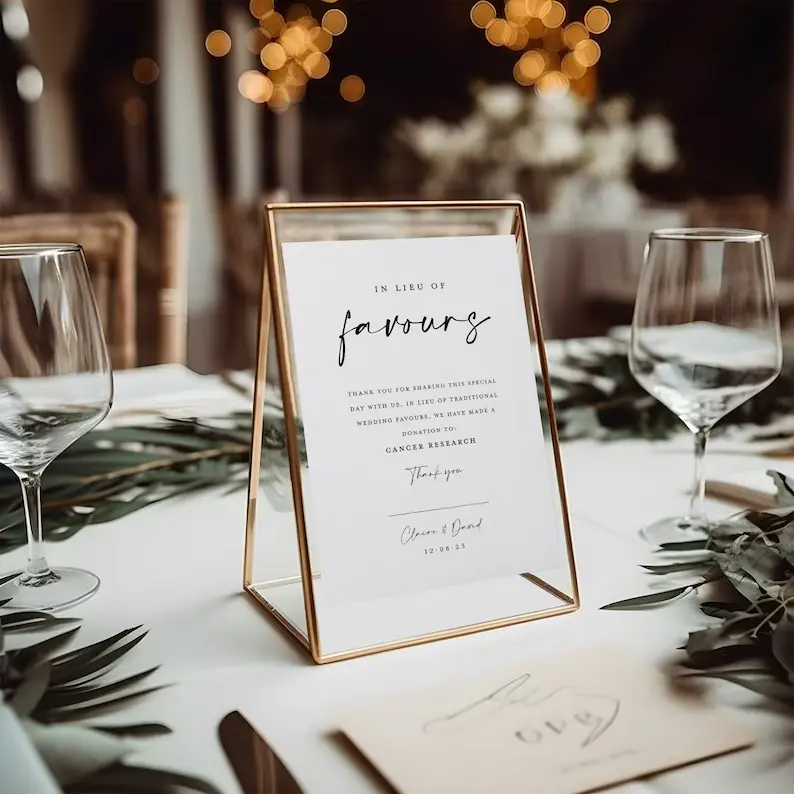 Charity wedding favour options
Most large and some smaller charities offer wedding favour donation packages. They let you give a donation and offer in return pins, seeds and other little small items to give to guests.
If the charity you want to donate to doesn't offer this then you can make or buy some little cards to I've to guest. It can be nice if not a well known charity to give some information on the charity and why you chose this one. This can also just be done in a speech.
Top Charities that offer wedding donations
Here are some top charities that offer favours. Have a look at them for ideas. I haven't made this list huge as I believe picking the charity should be personal. Have a think about what causes mean a lot to you as a couple and search for charities that align.
Cancer Research UK: They provide wedding pins, favour cards, and other items to support their vital research into cancer prevention, diagnosis, and treatment.
British Heart Foundation: They offer heart-shaped pin badges and other items to raise funds for their work in fighting heart and circulatory diseases.
Macmillan Cancer Support: They provide charity wedding favours like pin badges, stickers, and cards to help improve the lives of people living with cancer. They have a lovely gold bee pin.
Alzheimer's Society: They offer various wedding favour options, including pin badges and cards, to support their efforts in providing help and care for people affected by dementia. They have a lot of nice forget me not items.
RSPCA: The Royal Society for the Prevention of Cruelty to Animals has wedding favour packages like pin badges and place cards to aid their work in animal welfare.
Oxfam: Oxfam Unwrapped offers unique charity wedding favours, allowing guests to choose from a range of gifts that support their global efforts to alleviate poverty and injustice.
Save the Children: They offer charity wedding favours like pin badges and wristbands to support their work in ensuring children survive, learn and are protected worldwide. They do place cards for a cheap option.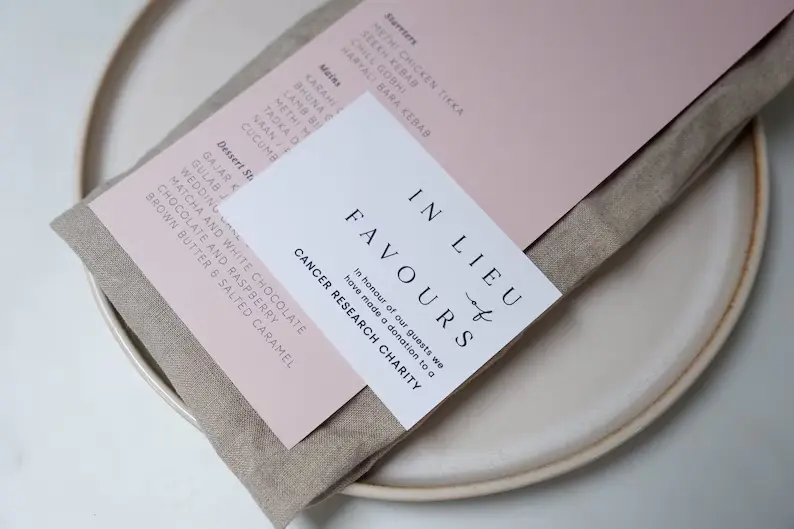 Top tips of do's and don't for charity wedding favours
Choose Reputable Charities: Select well-established and reputable charities for your wedding favours. This ensures that the donations are used effectively for the cause you care about.
Inform Your Guests: Clearly communicate the charity you've chosen and your intention to make a donation on behalf of your guests. Include a brief explanation of the cause and why it's essential to you.
Meaningful Tokens: Consider providing small tokens or cards that represent the donation made, so guests have a keepsake to remember the contribution to the charity.
Transparency: Be transparent about the donation process. Let your guests know how much of the wedding favour's cost will be donated to the charity.
Guest Personal details: Don't give any guests details without consent, like emails and stuff to the charity.
Consider your choice: Don't pick a charity that will cause controversy. You may feel passionately about it but you wouldn't want it to overshadow the day
Fun charity wedding favour ideas
So you are all set on your charity for your wedding day. Let's look at some fun and unique ways to share your chosen charity as a wedding favour with your guests.
More blogs you will love!