Okay, honestly who likes or even signs a traditional guest book?
They end up in a drawer or box never to be read again.
Nowadays there are so many great wedding guest book alternatives.
We believe it is a great time to show your personality at your wedding and have a bit of fun.
There are so many options now for unique guest books and it can be overwhelming. But not to worry we have done the hard work for you.
We are bringing you the best nontraditional wedding guest book ideas. Ones that your guest will love to sign and you love to look at for years to come.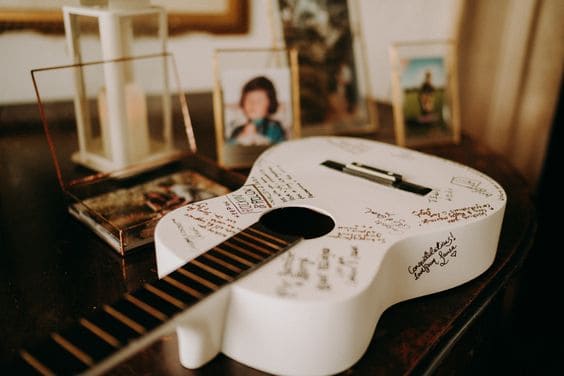 DO YOU HAVE TO HAVE A GUEST BOOK AT YOUR WEDDING?
No, not at all. We do think that an interactive or fun one that you will cherish for years should be a yes though.
A traditional book is full of notes maybe not so much.
The reason for a guest book at a wedding is to bring people together.
Have them sign and remember the day you got married.
It is also nice to look back on all the great messages from your loved ones over the years.
There are so many reasons why a guest book should be present on your big day.
WHERE CAN YOU GET AN ALTERNATIVE GUEST BOOK?
Alternative guest books are widely available now. You can look online at places like Etsy or not on the high street.
These are great places to get more personalized unique guest books.
You or someone in your wedding party could get crafty and make a very personal DIY guest book.
Also, have a look on social media for small businesses that can make you something unique that fits you as a couple.
OUR FAVORITE ALTERNATIVE, UNIQUE AND PERSONAL GUEST BOOKS FOR THE NONTRADITIONAL COUPLE
We are committed to providing unbiased, credible reviews so you can choose with confidence. We may earn commissions on purchases made from visiting our partner stores. Please see our policy here.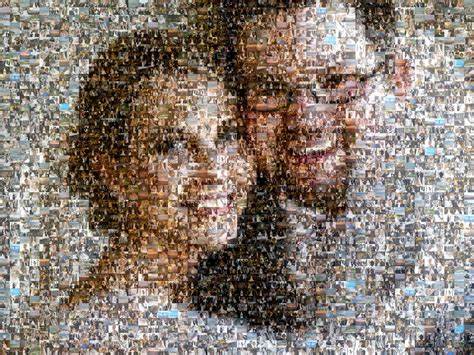 1. PHOTO MOSAIC WALL
This is our top pick if you want that interactive wow factor!
Your guest has their picture taken and places it to build a picture of your choice.
Your venue or one from your engagement shoot would make a great choice.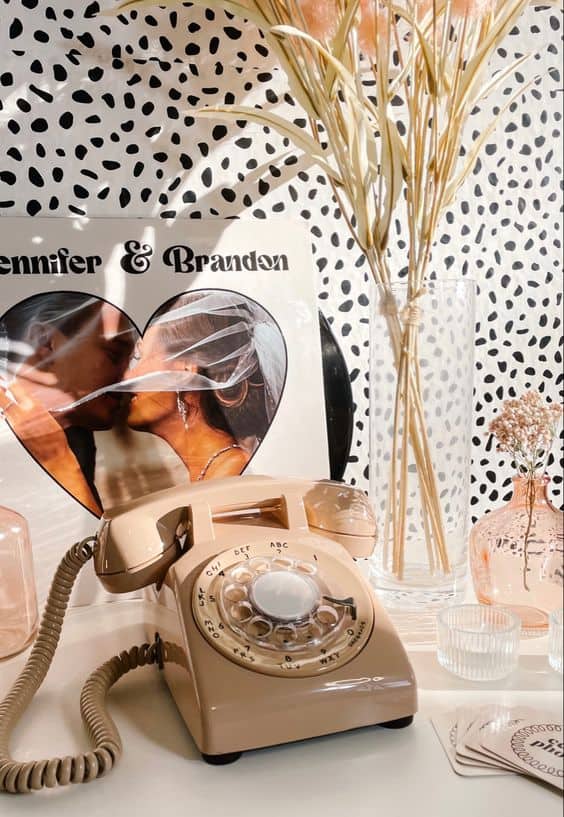 2. AUDIO GUEST BOOK
We love, love, love this idea! What a fun interactive way for your guests to leave you a message!
Check out Echo Phone to hire the one in the picture above!
Then how lovely for you to have that audio to listen back to for years to come.
There are different ways to do this but simply they pick up the phone or recording device and leave a message.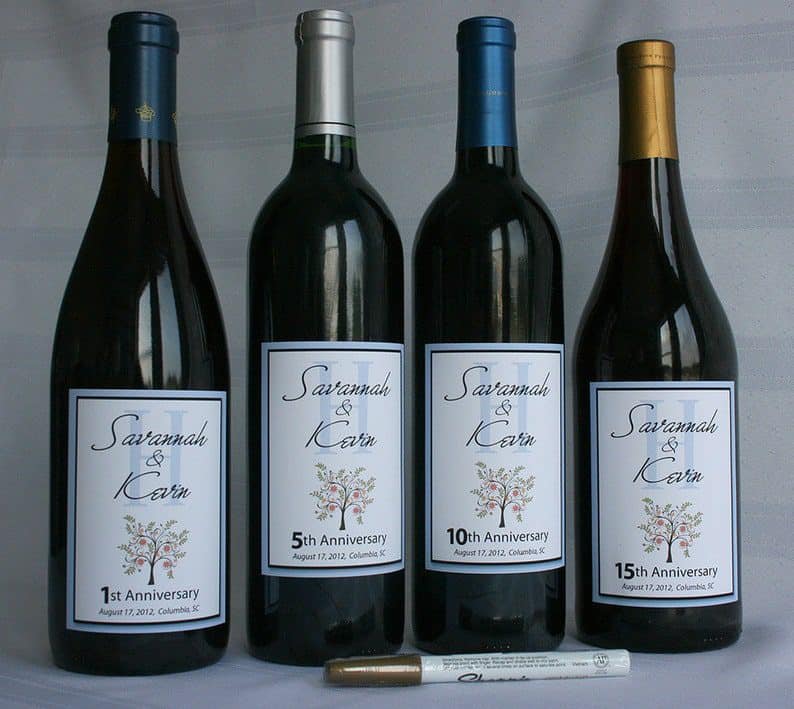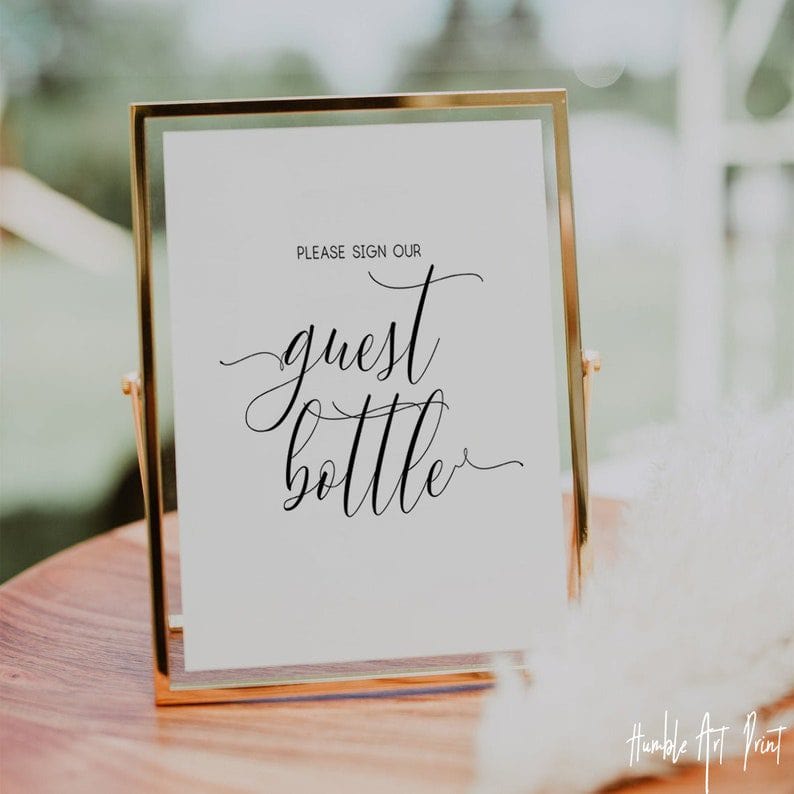 3. WINE BOTTLES FOR ANNIVERSARY YEARS
This doesn't even need to be wine, whatever your favourite alcoholic beverage may be.
How lovely to enjoy a drink together on your special anniversaries while reading all the messages from your guests.
Then the empty bottles can be kept forever to keep the memories alive.
You can just do 1 year anniversary but we think go all out and do 1, 5, and even 15!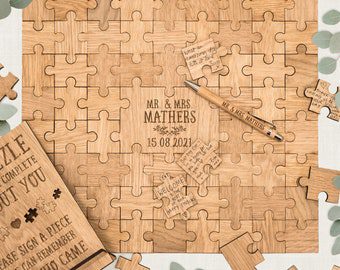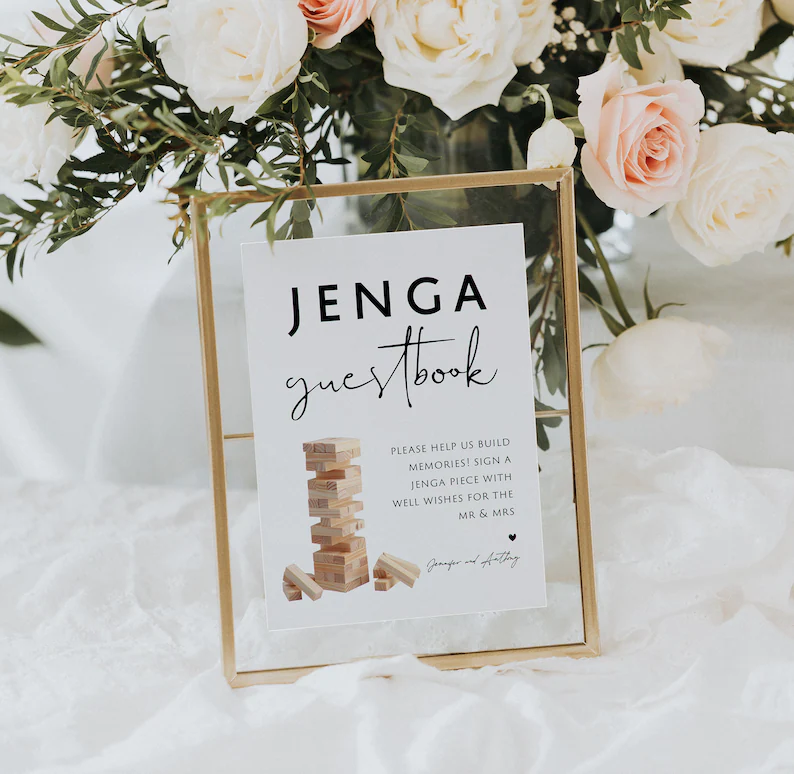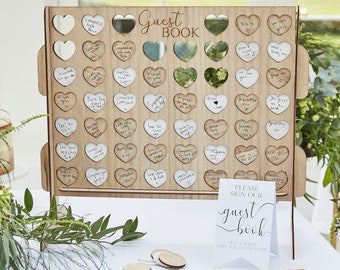 4. GAME IDEAS FOR GUEST BOOK
Making your guest book fun is the best way to make sure you get people to sign it.
There are a few choices for guest book games.
The best thing to do is think about games you like to play as a couple and if there is a way to turn it into a guest book.
We really like the Jenga game, each guest signs a Jenga piece. Connect 4 is another option with guests signing a token each.
If you are more of a puzzle-loving couple then you can get lovely wooden puzzles for your guest to sign.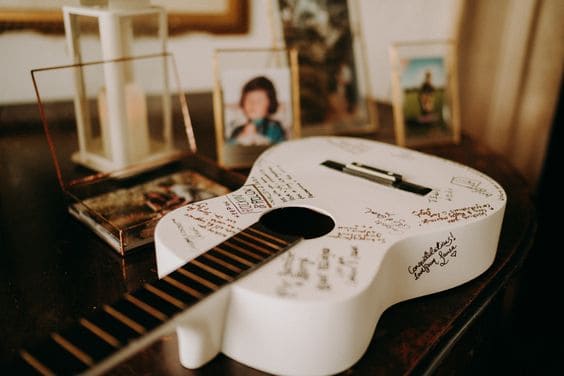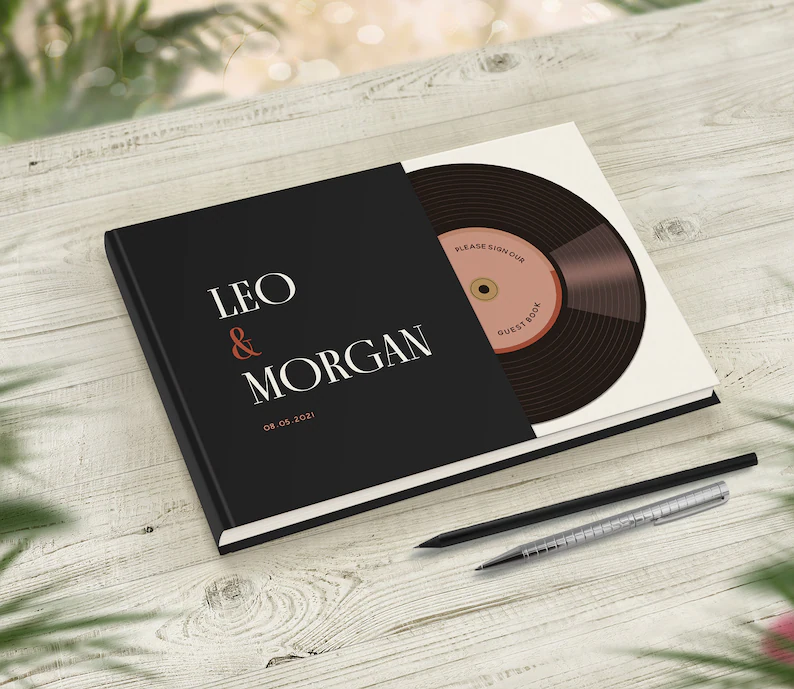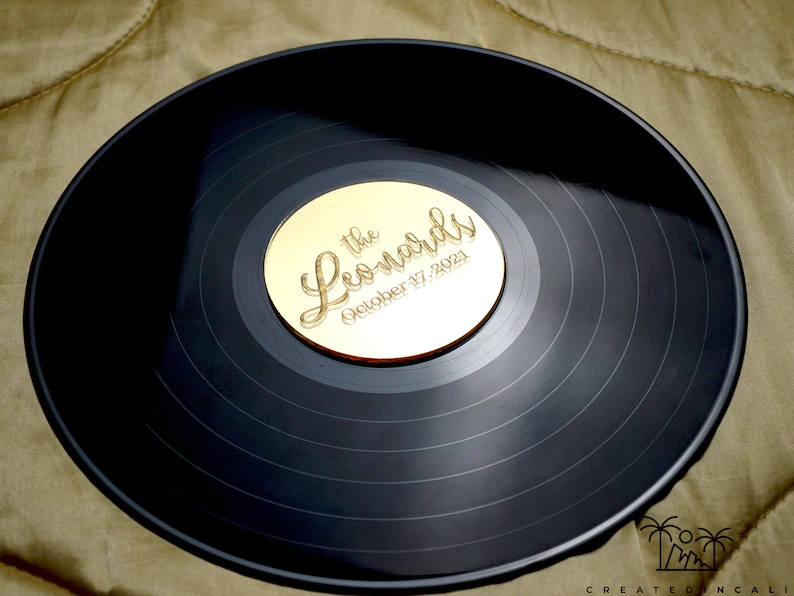 5. MUSIC GUEST BOOK IDEAS
If you love your music then a music guest book may be more for you.
You can keep it simple with a guest book style but on each page, the guests are asked to leave their favorite song as well as sign.
For a more wow factor we love the idea of signing a musical instrument.
If you have an old one on display already or one you plan to then this is a perfect idea. All guests sign and then you can hang up and see the lovely messages daily.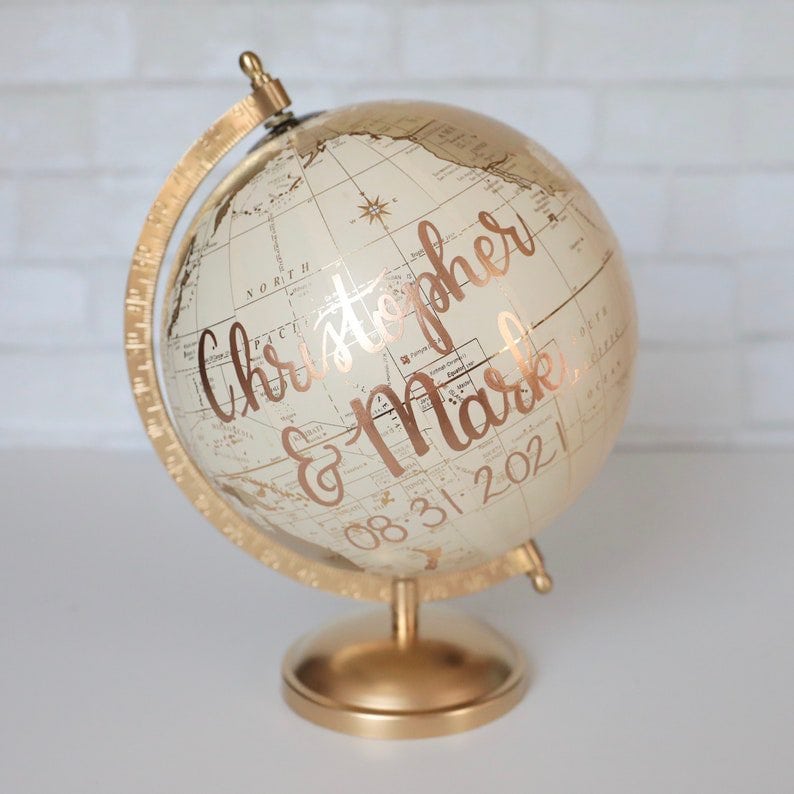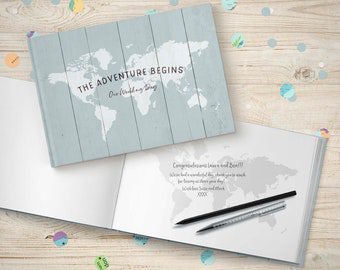 6. TRAVEL GUEST BOOK IDEAS
Travel can be a huge part of many couples' lives and a lot of the time where and how their love grew.
Meaning it is important to include it in some way if so. The guest book is a great way to do this.
Again, keep it simple with a more traditional guest book style but ask your guests to write a note about where you should travel as a married couple. Or the most romantic place they have been together.
We love the globe guest book.
This is another fun, interactive way for guests to sign while having a lovely decor piece full of memories to see each day.
There are many different ways to have a travel guest book though, map signings, travel ideas in a bottle, and many more!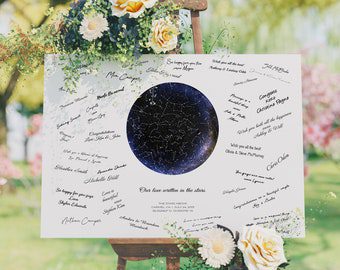 7. SIGN A PICTURE/POSTER
Okay, so this one is a little more traditional but you can definitely think up a nontraditional guest book poster.
We have seen a line drawing of the venue for all to sign.
You could have some graffiti art done to sign or whatever means something special to you.
8. GuestPix – Online image sharing
We love this idea for the modern social media savvy couple. Guestpix, check them out!
Your guests upload and share images and videos from the event and then you can download, store or make your own guestbook album.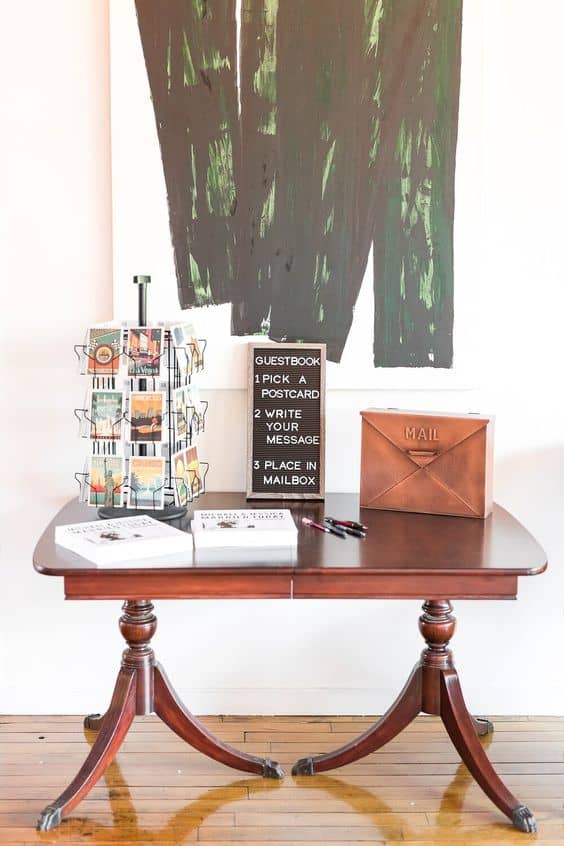 9. Send a postcard
There is something so nostalgic about postcards. These can be old vintage postcards. Ones from your favourite locations.
Or have your engagement photos on them for a personal touch.
10. video recording
Have a backdrop and camera set up or you can hire packages. You can even get booths for guests to enter and leave a video.
The guest goes in a leaves short video clips and messages, funny, heartfelt or sometimes a little naughty!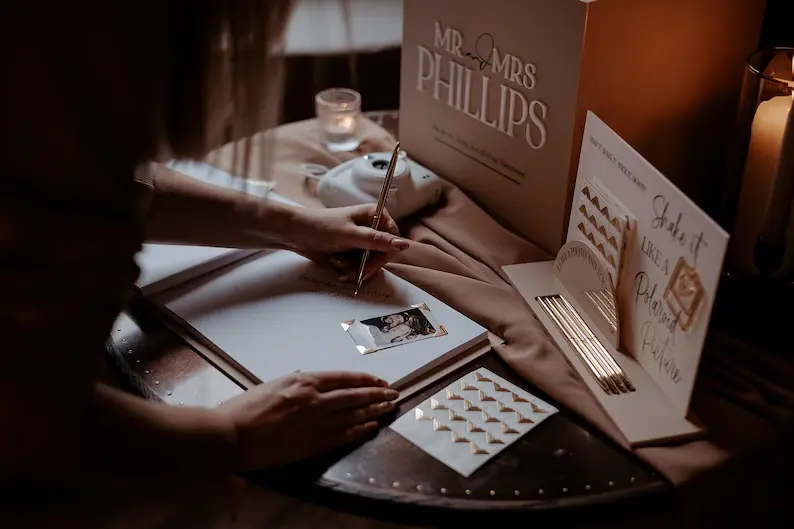 11. polaroid station
This one is a bit oldy but a goody! Guests always love a Polaroid station at a wedding. You get them to sign the picture and you can keep them to look back on for years to come.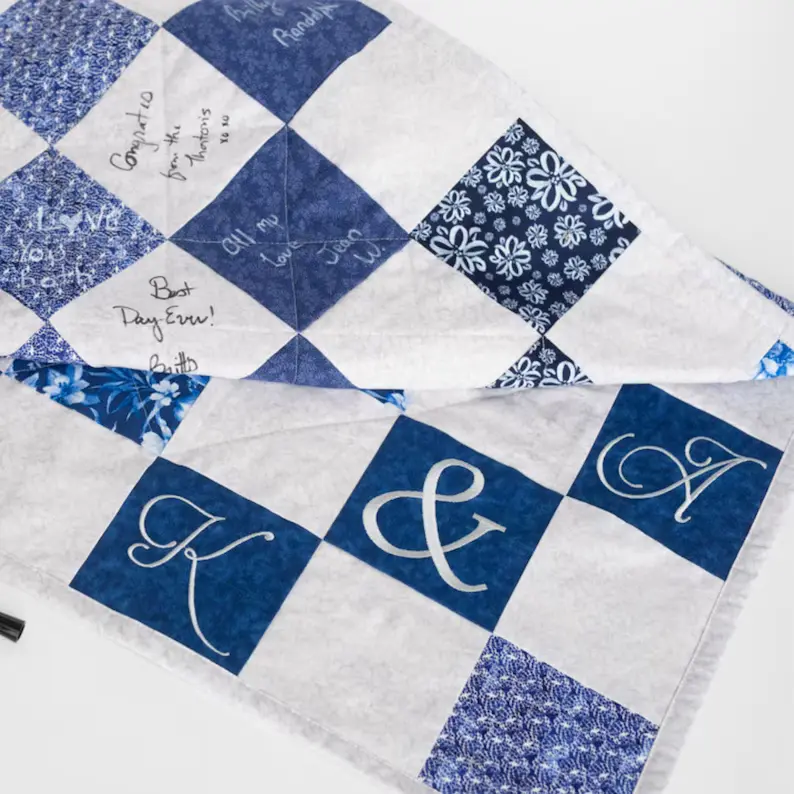 12. sign a quilt
This is a super unique idea and really functional idea also.
If you are crafty yourself I have seen this done with just the squares to sign and then you make the quilt or send it off. That way would help with mistakes also.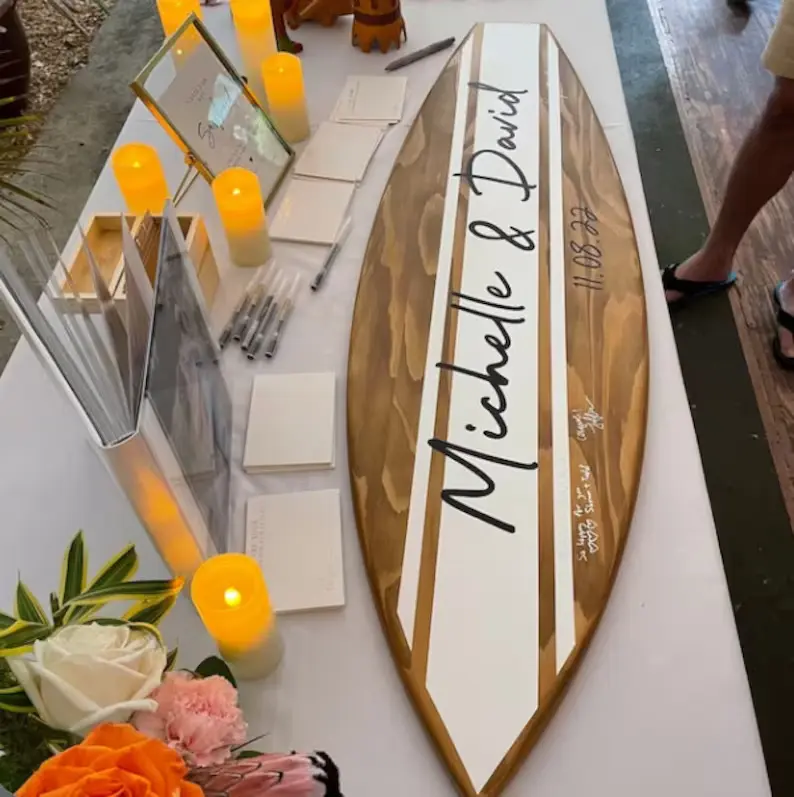 13. sign a surfboard
Not just for the surfers. If you live near the beach or have a nautical interior design then they make lovely decor pieces.
You can use a real surfboard, great for a beach wedding stuck in the sand.
Or you can have one made like the one above to hang on the wall forever after.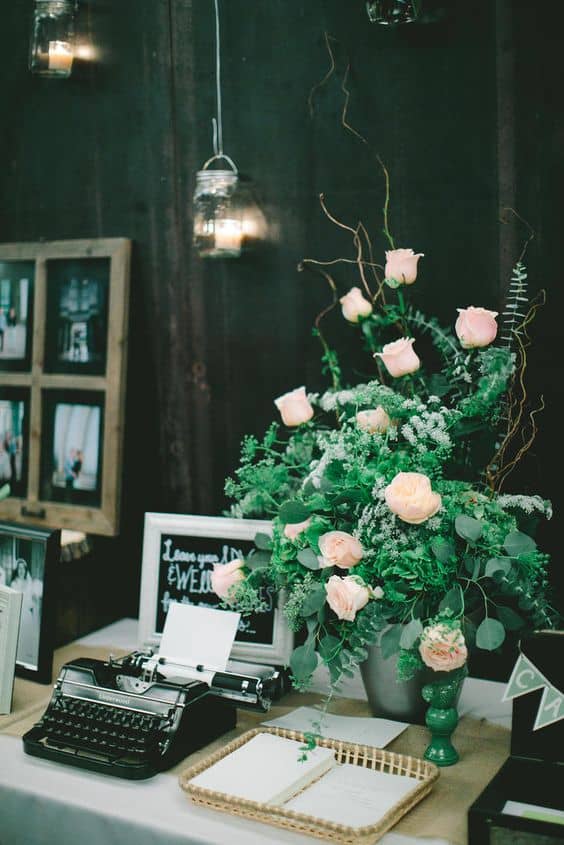 14. typewriter
This is perfect for a vintage feel to your alternative wedding guestbook.
You can use the typewriter for guests to write their notes.
Or the more popular way is for the typewriter to be a prop and have cards, books or paper close by.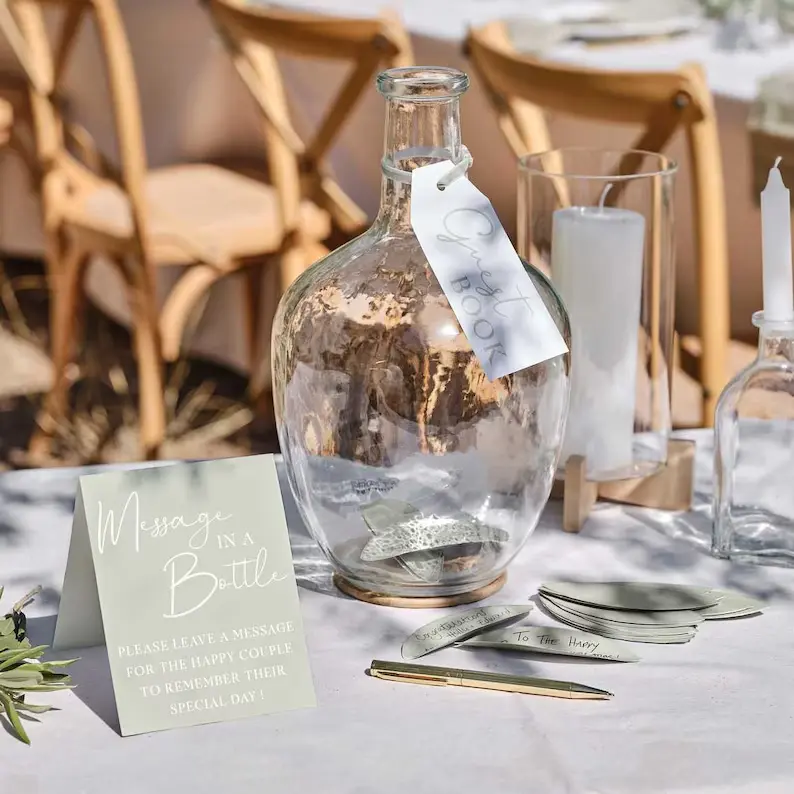 15. message in a bottle
I love this guest book idea. If you pick an aesthetic bottle like above then you can keep it on display at home.
You can use different types of paper for them to write on. I like it when you have paper and then they can roll and tie it before putting it in the bottle.
Making it a more interactive wedding guest book.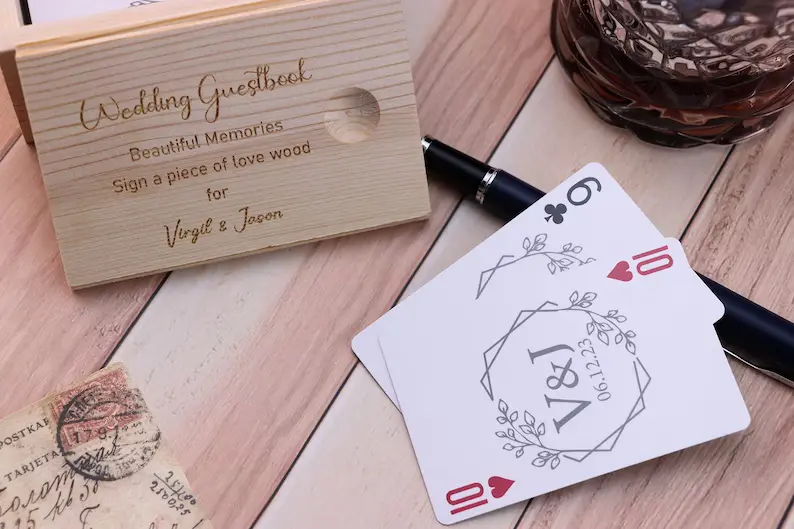 16. playing cards
These cards are too cute! You can have your guest write a little message on them and then every time you play you can remember your special day.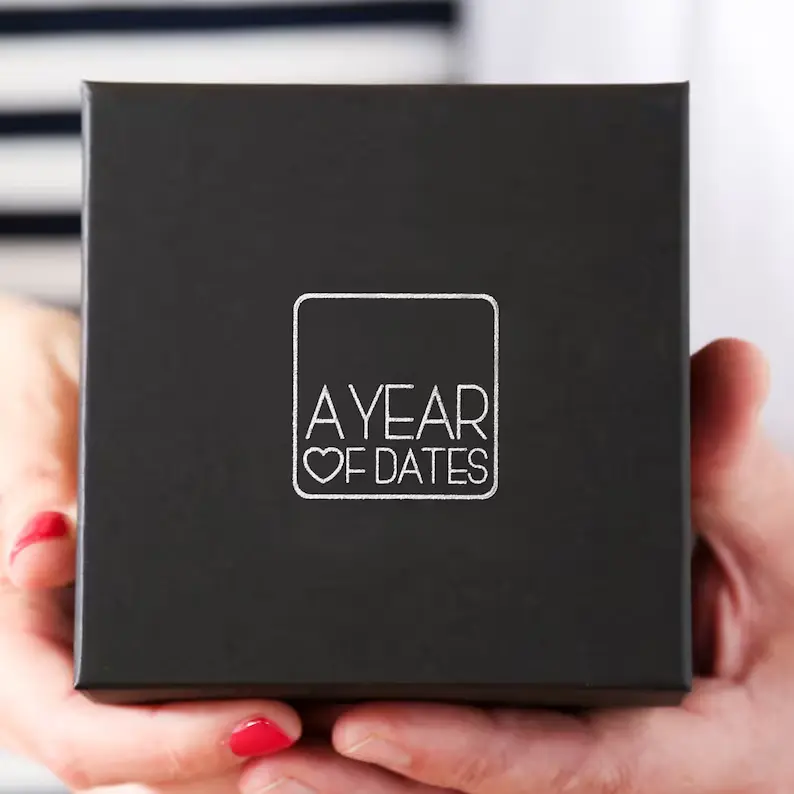 17. date night ideas
Writing quotes or well wishes is hard sometimes for some people, me included!
Having an option to write something different like date night ideas is fun and easy for everyone.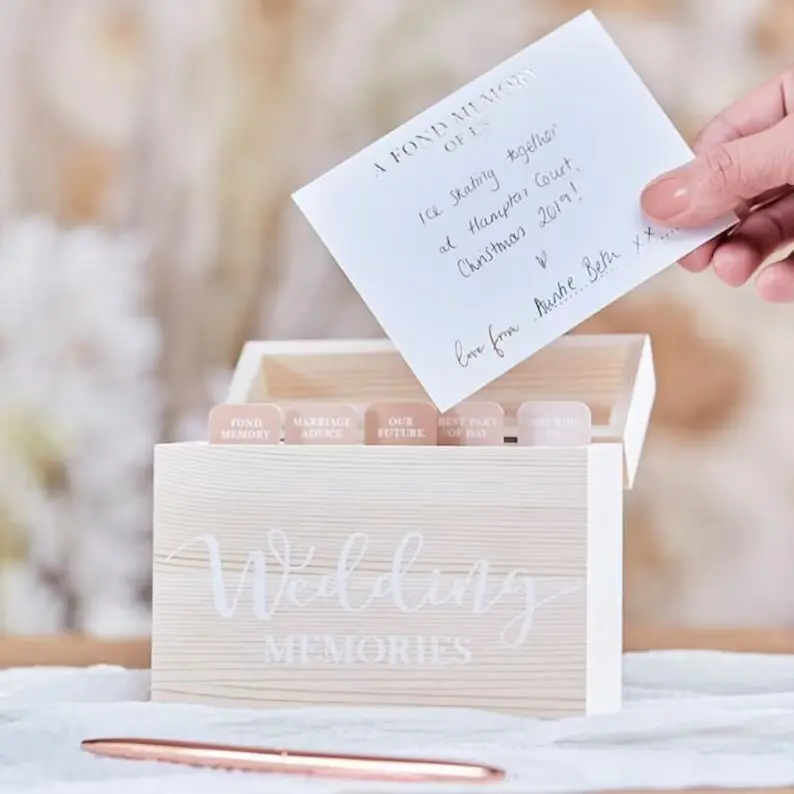 19. best advice & memory box
Like with the date night idea above this is a great alternative. It gets the guest thinking and memorising.
You get to read back the memories and not just remember the wedding you have advice and other memories.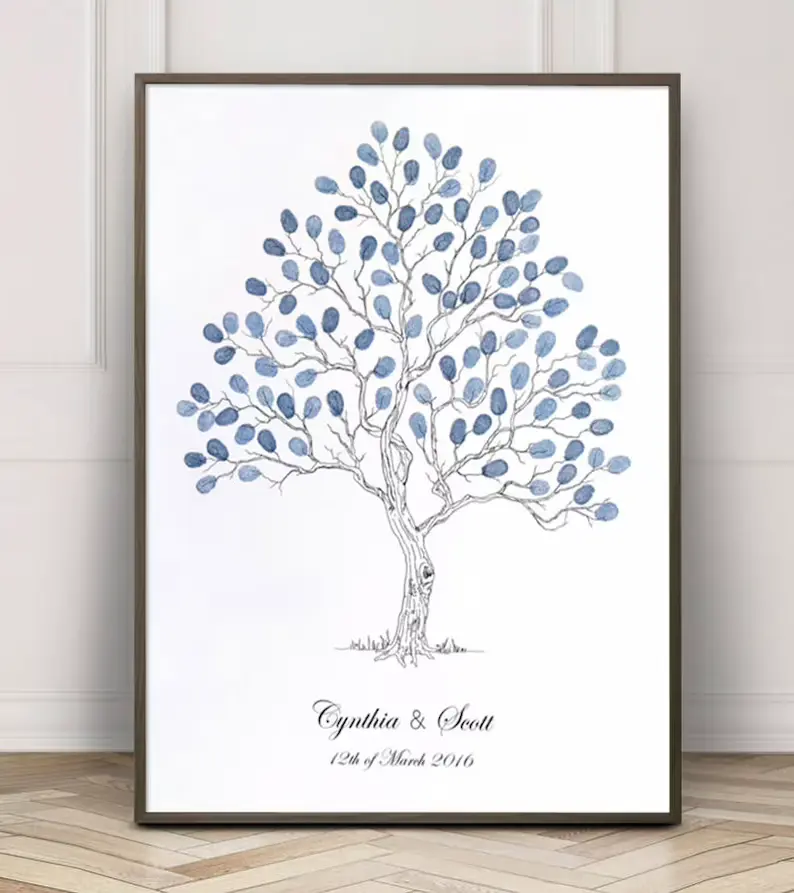 20. Fingerprint guest book ideas ideas
This one is a little more well known but such a cute idea so worth a share. You can get lots of designs not just trees.
21. bucket list ideas
I love this idea! Great for the adventurous couple or the ones who like to travel. You can live all your guest bucket list ideas. You can even arrange to do it with them for a nice couple's date.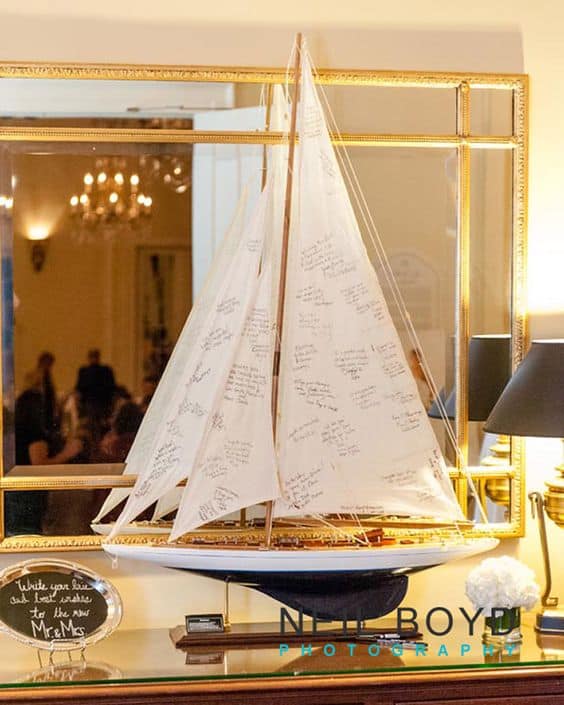 22. Boat wedding guest book ideas
So maybe it's because I am a boaty but I love this idea! How stunning would this be in your house to look at?
You can get big and small boats made, take the sail off, guest sign and then replace them.
More blogs you will love!