Alternative and non traditional wedding planning guide
As you already know by now, we at the Urban Wedding Company are all about weddings that are done your own way – bold, quirky and unapologetically cool!
So when it comes to having the ultimate unique celebration tailored to your own personality, we are here to give you the most amazing ideas.
That being said, if you feel like you don't fall into the typical wedding frame then hosting an alternative wedding might be right up your alley.
Below you will find a complete guide on how to pull off the most stylish non-traditional wedding and all the alternatives you can use to celebrate your love!
Just looking for inspiration? Head to alternative wedding ideas blog!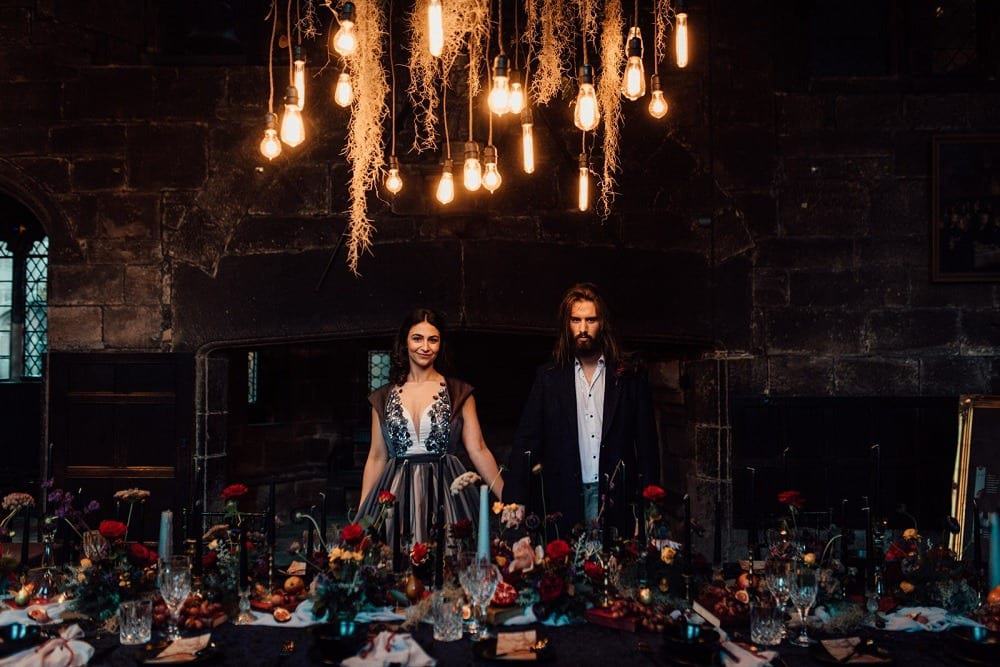 What is an alternative wedding?
Also known as a non wedding or anti wedding.
Non-traditional weddings are celebrations that include those things that feel right for you as a couple, weeding out all of those other things that simply have nothing to do with your personalities.
A wedding that is a reflection of you as a couple!
An alternative wedding is a celebration that's not the standard white dress and church venue affair.
The term "alternative" can mean different things depending on who you're talking to – it could mean a wedding with one or two family members, couldn't have any religion at all, or even just something smaller than the traditional affair.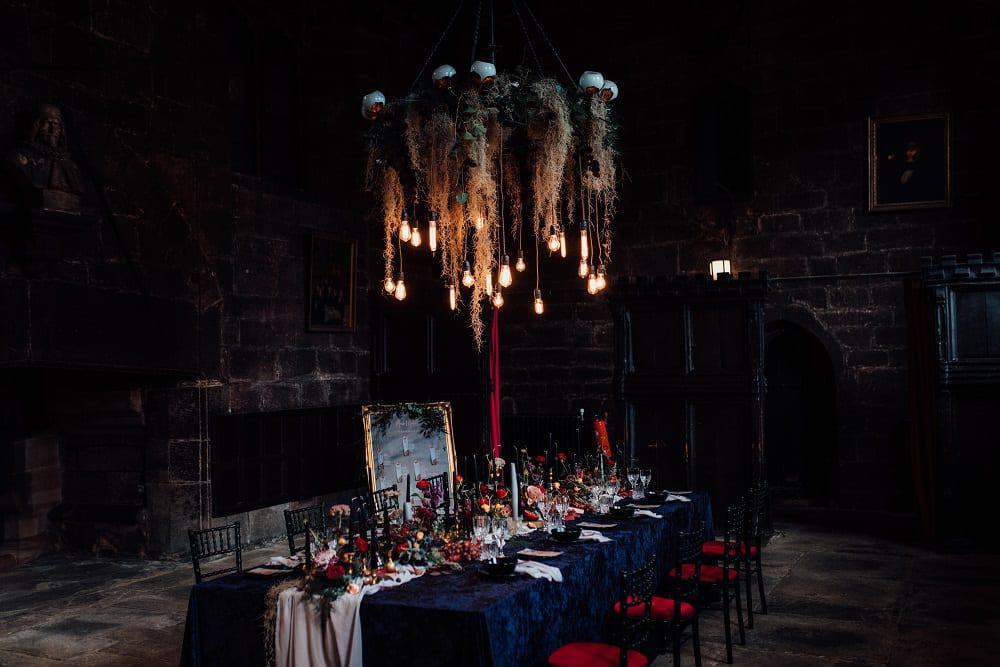 How to plan a non-traditional wedding?
It can be just as tricky or even more so than a traditional wedding to plan at times. When you are throwing the rule book out of the window it can be a little daunting of where to start!
First, think about why you are getting married. What do you want to do as a couple on your day?
Being clear on the vision for your day and asking yourselves some important questions is the best way to start the planning process.
Questions to ask yourselves
What do you want your wedding day to represent?
what defines you as a couple?
Where do you live, where are your families from, who's close with each other in your social circle.
What style of wedding do you want?
What are the five most important things to you on the day?
What are your non-negotiables?
Deciding on some keywords and phrases that describe your relationship – such as "fun", "unique" or "romantic". These can then be used when developing themes
How do you want your guest to feel on the day?
Planning tips
Set your budget, always the first thing you should do
Find the location, the perfect alternative venue or your favourite spot
Guestlist, This will depend on the above and then only invite who you really want there
Photographer, always a must for us no matter the style
book all other suppliers, Depending on how alternative your day is you probably will want some super cool suppliers like on our directory
Enjoy your day your way!
Timeline of an alternative wedding
The beauty of an alternative wedding is anything goes! This includes timings. Are you a night owl? Get married at twilight then! It makes for some stunning images and is super romantic.
Have an early morning wedding and then have a fun-filled day of activities. With or without the evening party!
Weekend wedding anyone? A big yes from us, we even say have a week! A full weekend of planned activities for guests is the ultimate anti wedding protest!
How to have a non-traditional wedding ceremony?
Alternative wedding ceremonies can be anything you want them to be.
Not the church type? Then choose your favourite place and let the chosen celebrant do a speech completely aligned with your own story.
Furthermore, you don't have to arrange the seating the typical way, nor do you need to be escorted down to any aisle. You may do it alone, with both of your parents, with your favourite pet, even together with your partner! Whatever feels completely right – do that.
No wedding party
Another less popular idea that other couples usually do is having no wedding party.
Maybe you have a handful of guests who are all important to you in their own unique way and don't feel like giving them any titles, so you can choose to dismiss the idea.
Wedding vows 
For example, if the vows are truly personal and something you might not feel comfortable speaking in front of everybody. You can choose to turn off the microphone and say them privately.
You don't have to have a priest or register do your vows, heck it can even be your BFF! Do remember though in the UK it is not legal and you would still need to do the legal parts if you want it all official! Check each country for rules as each is different!
Top 5 alternative ceremony ideas
celebrant ceremony
humanist ceremony
handfasting ceremony
Whisky blending ceremony
Sand ceremony
Head to our alternative wedding ceremony blog for loads more ceremony ideas.
How to have a non traditional wedding reception
After the ceremony, it's time to party! You want your reception to be as different and personalised as possible.
Think about the thing you love to do and how you are your guest would love to spend the evening!
Some alternative wedding reception ideas
Organise a themed wedding – maybe even something with a little sci fi flair that reflects individuality or represents what is important to you as a couple.
Invite only close friends and family – often with alternative weddings, it's not about the number of people but the quality!
Throw an intimate dinner party for just your nearest and dearest, where the menu can be personalised just for you and your guests
Have a morning brunch, so that you can enjoy the best of both worlds – savoury pancakes with syrup and bacon or hot-cross buns for dessert! This is one way to bring people together who haven't seen each other in awhile before the wedding begins!
Have a pool party, uber stylish and boujee if you wish!
Sail of on yacht, the ultimate boat party!
This is your day, so do it how you want and enjoy every minute!
Non traditional wedding attire ideas
A lot of people stick to the same old, white dress – but that doesn't have to be your fate! Here are some ideas for non traditional dresses and outfits you can wear on your big day:
Forget white – There are so many insanely gorgeous coloured dress out there you will be spoilt for choice
Have a non traditional wedding dress made by your favourite designer – there are so many fashion designers that make a variety of dresses that go against the norms. Really think about what you would like, maybe even something inspired from fiction and let them do their thing!
Wear a bridal cape – You can opt for a beautiful cape with embellishments or straight up something more subdued.
Go short – We have fallen for some of the ultra modern short wedding dresses out there
Make it a two piece – Remember you really don't have to stick with one outfit for both pre and post ceremony. having a two piece you can mix it for day and night.
Wear a jumpsuit – Perfect for the non dress wearing bride
Wear a bridal suit – You can wear a suit for the ceremony and have an outfit change, or even just accessorise with a feminine touch.
Wear a bridal pantsuit – we love a modern pantsuit for any wedding!
Go gothic – This is one that really stands out from the usual with its drama and detailed design!
Wear frill – so many different styles of varying levels and styles of frills available to you. Big fluffy layers or tulle for the modern princess feel
Be clever with colours – Go bold and match your dress with accessories in complimentary or contrasting colours.
A black wedding dress – for example, can be perfect if you want something dark and moody. It's a great choice for those who like their clothes to have an edge of gothic style!
Ombre wedding dress – This is perfect if you want to add some colour but still keep the feeling of a traditional white wedding.
Head to our must buy alternative wedding dress blog for all the most up to date ideas. Or our most popular alternative wedding outfit accessory, bridal cape blog!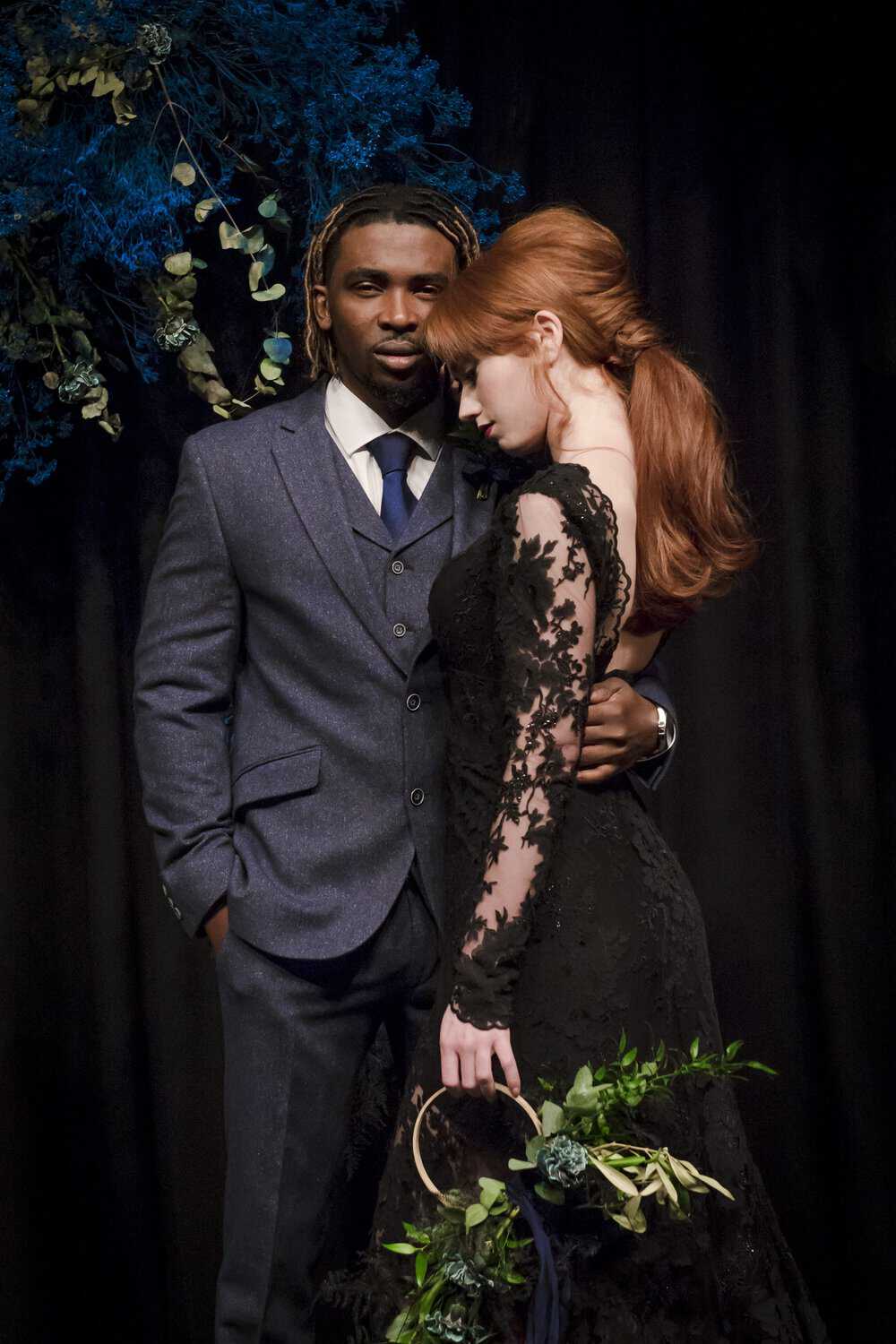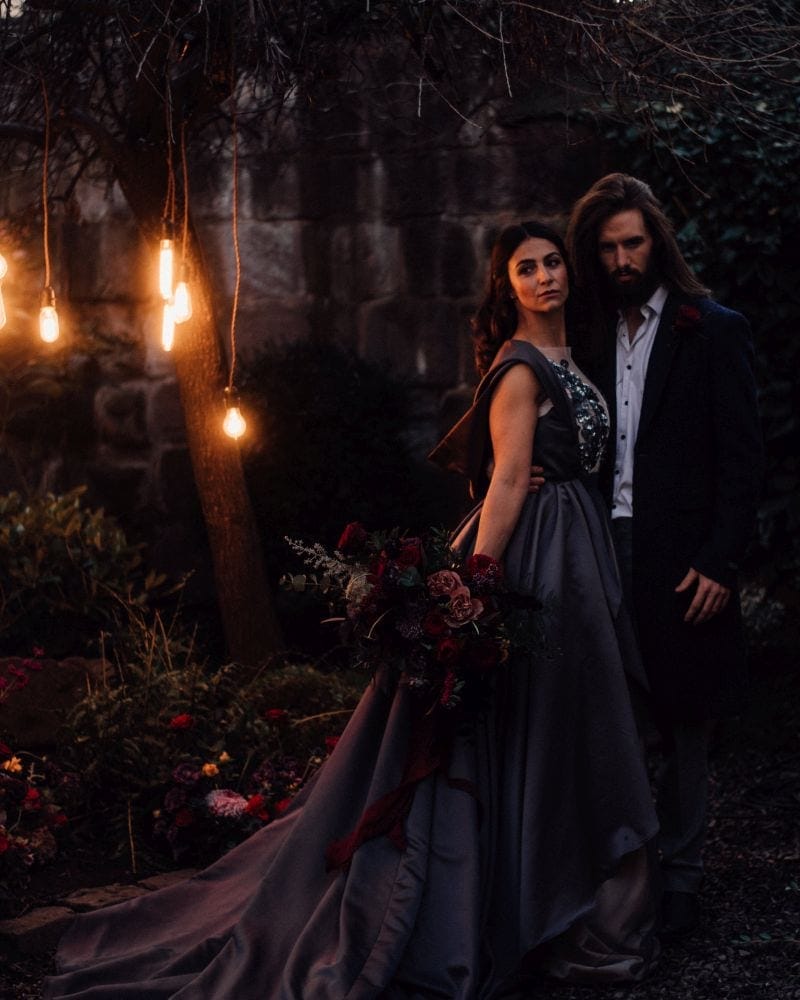 Finding non traditional suppliers
Finding wedding suppliers you trust and who understand your vision is obviously one of the most important factors in creating an amazing experience for your guests.
However, how do you find those kinds of suppliers when so many others are trying to force all the traditional things down your throat?
Values and beliefs
Well first and foremost we recommend that you take a look at your personal values and beliefs, that should give you a basic idea of where to start.
It could be anything from a personal belief regarding certain political or religious matters, environmental factors or social ideals that are important to you as a couple and would require a specific kind of ceremony/celebration in order to reflect those beliefs.
Hiring a wedding planner
The next thing you're gonna want is an awesome wedding planner who will listen to your ideas and help you find the right alternatives that fit your personalities.
If you can't find one, then don't worry – head to our wedding directory for some amazing suppliers that are NOT your average wedding planners!
Photographer
Next and possibly most important is your photographer. If you're having a non traditional wedding or simply want some pictures that are unconventional and unapologetically cool, we recommend that you give alternative wedding photographers on our page a shot!
Do your research, make sure you love their images and meet in person as that connection so important!
Be clear on your values and vision
Once you've found suppliers who "get" your idea and incorporate it into the ceremony/reception in an awesome way, make sure to tell them exactly what you want from them.
Let them know that your wedding is non traditional, so you're not interested in what the bride of the day usually gets during a typical wedding, no white dress and only one tier cake for example. We have some non-traditional wedding ideas below to get your juices flowing!
Alternative wedding ideas
non traditional Wedding cake ideas
What better way to celebrate your big day than with cake? These days there is so much choice when it comes to picking out what kind of dessert you want, and that goes for alternative weddings too. Here are some ideas for what you can have on your cake:
A small, tiered cake with a design that reflects the theme of your wedding – maybe even like something out of Alice in Wonderland or Willy Wonka's Chocolate Factory!
A textured cake, from concrete to frills! Think past the smooth icing and get creative with your cake designer.
If you're not a fan of cake, try macarons or even doughnuts! These always go down well with everyone
Mix it up by having the top tier as traditional and then adding something different for those who don't like their cakes too sweet – this could be anything from a cheesecake to an ice cream sundae.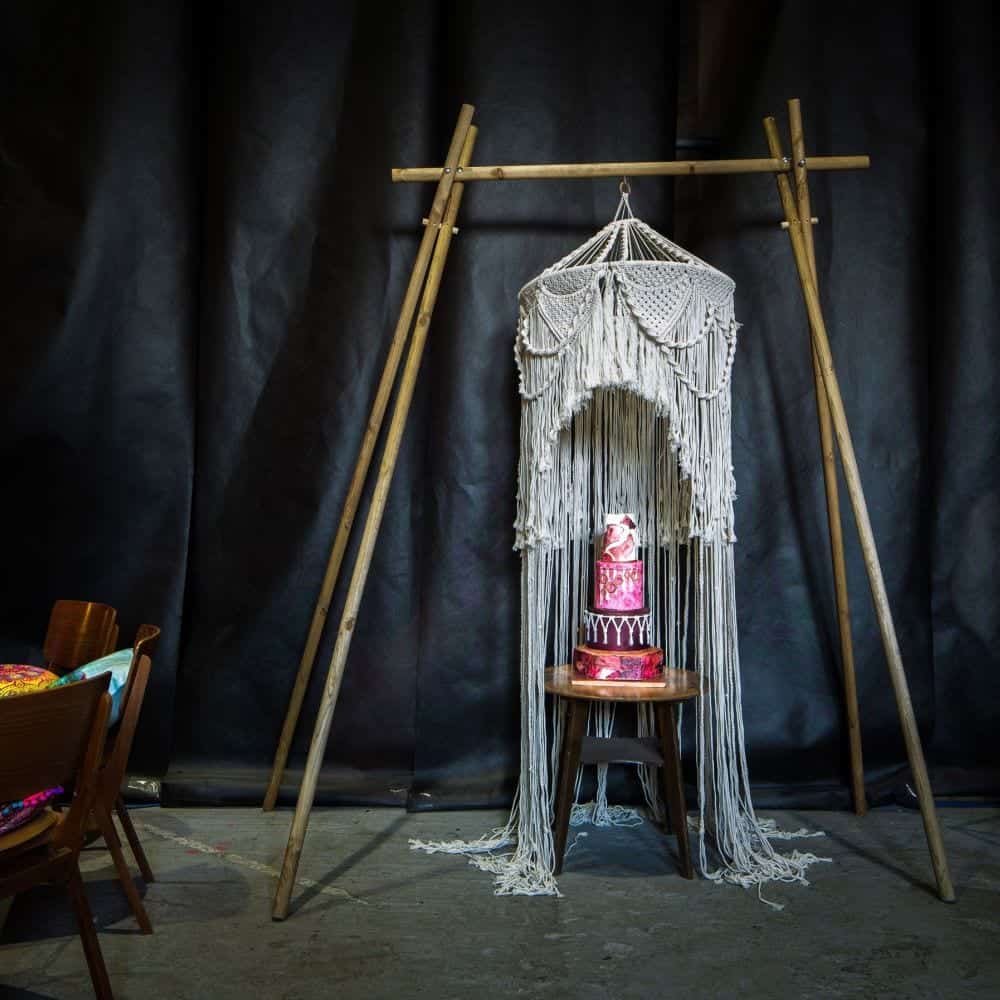 Non traditional guest book ideas
Traditional guest books have a lot of uses – for the happy couple to cherish memories and quotes from special people, to say thanks for gifts received at the wedding and sometimes as an idea book for future gift ideas.
So how do you make your alternative guest book stand out amongst all the other "normal" ones? Here are some ideas:
Have a customized guest book with photos from your relationship scattered throughout the pages, along with text highlights of why people love you as a couple.
If you have a lot of friends who are artists and craftsmen/women, get them to create something inspired by you two – maybe even make it interactive so that they can sign their name with a line or a sketch and you can add it to your book.
Make it fun for your guests by including other things too – maybe they could leave behind notes on how they knew you as a couple.
Alternative wedding rings ideas
Traditional engagement rings are usually pricey and show-offy. It's almost as if a ring like this shows the world that "hey, I'm getting married!".  So why not go for something less conventional? Try these ideas:
Have your rings made in a local workshop or even buy them directly from the vendor. You'll be able to find some awesome and affordable ideas if you search online, like buying rings with gems that represent your birthstones!
If you're into vintage jeweler, then check out thrift stores for antique engagement rings. If they are not your style, this is an awesome opportunity to have them re-made and into something that you like.
Have rings made from natural elements – woods, bones or even seashells! A lot of jewelers use these kinds of materials to make wedding rings nowadays.  It's a good way to go green too if you're concerned about conservation and this can also be a unique alternative to the traditional diamond wedding ring.
Silicone wedding bands are a great alternative, head to our complete review with lots of buying options.
Non traditional wedding bouquet ideas
The bouquet is an important part of any wedding outfit, but that doesn't mean you have to stick with tradition.
If your personal style isn't as traditional, then why not go for something a little different? These are just some suggestions:
A larger-than-life fruit bouquet – make it really colourful and beautiful if you can
A bouquet made of personal and meaningful items, such as a broches or a favourite book.
A dried flower bouquet
A bouquet of fake flowers
A mini flower crown – perfect for a bride with short hair!
An unconventional, but beautiful paper-flower bouquet.
For those who want to follow tradition: A small floral handbag containing your favourite blooms and greenery?
A all greenery bouquet
A metal hoop or hexagon dressed with florals or greenery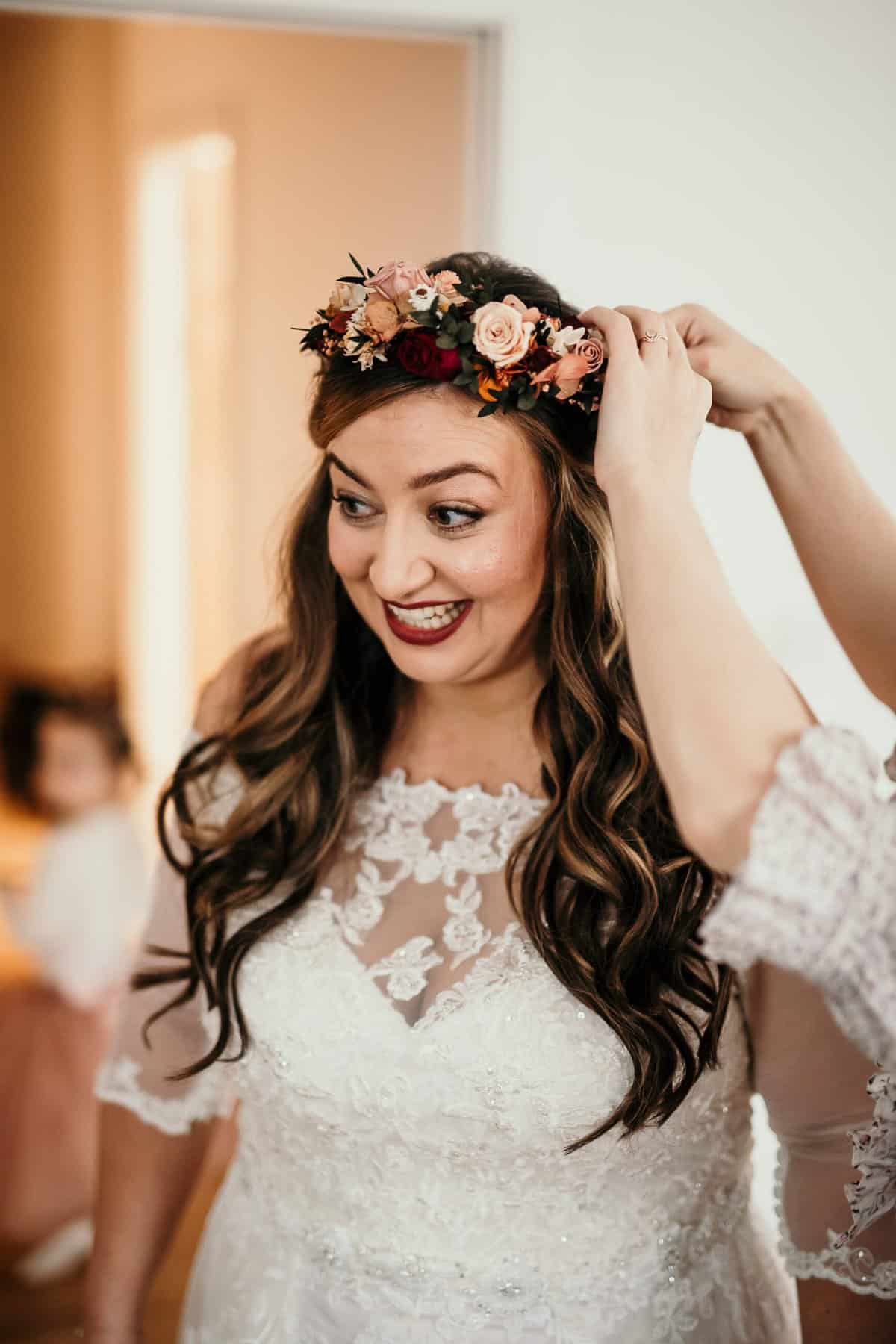 non traditional wedding Entertainment
This is one of the most important aspects to consider, because it can make or break your wedding.
There are plenty of different things you could do for entertainment at an alternative event; some ideas include:
A band instead of a DJ (or vice versa) – this provides more variety in what music they play and how energetic they are
A circus-themed wedding – perfect if you've always wanted to be a clown or trapeze artist for the day!
Keeping it simple and performing live music at your ceremony, such as guitarists, cellist, violinists etc.
A silent disco – this is perfect for those who want to dance without the noise!
magician at your wedding
A human statue – this is a great idea if you're looking for something to keep the children entertained!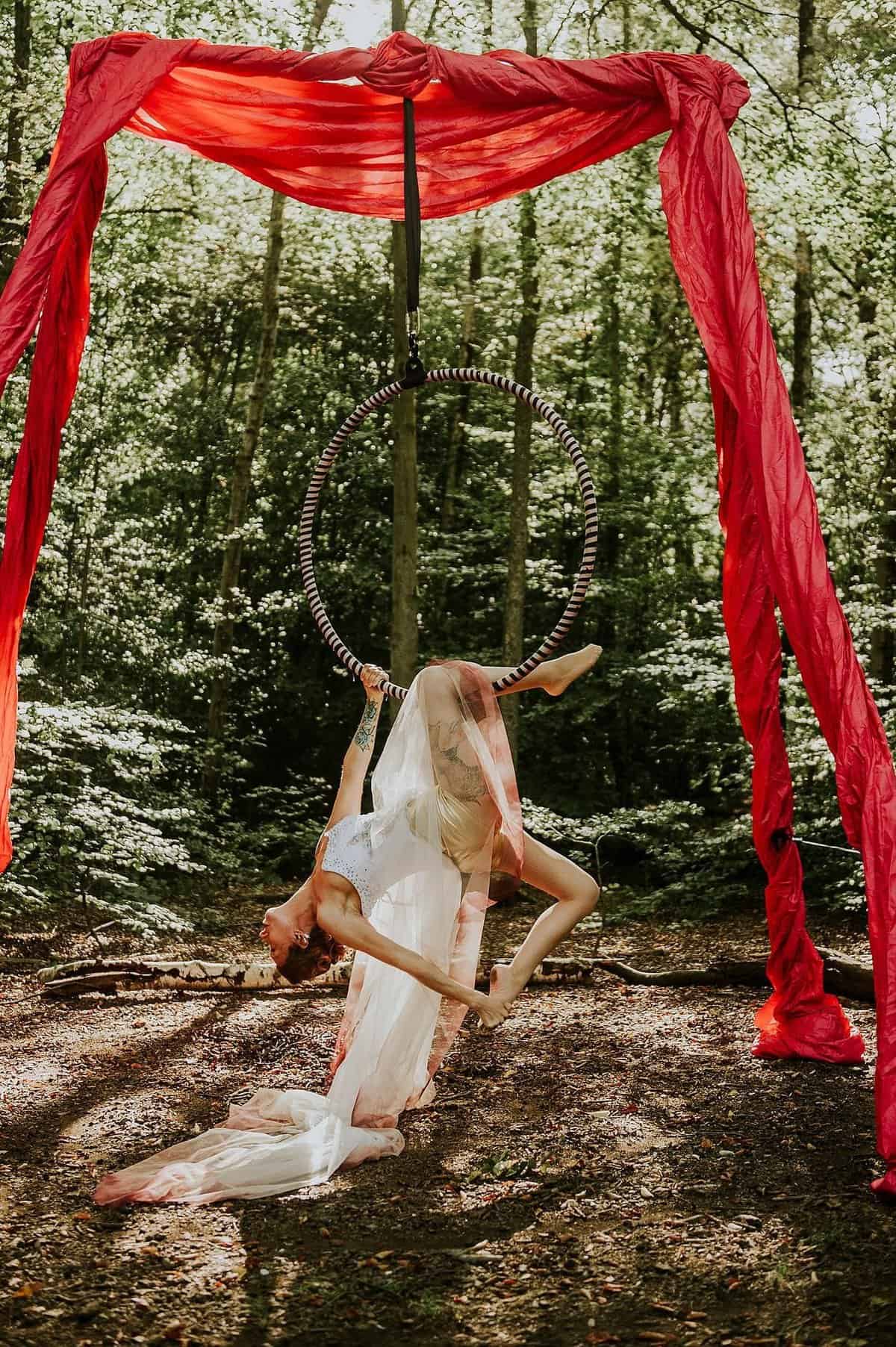 Alternative wedding location ideas
If you're looking to make your wedding more interesting and unique, why not try an alternative location? It might sound complicated, but it really isn't – here are some ideas:
A beach ceremony with a backdrop of the ocean (make sure that this is legal where you live!)
An indoor or outdoor barn wedding
City centre venue with a view of the skyline
A ceremony in an apple orchard – make sure to keep it in autumn time though, so you can have all those beautiful colours!
A ceremony in a forest or woodlands
FAQ about alternative and non traditional wedding not answered above
WHAT IS A NON-WEDDING WEDDING?
A non-wedding is a ceremony that doesn't include the traditional wedding vows and rings. For some couples, this may mean not getting married at all; for others, it might just be about making their ceremony unique!
Non-traditional wedding ceremonies are perfect if you're looking for something a little different to the norm.
WHAT IS AN ANTI-WEDDING?
An anti wedding is a ceremony that does not adhere to any traditional norms. This can include anything from no rings for the bride and groom, vows instead of marriage vows, or even just an exchange of promises – there are so many variations you could do!
WHAT ARE THE BENEFITS OF NON TRADITIONAL OR ANTI WEDDING?
There are plenty of potential benefits to non traditional ceremonies, and these could include:
The ceremony is more meaningful, exciting and personal – what better way to show how much you love someone than a traditional?
It's can be cheaper! Non-traditional weddings can be as simple or extravagant as you wish!
You can make it completely unique – no one's wedding will be the same as yours!
The ultimate guide to planning an alternative or non traditional wedding!
Today, we've discussed the benefits of having a non-traditional wedding and some examples to inspire you. What are your thoughts? Let us know in the comments below! 
We have the complete alternative wedding blog series, check out some more blogs in the series below. If you have something you want us to cover then get in contact!
Check out our latest non traditional Planning guide blogs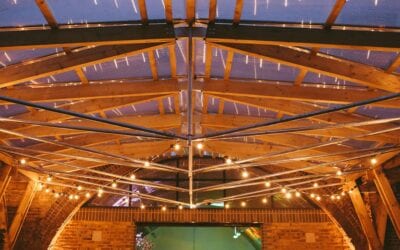 Looking for a nontraditional wedding venue? Gosh, when I think about the options available now for...