Bridal jumpsuits are a huge trend in the wedding industry and we can see why!
They are a fun, modern alternative to a wedding dress! They are super stylish and easy to wear.
From simple and modern to ornate and dramatic, bridal jumpsuits are perfect for any bride's style.
They work for a traditional or alternative wedding style.
So if you are thinking about making the switch from a dress to a bridal jumpsuit, we have tips for you to help you pick the perfect one!
We have also picked a few of our favourite designers and styles below that we think are the perfect wedding jumpsuits.
Check out our Alternative wedding dress blog, or if you are looking for a bridal wedding suit we have you covered.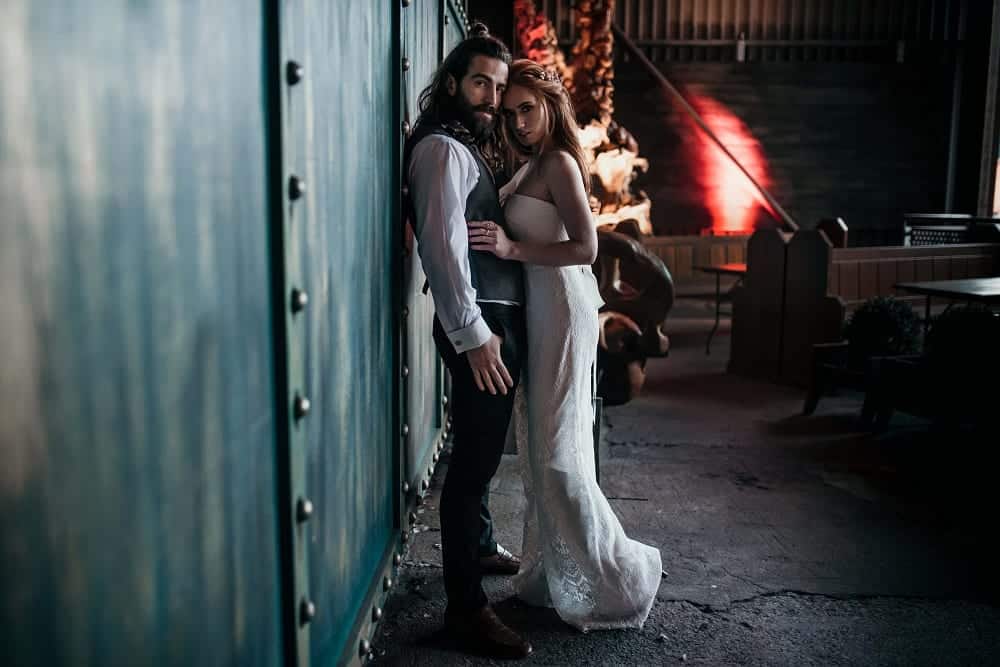 Image Kerry Lu Photography
OUR TOP PICKS OF THE BEST BRIDAL JUMPSUITS
We are committed to providing unbiased, credible reviews so you can choose with confidence. We may earn commissions on purchases made from visiting our partner stores. Please see our policy here.
Related blog post: Bridal capes
Related blog post: Detachable Wedding dress Sleeves
CHECK OUT MORE LACE JUMPSUITS!
WEDDING JUMPSUIT BUYING GUIDE AND FAQ'S
IS A JUMPSUIT APPROPRIATE FOR A WEDDING?
Of course! They are a perfect alternative to a wedding dress and they look just as stunning.
The style of the piece depends on the fabric used. If your wedding is more formal then make sure that your bridal jumpsuit has a tailored finish.
However, if you are having a more casual wedding then opt for a jumpsuit with floaty fabrics, as they look effortlessly chic!
HOW TO MAKE YOUR JUMPSUIT LOOK FLATTERING?
This is an important point to consider when purchasing your jumpsuit. Just like any dress or outfit, the fit is key!
A bridal jumpsuit can leave you feeling exposed, but a flattering fit will ensure that you look and feel beautiful on your special day.
Make sure that the material fits well and isn't too tight or too loose. Another thing to consider is whether to get a jumpsuit with sleeves or without (they are both equally appropriate).
HOW TO STYLE A JUMPSUIT FOR A WEDDING?
You can style a jumpsuit however you want, but the most popular looks for weddings are jumpsuits with a long veil or robes and fun shoes.
If your wedding is in winter then choose a long cape to wear over your bridal jumpsuit, and if it's summer chose some cute flats.
Headpieces are also super popular, as they add a really fun element to the look.
WHAT ARE THE MOST POPULAR STYLES?
You can find jumpsuits in lots of different styles and colours but some of the most popular choices for weddings are:
1) One shoulder bridal jumpsuit.
This style is always elegant and flattering. The best material for this look is a stretch satin or a beautiful fabric with embroidery detail.
2) Long sleeve jumpsuits:
Quite simply these are the more formal choice out of all the jumpsuit styles. If you are choosing a long sleeve jumpsuit then make sure that the fabric is lightweight and isn't too heavy.
3) Full-length jumpsuits:
As with most wedding dresses, the full-length bridal jumpsuit features an elegant look, and is perfect for big weddings where there is lots of dancing!
4) Short bridal jumpsuits:
A favourite among brides everywhere, the short bridal jumpsuit is ultra glamorous and shows off your legs. Perfect for a summer wedding!
5) Oversized jumpsuits:
If you are looking for something trendier then go for an oversized jumpsuit with a relaxed fit. If you want to add a touch of glamour then keep it simple with gold accessories and shoes.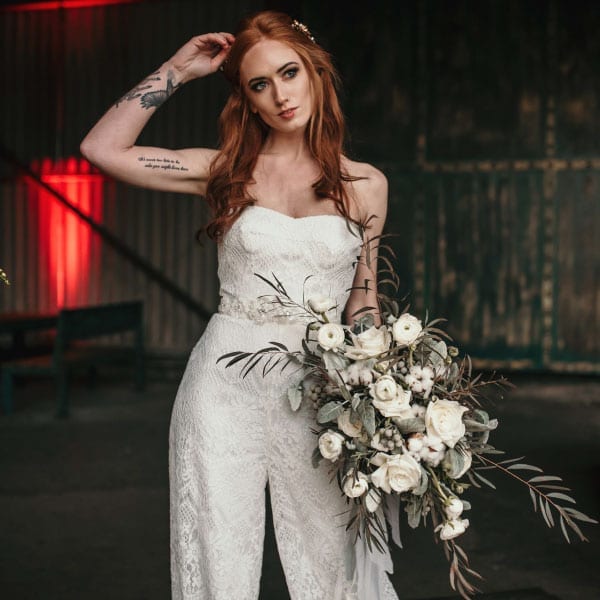 WHAT STYLE OF JUMPSUIT TO GO FOR?
As previously mentioned, one of the main benefits of a jumpsuit is that it's so easy to wear! So if you're hosting your own wedding then they are an ideal choice as you don't have to spend hours getting dressed.
If you want something that you can just pull on and look amazing then a jumpsuit is the way to go!
HOW MUCH DO BRIDAL JUMPSUITS COST?
The price of a jumpsuit can range from anything between £100 to upwards of over £1000.
It all depends on how you style it and who the designer is too. Some designers have a great bridal range, and you can usually pick up a jumpsuit for around £100.
It's possible to get cheaper ones if you opt for a simple style and pair it with some accessories that add glamour!
FOR WHAT SEASON IS A BRIDAL JUMPSUIT MOST APPROPRIATE?
This really depends on how you choose to wear your jumpsuit, but they are perfectly acceptable for any season.
If you are in a colder climate then look for jumpsuits with long sleeves and a cape, so that you stay warm!
For warmer weather, opt for an open back or sleeveless number.
THE BEST BRIDAL JUMPSUITS
We hope you found a bridal jumpsuit perfect for you and your wedding!
You can trust urban because our editors put a lot of effort into finding the best of the best with our fashion blog posts. We regularly update them to keep them fresh and in-stock items only!
If a jumpsuit isn't for you make a great choice for guests, bridesmaids and even mothers of brides and grooms.
Check out our Alternative wedding dress blog, or if you are looking for a bridal wedding suit we have you covered.
More blogs you will love!