Non-white and colorful wedding dresses
Nonwhite wedding dresses are becoming more popular and not just with brides looking for an alternative wedding dress.
They are becoming more widely excepted in the mainstream wedding world. And we are here for colored wedding dresses!
Going for a nonwhite or colorful dress can be overwhelming though. Not only do you have to consider the shape, style, and size of your dress you now have so many beautiful colors to choose from.
Why do we wear white wedding dresses?
This tradition has been in the United Kingdom and the United States for many centuries. We feel that the more you learn about the reason why, the more you will see that wearing a white wedding dress, really is not needed to be a bride.
Some say that white bridal gowns can be traced back to ancient Rome.
In some cases, a white wedding dress denoted virginity, while others believed it was a way of paying homage to the Virgin Mary.
Queen Victoria wore white at her wedding with Prince Albert in 1840, which is seen as the start of the custom.
What is the most popular nonwhite wedding dress color?
Taking away off white and magnolia, yes still a thing! The most popular nonwhite wedding dress color we are seeing is black or blue.
Black is becoming a strong bold statement choice for the bold bride.
Light blue/grey is also rising in popularity and we can see why it is a beautiful soft choice that is not so bold but definitely as equally stunning.
We are committed to providing unbiased, credible reviews so you can choose with confidence. We may earn commissions on purchases made from visiting our partner stores. Please see our policy here. 
Non-white wedding dresses – The best colorful wedding dresses and their meaning 
1. Black wedding dress
A black wedding dress is probably our favorite nonwhite wedding dress color. We love the bold statement it makes.
It also is super stylish and a timeless color you can wear again for another special occasion.
Black wedding dress meaning
The color black means strength, boldness, and power.
We think of black as serious and sophisticated. It is the color of choice for formal wear. The little black dress is a timeless piece of clothing and at least one hangs in most wardrobes.
It's striking when used in design and helps to evoke feelings of security. 
Head to our black wedding dress meaning blog for lots more information. 
2. Blue wedding dress
Well, this nonwhite wedding dress is awesome in our books. We love how soft it looks when a grey/blue is chosen.
It is very elegant and sophisticated too. The hue you choose really will affect the feel and look of the dress.
The darker you go the bolder and more sophisticated it will be. While lighter hues will give a whimsical, soft feel.
Blue Wedding Dress Meaning
The color blue symbolizes calm, coolness, and relaxation. It is associated with peace, clarity, and tranquility.
It is a non-threatening color that can represent loyalty and trustworthiness.
3. Red wedding dress
If you want to be a bold beautiful bride then a red wedding dress is for you! For us, it is the nonwhite wedding dress color that really makes a statement.
It can be so striking and bold so we say go for it! Check out our red wedding dress blog. 
Red Wedding Dress Meaning
The color red denotes energy, passion, and action. It's a powerful color that can symbolize both positive and negative feelings depending on the shade.
It is seen as strong, lively, confident, high energy, and commanding. Perfect for a statement wedding dress.
Head to our red wedding dress meaning blog for even more information.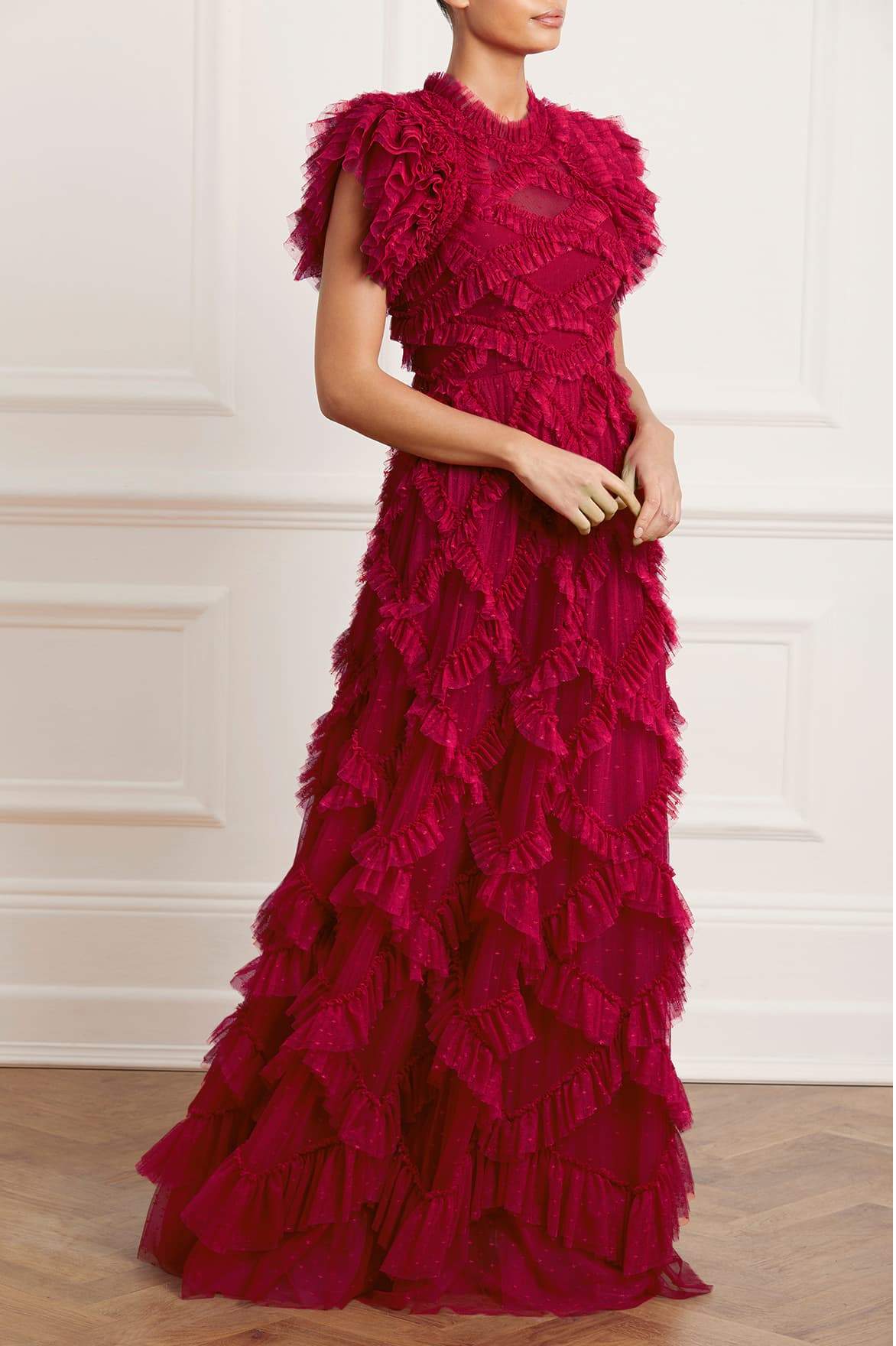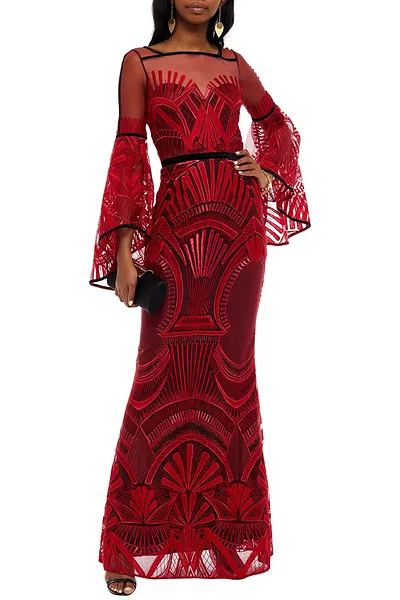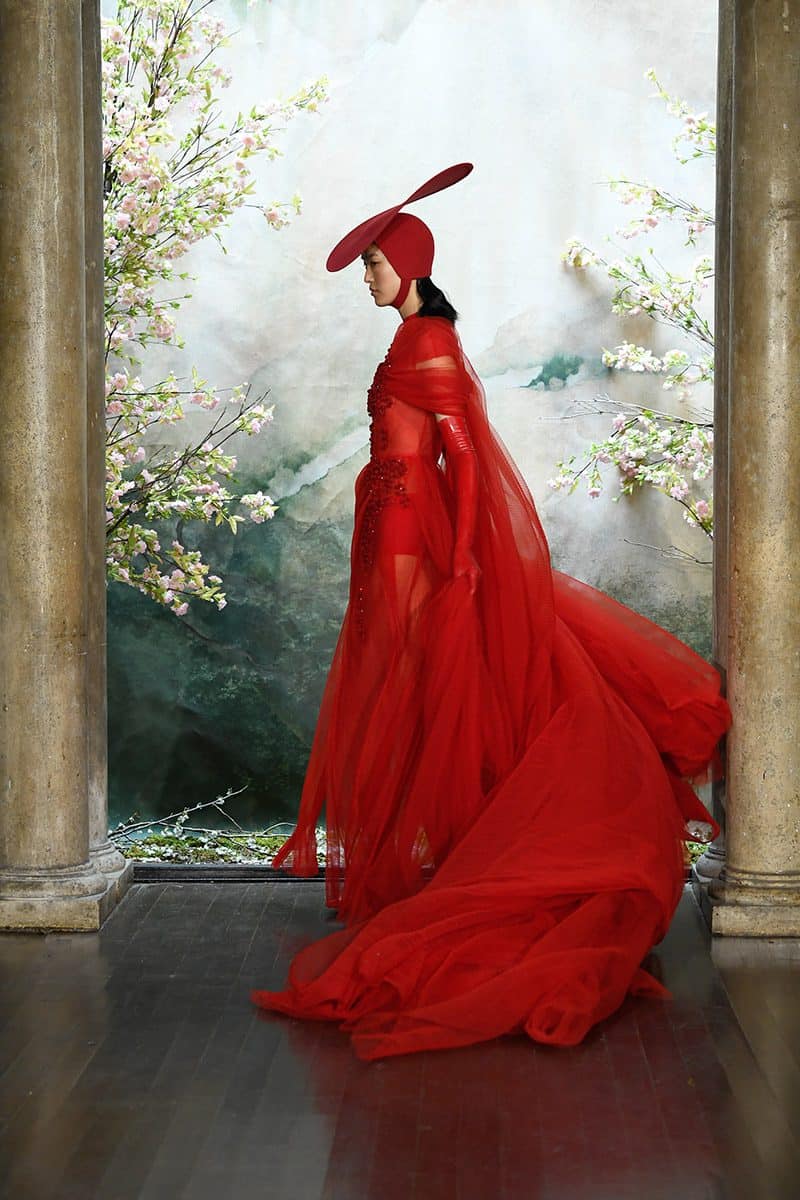 4. Green wedding dress
A wedding dress color that really does not get much attention is green! This color choice may be underestimated but it has so many beautiful hues to choose from.
Green represents growth, harmony, freshness, and fertility.
Green Wedding Dress Meaning
The color green symbolizes nature and health. The bright green hue is associated with environmental awareness. It also represents hope and success.
Sage is a huge wedding trend at the moment and we think is the perfect wedding dress choice.
5. Pink wedding dress
The wedding dress color pink is a very popular one. We love it because it is feminine and perfect for all age groups.
Blush pink is a huge wedding dress color trend and has been for years! We think a blush pink dress is the best subtle nonwhite wedding dress option.
Pink Wedding Dress Meaning
The color represents playfulness, affection, non-violence, compassion, youthfulness, and love.
It symbolizes romance making it the perfect wedding color.
6. Gray wedding dress
A wedding dress color that is more on the subtle side. A softer more refined nonwhite wedding dress color than black or blue. We love how ethereal it looks.
Gray Wedding Dress Meaning
This elegant wedding dress color denotes dignity, reliability, and stability.
It symbolizes trustworthiness and strength of character.
7. Yellow wedding dress
Another colorful wedding dress that has been gaining momentum as of late.
We love how it pops against a blue sky or green grass underfoot! It is perfect for a relaxed boho vibe wedding.
Yellow Wedding Dress Meaning
The color yellow symbolizes joy, happiness, intellect, and energy. It is the most visible color to the human eye which makes it perfect for an outdoor summer wedding.
You know you will stand out and all eyes on you!
8. Peach wedding dress
The colored wedding dress of 2022 is definitely peach! We love how soft and romantic it looks.
Perfect for a bold fashion-forward bride that still wants romance and softness.
Peach Wedding Dress Meaning
Peach symbolizes tranquility, freshness, and youthfulness. It has a calming effect which makes it perfect for a relaxed summer wedding.
Peach also symbolizes kindness, understanding, and compassion. It is modern and fun and we can see it becoming even more popular with brides.
9. lavender wedding dress
Lavender is another modern color that is taking over weddings. We love how bold it is while still feeling romantic and elegant.
Beautiful for any season but it is definitely a must for a spring wedding.
Lavender Wedding Dress Meaning
Lavender symbolizes refinement, dignity, and spirituality.
Lavenders are usually associated with charm, youthfulness, and inexperience. Lavender symbolizes creativity and love.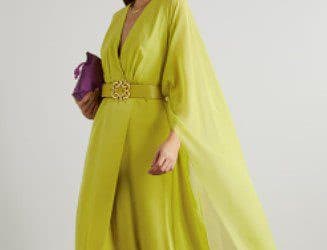 Written by: Last Updated: Bridal fashion has grown over the years and there are so many...