Black wedding dress meaning
The color black has always been associated with mystery, elegance and sophistication.
Around the world though, a black wedding dress was traditionally seen as a sign of bad luck or death.
In some cultures, the color was reserved for widows, as it signified mourning.In others, black symbolized protection against evil spirits or bad luck.
Nowadays, a black wedding dress is more likely to be seen as chic and unique, rather than unlucky.
If you're thinking of wearing a black wedding dress on your big day, read on to learn about the history and meaning behind this controversial color choice.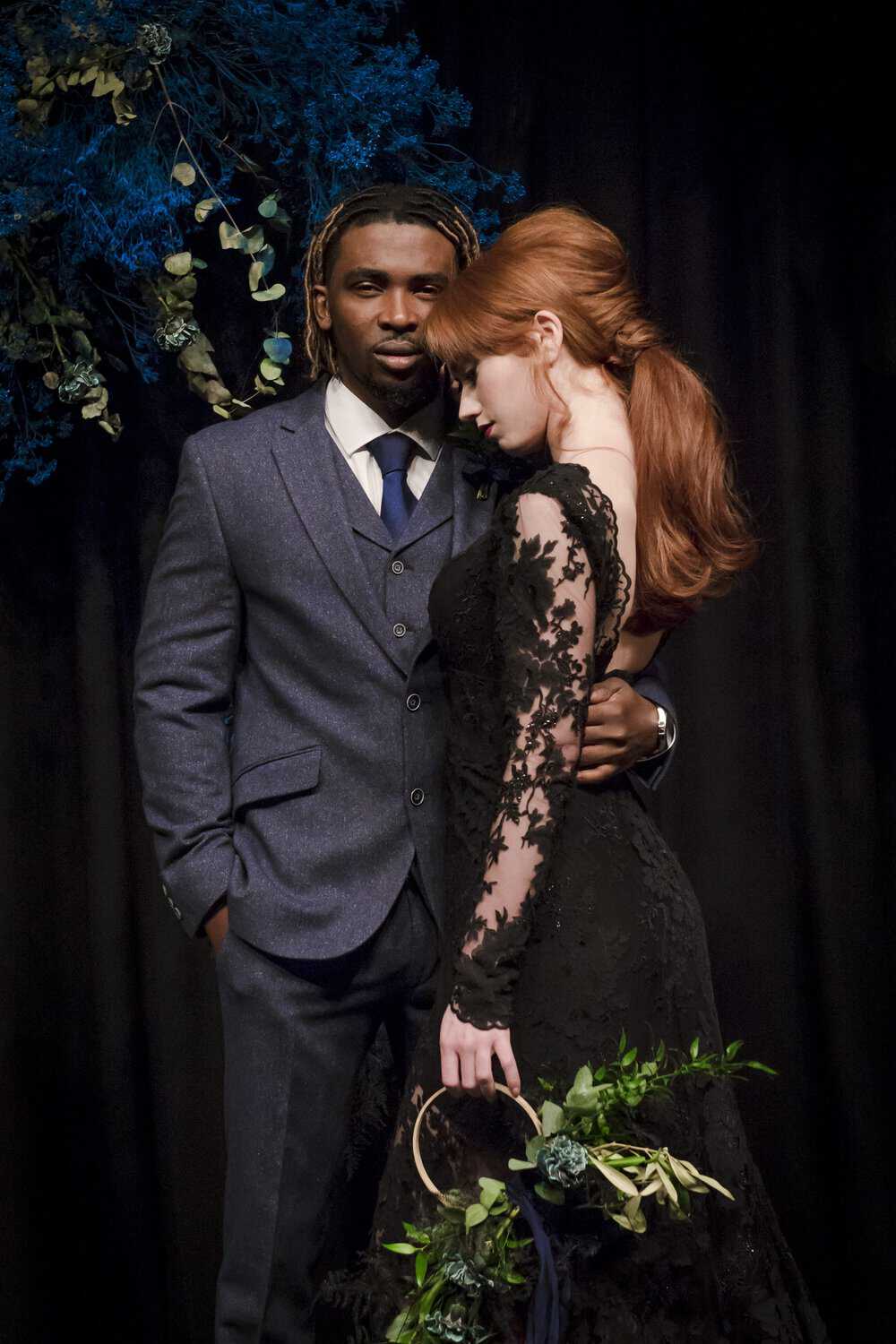 Black wedding dress origins
The origins of the black wedding gown can be traced back 3,000 years ago to the Zhou Dynasty in China.
In western culture, it is believed that black was worn way before white was made traditional.
In 1788 Jean Armour wore a black silk wedding dress to marry Robert Burns.
It is believed black was worn until the 20th century it was normal for brides to wear their dress again and again as their best dress.
Most would be black or died black to withstand the wearing over the years.
Cultural meaning
In some cultures, black has always been seen as a positive color. In China, for example, the color is often associated with wealth, success and good fortune.
Wearing black on your wedding day would therefore be considered auspicious.
Other cultures see black as a protective color. In Italy, brides would sometimes wear black to ward off evil spirits.
And in Finland, it was once tradition for the bride to wear a black gown to her second wedding (to symbolize that she was no longer a virgin).
In recent years, more and more brides are choosing to break with tradition and don a colored gown instead.
Wearing black is seen as a way of showing that you are modern and independent.
Unlucky or lucky?
Whether you believe black is an unlucky color or not, there's no denying that it makes for a dramatic and eye-catching wedding dress.
If you're looking to make a style statement on your big day, a black gown is certainly the way to do it.
Just be prepared for some raised eyebrows from traditionalists!
Head to our blog for the best black wedding dresses.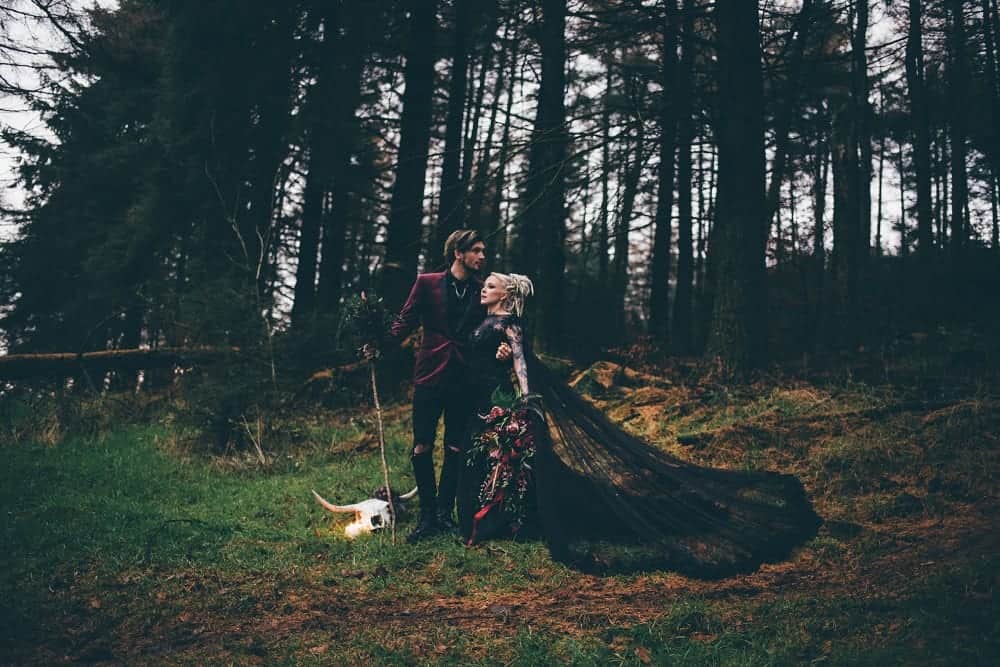 Image: Alexander Holt Photography                      Dress: Legend Bridal
Why wear a black dress?
Because who doesn't want to look super stylish on their wedding day!
If you are bold and looking for a statement dress then black differently is for you.
It is a modern choice but as with all little black dresses, it will be a timeless statement piece.
Here are some of the most popular types of black wedding dresses:
A-line: An A-line dress is fitted at the waist and flares out at the bottom, creating a classic hourglass silhouette.
Mermaid: Mermaid style dresses are fitted at the top and bottom, with a flared skirt that hugs your curves.
Sheath: Sheath dresses are fitted throughout and often have a slimming effect.
Ballgown: Ballgowns are dramatic and romantic. They have a fitted bodice and a full skirt that often flares out at the waist.
Trumpet: Trumpet style dresses are fitted through the body and flare out at the knee, creating a figure-hugging silhouette
How to style your black wedding dress
Once you've found the perfect black dress, it's time to start thinking about how to style it.
The great thing about a black wedding dress is that it provides a blank canvas for you to accessorize as you please.
If you want to keep things simple, opt for understated jewelry and a pair of classic black heels. For a more glam look, go for sparkling accessories and bold make-up.
Alternatively, if you're looking to add a pop of color, try pairing your dress with brightly colored shoes or a statement clutch bag.
When it comes to hair, anything goes. From an elegant up-do to loose waves, there's no wrong way to style your hair when you're wearing black.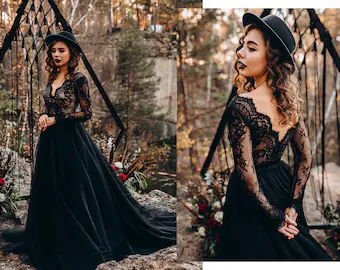 Where to buy a black wedding dress?
You would be surprised how easy it is to find a black wedding dress.
I always say head to your local bridal shop first, try searching for alternative bridal shops.
If they don't have black wedding dresses in stock I am sure they will be able to help source one.
Try on a few different styles, shapes and fabrics. Even if in white or another colored wedding dress, so you know what suits you best and you love!
Here are some of our favorite online places to buy red wedding dresses:
BHLDN: BHLDN is a great place to shop for unique and beautiful wedding dresses. They have a wide selection of red dresses to choose from.
Etsy: Etsy is a great place to find vintage and handmade items. If you are looking for a one-of-a-kind dress, Etsy is definitely the place to check out.
ASOS: ASOS is a great online retailer that offers a wide range of affordable dresses. They have a great selection of red wedding dresses to choose from.
Harrods: Harrods is a luxury department store that offers a wide range of designer wedding dresses. If you are looking for a high-end dress, Harrods is a great place to start your search.
Net-a-Porter: Net-a-Porter is an online retailer that specializes in designer fashion. If you are looking for a luxurious red dress, Net-a-Porter is a great place to start your search.
Things to consider when buying a black wedding dress
When buying a black wedding dress, there are a few things you need to keep in mind. First and foremost, consider the style of the dress.
Black dresses come in all different styles, so it's important to find one that suits your body type and personality.
Another thing to keep in mind is the fabric of the dress. Black dresses are often made from heavier fabrics such as satin or taffeta, so make sure you choose a fabric that is comfortable and easy to move in.
Finally, don't forget to accessorize! Black dresses provide the perfect blank canvas for you to add your own personal touch.
Whether you opt for understated jewelry or bold statement accessories, make sure you have fun with it!
Finding the perfect black wedding dress can be a daunting process.
There are so many different styles and fabrics to choose from, and not all of them will suit your body type or personality.
If you are sold on a black wedding dress then head to our top 2022 and beyond black wedding dress blog!
More Alternative Wedding Blogs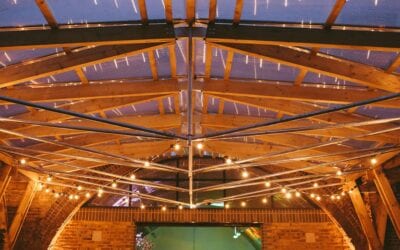 Looking for a nontraditional wedding venue? Gosh, when I think about the options available now for...