A handfasting wedding ceremony is a beautiful, meaningful way to celebrate your love and commitment.
But if you're not familiar with the tradition, it can be tricky to know where to start. That's why we've put together this guide, which will walk you through everything you need to know about planning a handfasting wedding ceremony.
We'll cover everything from choosing an officiant to creating your own unique ritual. Which cords to choose and how to use them?
So whether you're just getting started or you're almost ready to say "I do," read on for all the information you need!
Planning a pagan wedding? Head to our pagan wedding guide.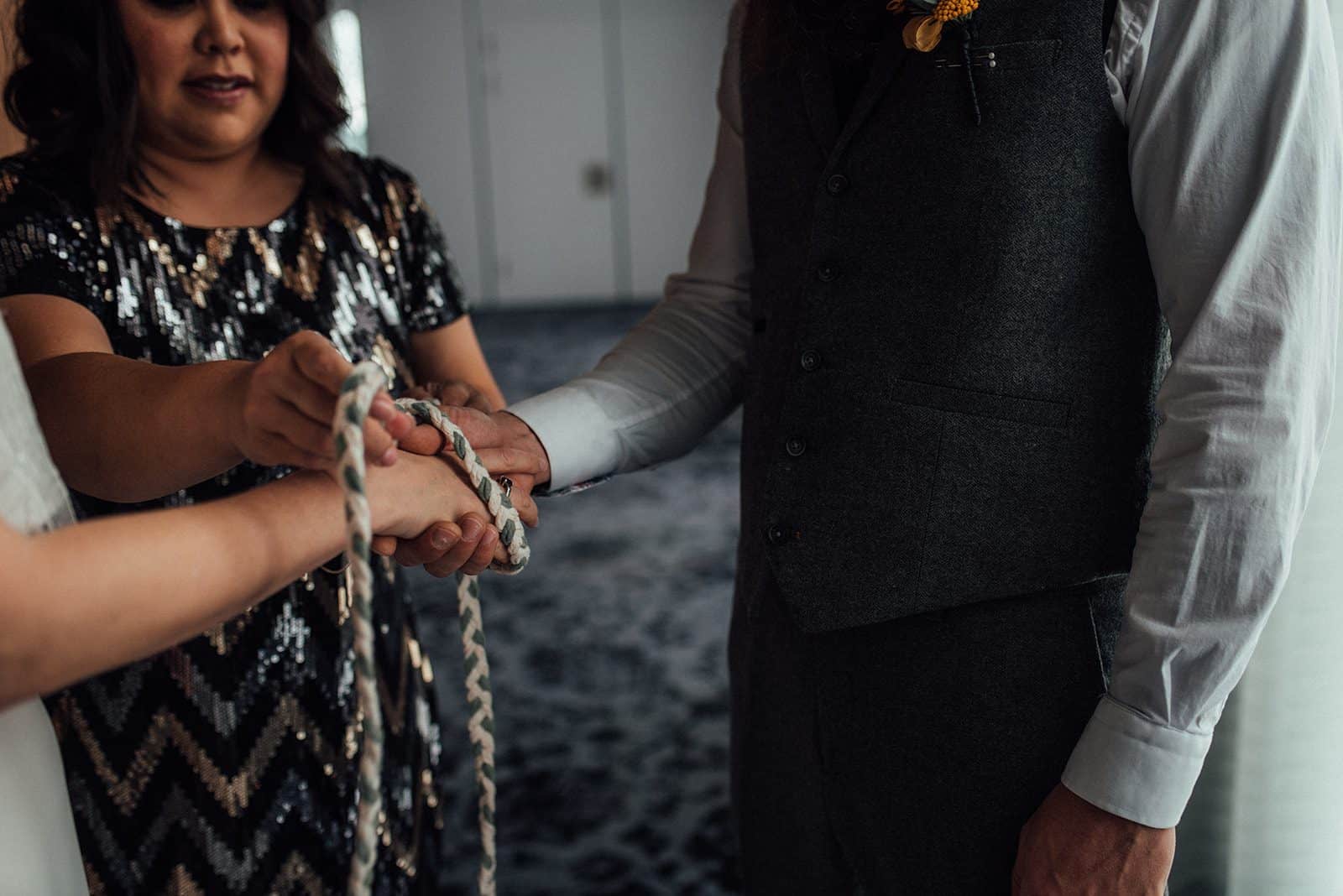 Image Marni V Photography
I used this book as my starting point and after it piqued my interest I delved into the world of paganism and pagan weddings. Liz is quoted throughout, from her book. I have also reached out to her as it would be wonderful to get some top tips to share with you all.
I highly recommend if you are planning a pagan wedding or want to learn more about handfasting and pagan weddings to buy her book.
Modern Handfasting A Complete Guide to the Magic of Pagan Weddings
WHAT IS HANDFASTING?
Handfasting is an ancient Celtic tradition. It is a traditional ritual used in modern pagan and Wicca weddings. It's a hand-binding ritual that symbolizes the couple's commitment to each other.
It has been growing in popularity recently with modern nonreligious couples.
There are many different ways to perform a handfasting ceremony, but typically the bride and groom will join hands and say their vows. Their hands will be bound together using handfasting cords.
They may also exchange rings or create their own personalized ritual alongside.
THE HISTORY OF HANDFASTING WEDDING CEREMONIES 
The term "handfasting" can be traced back to Late Old English and likely derives from Old Norse, denoting the act of "striking a bargain by joining hands." Similar terms appeared in neighbouring languages.
The handfasting wedding ceremony is an ancient tradition that dates back to Celtic and Norse cultures. It was primarily practised in Scotland, Ireland, and Northern Europe.
While the exact origins and historical details may vary, handfasting was commonly used as a form of marriage or betrothal.
In Celtic tradition, handfasting was a temporary form of marriage, usually lasting for a year and a day. It served as a temporary marriage contract between individuals from different tribes, emphasizing unity without an eternal commitment.
In Scotland from the 12th to the 17th century, handfasting held legal significance. It was a form of probationary marriage, performed with two adult witnesses. The ceremony typically lasted for a year and a day, allowing the couple to assess their compatibility. Although officially banned by the Kirk in 1575, records indicate that handfastings continued for several decades.
Handfasting was often conducted by a priest, druid, or elder of the community. The ceremony itself varied based on regional customs and personal preferences.
It usually included blessings, vows, and the exchanging of rings, if available. The couple would declare their commitment to one another, and their hands would be bound to symbolize their unity.
The Church sought to exert its influence on marriage rituals and introduced the concept of "canonical marriage," which emphasized the indissoluble nature of the union.
Handfasting was seen as an unconventional practice that conflicted with Christian traditions.
Mordern day Handfasting
In recent times, handfasting has experienced a revival as an alternative or additional ceremony within modern weddings.
Many couples incorporate handfasting as a way to honour their ancestral roots, express their commitment to each other, or add a unique symbolic element to their wedding ceremony.
It has become particularly popular among individuals who follow neo-pagan or Wiccan spiritual paths. Head to our pagan wedding guide to learn more.
Handfasting was adopted by pagans in the 20th century when Wicca was established by Gerald Gardner, according to Liz Williams.
WHY CHOOSE A HANDFASTING WEDDING?
Of course, if you are a practising Pagan then a handfasting ceremony is standard. However, you do not have to be Pagan and it can be a great choice for nontraditional couples.
If you're looking for a meaningful unique wedding ceremony that celebrates your Celtic heritage or is personal and unique, handfasting is a great option.
It's also a good choice if you want a less traditional wedding ceremony that allows for more flexibility and creativity.
We feel it is one of the best ways to have a personal wedding completely tailored to you as a couple.
With no strict rules, it means you can have a ceremony exactly how you wish.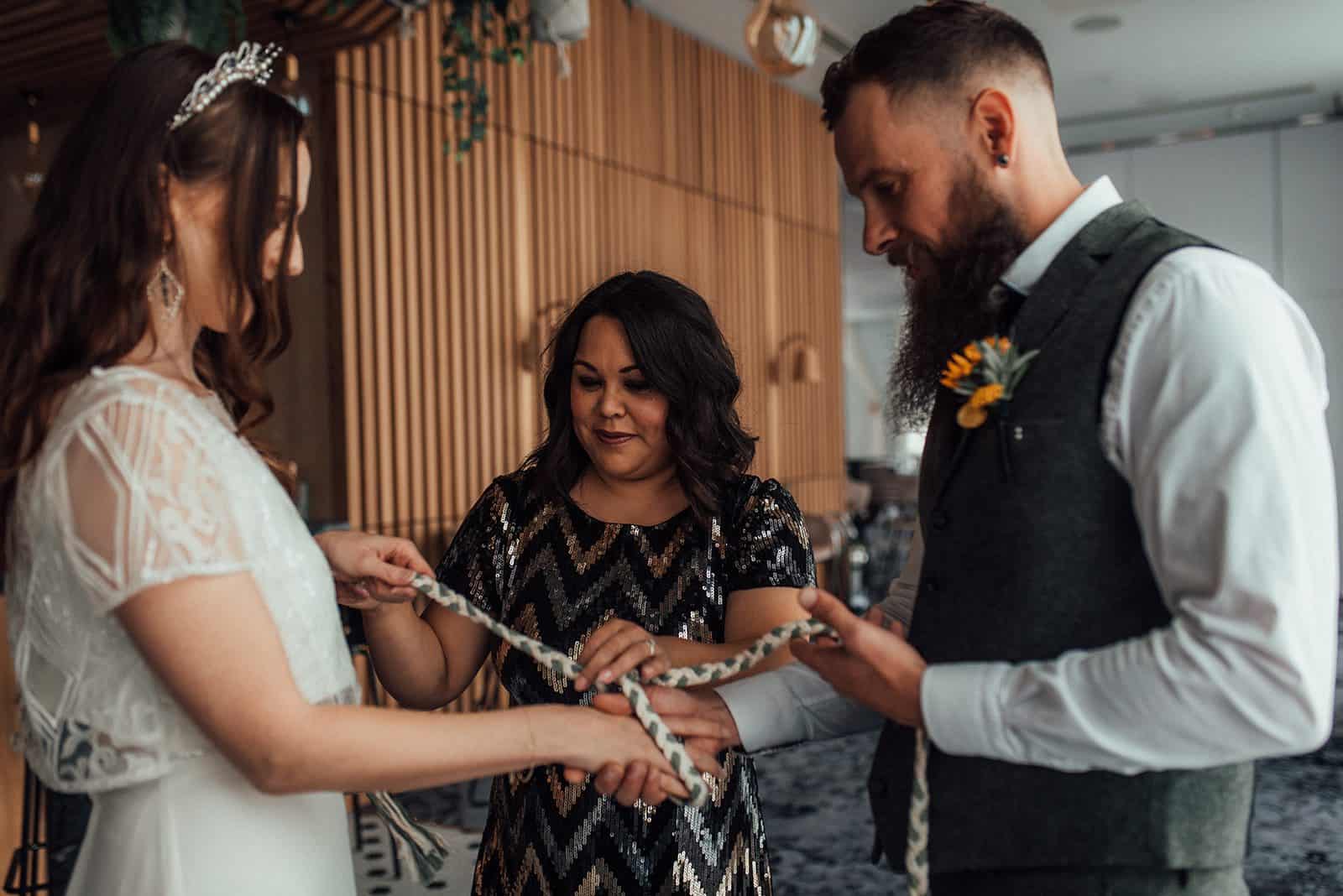 Image Marni V Photography
WHAT ARE THE BENEFITS OF HANDFASTING?
There are many benefits to handfasting, not just for the bride and groom, but for their families as well.
It's a very emotional ceremony that can create a strong connection between the couple and their loved ones. It can also be a powerful symbol of unity and strength.
Best of all, handfasting is a versatile tradition that can be tailored to fit any couple's needs. So if you're looking for a unique, meaningful wedding ceremony, handfasting may be the perfect choice for you!
HOW TO PLAN A HANDFASTING WEDDING?
The first step in setting up a handfasting wedding is to choose an officiant. This can be a friend or family member who is familiar with the tradition, or you can hire a professional wedding officiant. If this is all new to you then we highly recommend hiring an expert.
Next, you'll need to decide on the logistics of the ceremony. Will it take place indoors or outdoors? What type of setting will you use? Again, a wedding planner who has experience with handfasting ceremonies would be a great option.
What are your reasonings for wanting a handfasting wedding? If you follow a certain pagan path, you want a spiritual ceremony or maybe you just want to start a new tradition in your family. Any reason is fine, but being clear will help you and your efficient plan your handfasting.
Once you have these basics figured out, you can start thinking about the details. What type of handfasting cords will you use? What type of vows will you say? How will you symbolize your commitment to each other?
The best way to create a handfasting wedding that's truly unique to you is to personalize it as much as possible. Think about your relationship and what means the most to you both.
Choosing a location or venue
Picking a venue is one of the most important and usually the hardest part of wedding planning.
If you want an outdoor ceremony, somewhere in nature this can become harder. You need to consider the legal side of an outdoor wedding.
Getting your guests to the location and also setting up the ceremony area itself. If you want seating for guests, which is long is recommended.
Finding a celebrant
If you do not have a high priest or priestess to officiate your wedding, which most don't, you will more than likely use a celebrant.
Who you choose is important and a personal choice. Ask around if you have friends and family who are spiritual. If not start with a simple Google search, and get a feel for different styles and personalities that attract you.
My number one tip would be to meet with them before booking. Make sure you feel comfortable and confident with them leading your ceremony.
Making it legal
In our Pagan wedding guide, we dig deep into the legal side of things in each country.
If having a celebrant it is likely you may also need to 'legally marry'. Usually, this involves some formal paperwork, and signing in front of witnesses.
Each country and region is different though so make sure you do your own research. That is if you want the legal side of things of course.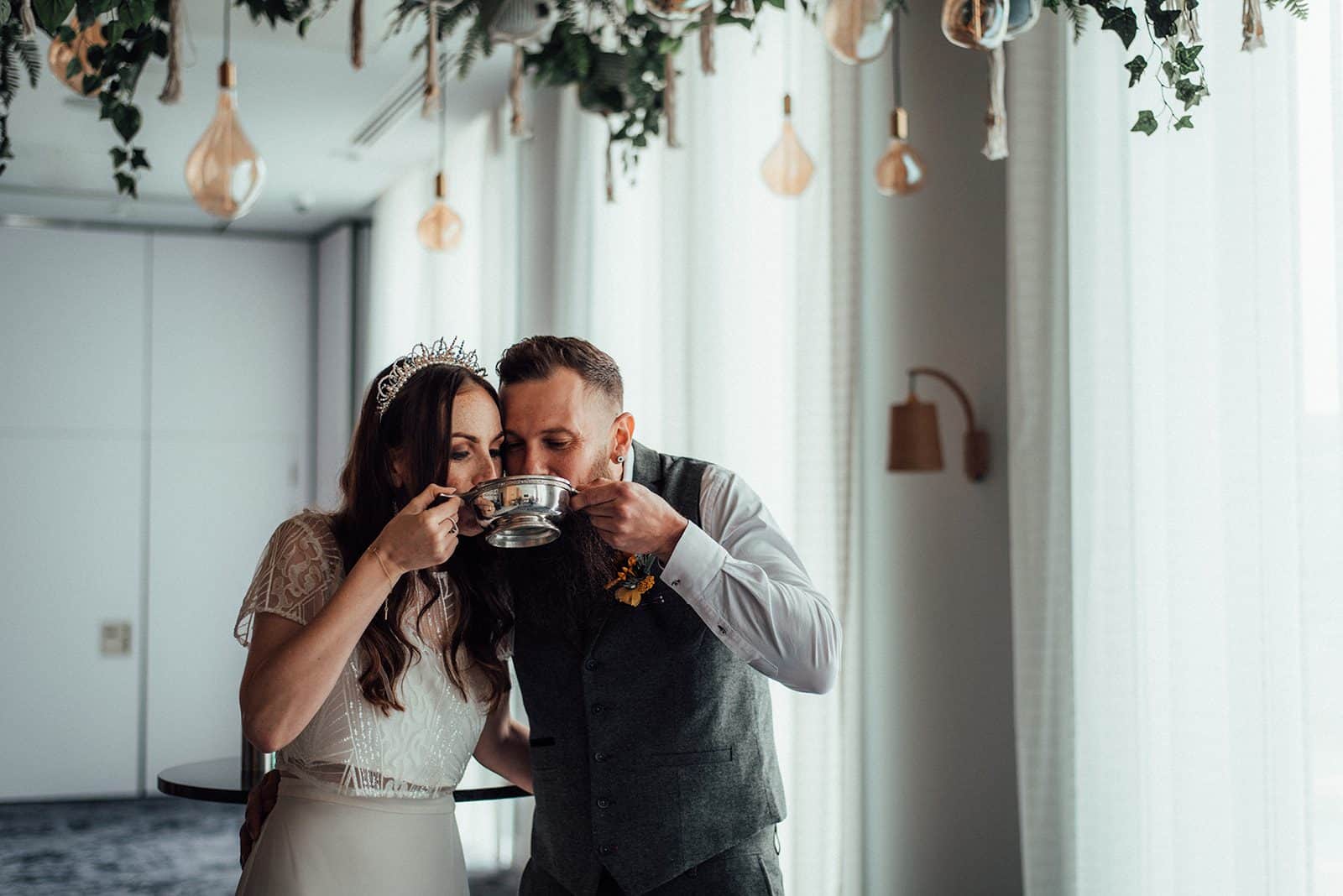 Image Marni V Photography
How to create a handfasting ceremony
This will look different for each couple. If you want a true pagan ceremony then there will be pagan rituals and traditions that you include.
You may be having a traditional wedding with handfasting included. You may be having a completely bespoke ceremony and handfasting is the only one or one of many unity ceremony elements you are including.
So, I will just focus on the handfasting part of the ceremony. You will have to decide when and how to include this in your wedding ceremony, depending on the overall ceremony.
How to tie the knot
I recommend you practise this first, just like saying your vows, it helps with the nerves on the day.
Usually, you both place your left hand first, then your right hand. You will need to decide who lays the first hand. Or you can also choose to cross your hands a create a figure of 8.
Test it out and see what feels more natural to you both.
Your hands are then bound with your handfasting cords. You can just have the cords laid over your hands if you prefer. Most though will have the celebrant bind the hands a few times around with the cords.
You can stay bound for as long or little as you wish. A year and a day may be pushing it though!
If you are including other unity wedding ceremony elements or pagan traditions like jumping the broom, you may wish to stay bound for these.
HANDFASTING CORDS AND KNOTS
Handfasting cords are symbolic ropes or ribbons used in a handfasting ceremony to bind the hands of the couple, symbolizing their union and commitment to each other.
These cords can be made from various materials, such as silk, satin, leather, or even braided natural fibres.
The colours and materials chosen for the cords often hold personal significance, representing the couple's values, beliefs, or cultural heritage.
During the ceremony, the officiant or the couple themselves wrap the cords around their joined hands, creating a physical representation of their bond.
Head to our handfasting cords guide for a deep dive and DIY tips to make your own.
OTHER TRADITIONS THAT GO WITH A HANDFASTING wedding ceremony
A handfasting ceremony doesn't have to be just about the knotting ceremony. You can also include other traditions that are special to your family or that you like the idea of including.
We have a list of unity wedding ceremony ideas that would all work well with handfasting.
Some common traditions that are often included alongside handfasting ceremonies are:
The sharing of a drink (usually wine or whisky)
The breaking of a bread loaf
The lighting of a unity candle
The exchange of rings
Jumping the broom
All these traditions can help make your handfasting ceremony even more special and meaningful.
Head to our alternative ceremony blog for many more ideas to include in your handfasting ceremony.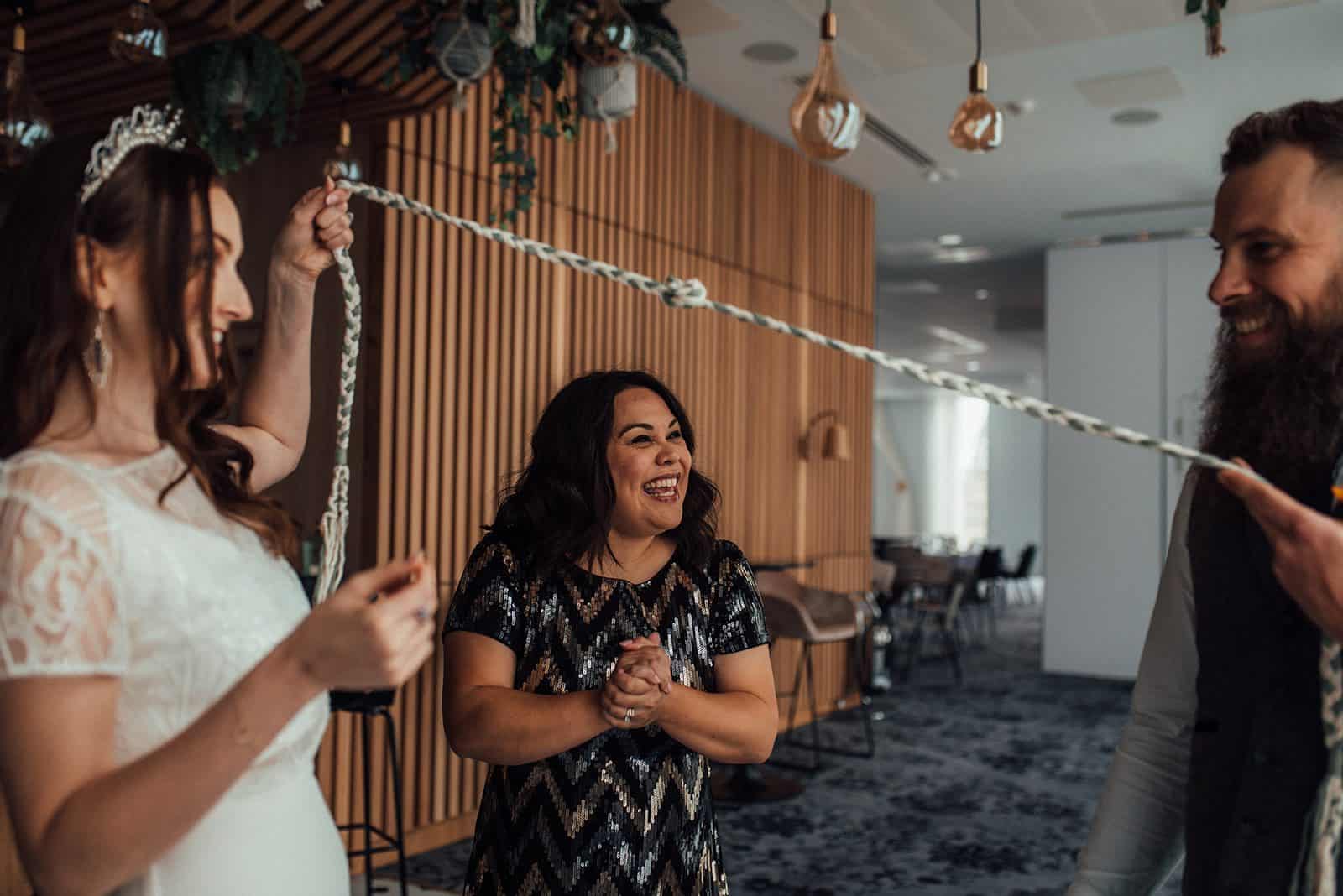 Image Marni V Photography
Writing your ceremony vows
I feel that writing your own vows is even more important with a handfasting wedding ceremony. With handfasting ceremonies being so personal and unique it can be hard to find templates that work for your ceremony needs.
That being said we do have a post packed full of tips and yes templates. I do encourage you to use these as a starting point and guide to writing your own personal vows.
Handfasting script and vow guide
You just need to say what is in your heart. Express how you feel about your partner and share that in a way that feels right for you.
HANDFASTING CEREMONY FAQ'S
IS HANDFASTING LEGAL?
No, in most countries handfasting is not legal. You can include any legal elements you may need alongside your handfasting ceremony if you wish though. Check with your local council though as there are still some places where this is legal. 
HOW LONG SHOULD THE CEREMONY LAST?
Like with any wedding ceremony, this is personal and depends on what you wish to include. From experience though we feel 30 minutes is a good length for a ceremony without guests getting bored or distracted. If longer make sure there are interesting parts to the ceremony to keep guests engaged. Head to our handfasting script guide for lots more answers.
HOW LONG SHOULD WE BE BOUND?
Traditionally the couple would be bound until midnight. However, you can choose to be bound for any length of time that you like. Staying bound past the ceremony may cause some logistical issues though.
A good option is to stay bound just after the ceremony for photos and then you can privately be unbound before joining your guest for the reception.
HOW LONG SHOULD THE CORDS BE?
The length of the cords depends on how many you have and how many times you would like to be bound. If using 1 cord make sure this is 2/3 meters long at least so you can bound enough times during the ceremony.
DO I HAVE TO WEAR A WHITE DRESS?
No, there are no set rules when it comes to what you wear during your handfasting ceremony. You can wear whatever makes you feel comfortable and happy on the day. Check out our nonwhite wedding dress blog for the best colourful wedding dresses.
CAN I INCLUDE CHILDREN IN THE CEREMONY?
Yes! Including children in your handfasting ceremony is a great way to involve them in your special day. You can choose to give each child their own cord to weave into the ceremony or have them participate in another way that feels special to you as a family.
Handfasting wedding ceremony
After reading this handfasting wedding ceremony guide, you should have a better idea of what to expect on your big day. Handfasting is an intimate and personalized ceremony that allows for creativity and customizability in all areas from the vows to how long you are bound together.
Whether it's with one cord or many cords, handfasting ceremonies can be as simple or complex as desired depending on the couple's wishes. If handfasting seems like something you want to include in your special day but aren't sure where to get started, reach out in the comments below!
Check out our alternative wedding guide to help you plan the perfect nontraditional wedding.
More blogs you will love!