When it comes to handfasting cords there are not really any set rules.
It is one of the reasons we love a handfasting ceremony, they can be so versatile and personal.
There are definitely traditions and guides out there when it comes to picking and tying your handfasting ropes.
So we have done all the handwork for you and pulled together the best information to help you with anything and everything you need to know when it comes to handfasting cords.
Keep reading for all the details on how to create beautiful and meaningful handfasting cords for your ceremony. With a step-by-step guide to making our own.
If you are planning a handfasting ceremony then head to our complete guide.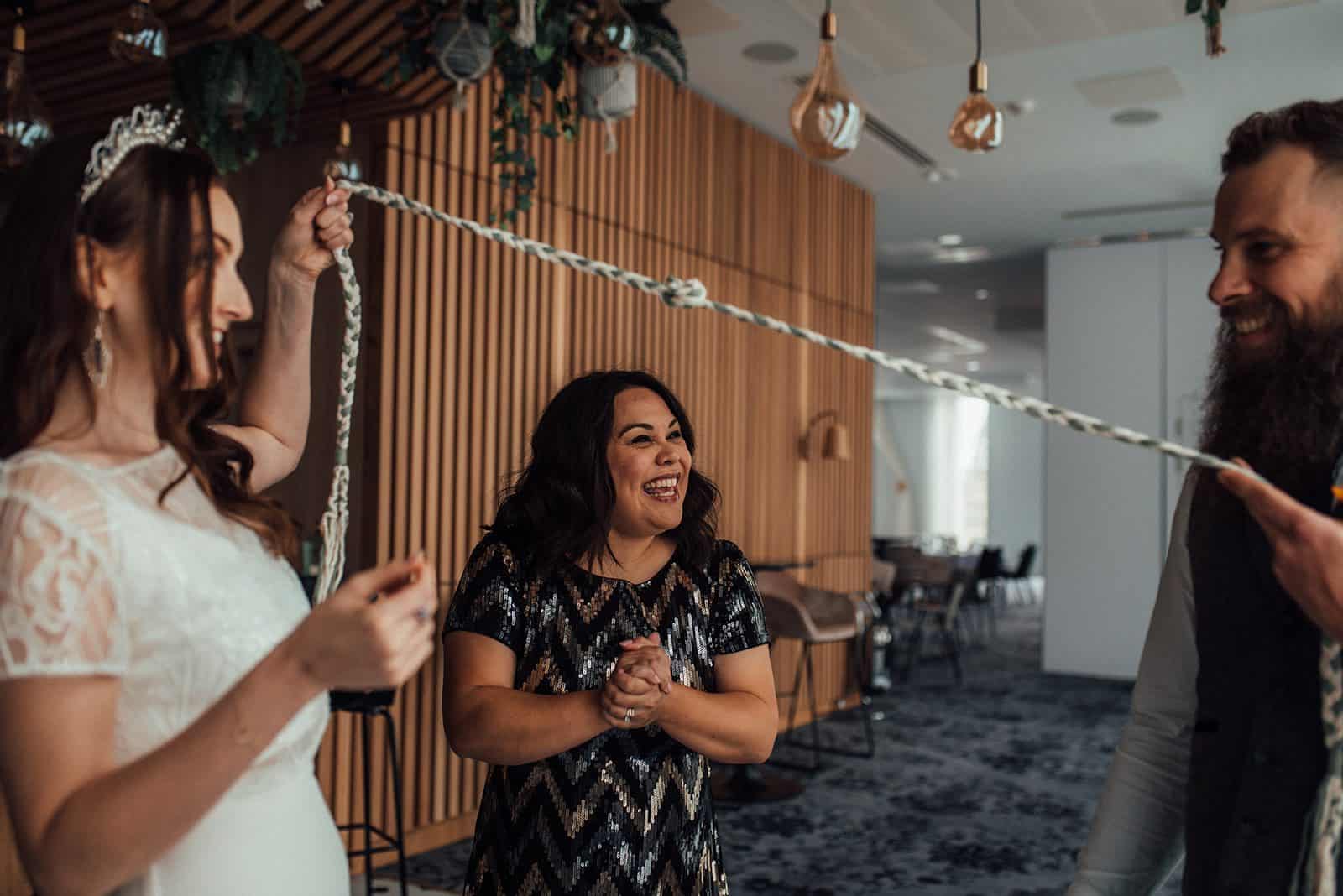 Image Marni V Photography
WHAT ARE HANDFASTING CORDS?
A Handfasting cord (also known as a Handfasting rope, hand-binding cord, or a handfasting ribbon) is a long piece of material.
It is tied or wrapped around the hands of a couple during a wedding ceremony. To symbolize their commitment and love for one another.
HANDFASTING CORD TRADITIONS
The tradition of handfasting is thought to date back to the ancient Celts, who saw it as a way to formalize an engagement between two people.
The ceremony typically involved the couple declaring their intention to marry, followed by the tying of a cord or ribbon around their hands.
This cord was often made of simple materials like wool or linen and was sometimes adorned with beads or other decorations.
The act of tying the cord was seen as a way of sealing the agreement between the couple. It was believed that the knotwork used would determine the strength of their bond.
In modern times, handfasting has become a popular alternative to more traditional wedding ceremonies, and couples may use any type of cord or ribbon.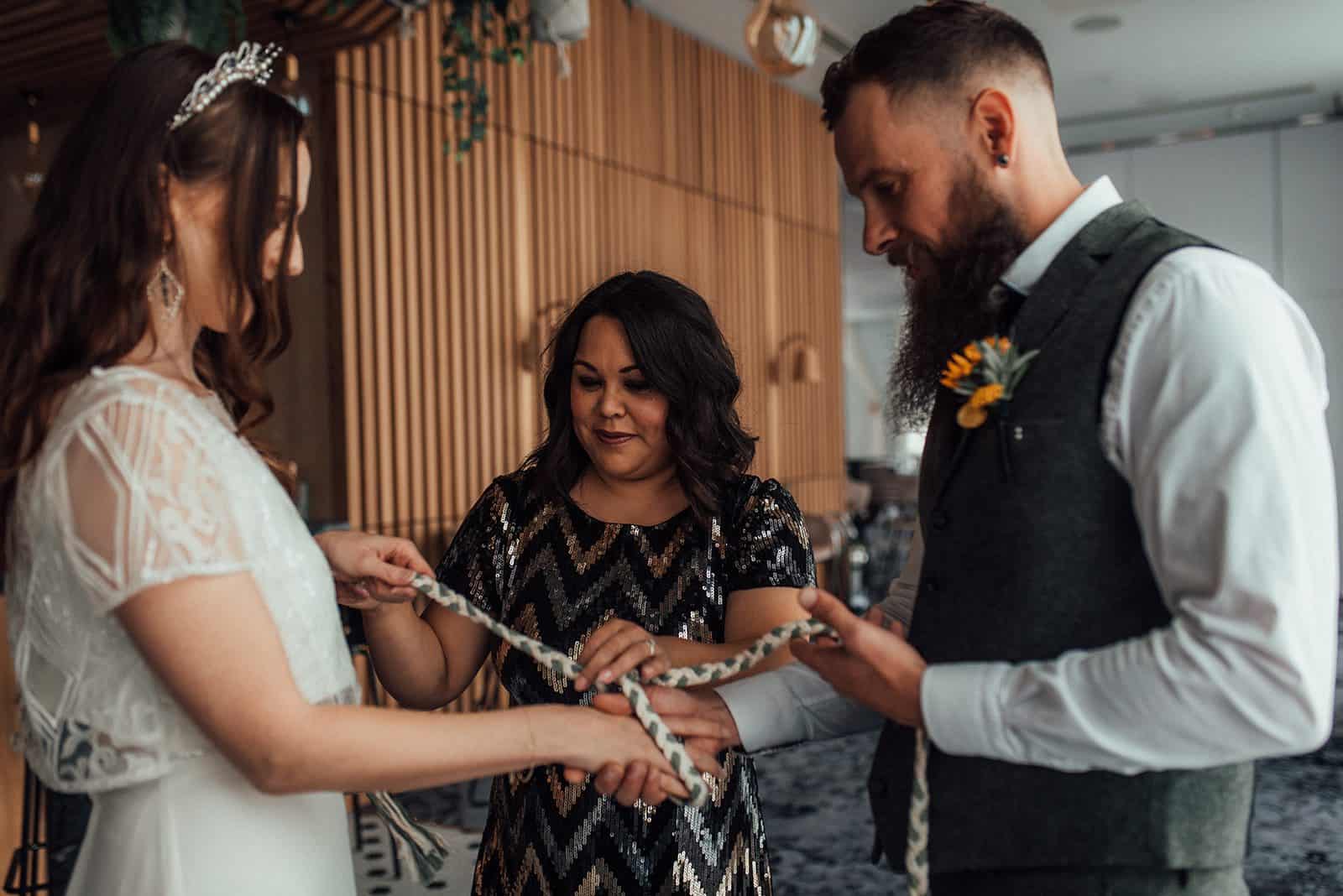 Image Marni V Photography
HANDFASTING CORD COLORS AND THEIR MEANING
When it comes to the colours of your handfasting cords, there is no wrong answer.
You can pick any colours that you feel drawn to or that have personal significance to you and your partner.
However, some couples do choose to use specific colours for their cords that hold traditional meanings.
The colour meaning can differ with different religions and cultures so make sure you do your research before deciding on the colours for your handfasting ceremony.
HERE ARE SOME OF THE MOST POPULAR COLOR CHOICES AND THEIR MEANINGS:
Red – represents love, passion, and desire. It is also the colour of blood, which is a symbol of life.
Orange – Signifies strength, enthusiasm, and energy.
Yellow – Signifies joy, happiness, and intellect.
Green – Represents growth, fertility, and abundance. It is also the colour of nature and symbolizes new beginnings.
Blue – Represents tranquillity, peace, and loyalty. It is also the colour of the sky and water, which are both symbols of purity.
Purple – Signifies royalty, power, and wealth. It is also the colour of spirituality and wisdom.
White – Represents purity, innocence, and new beginnings.
Black – Represents mystery, death, and strength.
TyING THE KNOTS
The knots that you tie in the handfasting cords can hold significance. Each knot represents a different quality or intention that you wish to infuse into your relationship.
For example, the basic knot signifies the joining of two lives, while other knots represent things like strength, communication, and loyalty.
INFINITY KNOT
The most popular way to knot handfasting cords is known as the "figure 8" method. This involves creating a figure 8 shape with the cords before tying them together.
Some believe that this method of knotting creates a never-ending loop of energy between the two people being handfasted.
DECORATIVE KNOTS
If you're looking for a more personal way to create your handfasting cords, you could also try knotting them in a special pattern that has significance to you and your partner.
Perhaps there is a certain type of knot that is used in your family's tradition or that has a special meaning to you.
Whatever you choose, make sure that it is something that feels right for you and your relationship.
DIY GUIDE TO MAKING YOUR OWN HANDFASTING CORDS
If you're feeling crafty, you can make your own handfasting cords using simple materials like ribbons, cords, or cloth.
This is a great way to add a personal touch to your ceremony and save some money in the process!
Here's a quick and easy guide on how to make handfasting cords:
FAQ ON HANDFASTING CORDS.
HOW MANY CORDS DO YOU NEED FOR HANDFASTING?
You only need 1 cord but most people use more. It really depends on how you want to design your handfasting. You can use as many or as few cords as you like.
WHAT KIND OF CORD DO YOU USE FOR HANDFASTING?
There is no set answer for this, as you can use any type of cord or ribbon that has meaning to you and your partner. However, many couples choose to use coloured ribbons that hold traditional meanings (listed above).
WHAT DO THE DIFFERENT COLOURS MEAN?
The colours of the handfasting cords can symbolize different things depending on the couple's religion or culture. Some of the most popular colour choices and their meanings are listed above.
HOW LONG SHOULD THE CORDS BE?
There is no set length, just make sure they are long enough for the ritual and knots you want to tie. I would say make sure it is at least 1.5 meters long so you have enough to work with at the ceremony.
HANDFASTING CORD GUIDE
We hope you found this blog useful! If you are planning a pagan or handfasting wedding check out the blogs for lots more helpful guides.
More alternative wedding blogs: