Bridal fashion has grown over the years and there are so many fashion-forward modern dresses available to brides.
Finally, we can see this happening with the mother of the bride and groom's outfits also.
Traditionally the mother's outfits have been frumpy and old fashioned, but now you can find fantastic dresses for mums that not only look great and suit her figure but are modern and fashionable too.
So if you're looking for something a little bit more unusual and stylish than the traditional mother of bride or groom outfit, then check out some of these fantastic dresses.
You'll feel amazing and your children will love seeing you in one of these cool outfits!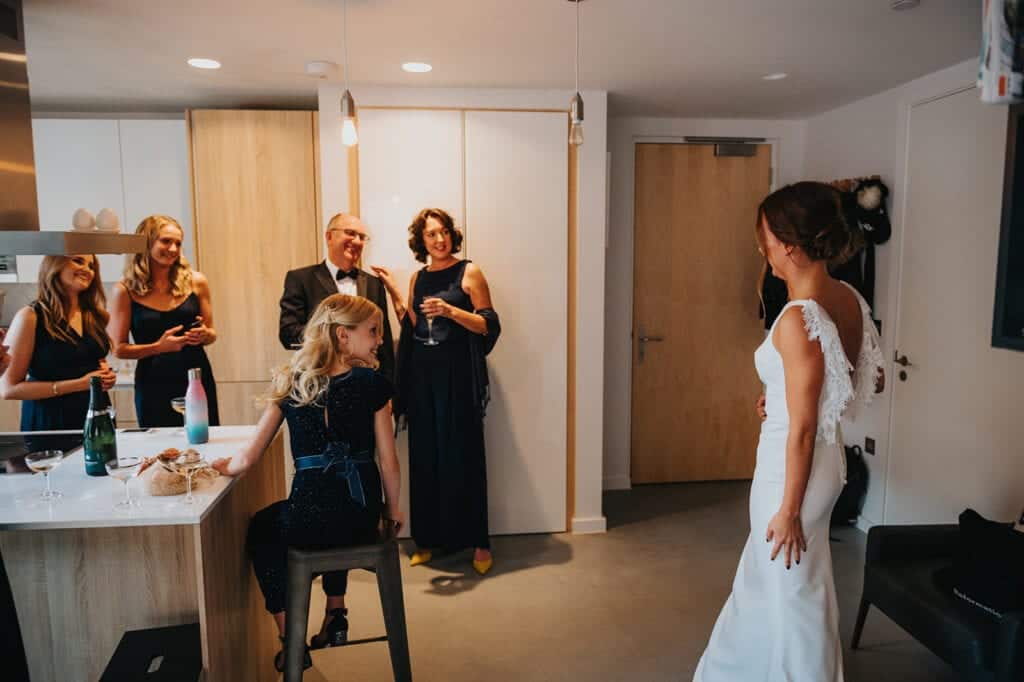 How to not look frumpy in your mother of the bride outfit
According to Tania Stephans, who is an expert in over 50s fashion and styling.
"One of the most obvious signs that you're looking frumpy is if your clothes are too big or too small. Clothes that are too big can make you look shapeless and unkempt, while clothes that are too small can be uncomfortable and unflattering."
This is why I always suggest to mothers to have their dress or outfit professionally altered. It is not always needed but it is definitely a surefire way to not look frumpy.
I talk further down about styling your outfit as this can play a huge part in the overall look.
But the main thing is confidence and comfort. So making sure what you wear fits well and feels comfortable is the number one thing to consider. When you feel good it shows and as they say, confidence is key.
WHERE TO BUY unique MOTHER OF THE BRIDE DRESSES?
If you are looking for something that won't make you look frumpy, we say forget about the traditional mother of the bride shops shops and get looking online.
Look in your favourite shops also and see what formal wear they have.
As a special occasion going to your favourite designer is a great way to have a classy mother of the bride or groom outfit.
BEST ONLINE PLACES FOR UNIQUE MOTHER OF THE BRIDE AND GROOM OUTFITS
Unique MOTHER OF THE BRIDE OR GROOM OUTFITS that are not frumpy
We are committed to providing unbiased, credible reviews so you can choose with confidence. We may earn commissions on purchases made from visiting our partner stores. Please see our policy here.
How to style an outfit to not look frumpy
Styling a mother of the bride outfit to avoid looking frumpy involves selecting the right clothing, accessories, and makeup to create a sophisticated look. Here are some tips to help you achieve that:
Choose a Flattering Dress:

Opt for a dress or outfit that complements your body shape and fits well. Consider A-line, sheath, or wrap-style dresses, as they tend to be universally flattering.
Pay attention to the length of the dress; a knee-length or tea-length dress is often a good choice, as it looks elegant without being overly formal.
Select the Right Color:

Consult with the bride to ensure your outfit complements the wedding colour scheme.
Neutral colours like navy, champagne, silver, or soft pastels are typically safe and sophisticated choices.
Focus on Fabric:

Choose high-quality, luxurious fabrics that drape well and add an element of sophistication to your outfit, such as silk, chiffon, or lace.
Less is more, don't go for fabrics with too much detail or texture they can be overpowering
Accessorize Thoughtfully:

Add statement jewellery like a statement necklace, elegant earrings, or a stylish bracelet to elevate your look.
A clutch bag or small handbag in a coordinating colour can be a stylish addition.
Keep it simple and stylish, pick colours that compliment your outfit
Consider a Jacket or Cover-Up:

Depending on the weather and the formality of the event, you may want to wear a matching jacket, shawl, or bolero to stay warm and add a layer of sophistication.
Again, consider your outfit choice and don't over layer to look bulky and want the lengths to match up.
Pay Attention to Makeup and Hairstyling:

Consider professional makeup and hairstyling to complete your look.
Opt for a natural and polished makeup look, and choose a hairstyle that complements your dress and personal style.
Confidence is Key:

Confidence can make any outfit look stylish. Wear your outfit with pride and confidence, and you'll radiate elegance.
Tailoring Matters:

Ensure your outfit fits perfectly by getting it tailored if necessary. Proper fit can significantly enhance your overall appearance. It can be key to not looking frumpy!
Consider Your Personal Style:

Incorporate elements of your personal style into your outfit to feel comfortable and authentic.
What you usually wear is more than likely what suits you, work with that but looking for something more special.
Ultimately, the key to not looking frumpy is to strike a balance between elegance and comfort while staying true to your personal style.
Collaborate with the bride and consider her preferences while choosing your outfit to ensure that it complements the overall wedding theme.
Check out these real mothers of the brides for fabulous inspiration:
More blogs you will love!