Planning a City Wedding?
ARE YOU PLANNING A CITY CENTRE WEDDING? THEN YOU ARE IN THE RIGHT PLACE! THE URBAN WEDDING BLOG IS NOT ONLY BRINGING YOU THE MOST STYLISH CITY CENTRE WEDDINGS TO FEAST YOUR EYES ON. WE ARE ALSO BRINGING YOU GUEST EXPERTS, CITY VENUE REVIEWS, CITY WEDDING FASHION, CITY CENTRE HENS & STAGS AND DIY TIPS FOR ADDING THAT PERSONAL TOUCH TO YOUR CITY WEDDING!
THIS BLOG IS FOR ALL YOU COUPLES LOOKING FOR HINTS AND TIPS TO MAKE YOUR CITY WEDDING PERFECT. OR FOR COUPLES WANTING TO ADD AND INDUSTRIAL TWIST TO THEIR DAY. SO GET IN TOUCH AND LET US KNOW WHAT YOU WANT TO SEE UP ON THE BLOG, WHAT YOU ARE LOVING OR WHY NOT GET FEATURED AND SUBMIT YOUR CITY WEDDING TO US.
THIS WEEK WE HAVE THE REAL WEDDING OF LAURA & TOM. THEIR WEDDING LOOKS SO ROMANTIC AND FUN, WITH SMOKE BOMBS, GIN AND SOME AMAZING FOOD! SET IN A BEAUTIFUL BUILDING IN THE CITY OF LONDON, WE'RE SO EXCITED TO BE FEATURING THEIR SPECIAL DAY.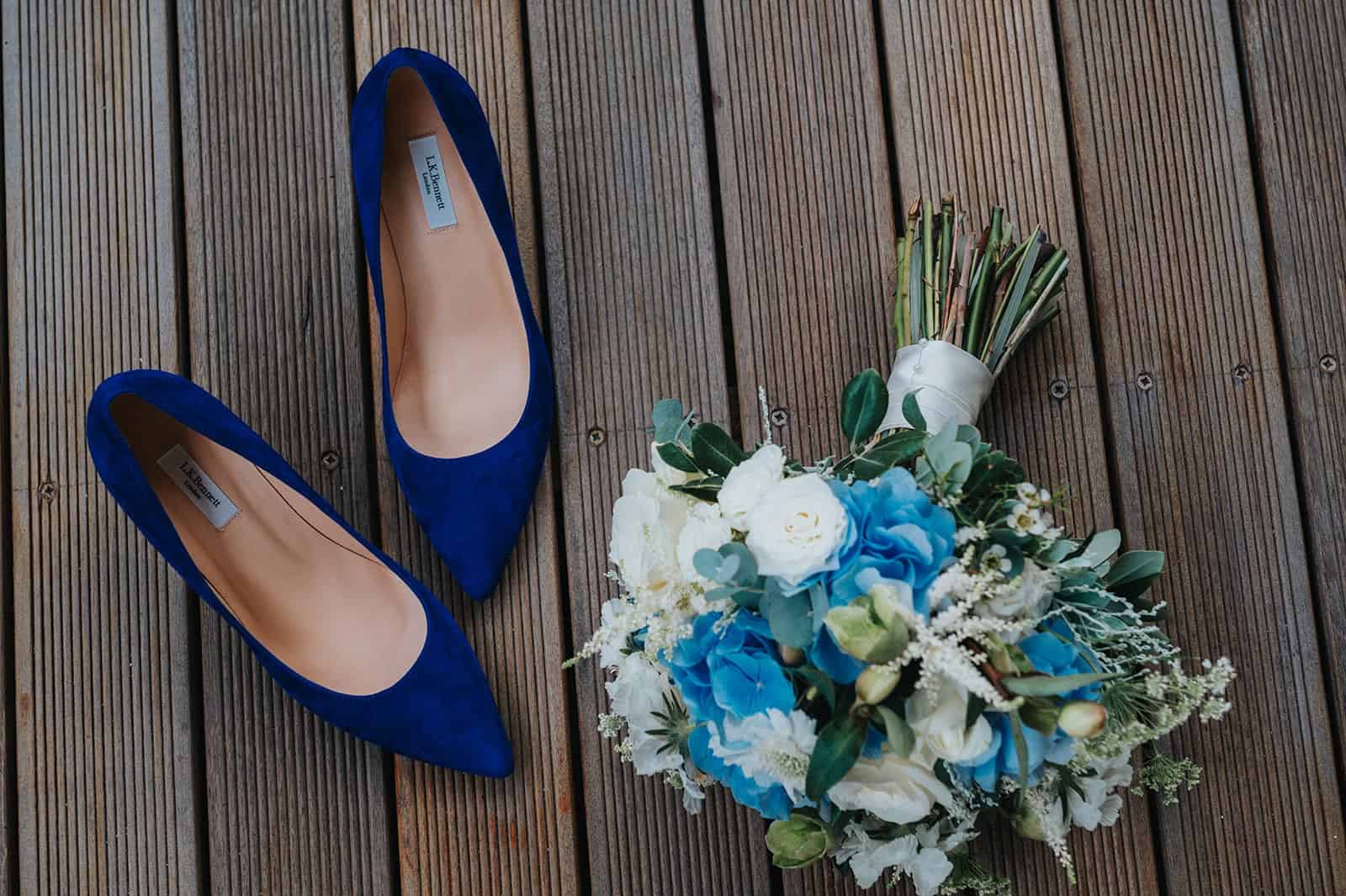 WHEN AND WHERE DID THE WEDDING TAKE PLACE?
THE WEDDING WAS ON 19TH SEPTEMBER 2019, WE GOT MARRIED IN HACKNEY TOWN HALL, NORTH & SOUTH ATRIA. THE CEREMONY AND DRINKS RECEPTION WAS IN THE NORTH ATRIA AND THE SOUTH ATRIA HELD THE DINNER AND SPEECHES WHILE THE NORTH ATRIA WAS BEING CONVERTED INTO A DANCE FLOOR AND STAGE FOR THE BAND AND DANCING. BOTH ATRIA'S ARE IDENTICAL SPACES WITH GLASS ROOFS AND EXPOSED BRICK WALLS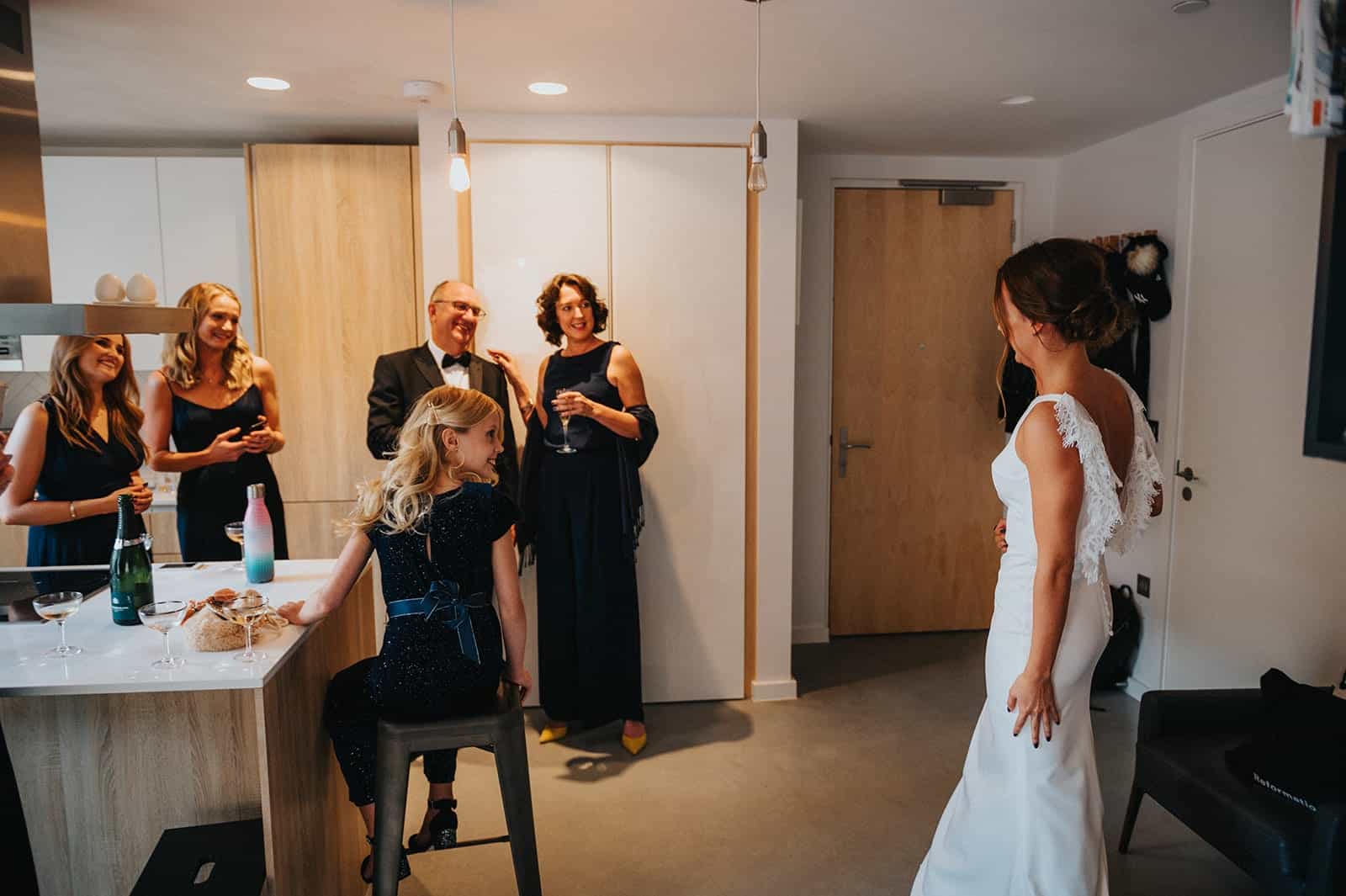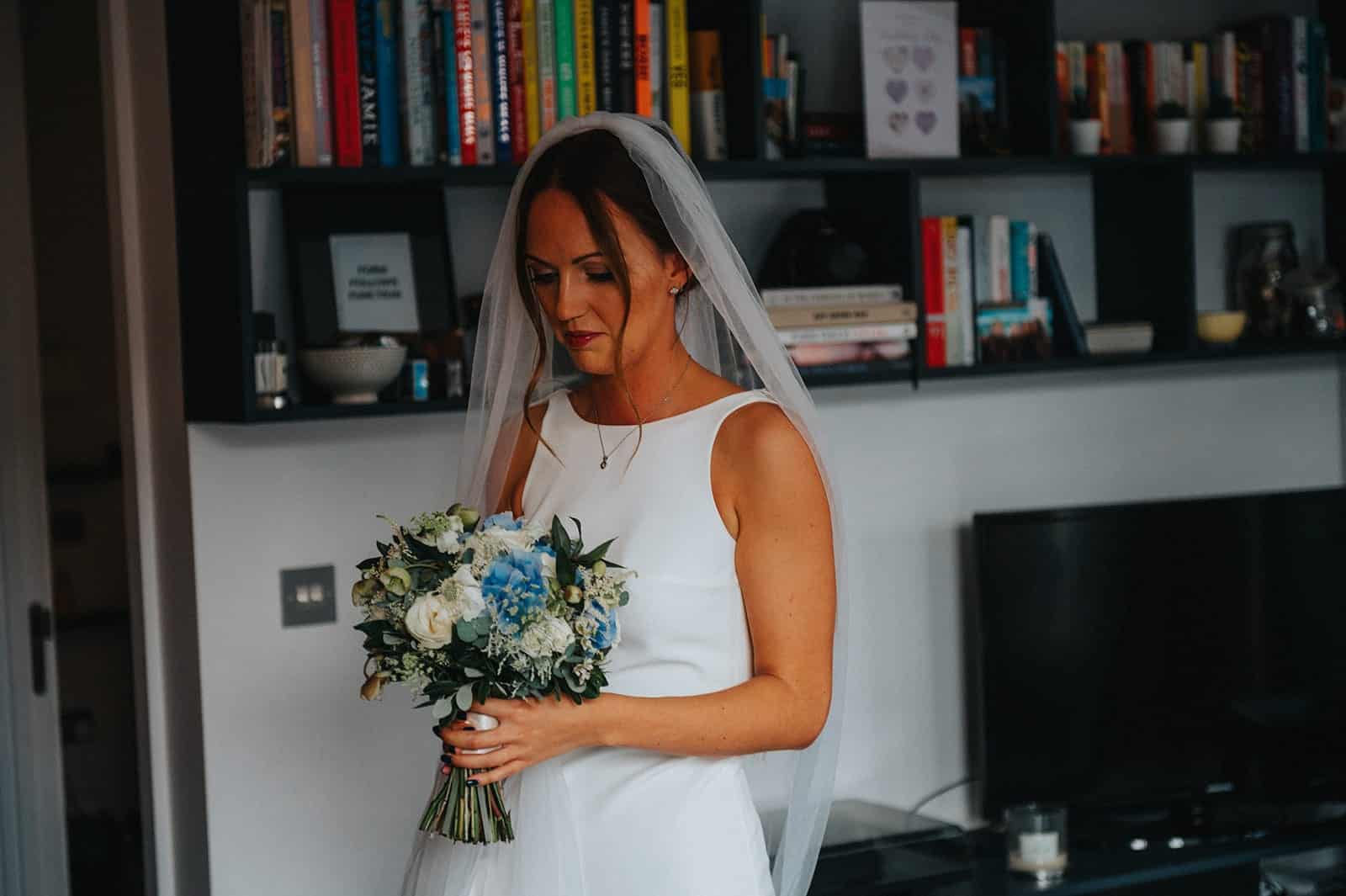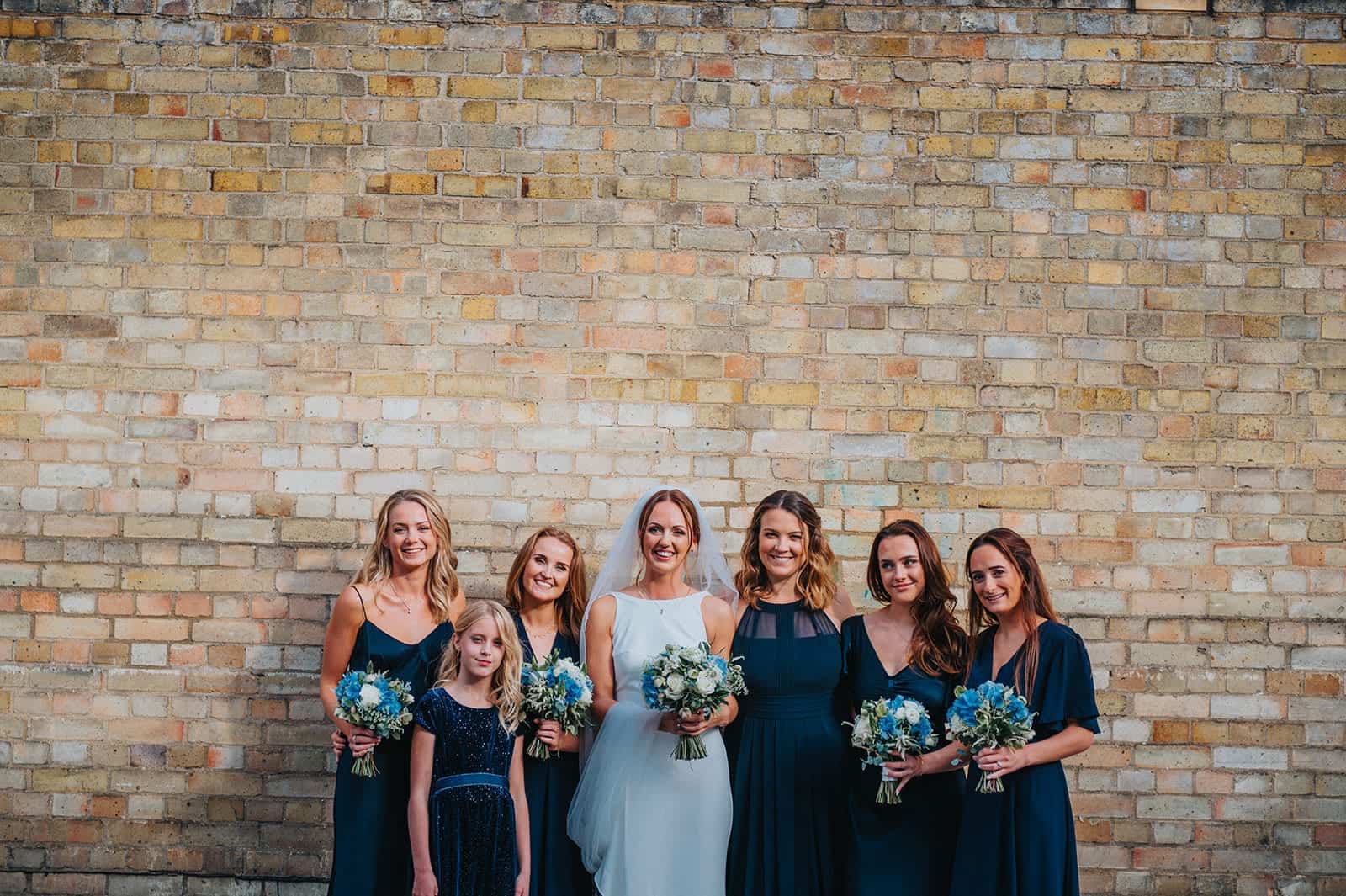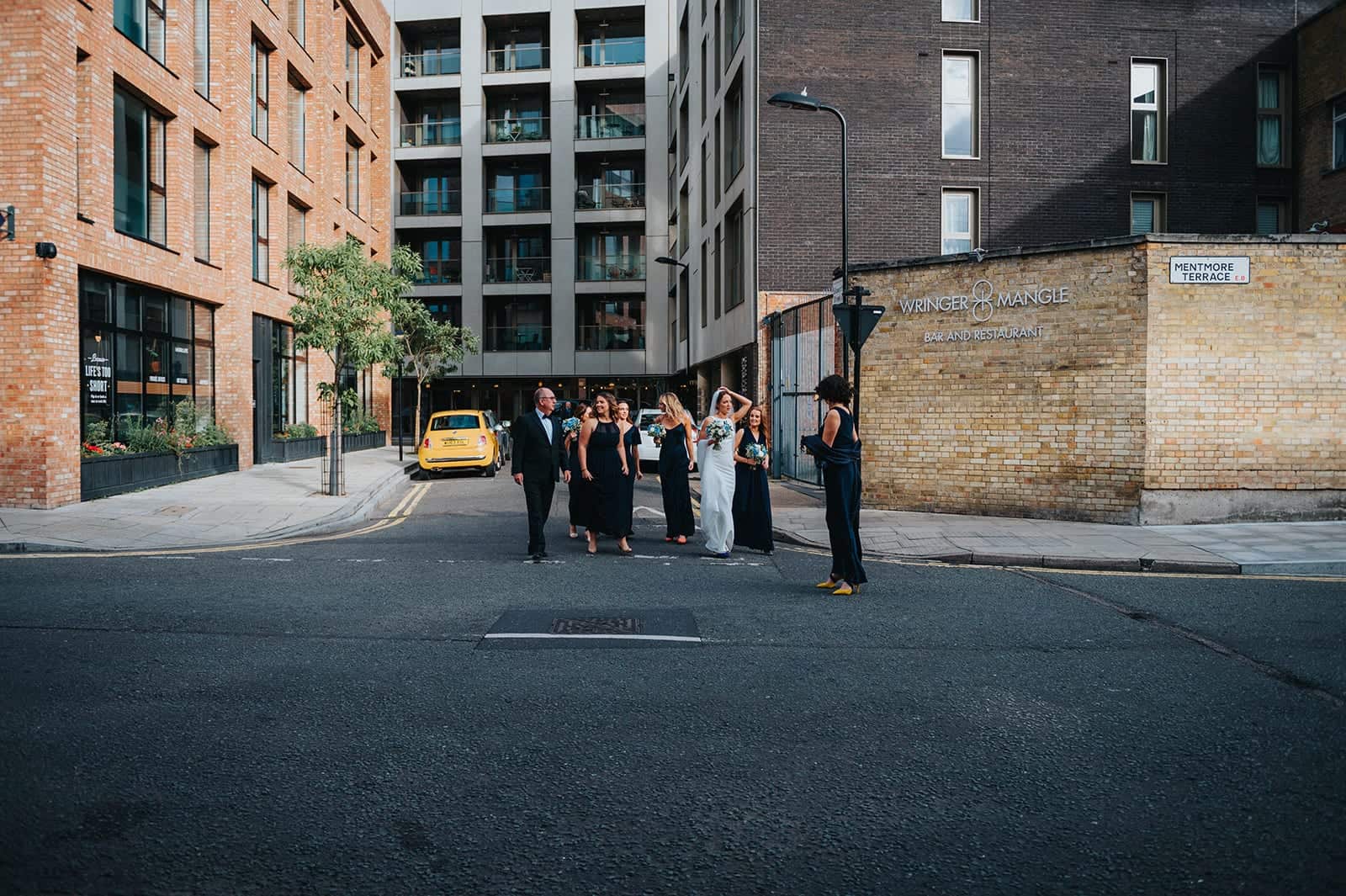 EAST LONDON BLACK TIE WITH A FOCUS ON ALL THE THINGS THAT ARE IMPORTANT TO US

AND NONE OF THE THINGS THAT AREN'T.​​​​​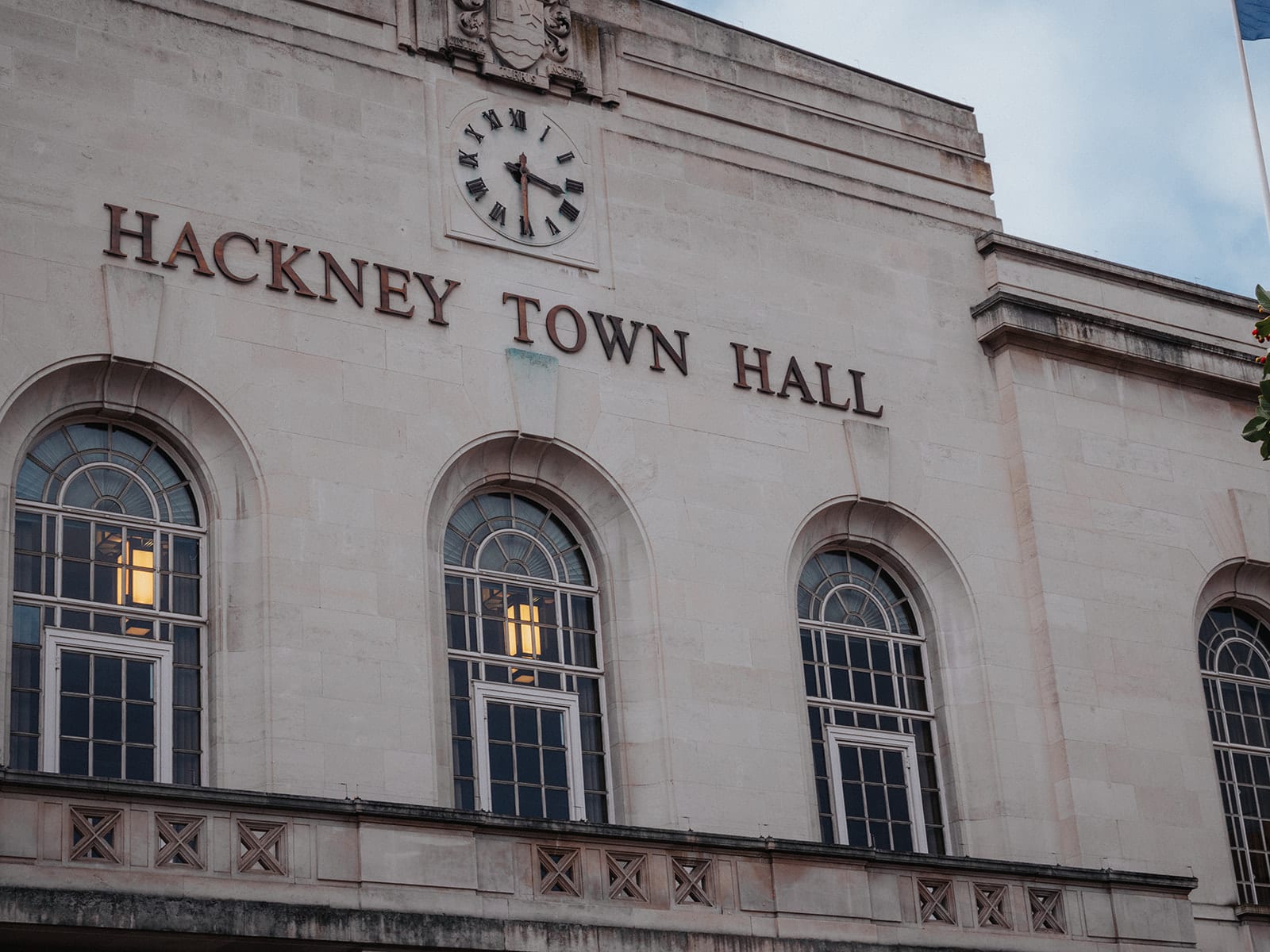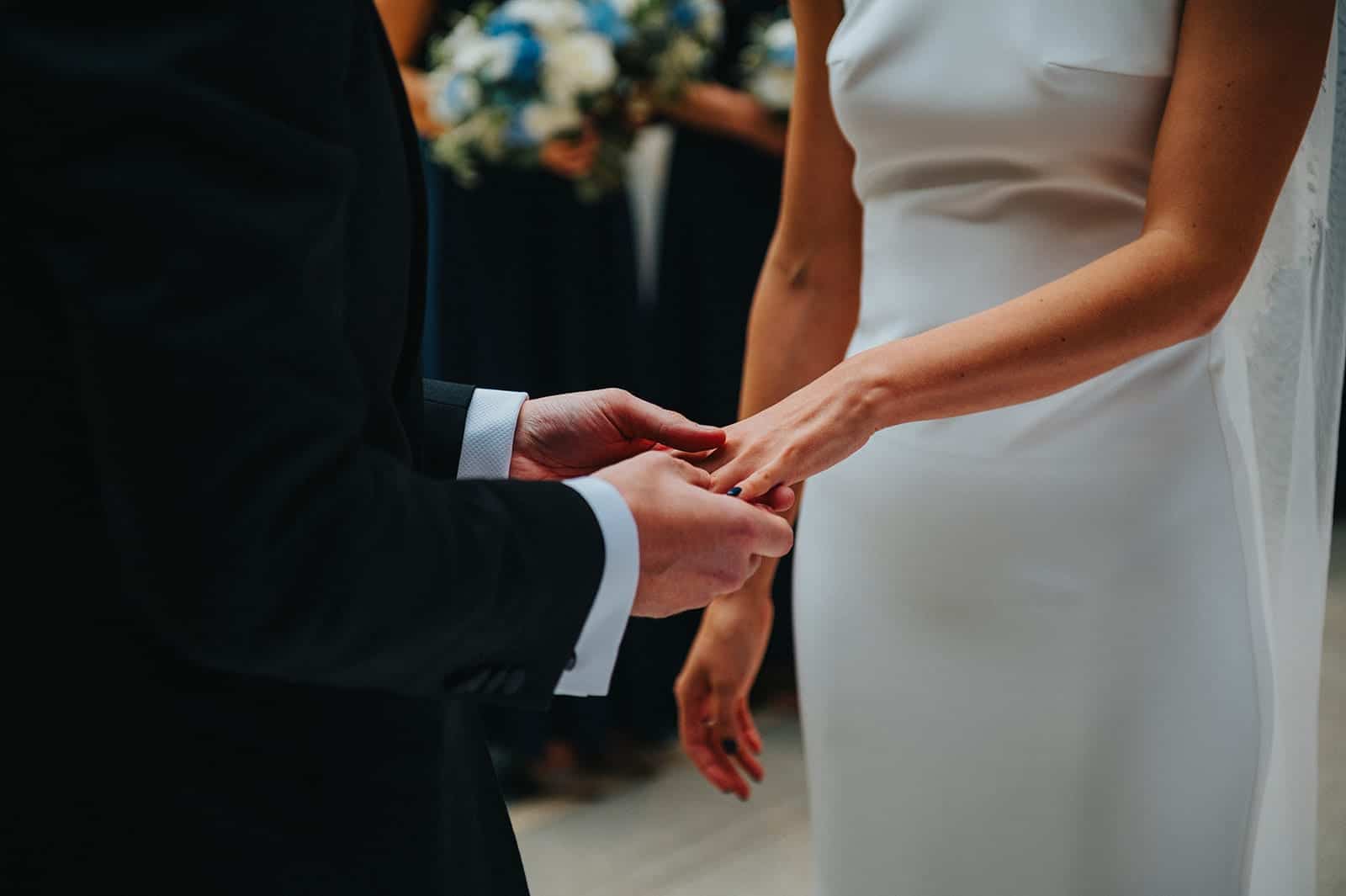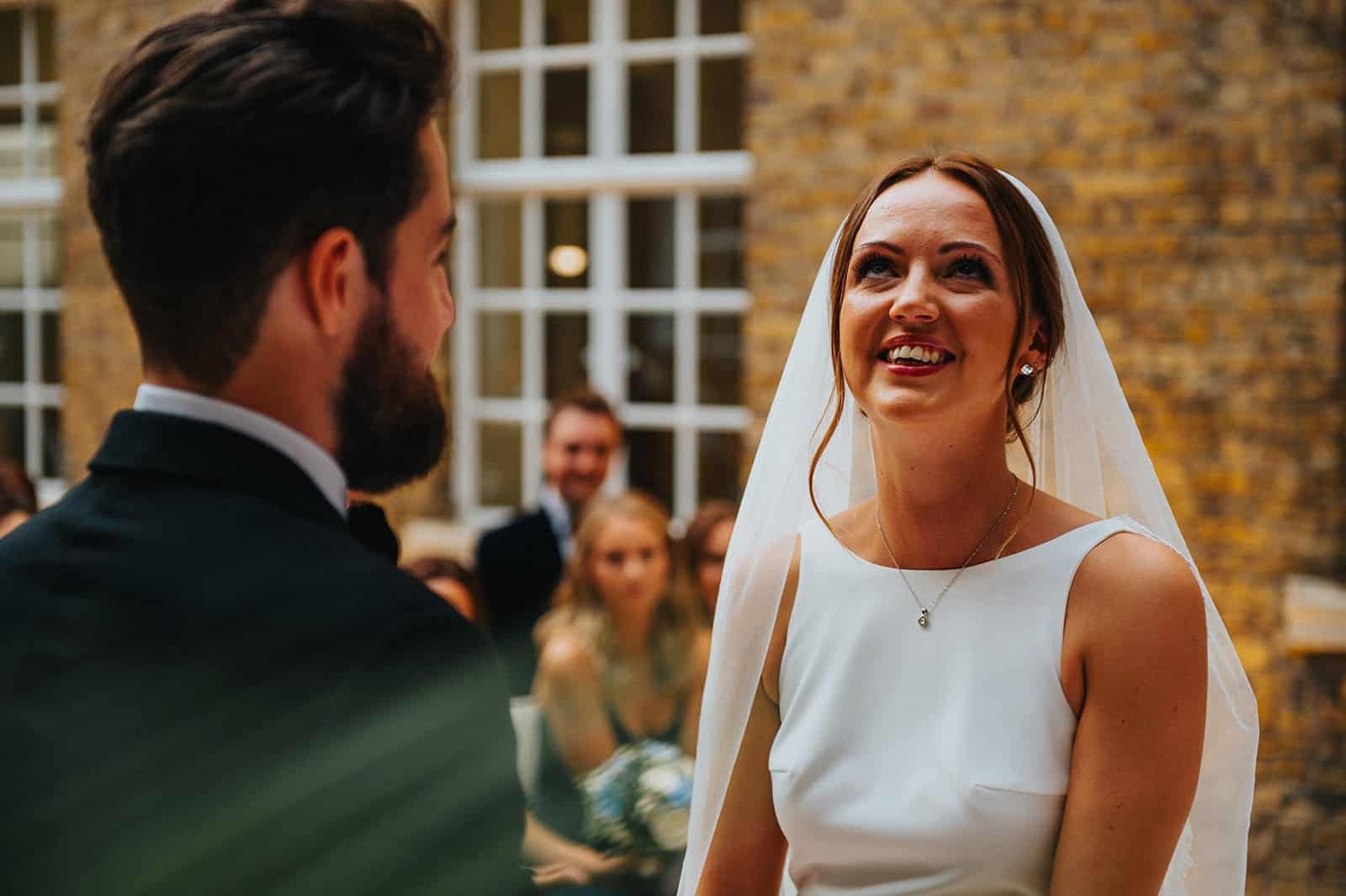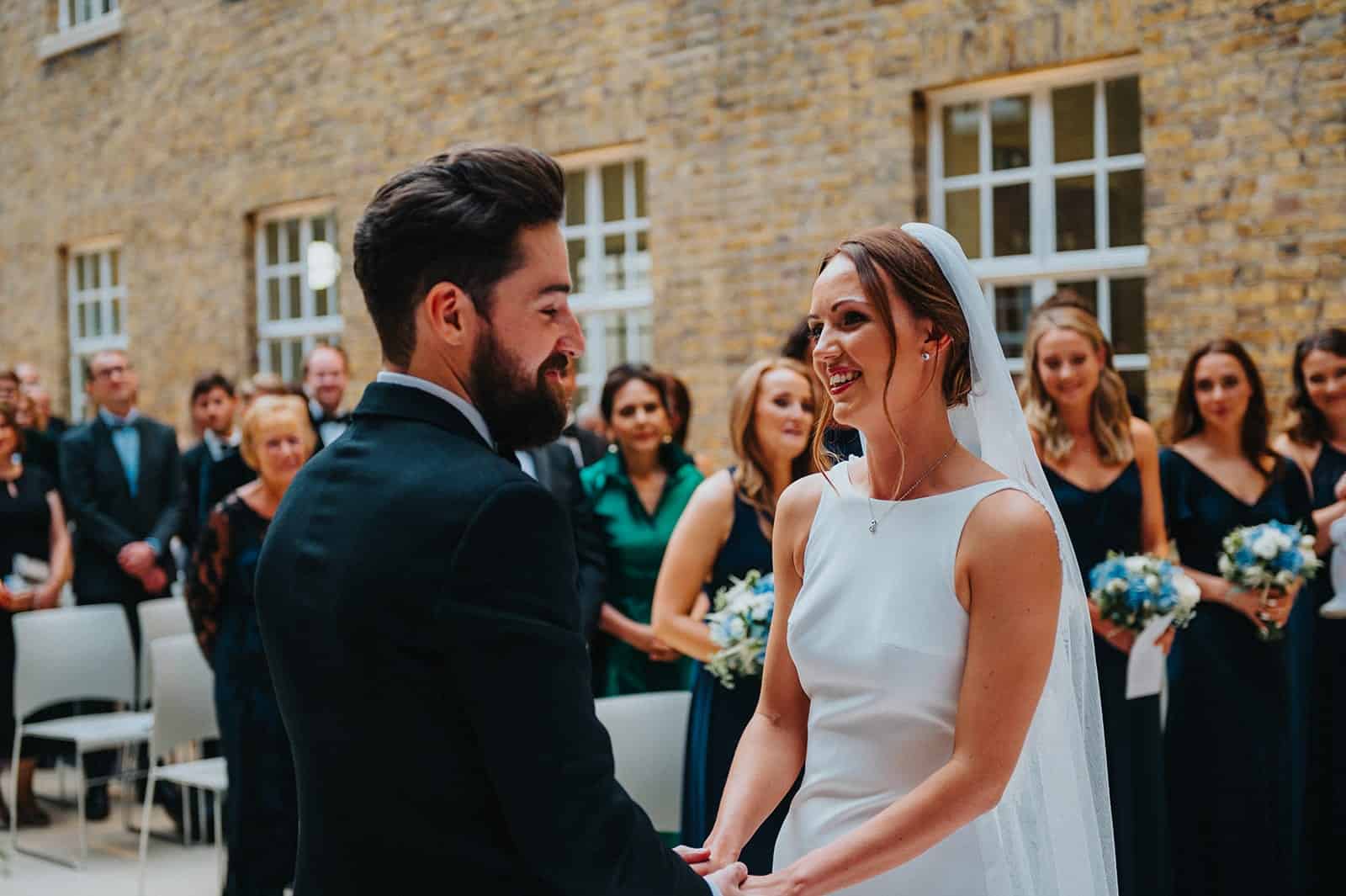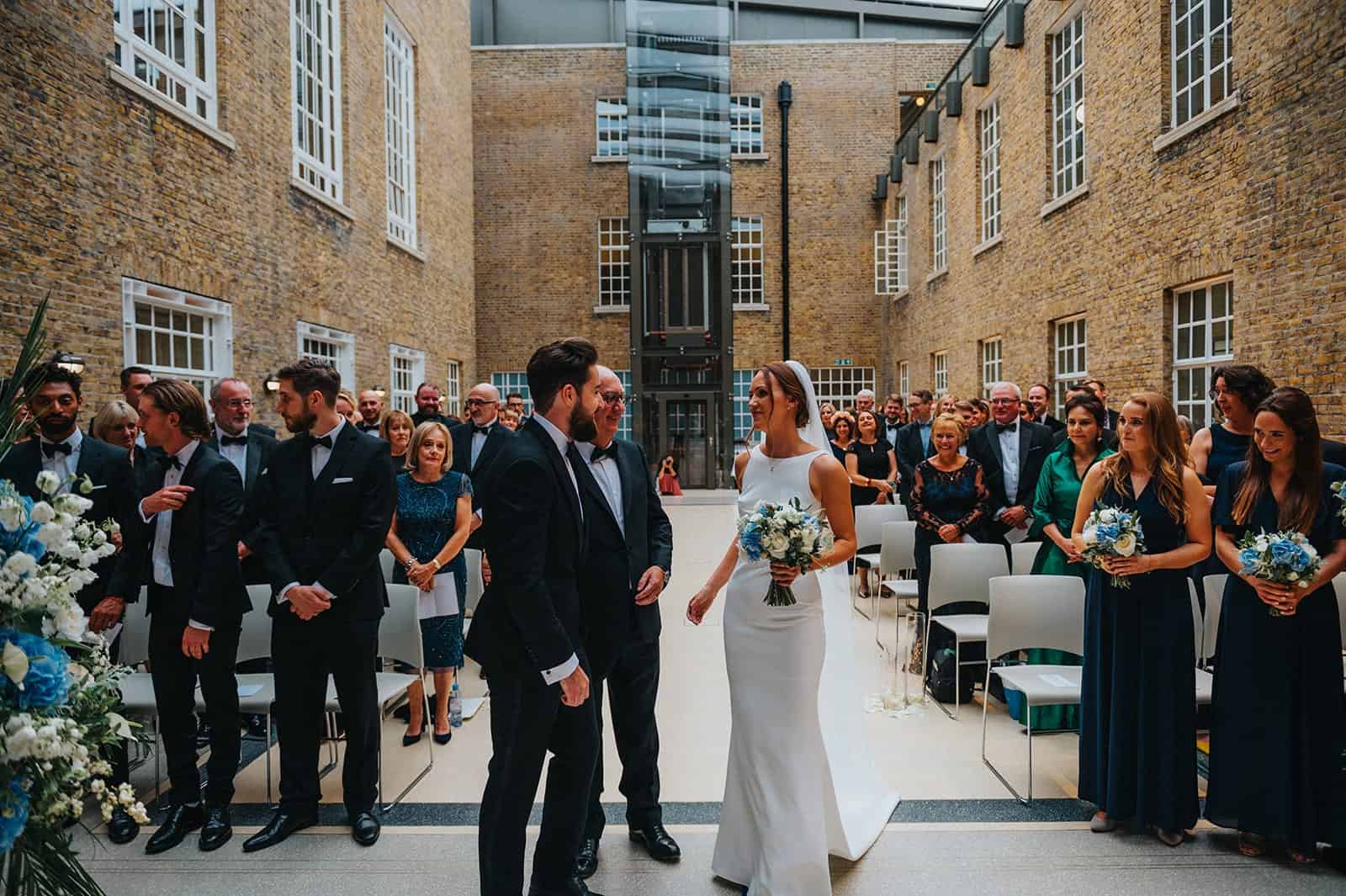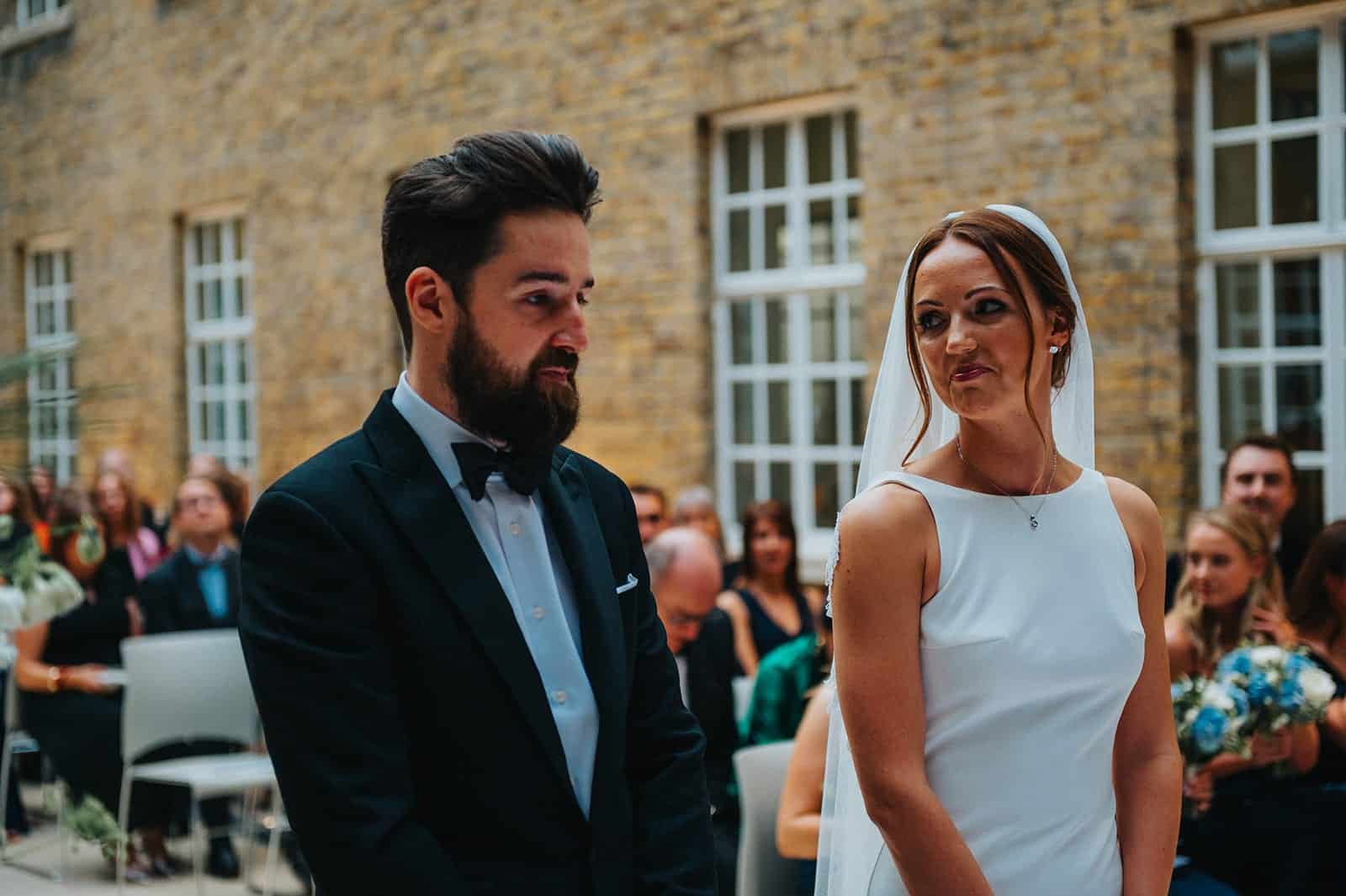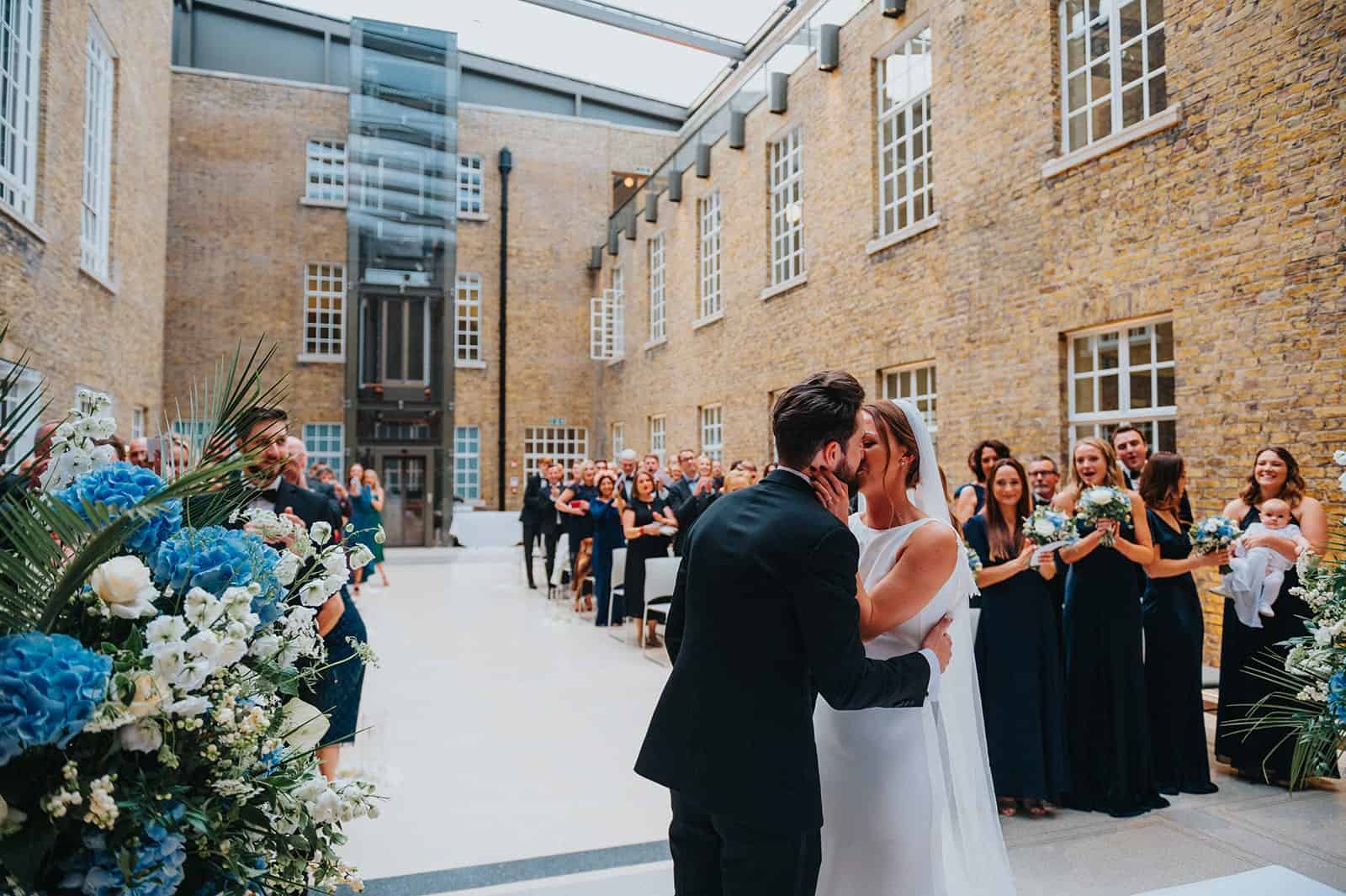 WHAT WAS THE THEME OF THE WEDDING?
WE HAD A BLACK TIE EVENING DRESS THEME, OUR CEREMONY WAS AT 4.30PM IN HACKNEY TOWN HALL. THE CEREMONY WAS SIMPLE AND INTIMATE, WITH 100 GUESTS ATTENDING FOR BOTH THE CEREMONY AND THE EVENING. WE HAD READINGS FROM FRIENDS FROM HANYA YANAGIHARA'S A LITTLE LIFE AND F. SCOTT FITZGERALD'S THE GREAT GATSBY. FOLLOWING THE CEREMONY WE HELD A DRINKS RECEPTION IN THE NORTH ATRIA WHILST WE HAD PORTRAITS TAKEN ON LONDON FIELDS WHERE WE GOT ENGAGED.
WE WANTED TO PRIORITISE EVERYTHING THAT WE PERSONALLY LIKED AND IGNORE ANYTHING THAT WE FELT WE SHOULD DO JUST FOR TRADITION SO OUR FOCUS WAS ON THE DRINKS, THE FOOD AND THE MUSIC.
OUR MENU WAS LOOSELY MOROCCAN THEMED FROM HARISSA LAMP LOLLIPOPS TO SELF-SERVING TAGINES, FLAT BREADS, SALADS AND BABA GANOUSH. OUR WINE WAS ENGLISH SPARKLING FROM THREE CHOIRS IN GLOUCESTERSHIRE AND OUR DESSERTS WERE BLUE DAPPLED MERINGUE KISSES FROM HACKNEY BASED MERINGUE GIRLS AND CROSSTOWN DOUGHNUTS INSTEAD OF A TRADITIONAL CAKE.
WE HAD A SELF-SERVE GIN BAR OPEN AFTER DINNER AND SPEECHES SET UP IN THE SOUTH ATRIA WHILE THE BAND PLAYED IN THE NORTH ATRIA. OUR FIRST DANCE KICKED OFF AROUND 8PM TO FRANK OCEAN'S THINKIN' BOUT YOU AND DANCING CONTINUED UNTIL 1AM.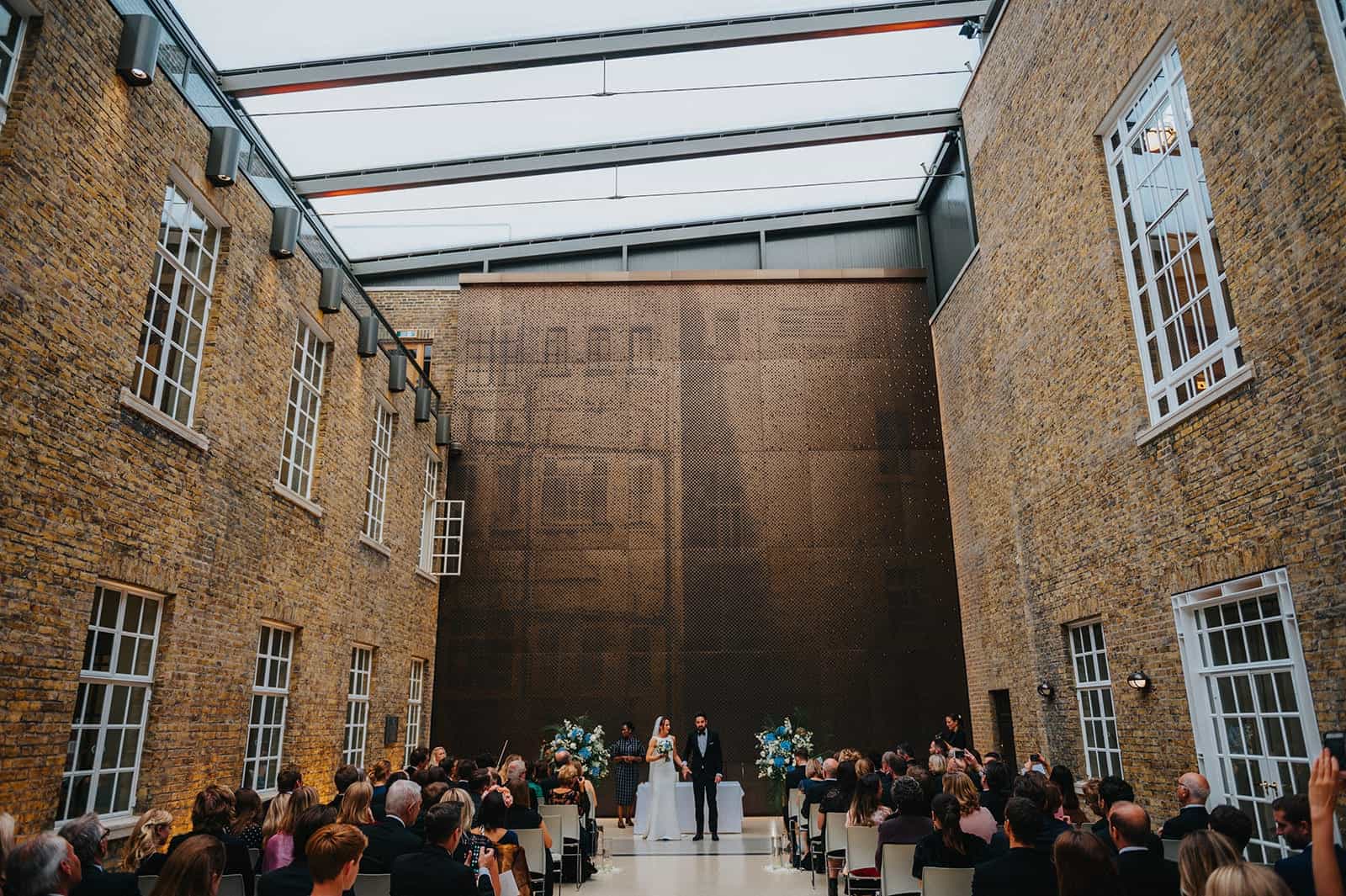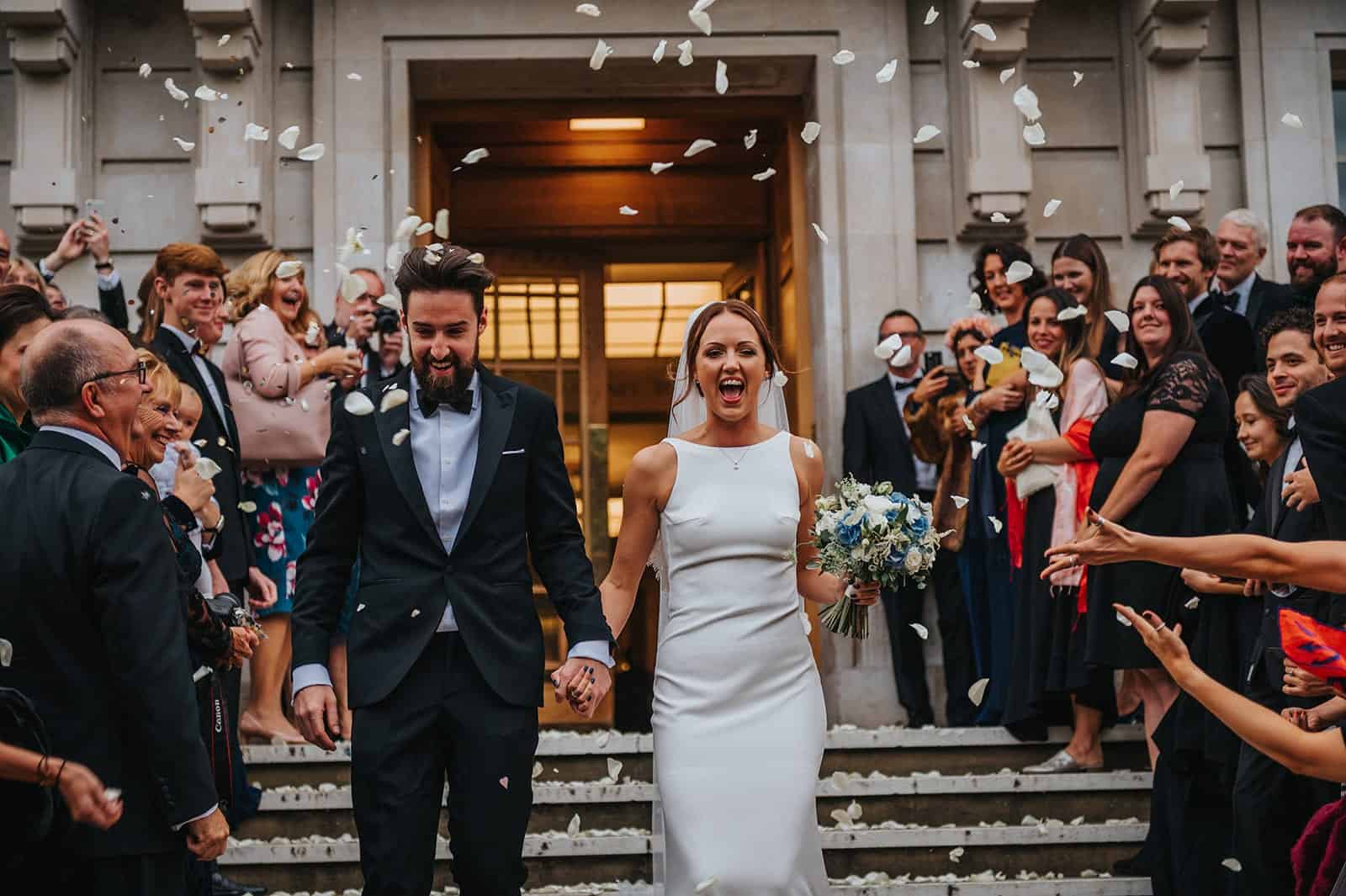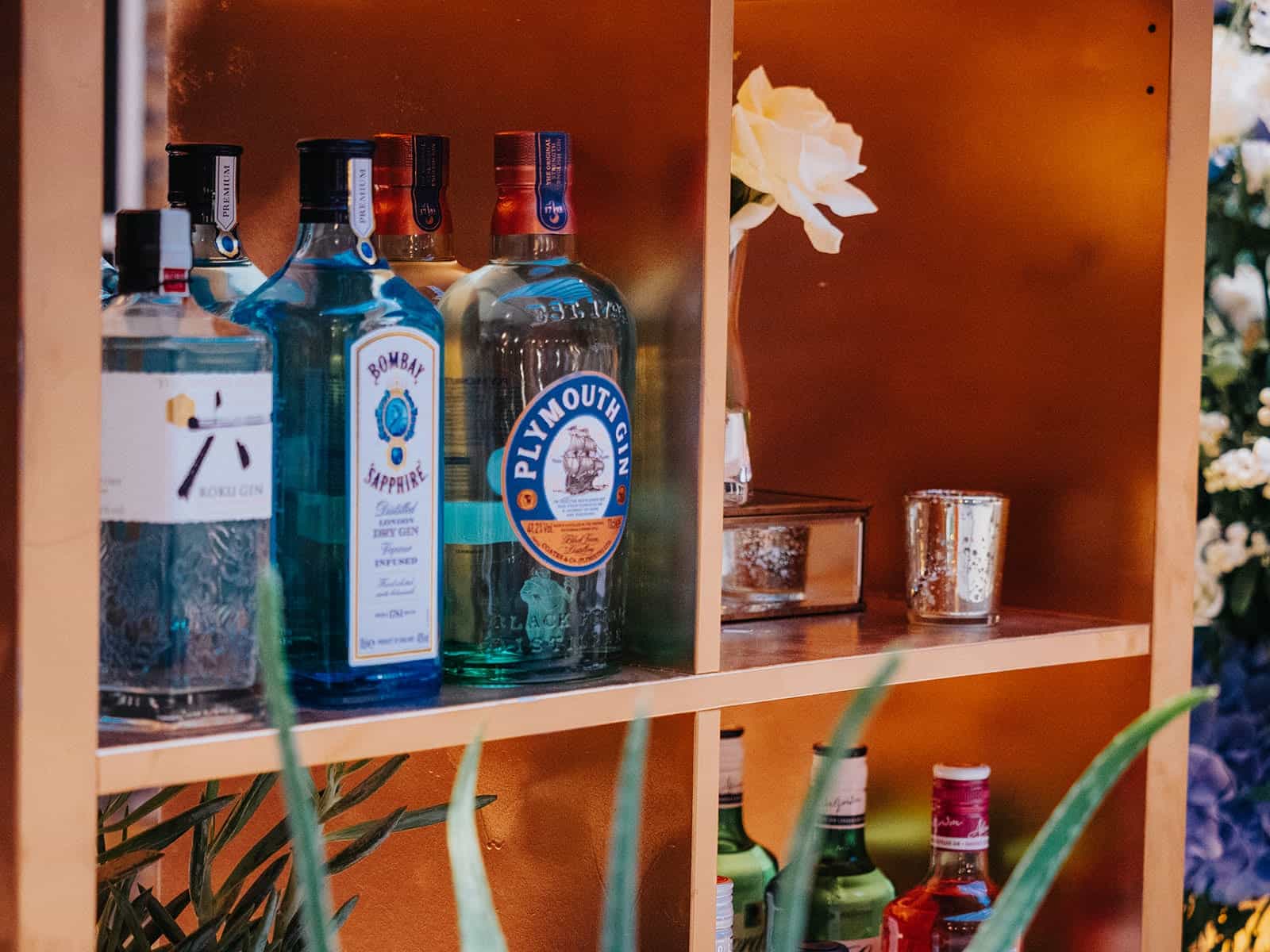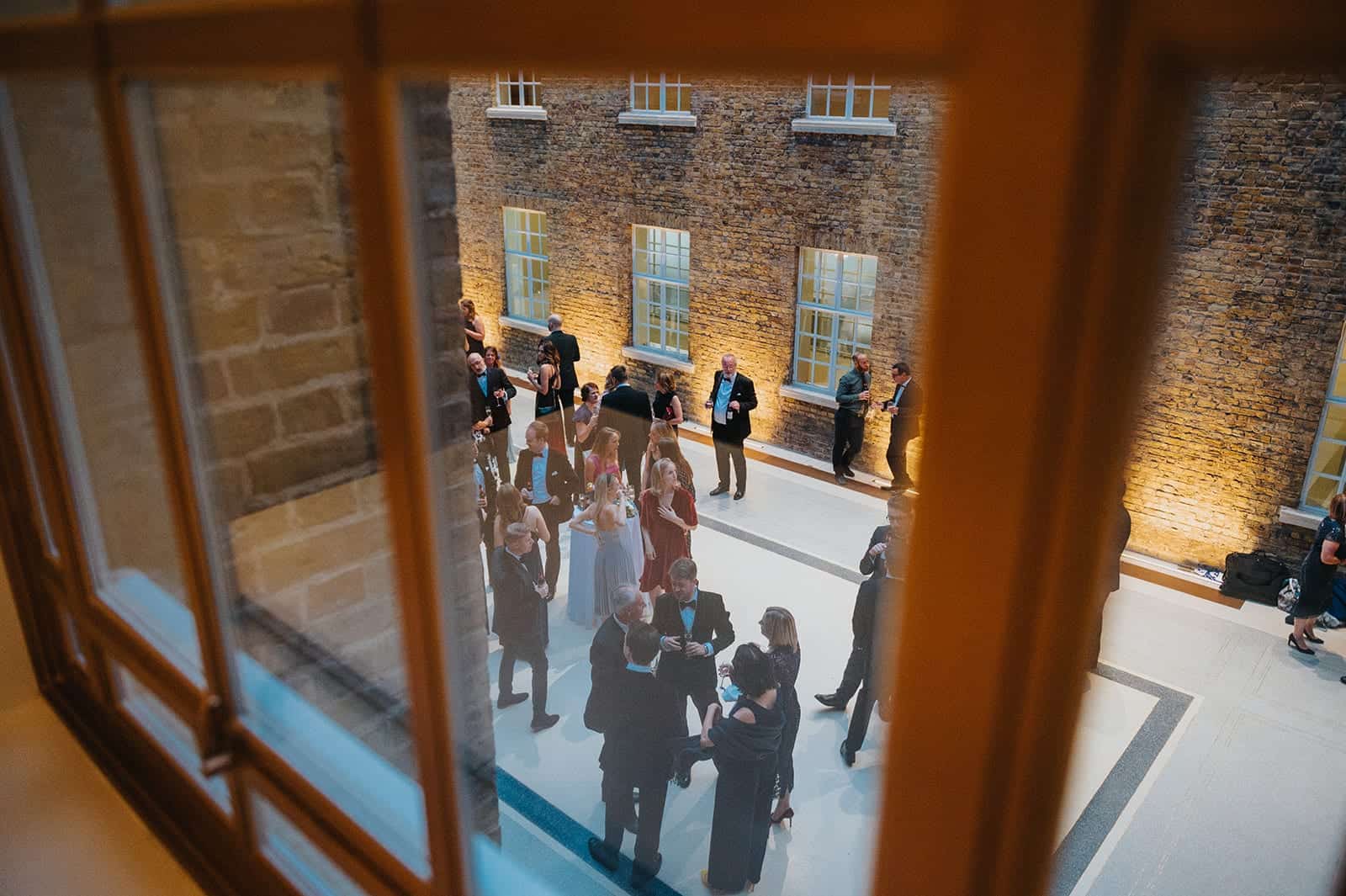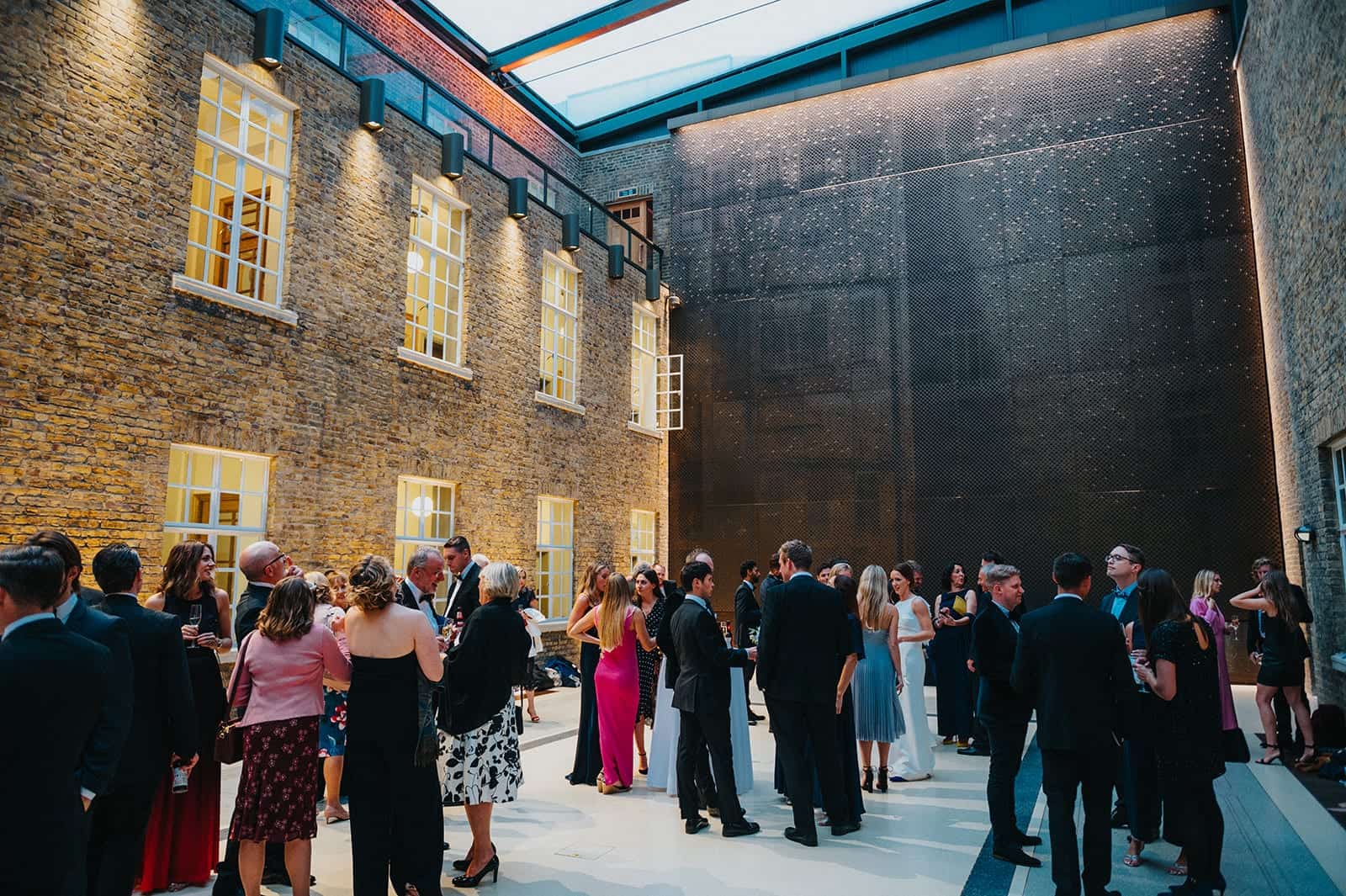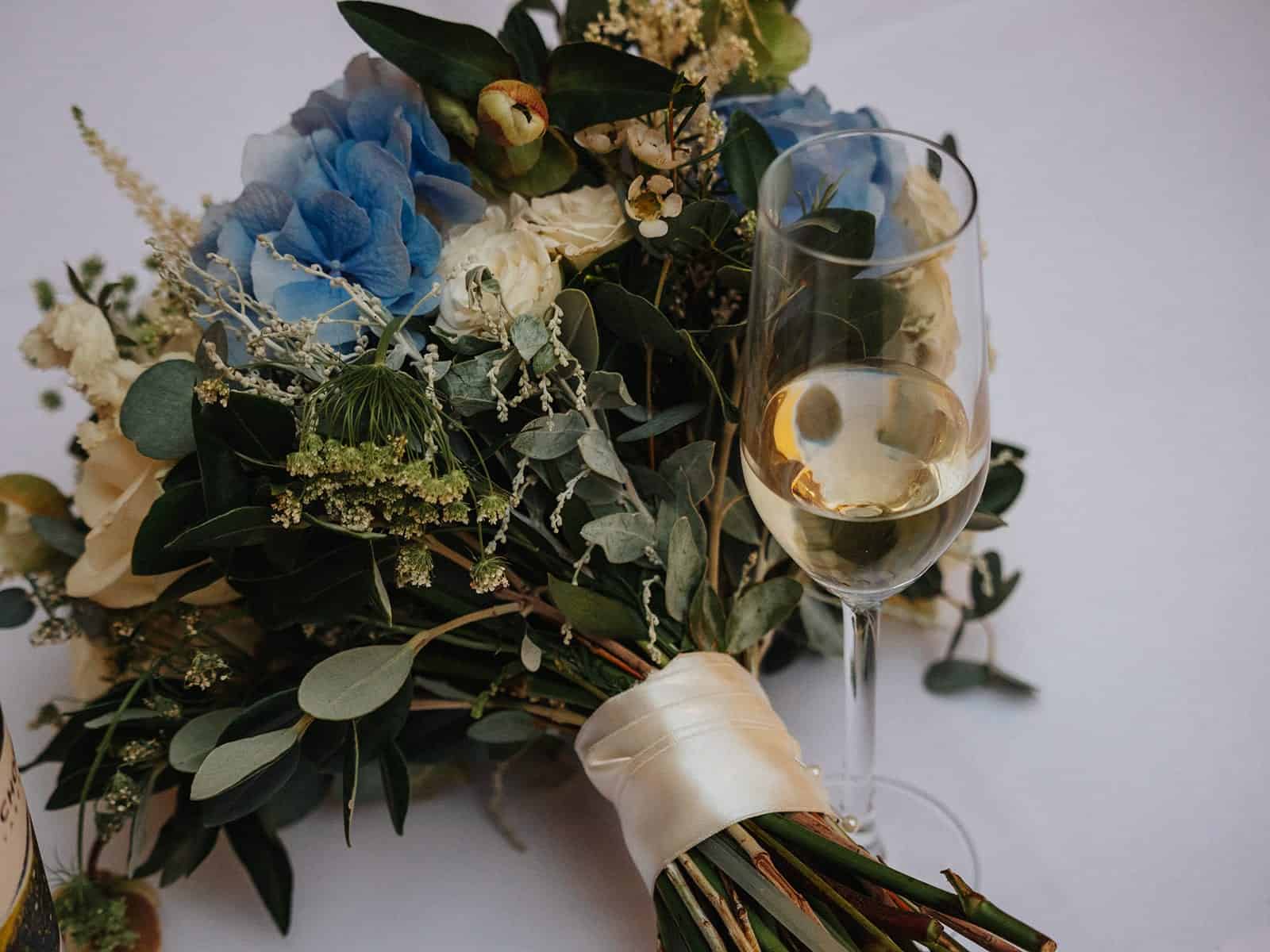 WHAT DID THE WEDDING PARTY WEAR?
LAURA THE BRIDE WORE THE "BILLIE" DRESS IN FRENCH CREPE BY MADE WITH LOVE, WHICH WAS BOUGHT AT HEART A FLUTTER IN HACKNEY.
TOM THE GROOM WORE A BLACK TUX FROM HACKETT.
THE BRIDESMAIDS WORE NAVY BLUE FLOOR LENGTH DRESSES IN VARYING STYLES THAT THEY EACH CHOSE FROM GHOST, HOBBS AND REWRITTEN.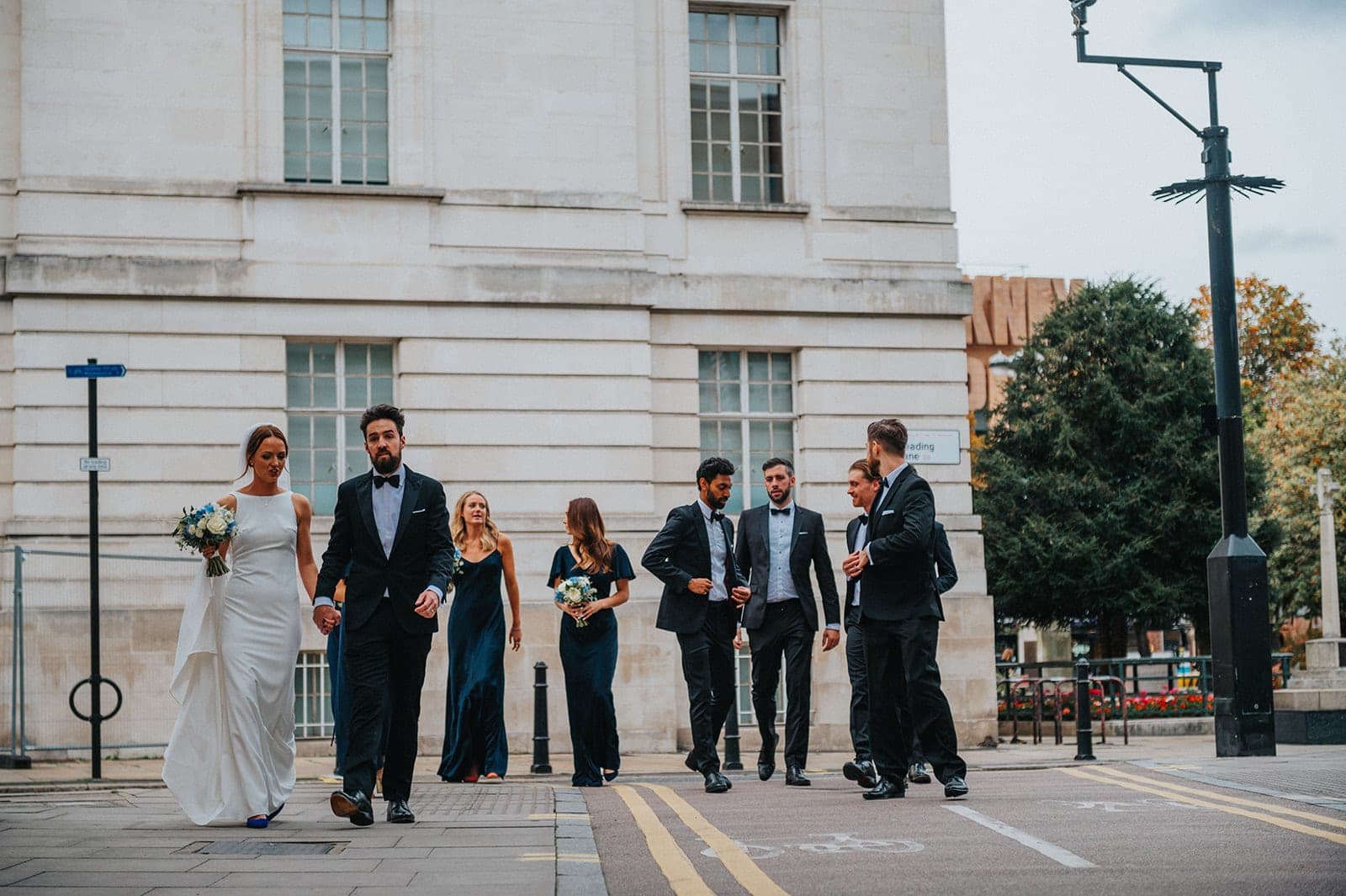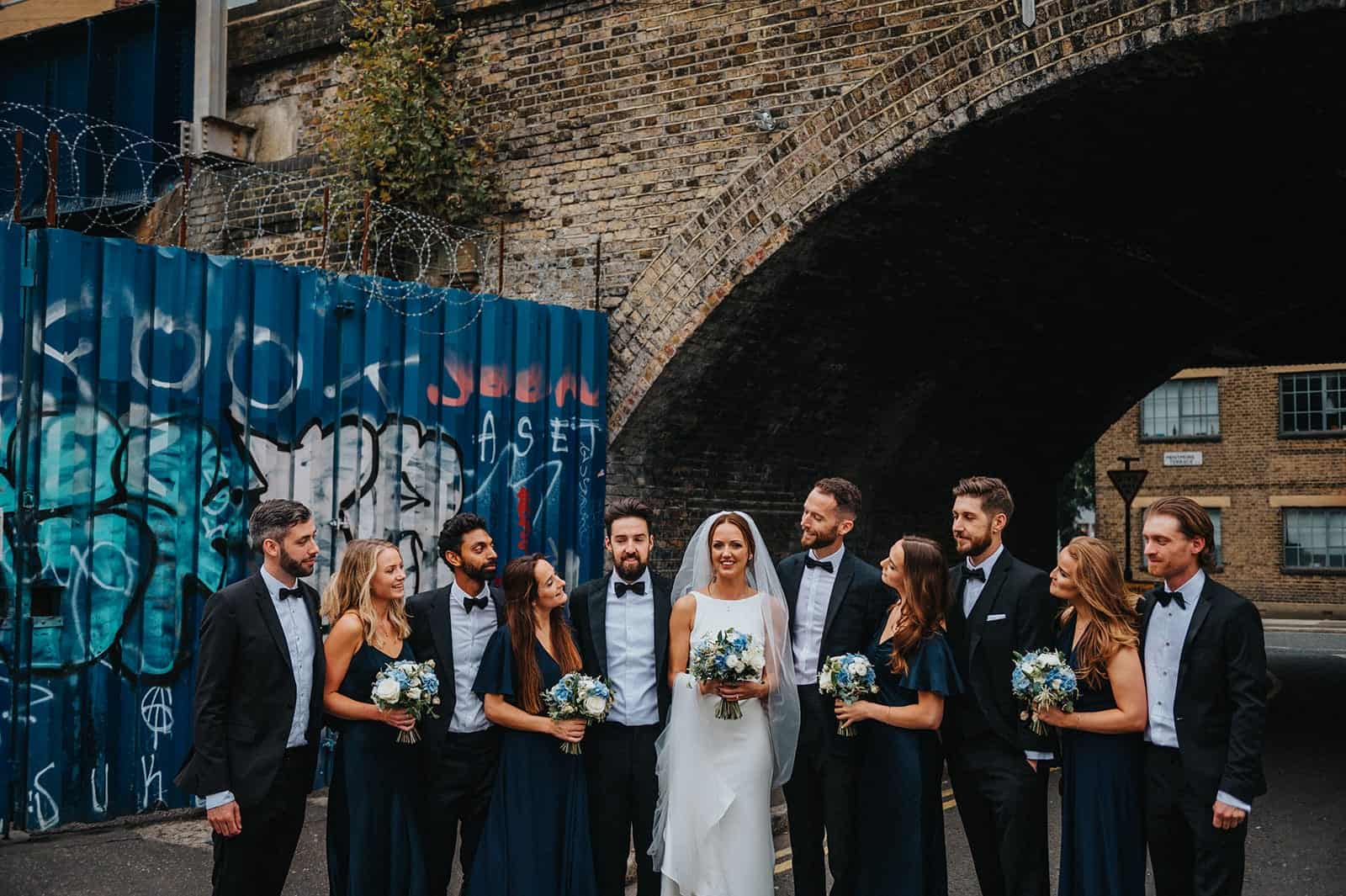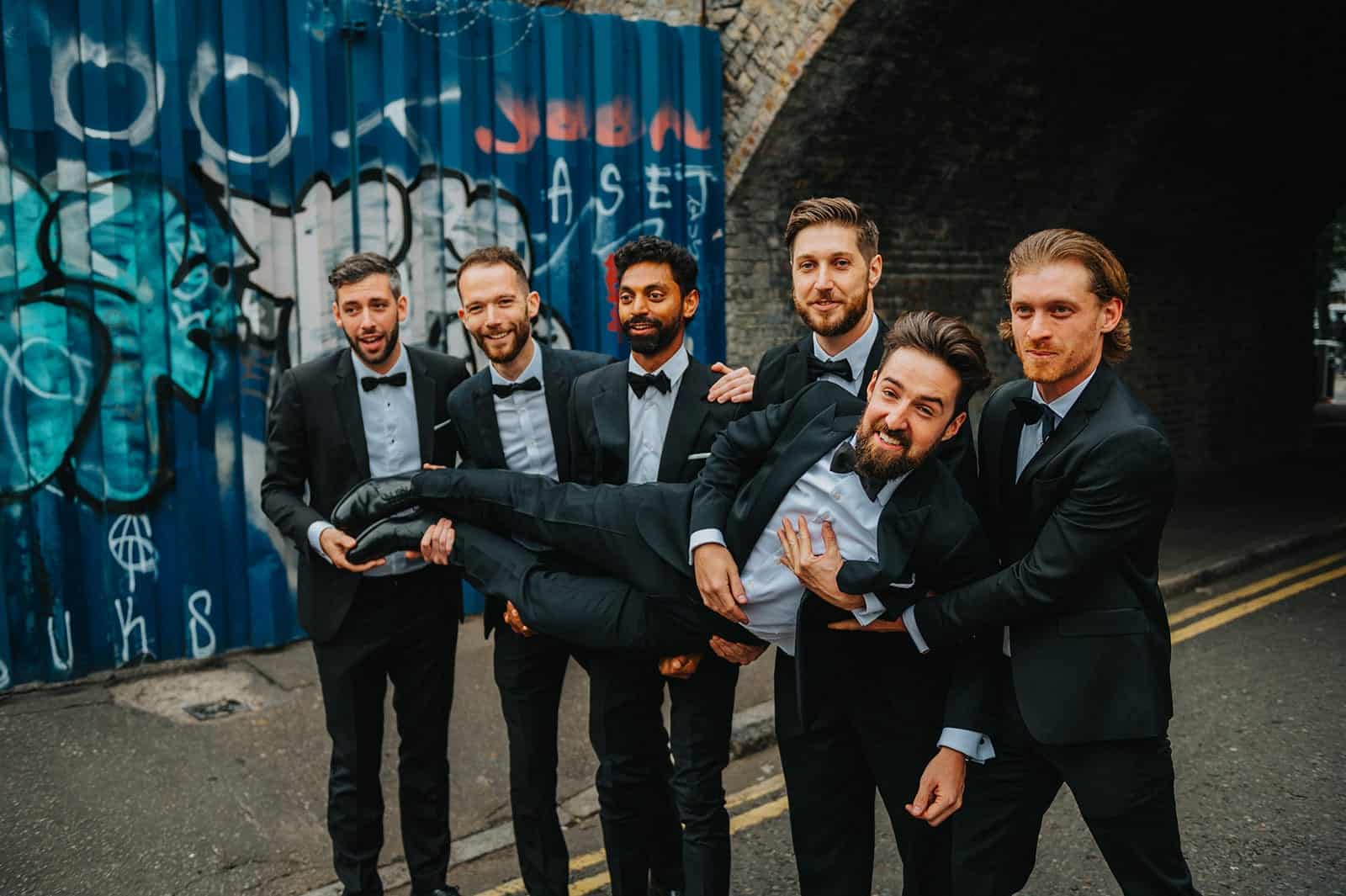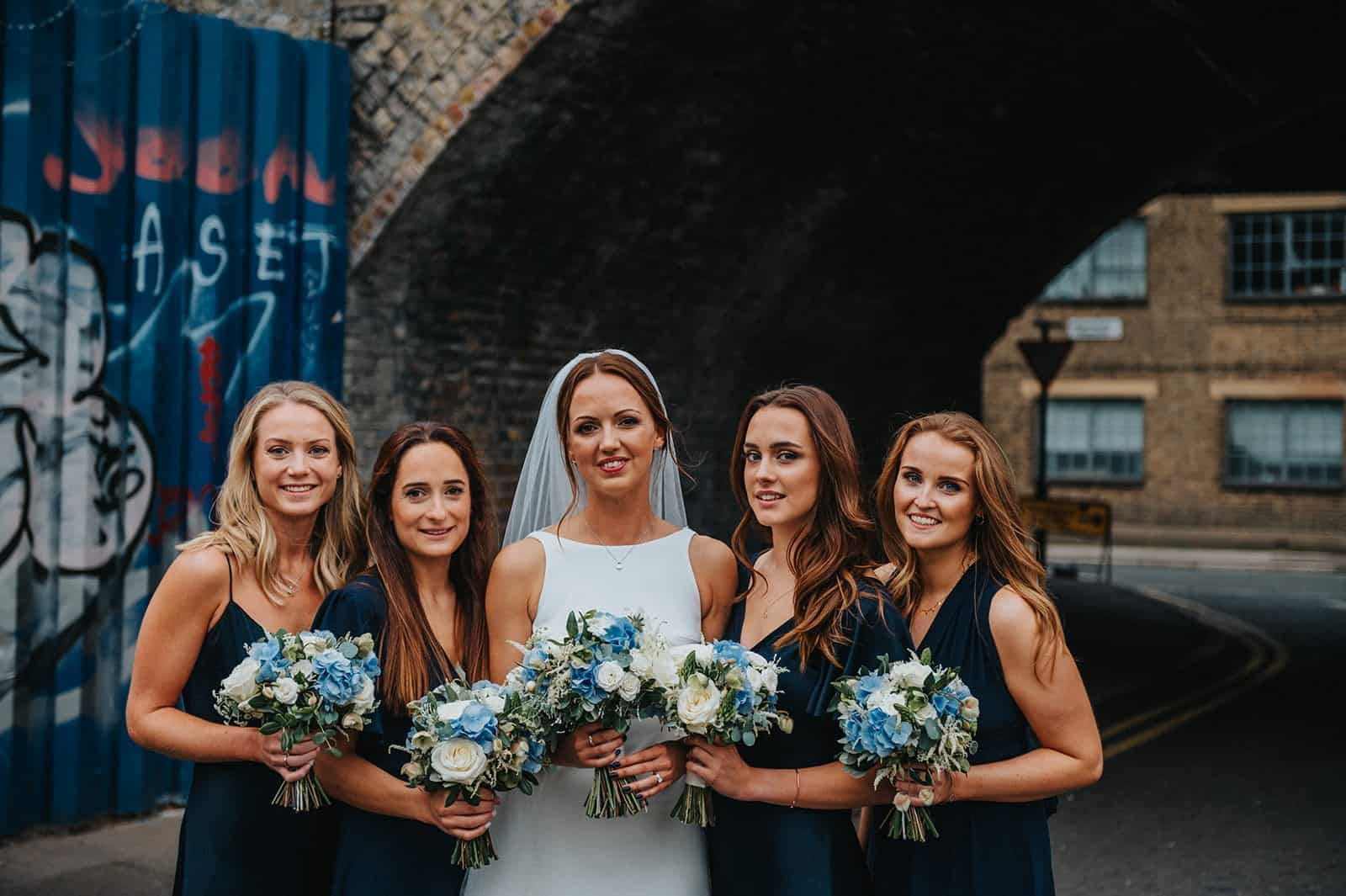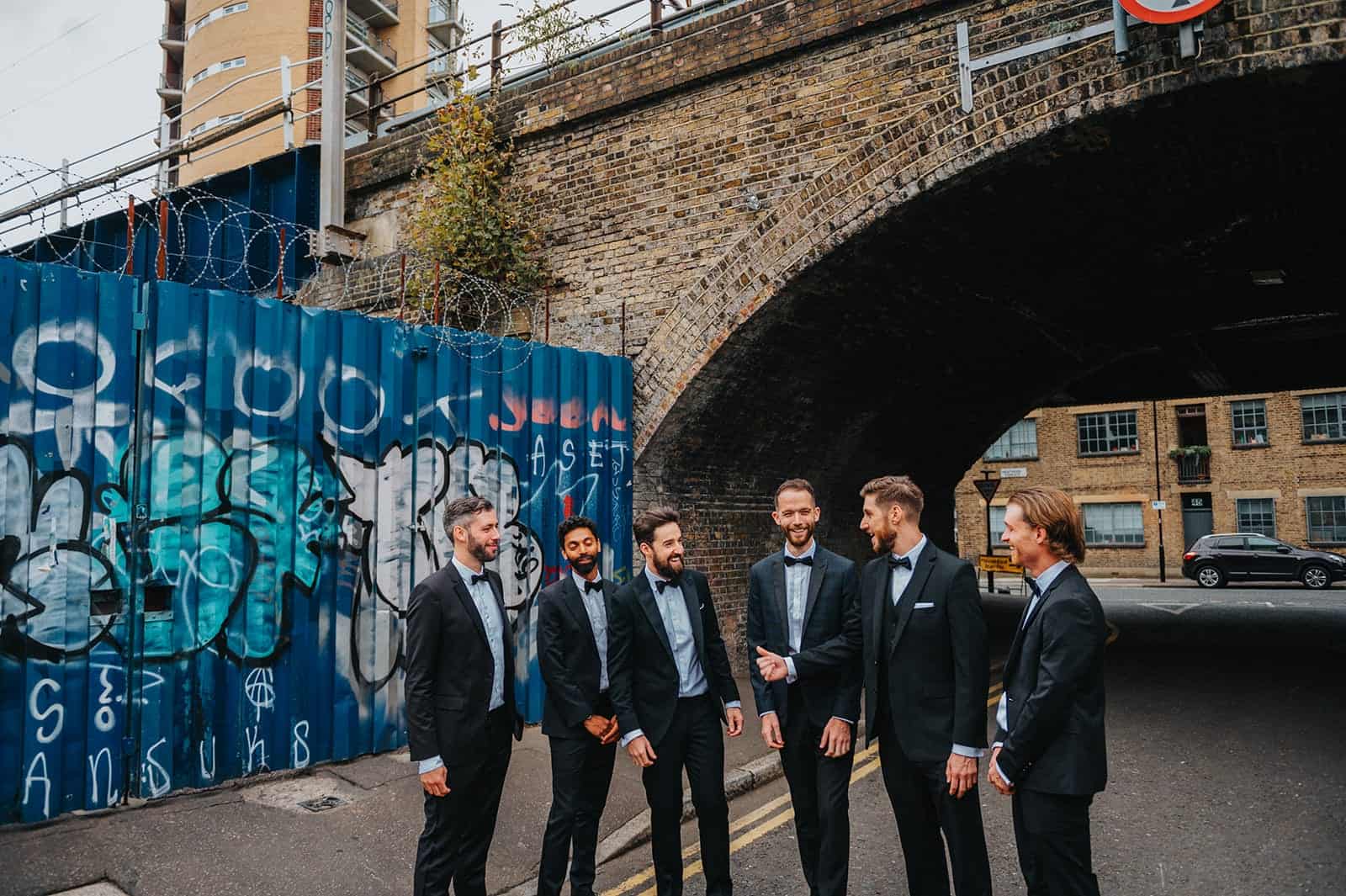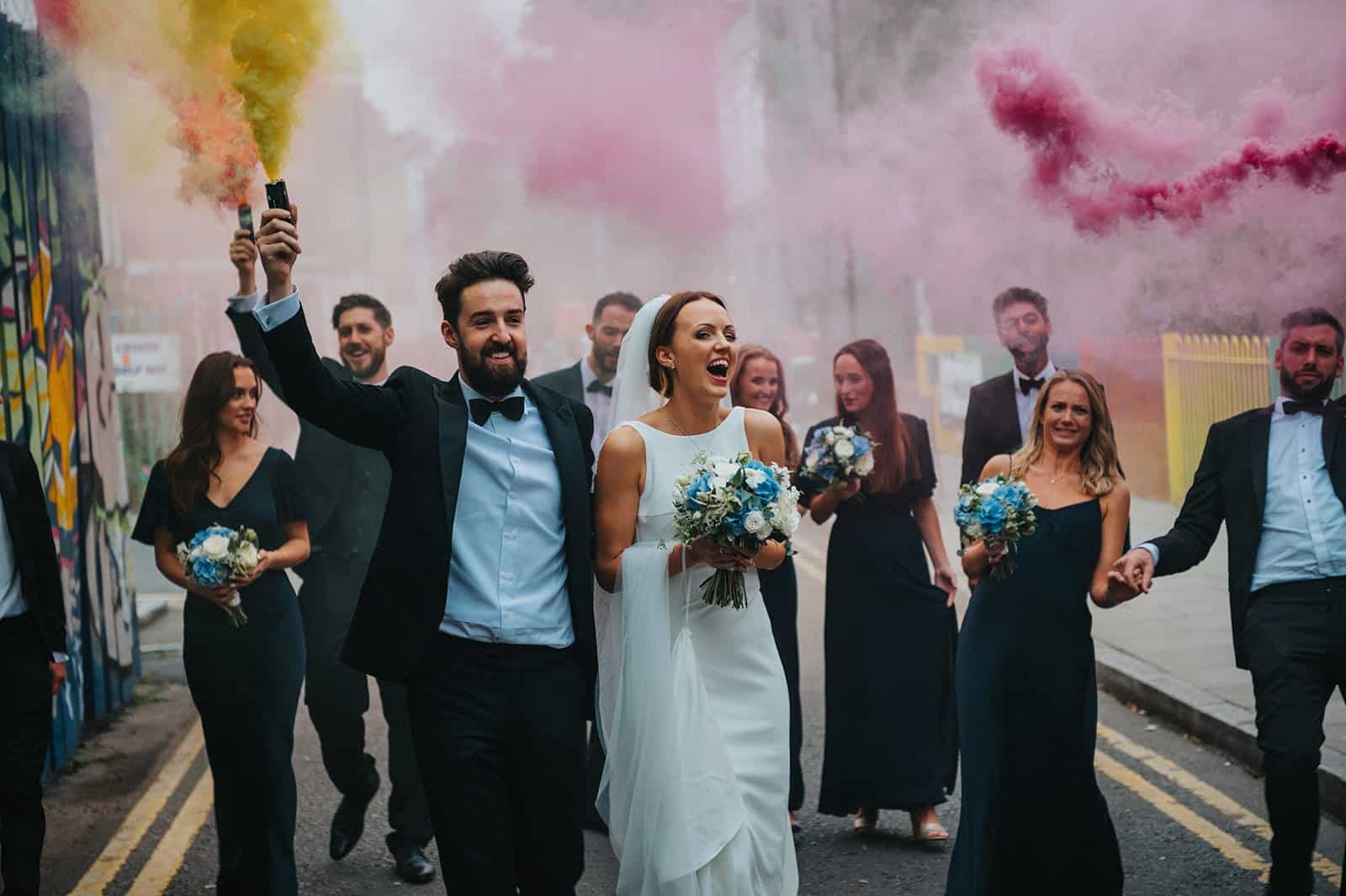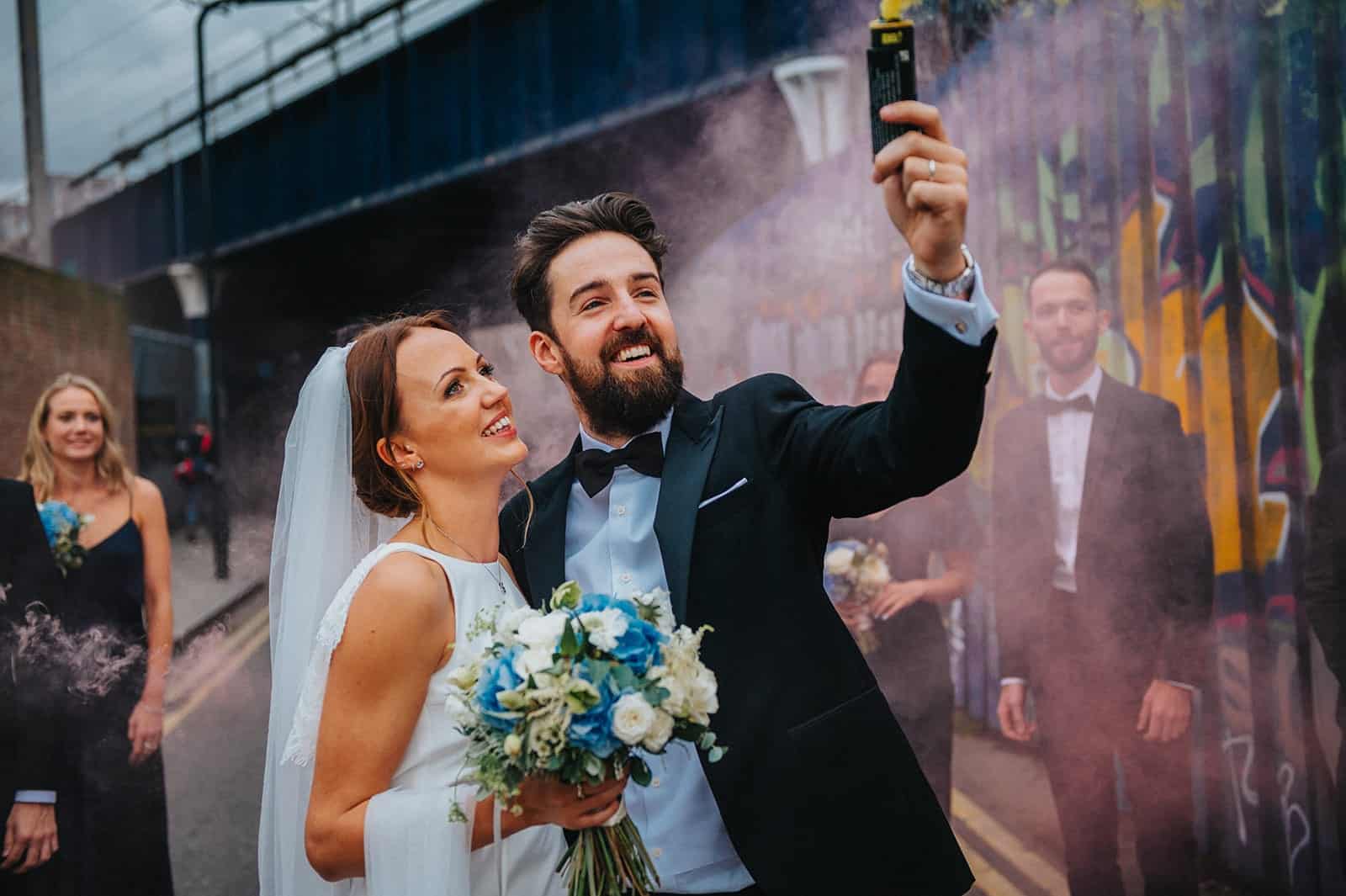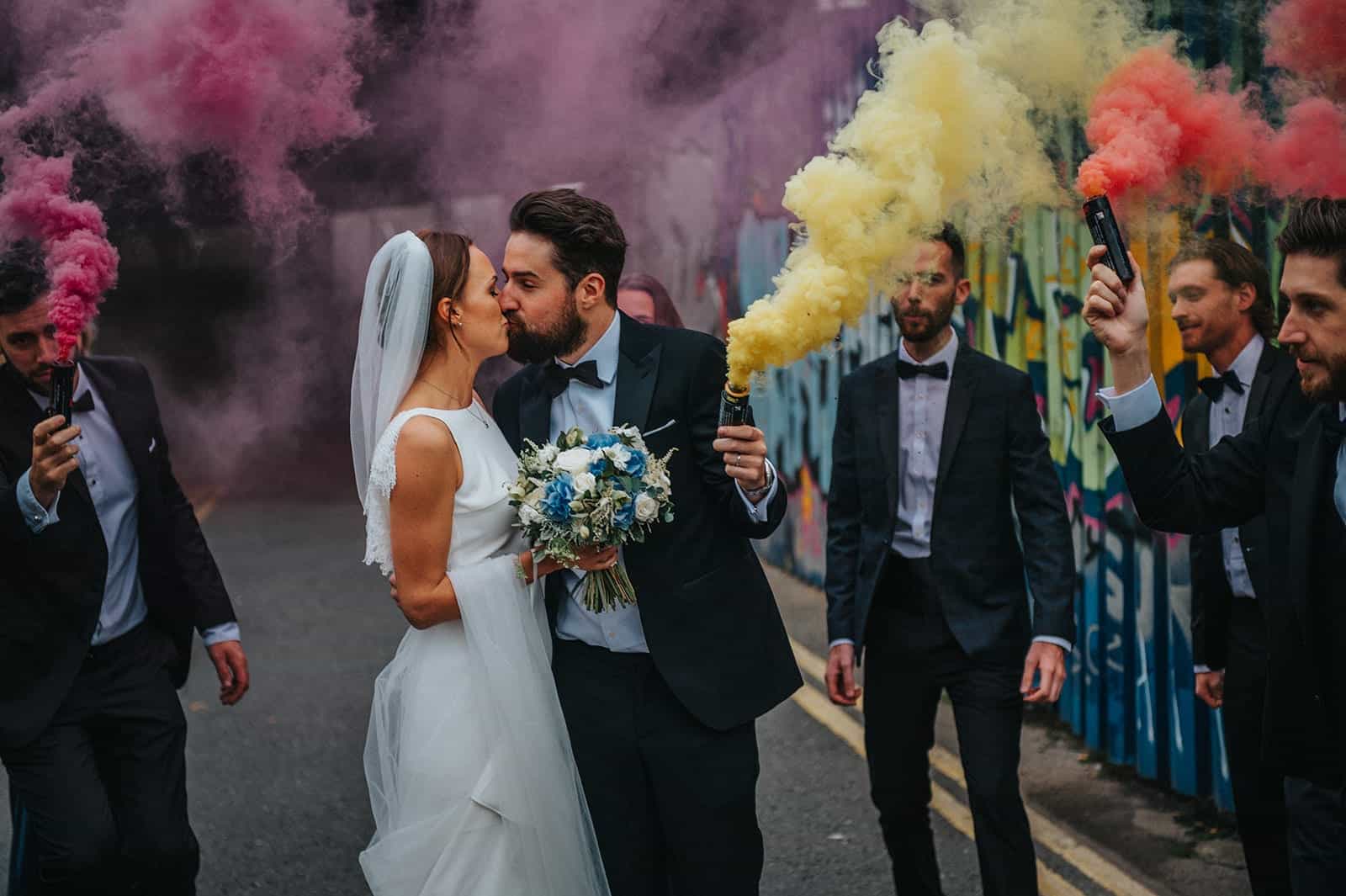 OUR THOUGHTS
WE, AT THE URBAN WEDDING COMPANY LOVE A CITY WEDDING OF COURSE! LAURA AND TOM'S REAL LONDON CITY WEDDING IS JUST FAB! WE LOVE HOW THEY WANTED IT TO BE ABOUT THEM AND WHAT THEY WANTED, AND THREW TRADITIONS OUT THE WINDOW.
LOOKS, LIKE THEY HAD SUCH A GREAT TIME WITH FRIENDS AND FAMILY. WE WISH THEM A LONG AND HAPPY MARRIAGE.