We are loving all the stunning micro weddings we keep seeing, let's hope this is a new trend here to stay!
Micro weddings are intimate and the perfect choice when wanting to have a laidback day with close family and friends.
We're always on the lookout for new ideas, so when we saw Michelle and Kim's wedding at The Council House in Nottingham city centre, we were very excited, to say the least!
Nathan of  Nathan Walker Photography captured this small wedding perfectly.
If you are planning a small or micro wedding then head to our complete guide.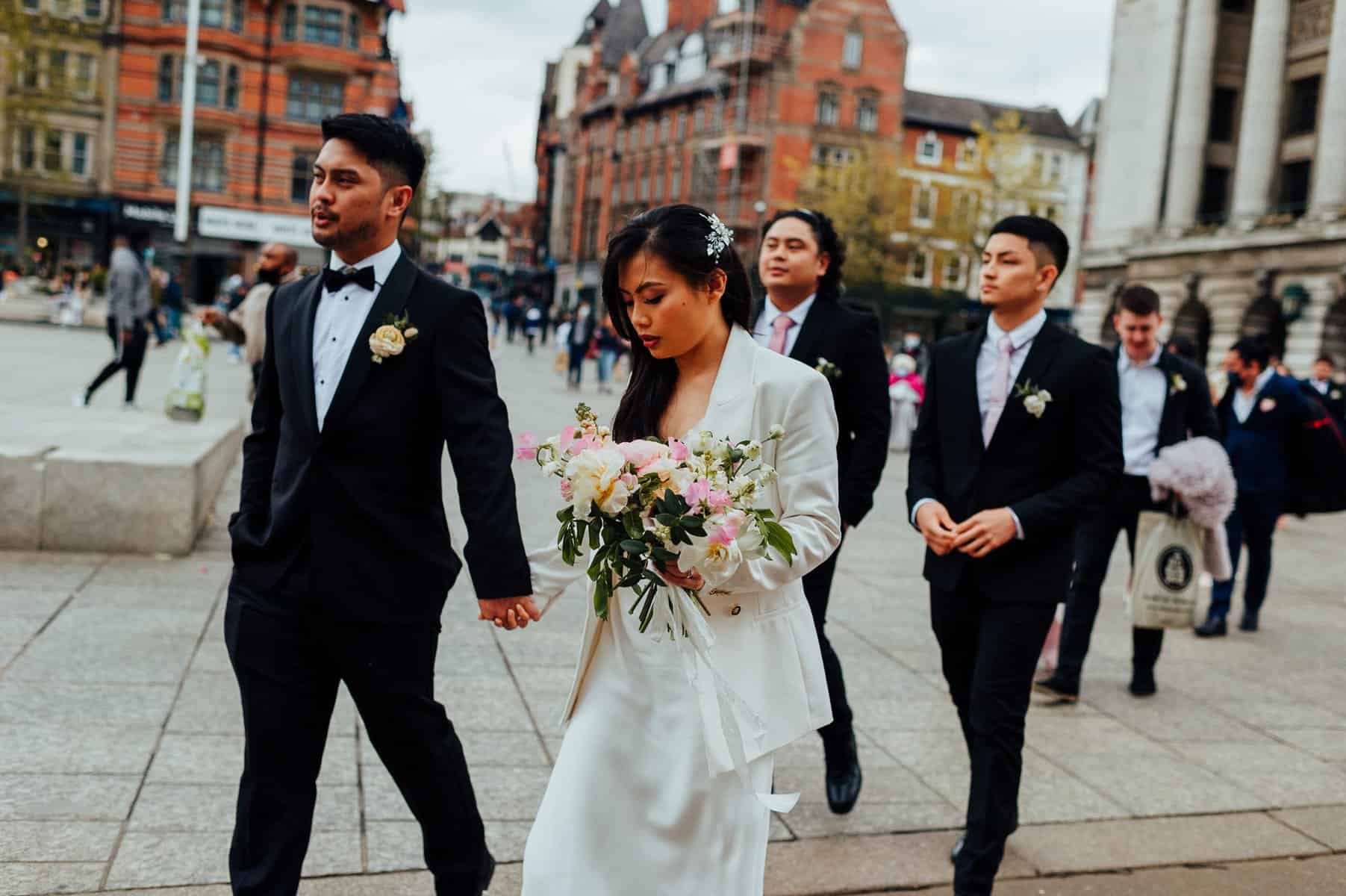 The venue: The Council House
The wedding was held at The Council House in Nottingham (Michelle's hometown). The venue is an iconic landmark in the heart of Nottingham City Centre. It is a historic Grade II listed building with an interesting stone architecture constructed with eight massive columns facing the Old Market Square and on top is the most striking visual of the dome.
The interior boasts high ceilings, marble floors and classic paintings on the walls. The reception rooms are on the first floor which is accessed by a grand sweeping marble staircase.
The ceremony
We had our ceremony in the Dining Room which had brown walnut panelled walls, long navy blue curtains and a fine portrait of Queen Elizabeth II at the end of the room.
It is generally used for smaller events and ceremonies which was a perfect choice for our intimate wedding.
"The pictures of our ceremony looked amazing in this venue! Highly recommended!"
The ceremony itself was brief due to Covid protocols but Nathan, our photographer, was able to take lots of wonderful photos.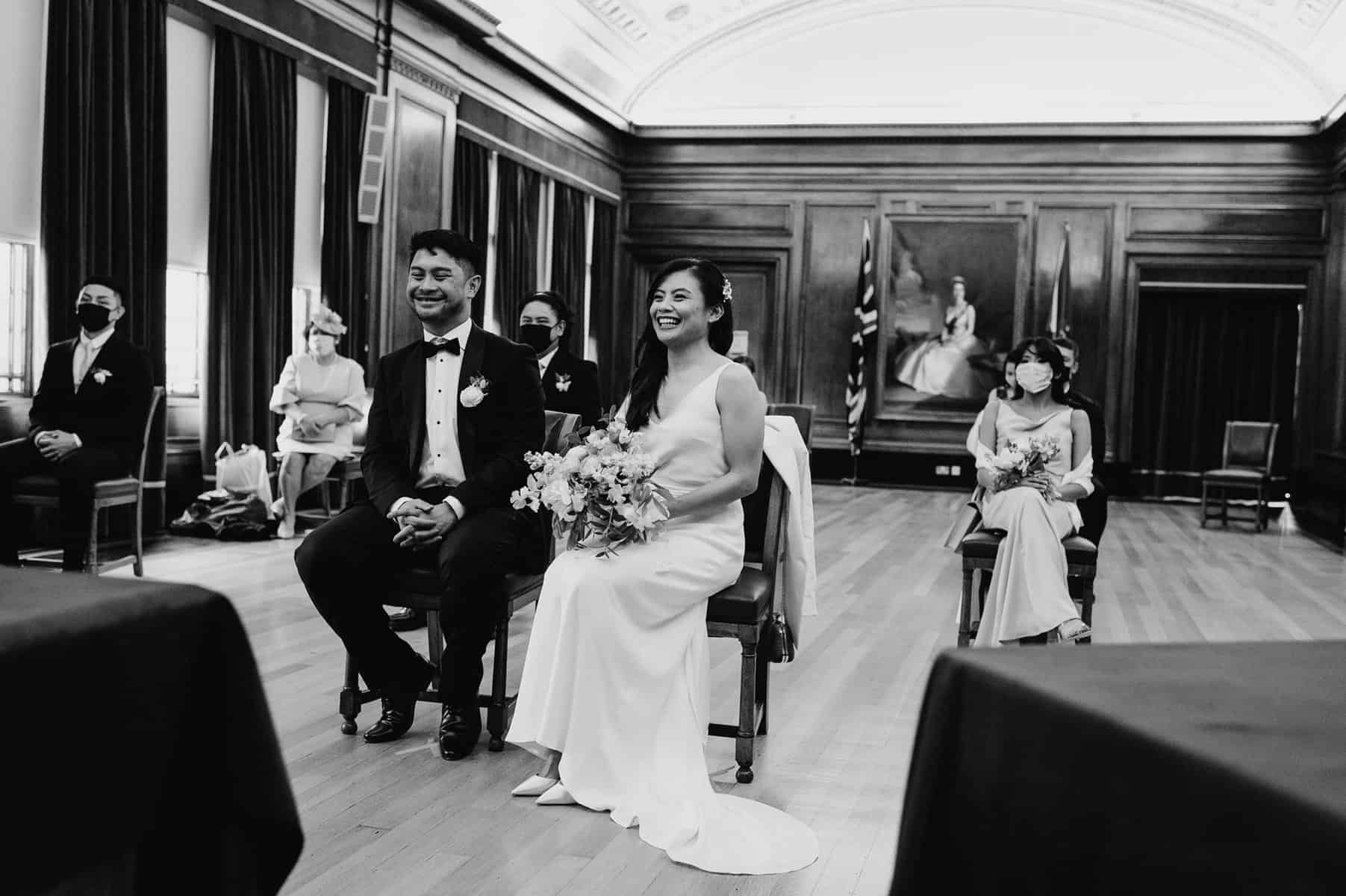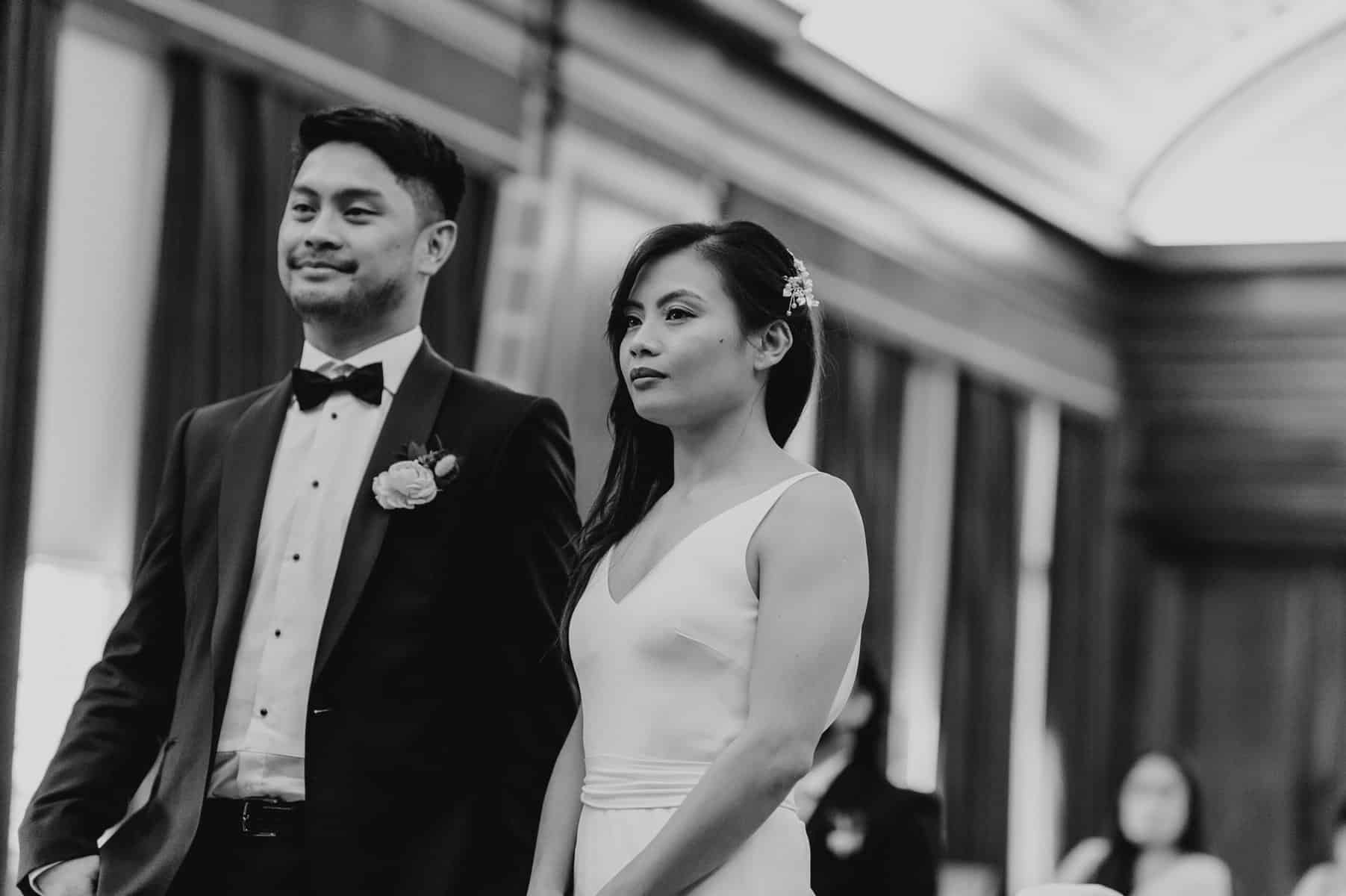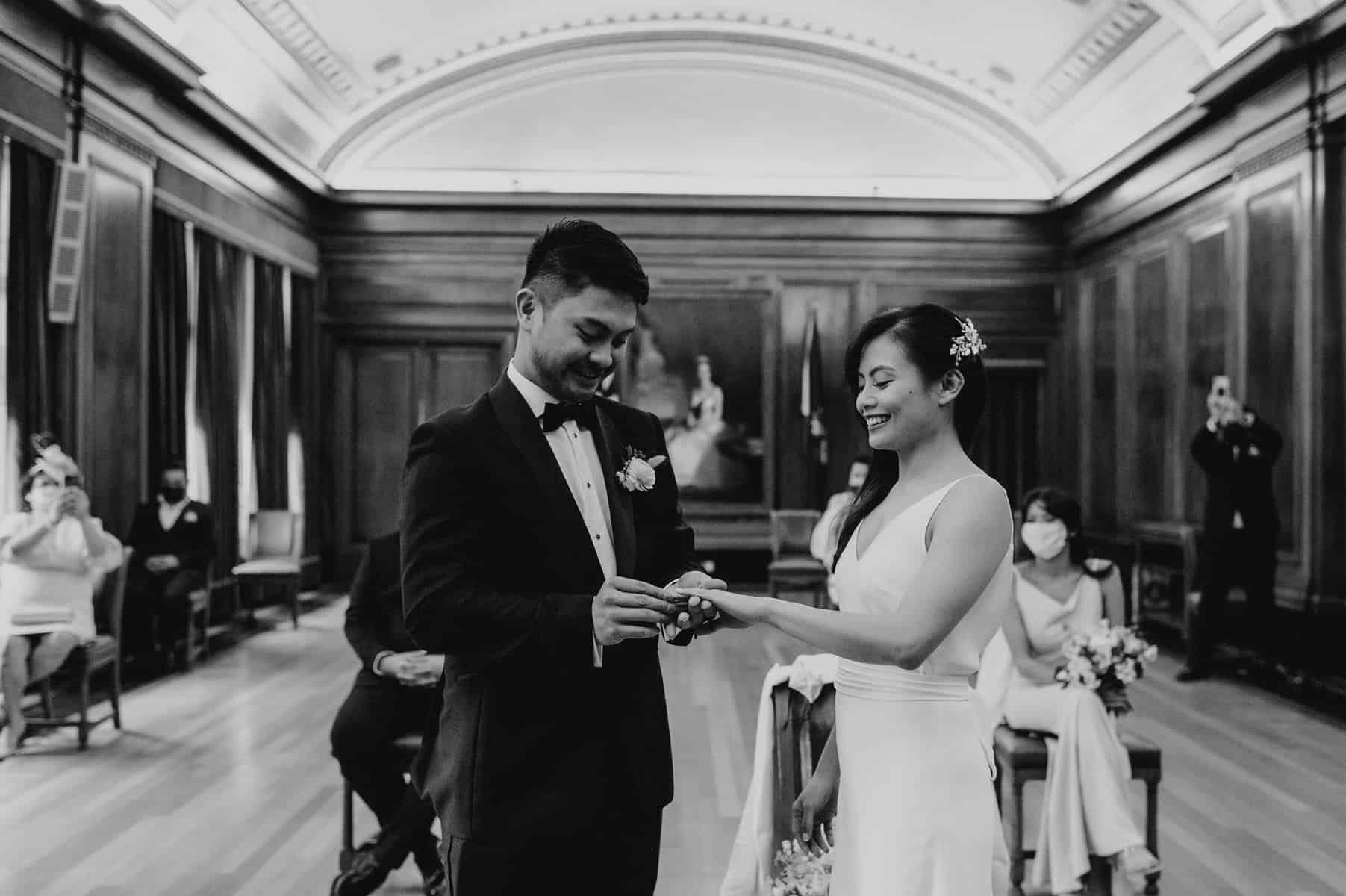 Michelle
"For us, the best picture of our ceremony is the moment we kissed after we said our 'I dos' in front of our family and friends. It was the best feeling and Nathan captured it beautifully!"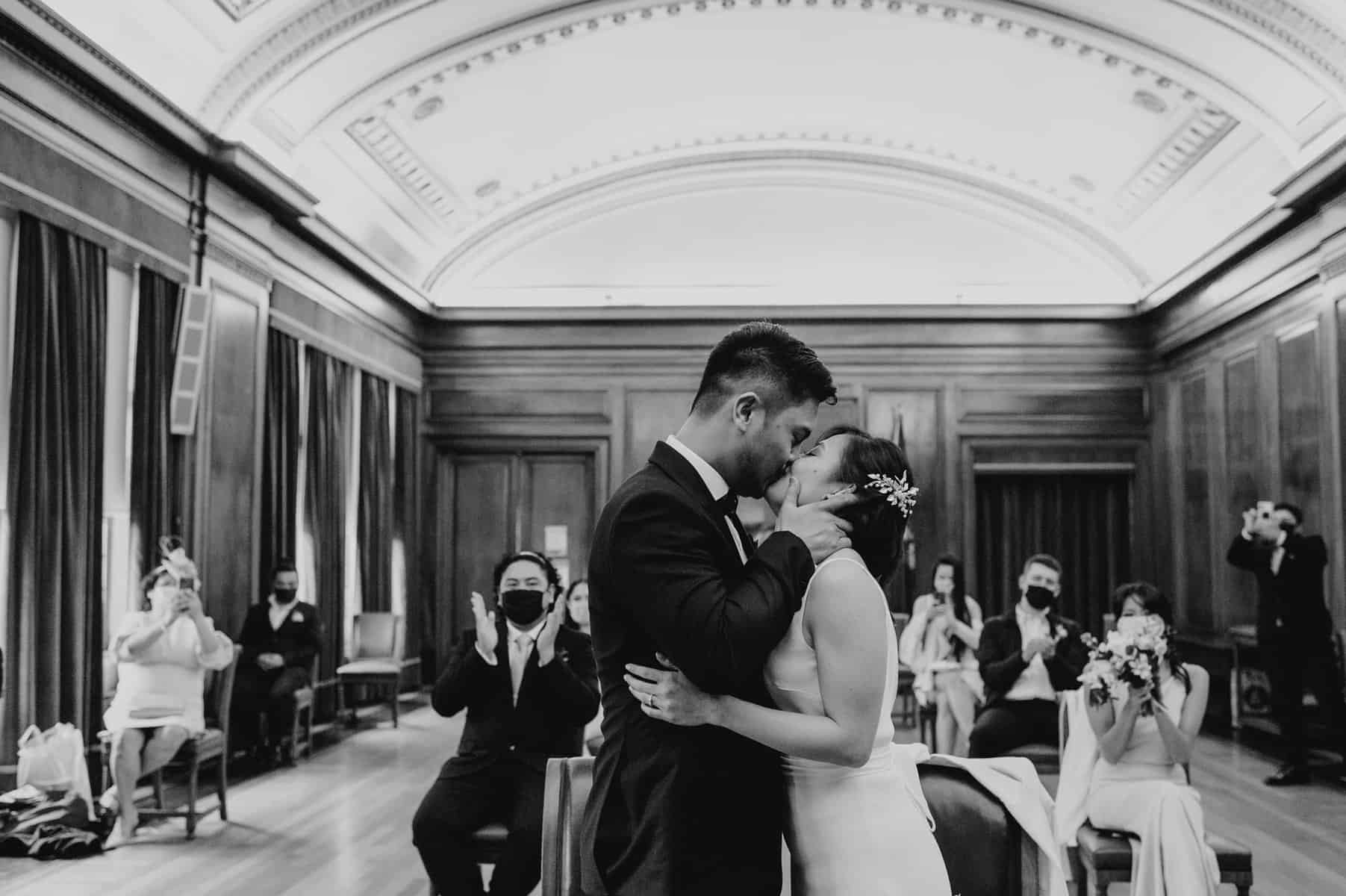 Planning a wedding during the pandemic
Our initial plan was to get married on the beach during sunset, in front of all our families and friends back home in the Philippines with a beachfront reception at a resort hotel.
So an urban city wedding was something that came up as an alternative idea during Covid lockdown. Due to international travel restrictions, we have decided to put the big wedding on hold and focused on a small civil wedding for now.  
We wanted the wedding to be low-key and intimate to minimise planning and costs. So we kept things simple. To give you an idea, the key things sorted and booked over the lockdown period are the venue, photography, florist, shoes and the dress. 
Scaling back a wedding in numbers can really help you focus on the important things. The non-negotiables that really matter to make your day memorable and special.
Organisation was key
As we can only have 13 guests (15 max allowed on the day of the wedding including the couple), finalisations such as booking a restaurant reception with outdoor seating, pre-ordering of meals, decorations, suits, nails, waxing, shoes, haircuts etc. were all sorted within 3 weeks leading up to the wedding when retail shops were finally open in April. We just had to be very organised, and everything was scheduled in the diaries.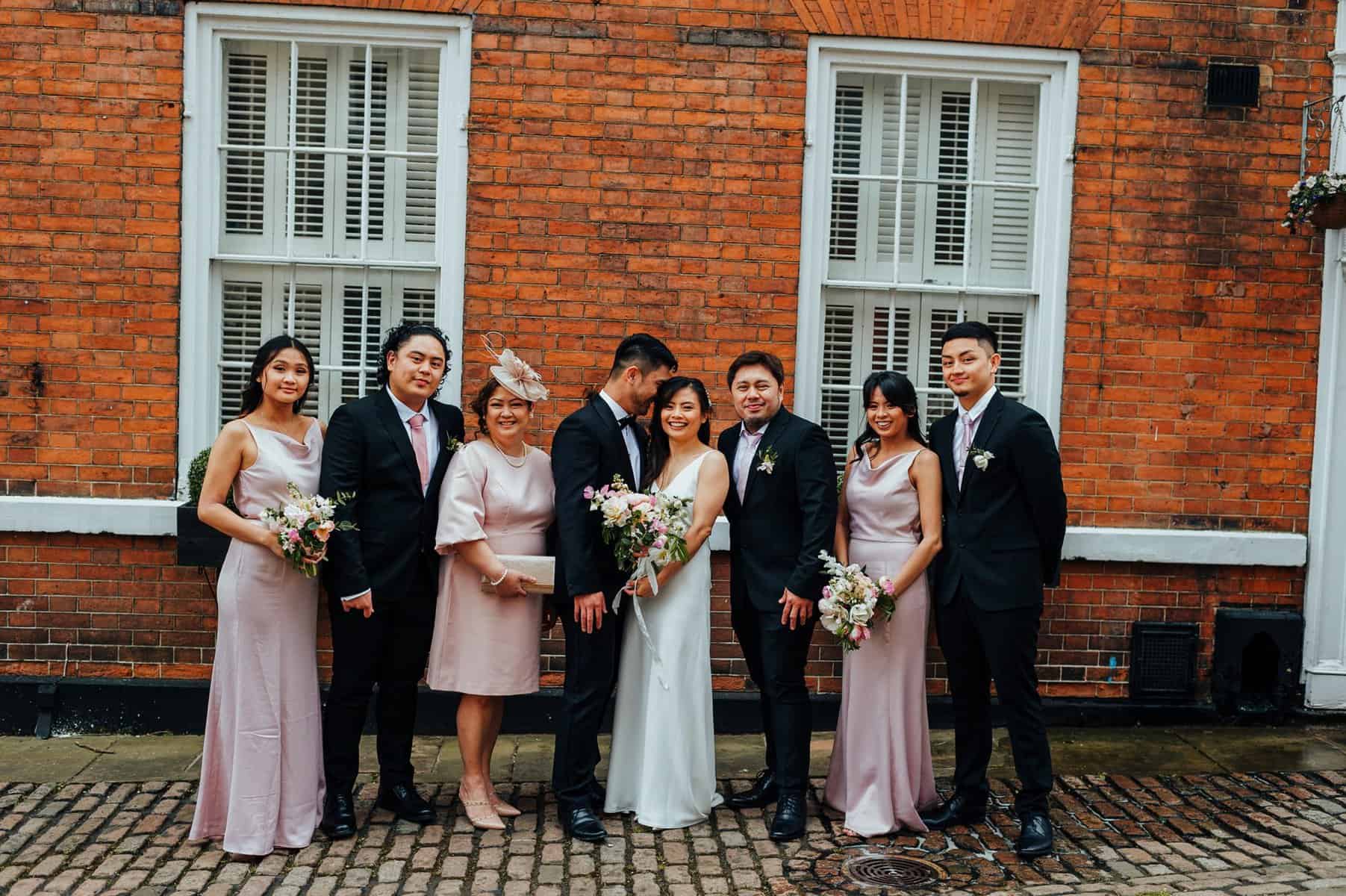 The dress and outfits
Michelle initially struggled to find a wedding dress but luckily, she found 'The One' from Tilly Totter's bridal shop the day before the November lockdown.
The bridesmaids wore super stylish Satin Slip Bridesmaid Maxi Dresses in pink by Chi Chi London. We love these for a modern city wedding.
The groomsmen wore tailored black suits from Moss Bros and pink ties from Next. The groom wore a tuxedo from John Lewis.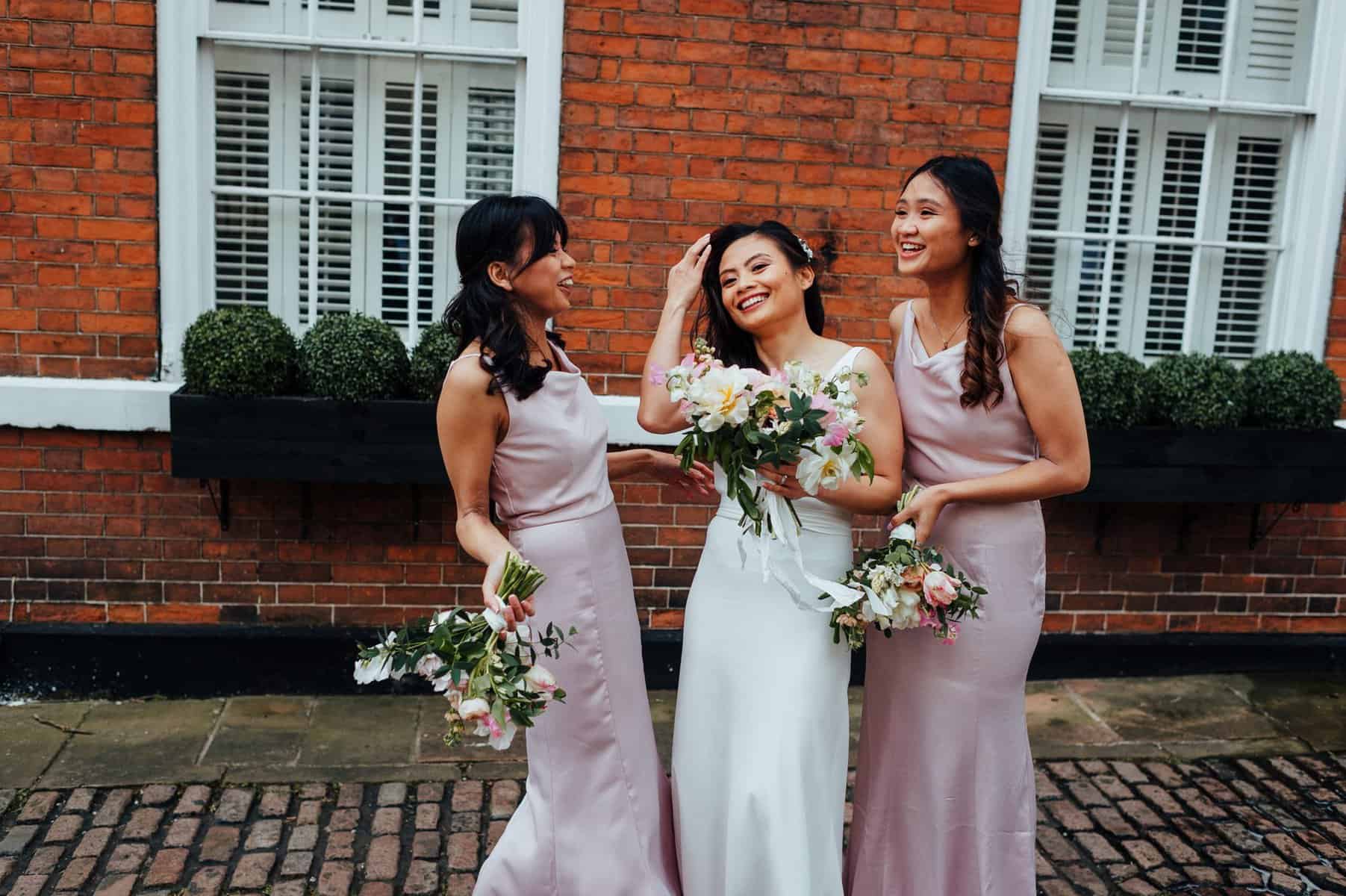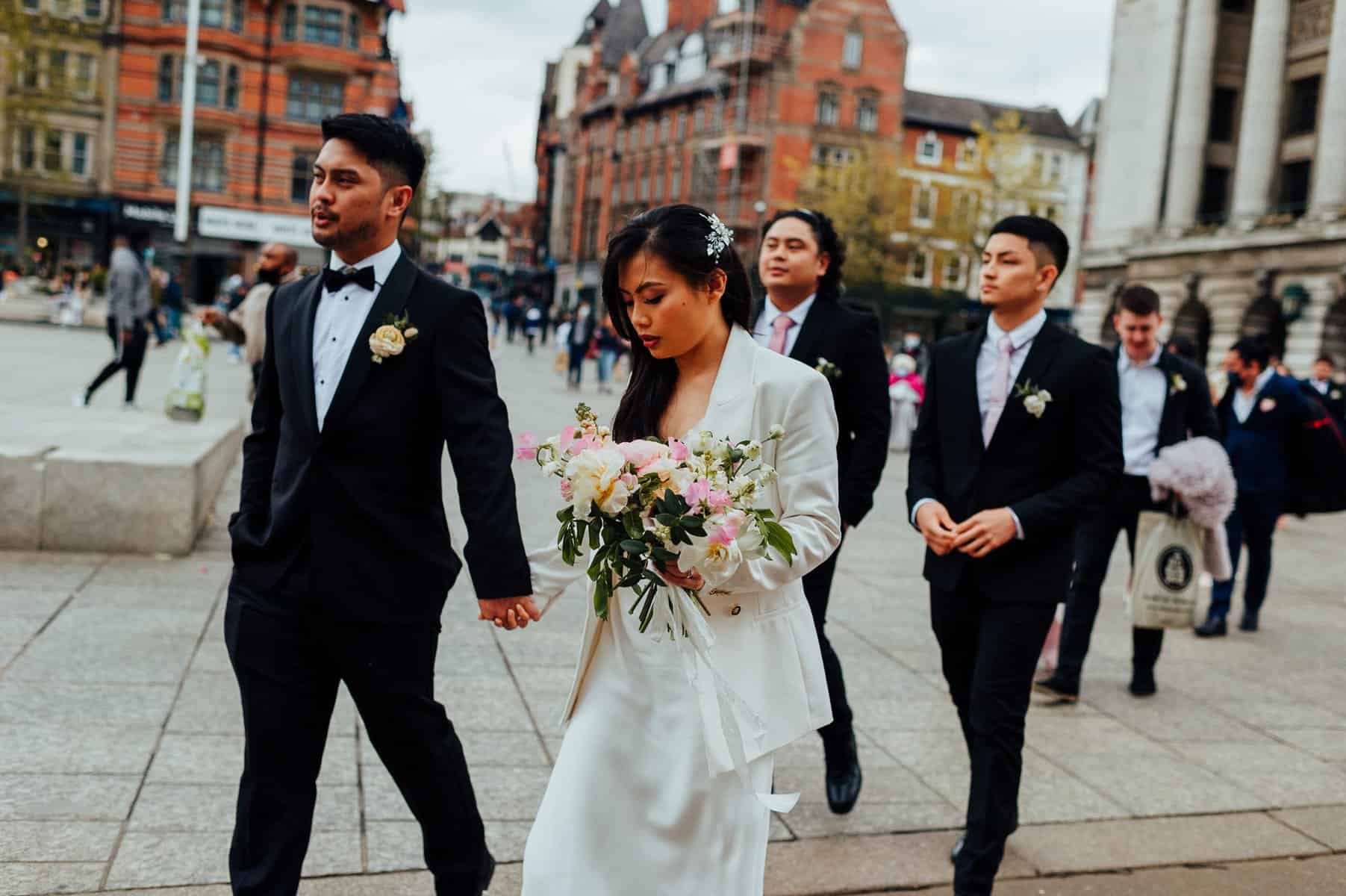 The reception
The reception was held at Il Rosso Italian Restaurant in Mansfield. Booking a restaurant for a micro or small wedding is a great option. If you can book your favourite restaurant or one that has a special meaning even better!
They gave us The Terrace, normally used as the stage, as our own little area with the outside seating adjacent to it was left empty so we had a lot of private space for our wedding party. We had a 3-course meal plus drinks with some music and party games afterwards.
"Overall, it was a very intimate, relaxed, and fun wedding day. Everything worked out way better than we have expected. As we only had our immediate family and closest friends present, it made it a very special and memorable day for the both of us."
The details
Michelle's sister took charge of the table styling, she designed and set up a beautiful table for the couple. Using clear vases, pink ribbons, nude table napkins and runner, round straw placemats, leaf garlands, candles and brown paper custom lettering for name tags and signs with our names on them.
"We bought the bouquets, buttonholes, corsages and bucket of flowers from Elder and Wild which were gorgeous."
The florals consisted of pastel shades of blush pinks, apricot and white. The option of having the bucket of flowers worked well for us as we were able to use them however we liked at our reception which lifted the whole place to another level! It all looked so beautiful and fitted perfectly with our décor and theme!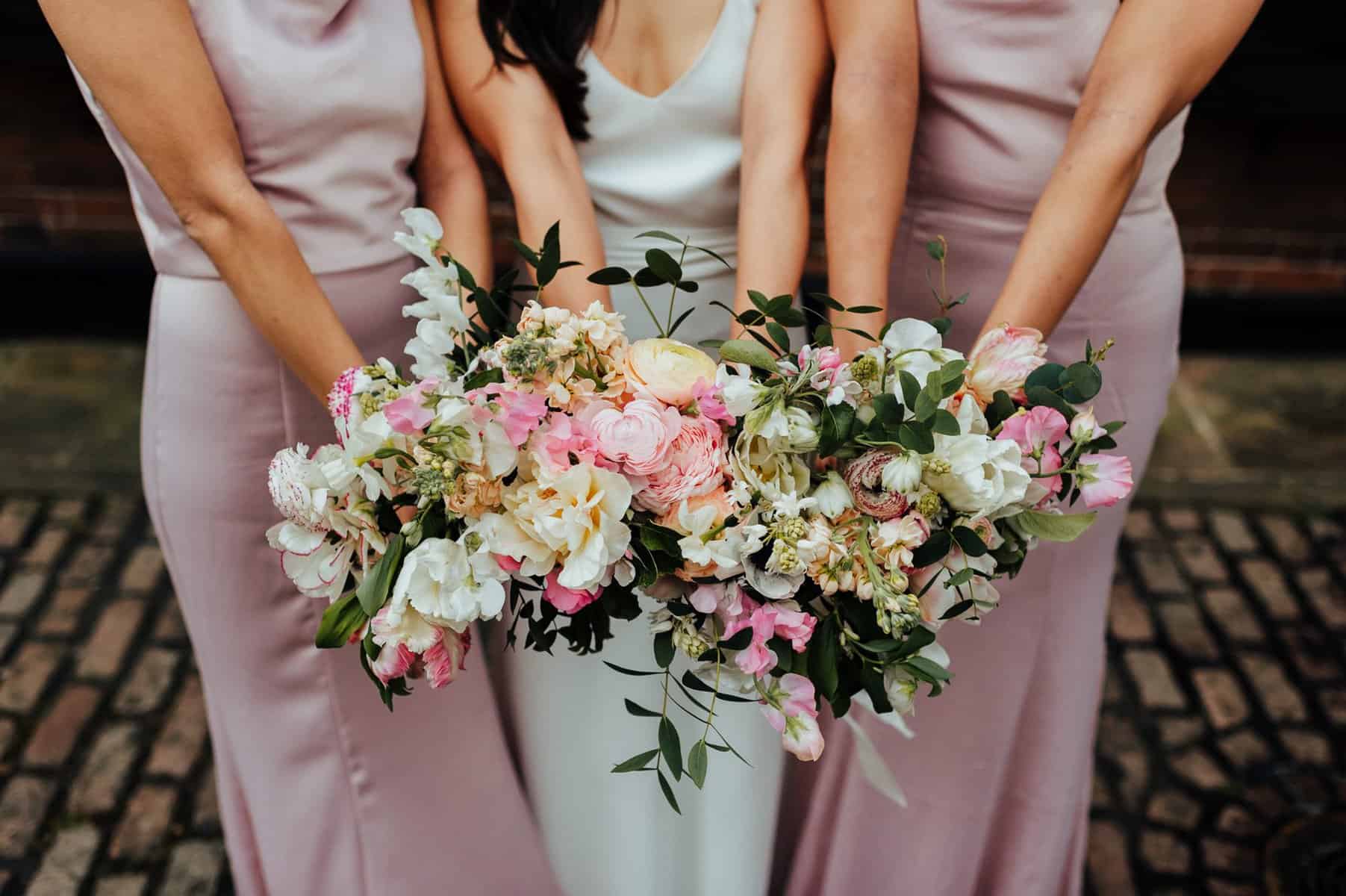 Nottingham City street photography
You all know we love city street wedding photos! They are the perfect backdrop for fun, cool photos to remember your wedding day. Talk to and work with your photographer to make sure you make the most of your photo session around your city.
Nathan did a great job and we love the Nottingham city centre wedding photos he captured for the couple.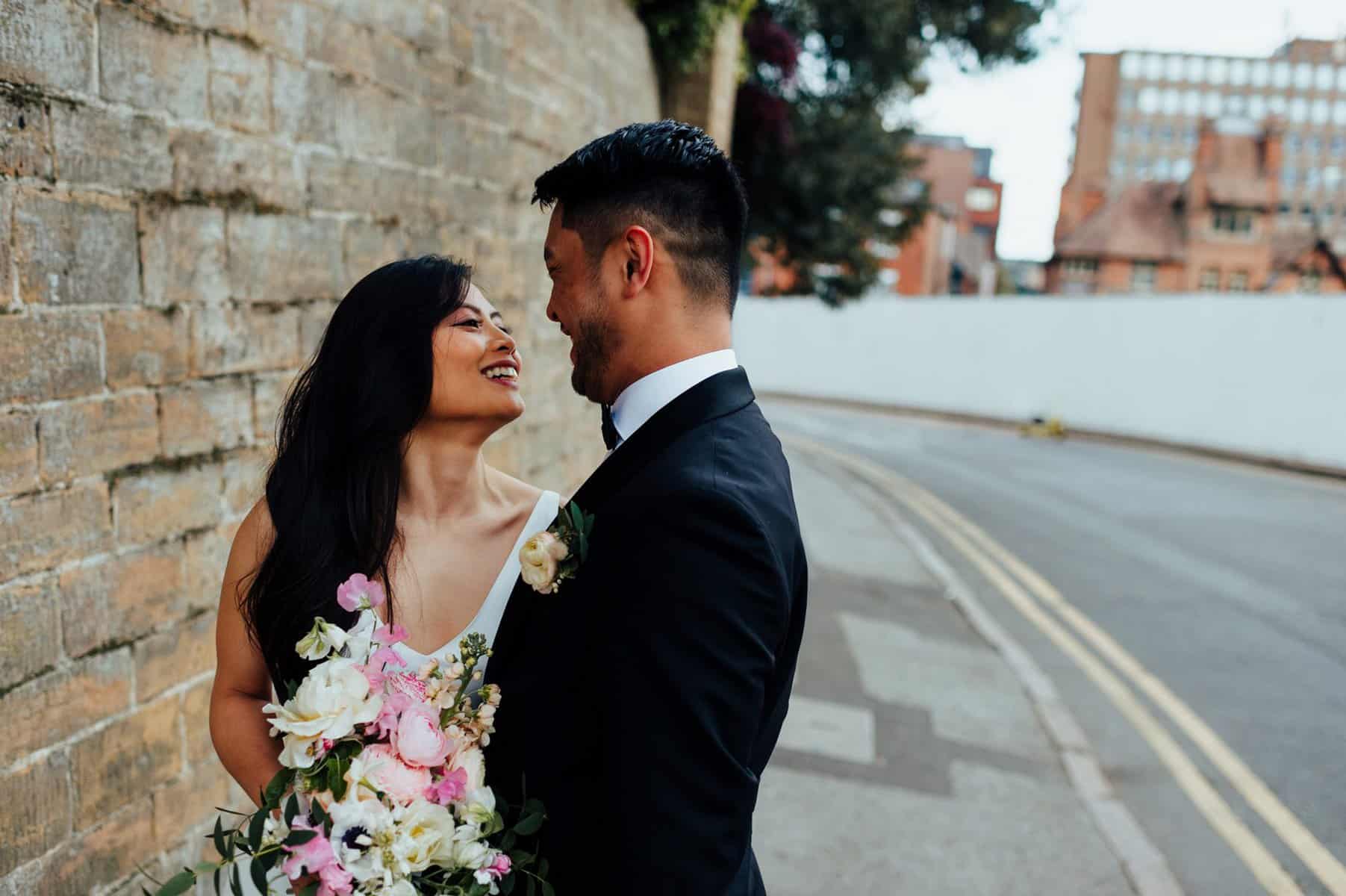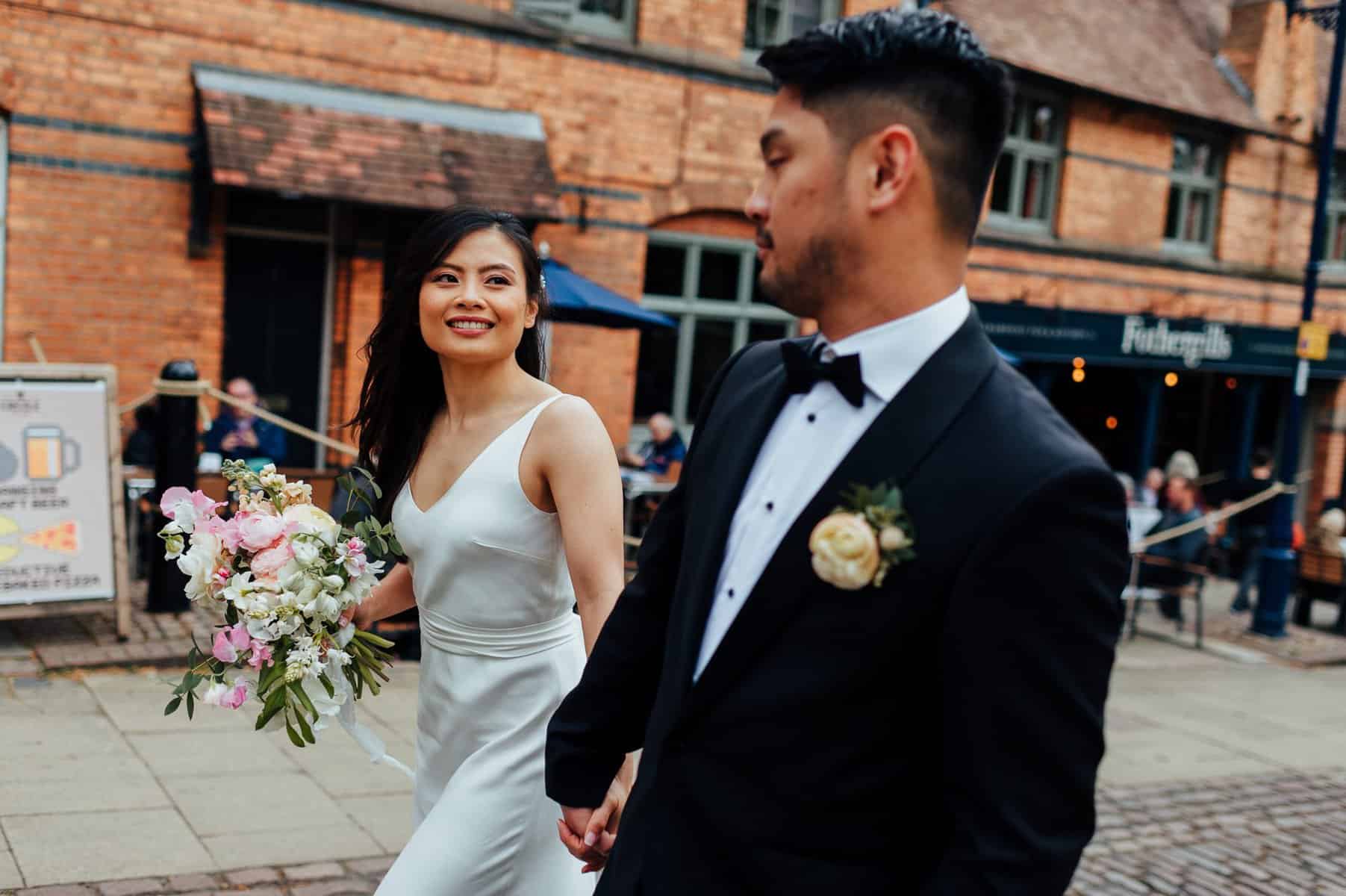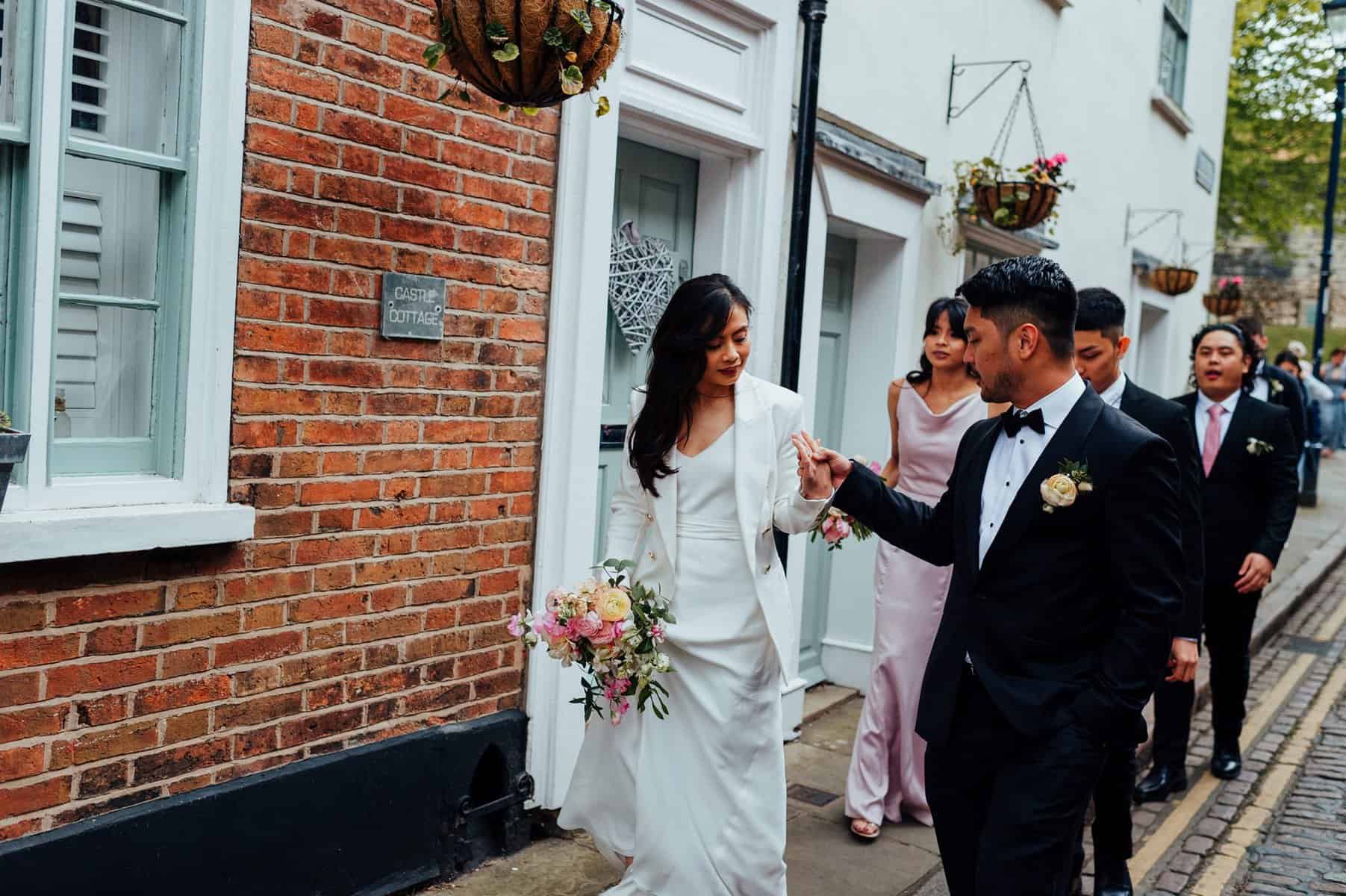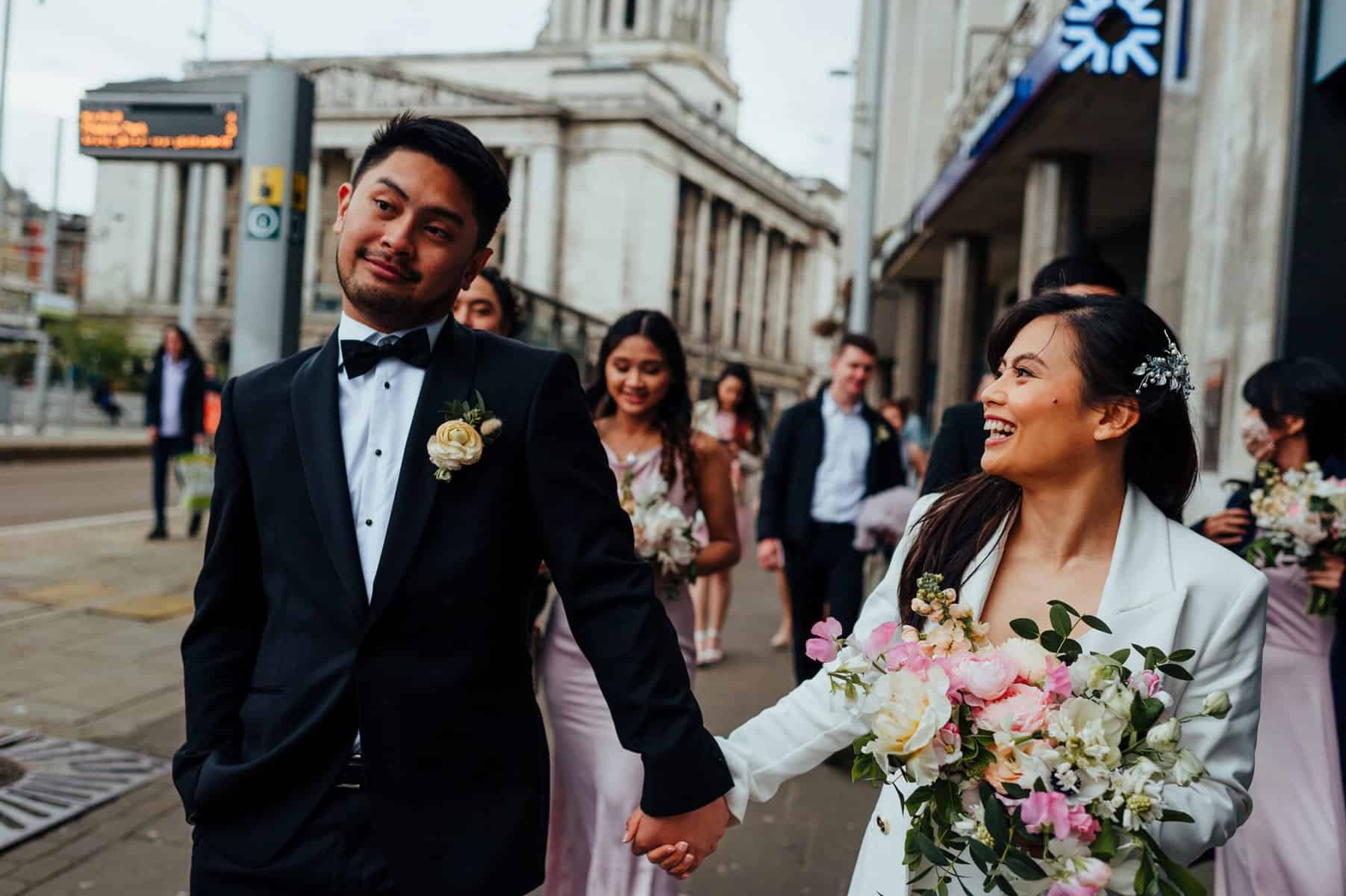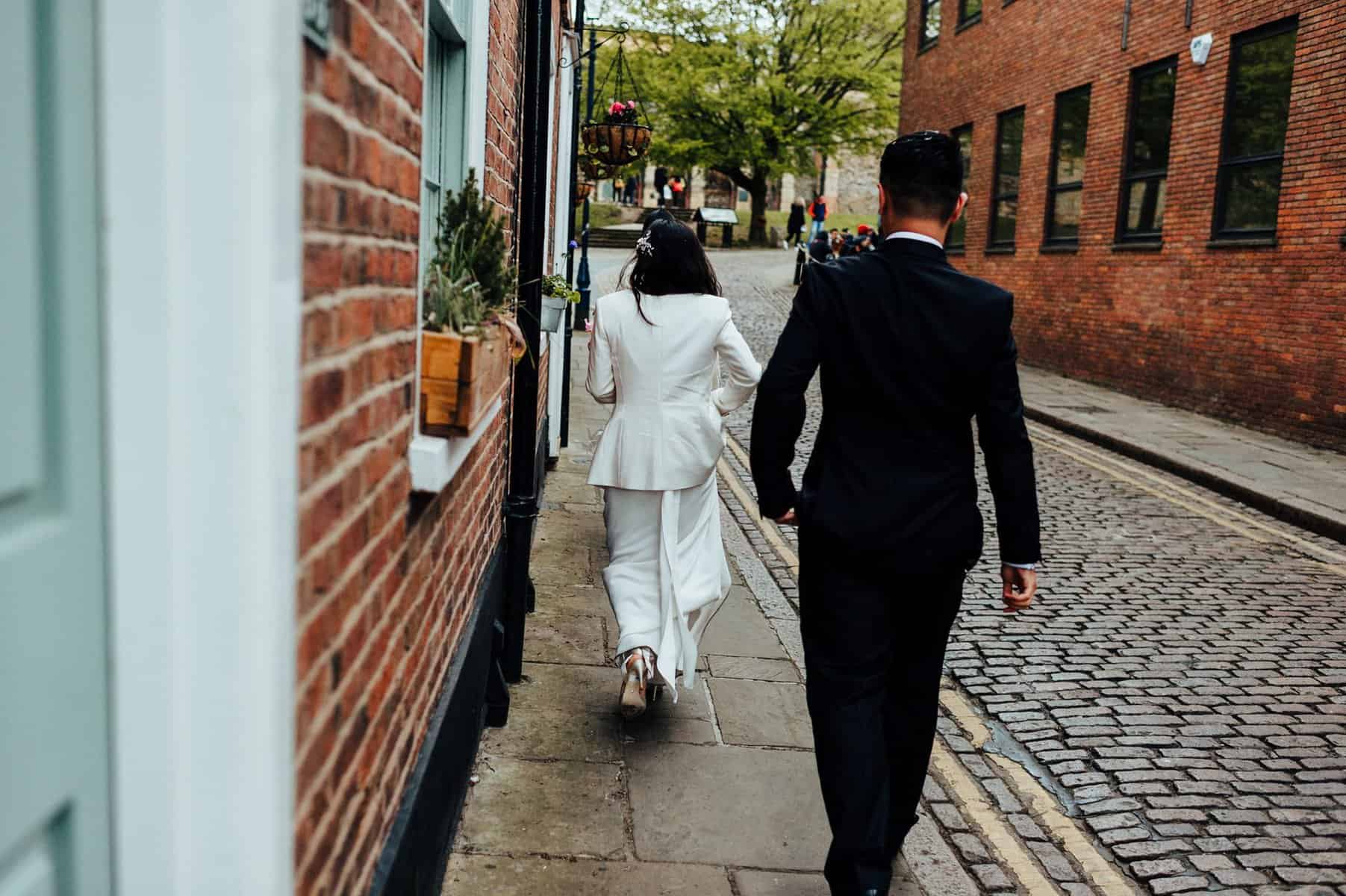 Advice from our couple for future wedding planning couples
Enjoy the journey as it flies by so quickly.
Don't get too bogged down on the specific details as everything will eventually fall into place as long as the key elements are there.
Manage your expectations and if things aren't exactly as you planned it, it's ok. Be present, enjoy the moments and the day with your loved ones. 
Keep an open mind as at the end of the day the most important thing is that you are getting married to the love of your life in front of the people that you both love. That's all that matters.
Check out our latest real wedding blogs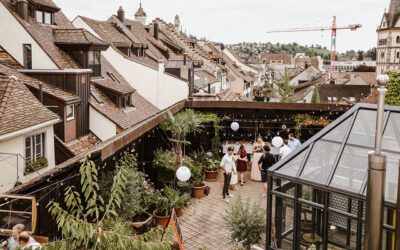 Switzerland Wedding Today on the blog we have a wedding in the picturesque old town of...