Maybe it's the 80s baby in me, but I am all here for dancing the night away with glow sticks in hand. Yes even at a wedding!
You will know by now here at Urban we are all for having a wedding all about you and celebrating the things you love as a couple. If you are disco lovers or old time ravers, then including glow sticks in your wedding is a no brainer.
Do consider your crowd though. Think about your guests and whether you can see them dancing away with a glow stick in hand or not. If not then do not worry, we have some fun ways to include glow sticks in your wedding.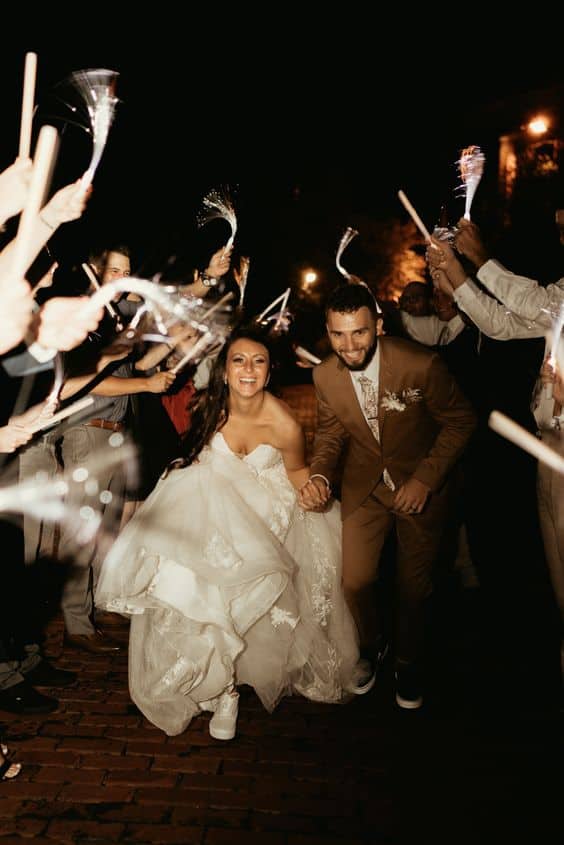 How to include glow sticks at your wedding
1. Swap confetti for Glow Sticks
The perfect confetti toss alternative, a glow stick send-off. As you and your partner make your exit after the ceremony, guests can wave glow sticks, creating a mesmerizing tunnel of light.
This is particularly stunning for evening or nighttime weddings. If indoors though you can have the lights dimmed.
2. Glow stick Dance Floor
Create a lively dance floor atmosphere by handing out glow sticks to your guests during the reception.
As the music gets going, the dance floor will come alive with colourful lights, making for incredible photos and unforgettable memories.
3. Glow Stick Photo Booth
Set up a photo booth with a backdrop that features hanging or arranged glow sticks.
Provide guests with glow sticks to hold, wear, or pose with for their pictures. The resulting photos will be dynamic and full of energy.
4. Glow Stick Favors
Give out glow sticks as wedding favours. You can bundle them with other small items or place them in individual containers for guests to take home.
Personalize the glow sticks with your names, wedding date, or a special message.
5. Glow Stick Bar
If you're having a bar at your wedding, create a glow stick-themed drinks station. Serve cocktails in glasses with glow stick stirrers or attach glow sticks to the rim of the glasses for a fun twist.
6. Glow Stick Exit
For an evening reception, consider having a glow stick exit. Have guests form a pathway holding glow sticks as you and your partner exit the venue. The glowing lights will add a festive and ethereal touch to your departure.
7. Glow Stick Games
Plan some glow stick games for your guests to enjoy. From glow stick ring toss to glow stick limbo, these activities can keep everyone entertained throughout the celebration.
8. Glow Stick Cake Topper
Top your wedding cake with a large, illuminated glow stick. This unconventional cake topper can serve as a conversation starter and a unique decorative element.
More blogs you will love!