This week on the blog we have this gorgeous moody wedding inspiration styled shoot. It took place in the city at the beautiful Manchester hall. Originally the freemasons hall, it is now an amazing wedding and event venue and hotel in the heart of Manchester.
What a building, filled with unique and ornate original features yet mixed with modern colours and décor. It has so much to admire, statement staircases, beautiful teal walls and a rooftop terrace. This means it has so many spaces to explore and use to create a perfect setting for an event.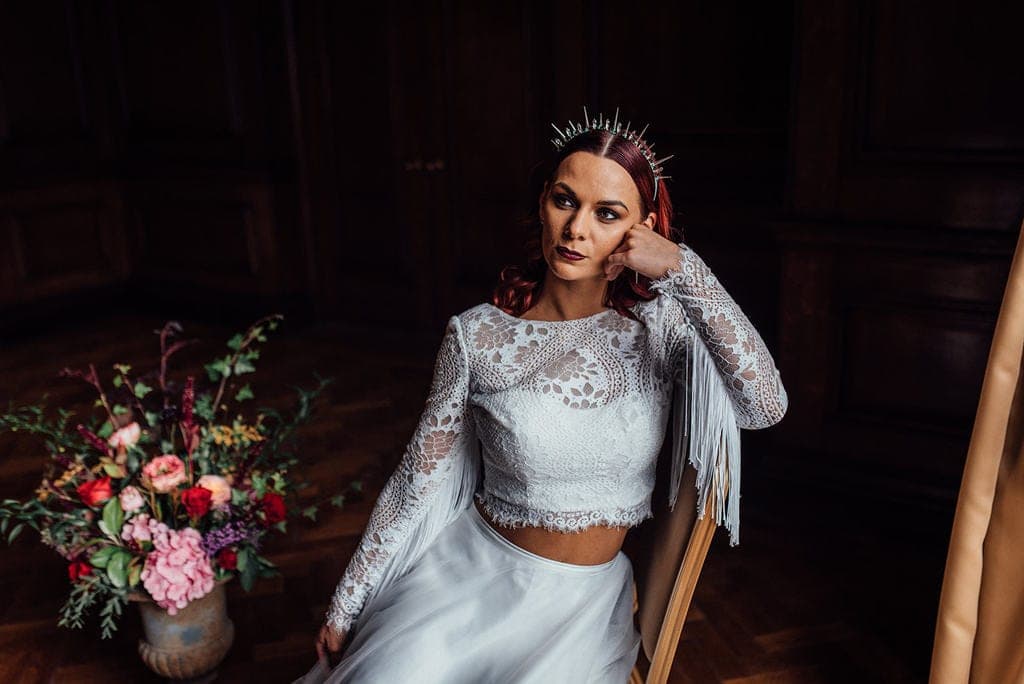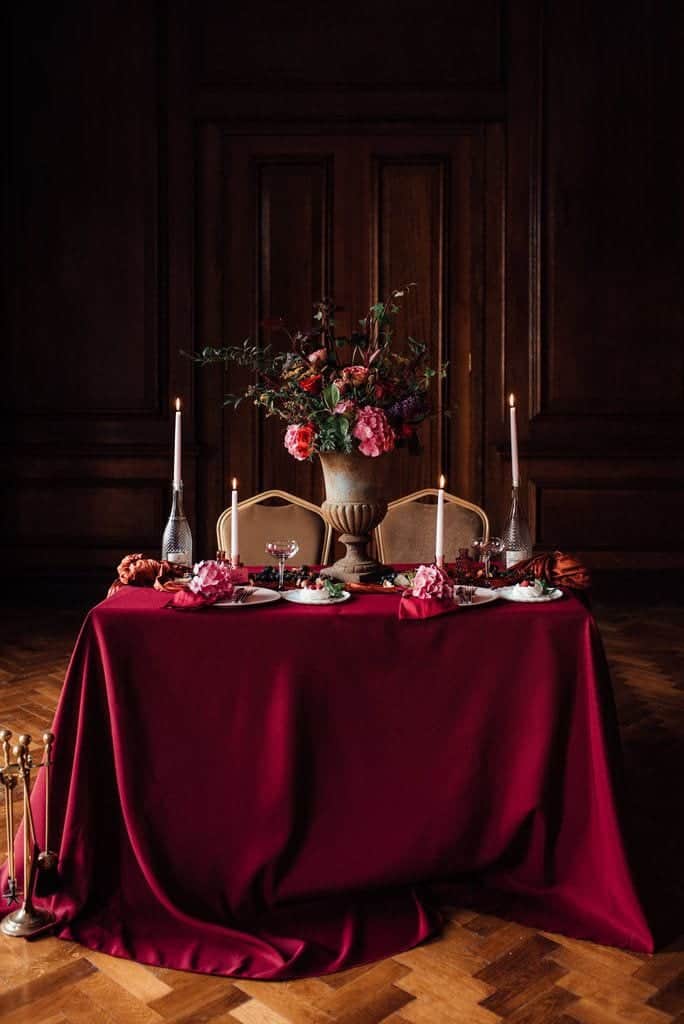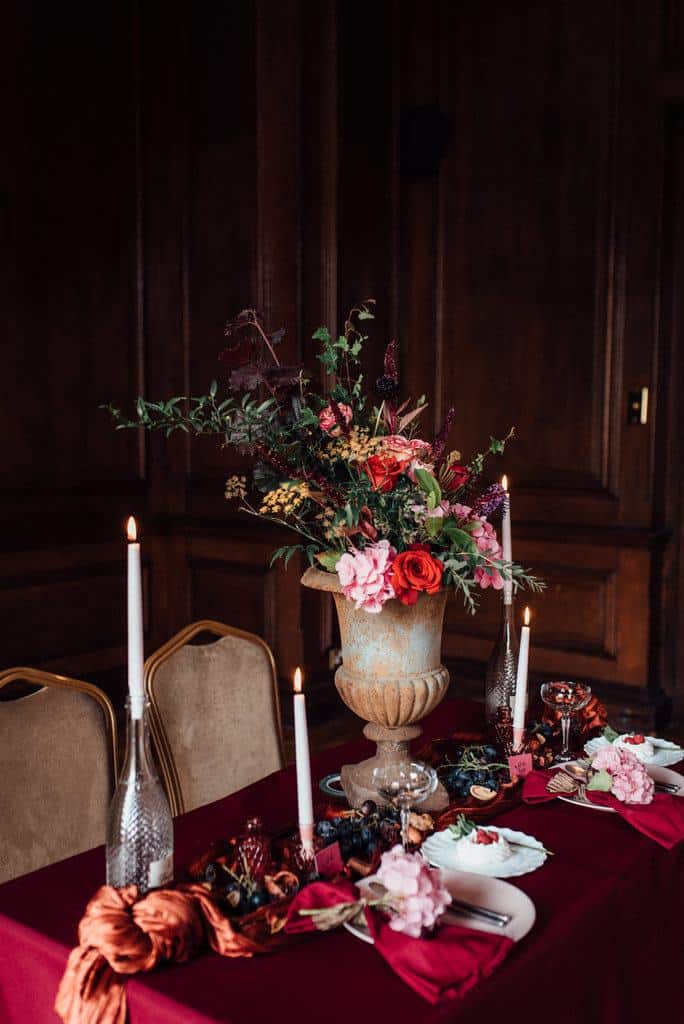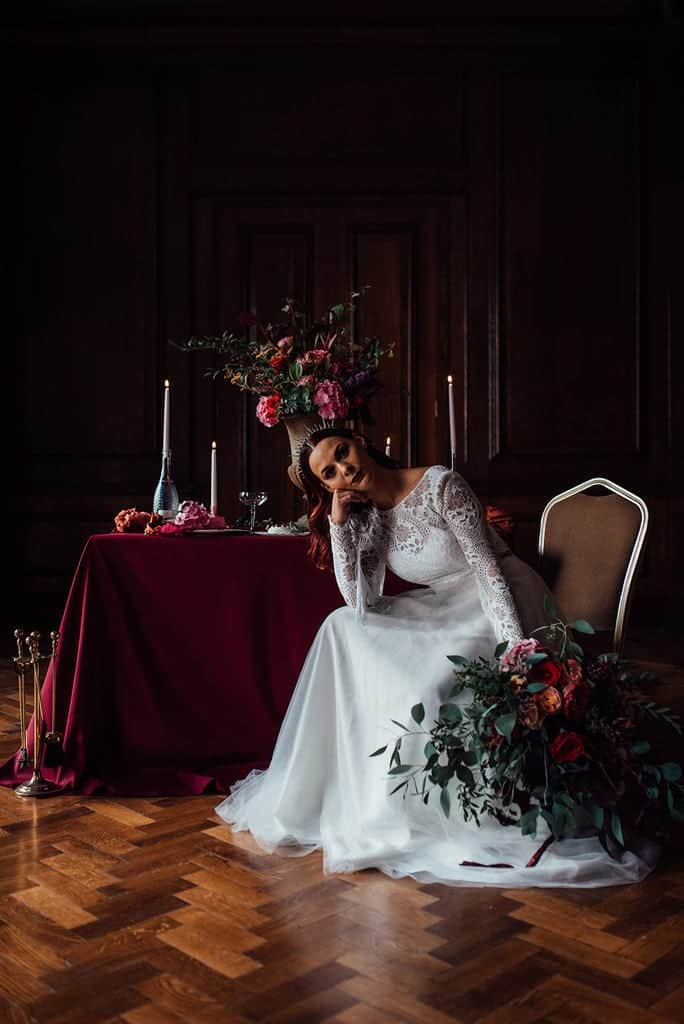 The teal coloured walls were what attracted me in the first place so I knew we had to use that as a backdrop for some of the shoot.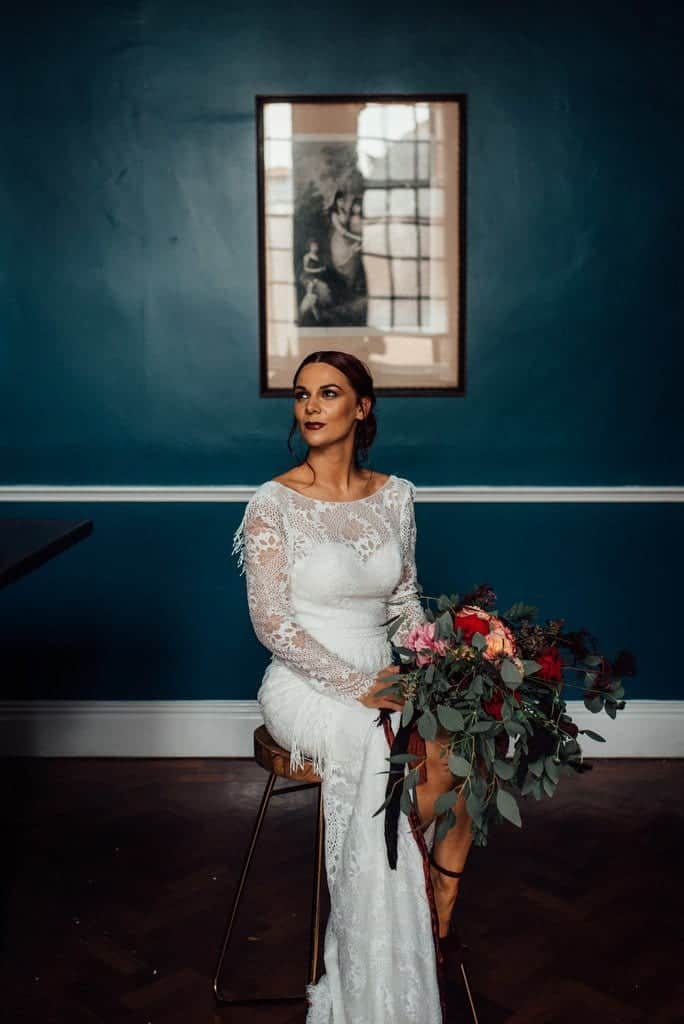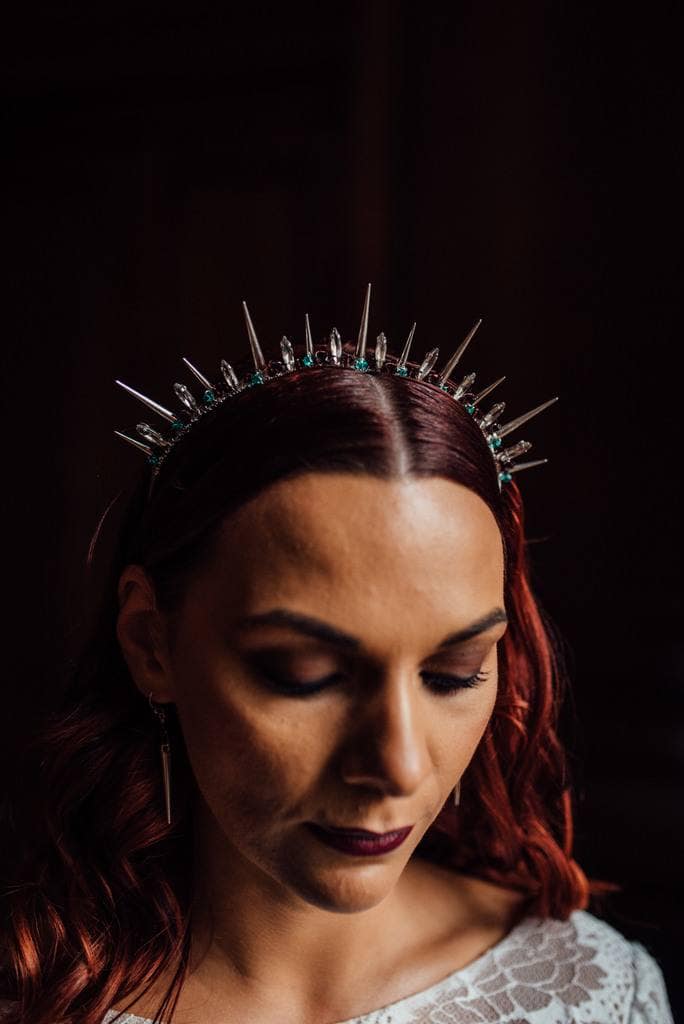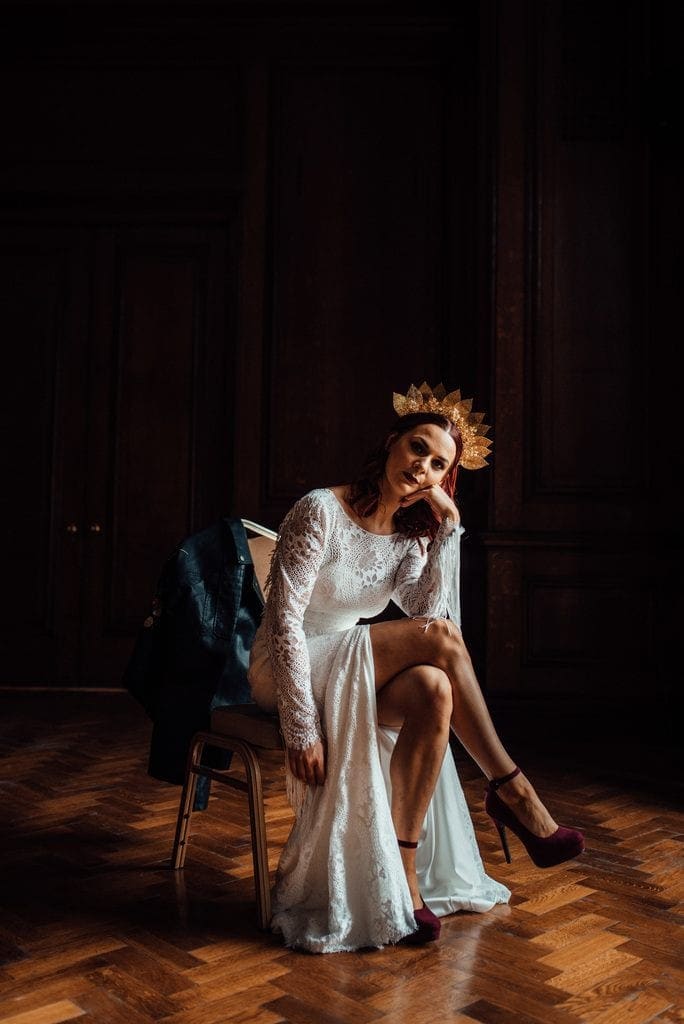 Dream Team
Working with Marni was an absolute dream. She is so creative and captures such amazing shots. Her creative style of photography has made the shoot come alive!
Serendipity bridal had just opened their new boutique and they brought some beautiful dresses by Shikoba bridal. Tassle details and fringing really highlighted the boho luxe vibe. Paired with extra drama from the incredible headpieces by Rachel Chaprunne and painted leather jacket from Mama Inc studio.
The stunning silver headpiece was designed specifically for the shoot. It incorporated beautiful burgundy and teal crystals that added a regal feel to the styling and added to our dark colour palette.
Having the incredible duo of Charlotte and Amy for hair and make up, brought the vision of the portraits to life.  Opting for a slightly moody, almost gothic look. Plus the stunning cake by Paula at Cakes by P. The ruffles add such luxury and elegance yet the drip gives it that boho feel.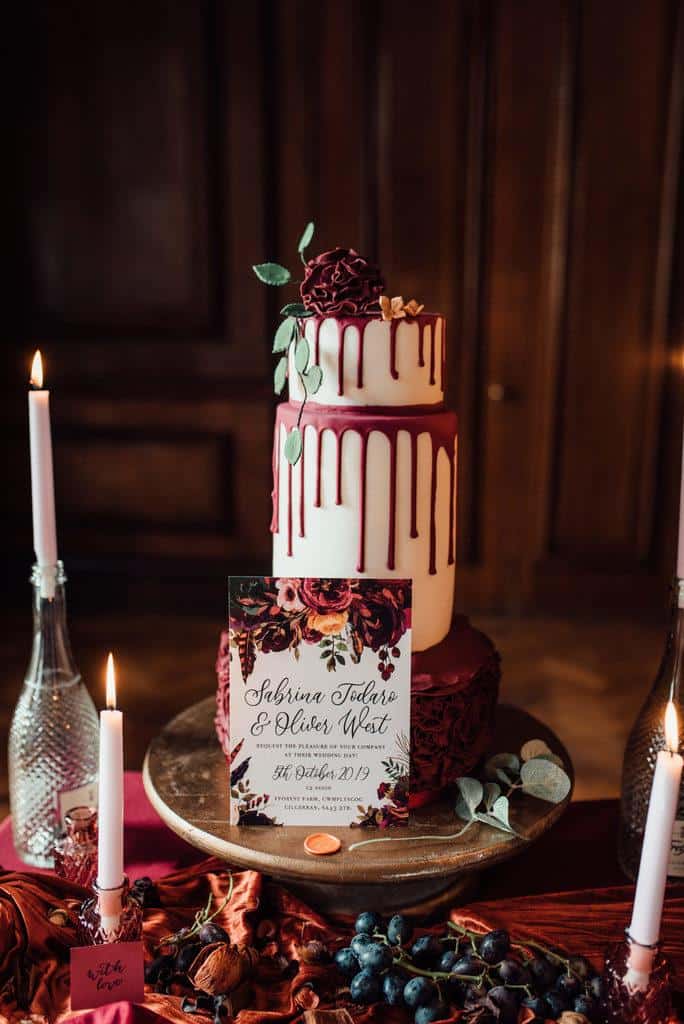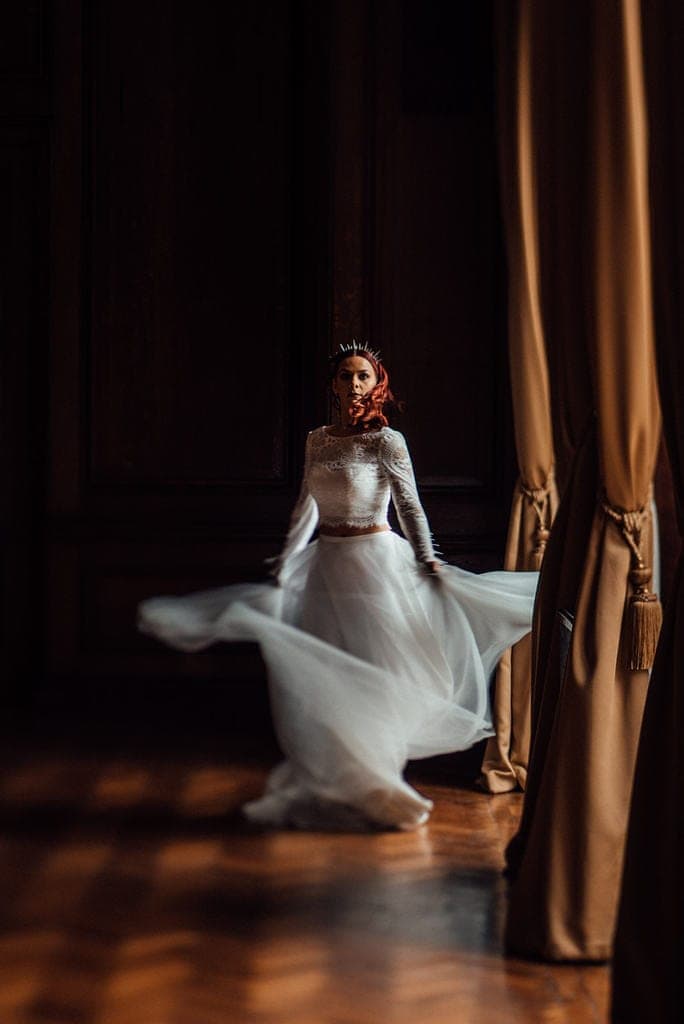 Florals
Our wonderful florist Sara of Bridegemont decorative created an amazing huge bouquet with rich colours. The size and the slightly thrown together look was perfect and gave us loads of scope to play around with giving lots of moody wedding inspiration.
With sweetheart tables being so on trend, we wanted to show that you can still be bold and dramatic even in a more intimate setting. Sara also brought along an amazing Victorian urn that we used as a bold big centrepiece on our sweetheart table.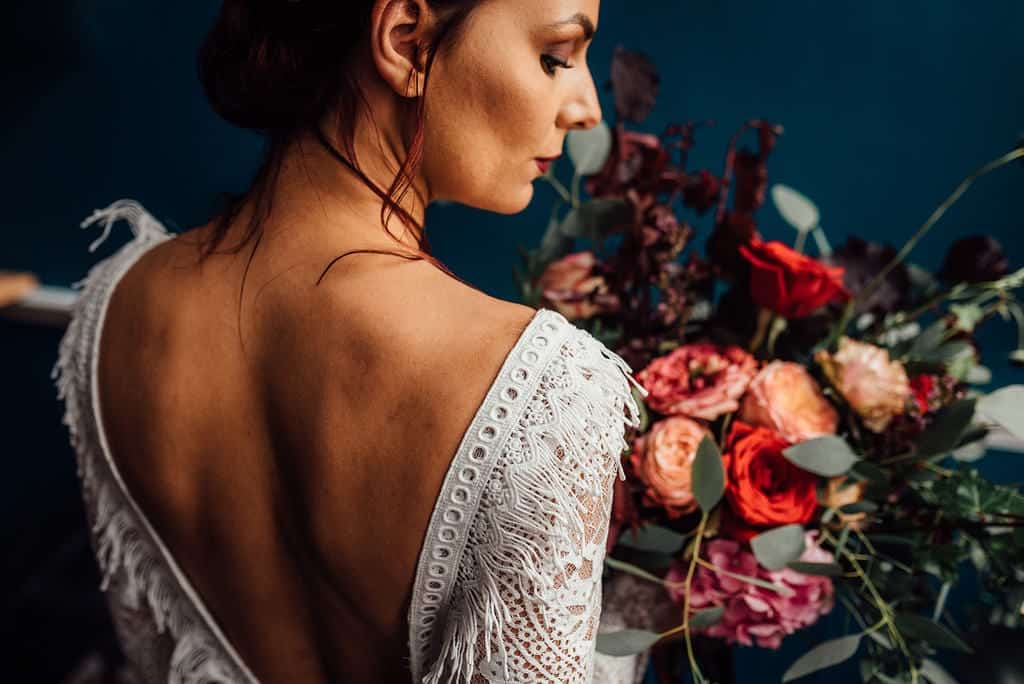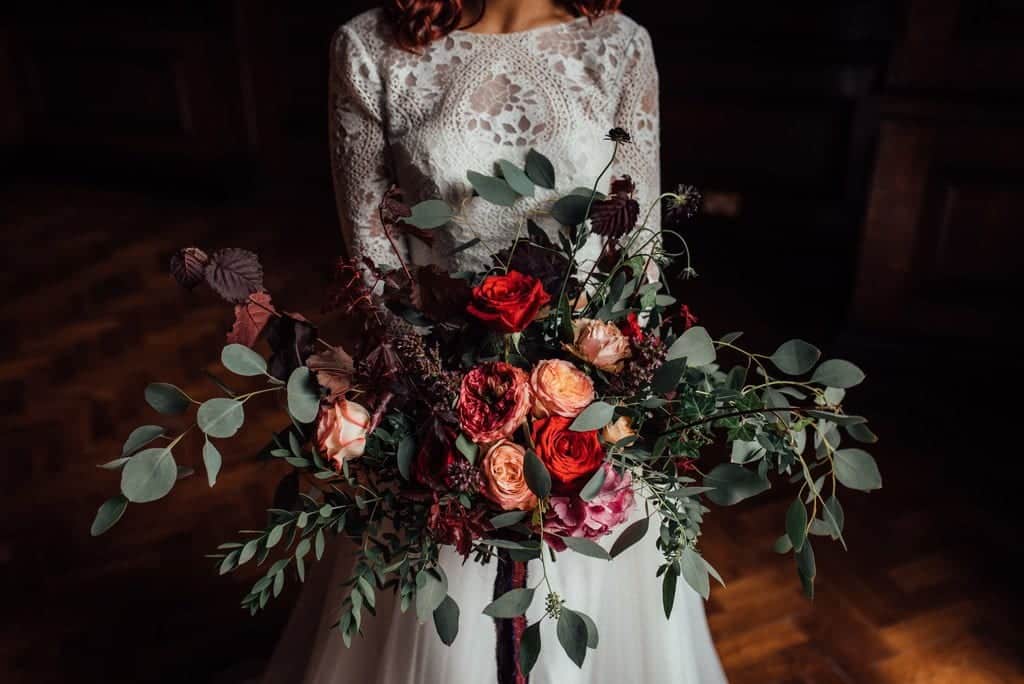 What was your inspiration behind the moody wedding inspiration shoot?
The concept for the shoot was 'Modern Victoriana' – loosely influenced by the era in it's bold, rich colour and dramatic details. I wanted to show off all the incredible detailing from all the suppliers.
By creating a capsule of images that showcased a transition in style throughout the day. So many brides are opting for an evening outfit change at their wedding and i love that. So I wanted to play on that idea a little throughout the shoot with various looks and options.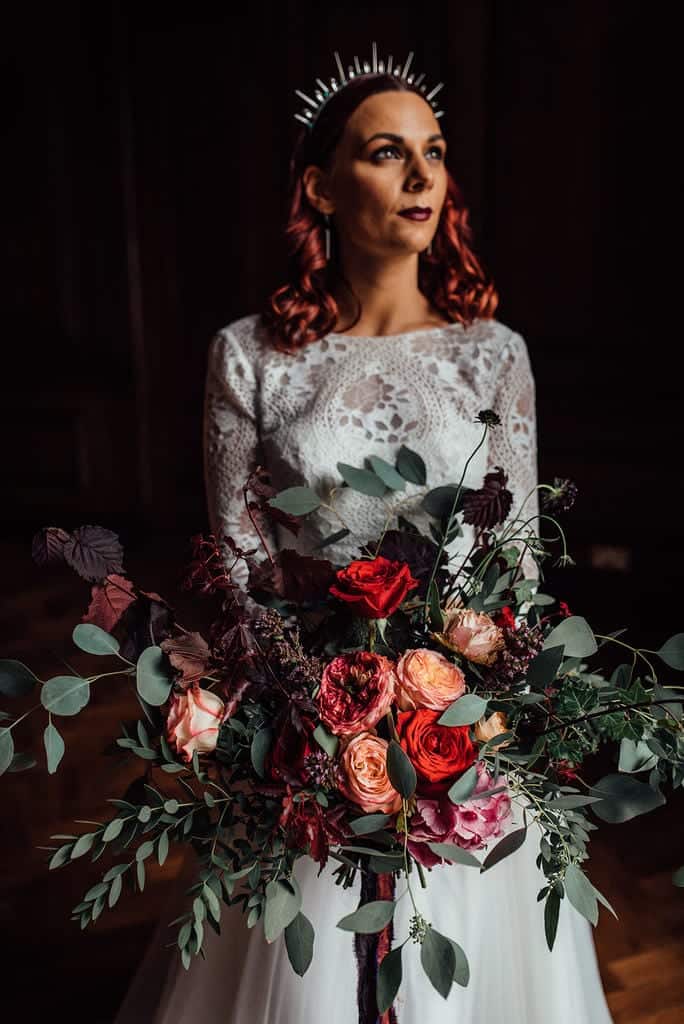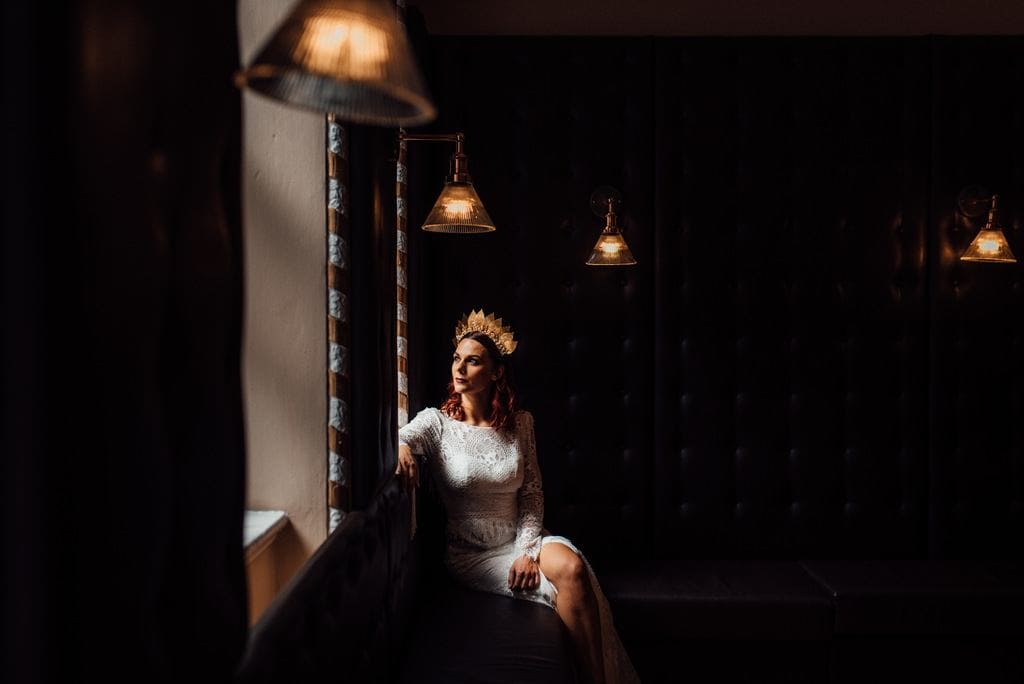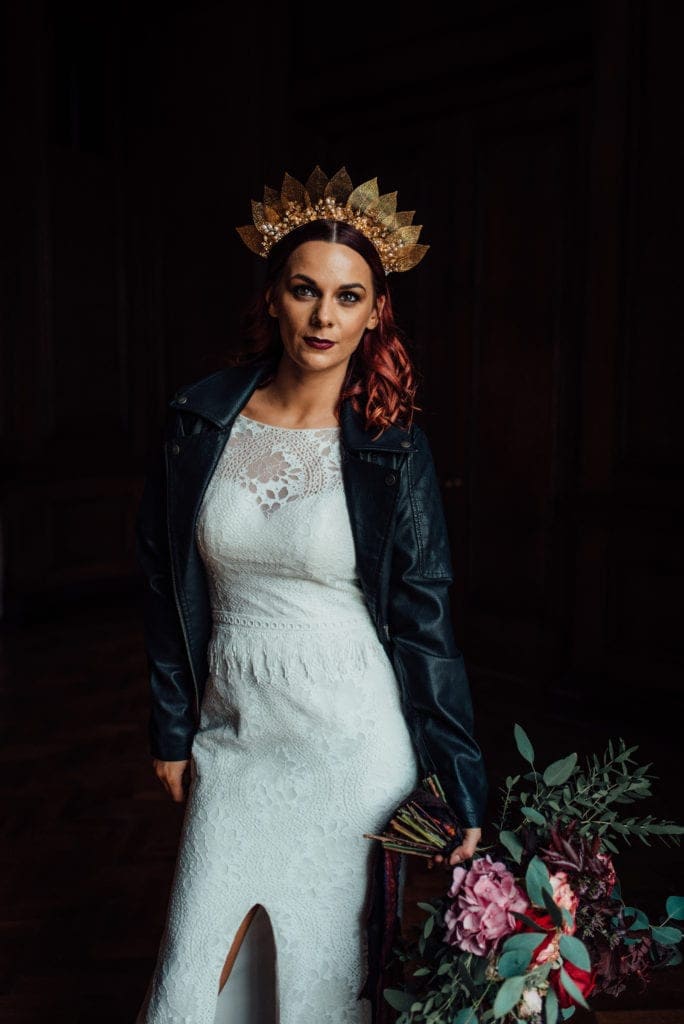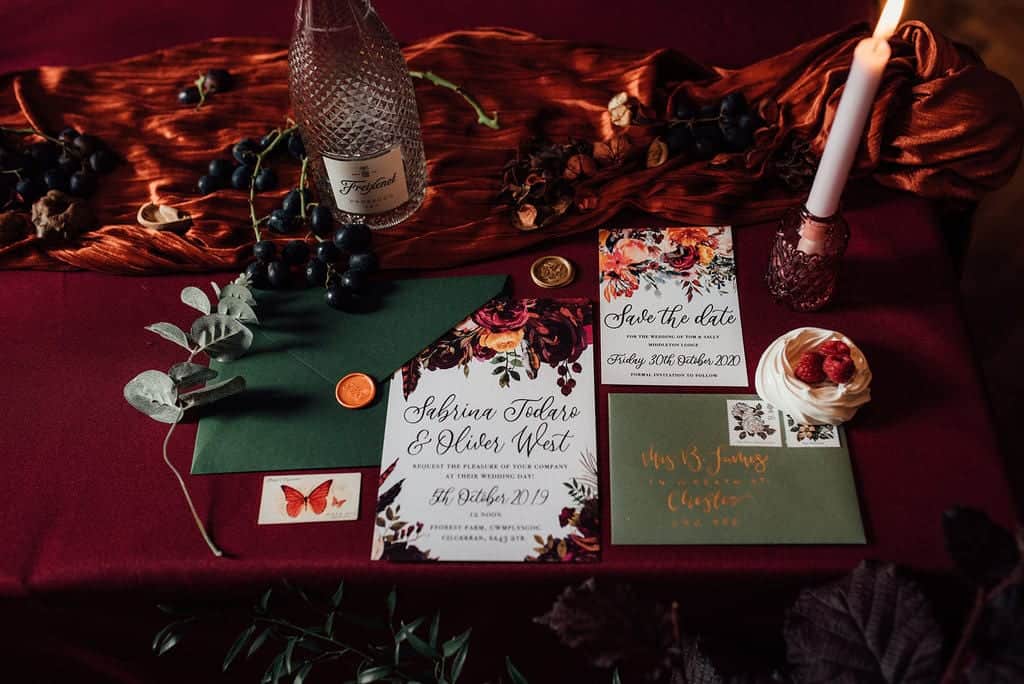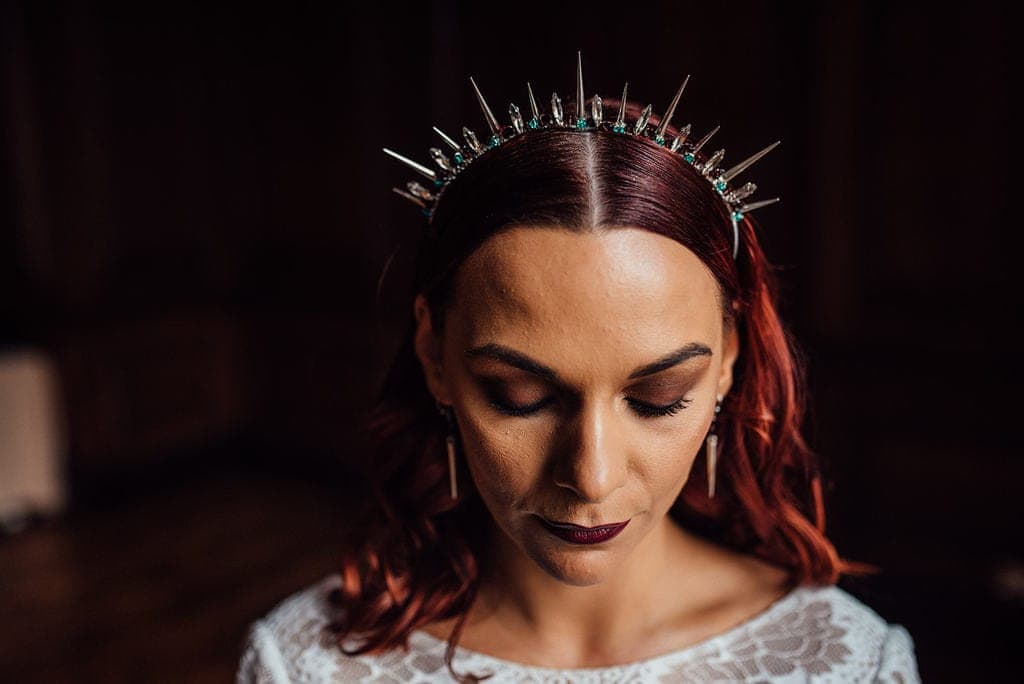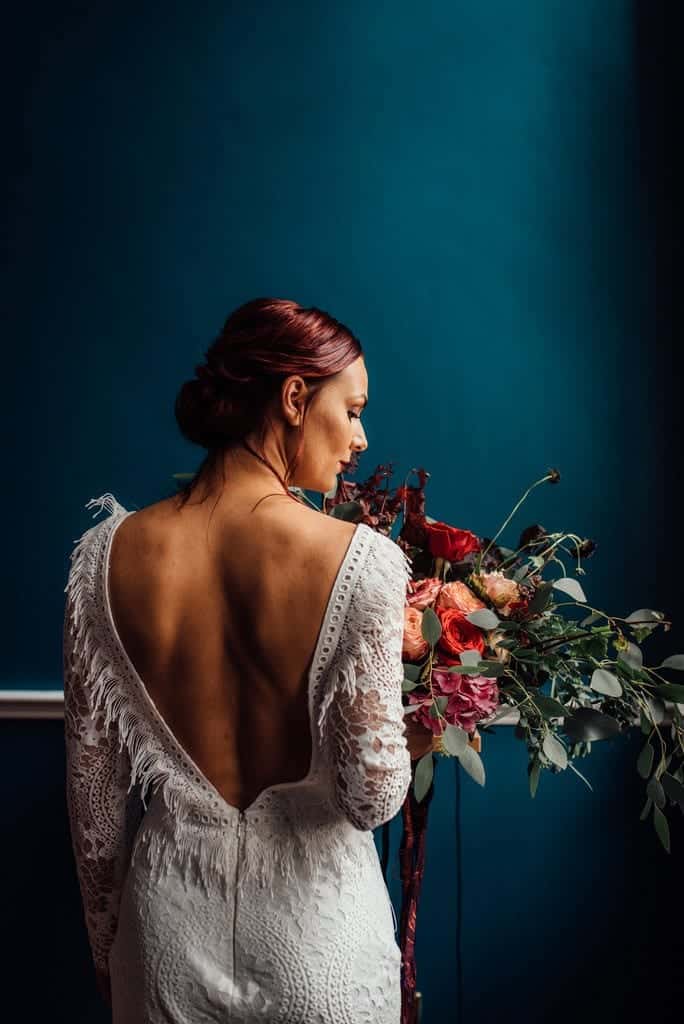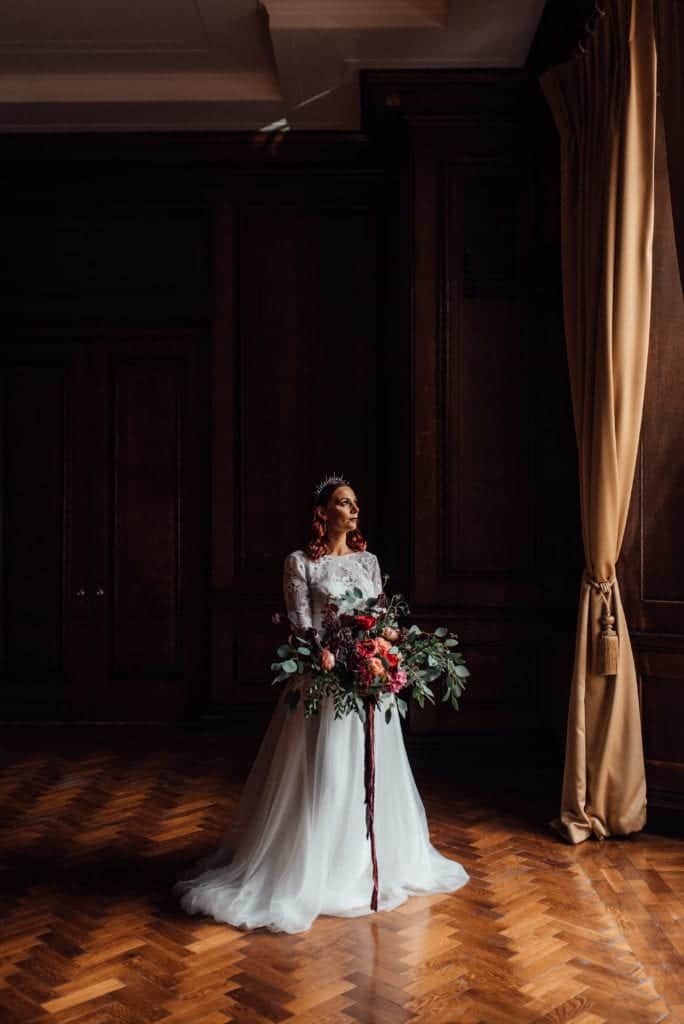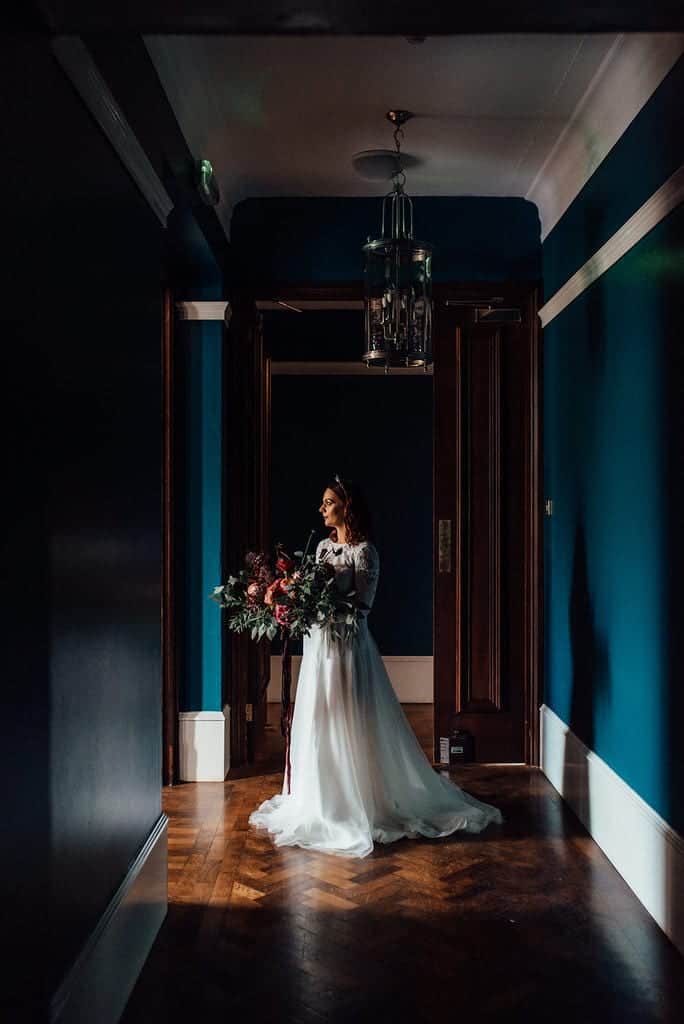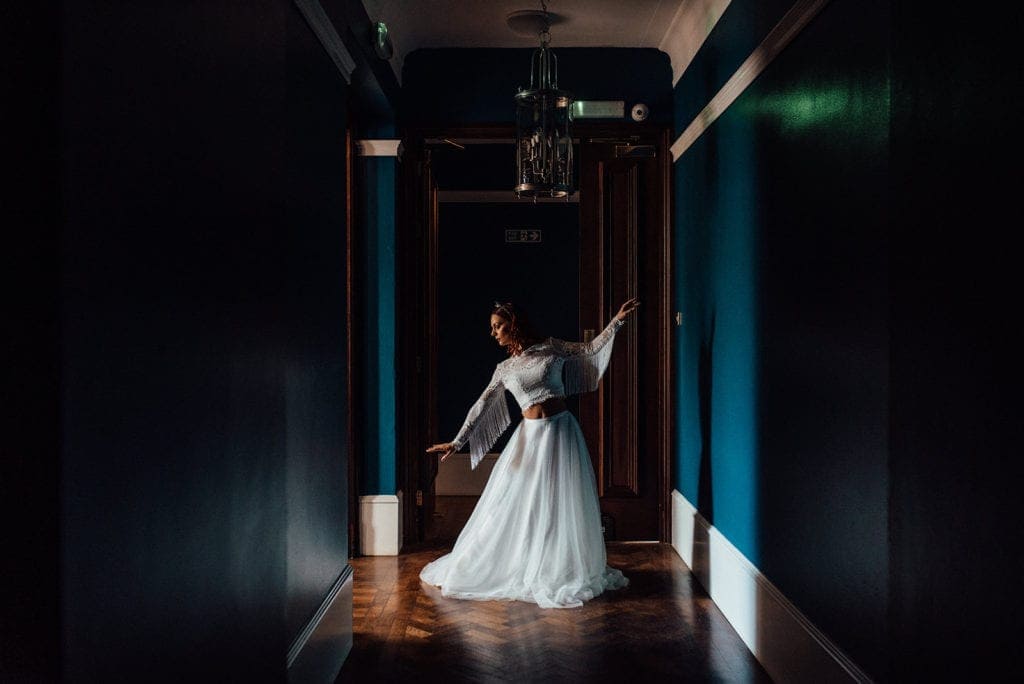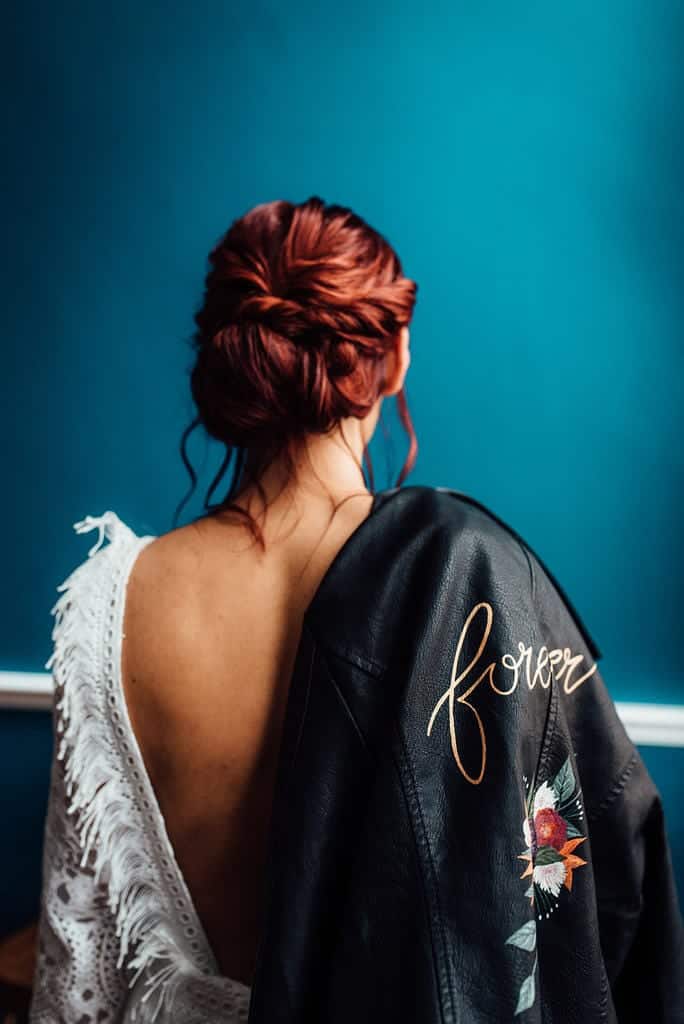 credits
Co-ordinator/stylist – To be Reveled, Photographher – Marni V Photography, Venue – manchester hall, Flowers – bridgemont decorative interiors, headpieces – rachel chaprunne, cake – cakes by p, Stationery & Leather Jacket – Mama Inc Studio, Make up artist – charlotte marie, Hair – Love hair by amy, Model – Miriam bowyer, Bridal boutique – serendipity bridal, Gown designer – shikoba bride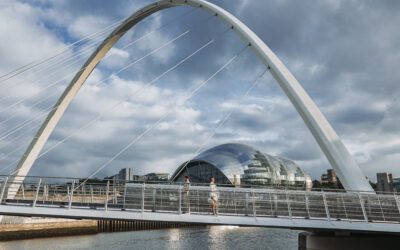 Newcastle elopement Today on the blog we have a graffiti wall, fun-filled city centre elopement...