To invite, or not to invite, that is the question!
This is probably the main concern that has been weighing on your mind since the day you started your wedding planning. Feeling torn between choices might lead to being overwhelmed and a bit panicky!
But luckily, you landed on the Urban Wedding Company blog. We help you to plan everything seamlessly for your city wedding. So don't panic, even if you haven't planned a party for 10, we've got you. This blog will help you shape your perfect wedding guest list without any regrets!
Wedding guest list etiquette
You must remember that no matter what, it is ultimately your call in the end and you decide who gets invited or not.
Depending on who is paying for your celebration, you might get extra requests from your parents' sides.
First things first, we would advise making an even split – 50% your side, and 50% your partner's, but yet again, that is totally up to you!
You might not be someone who has many wedding guests to invite or maybe your partner has already drafted a number with important people, so it is all objective. 
The only thing that is important is to find a common ground. Yet, if your parents are chipping in, then it is recommended to leave them a third of the whole wedding guest list number.
Eventually, the number one rule is to always make space for those you actually know! Having difficulties deciding? Here are some common questions to ask yourself:
When did you last speak to this person?
This is the easiest of them all! If you haven't spoken for a longer period of time and simply lost touch, they won't make the cut.
Would you move the date of your wedding if that person wasn't able to attend?
Yes? No? It is quite easy to see who are your A-list wedding guests and which ones you aren't obliged to invite.
Have you been to this person's wedding in the past 2 years?
If yes, then it would be polite to include them in your wedding guest list. However, if you have been to their celebration more than 5 years ago, then you most certainly aren't required to invite them!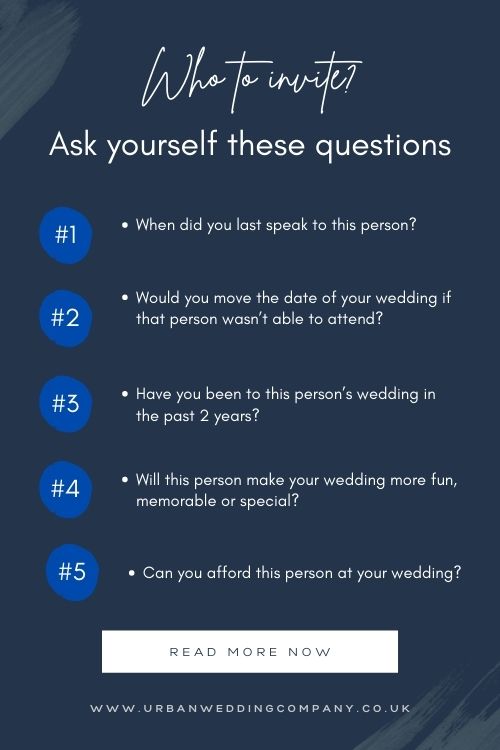 Downsizing your wedding guest list
No matter whether because of Covid or you simply wish for a cooler yet more intimate affair, here are a few tips to downsize the number:
Plus one? Make it plus none
To be honest, it is easier to cut that +1 when you know that this person knows the others and can easily party and chat away with the guests. However, if this guest is in a serious relationship, the plus one must stay.
Cut down people you don't talk to
Intimate weddings are all about the people you are close to so don't feel bad if you don't include them on your list. 
Prioritize your A-list and B-list guests
Those are the people that are closest to you so these should be always the focus of attention.
Include virtual streaming
We live in the modern era, right? Opt for virtual attending and stream the most important moments. In that way, even those that are far can feel included.
What percentage of wedding guests actually attend?
This isn't as tricky as you might think. Naturally, not everyone you invite will be able to attend. If it is a local city wedding, the estimate is that about 75-85% will come. Generally, for out of town guests you can expect a rough number of 55-60%. Planning a destination wedding? Expect around 30-35% of the invitees to show up!
How many friends should I invite to my wedding?
This solely depends on you both as a couple. Nowadays, some contemporary couples make their city weddings friend centred, others choose to include only their closest friends. The usually preferred number is about ⅓ of your whole wedding guest list, but as we at the Urban Wedding Company always say – you should invite whoever you want and never feel guilty about it! Your wedding, your rules.
How many people is a good number for a wedding?
In line with the recent events and the pandemic, even with greater numbers allowed, couples choose to round up about 120 guests, keeping things slightly more intimate. In fact, a celebration that has 50-75 people is more enjoyable and focused on the couple itself. Still, there are couples who choose to go micro or even elope, and others who want large funky parties! Either way, the same rule applies, it is your wedding and you make the rules however you feel. If you wish for a small wedding guest list number, that is perfectly fine. Want a larger number of attendees? Perfect! Whatever makes you happy and fulfilled!
How do you count the number of guests on a wedding invitation?
To keep it simple and clear of excessive info, you need to order an estimated number of invitations that would be 60% of your guest list.
You can throw in an extra 5% for any last-minute calls. Basically, most of your wedding guests are either family, couples, and close friends or relatives who will have a plus one, so it would be 1 invite per 2 people.
Keep close track of how many and to whom you send the invites, record that in an Excel spreadsheet. You can organize by placing your families in the first column, couples in the second and the singles (with or without +1) in the third column.
When you are all done, you will have the exact number of people you've invited.
Wedding guest list – How many people should I invite to my wedding?
Now you can easily master your wedding guest list number and have a clear picture of who you want to attend your celebration, and who you can leave out without feeling any guilt about it!
Your parents may have a say in the numbers but ultimately it is your party and you should plan it the way it makes you happy as a couple!
In need of more helpful hacks and tips? Hit our other city wedding planning blog articles!
Check out our latest Planning guide blogs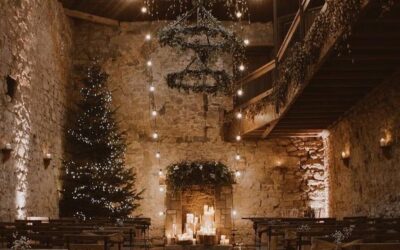 Winter weddings are romantic and cosy, and offer a unique opportunity to create a memorable...