We all know that planning a wedding takes a lot of attention to detail and it is incredibly time-consuming. While you may feel already overwhelmed by the simple thought of the process, we are here to calm the nerves and provide you with a simple solution. It is called a wedding day timeline! 
Trust us, when you design the schedule, everything will run more smoothly. You might want to ditch a few traditional schedules and curate your own, and we are all for achieving a timeline that is perfect only for you and your unique stylish wedding! However, there are some key aspects to consider if you want to mix and match your events. Today, we will talk about on the day schedule and tips on how to have a stress free day with one. 
Sometimes there are just too many things to manage, so it is always a good choice to have the main things organized. You wouldn't want to be late for your own ceremony, right? That is where an amazingly prepared wedding day schedule will help you manage everything. By outlining the main events and the time when they should occur, planning time for any extra activity like preparation time for you and your special guests will be more than welcomed!
Tips for the perfect wedding day timeline:
Do not make your wedding day timeline tight, give yourself a breather with 5-10 minutes here and there.
Make sure to give yourself more time for the preparation moments.
Don't forget your vendors! Share the schedule with them so they may tighten any loose ends. Have a chat with them and agree on the main key points. Find out when they will arrive and add it to your timeline, add their contact details for easy contact if they have not arrived. 
Based on your preferences, make sure to plan photography time accordingly. Some things are better not rushed. Speak to your photographer and ask them how long they need and when is the best time for the shots you want. 
Plan everything for the reception – if you need to limit the speeches in order to have more time for the party, then do it! It is your wedding and you can make it as unique as you wish.
This is easily overlooked, but the excitement will carry the vibe of the whole event but it is necessary to grab a bite. Remind yourself to have a meal, plan it if you have to.
Things to consider for your wedding day timeline
Naturally, your wedding day schedule will depend on when you wish to host your celebration.
Are you planning a morning civil ceremony with a cool rooftop brunch reception after? Or do you wish to have a whole night dance floor party in a chic loft? Eventually, it will matter whether you are celebrating on a weekday or during the weekend. That way you will know when the traffic jam hits, so planning extra time for that will be a lifesaver!
Your main responsibility will be to make the most of your wedding day timeline and give additional time where needed – that way nothing can surprise you.
Wedding day timeline examples
Morning ceremony and noon reception
The key with morning celebrations is pacing your event properly. It all comes down to your vision and how long you wish to celebrate.
7:00 am – preparations. Allow 2 hours for you and your wedding party to be ready in time and during this period – the vendors will start preparing the venue, set the aisle and other items for the ceremony.
9:00 am – photographer comes, relaxing you all and capturing the vibe.
9:30 am – all are ready, time to put on your outfit. Allow a full hour for this and the photo session of every detail. Plus to have a moment to catch a breath and ease into the pre-ceremony hype.
10:30 am – the other party are going to the venue, or another option is to have a first look if you wish. If you decide to have a first look, set aside 30 minutes to relish in the intimacy together and unwind from the anxiety.
10:45 am – make sure you are 15 minutes early to prepare. Guests are already arriving at the ceremony spot.
11:00 am – the ceremony lasts typically 30 minutes. You can make it shorter or longer, plan it with your officiant.
11:30 am – couples photography and enjoying that "just married" feel.
12:00 pm – a cocktail hour and group photos
12:30 pm – Lunch at the chosen venue & speeches
Cake cutting based on how long do you wish to have your reception.

Afternoon ceremony with an evening party
This is the most common wedding day timeline and it is convenient because you get to rest a bit more and have the coolest celebration party in the night!
10:00 am – Allow yourself time to prepare and your party too. If you have lots around you, plan an additional 30 minutes to have them ready.
11:00 am – The photographer will come, while the vendors will be setting up everything.
12:00 pm – Having a snack, then getting dressed and having fun moments with your wedding party. The photographer will also style and capture several details.
13:00 pm – optional – first look.
13:30 pm – heading over to the ceremony spot. Plan the time according to the traffic so all the guests can be on time.
14:00 pm – The ceremony, usually 30 minutes long.
14:45 pm – Wedding couple photography.
15:15 pm – Cocktail hour & canapes.
15:30 pm – Group photography.
16:00 pm – The reception will start.
17:00 pm – Usually the starters begin but you can design the course timeline as you please.
20:30 pm – the first dance.
12:00 am – The party ends – or naturally this can continue to another place or a chic bar! 

Alternative Ideas for a wedding on the day schedule 
Planning an earlier wedding? Well, this can lead to a brunch wedding which is also amazing. Pick a stylish venue to continue after the ceremony and have a relaxed brunch. For another wedding day timeline, you can plan the cocktail hour to be like an afternoon tea party – but contemporary, chic, and creative! 
We bet you already have some ideas for your wedding day timeline after reading this blog! Always plan an additional 15 minutes of leisure time to cover anything running late. For more tips, check out our A-Z wedding planning blog posts!
Check out the rest of our A to Z blogs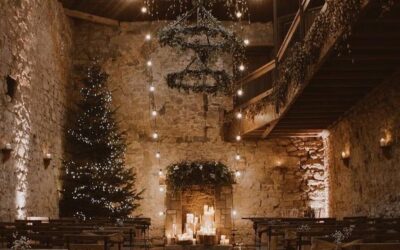 Winter weddings are romantic and cosy, and offer a unique opportunity to create a memorable...