Can I let you into a little secret? I really don't like cake!
I mean don't get me wrong I love a super stylish wedding cake that is unique and full of personality!
But eating cake, you know I am not a fan!
The thought of not having a wedding cake will have many mothers-in-law turning in their graves right now!
But luckily alternative weddings are all about new traditions, don't like cake? Don't have cake!
We are often asked do I have to have a wedding cake?
No, of course not is our answer! Wedding cakes are an old tradition and one that seems to be sticking around but for some cakes are just not their thing.
Finding an alternative to a wedding cake can be a great way to keep some of the tradition but in your own style!
We are going to share with you how many different ideas there are when it comes to alternatives to a wedding cake. We also cover some non-traditional wedding cake ideas. Check out our Pinterest board with all the unique, unusual, alternative wedding cakes.
Why have a wedding cake when you can have…
ALTERNATIVE WEDDING CAKE IDEAS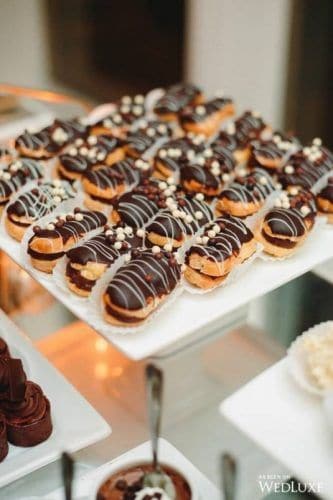 1. PASTRIES
Get your Italian vibes on with a buffet of gorgeous pastries. Not only will this alternative be a talking point at your wedding, but you can transport guests to Milan.
Alternatively, this is also a great treat for your bridal party for breakfast.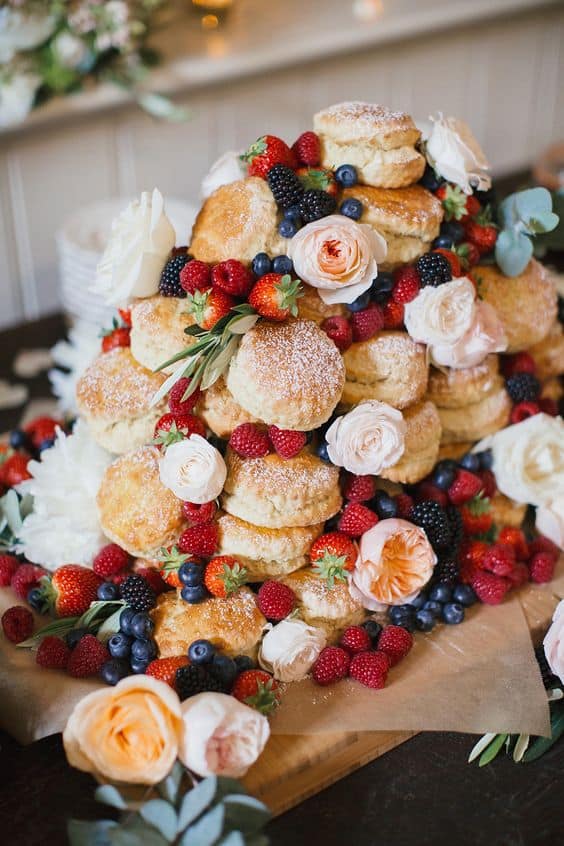 2. SCONES
Everyone loves an afternoon tea, right? Pile up those scones and let guests add their own cream and jam, or jam and cream! Hopefully, no arguments will start, which one are you?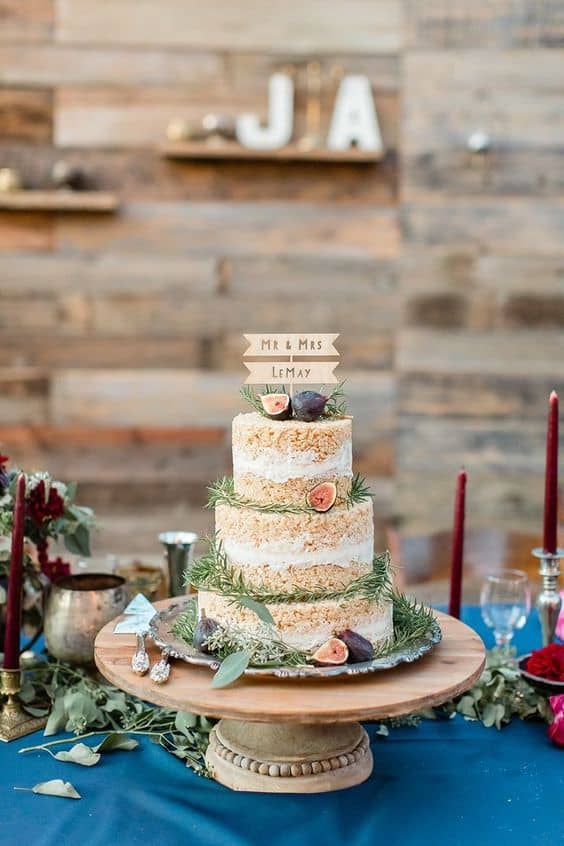 3. RICE KRISPIE CAKE
Send your guests back to their childhood with a Rice Krispie cake! This is a fun idea and will have everyone talking and sharing memories I am sure!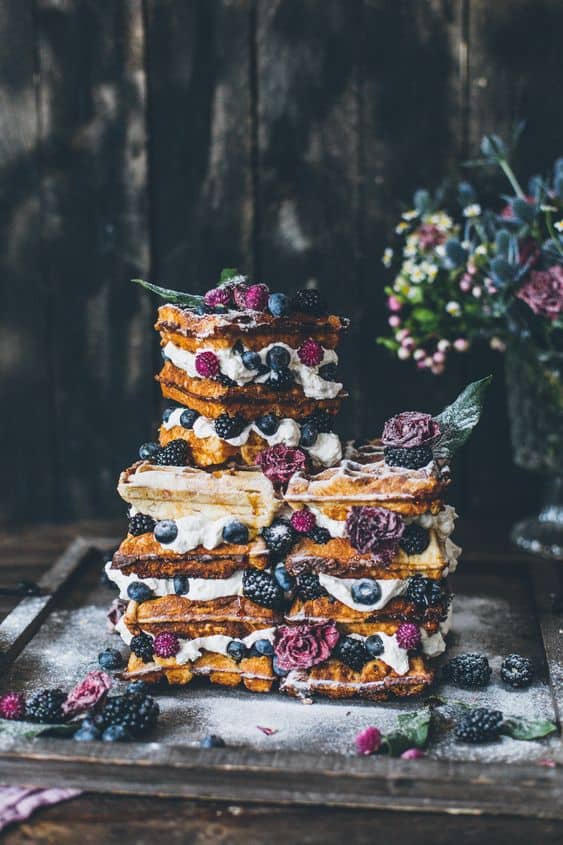 4. WAFFLES
This one has us drooling! A feast of waffles with all the toppings and sauces you can dream up! Can we get an invite if you are doing this, please?!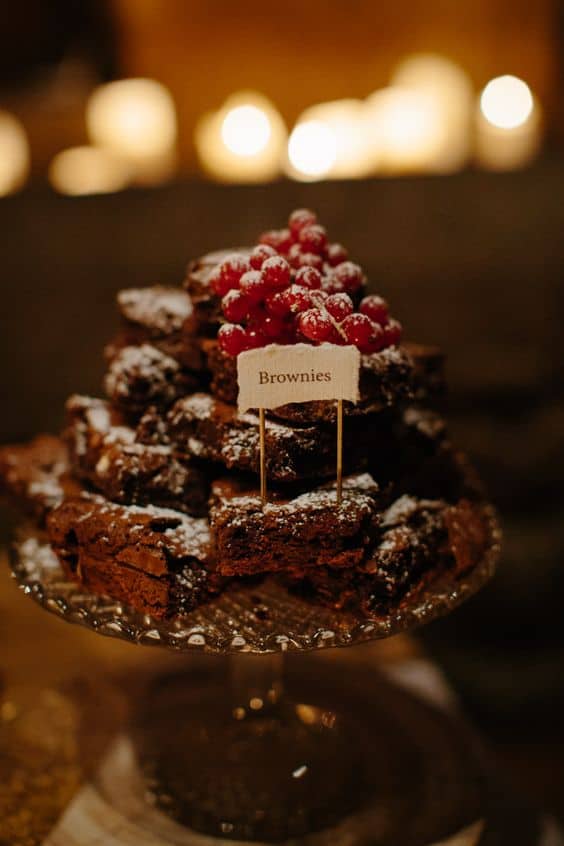 Image: Caro Weiss  – Cake: Bakery Lane
5. BROWNIES
Another yes please from us! Who doesn't love a brownie, right? Have them made as cake shape or just do a pretty feast style table set up with some extra treats.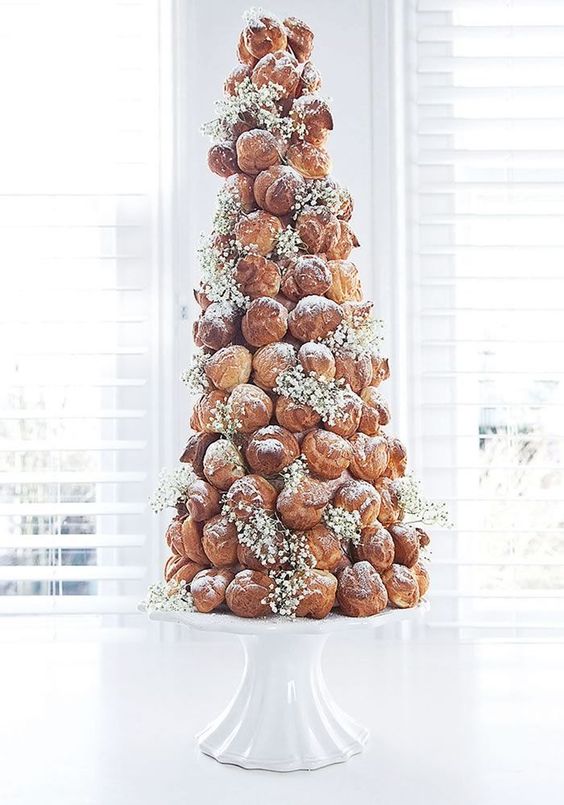 6. CROQUEMBOUCHE
This is a super stylish alternative to a wedding cake! The towers of puffs are usually made of caramel or spun sugar, but can get extremely messy! But it looks pretty impressive on the table if you want an alternative.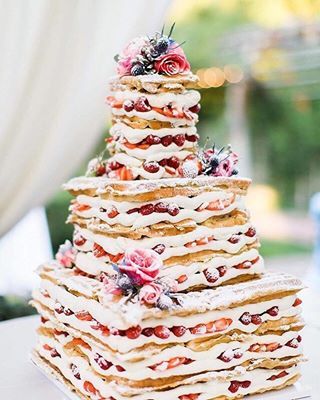 7. MILLEFOGLIE
We have seen this one used in person and it looked beautiful and the guests loved it! Just remember it has to be chilled so bring it out just before cutting!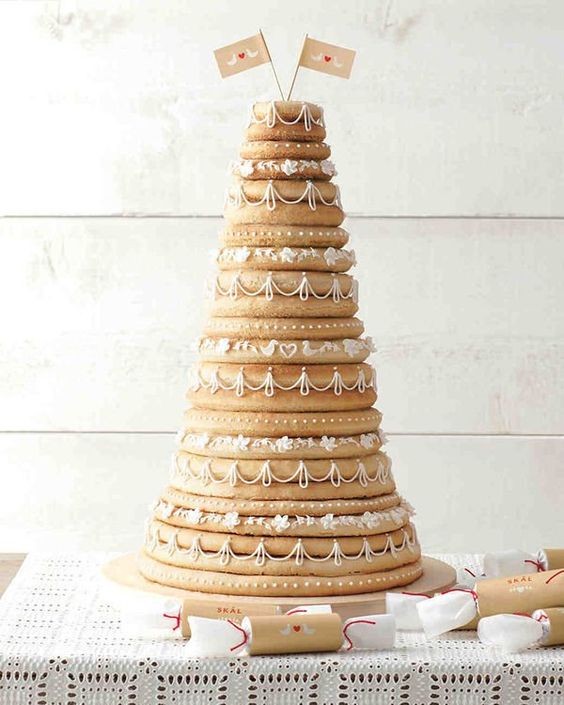 8. KRANSEKAKE
Having a boho Scandi wedding? Then this Scandi dessert is the nontraditional wedding for you!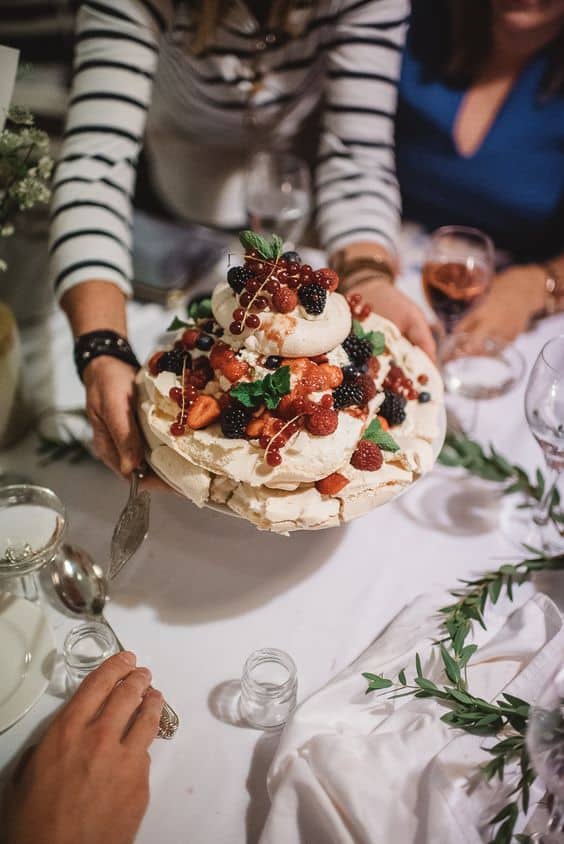 9. PAVLOVAS
A tower of pavlovas is always a show-stopper at any event! Making it the perfect alternative wedding cake.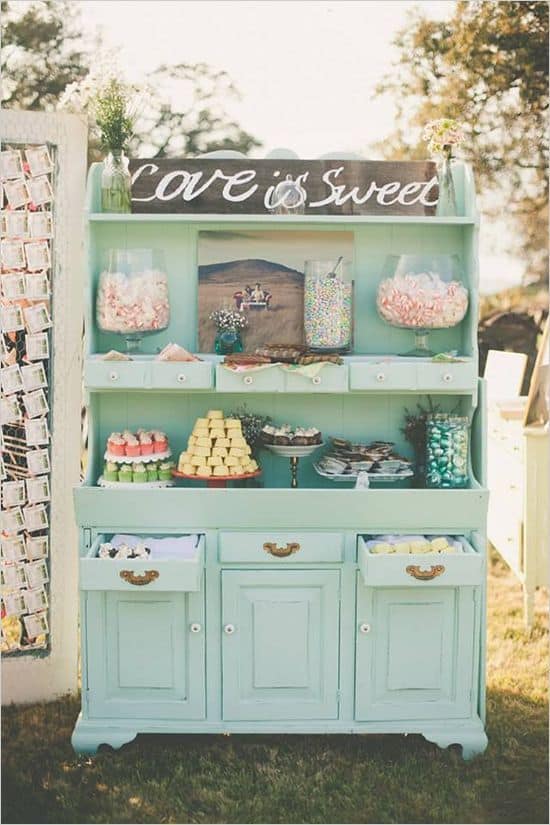 10. SWEET TABLE
Kids and grown-ups love it so much! Seriously though these are always a hit with kids and children. We love them scattered with and pilled for a great dessert feast-style look.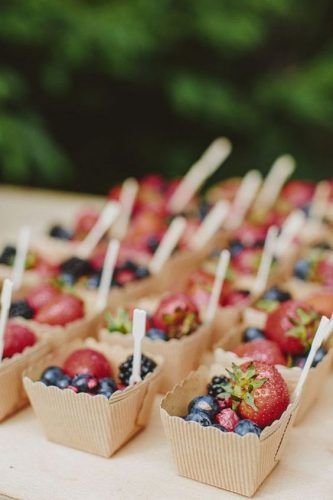 11. FRUIT
This alternative is so simple. Why not stack up your favourite fruit and create an alternative to the wedding cake?
A healthy alternative to wedding cake! You can add dips and extras and make it a real feast of fruits. Just make sure you have considered the room temperature and how well the fruit will keep.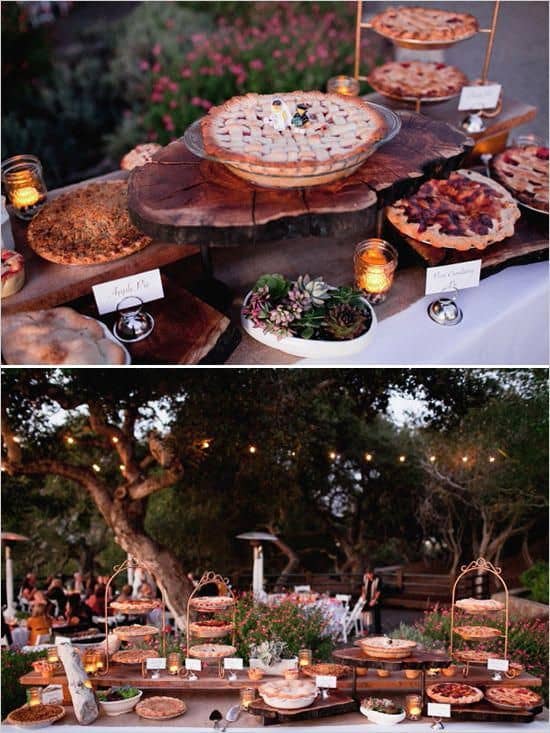 12. PIES
Why not avoid traditional cupcakes and go down the party pie alternative instead? These pies are just as delicious and much less fiddly than cakes! Perfect for those who don't like cake and a perfect alternative for an alternative wedding.
Set it up as a pie station feast and your guests won't even think about cake.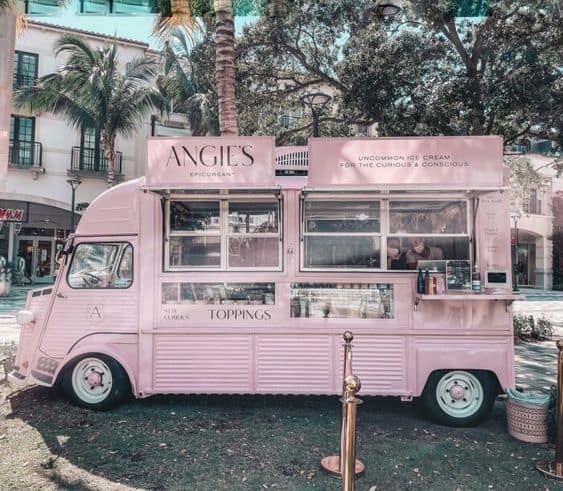 13. FOOD TRUCKS
Okay, we know this in a way isn't quite an alternative wedding cake. But hear us out! You can order your favourite pudding food truck to pull up and serve your heart's desires. Pancakes, waffles, doughnuts, and pretty much anything you can think up!
Reach out to local food trucks at a farmers market or street food market and you will be surprised how many will come and rock up at your big day!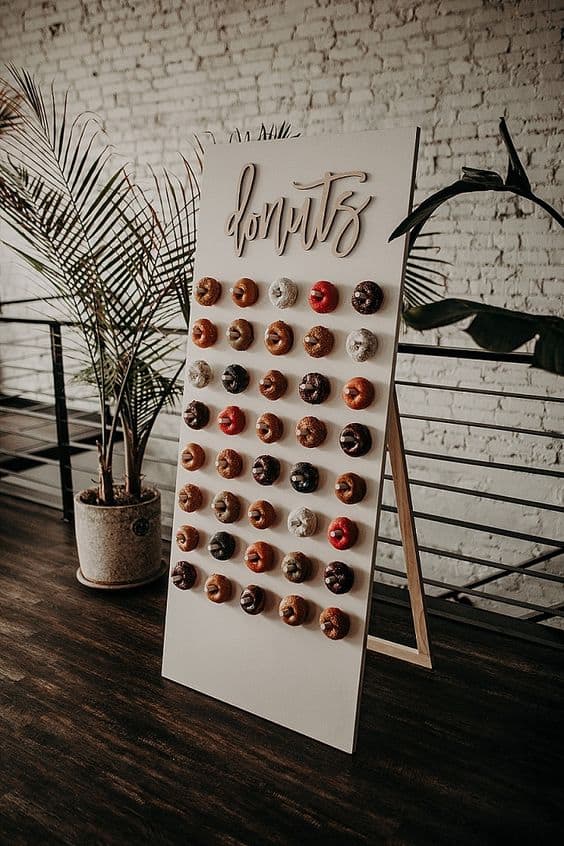 14. DOUGHNUTS
Doughnuts are becoming more and more popular these days! You could go one step further and offer doughnut buffets with different flavours to choose from.
Or go for a doughnut wall and add that wow factor!  An alternative to a wedding cake that is definitely non-traditional!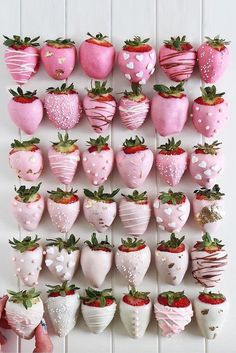 15. STRAWBERRIES
These are deliciously sweet strawberries dipped in chocolate sauce. Perfect for those who don't need sugar in their diet but still want alternative desserts!
You can these beautifully made now as towers or individual cases making the perfect wedding cake alternative.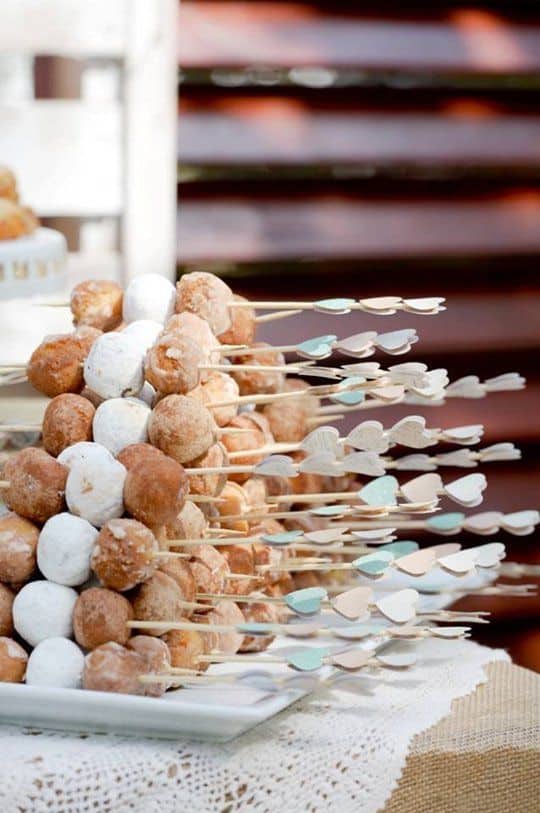 16. PROFITEROLES
Profiteroles not only look amazing but taste even better!
Add chocolate sauce, fresh fruit, and different dips such as Nutella for a very unusual alternative wedding cake idea!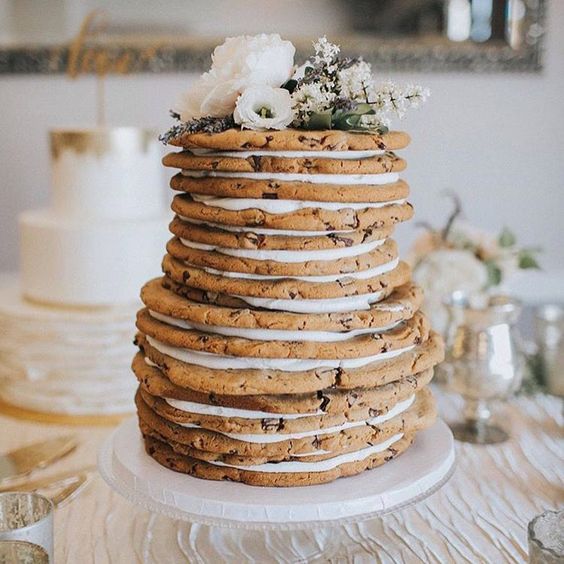 17. COOKIES & BISCUITS
Whether you are going for a more rustic look with a heaped pile of cookies on the platter or creating an alternative to the wedding cake with individual bite-sized cookies set up in towers!
No one will be left disappointed by this experience especially if you have added interesting flavours.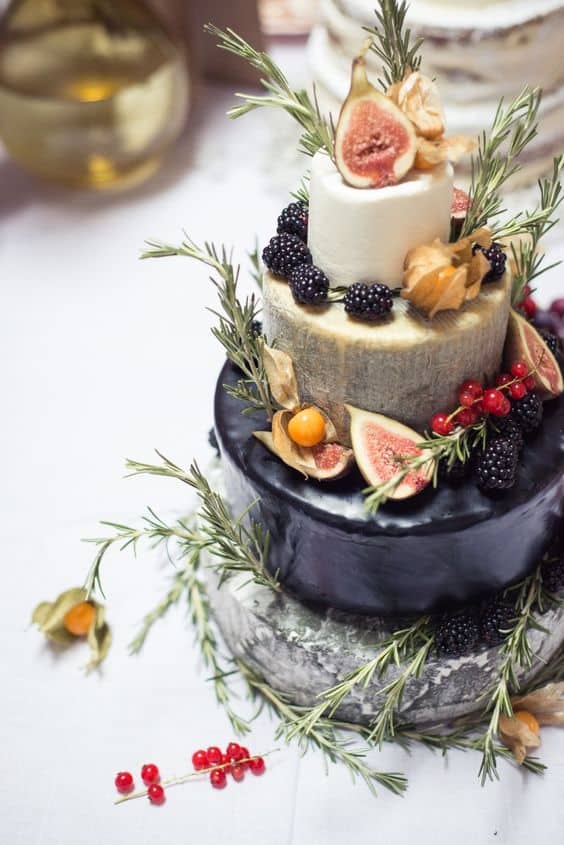 18. CHEESEBOARD OR CAKE MADE OF CHEESE
How about an alternative wedding cake with a cheeseboard? This alternative to wedding cakes not only looks amazing but tastes delicious!
This is perfect for those who don't like sweet or prefer savoury! Everyone loves cheese, right? Just me!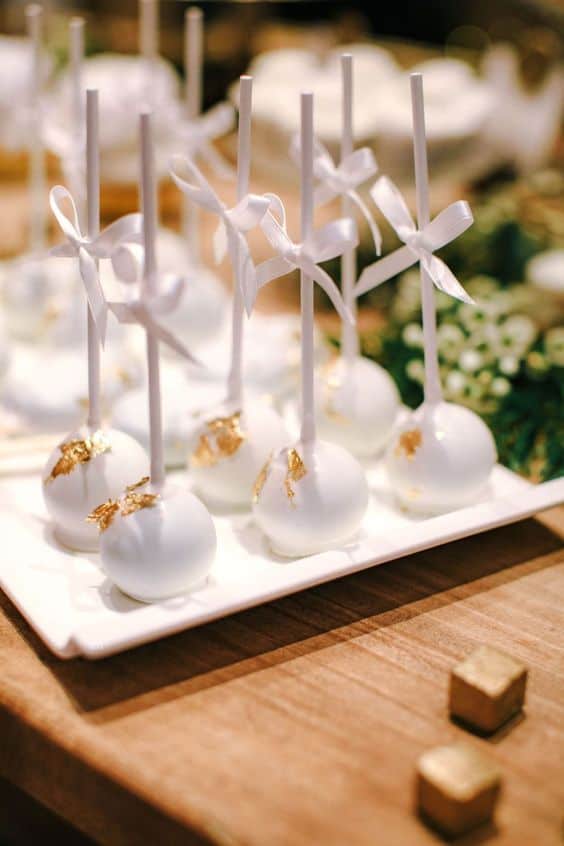 19. CAKE POPS
These are a great way to still have cake, just in bitesize portions. They look amazing and double up as the perfect favour.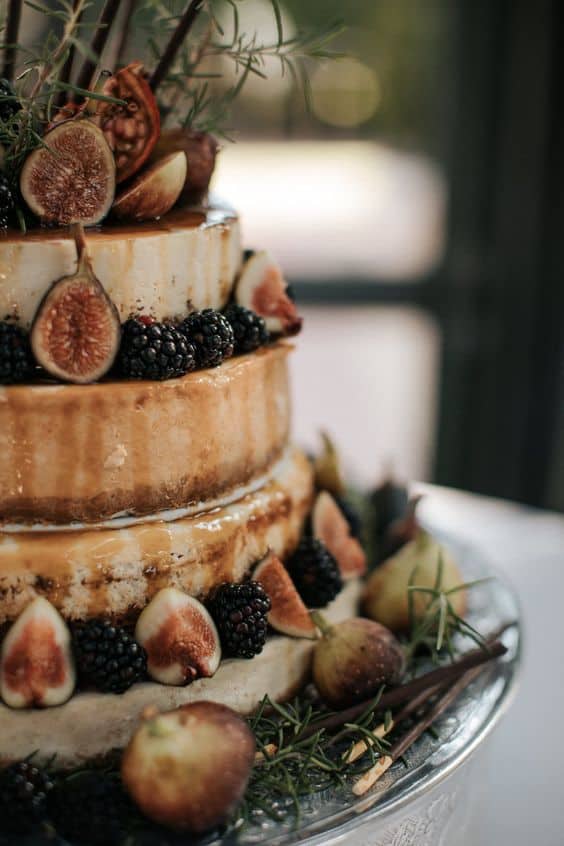 20. CHEESECAKE
A little biased but I do love a cheesecake and think they are the perfect non-traditional cake!
So many flavours and topping choices that you are bound to find one you and your guest will love. Or maybe have lots of flavours so guests can pick their own.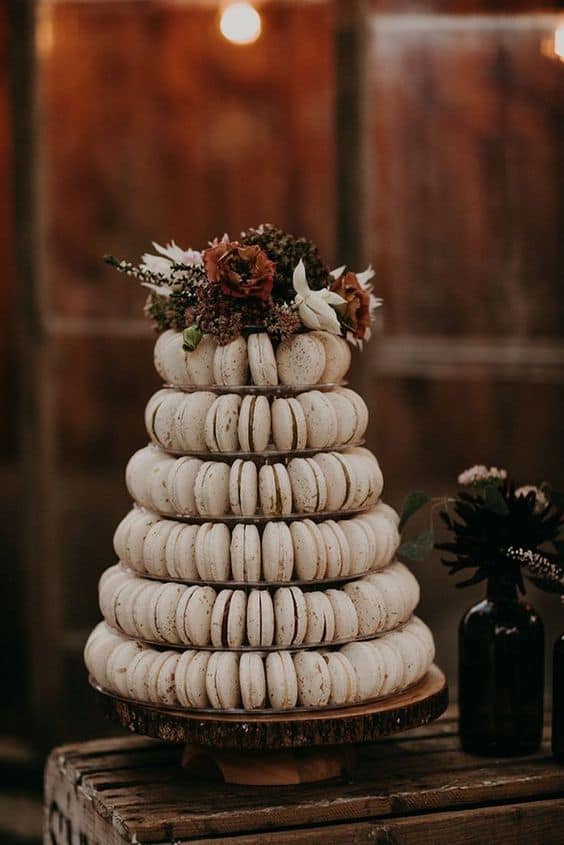 21. MACARONS
These are the most stylish alternatives to wedding cakes for sure. They taste and look amazing! So many flavours that your guests will all find one they love!
More blogs you will love!