Long gone are the times when a wedding cake is a lonely creation shoved on a table in a dark corner.
Or maybe you are thinking of no cake at all and looking for a wedding cake alternative.
Either way, a dessert table or bar is definitely the way to go!
We are sharing all the best dessert table ideas. Also expert top tips for creating your own.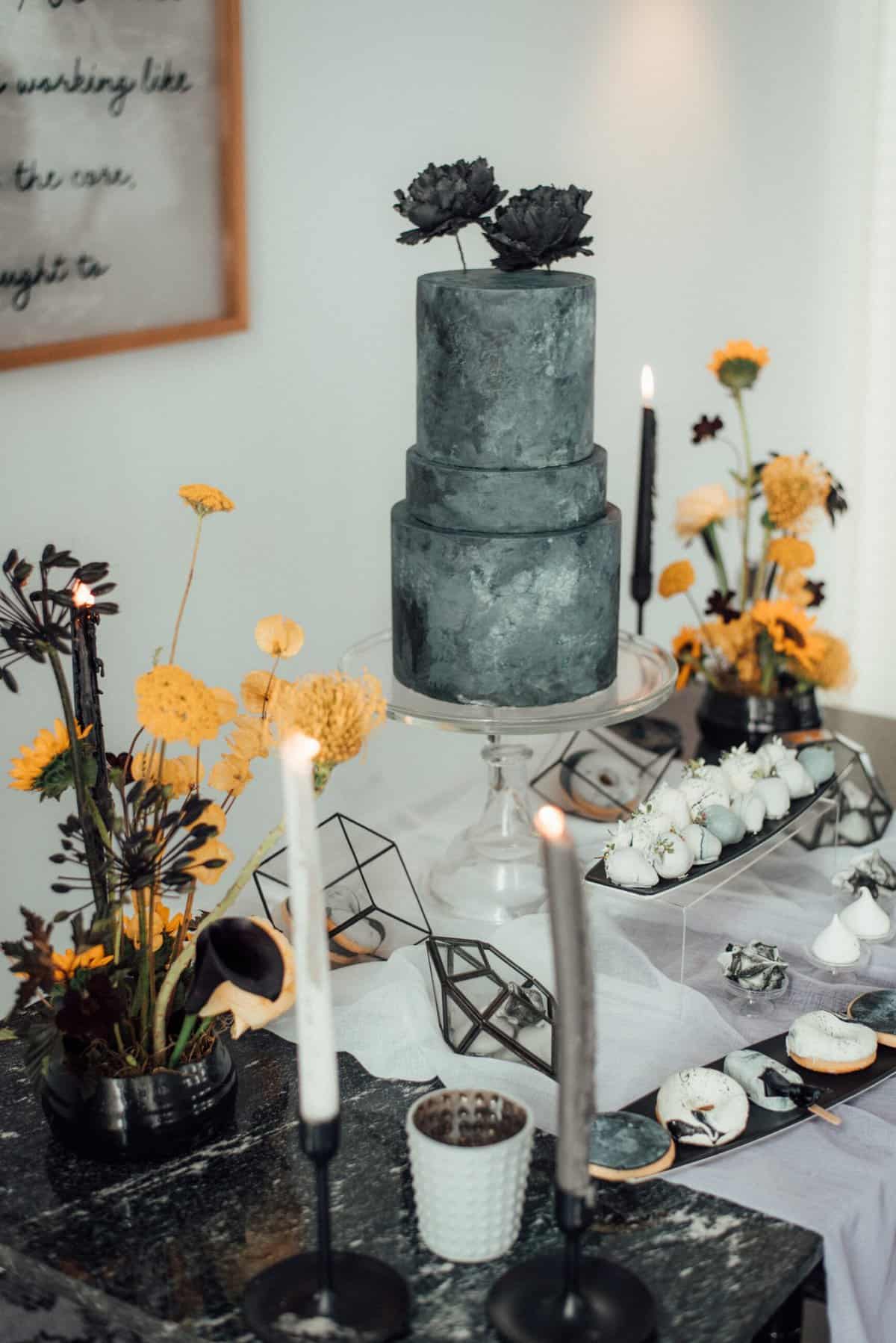 Image Marni V Photography
Meet The expert
We have Zoey from Zoey Louise design. She is a wedding stylist with years of experience styling weddings and dessert tables.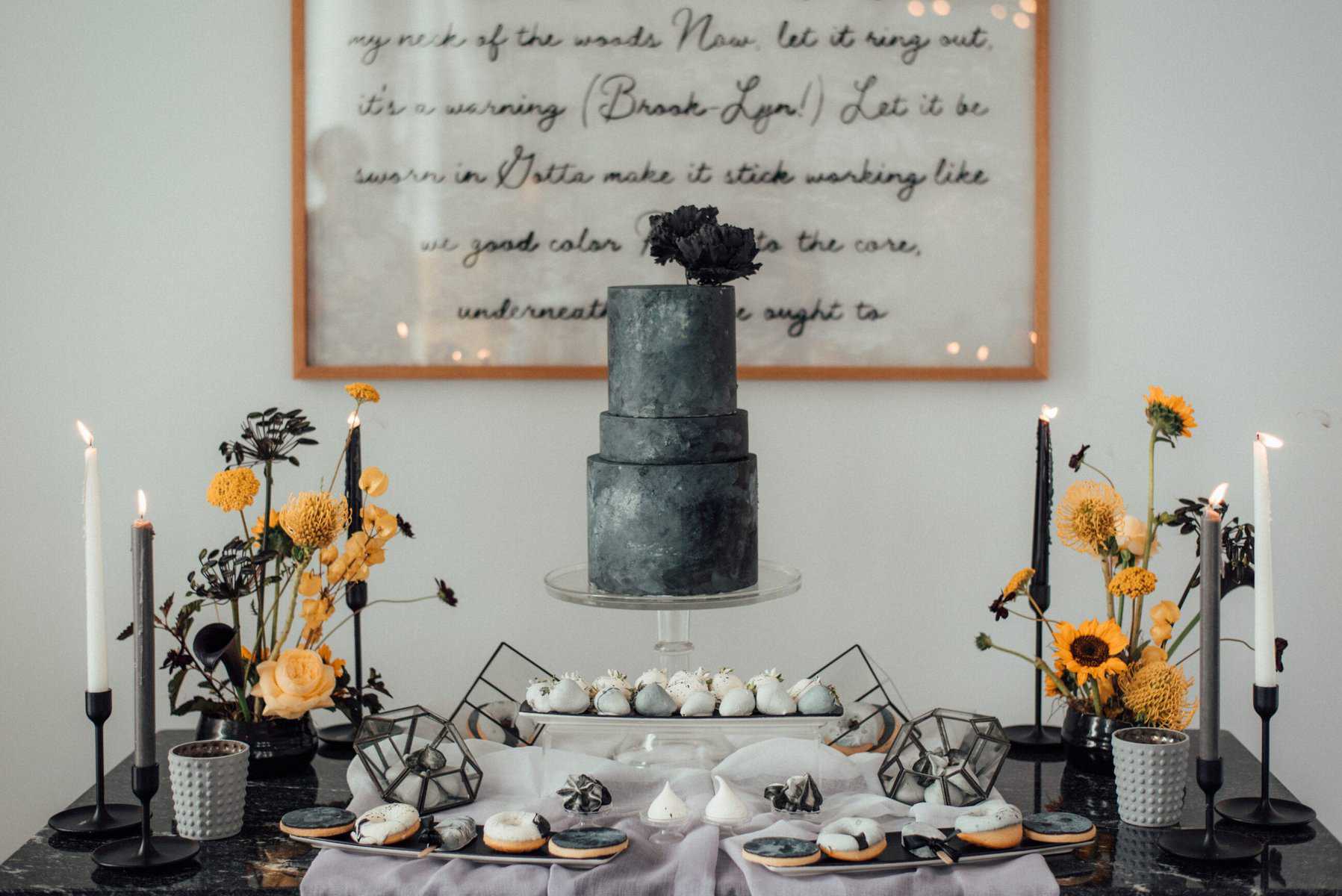 Image Marni V Photography
Stunning Dessert table ideas
Make the CAKE the star
If you are having a cake then always start here first. You want to make it the star of the show. Then use the design and colour palette of the cake to help decide on the dessert to surround it.
If you aren't into traditional styling then a trio of cakes will still give you a good three tiers but can look a little cooler and more contemporary, particularly if they are all different heights and diameters.
Add in some extras to go all in for a dessert table, giving your guests some choices.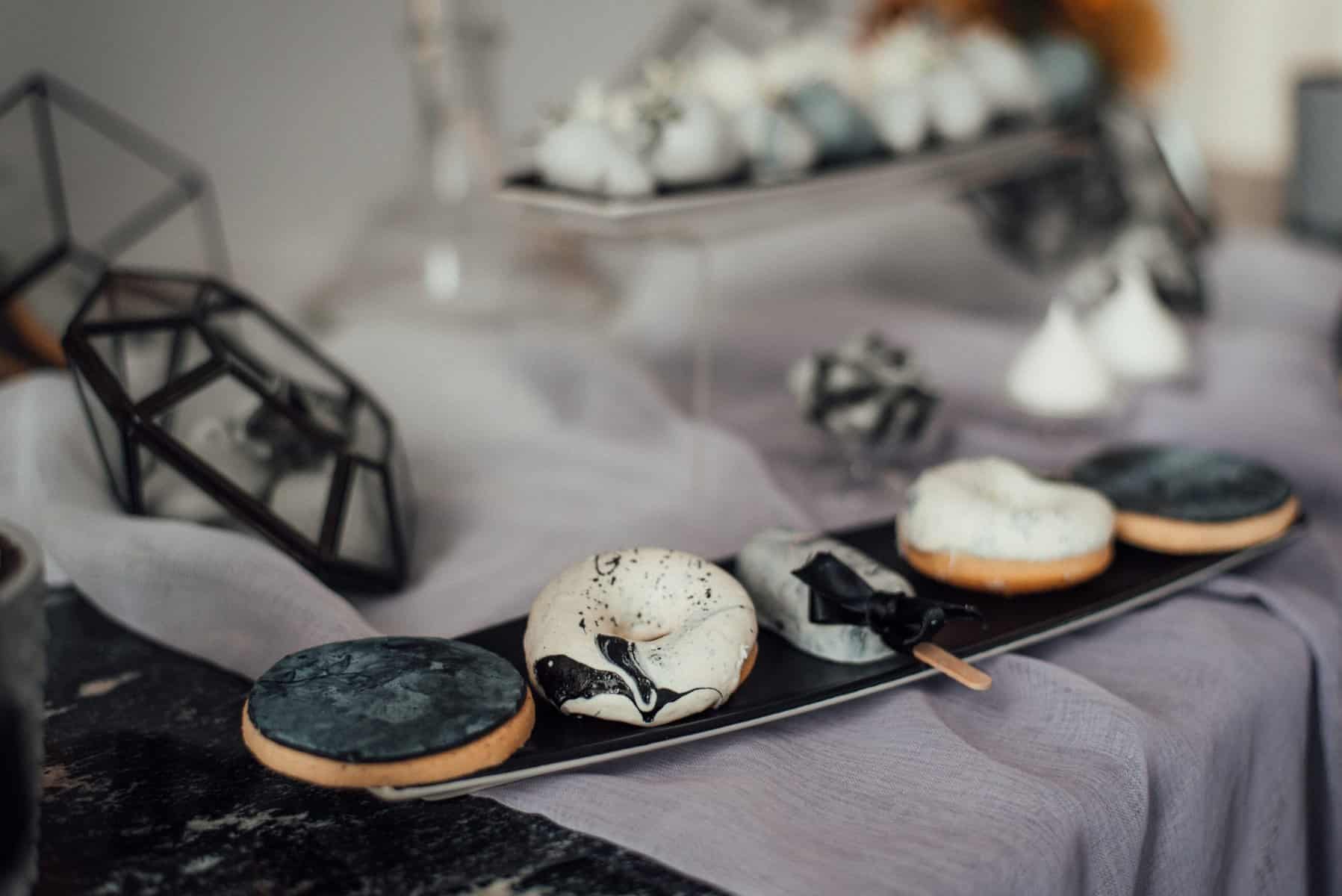 Tell a story with your choices
A dessert table can allow you to bring the flavours of your heritage to your wedding day. What was your favourite dessert growing up? What was the traditional dish where you were raised?
Do you still have your dear departed Gran's trifle recipe that reminds you of family tea times? With a dessert table, anything goes. You can make your desserts look as stylish or as homely as you please.
There is no reason why your mum's apple crumble cannot be made into stylish individual desserts if you hire the right caterer or baker.
It's a way to remember your family and your culture in your wedding day celebrations.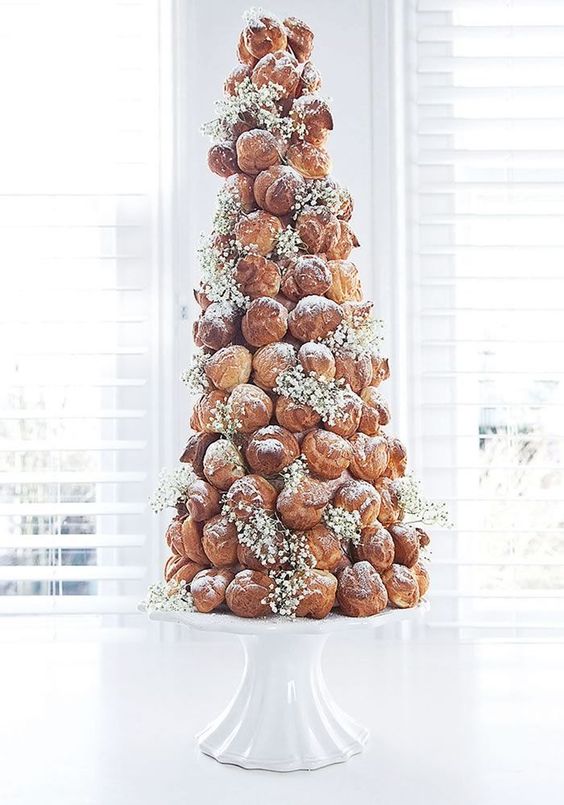 French inspired PATISSERIEs
A French patisserie inspired dessert table always looks stylish; from distinctively shaped canelés, delicately delicious strawberry mille-feuille, icing sugar laden madeleines, raspberry and pistachio friands, choux pastries and crème caramel to name but a few.
While we're across the Channel if you do fancy an alternative to a more traditional wedding cake.
Why not consider a towering Croquembouche, dripping with chocolate and caramel sauce, or a tower of macarons in funky multicolours?
These are also great accompaniments to your cake and easy for guests to pick at while having welcome drinks or later in the evening.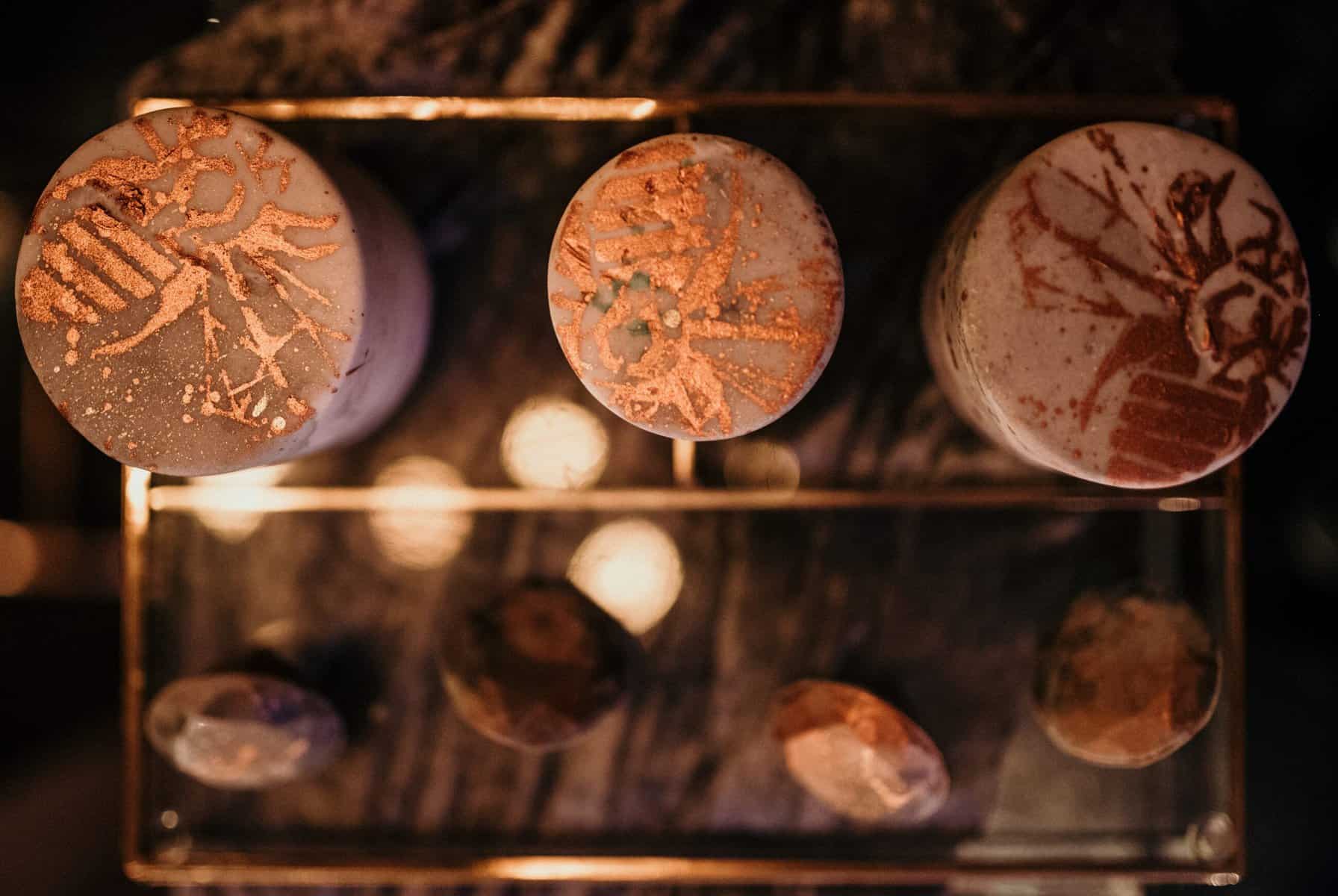 Image Kerry Lu Photography
STYLE UP YOUR DESSERT TABLE
The main thing to consider other than the actual desserts, is how you will style your dessert table. Will the theme of the desserts fit with your wedding venue and wedding style?
If you are having a rustic barn wedding, then you may want to use wooden crates and barrels to present your desserts. If you are in a cool, inner city, boutique hotel you may prefer clean lines and pared back styling.
The key is to keep the table interesting. Display the desserts at different heights to keep the eyes busy. Decide whether you want the table to look symmetrical or have a more eclectic feel.
Don't space the desserts too far apart just to fill the table. If the table is large use props or other interesting things such as photos or favourite memorabilia to fill the gaps. If you keep the desserts close together the whole thing looks more lavish.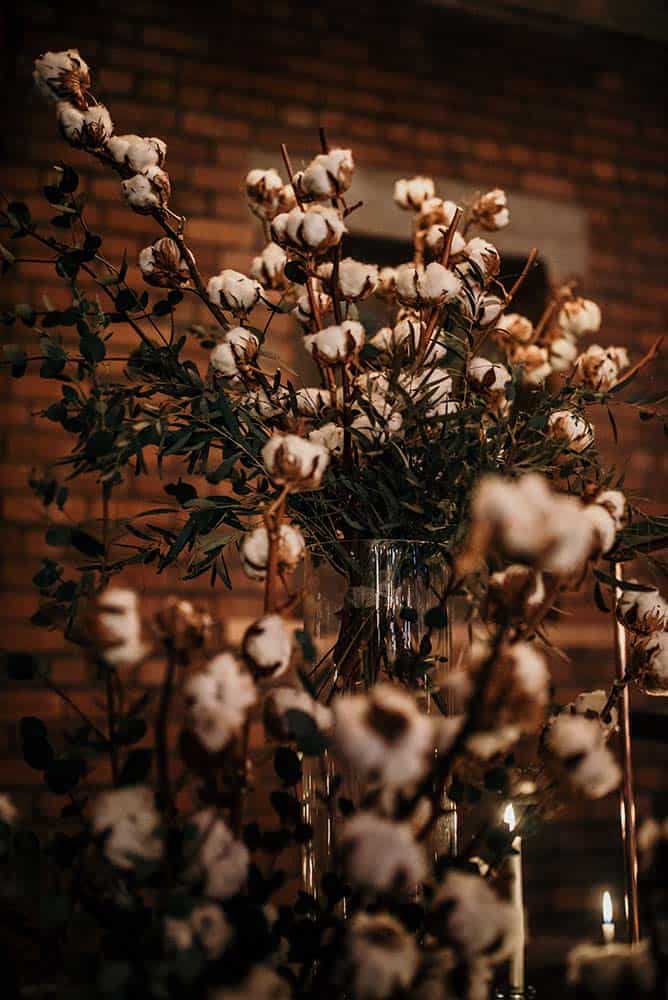 GET CREATIVE with your dessert table
Have some fun. Use fun signs to let people know what is on offer. Think of witty ways to display your treats.
Old vinyl records make great cake stands, if you are going for a more boho theme then use macrame and maybe have a dried pampas grass installation above. Make the treat table a main feature and central to your styling.
Make sure the table has a great backdrop too, you want it to look amazing, if the room isn't ideal hire or make something to give your dessert table that wow factor.
You also want to make sure that there is enough space around the table and that it is easily accessible for people to hover around and graze, this will definitely be a popular place during your celebrations.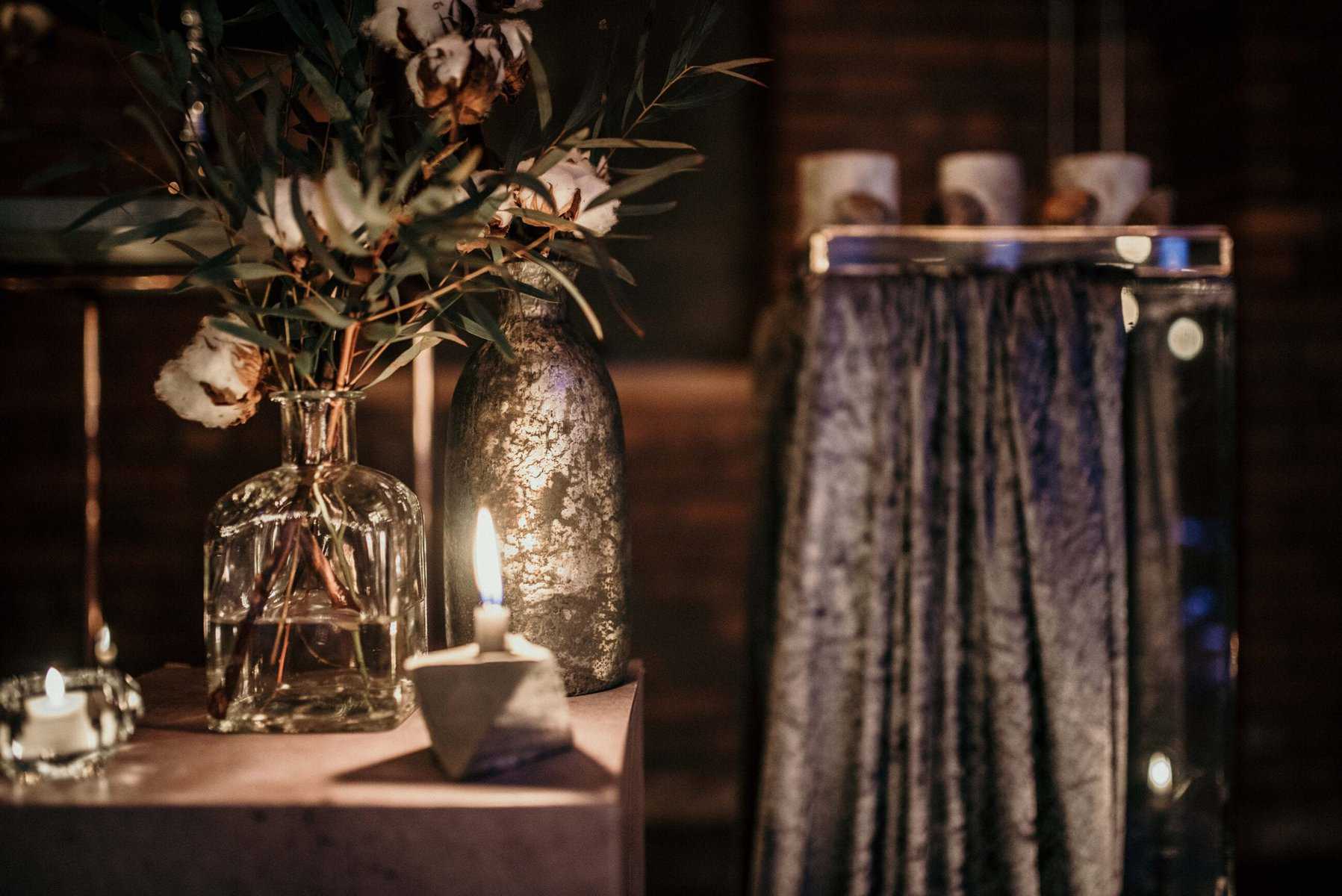 Image Kerry Lu Photography
ICE CREAM AND SORBET STATION
If your wedding is in the summer, there is nothing nicer than creamy ice cream or refreshing sorbet.
If you decide to have an ice cream station make sure you have a choice of flavours and provide waffle cones, sugar cones, tubs and lots of sauces, sprinkles, wafers and chocolate flakes.
This dessert is definitely a crowd pleaser and will keep all of your guests happy from toddlers to your old great aunt.
HOT CHOCOLATE STATION
Hot chocolate station, okay so not totally a dessert table.
With toppings and treats it definitely can be in place of one though. Add some liqueurs such as Baileys, Cognac & Rum for the adults and marshmallows and cream for the kids and you'll see smiles all around.
While we are talking marshmallows, how about a S'mores station as part of your dessert table?
Just make sure your venue is ok with naked flames and make sure a sensible adult is overseeing the shenanigans, then off you go.
Gorgeous cookies and biscuits piled high, plenty of marshmallows for toasting and lots of different flavours of chocolate for melting. A few small gas burners should do the trick.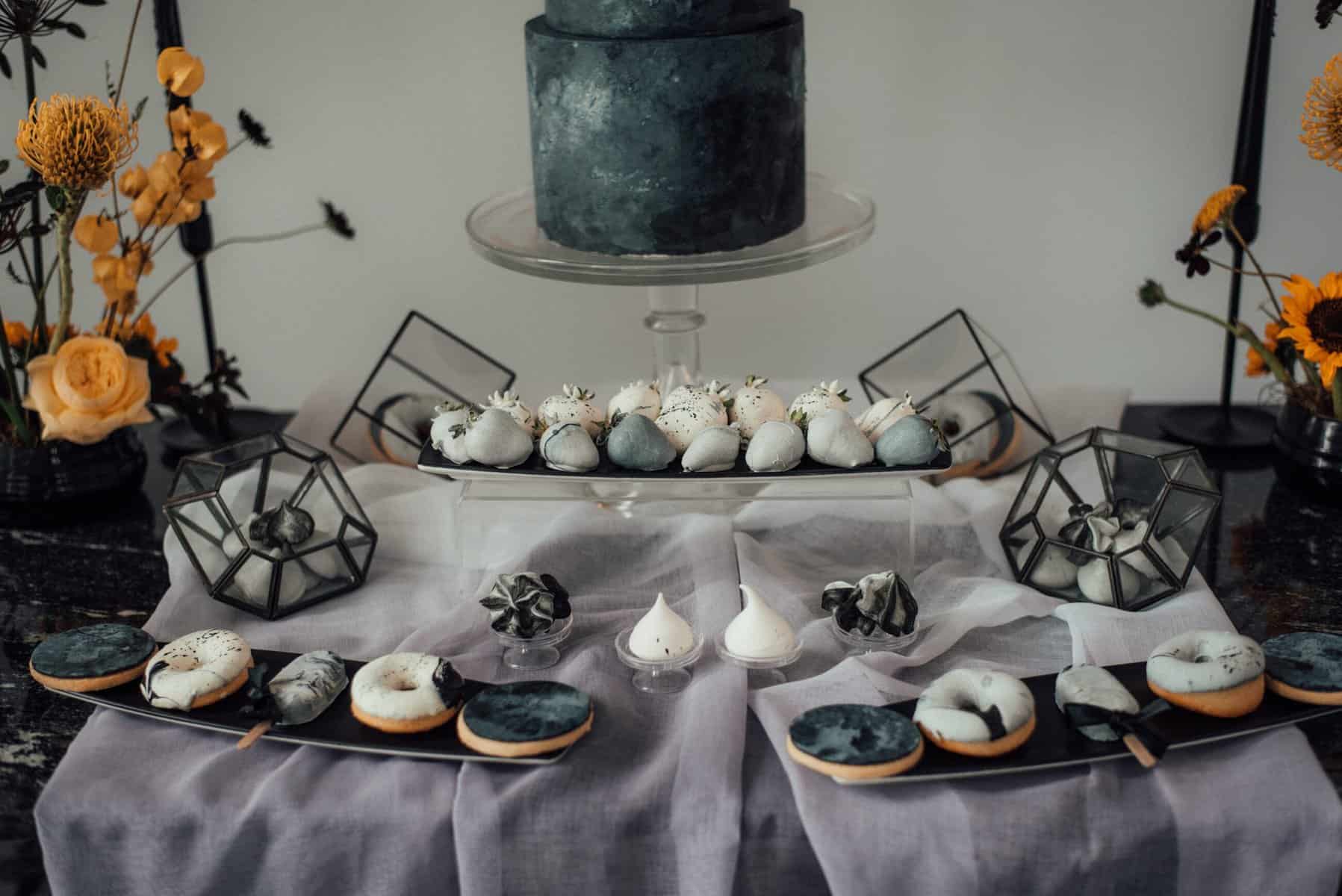 Image Marni V Photography
DOUGHNUT wall or station
There is no denying doughnuts are delicious. So many flavours and toppings, however, doughnut walls seem to have been 'done to death' but don't let this stop you. Think of quirkier ways to display them.
Think shelving, spikes, candlesticks, perspex boxes, towers, paper cones of mini doughnuts, cool old suitcases lined with food safe tissue paper. The only limitation is your imagination.
keep it SIMPLE
We love the cool, stylish simplicity of individual desserts in uniform glass pots. Things like individual chocolate mousse, cheesecakes, crème brule, crème caramel, tiramisu and mini rice puddings.
We also like to team these up with something stylish and crunchy like macarons and fortune cookies to add some texture to the softer desserts.
Macarons can be colour co-ordinated to fit your wedding theme and can even be hand painted. Fortune cookies can incorporate your wedding date, your favourite phrase or affirmation or just a fun note to your guests.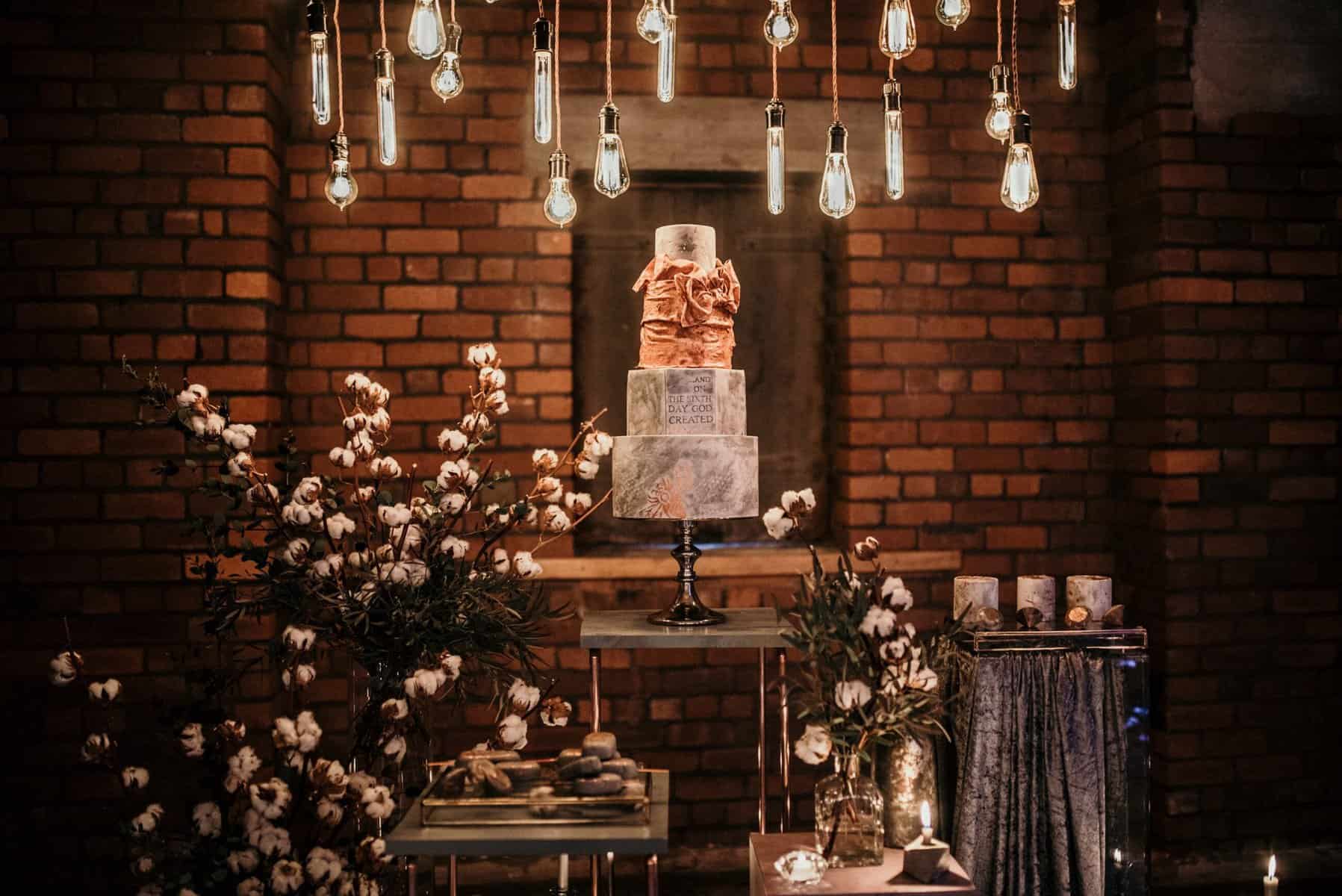 Image Kerry Lu Photography
SUBSTANTIAL dessert table ideas
If you are looking for a more substantial dessert table then why not have a selection of brownies and blondies, these can be flavoured and decorated to suit all tastes. Popsicles are also great and easy to eat, as well as being a huge hit with younger members of the wedding party.
A cone of churros hot and fresh from the pan with an array of dipping sauces is also a more substantial treat.
Waffles with a selection of toppings are a great brunch time dessert table treat. And who can resist a pie? Why not plump for a pie station, fruit pies, chocolate pies, lemon tarts, or pecan pie, mix up the pastry, and have sweet flaky filo pies alongside buttery shortcrust pastry based desserts? Add some crème Anglaise or ice cream and you're onto another crowd pleasing dessert table.
Are you feeling like you need a cuppa and something sweet yet? We are!
We haven't even mentioned chocolates or cookies yet, these are great additions to help make your wedding cake feel that little less lonely; chocolate truffles, chocolate covered Oreos, geometric chocolate hearts and chocolate covered pretzels to name but a few.
Cookies of all descriptions shapes and colours. The main thing is to keep it fun, keep it interesting, keep it in style with your theme and try to keep it seasonal if you can, this, in turn, will hopefully keep it eco-friendly too.
HOW MUCH IS TOO MUCH FOR A DESSERT TABLE?
If you are considering a dessert table without a wedding cake. Then we would suggest having 3-4 mini desserts or portions per guest with around 6-7 different choices.
This will allow for all of your guest's differing tastes and nobody just wants to try one item at a dessert table, we know that for sure! If you are also having a wedding cake then 2 extra things should be sufficient with a choice of maybe 4 or 5 desserts.
For example; a slice of wedding cake, macaron and canelé.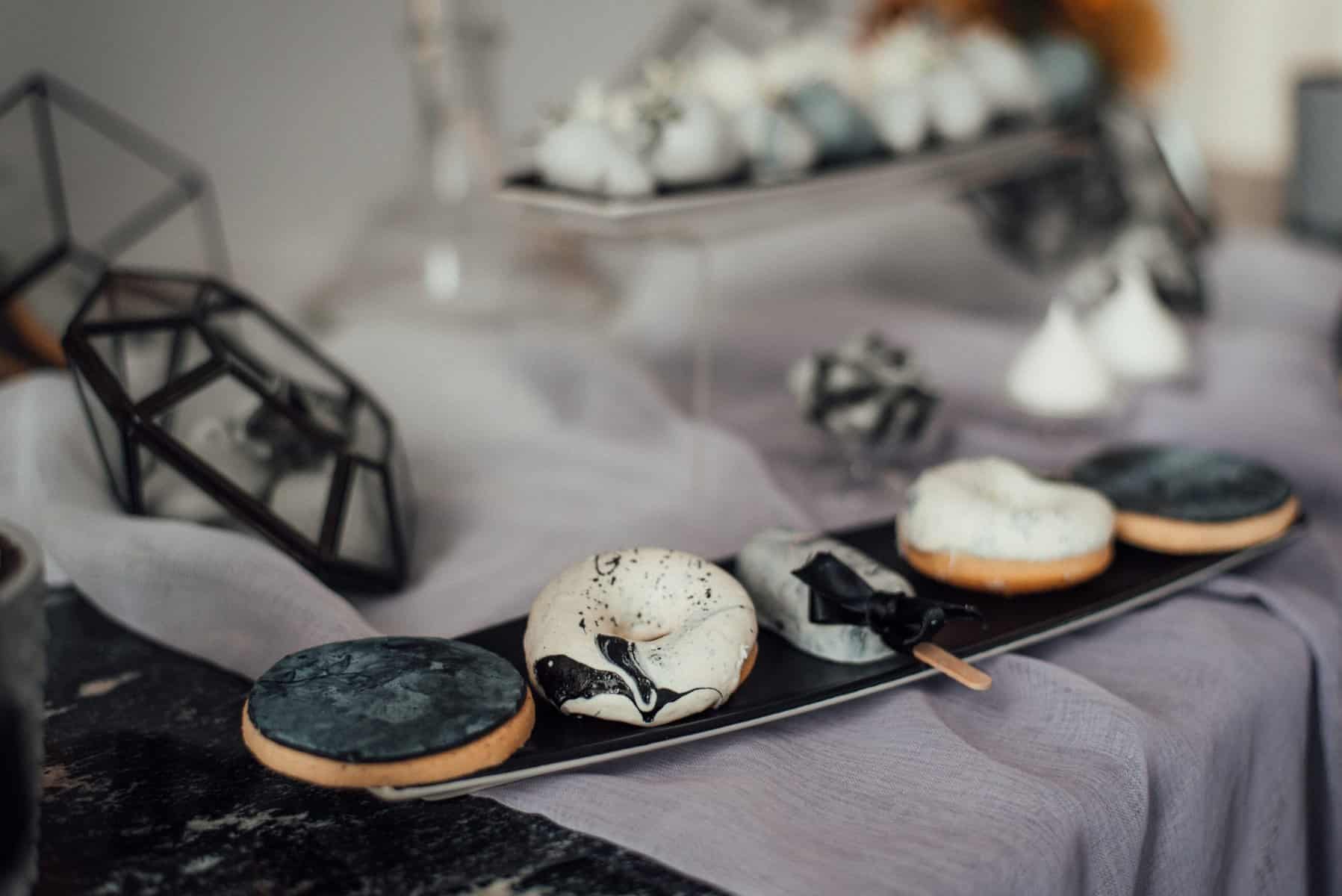 How do I DIY a dessert Table?
Creating a DIY dessert table for your wedding or any special event can be a fun and rewarding project. Here's a step-by-step guide to help you plan and execute your DIY dessert table:
Set a Budget: Determine how much you're willing to spend on the dessert table. This will guide your choices throughout the process.
Choose Desserts: Select a variety of desserts that you want to offer on the table. Consider your favourite treats, the season, and the preferences of your guests. Aim for a mix of flavours, textures, and dietary options (e.g., gluten-free, vegan) to cater to everyone.
Plan the Quantity: Estimate the number of guests and plan the quantity of desserts accordingly. Ensure there's enough for each guest to enjoy a few treats.
Design the Table: Decide on a theme or colour scheme for your dessert table. This will help you choose decorations, serving platters, and other elements that create a cohesive look.
Create a Layout: Sketch out the layout of your dessert table. Determine how you'll arrange the desserts, decorations, and any signage.
Gather Supplies: Start collecting all the supplies you'll need, including dessert stands, plates, serving utensils, decorations, linens, and any other elements that fit your theme.
Bake or Purchase Desserts: Depending on your skills and time available, you can either bake the desserts yourself or purchase them from local bakeries, speciality shops, or online vendors. Consider starting your baking a day or two before the event to ensure freshness.
Prep in Advance: Prepare as much as possible in advance. This includes baking, assembling desserts, and setting up any non-perishable decorations.
Set Up the Table: On the day of the event, allocate enough time to set up the dessert table. Start by arranging the tablecloth or backdrop, followed by placing dessert stands and platters strategically.
Display the Desserts: Carefully arrange the desserts on the table. Use varying heights and decorations to create an attractive display. Consider placing desserts with different colours and textures next to each other for visual appeal.
Label the Desserts: If you have desserts with unique names or ingredients, create small signage or labels for each treat.
Add Decorations: Enhance the table with decorations like flowers, candles, banners, or fairy lights to match your theme.
Consider Other Elements: Include elements like cake-cutting utensils, napkins, and takeaway containers for guests to enjoy the desserts later.
Maintain Freshness: Keep an eye on the desserts throughout the event to ensure they remain fresh and appealing. You may need to replace empty platters or refresh the display.
Enjoy the Table: Once everything is set up, step back and enjoy the delightful dessert table you've created. It will be a sweet addition to your celebration.
Remember to take photos of the dessert table before guests dig in. This way, you'll have lovely memories of your DIY creation.
Note: If you find the DIY process overwhelming or stressful, consider enlisting the help of friends or family members or hiring a professional dessert table stylist to assist you with the setup.
More blogs you will love!