The Etsy Wedding Registry allows engaged couples to create a curated list of items they would like to receive as wedding gifts from their family and friends.
What makes Etsy Wedding Registry unique and different from traditional wedding registries is its focus on handmade, personalized, and one-of-a-kind items.
Etsy is home to a vast community of independent artisans and sellers who offer a wide range of unique and creative products.
When creating a registry on Etsy, couples have access to a diverse selection of items that are not typically found in mainstream stores.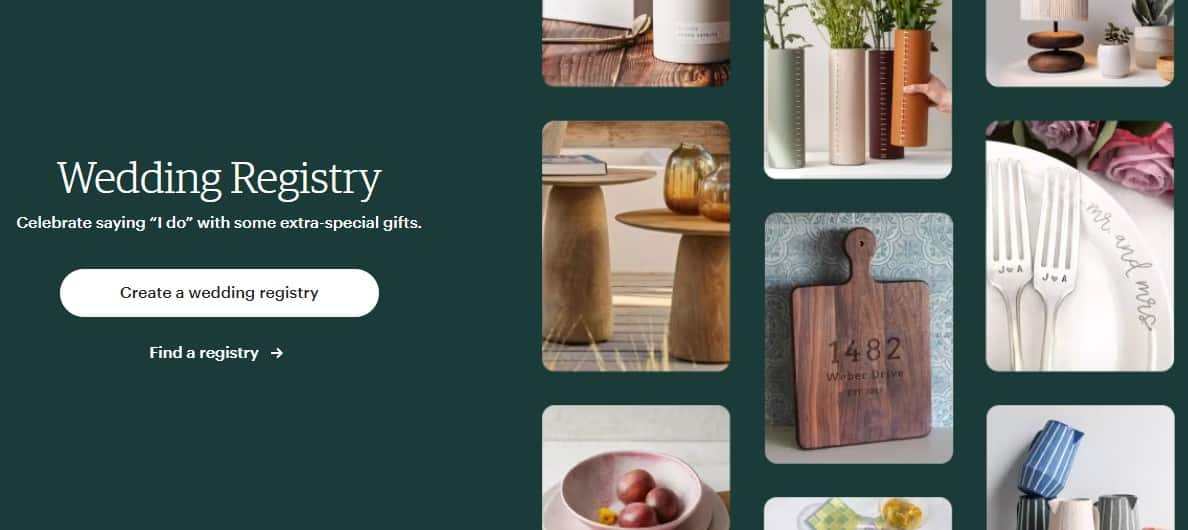 Here are a few key features that set Etsy Wedding Registry apart:
Handmade and Unique Items: Etsy is known for its vast selection of handmade and artisanal products. Couples can discover and register for unique, one-of-a-kind items that reflect their personal style and taste.
Personalization: Many sellers on Etsy offer customization options, allowing couples to add a personal touch to their chosen items. This makes it easy to find personalized gifts that can become cherished keepsakes. (more on this below)
Support for Independent Sellers: By choosing Etsy Wedding Registry, couples can support independent sellers and small businesses. It provides an opportunity to contribute to the growth and success of artisans and entrepreneurs from around the world.
Diverse Product Categories: Etsy offers a wide range of products, including home decor, artwork, jewellery, clothing, accessories, and more. This diversity ensures that couples can find items for various aspects of their lives, not just traditional home goods.
Integration with Etsy's Marketplace: Couples can seamlessly add items from Etsy's marketplace to their registry, regardless of whether the items are specifically listed as registry items or not. This flexibility allows couples to include almost any item they desire on their registry.
Is the Etsy wedding registry right for me?
Etsy Wedding Registry is right for you if you value handmade, personalized, and unique items over mainstream options found in traditional registries.
Whether you're looking for one-of-a-kind gifts or want to support independent artisans.
Etsy offers a diverse selection that adds a personal touch to your registry.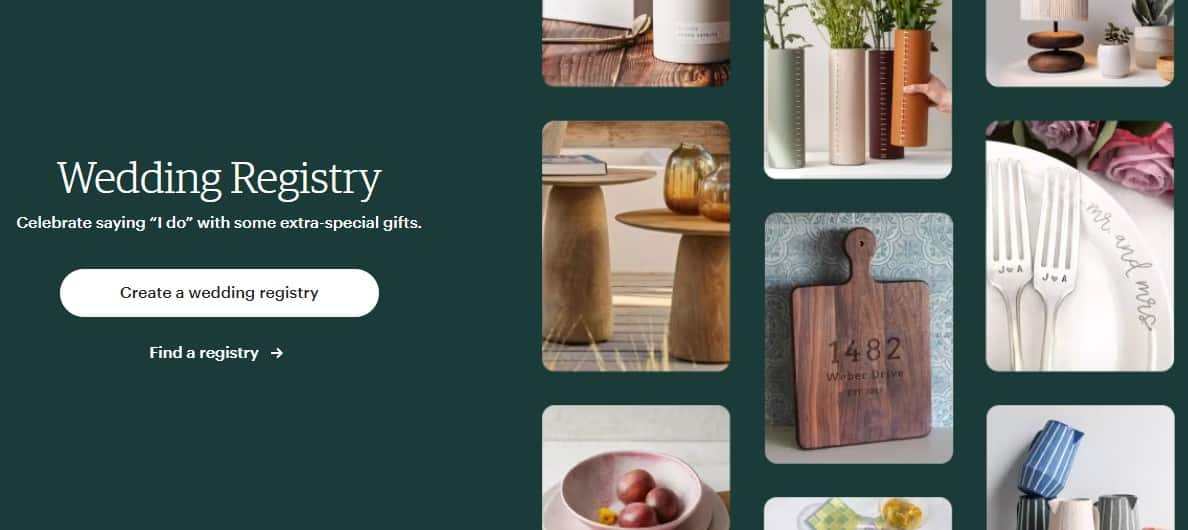 How to set up an Etsy wedding registry
Sign up or into Etsy: Visit the Etsy website (www.etsy.com) and sign up for an account. Provide the necessary information, including your email address and a secure password.
Set Up Your Wedding Registry: Once you have an Etsy account, navigate to the "Registry" section on the Etsy website. You can find this option by clicking on your profile picture and selecting "Registry" from the dropdown menu.
Create Your Registry: Click on the "Create Registry" button and fill in the details of your wedding registry. This typically includes your names, wedding date, location, and any other information you want to share.
Add Items to Your Registry: Browse the Etsy marketplace and start adding items to your registry. You can search for specific products or explore different categories to find unique and personalized items that resonate with your style and preferences. Click on an item you like and select the "Add to Registry" button.
Customize Your Registry: Personalize your registry by adding a cover photo, description, and any additional information you want to provide to your guests. You can also arrange the items on your registry in the desired order.
Share Your Registry: Once your registry is set up and curated, it's time to share it with your family and friends. Etsy provides options to share your registry via email, social media, or by copying the registry link to send directly to your guests. Additionally, you can also include the registry details on your wedding website or invitations.
Manage Your Registry: You can continuously manage your registry by adding or removing items, updating the information, or marking items as purchased. Etsy also provides tools to track your registry's progress and communicate with your guests.
Remember to periodically review your registry and ensure that there is a range of items and price points to accommodate different budgets and preferences.
Personalising gifts on the Etsy registry
I think this is my favourite part of the Etsy wedding registry. You can personalise the items as you would when buying them when you add them to your registry.
So your guest and the shop owner will know exactly how and what your personalisation should say.
I mean, come on, how cool is that?
Our top picks for adding to your Etsy registry
Not sure what to add to your registry? Have a sit down together and think about a mix of things that are practical and that you need for your life together. Make sure you also add some fun, unique gifts that are just about the pretty or joy they will bring.
Also, make sure there is a range of price points. People have different budgets and you should cater for all and appreciate every gift given.