Halloween wedding dress ideas!
Planning a Halloween wedding? Halloween is the ultimate wedding date for all you spooky loving couples out there!
But what do you wear to your spooky affair?
We have you covered, whether you are looking to go all out gothic and black or just add a little Halloween charm we have the best Halloween wedding dresses and outfits for your Halloween wedding!
If you are planning a non traditional wedding check out our complete alternative wedding guide and our alternative wedding dress blog.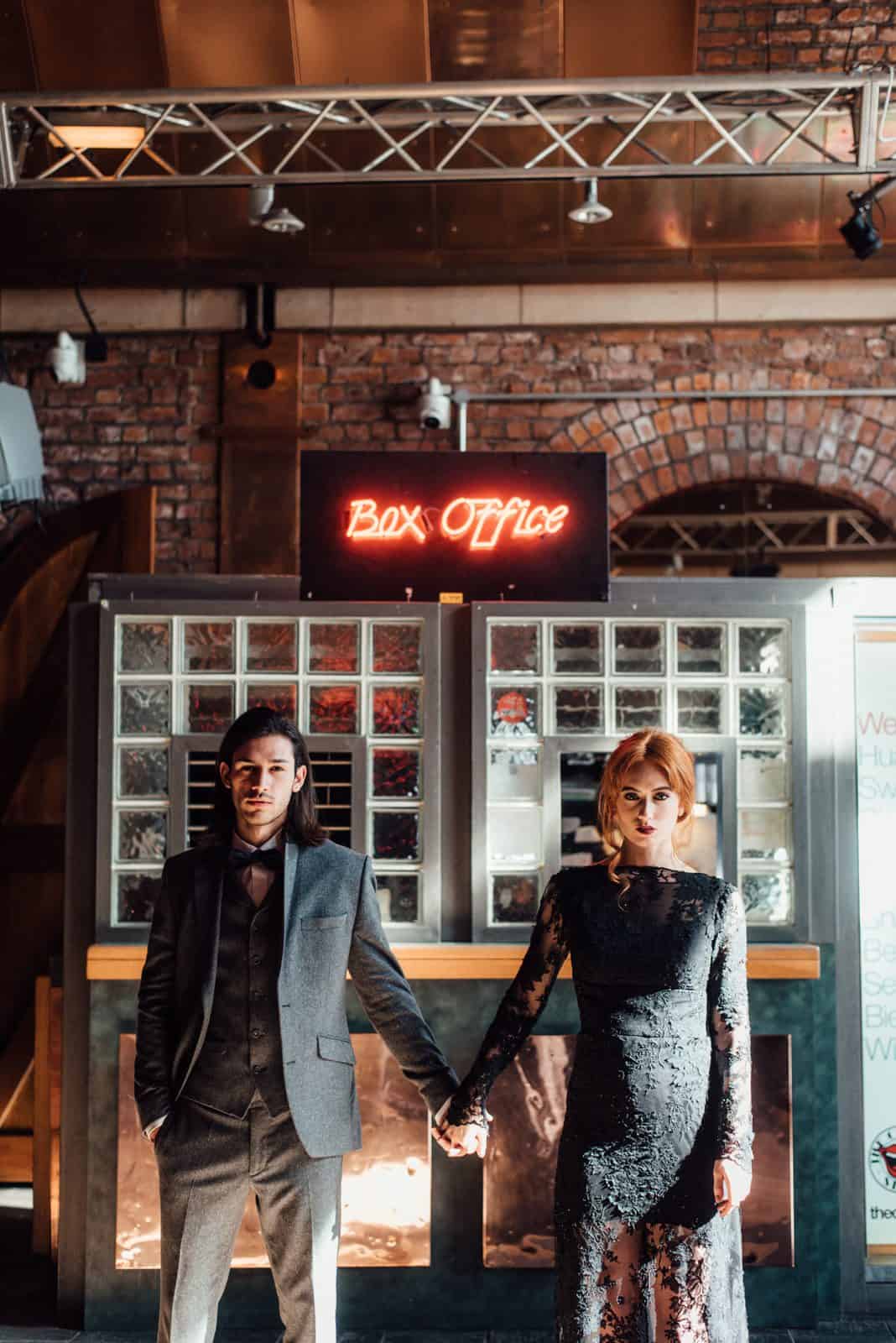 What is a Halloween wedding dress?
A Halloween wedding dress is different for all brides. It can be a full-on costume or a small nod to Halloween.
We love a black gothic wedding dress but going with a burnt orange or red will work.
Look at your overall wedding style and venue and this will help you pick your wedding perfect Halloween wedding dress.
More alternative wedding blogs you will want to read
Looking for a nontraditional wedding venue? Gosh, when I think about the options available now for unique wedding venues compared to when I first started working in the wedding industry. You guys have got so many choices! Yes, choice is good but sometimes it can...
Halloween Wedding Dresses – Gothic & Black
Gothic brides look amazing in a long sleeve black lace wedding dress. If you are going for a Halloween wedding then you can really play up the gothic bride Halloween costume and go all black from head to toe.
You can also play on the gothic vibe to add a hint of Halloween while keeping it modern, simple and stunning. Black wedding dresses are for any time and there is some amazing choice out there.
1. For the ultimate gothic bride
Velvet and Lace Gown – ZUHAIR MURAD
This classic Zuhair Murad design will have you channelling your inner goddess with its provocative lace accents and sultry silhouette.
Made of gorgeous velvet with barely-there lace cut-outs along with the skirt, it lets you show off your smouldering dark side.
Complete with Zuhair Murad's signature power shoulders (perfect if you're looking to feel like a queen) and slim waist belt adjustment to keep things comfortable.
This is the ultimate Halloween wedding dress.
2. For the boho gothic bride
Black lace and tulle separates – Stylish Bride Accs
The Boho lace black bridal separates are perfect for the bride who wants to feel confident and comfortable on her wedding day.
These pieces can be worn together or separately.
The Sophia Lace Top will make you look effortlessly beautiful, while the Billow skirt adds feminine charm to any ensemble!
Ideal for a spooky Halloween woods wedding!
3. Perfect for vampire vibes
Stretch-velvet gown – BALENCIAGA
Nothing says Halloween, vamp vibes than velvet! It's no surprise that this decadent, elegant staple is unlike anything you've seen before. You'll be looking like royalty in your Balenciaga All velvet gown.
Inspired by Balenciaga's luxe couture fashion, this gown fits tight through the bodice and falls luxuriously until it pools behind you with a pool of fabric at your feet.
From a distance, it appears a plain black number, but get closer and you'll find ornate embroidered detailing throughout.
We are in love!
Non-Black Halloween Wedding dresses
Black might be the first thought when considering the perfect wedding dress for Halloween.
This doesn't have to be the case though, think about red, orange and purple dress options. Going for a coloured wedding dress is perfect for a non-traditional wedding.
4. The best red Halloween wedding dress
Jenny Yoo Ryland Velvet Maxi Dress
If you're looking for a dress that's luxurious and sexy, look no further than this velvet number.
With plunging open back and long sleeves, we're sure your groom will be as taken as us with this designer piece.
The deep red colour is perfect for a Halloween or any autumn, winter wedding. 
5. Burnt orange pumpkin vibes
Freya Satin Charmeuse Dress
Sexy pumpkin?
Burnt orange is the hot fall colour and makes the perfect non-traditional wedding dress choice.
With its graceful satin skirt, flirty keyhole neckline, and unexpected slits at the hemline, this dreamy dress will have heads turning right where you stand.
6. Best for cury bride 
BURNT ORANGE VELVET Infinity Dress – Radiant Rooster
This is the ultimate Halloween wedding dress! Also, the perfect Halloween bridesmaid dress if you are going for something more bridal.
With changeable straps, it is perfect even for curvy brides or us ladies with a bigger bust.
More fashion wedding blogs you will want to read
Written by: Last Updated: Bridal fashion has grown over the years and there are so many fashion-forward modern dresses available to brides. Finally, we can see this happening with the mother of the bride and groom's outfits also. Traditionally the mother's outfits...
Your outfit is chosen and all your accessories are picked. Now all you need to sort is your hairstyle. Short mother of the bride hairstyles can seem like a daunting task. It doesn't have to be though. Yes, there may be fewer options if not adding extensions but there...
The finishing touch to the perfect outfit! Bridesmaid nails can be overlooked but remember you will be holding a lovely bouquet and having your hands snapped all day. Your style, the bridesmaid outfit and the overall wedding theme can play a part in your bridesmaid...
Age is just a number! We always but of writing these age related blogs for mother of the bride. Mainly because we believe here at urban to dress how you want and whatever you feel confident in. We get it though and we have had requests for mother of the bride outfits...
Finding the perfect mother of the bride dress or groom can be a daunting task. You want to look and feel your best at your child's wedding. You also want to feel comfortable and fit within the wedding style. While also not overdressing and standing out too much. There...
Wedding dresses and outfits with a little Halloween inspiration
If you are not looking to go all-out Halloween with your wedding outfit you can still show a nod towards the spooky holiday.
You can add lace, a black or grey dip dye to the skirt or adding lots of tulle layers for an eerie ethereal feel.
7. Black lace wedding dress – My Wony Bridal
The voluminous skirt adds a beautiful, theatrical element to your gown while still giving you the lace and tulle femininity.
You'll love showing off this long train for photos or dancing on your special day!
The 2-piece design is perfect for feeling comfortable and looking glamorous at the same time.
We are kinda obsessed, this is a black and white wedding dress done right!
8. Perfect for a witch vibe 
Rowan Dress fringed ivory organza kimono dress over a satin slip dress
Dip-dye ombre is the best way to upgrade a white wedding dress.
If you want a wedding gown that's going to make heads turn and take people by storm then this is where it's at, because it certainly will.
Especially with the burnt-out pattern ombre look, which has a fringing hem. 
Halloween wedding dress shopping guide & FAQ
Can I wear a Halloween dress as a bride?
Yes, of course, you can! Many people might wonder whether or not they can wear a Halloween dress as a bride. This is not to say that Halloween wedding dresses are the same as Halloween costumes.
Halloween wedding dresses are different from Halloween costumes and can be worn by brides and bridesmaids depending on what you want your costume to be like.
Do Halloween wedding dresses come in white?
Yes, there are Halloween wedding dresses made from different colours and materials. The Halloween dress you desire is completely up to you! Black is usually the first colour people consider for a Halloween wedding but white with some added details can still scream Halloween!
Can a bride wear a black wedding dress?
Yes! A bride can wear any colour dress they choose and we love a coloured wedding dress! Black is a modern stylish choice so as long as there is no religious or cultural reason we say go for it.
Can you wear a Halloween dress as a guest?
You sure can! A Halloween themed wedding is gaining more popularity so why not be inspired by other guests and incorporate Halloween into your own look. We would say check with the couple first, even if on Halloween they may not want a costume party.
More Fashion & Alternative wedding blogs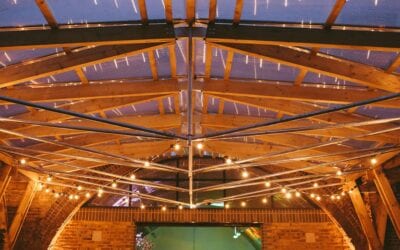 Looking for a nontraditional wedding venue? Gosh, when I think about the options available now for...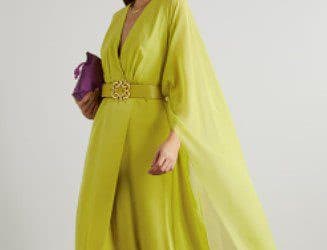 Written by: Last Updated: Bridal fashion has grown over the years and there are so many...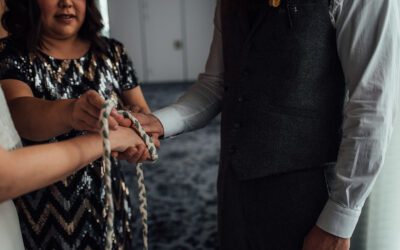 Written by: Last Updated: PAGAN WEDDING GUIDE Pagan weddings are becoming hugely popular and not...